Facebook ads give businesses a competitive advantage… but only when it's used correctly. In order to have a sound Facebook ad strategy, it's essential to have knowledge of the different types of Facebook ads.
Why should you use Facebook ads?
Along with the undeniable effectiveness of Facebook ads, they are also cheaper in comparison to other forms of advertising such as Google Ads. While prices vary based on industries and impressions, it breaks down like this:
Advertising on Facebook is also typically cheaper than other social media sites like YouTube, LinkedIn, and Instagram. While Google offers the widest possible audience, Facebook offers a good balance between a big audience and a low price. They also have robust analytics that allow for targeted ads and in-depth data.
Are Facebook ads effective?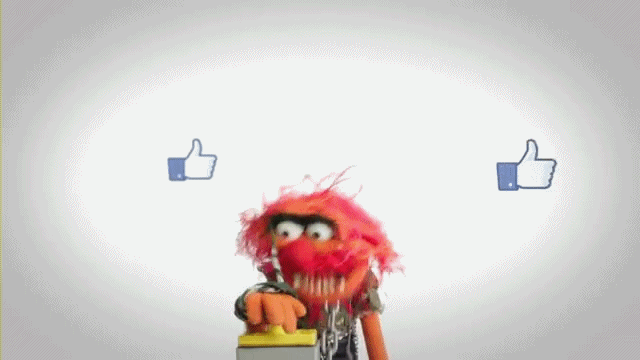 If you have scrolled through Facebook, you most likely have accidentally clicked on an ad without knowing it was one. In contrast to ads that feel like they're being forced in your face (ex. ad sets on mobile games or ads that go ignored on the side of websites/blogs), Facebook has seamlessly integrated ads into your Facebook newsfeed.
The 13 types of Facebook ads
In order to utilize Facebook ads correctly, you must match the objective to the correct ad formats. Facebook provides a variety of different ad formats you can choose from. By knowing the different specs of each one, you'll be one step closer to using Facebook Ads to convert your leads into sales.
The 13 types of Facebook ads are:
Video
Image
Slideshow
Carousel
Instant Experience
Dynamic
Lead
Collection
Event
Messenger
Stories
Poll
AR
1. Video Ads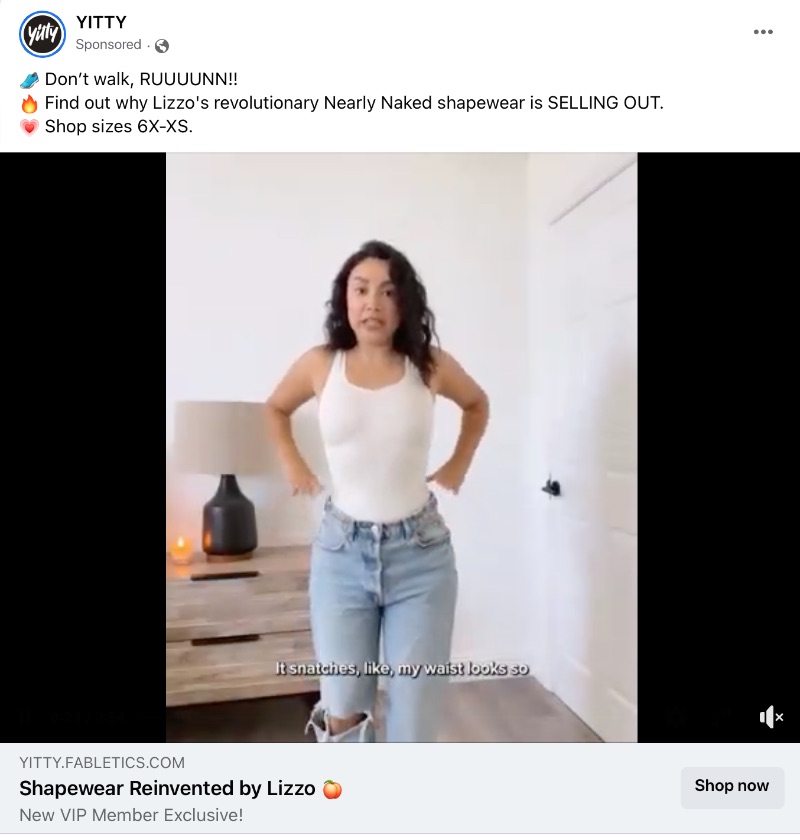 Now, these are straightforward. These ads are in the form of videos. Video ads should deliver one single message that is easily digestible by the audience.
Create them in Ads Manager or boost from a Facebook Page.
Recommended length: 15 seconds or less.
Ad Objectives for Video Ads:
Brand Awareness
Reach
Traffic
App Installs
Engagement
Lead Generation
Conversions
2. Image Ads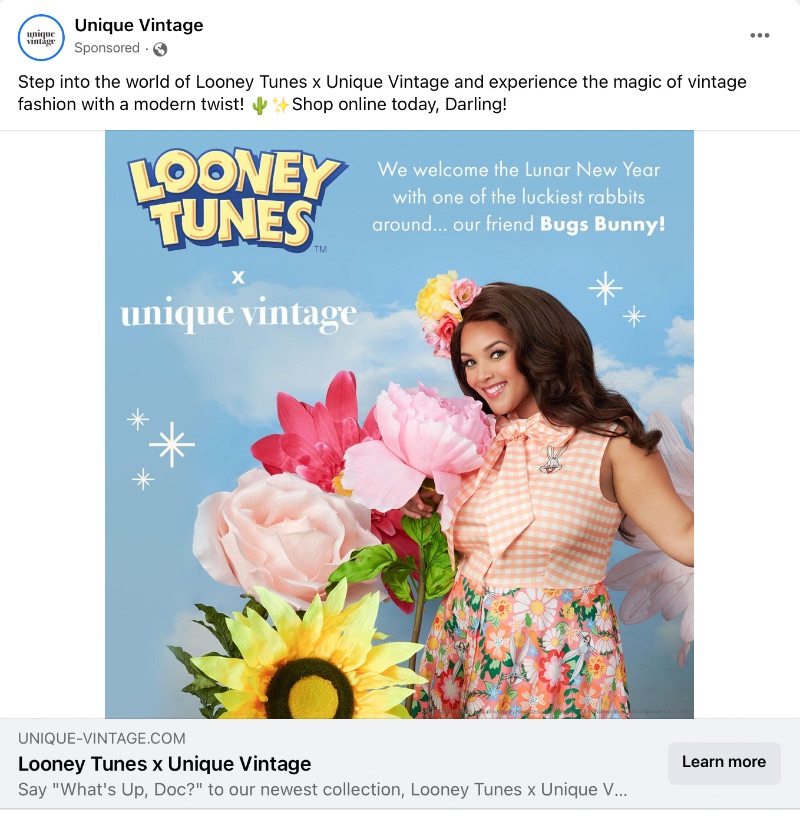 This type of Facebook ad consists of one image with a call to action and attached link.
Ad Objectives for Photo Ads:
Brand Awareness
Local Awareness
Traffic
Reach
App Installs
Engagement
Lead Generation
Conversions
Product Catalog Sales
3. Slideshow Ads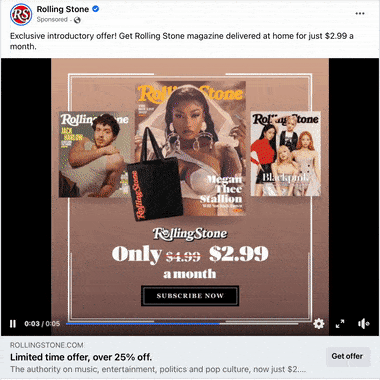 Slideshow ads use images or videos to create a story. Create your own slideshow using a minimum of 3 images or up to 10 images or videos. Slideshow ads can help walk through a complicated sequence or simplify a complex process.
As the above example shows, slideshow ads appear as videos cycling through slides and transitions. Slideshow design tools can be a great way to grab attention, even for simple ads.
Ad Objectives for Slideshow ads:
Brand Awareness
Local Awareness
Reach
Traffic
App Installs
Engagement
Video Views
Lead Generation
Conversion
4. Carousel Ads
These shouldn't be confused for slideshow ads. Unlike slideshow ads, carousel ads give you more versatility by allowing you to showcase 2 or more images/videos with different headlines. The distinct differences in the appearance of the ads can be seen in the pictures. Each creative is shown as a card that can be scrolled through and each image can be linked to a different web page.
Best Feature: allow you to feature multiple products in one ad
Brand Awareness
Local Awareness
Reach
App Installs
Engagement
Lead Generation
Conversions
Product Catalog Sales
5. Instant Experience Ads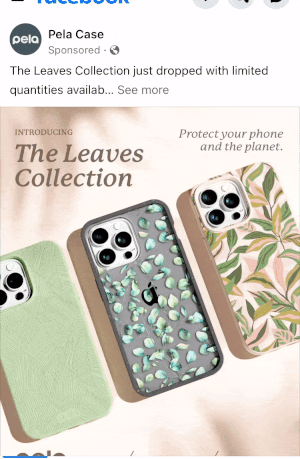 Full-screen ad experiences that are immersive and interactive. Before, in order to have this experience, Facebook would redirect you to another page upon clicking the link. However, with these new types of Facebook ads, this experience can be hosted completely on Facebook.
Ad Objectives for Instant Experience Ads:
6. Dynamic Product Ads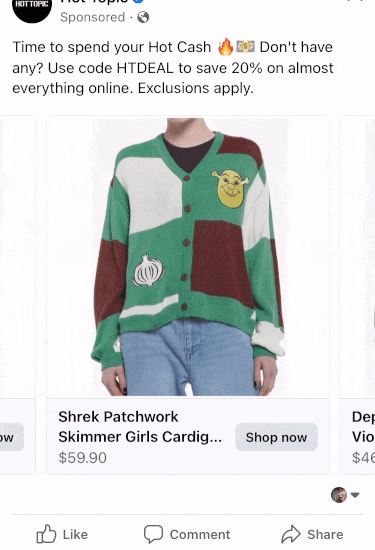 Dynamic product ads are great for remarketing. With this, you can promote products to already interested customers. For example, your website, app, or anywhere on the internet. All you have to do is set the campaign and Facebook will do the rest of the work for you in real time.
Ad Objectives for Dynamic Product Ads:
7. Lead Form Ads
Lead form ads direct you to a fillable form that people can fill out. The fields can be customized to the types of data that you'd like to obtain.
Ad Objectives for Lead Form Ads:
8. Collection Ads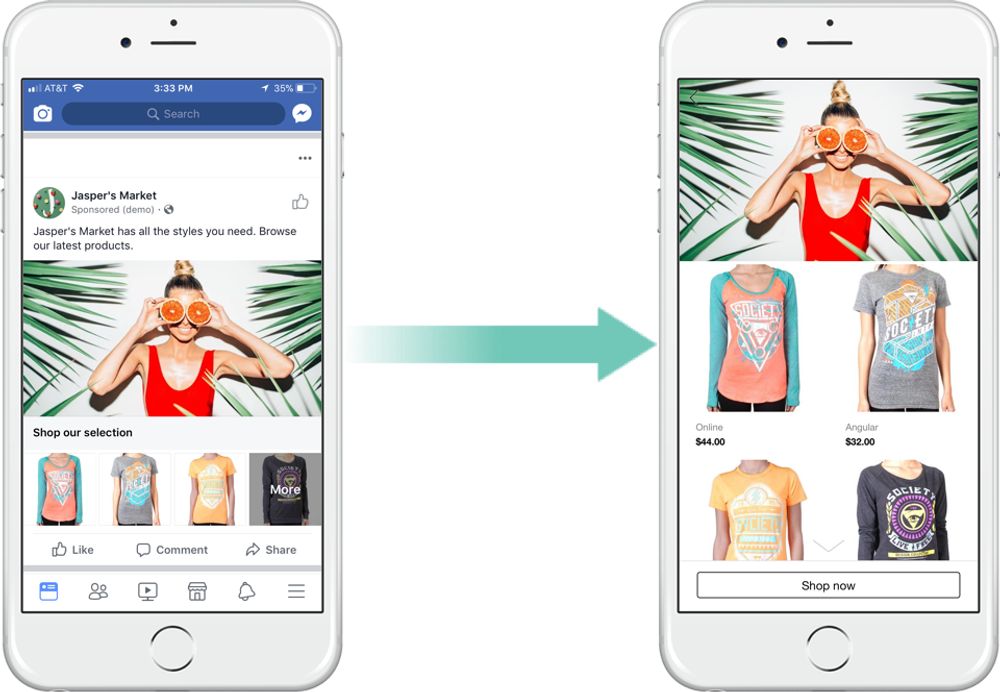 Once a user clicks on these types of Facebook ads, it will immediately open your Instance Experience ad. The primary goal of Collection ads is to make it easier for users to discover, search, and purchase products and services from portable gadgets.
Collection ads are an immersive way of showcasing your products and services. You will need a variety of images and videos on your Collection ads. These images and videos will pop up every time a user clicks and opens your Instant Experience.
The Collection ad will entail a cover image or video with several products showcased under the cover image. The users will then know more about your offers, and might even visit your website or app. This will, hopefully, improve your website conversion rate.
Ad Objectives for Collection Ads:
Brand Awareness
Traffic
Store Visits
Conversions
Product Catalogue Sales
App Installs
9. Event Ads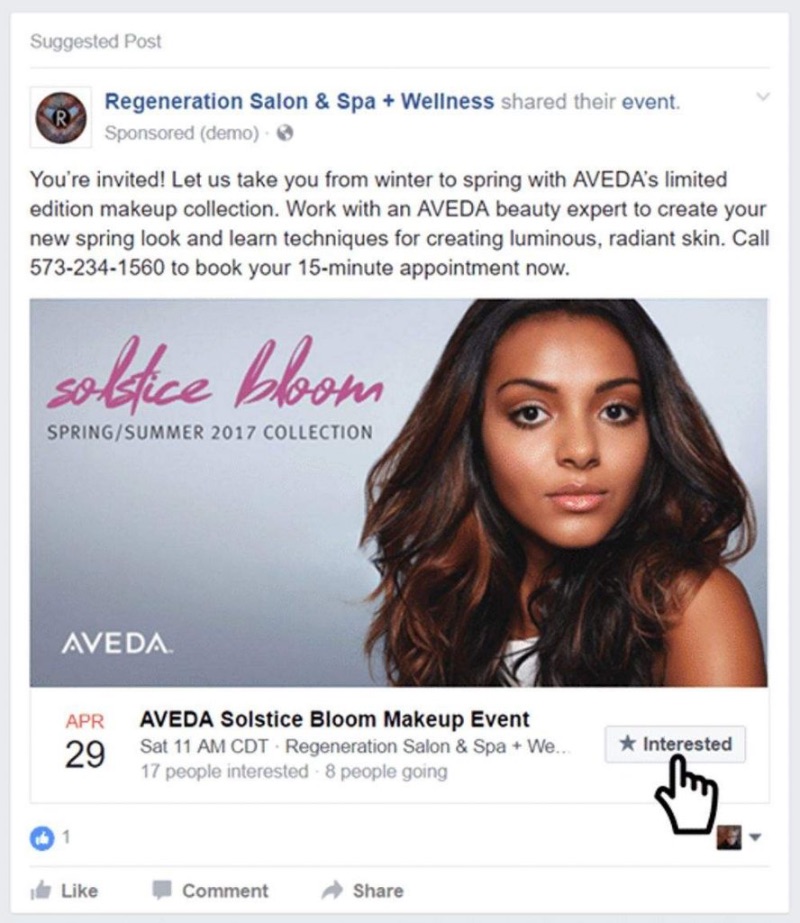 Some brands organize regular events to increase brand awareness or generate more leads. And by using Event Ads on Facebook, you can boost your event promotion on this Omnipotent channel.
Once you create an event, promote your event to have a huge turnout or high revenue from ticket sales. You can create your event from the Facebook Ads Manager or boost your event from your page.
Ad Objectives for Event Ads:
Brand Awareness/Event Awareness
Local Awareness
Reach
Lead Generation
Engagement
Event Responses and Offer Claims
Conversions
Here are some best practices for promoting events on Facebook.
10. Messenger Ads
You can also offer a direct and more personalized experience by creating Messenger Ads. Messenger ads in your inbox can appear between conversations. With the detailed view, users will see a call to action that will end up in the destination you set when you created the ad.
Ad Objectives for Messenger Ads:
Brand Awareness
Traffic
Lead Generation
Conversions
Store Visits
11. Stories Ads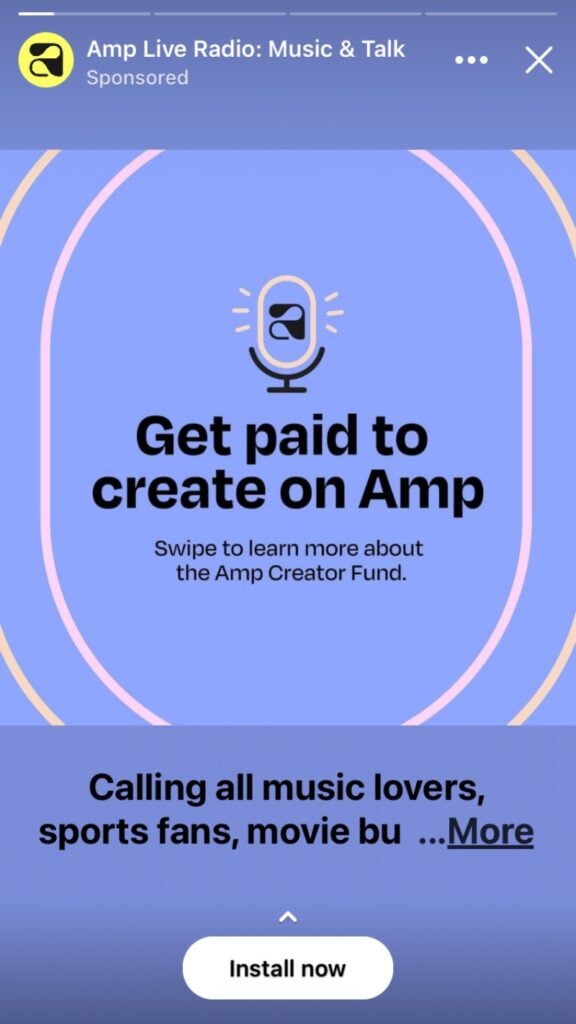 Stories ads are fun ways to share and digest content. For one, Facebook stories offer a natural experience for users by providing a vertical and full-screen view. Secondly, stories deliver the message fast!
Ad Objectives for Stories Ads:
Brand Awareness
Reach
Video Views
Conversions
App Installs
Traffic
Lead Generation
12. Poll Ads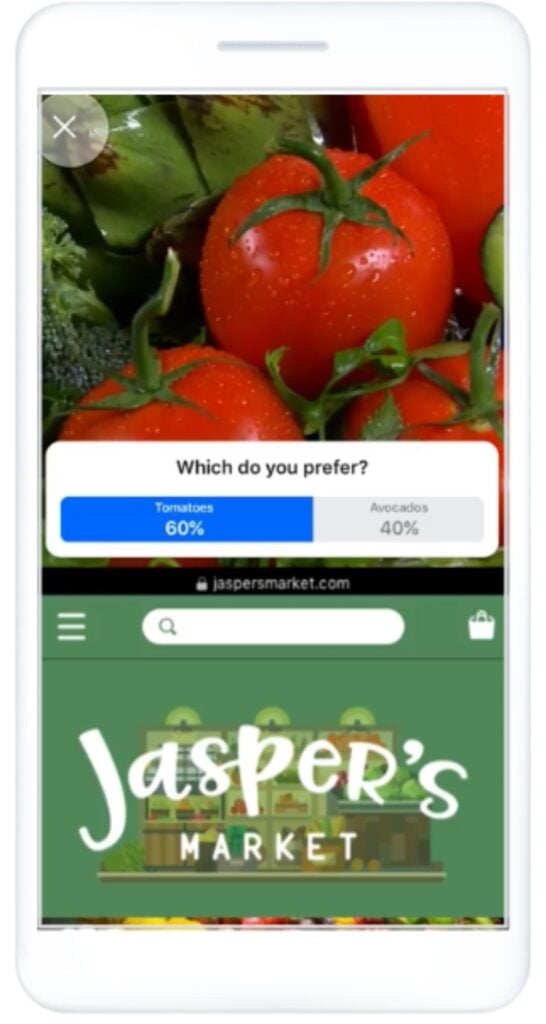 You've seen polls on Instagram, but both Instagram and Facebook ads offer brands the opportunity to engage users with polls. Polls appear at the bottom of photos and videos, letting users engage directly with content and understand what your company offers.
Ad Objectives for Poll Ads:
Brand awareness
Reach
Lead generation
Traffic
13. Augmented Reality Ads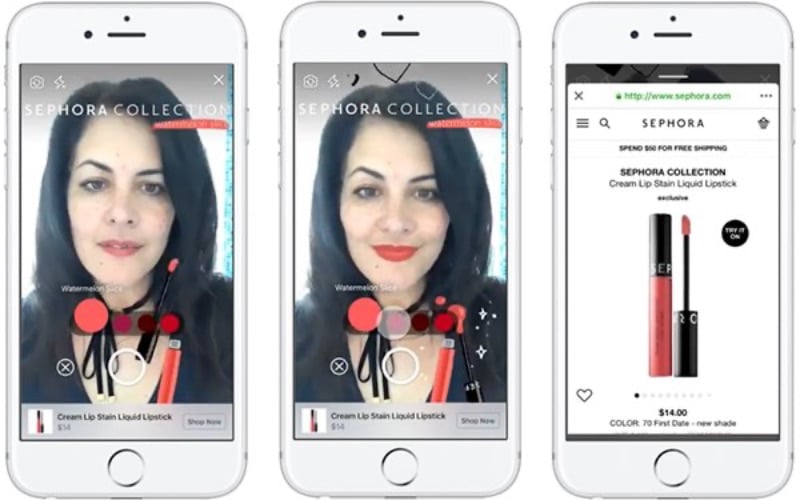 Snapchat pioneered this style of ad when they launched their Lenses feature back in 2015. These ads are tricky to produce, but have proven benefits for engagement and campaign effectiveness.
Ad Objectives for AR Ads:
Brand awareness
Reach
Engagement
Lead generation
Conversions
Create all types of Facebook ads with Penji
Once you have your Facebook ad strategy down, you'll want to get started on designing. Stellar graphic design is the key to any ad campaign, and Penji is the simplest way to get a high volume of designs. For a small monthly fee, you can get unlimited designs for Facebook, websites, print, and everything in between.
Ready to learn more? Sign up for a free demo to see Penji unlimited graphic design in action.