Advertising is a must for most businesses. Social media ads can be effective in reaching your target audience, but they can be costly. Unless you have an unlimited advertising budget, you have to be strategic about how you spend your ad dollars. For many businesses, it comes down to Facebook ads vs. Instagram ads.

Meta owns both Facebook and Instagram, and they have an overlapping user base, but the platforms are quite different. There are four main factors to consider when trying to decide between advertising on Instagram or Facebook:
Factor #1: Your audience
A platform's demographics refers to its overall user base encompassing billions of accounts. You'll want to make sure that the demographics of each platform align with your target customer. For example, if your target audience is American teens, it wouldn't make much sense to advertise on Facebook as this demographic is Facebook's smallest audience.
In general, though, the demographics of Facebook are wider than Instagram simply because it has more than double the number of users on Instagram, making it the biggest social media network in the U.S. So, most businesses will find at least a chunk of their audience on Facebook.
To get a feel for what might work well, use your existing customer data, conduct market research, and check out the analytics from your Facebook and Instagram accounts. This will help you decide who to target and what ad to use.
Factor #2: Your goals
Defining your goals for your social media advertising campaign can help guide you to the best platform to use. It will depend on your audience and your industry, but in general, Facebook is more effective at getting website clicks or engagement/views from written content, while Instagram is great for increasing brand awareness with photos and videos.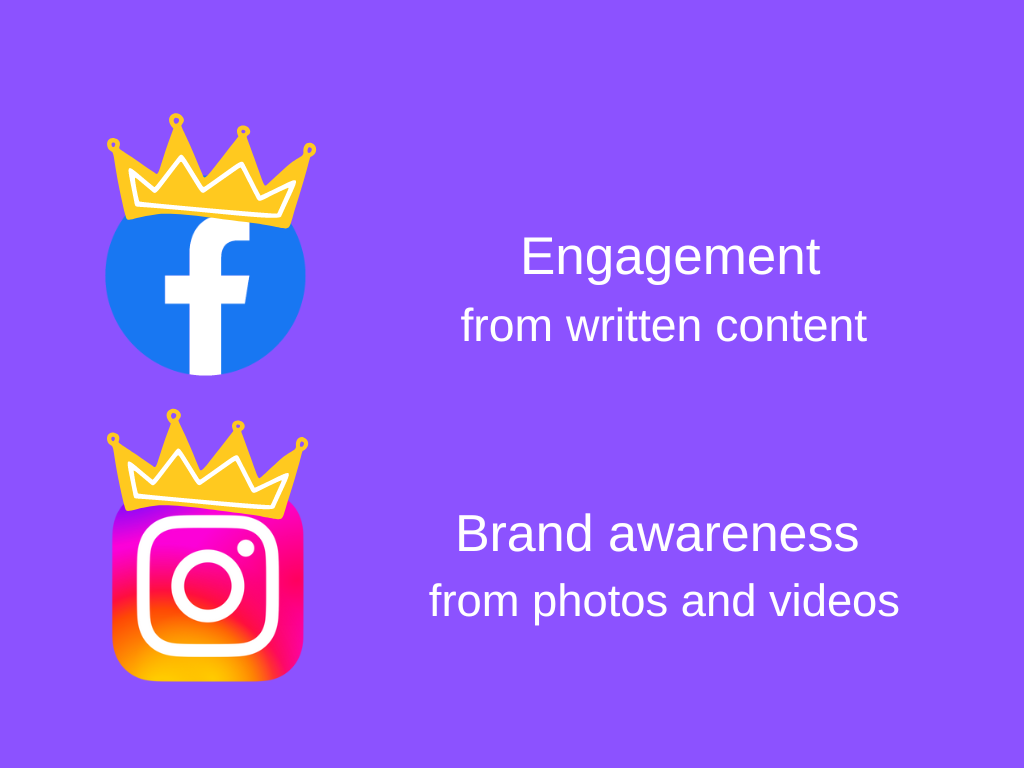 Facebook has historically been better at lead generation and sales, but that could be changing. A few years ago, Instagram began to grab more e-commerce business with the rollout of its Shopping feature, which allows users to purchase items without leaving the app.
The best way to determine which platform best fits your goals is to experiment and review the analytics.
Factor #3: Your industry
The sector of your company is another consideration when deciding between Facebook ads vs. Instagram ads. Certain industries are better suited to one platform over the other because their audience uses it more.
Industries that lend themselves to rich visuals, such as food or cosmetics, would be well-suited for Instagram because the platform centers around photos and video. For industries that rely on building a community to make sales, Facebook would work best because brands can create groups from within their target audiences.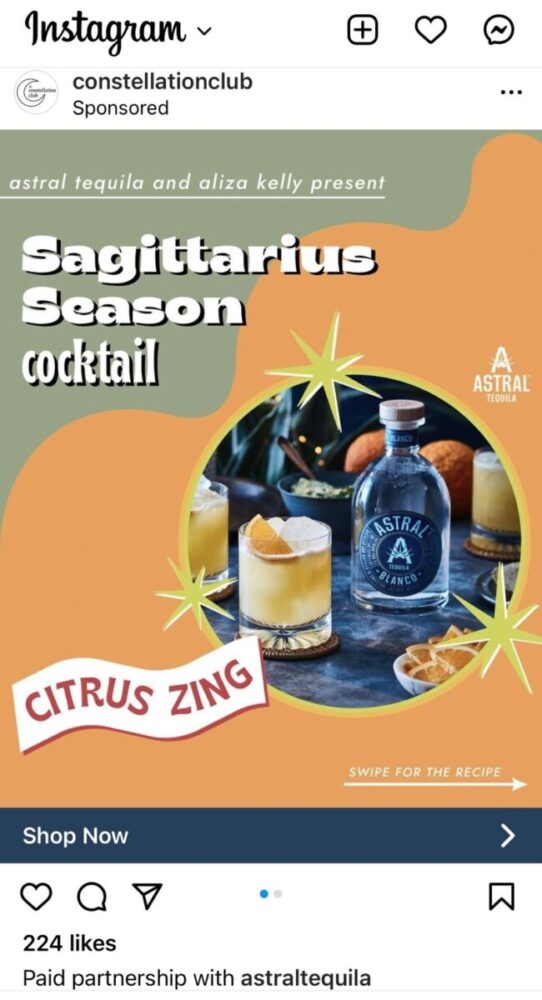 If very few competitors within your industry have a presence on a platform, your ads might stand out more, and the cost will be lower due to less competition. It only makes sense, though, if your audience uses that platform.
A good place to start is to check your overall social media analytics to understand what type of content is already getting great organic interaction, then create ads similar to that kind of content.

Factor #4: Your content
Think about the content that you have to work with. Businesses with compelling v
isual content, such as restaurants, could find success with advertising on Instagram. If your content is more varied or primarily includes written content, then Facebook would most likely be the most effective option.
Your content could be used to create the following six types of ads on Facebook: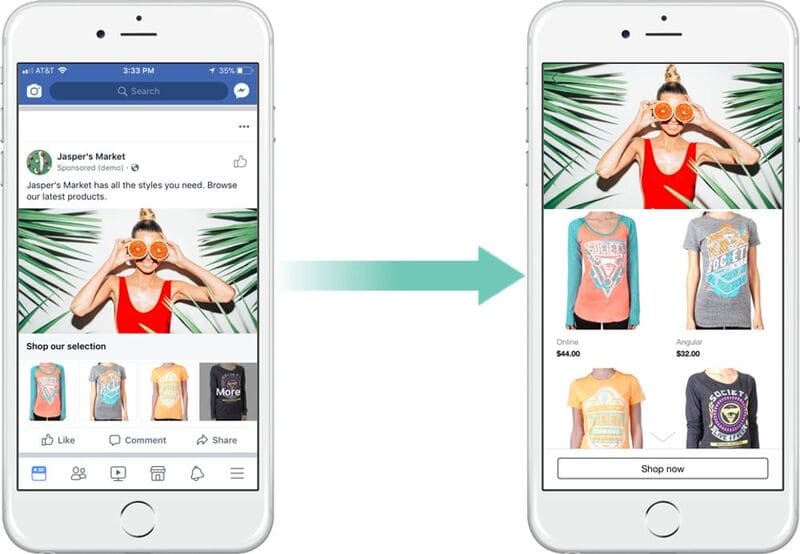 Image ads. These can help you showcase your products or services visually.
Video ads. These ads can show your brand in action and make them even more visually compelling.
Carousel ads. This type of ad allows you to show up to 10 images or videos in a single ad, allowing you to showcase more of your business for the same amount of space.
Collections. This format features several products, making it easy for users to browse and make purchases directly from their Facebook feed.
Instant Experience. Originally referred to as Canvas, this ad type covers the full screen and allows users to interact with your brand in numerous ways, all in a single ad.
Facebook Stories. These are ads that are displayed to users from within the Story Reel, mixed in with Stories content from friends.
Given that Facebook and Instagram are closely aligned, it's no surprise that the ad formats are similar. Here's what's available on Instagram: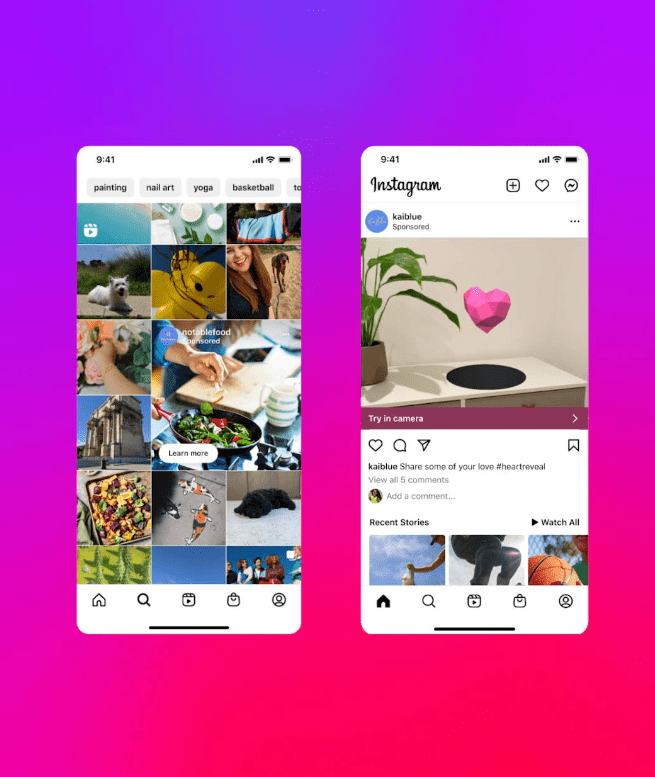 Image ads. Like Facebook, this ad type consists of a single image that can be displayed in a landscape, square or vertical format.
Video ads. Video can be used to make a more compelling visual experience in either square or landscape format.
Carousel. This format allows you to display up to 10 photos or videos.
Stories. These are ads that are placed in your Stories feed.
Instagram Shop. With this type, you can sell your product or service directly through your ad. The available formats are image and carousel, and users can tap the ad to make a purchase or learn more.
Reels. This type of ad allows businesses to boost their Reels to transform them into ads.
Explore Ads. The grid that users see when they first arrive on the Explore tab will now feature ads.
Multi-advertiser ads. When a user interacts with an ad, it triggers additional ads from similar types of products or services. This ad type was rolled out in October 2022.
Augmented Reality Ads. Available both in feed and Stories, this ad type offers an immersive augmented reality ad experience in feeds and Stories.
Facebook Ads vs. Instagram Ads: Final Thoughts
Advertising on social media can be a powerful way to connect with your potential customers, and success is a combination of planning, monitoring and a bit of luck. Facebook and Instagram regularly adjust their algorithms and ad features, so it's smart to stay on top of what's available, analyze the performance of your ads and fine-tune your strategy as needed.