Although Facebook is the preferred social media platform by marketers, one social networking site that still brings value to businesses is Twitter. You don't want to overlook this platform, especially if you want to reach more people and increase brand awareness. And if you're considering promoting your business on the social media site, here's our guide to Twitter marketing.
Marketing Stats
Reach over 500+ million users on the platform (Hootsuite)
It's projected that Twitter will reach 335.7 million users in 2024 (Statista)
Twitter is the fourth best social media platform to know more about brands (We Are Social)
Ad reach (demographics): male (63%) vs. female (37%), ages 13+ (8.9%) (We Are Social)
Twitter is the second best social media site to get web referrals from (We Are Social)
Industries with the highest engagement rates: are sports teams, higher education, and alcohol; meanwhile, the lowest ones are media, fashion, and home decor (Statista)
Get more likes or retweets with the following tweet types: informative, relevant, and engaging (Statista)
Engage and connect with users when you add visuals; over 97% of users focus on images, videos, and GIFs (Twitter)
Marketers are considering Twitter to interact with users through live audio (Hubspot)
Based on a survey, 89% of users browse Twitter to find new products, and 79% of users attribute conversations on the site before buying products (Twitter)
Monetizable Daily Active Usage on Twitter is 237.8 million or 16.6% of users (Twitter)
Twitter Marketing Objectives
Like Facebook, you can determine your marketing objective before running your marketing or ad campaign on Twitter. You can choose from Awareness, Consideration, and Conversion. From there, you can specify the objective.
Reach (Awareness)
Video views (Consideration)
Pre-roll views (Consideration)
App installs (Consideration)
Website traffic (Consideration)
Engagement (Consideration)
Followers (Consideration)
App re-engagements (Conversion)
Website conversions (Conversion)
Twitter Ad Specs and Formats
Once you've identified your marketing objectives on the platform, here are the specs and formats to remember before launching your new campaign. Note that Twitter sets a 280-character limit on text across all formats. It shortens to 257 characters when you add a link.
Specs:
Image: JPG and PNG (Max: 5MB. Recommended dimensions: 800px in length for image ads with app, conversation, and website buttons, plus polls. The recommended aspect ratio is 1.91:1 or 1:1; Meanwhile, for standalone image ads: 1200px x 1200px with a recommended aspect ratio of 1:1).
Video: MP4 or MOV only (Max: 1GB. Recommended dimensions: 800px in length for video ads with website, app, and conversation buttons, plus polls. The recommended aspect ratio is 16:9 or 1:1; Meanwhile, for standalone video ads: 1200px x 1200px with a 1:1 aspect ratio; 1920px x 1080px with a 16:9 aspect ratio)
Carousel ads: Please see the specs for image or video ads. However, if it's mixed media (image and video), please stick to a 1:1 aspect ratio.
Moment ads: No specs indicated. However, you can post up to more than 280 characters for this ad type.
Formats:
Promoted Ads
Follower Ads
Twitter Amplify
Twitter Takeover
Dynamic Product Ads
Twitter Live
Collection Ads
Twitter Ad Features
Twitter Marketing Campaign Ideas + Examples
1. Promote Your New Product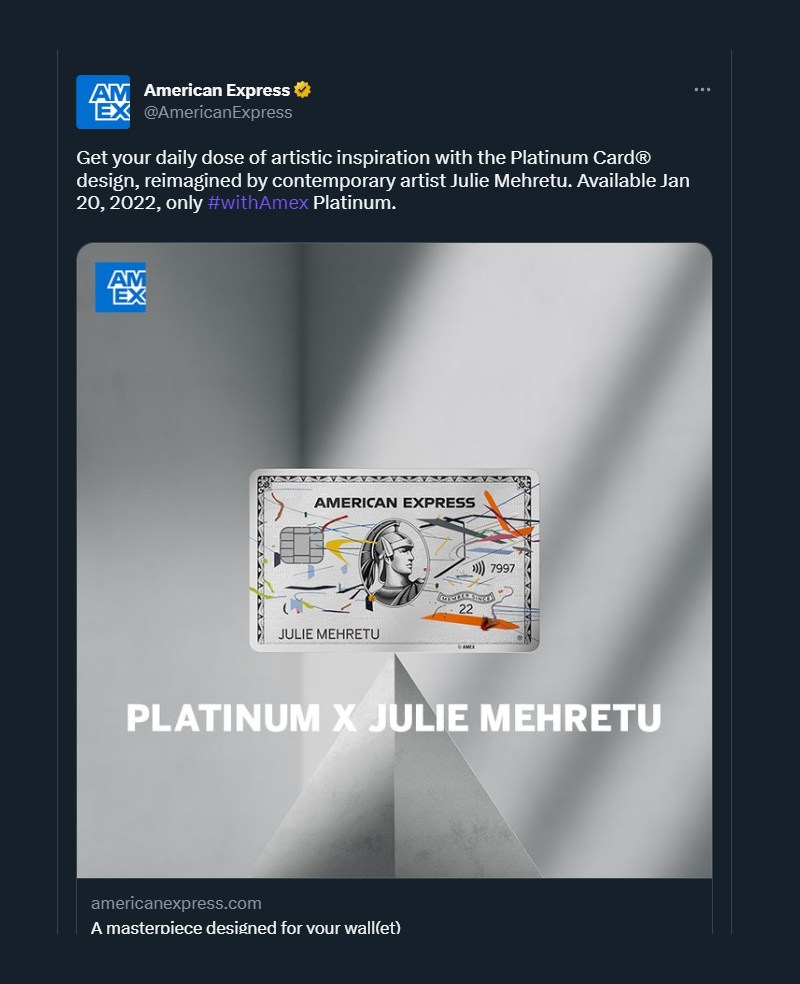 When you announce your new products, don't overlook Twitter's impact on your brand. Since many people are buying thanks to Twitter, you'll get more traction when you advertise it on Twitter as well. If you want to advertise your new product and have more people talking about it, here's an example from American Express.
With their hashtag campaign (#WithAmex), they increased consideration rates by 27 points. Plus, they became even more relevant after the campaign.
2. Increase Engagement Rates by Observing Conversational Trends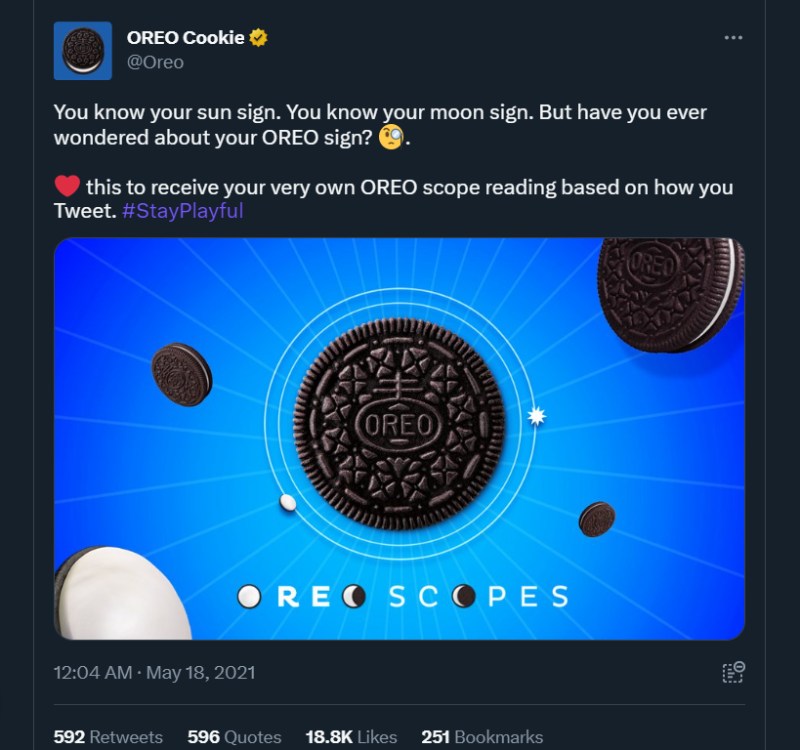 Twitter is the best place to spark conversations about your brand. After all, many users post about their opinions. And you want your brand to become a conversation starter. If you want more users talking about your brand, here's an example from Oreo. The brand based its campaign on people talking about astrology. Instead of pairing an Oreo with a zodiac sign, the cookie company created an Oreoscope for anyone replying to their tweet.
With this campaign, over 30,000 opted-in for the Oreoscope. Plus, they boosted engagement rates 28x more. Plus, they were likely to connect and engage with Oreo twice as much after this campaign.
3. Invite People to Your Event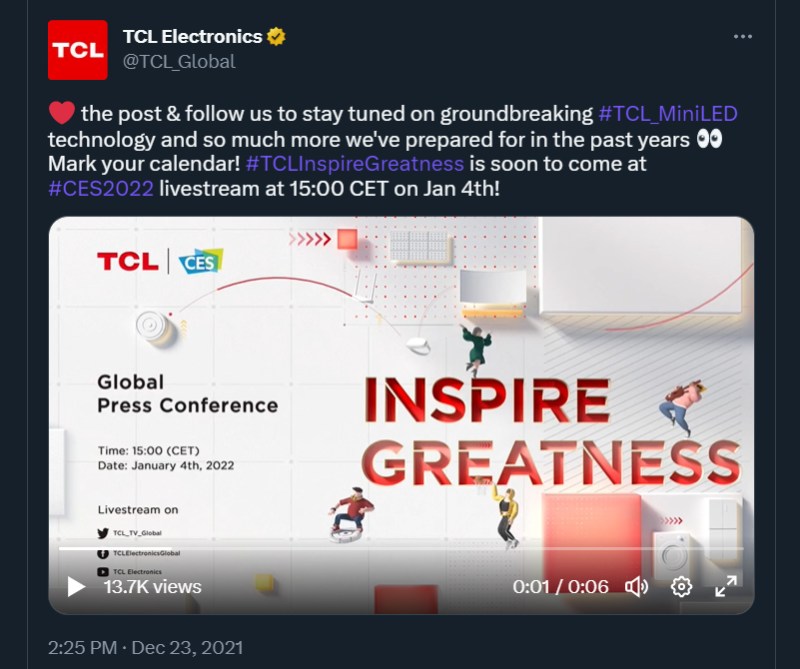 Make more people attend your Live event like this example from TCL. TCL was already an established brand, so they tweeted their events across six regional handles. Before the event launched, they engaged with their audience through Branded Emojis. During the event, they introduced a new slogan and connected with their audience through various languages.
After this campaign, the event yielded 30 million impressions and had an 8x boost in conversation volume.
4. Drive Traffic to Get More Readers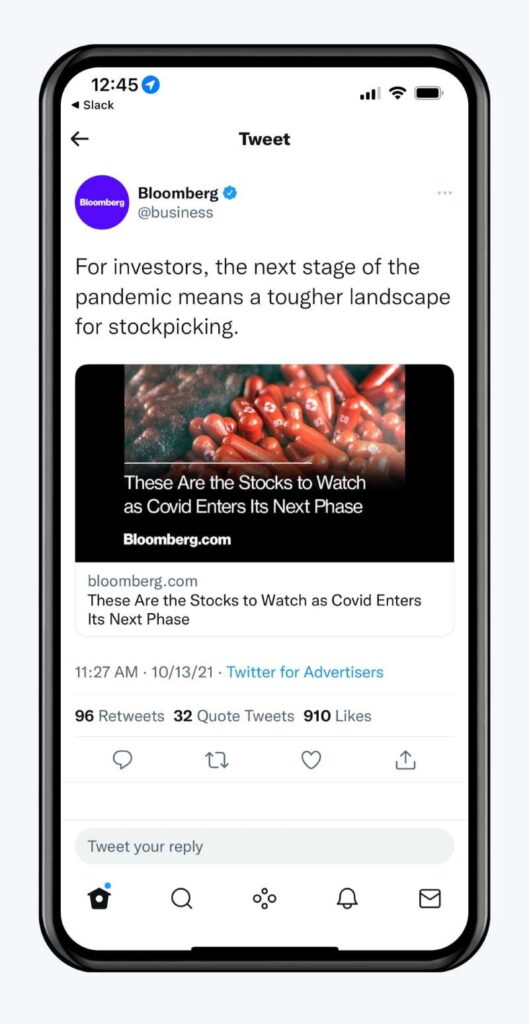 Since Twitter is the second best site to drive web referrals, you can start a marketing campaign to get more users to learn about your brand and increase site visits. Even if Bloomberg is already a financial news giant, they wanted more readers besides site visits. Their strategy was to post relevant articles on Twitter to increase site traffic. Plus, they made sure to target the right audience so their audience reads their articles.
5. Collaborate with Famous Personalities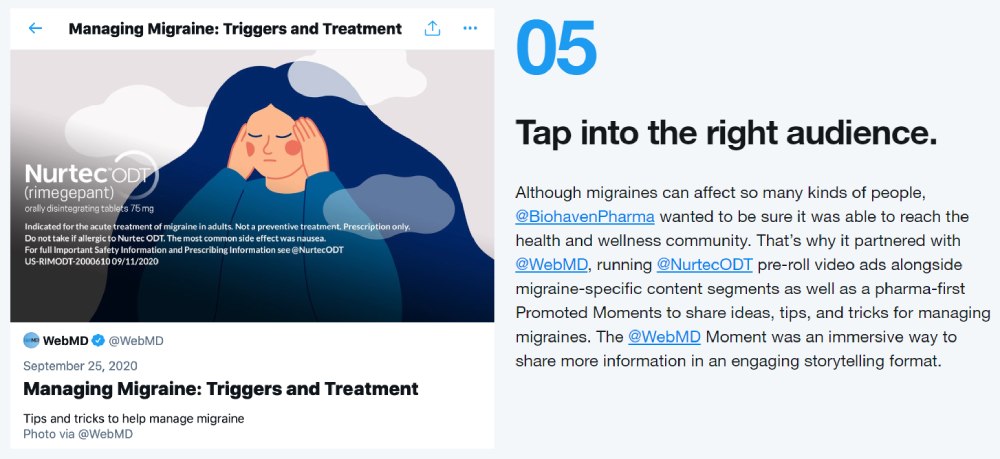 The microblogging and social media platform is popular even with celebrities. And if you want to leverage your brand on the site, you can collaborate with them on the site. Plus, make sure you mention them so more people notice your brand. One excellent example comes from Biohaven.
They wanted more people to learn about the FDA approval of their new medication, Nurtec ODT, in 2020. The brand introduced the new medicine through education and its benefits. However, Biohaven also partnered with Khloe Kardashian, with the famous personality highlighting her migraine story. Plus, they also collaborated with the internet's favorite doctor, WebMD.
With their marketing campaign, they had a 6-point boost in brand awareness. Plus, the ad campaign generated more than 4,000 mentions.
How Can Penji Help with Your Marketing Efforts?
Twitter is the ideal marketing platform for businesses looking to enhance brand awareness and reach more people through conversations. But you can also drive more traffic to your site through Twitter. Whatever your marketing goal is, you'll need visual assets to be noticed on Twitter. If you need images or GIFs, Penji will be here when you need graphic design help. Therefore, if you want to get more people talking about your brand with the help of compelling visuals, subscribe to Penji and see how your brand can take off on Twitter.