Video is the most preferred option to consume on social media. But video creation can be expensive and takes time. That's why graphics are still a popular post choice by many businesses and marketers on social media. But with social media, you want to post eye-catching graphics to raise engagement rates and entice more customers to purchase from you. One of the easiest ways to create impressive visuals is using social media design templates. But where can you download them? Start with these 10 free and paid sites.
1. Freepik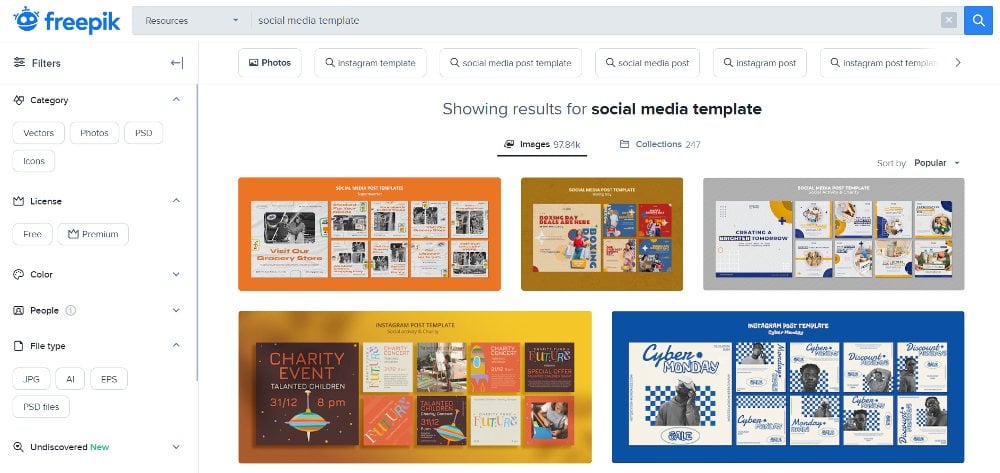 Freepik is the one-stop shop for all vectors, illustrations, and templates. You can be sure that Freepik has social media templates for all purposes. Like other sites on this list, you will find free and paid design templates. You can download a PSD file, which is ideal if you use Adobe Photoshop to edit your desired templates. But they have JPG options too.
One thing to remember when using Freepik is that their templates require attribution. And if you want to take it out, you need to subscribe to their premium plan.
Pricing:
Free
Monthly – 15 EUR (~$16/mo)
2. Template Monster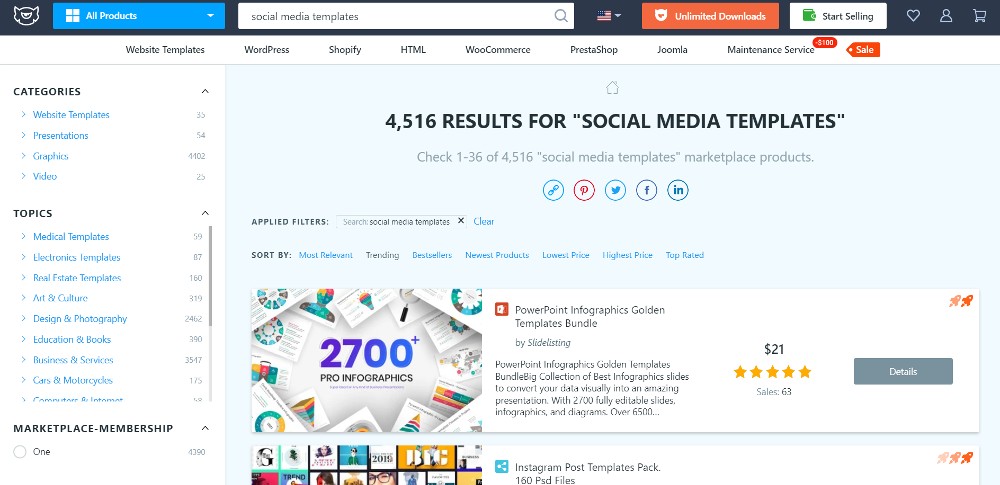 If you need to browse more templates, check out Template Monster. Although they list website templates, they also allow social media design templates. You will find bundled social media templates. Or you can download a specific design template. Here are the different social media visuals you can download:
Posts
Events
Stories
Ads
Banners
Pricing:
Template Monster has two options for you to purchase design templates. One is by subscribing to their MonsterONE Subscription. They have two options:
Annual – $13.25/mo (billed annually – $159/yr)
Lifetime – $529
Meanwhile, they have licensing options too. Prices vary, but you can choose between personal or commercial licensing.
3. Vecteezy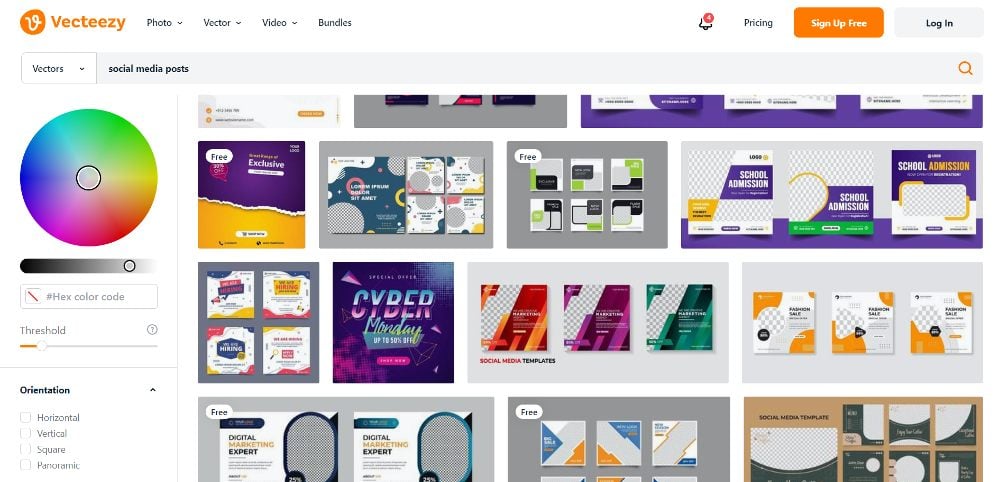 Although Vecteezy is known for free and paid vector art and stock photos, you can download social media templates too. Like Freepik, you need to subscribe to Vecteezy to remove the attribution.
You will find different templates, such as promotions, banners, and stories. Plus, some design templates are easy to edit. You can add an image and post it immediately on your social media pages!
Pricing:
4. Canva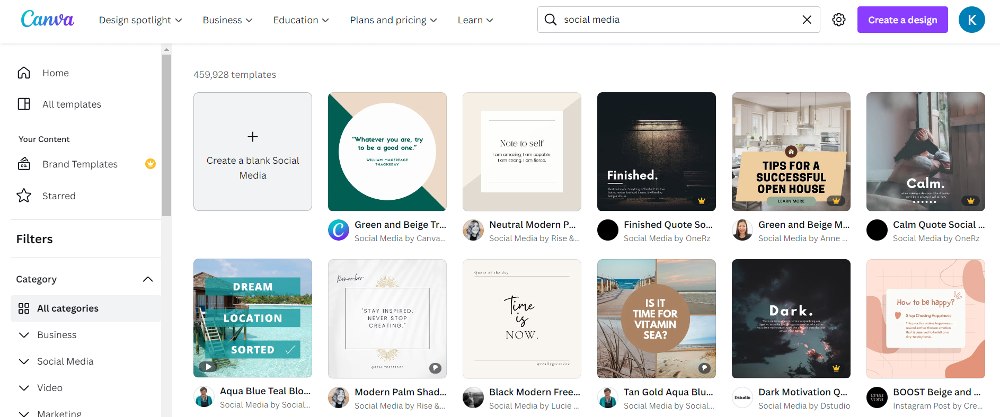 Canva is the first graphic design application on our list which you can download design templates from. With Canva, you can find thousands of design templates, such as:
Motivational quotes
Visual FAQ
Events
Ads
Product launch
Plus, professional graphic designers have produced the templates you'll see on Canva. Hence, you'll find compelling visuals to edit for your brand. However, not all templates are free to use. You'll need a subscription to the graphic design software to access premium templates.
Pricing:
Free
Monthly – $12.99/mo
Team – $14.99/mo
5. Piktochart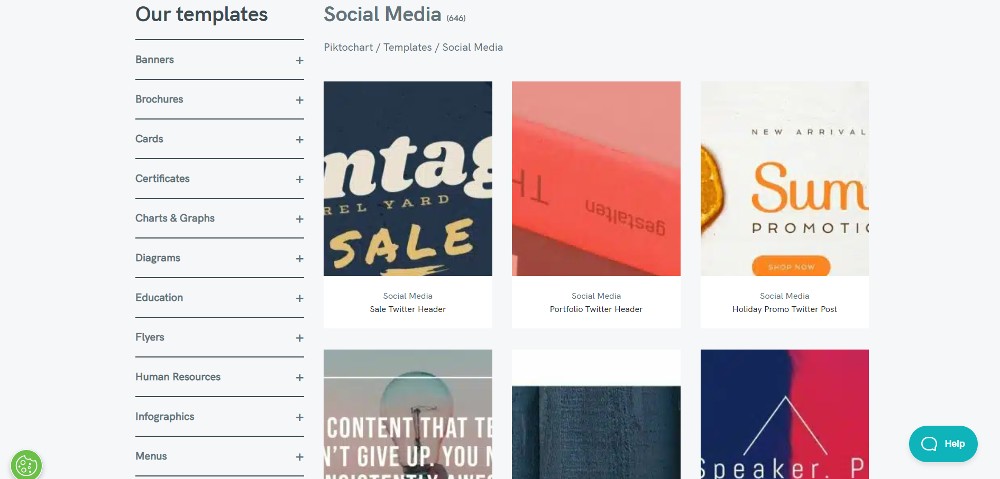 Even if Piktochart is a popular infographic maker, they offer templates, such as posters and flyers. Plus, they have a diverse selection of social media templates and more than 500+ templates for you! Moreover, you can choose among LinkedIn, Facebook, and Twitter templates.
Pricing:
Free
Pro – $29mo
Enterprise – Contact sales
6. Designhill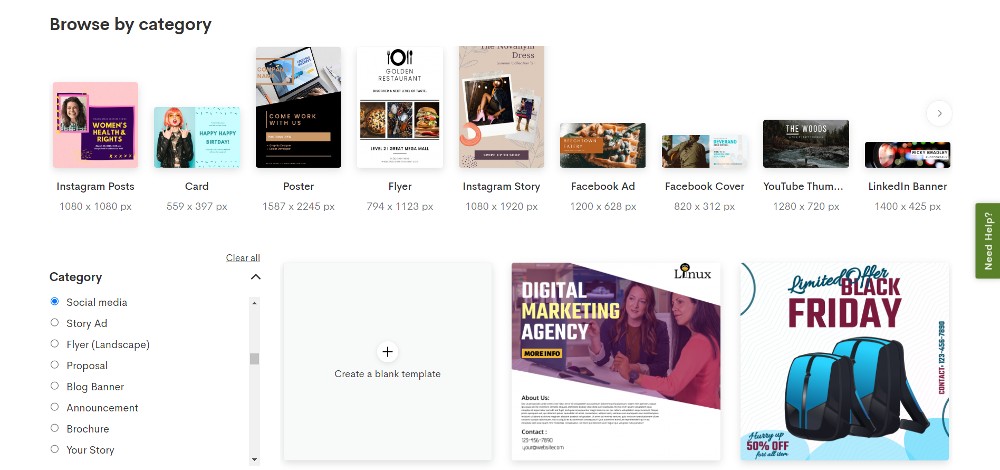 Designhill is a design contest site from which you can get social media templates. However, if you don't want to start a design contest, Designhill offers free social media design templates that you can edit. You can choose from different social media posts, like banners, ads, covers, feed posts, and more. In addition, you can filter your selection of visuals like the holidays or purpose.
Pricing: Free
7. Adobe Express

Another excellent option to download and edit social media templates is Adobe Express. You can guarantee well-designed templates since it's from Adobe. Plus, you can download hundreds of story, post, and banner templates. But not all templates are free to use. You need to upgrade to their subscription plan to access premium templates.
Pricing:
8. Pixelbuddha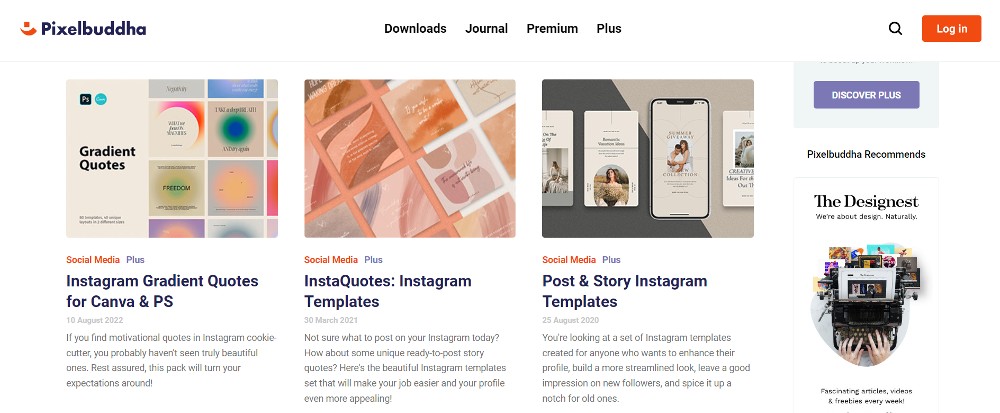 Pixelbuddha is one of three graphic design resources and marketplaces that made our list. Their selection of social media templates isn't comprehensive, unlike others on our list. However, their templates are still worth downloading. They offer modern and chic designs, ideal for any business! In addition, you can download free and paid templates.
Pricing:
Monthly – $10/mo
Yearly – $59/yr
9. Envato Elements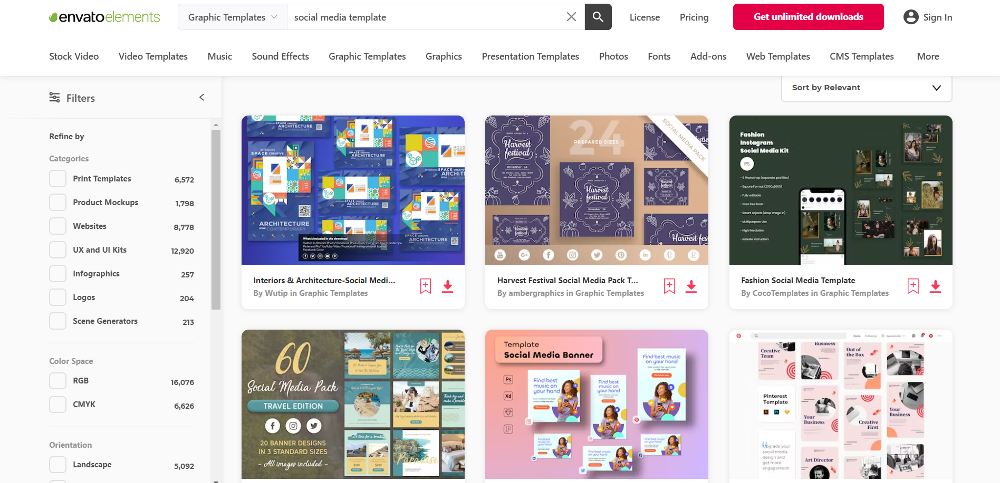 Another marketplace that earned a spot on our list is Envato Elements. It's another must-visit site for graphic design resources. But to purchase their templates, you need a subscription plan. On Envato Elements, you will find various design styles and templates for multiple purposes, like promotion, business, event, travel, and more!
Pricing: starts at $16.50/mo
10. Creative Market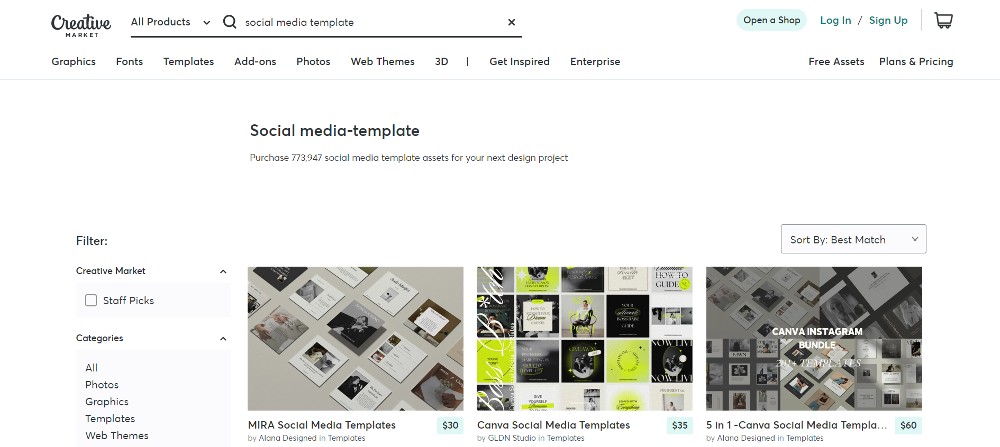 Creative Market is another go-to place for any graphic designer to download templates, icons, illustrations, and more! After all, it's a community for graphic designers to help other designers. But businesses can also find enticing templates for their social media posts.
You can filter your search by clicking on the social media site you want to download a template for. Plus, you can find different design aesthetics, like earthy, bright, minimalist, and more!
Pricing: Design templates start at $2
How Can I Create a Social Media Design Template?
The easiest and fastest way to design your social media templates is using online graphic design software. Canva, Piktochart, Designhill, and Adobe Express have built-in editors to create your design templates. You don't have to worry about knowing the sizes or file formats since they have been optimized and are ready for anyone to use.
But if designing isn't your forte, and you need help creating branded and custom design templates, why not try Penji?
Why Should You Choose Penji
Penji will be your new design partner for all things graphic design, illustrations, animated visuals, and more! Rest assured, Penji will have your back from start to finish.
Once you subscribe to Penji and submit your first request, you'll be paired with a fantastic designer. And they'll submit your designs within 1 to 2 days. Right after that, the designer can revise their work (if you have any feedback), or you can use your new templates immediately! It's that easy.
If you want to say yes to Penji, you can choose a plan that best suits your budget here!