Since its inception in 2015, Amazon Merch has seen an influx of users starting their apparel business. But don't think it's all butterflies and rainbows, though. While Amazon Merch t-shirts are the next big thing, it's not easy promoting your shirt designs in a saturated market. So how can you promote your shirts for free? Read on, and you'll be surprised that there are a couple of ways to do it.
But first things first, the design is vital in selling your shirts. That said, if you need help with your designs, unlimited graphic design services like Penji can handle excellent graphic shirt designs while you do the free marketing. With professional graphic designers and fast turnaround, you'll be sure quality designs flow as fast as your sales.
Once you've created your great new t-shirt designs, you can also sell them on platforms like Etsy using print on demand companies like Printful and Printify. Let's cut to the chase and try these best free ways to promote Amazon Merch t-shirts and increase sales.
Pinterest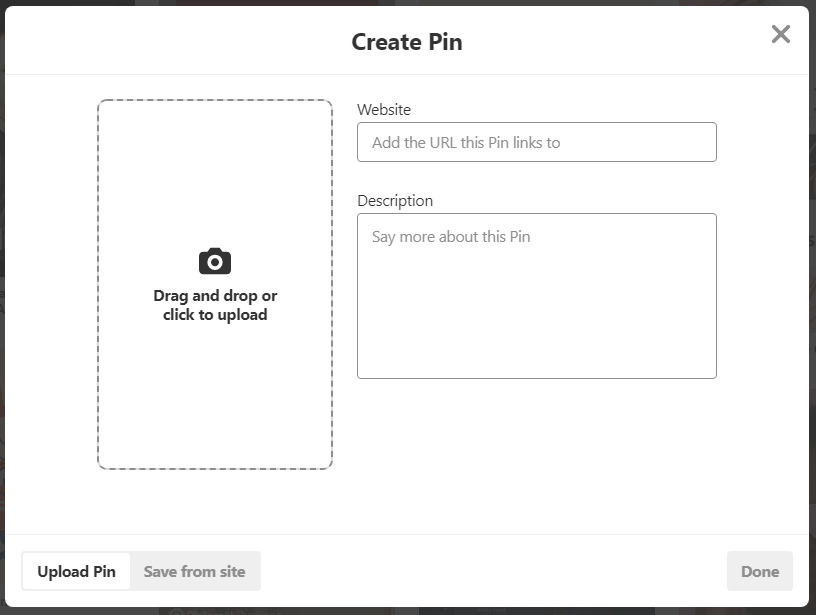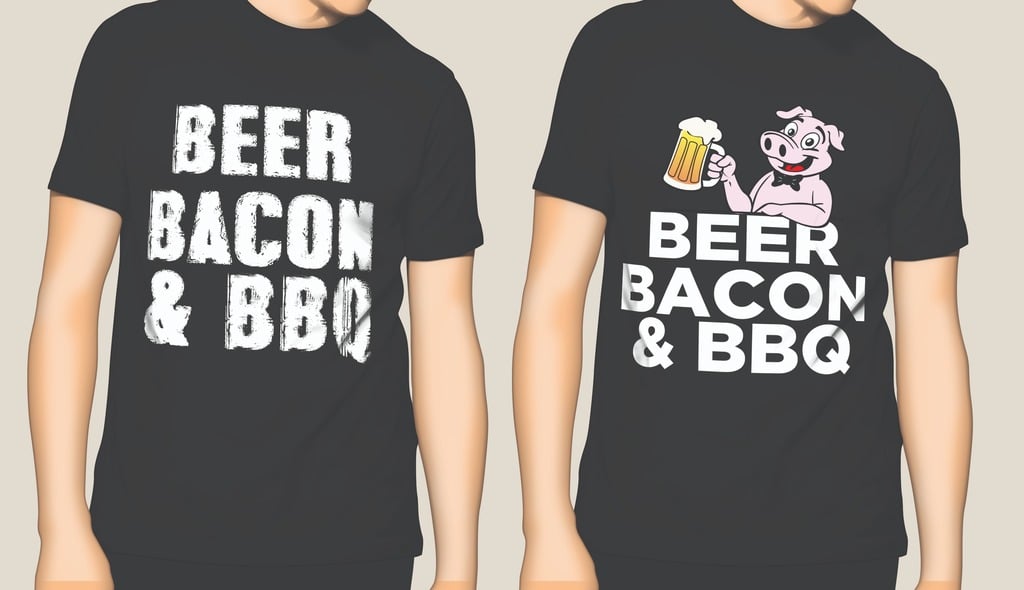 If you're looking for shoppers, Pinterest is the best place to go. Pinterest users are there to browse and are ready to spend money, which is exactly what you want! Promote your Amazon Merch t-shirts by creating a pin and linking it to the appropriate URL.

To make it look better than all the other Merch shirts on Pinterest, put your design on a mockup. If you use Penji or have your own t-shirt graphic designer, you can request for them to create mockups for every design, so you can easily upload it into Pinterest.

Facebook Groups
One of the best places to look for people who might be interested in your shirt is on the biggest social media platform. There are billions of people on Facebook. Go into the Groups tab and type in the niche you are looking for. If you're curious, hit Discover and see what's available. You may even find new t-shirt design ideas this way.

Join as many groups as you can. Some will have questions for you to answer before you're allowed in. Remember to follow the rules and be respectful in these groups. Don't just start spamming the pages with your Merch shirts. Contribute to the discussions. If you aren't sure if you can post your link, DM the admin to ask for permission.
Facebook Groups are great for finding an audience. By engaging with them, they will help you design better, come up with new ideas, and even become paying customers. You have to stay on their good side and be a trustworthy contributor, so stay active and have fun with it!
Forums
Speaking of trust, if you're going to engage in forums like Reddit, you need to gather some brownie points (karma) so you don't look like you're just trying to sell something. There's nothing worse than going into a forum to talk to random people on the internet and see someone try to push you to buy something.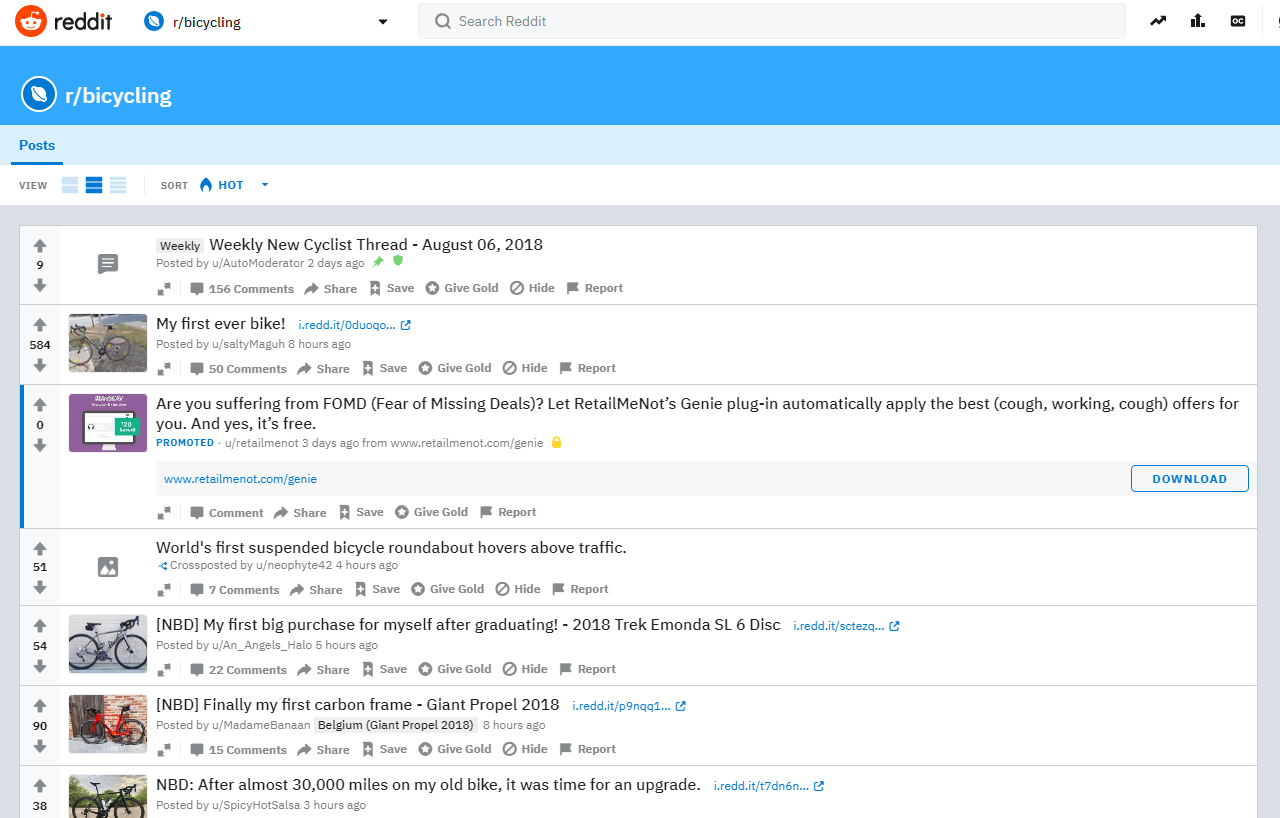 But, that doesn't mean it's not possible to get sales! Engage with subreddits often and build up a history of conversation. When the moment presents itself, post your shirt in appropriate subreddits. If you purchase the shirt yourself, consider putting it on and taking a picture instead of just using the one that Amazon provides. This will give people an idea of what it looks like in real life and how they can style it themselves.
Slack/Discord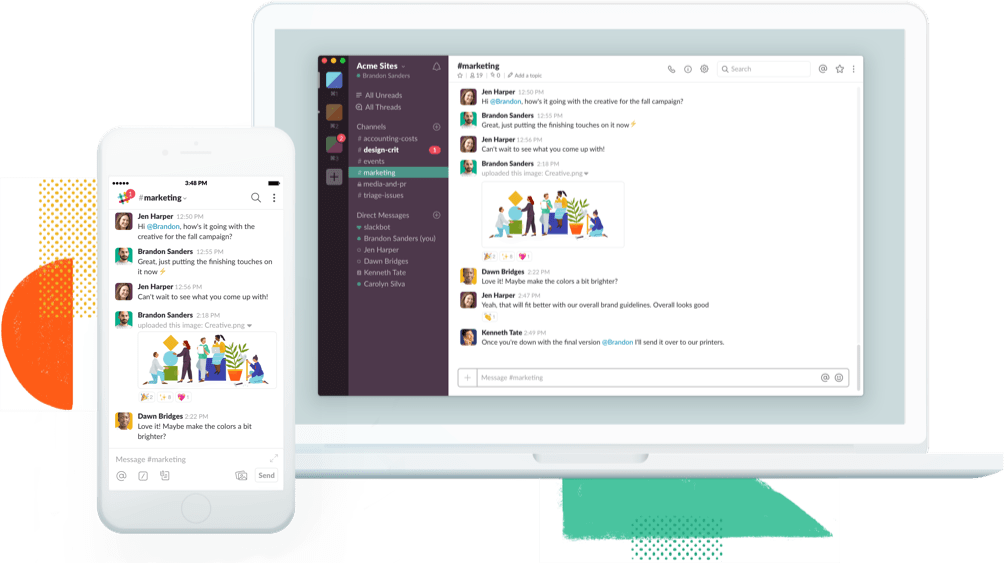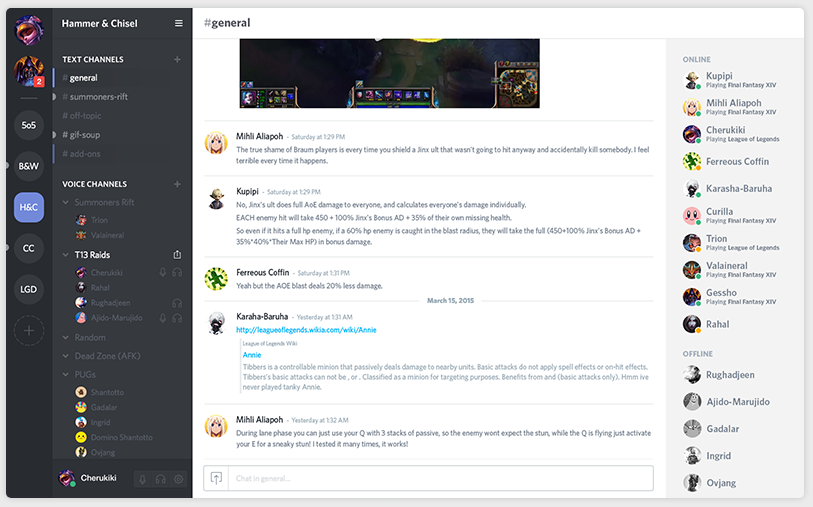 Slack is a messaging platform usually used for professional purposes. But, there are channels that serve niches like entrepreneurship, women in tech, and more. With a simple Google search, you can find them and request to join. Just like with Facebook Groups, engage in the conversation and stay active in the channels. The members of the channels are there to learn and share knowledge.

Discord is similar to Slack, but it's built for gamers. It only makes sense to join Discord if you're a part of the gaming community. The users are of all ages. So you could be talking to teenagers or grandpas. Their common ground is the game they're playing. This is a great place to promote your Amazon Merch t-shirts, especially if your niche is in gaming, anime, comics, memes, and nerd culture.

Twitch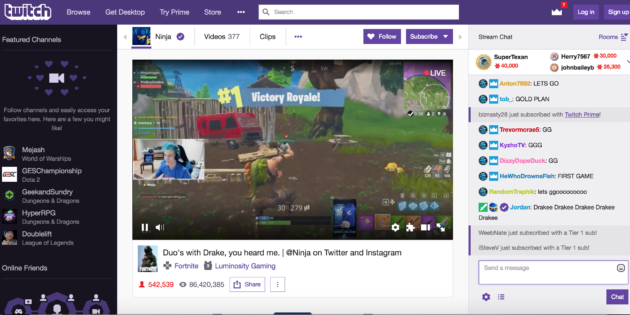 If you're into live streaming, Twitch is perfect for you! The majority of the audience on Twitch are gamers and creatives, so keep that in mind when you're streaming. If you're a gamer or graphic designer yourself, Twitch is perfect for you to promote your Amazon Merch t-shirts! You have to understand the culture on Twitch, because the people watching are really picky about the content and you want to maintain a good reputation.

Another way to promote your Amazon Merch t-shirts on Twitch is to gift a shirt to a popular streamer. Followers and subscribers of Twitch streamers are fiercely loyal. This is a great option if you're not a streamer yourself. You'll save hours out of your week and won't have to spend months trying to gather an audience.
Instagram
It's easier to promote your Amazon Merch t-shirts on Instagram if you already have a following, but if you're starting from scratch, it's difficult but still possible. The thing about Instagram is that you won't be able to post a link to specific t-shirts in the caption. The only place you can post is in the bio. Instagram is meant to be a source of inspiration and a peek into someone's life, so keep that in mind when posting.

Pictures where someone is wearing the actual product will do better than just using the picture that Amazon provides. And as always, be social. Engage with people who you think may become paying customers. Like, comment, follow, and DM. Your message has to come across as genuine and not salesy or you will instantly be blocked. Messaging those who already follow you will be ideal because they already like your content.
Getting T-shirt design ideas faster than the actual design?

Not anymore. Get your custom designs created in less time than it takes to ship a T-shirt.

Submit design request
Groups and Teams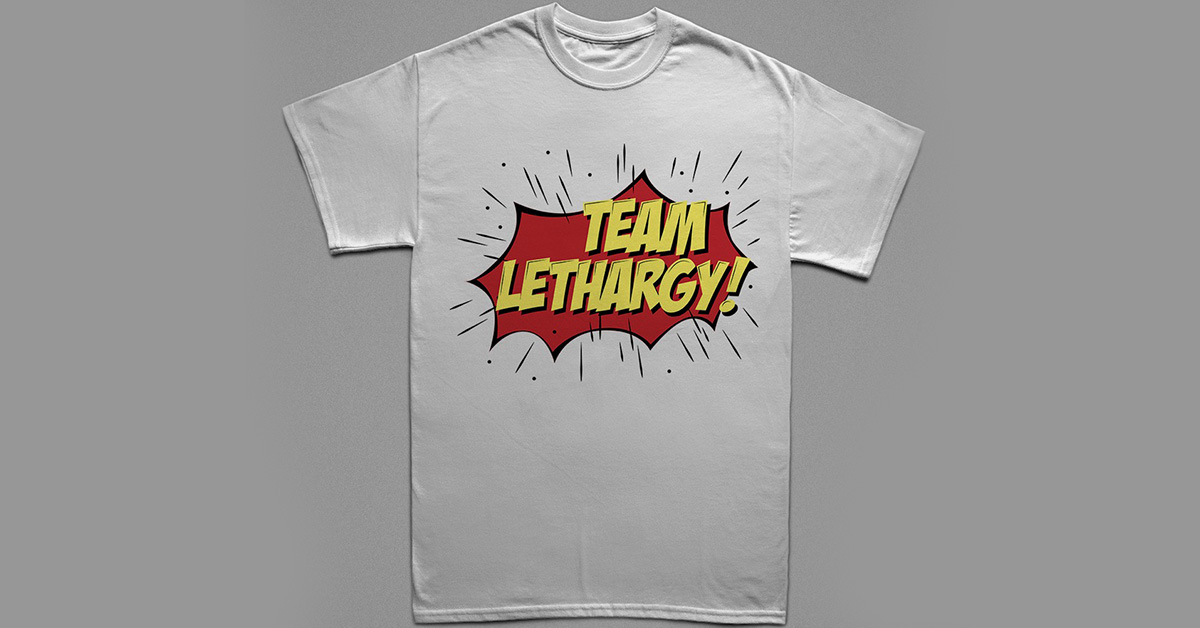 Are you in a softball team? Or perhaps you have kids and they are in Little League.This is the perfect place to promote your Amazon Merch t-shirts. Teams usually purchase bulk orders so your sales will skyrocket in a matter of days. The shirts will have to be relevant to the team so make sure you're promoting the right designs.

Groups can include support groups, religious groups, political groups, and groups for hobbies. They're great potential clients for promoting Amazon Merch t-shirts to. They place bulk orders and are probably well connected with other groups in their niche. This results in a free referral as well as a big sale. If you get your designs right for their niche, it could snowball into something much more.
Ask Your Employer
This method could work for both small and large companies. There's no better way to show support for the company that you work for than sporting a t-shirt that represents the company culture. It's a great option when it comes to events or company outings. Send a message to the team member who is in charge of company wide email blasts or head of events to work together to sell shirts at an affordable price.
When speaking with the team member in charge, mention the benefits of purchasing from your link. For example, you can custom design something specific for the business and employees will have the option of purchasing it for a low price. They won't have to worry about the hassle of working with a printer, inventory, and shipping. And they have control of the design aspect. If this goes through, you'll receive a nice boost in your sales, and possibly even tier up.
Twitter
Just like Instagram, it's easier to have an existing audience on Twitter already versus building one from scratch. But, it's still possible. Search for your target audience. Look for the hashtags they use and what their interests are. Engage with them and their friends to grow your following. Like, comment, and follow.
When you're posting, don't just spam screenshots of your shirts. Add other content that may be relevant to your audience to get them to notice you. Gifs, memes, articles are great for gaining an audience. Post your shirts every so often and watch the sales roll in.
Amazon Marketing Services (AMS)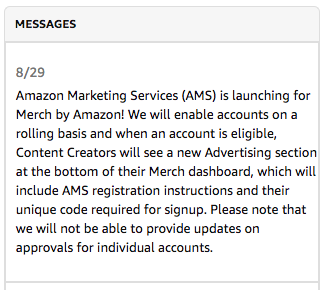 As of August 29, 2018, Amazon announced the launch of AMS for Merch by Amazon. This option isn't free, but if you do it right, you'll make a nice profit. Like most of their features, it will be available on a rolling basis so don't worry if you don't see it right away. You'll receive instructions on how to register from Amazon on your Merch dashboard.

AMS is exciting, but like any other PPC marketing, it's a slippery slope if you don't know how to use it. There have been Amazon sellers who have spent hundreds of dollars on AMS with very little return. Do your research before putting money into this option. It can be really worth it not worth it at all.
SEO
Unlike PPC (Pay-Per-Click), SEO (Search Engine Optimization) is a cost-free way to promote your Amazon Merch shirts. One way you can start is by creating blogs that showcase your fresh and unique shirt designs. Next is by ensuring that you're targeting the right keywords your possible buyers would search for. Once you have all these in check, your designs could be sitting on the first pages of search engines.
Collab with Influencers
I know this is supposed to be free promotion. But who says all influencers require a fee for product promotions? In fact, this way is probably one of the easiest ways to make your designs known out there. The most challenging part is finding the right influencers who see eye to eye with your design style and willing to promote it for free. Once you find the right one, you can let them wear your Amazon Merch t-shirts. Lastly, let them paste the Amazon Merch link on their social media channels and let those sales come pouring in.
Offer to NGOs
Nonprofit organizations organize monthly and even weekly activities for their advocacies. More often than not, these organizations need customized t-shirt designs for awareness and camaraderie. And this is how you can offer your Amazon Merch shirts at an affordable price for extensive advertising reach.
Request Unlimited Merch T-Shirt Designs with Penji
As we've said, the market for merch t-shirts is already saturated. The key to making your business profitable is to have a well-thought-out marketing strategy. This is, of course, alongside a t-shirt design that stands out. So if you are planning to start a merch t-shirt business or are already running one, then hiring a design team seems like a noble idea. This will help you focus on other areas so you can instantly increase your sales.
But isn't it too expensive to hire a design team?
That's probably your concern right now, but the answer is NO. If you know how to choose the right design team, you can even save more. Take for example, Penji where you can request unlimited merch t-shirt designs for a fraction of the cost.
The good thing about working with Penji is that you only have to go through 3 easy steps when requesting for designs.
Step 1. Create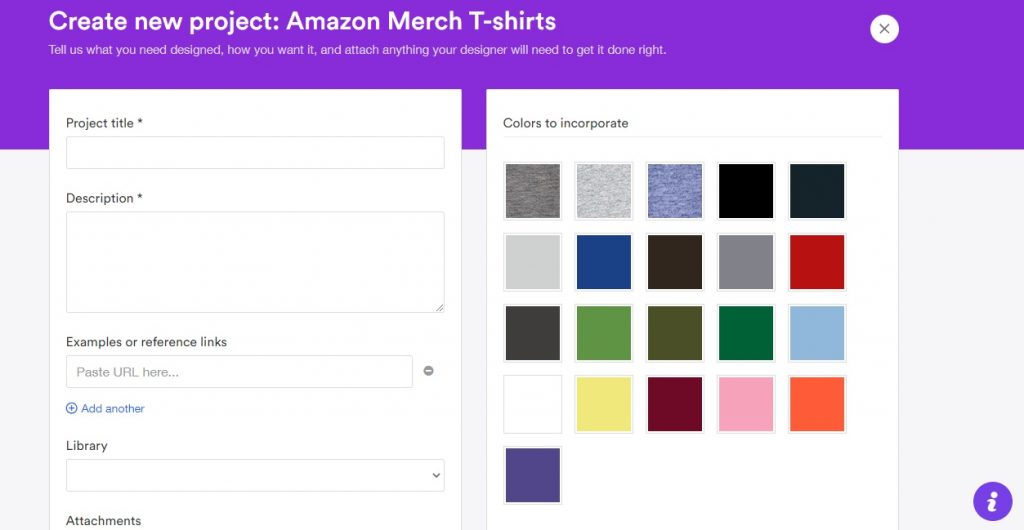 You will be given access to Penji's dashboard where you can directly request for merch t-shirt designs. Click 'Create New Project" and just supply the necessary information. This includes the project title, description, samples, or links if there are any. You may also add the colors required in your design.
Once you are done, your request will be assigned to the right graphic designer. Expect to have the first draft after 24 – 48 hours, depending on the design's complexity. However, the trick for a flawless transaction is to be as detailed as possible with your instructions. That way, the designer can already start working on your request right away. We also suggest that you check your dashboard regularly for any clarifications your designer has.
Step 2. Review and Revise
Upon receiving the first draft through the same platform, you can send back your feedback and ask for revision. Your designer will revise until you are satisfied.
The beauty of using Penji's platform is you can easily click, point, and type your feedback. This makes it easy for the designer to improve the draft.
If, after multiple revisions, you are still not satisfied with the design, another designer will be assigned to you. Don't worry about the cost as this doesn't come with a fee.
Step 3. Download the Source File
Once you are already happy with the design, you can quickly download the source file from the platform. This eliminates multiple emails, and the process is proven to be efficient. But don't take our word for it. You can always ask our clients.
Take note that you own all the licenses and rights of the design made for you. Plus, these are all stored in your Penji folder where it is easier to organize.
As always, we thought of our clients when we designed this platform. It's user-friendly and intuitive.
Final Thoughts
Is getting unlimited design services worth it? Absolutely. Imagine having several t-shirt options that you can offer to a wider market.
At Penji, we offer multiple packages, and we recommend either the Team or Agency plans where you can maximize our design services. These are priced at $479/ month and $698/ month respectively. Considering the services and the return of investment, this is a big win for your business.
If you are interested to know how it works, we have a free demo that you can try out whenever you are ready.