Penji and Design Pickle are two of the most popular choices for on-demand graphic design services. Read on as we do a comparison of the pros and cons of each service to help you choose the best one for you.
Want to give Penji a try? Use promo code "PVD25" to get 25% off your first month!
Penji vs Design Pickle: Brand Recognition
Before we get into the gritty details of comparison, let's take a look at how Penji and Design Pickle compete on Brand Recognition. We use traffic data from Ubersuggest to estimate monthly website visitors. The total of monthly visitors is related to how widely recognized the brand is online.
As of today, UberSuggest estimates Design Pickle's traffic at 18,639 visitors per month. Penji is estimated at 101,717 visitors per month. Based on this data, Penji's market awareness is larger with significantly more consumers likely to be aware of Penji.
Penji's Traffic Data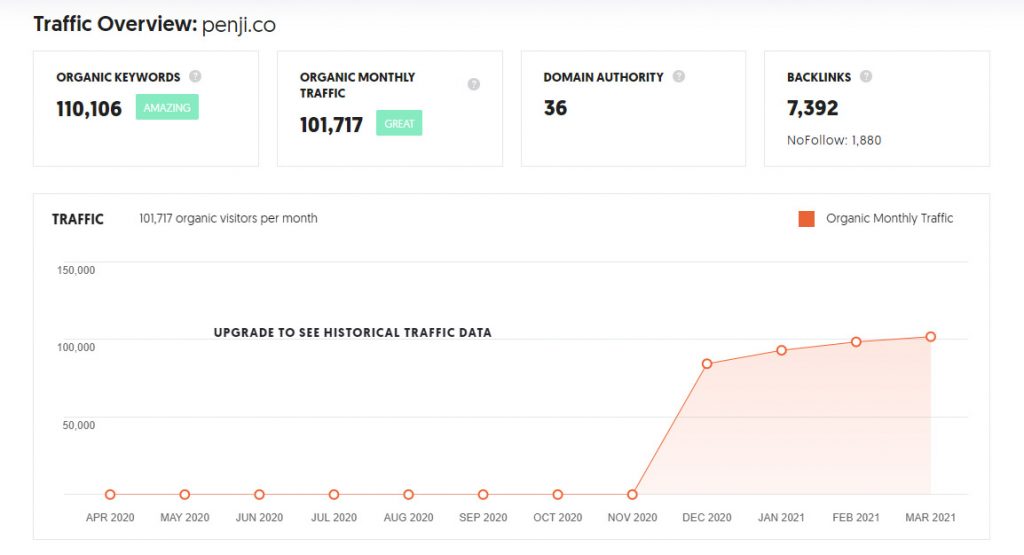 Design Pickle's Traffic Data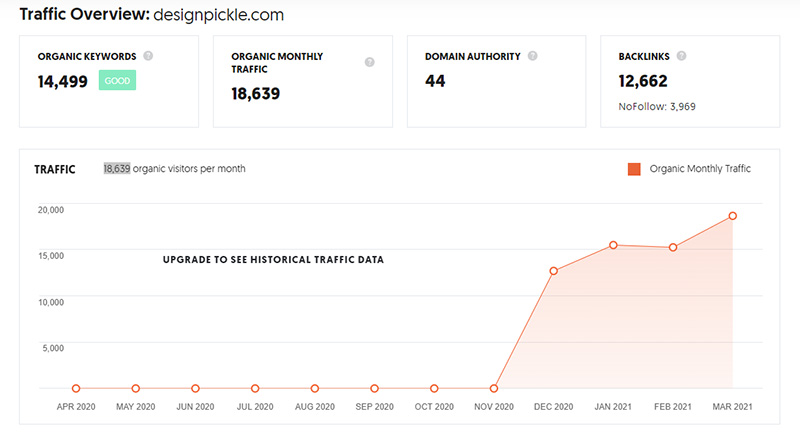 Why Unlimited Graphic Design is Better
DIYing graphic design can save you money, but that could be one of the worst mistakes you can make. When you want to build a house, you go to the professionals. The same thing could be said with something as crucial as graphic design.
Globalization has also paved the way for you to have access to graphic design freelancers. With so many platforms where you can find one, you'd be hard-pressed to know who to hire. The recruitment and vetting process can be painstaking in itself, it's not worth anyone's time and energy. Add to that the high costs freelance graphic designers charge.
DIY and hiring graphic design freelancers both have their pros and cons. To get the best of both worlds, an unlimited graphic design service is what you need. It's affordable yet provides high-quality work. With so many choices of graphic design services out there, which one should you choose?
Design Pickle vs Penji: Which is Better?
Two of the biggest and most well-known companies that offer this type of service are Penji and Design Pickle. In this article, we'll do a back to back analysis to see which one is the right fit for you. Before that, let's get to know each of them a little.
Penji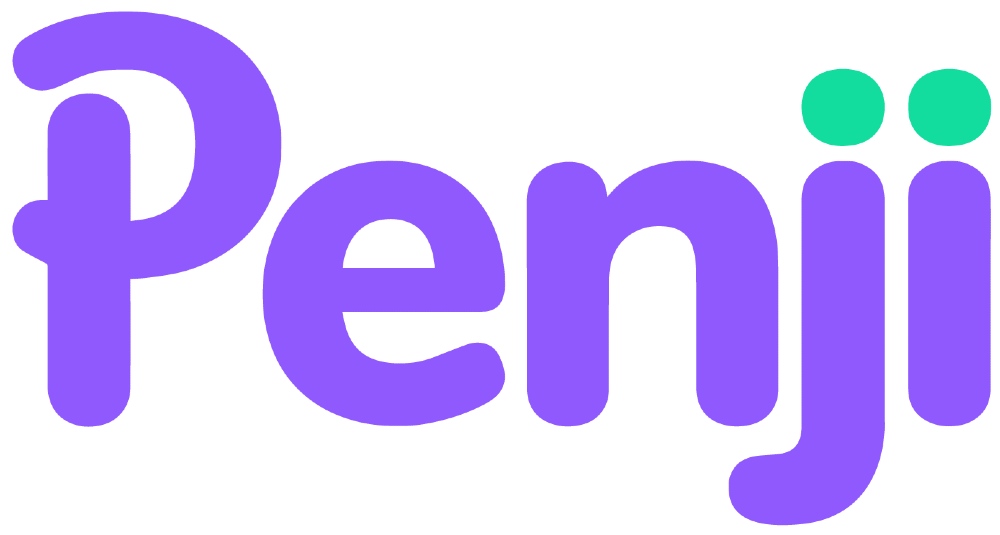 Penji was created to give affordable solutions for startups and small businesses that require inexpensive graphic design. We pledge 10% of our monthly profits to help those who help others. We provide our full services to qualified non-profits and social impact startups.
Design Pickle

As seen on their website, the founders launched Design Pickle they saw the need for affordable, yet quality graphic design. They believe that their purpose of being is to change lives through creativity.
What Makes Penji Stand Out
Our commitment to give back to and help the community is what we believe makes us different from the rest. We take pride in being a socially responsible company. We strive to do more than just generate profits, but help those around us grow.
From the get go, we pledge 10% of our monthly profits to help those who help others. We provide our full services to qualified non-profits and social impact startups. And this year, we added more programs to help. To sum it up, the following are the projects we hold close to our hearts:
Penji Against Hate
Supplies For Change
Penji Partners
Penji Champions
Startups Unlimited
Now, let's get down to what each of these two has in common and what makes them different:
The Cost
Both of these platforms offer on-demand, unlimited graphic design services. They both have a flat monthly subscription fee. Both provide unlimited graphic design and revisions. Let's take a closer look at what their pricing is and what comes with it.
Penji
Having three subscription plans, Penji offers graphic design solutions to companies of all sizes. They also cater to agencies, marketers, and anyone who needs a steady supply of graphic design and a 15-day money-back guarantee.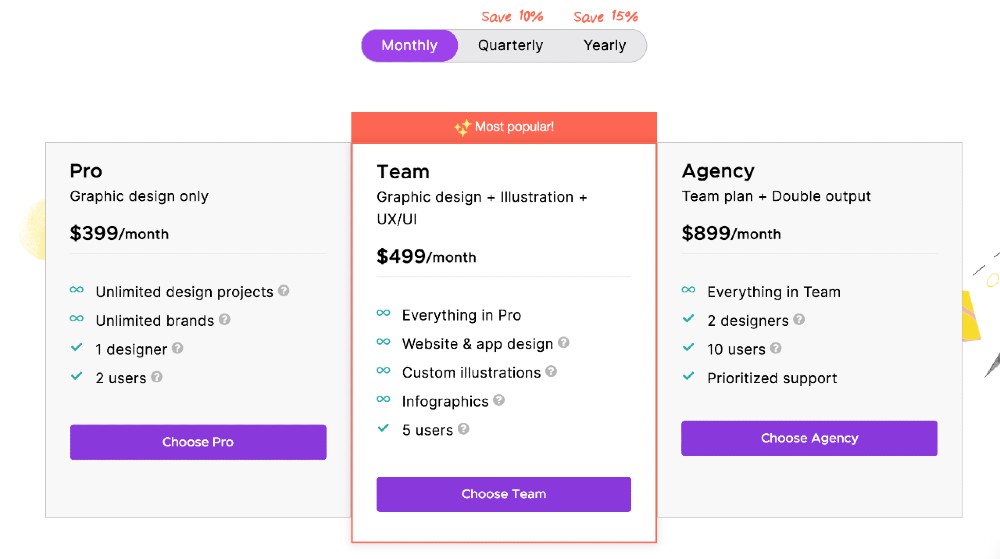 Pro
Penji's Pro plan costs $399 per month and includes unlimited design requests and brands, and daily output for two of your users. This plan does not allow you illustrations, web, and app design requests.
Team
At $499 per month, the Team plan gives you all that the Pro will but with illustrations, website, and app designs included. You can have up to 5 users and a dedicated account manager to help you with your requests.
Agency
The Agency plan is at $899 a month, inclusive of all the other plans have to offer. The daily output is doubled, and up to 10 users are allowed. You will be assigned a dedicated account manager and will have prioritized support.
With Penji, you'll get a 15% savings when you pay the yearly subscription. The Pro plan price goes down to $339, the Team for $424, and the Agency plan price will be reduced to $764 per month.
Penji video review
For a more in-depth look at Penji's registration process and how everything works internal, we recommend Phil Allen's review of Penji.
Design Pickle
For Design Pickle, they offer three different plans. All their plans are also backed by a 30-day money-back guarantee. These are: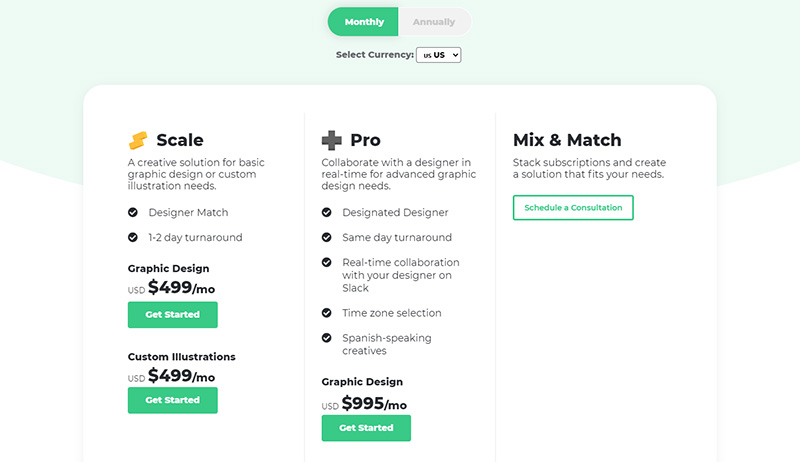 Scale
For $499 per month, you'll get unlimited designs and revisions, as well as unlimited brands. You have two options, Graphic Design or Custom Illustrations.
Pro
This plan is for $995 a month for all your graphic design needs, save for custom illustrations. It includes a designated designer, same day turnaround time, time zone selection, and Spanish-speaking creatives.
Mix & Match
For this plan, you need to speak with their consultant to get the exact price to pay and the features you want.
They also offer discounts when you pay for a longer subscription.
As you can see from the comparison above, Penji prices are still more affordable than Design Pickle. Penji's Team and Agency plans already offer custom illustrations on top of other design projects. With Design Pickle you have to get a separate plan if you need custom illustrations.
For startups and small businesses, Penji is more affordable and more flexible.
Design Pickle's video review
For a more thorough look at Design Pickle's internal dashboard and project management processes, watch My Lifestyle Dream's video review below.
The Portfolios
They say beauty is in the eye of the beholder, so we took a few portfolio samples from Penji and Design Pickle. We'll show you which one offers better quality.
Penji
Penji doesn't have a specific plan for custom illustrations. Instead, it's included in the Team and Agency plans. That means you won't have to pay extra to get this service. Here are the illustration samples taken from our portfolio: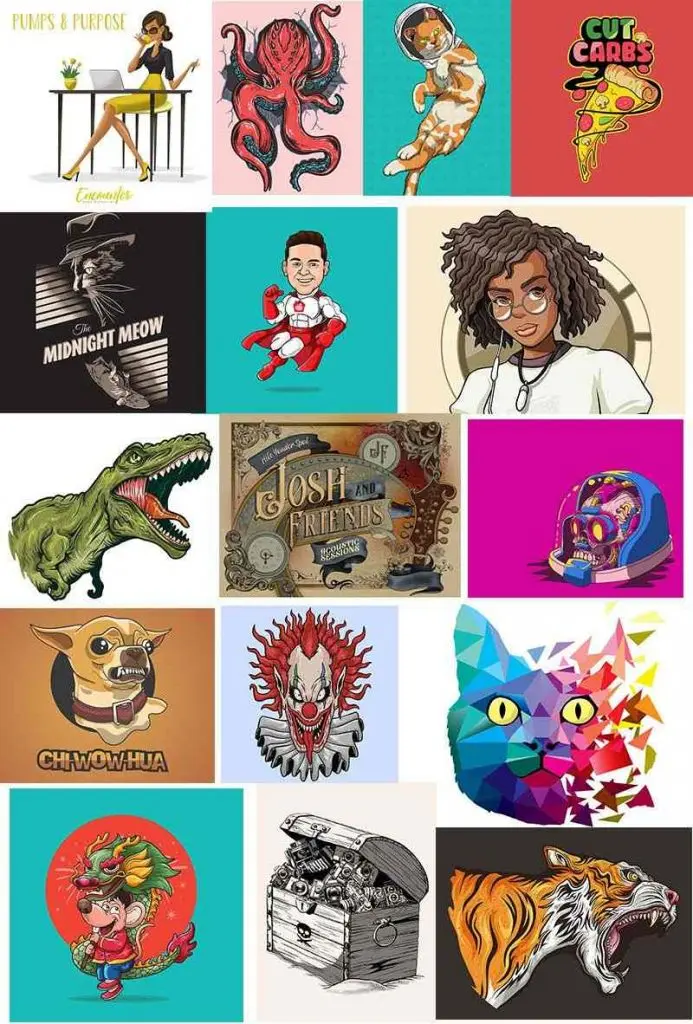 Design Pickle
Design Pickle has a dedicated plan for custom illustrations. It's an add-on to a plan of your choosing, which means you'll be paying extra for the service. Here's a sample of their custom illustrations: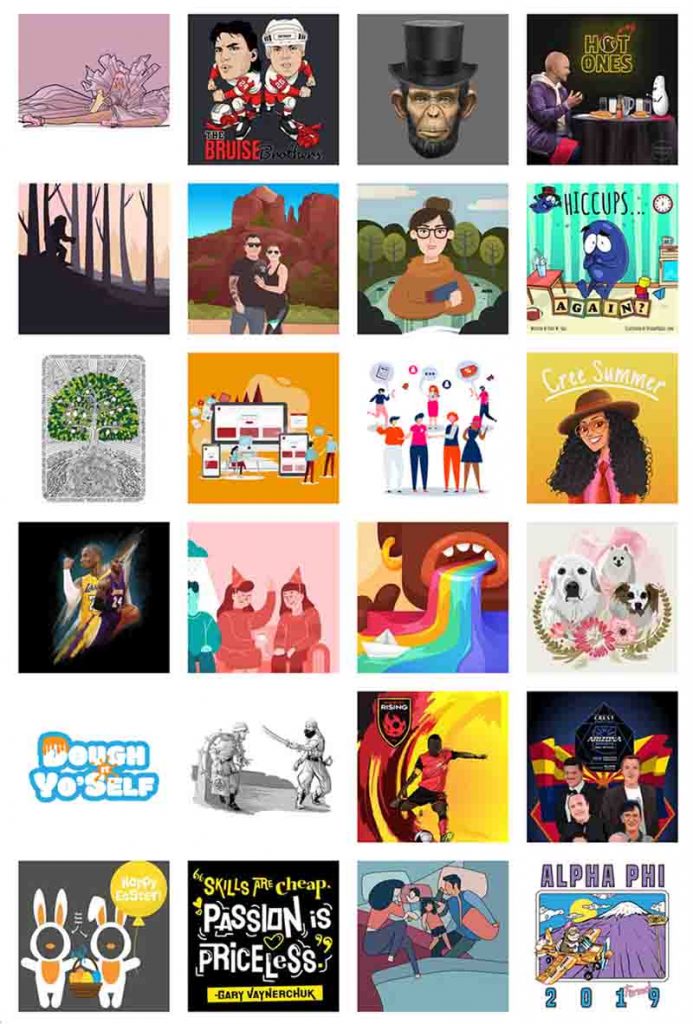 This makes Penji even more ideal for you if you want to have custom illustrations made. Our Team and Agency plans both have them so you can enjoy having a wider array of graphic design and illustrations included instead of paying extra for an add-on.
Customer Onboarding Process
The onboarding process with Penji vs Design Pickle is almost similar. These two also offer a free demo.
Penji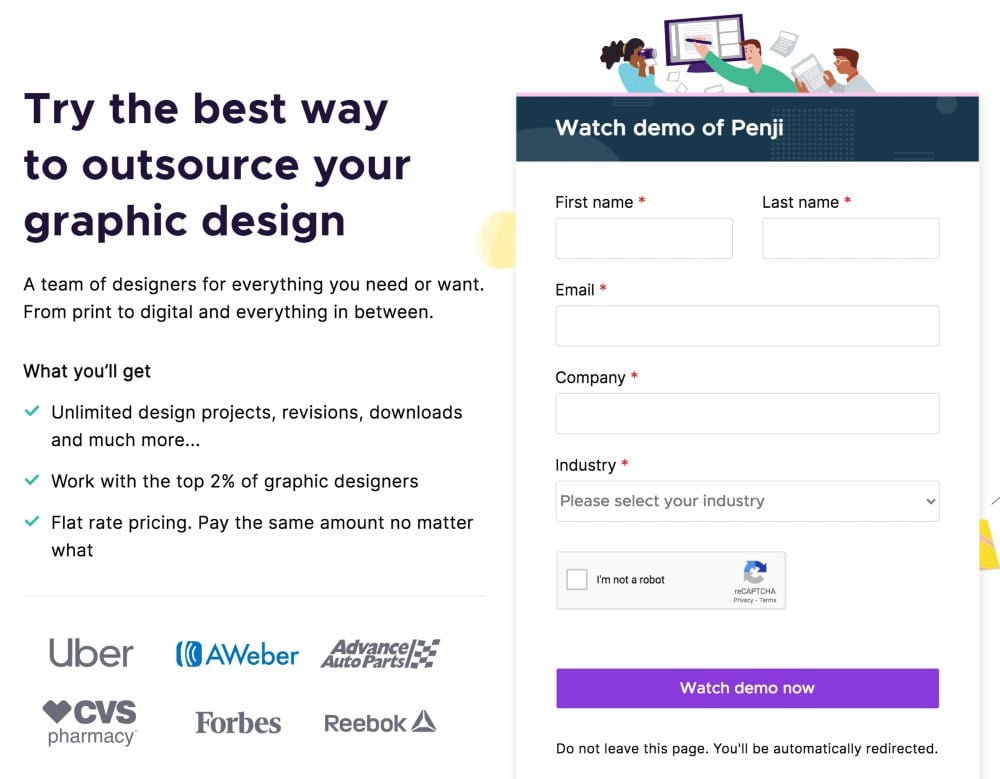 Watch Penji's demo today.
Penji's onboarding process is done through four easy steps. They are:
1. Choose a plan
2. Create an account
3. Fill in the billing information
4. Submit your first design request
Design Pickle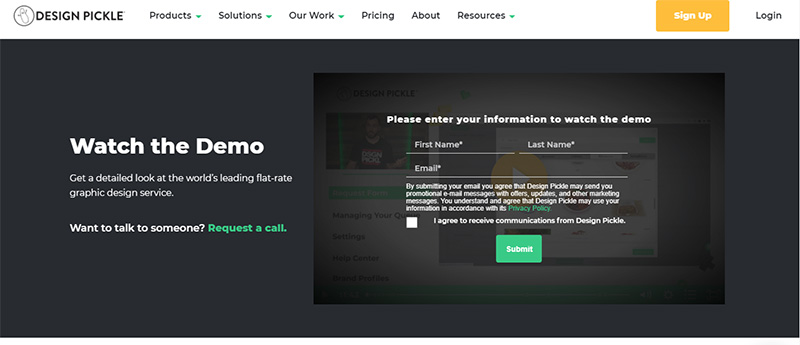 For Design Pickle, the process involves a couple of steps but is more complicated and can take you longer. The first is to sign up, follow instructions, and watch several videos before you start.
When it comes to ease and simplicity, Penji has made the onboarding process user-friendly. You also go straight to requesting a design, no more videos to watch or other instructions to read.
Submitting a Design Request
After finishing the sign-up process, you can proceed directly to both Penji and Design Pickle's dashboard. They both have made the submission process straightforward. Here's how you submit your design request to each of these platforms:
Penji
To create a project on Penji, you only have to follow four simple steps. These are Create, Connect, Revise, and Download. On the dashboard, you'll be asked to input all the information your designer needs to create your design request.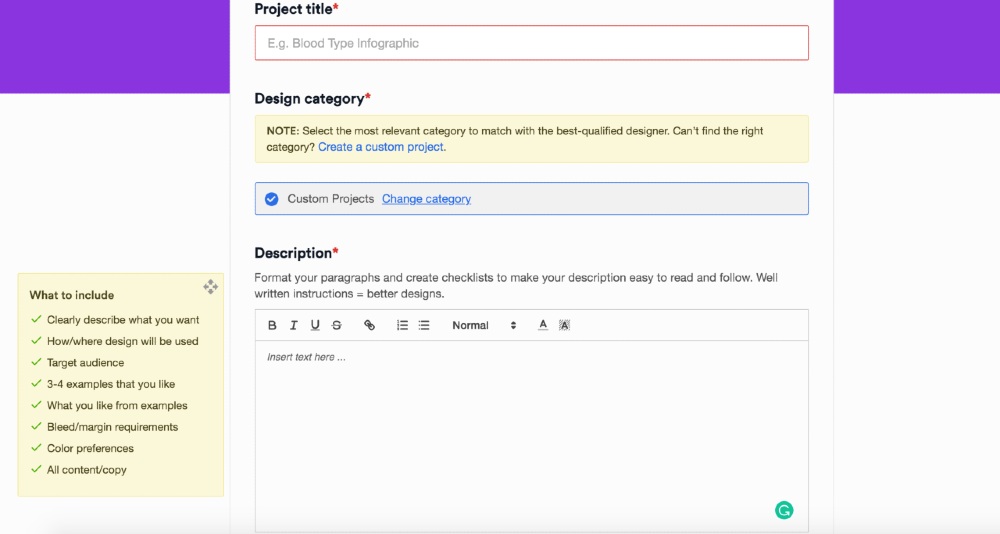 This is also where you'll communicate with them. The system automatically matches you with the most suitable designer for the job. But you can always request for someone if you're looking for a specific style. The dashboard is also the place where you tell your designer what needs to be revised or if you want to leave any feedback.
After approving your design, it is now ready for download. You take full ownership of all designs. If you want to cancel your subscription, we'll keep them in our platform's storage for up to 90 days before we completely delete them.
Design Pickle
To submit a design request on Design Pickle, go to their platform. You'll be asked to name the project and fill in the design brief.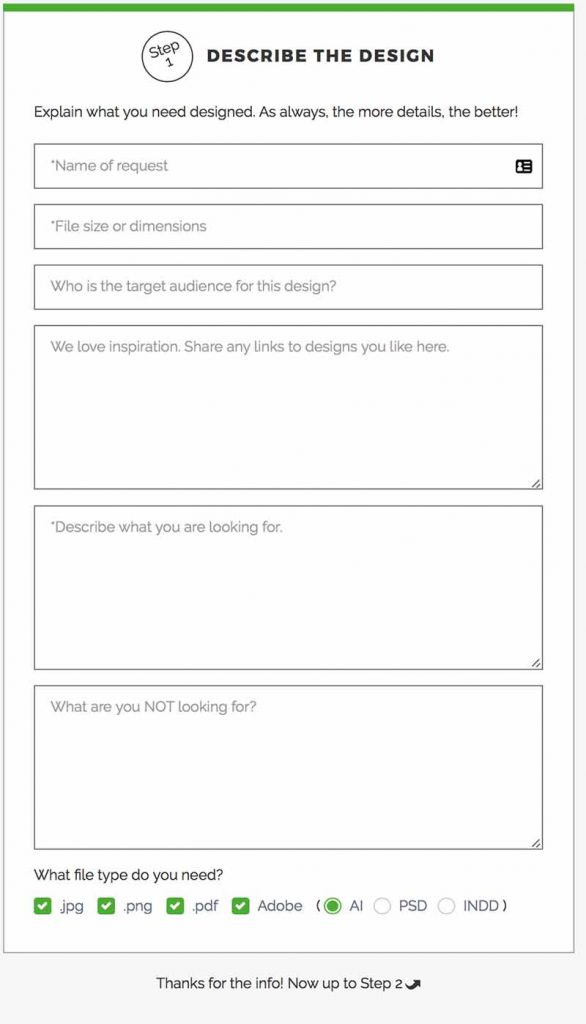 Penji takes pride in how our designers will go out of their way to understand what you want in your project. We won't hesitate to ask questions to make it right the first time.
With Design Pickle, you'll only be assigned the best designers if you sign up for the higher-priced plans.
Turnaround Time
Penji's turnaround time is anywhere between 24 and 48 hours, depending on the complexity of your design request. As for Design Pickle, their turnaround time is 1 to 2 days. If you opt for their higher priced plans, they offer a same-day turnaround time.
Quality of Work
As you can see from the illustration samples of Penji and Design Pickle, it's obvious that Penji produces better quality graphic design. Penji's team of professional graphic designers are vetted to be in the top 2% of the industry. With Design Pickle, you'll only get their top designers if you're on their Pro plan.
As proof of this, here's a side by side look at some of the two platforms' works:
Digital Ads:
Penji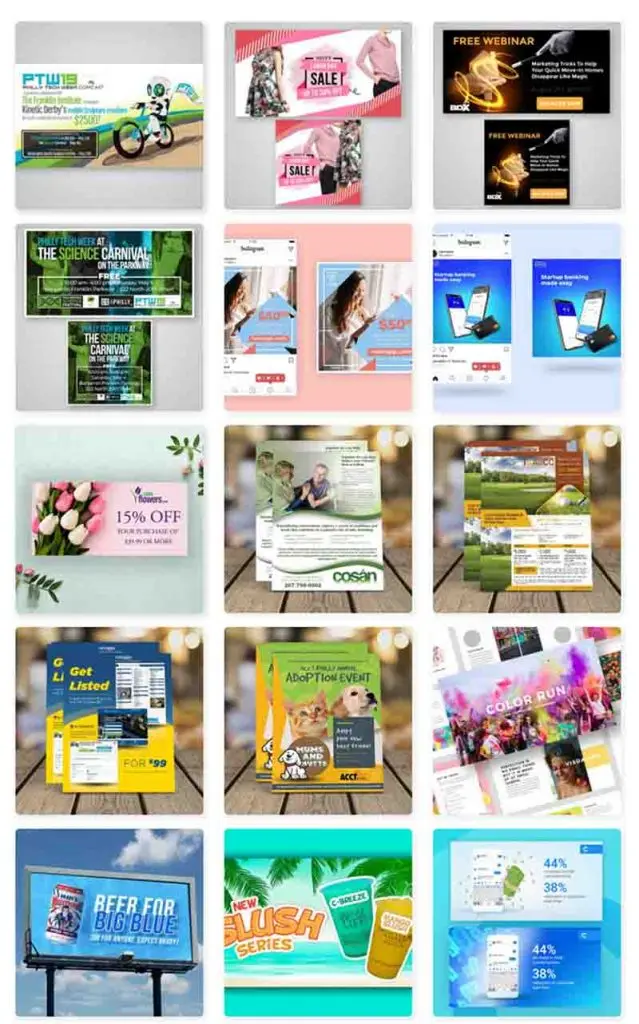 Design Pickle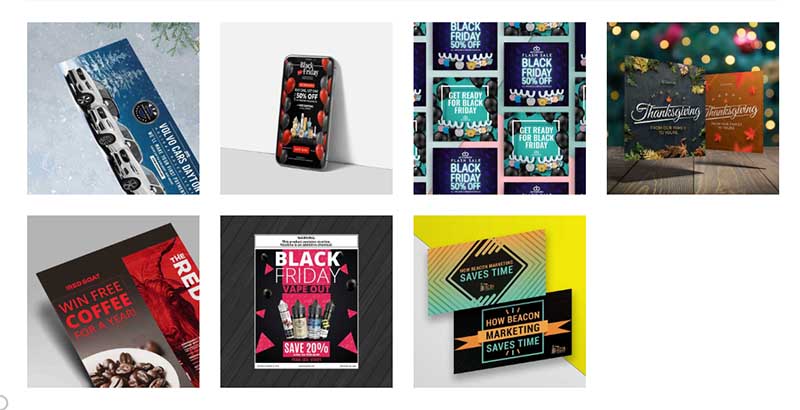 Infographics
Penji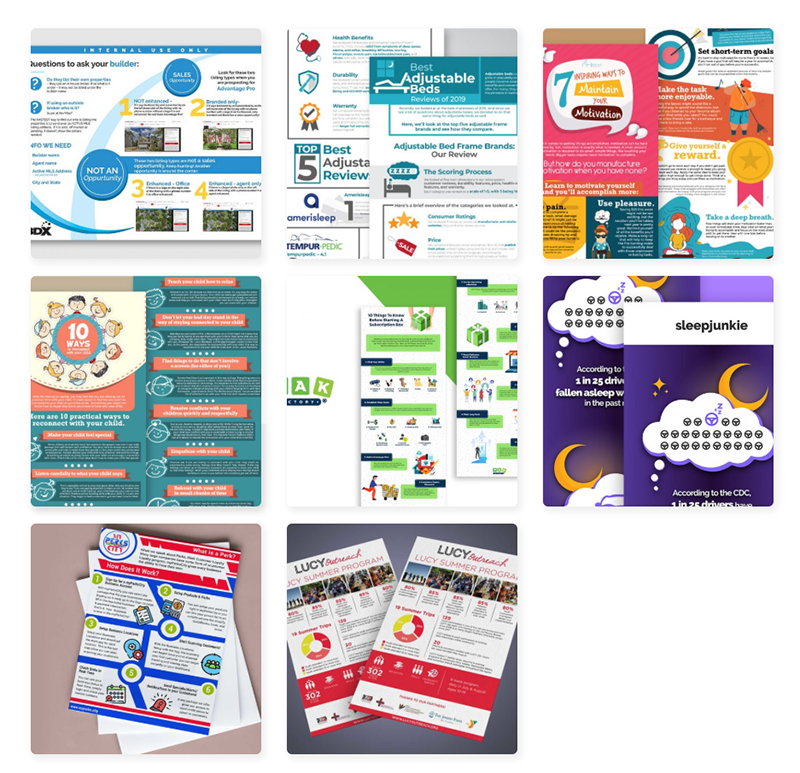 Design Pickle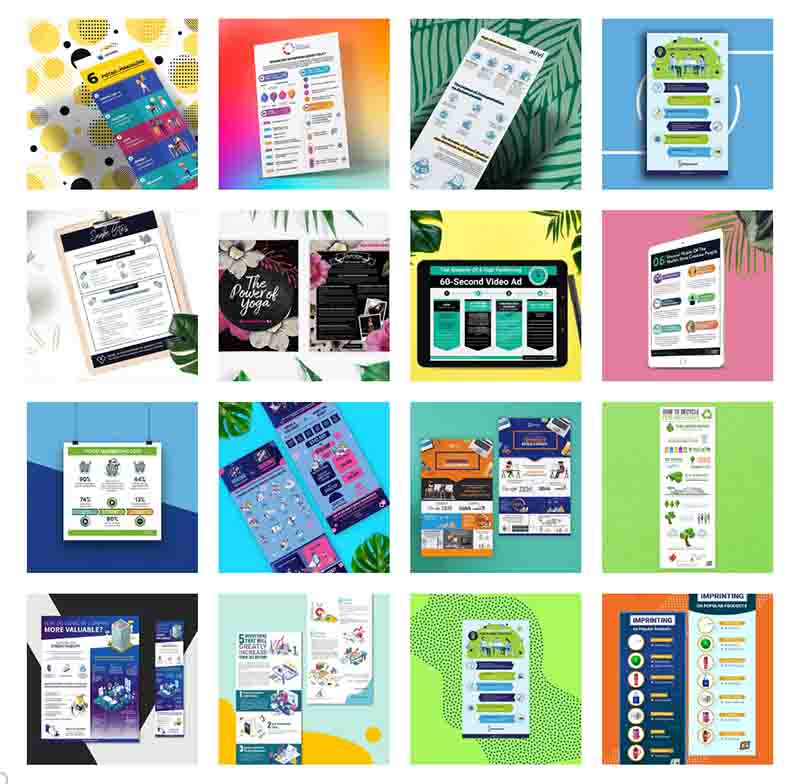 Packaging
Penji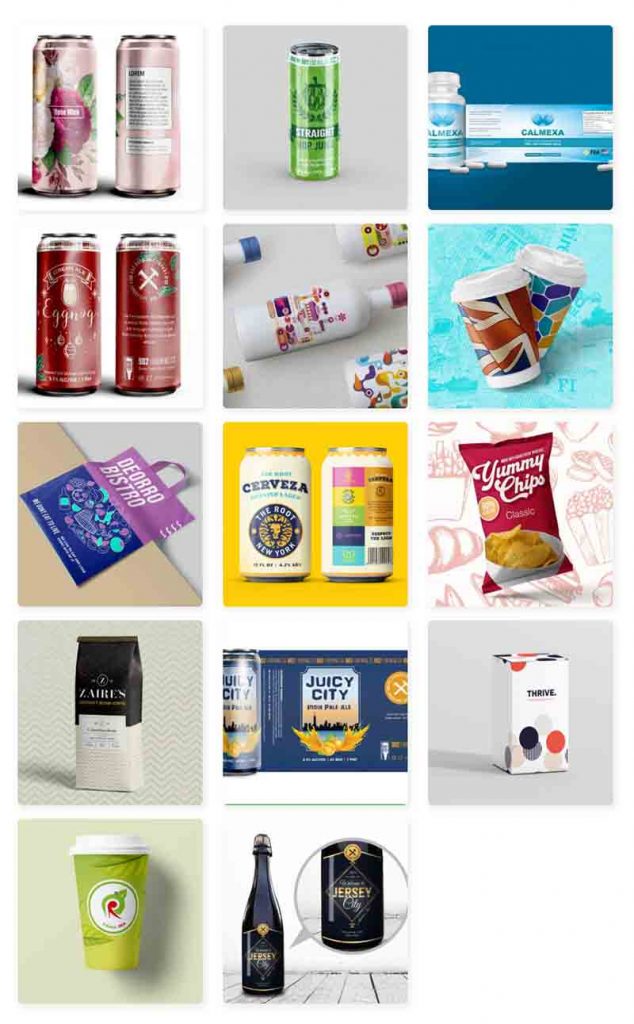 Design Pickle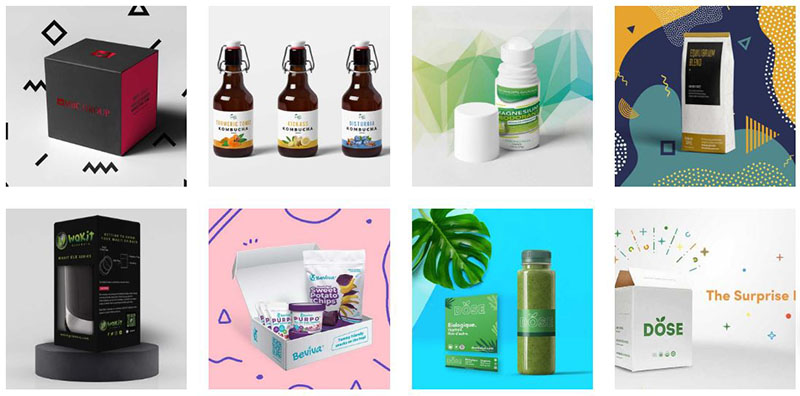 Based on the above images, we can clearly see the diversity in the styles and quality skills that the Penji designers have. With Penji, not only will you be getting more for less, you're assured of work that you'll be proud to have on your marketing strategies.
Storing Completed Projects
Both Penji and Design Pickle have their systems of storing completed files. While Penji saves your files as long as you're subscribed, we'll keep the files up to 90 days after you cancel.
At Penji, we keep file storage simple and easy. It's all accessible on your dashboard. Any member of your team can get them any time they need. You won't need to go to third party platforms to gain access to them.
Communication with the Design Team
Both Penji and Design Pickle promise easy communication. Sending and receiving messages are done through both these platforms' dashboards. Penji will send you a notification through email when your design is ready or when your designer has messaged you.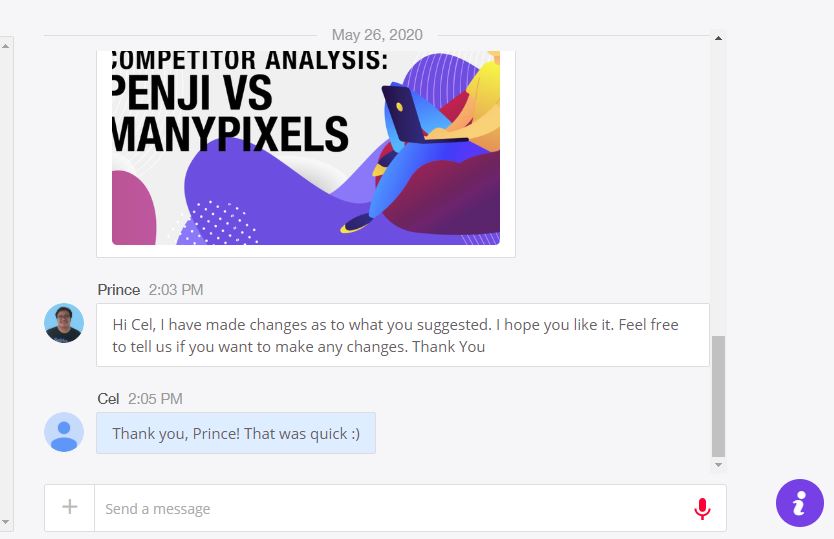 As mentioned earlier, your Penji dashboard is a one-stop-shop for all your design requests. This is where you'll access your designs as well as communicate with your designer. You won't have to go to other channels to get designs or chat with designers.
Sign Up
Penji and Design Pickle both have very straightforward sign-up systems. Here's a look at their sign up pages:
Penji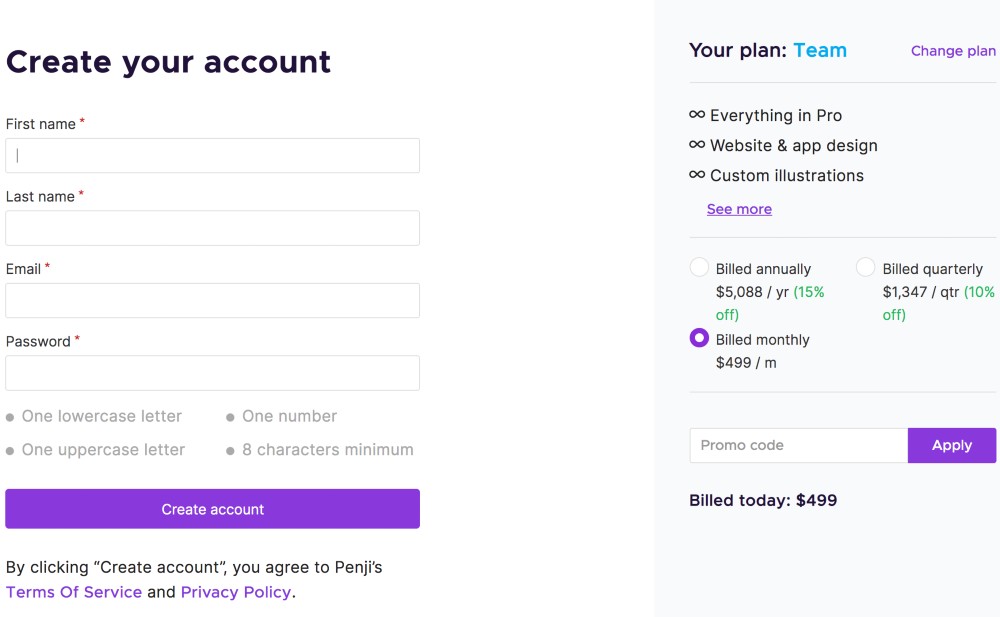 Design Pickle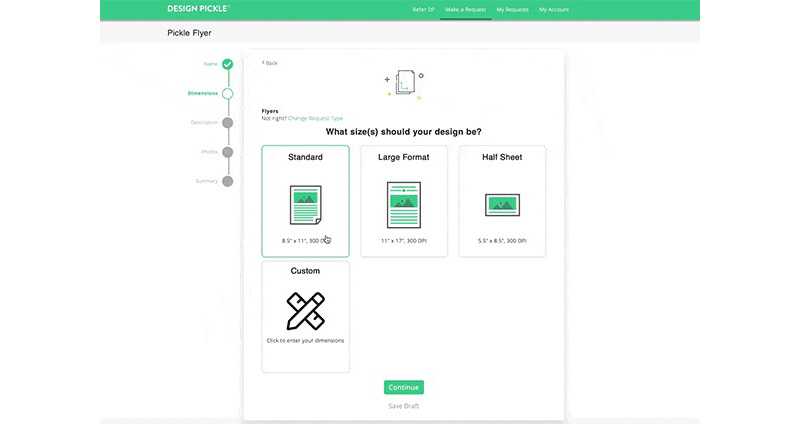 As can be seen from these images, both companies have simple and straightforward dashboards. But notice how Penji has fewer steps which can mean saving you more time to do more important tasks.
Final Thoughts on Design Pickle vs Penji
For those confused about which resource is great for unlimited graphic design services, it's very clear that both are neck and neck when it comes to on-demand business models. However, if you have a steady stream of graphic design and illustration requests, then Penji gives more value for your money.
If you're looking for a diverse style of design and illustration, inexpensive, and socially aware way to get good design, Penji is the right choice for you.
Use promo code "PVD25" to get 25% off your first month!