Do you search for a product repeatedly and see ads appear for that query? That's your brief introduction to behavioral advertising. It's slightly different from contextual advertising, wherein you get ads related to the website's content. However, online behavioral advertising can target specific users based on their searches. But what is classified as behavioral advertising, and what are examples of this advertising strategy?
Types of Behavioral Advertising
ClearCode and SendPulse find there are two behavioral advertising types. One is onsite behavioral ads, and the other is network behavioral targeting. Let's examine each type:
Onsite behavioral ads – These are ads appearing on the website. Two well-known examples include display advertising and product recommendations. This one's similar to contextual advertising. However, you can curate product suggestions based on other user behavior or purchases.
Network behavioral targeting – This ad method uses cookies and IP addresses. Most advertisers rely on other platforms for their information to target more users. They get information such as name, phone number, and email address. And with the help of algorithms, advertisers can now target based on age and purchase decisions.
How Does Behavioral Advertising Work?
Online behavioral advertising works in three steps.
1. Data Collection
Collecting and analyzing data is made easier thanks to cookies. And with the help of these cookies, collected data will be stored in a data management platform. In some cases, it can be stored in an advertising technology platform. One of which is a demand-side platform. Once collected, data can be segmented.
2. Segmentation
With important data gathered, a segmentation phase will happen wherein it organizes user behaviors. For example, some users are frequent travelers. Meanwhile, some users are interested in online shopping to buy products for their homes.
3. Data Application
Finally, data application happens thanks to ad campaigns. When users search for interests, it would be easier to see ads related to searches. In turn, they can partake in the buyer's journey once they view ads based on their previous searches or behaviors.
Pros and Cons of Behavioral Advertising
Pros
It improves the following: ad clicks, engagement rates, and conversion rates
Users can make a decision about their purchases faster
Online behavioral advertising promotes reminders and alerts
Cons
It can be expensive, considering you have to consider segmentation
Many believe that behavioral advertising can be intrusive and data can be exploited
Examples of Behavioral Advertising
ABTasty lists three examples of behavioral advertising, these are:
Retargeted ads
Behavioral email marketing
Location-based targeting
Since product suggestions also came up, there would be an example here as well.
Retargeted Ads
Retargeted ads happen when you visit a website or an app and don't buy or sign up for something. That's why you'll notice ads appearing on other websites you also visit so that you return to buy or subscribe. Plus, after being exposed to a retargeting ad, consumers are 70% more likely to purchase your product or item.
Many experts consider Facebook and Instagram as two of the premier platforms for retargeting. After all, Meta has an Off-Facebook activity, allowing businesses to know more about your behavior outside of those social media platforms.
I have two examples of retargeted ads after opening an online shopping app and sneaker brand website.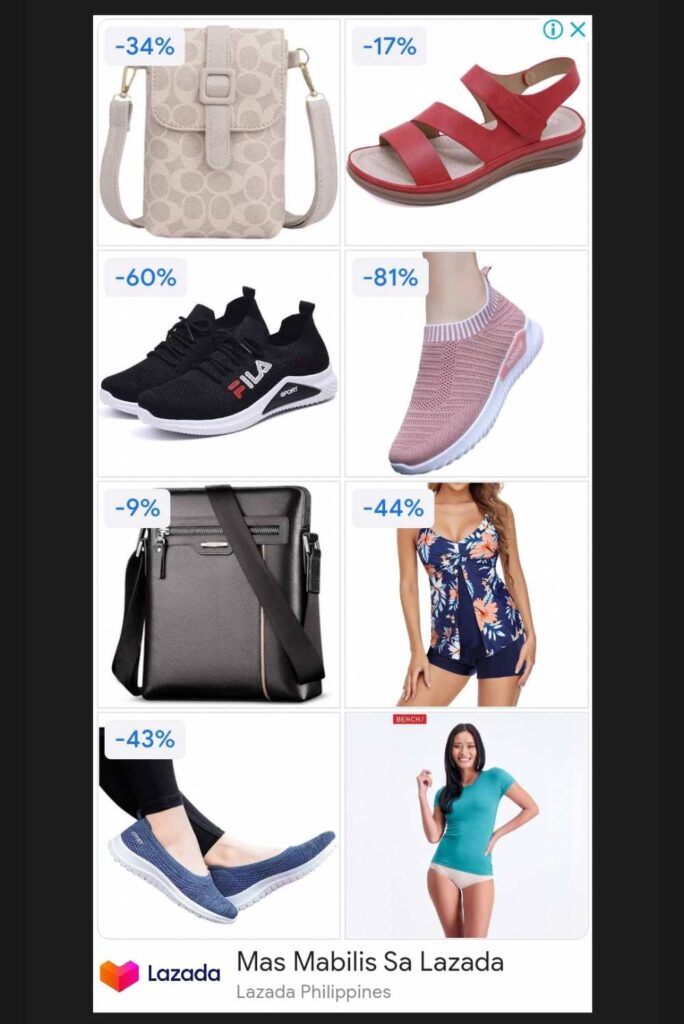 I got this ad from Lazada. Even though I'm not searching for any of these items on their app, the online shopping platform wants me to return to browse them. The sneakers in the ads look interesting though.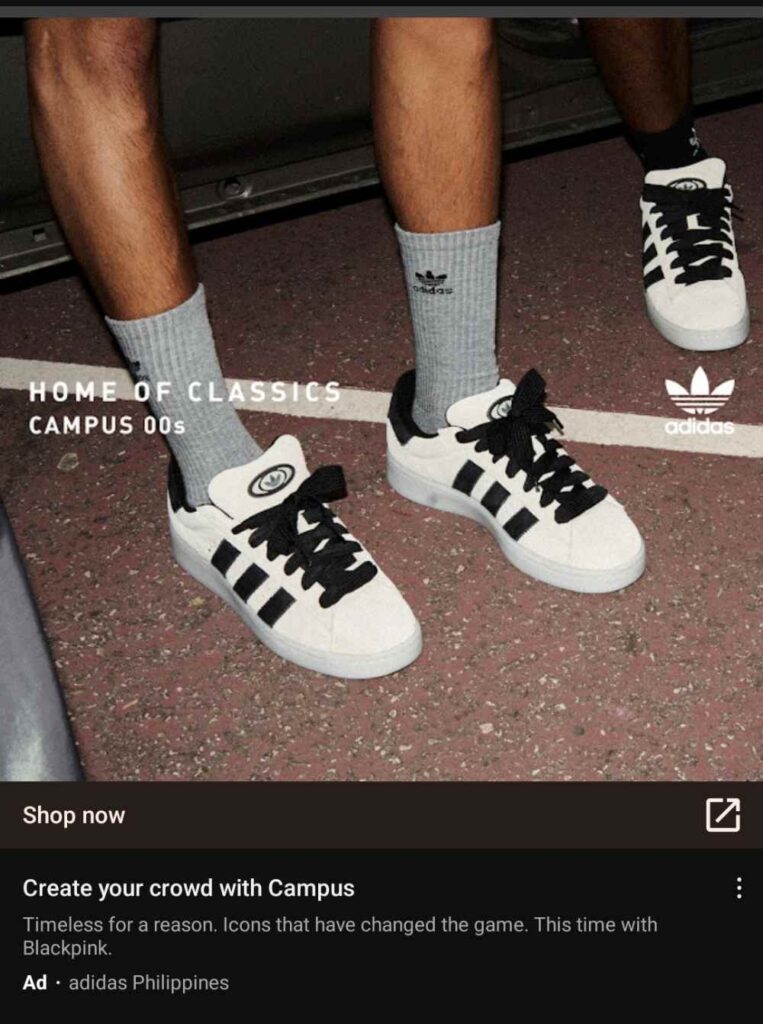 On the other hand, I also got this ad from Adidas. I recently went to the website to check out new sneakers. However, when I saw the price tag on the sneaker I wanted, I left the site and reconsidered buying it in the future. Adidas showed me an ad that didn't show my preferred sneakers. But they reminded me to come back.
Behavioral Email Marketing
Behavioral email marketing is an effective method, especially if you want visitors to return to finish their purchases. This is the ideal marketing strategy for eCommerce businesses.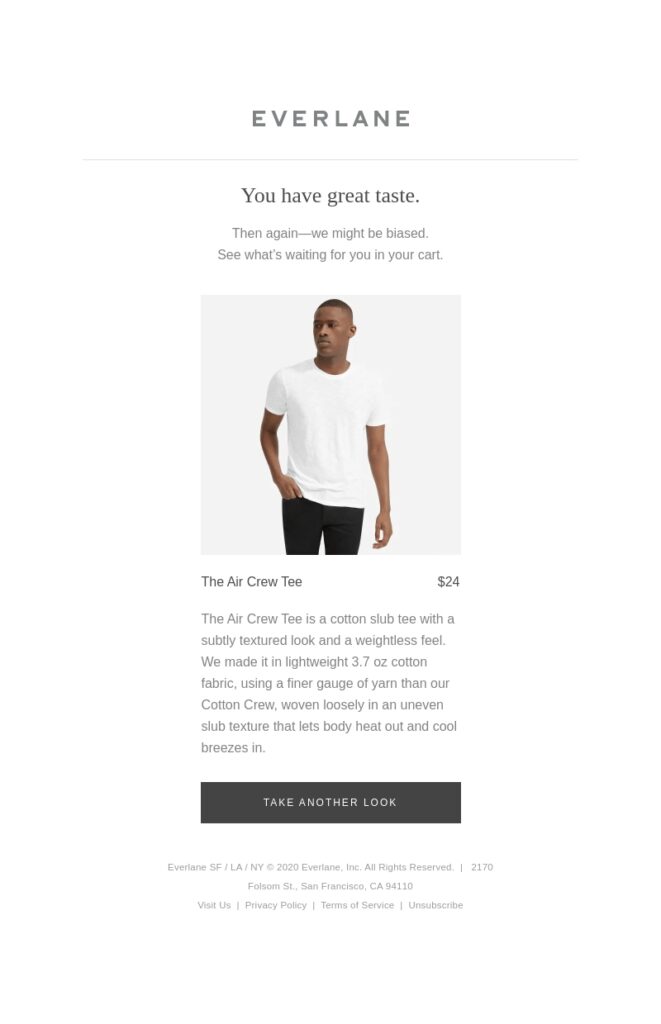 Image source: Really Good Emails
Here's an example from Everlane showing us an Abandoned Cart email. The behavioral email marketing method works if your website has cookies and your visitors have accepted those. Everlane reminds visitors browsing their site with an abandoned cart to purchase the item before it becomes unavailable. It's an effective way to help visitors make a decision if they want to purchase the item or not.
Location-based Targeting
One other online behavioral advertising example is location-based targeting. Although it's not as popular as the other methods shown here, location-based marketing has been proven effective for several brands.
One of which is Whole Foods, thanks to its partnership with Thinknear (now part of InMarket). Although the marketing strategy was done eight years ago, it's still a relevant case study for future use. Thinknear used geofencing to alert users nearby any Whole Foods store to promote ads and special discounts or promos. According to Beaconstac, Whole Foods yielded a 4.69% conversion rate.
Product Suggestions

Since product suggestions are also part of online behavioral advertising, check out this example I pulled from the Amazon homepage. I was searching for new pens for my journal, but I couldn't decide on one. However, Amazon decided to show me related colored pens to buy next time.

Another example of a product suggestion comes from Lululemon. I browsed their body and belt bags for future use. However, as you scroll down, you'll notice their "You may also like" section, where you can find other product recommendations. It's a great way to promote other products allowing users to stick to their preferred selection.
Final Thoughts
Online behavioral advertising can present ethical concerns, considering that internet user data will be used to personalize their ads. That said, many people opt out of personalized data because it's considered intrusive. Plus, some of them may use ad-blockers to get rid of seeing online ads.
However, not all forms of behavioral advertising can seem invasive. You can give your target audience a nudge in the right direction, like behavioral email or location-based targeting, to alert or suggest that these items are still available. With this, you're engaging with the users and helping them say yes to a purchase.