When it comes to digital marketing efforts, many ventures focus efforts on ramping up their search engine optimization and social media promotion. However, one tried and tested tool often remains overlooked – newsletters.
The smartest marketers know that newsletters can be a crucial channel in generating more leads and encouraging better engagement. In fact, many of our clients here in Penji ask us for newsletter designs that spark interest and convert.
In this article, we would like to enlighten you about the importance of newsletters to your business growth. We'll talk about the structure that works, and newsletter designs that are highly effective. And lastly, we will provide tips on what NOT to do with your newsletters.
Impact of Newsletters to Your Company this 2021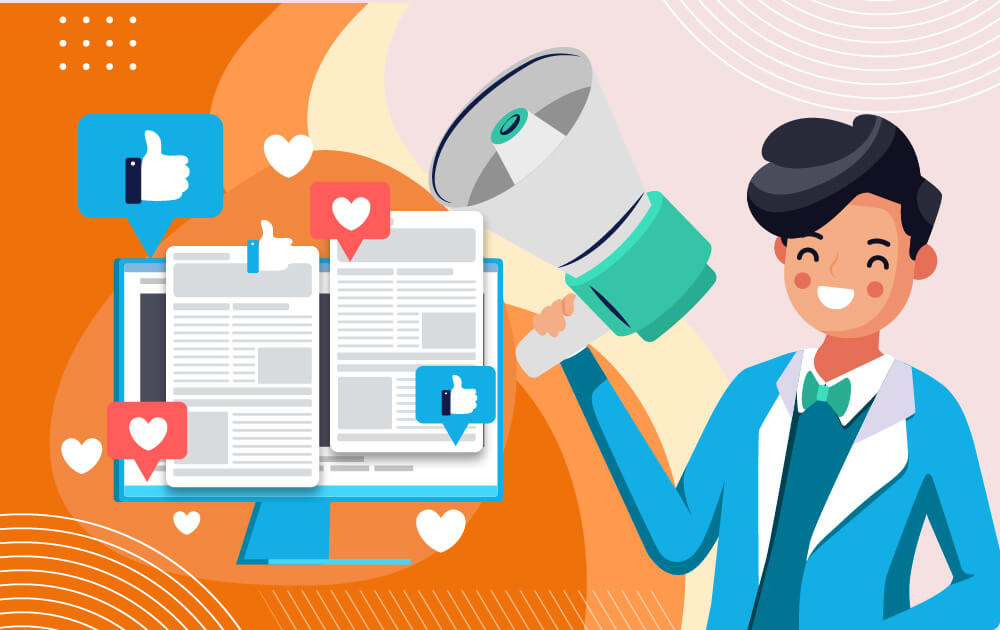 Sending newsletters is one of the most cost-efficient ways to maintain a relationship with your current clients. And at the same time, it is a tool that allows you to expand your relationship whether with potential clients or a business network. This alone should give you an idea of how crucial newsletters are, and that it should be taken seriously. But what are the benefits of sending regular and effective newsletters? What could be its impact on your company this 2021?
It Educates Your Recipients
What's good about newsletters is that it's an opportunity for you to provide more information about your brand. Let's face it, a lot of people may only know a portion of what your company does. This is the danger of heavily using advertisements and promotional emails as these only bring limited information. Unfortunately, this takes away massive business opportunities. Now, with newsletters, you can explain things in detail and this shall give your recipients a clearer picture of what you offer.
It Makes You the Market Leader
Never underestimate the power of newsletters. With a carefully curated one, you can bring your business a notch higher. You are positioning your company as an industry leader by providing substantial market and industry updates. Yet again, this shows that creating a newsletter is not an easy feat. You need to do a lot of research and data validation before you can send it out to your readers.
It's an Effective Tool for Promotion
With the right balance of content, your newsletters can also be a good material to promote new products and services. You can also add more value and spark interest by providing special offers to your recipients.
You Learn More About Your Target Audience
Include information about your newsletter on your website or perhaps even on your social media posts. Once you have a new subscription, you will get further information and contact details of your target audience. This is essential if you want to grow your company. In fact, a lot of brands right now involve their target audience in creating several campaigns.
Basic Structure of an Effective Newsletter Design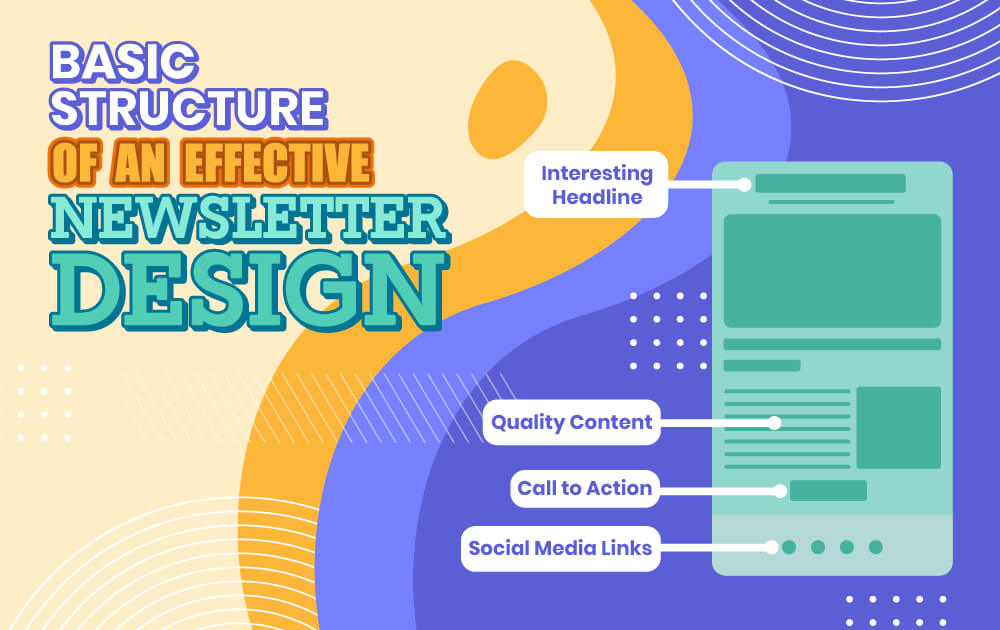 But how do you build a good email newsletter? What are the must-haves to consider? This section will answer these questions.
Start with a Captivating and Interesting Headline
Your headline is very important when creating a newsletter. Trust us, it can make or break all your efforts.

When someone sees your heading and it seems mundane or uninteresting, they will park it first and read the rest of their messages. You are lucky if they will read it. But chances are, they will either forget it or worse, delete it. That is why you have to think of a good headline.

Remember this. Your readers are mostly passionate learners. They want to know something new and something they can use. Having said that, you can choose headlines such as 'Practical Tips to Increase Brand Awareness' or '2020 Guide to Get More Online Clients'. Make them feel that they will get something out of it.
Work on Quality Content
Effective newsletters are highly informative. It shouldn't be overly promotional or your readers will easily get turned off. Take time to write contents that are relevant, well-researched, and interesting.

As much as possible, provide new angles and unique information. This will make your readers hungry for more and they will be excited to receive another newsletter. They will not be impressed if you write something which they can easily read somewhere else. Thus, give each topic your own flair and be bold.

Similarly, use language which is appropriate to your readers. Don't expect them to understand the terms that are specifically used for your industry. It is a must that you know how to simplify your thoughts.
Be Conscious About Its Length
We understand that it's exciting to write as much as you can. But remember that your readers have limited time. If they feel that your newsletter design is too complicated and looks lengthy to read, they will immediately dispose of it.

This means that you have to take into consideration the newsletter design. Ask yourself, is it too heavy to look at or is it pleasing enough? Otherwise, redo your format to make it more appealing.
Don't Forget Your Call to Action
Never forget your call to action. One of the ways to see if your newsletters are effective is by adding a call to action which will direct to your landing page. Make it visible to your readers to increase the chances of clicking it.

Now, we already mentioned about landing pages. This is vital if you want to gain traction. Instead of just directing your recipients to your home page, it will be more valuable to create landing pages where they can get more information about a specific product or service.
Links to Your Social Media Profiles
You should also take advantage of newsletters by adding links to your social media profiles. Whether you like it or not, a big chunk of your market uses social media. If you are not there, it will be harder to maintain a steady relationship with them.
Cool Things to Add to Your Newsletter Design
With numerous companies sending newsletters, you have to make yours stand out. That is why we also encourage you to add cool features that will lure your subscribers to read more. Of course, we all know that including quality images is a must. But what are the other things you can include? Here are some of our funky ideas.
GIFs
These are very popular nowadays and it wouldn't hurt if you add some cool ones to your newsletter.
Infographic
Instead of lengthy texts, you might want to work on a simple infographic that your readers can easily understand and digest.
Coupons
Who doesn't want discounts and freebies? Again, you can use newsletters as a tool to give out promos only available to your subscribers.
Videos
There are millions of YouTube users around the world. That essentially means that video content is effective. As for you, make quality videos and include them in your email.
Puzzles and Other Games
Regardless of your target market, puzzles and games are always a big hit. This doesn't have to take a lot of space in your newsletter design. However, its effects will be phenomenal.
Comic Strips
Like puzzles, comic strips are a crowd-favorite. That's precisely the reason they still have it in leading broadsheets.
Clean Humor
If you are to include humor in your newsletter, you have to be extra careful and make sure you don't include sensitive jokes that might be offensive to other people.
Motivational Quotes
And of course, be an inspiration to others by adding some simple words of wisdom in your newsletter.
What are the Common Newsletter Mistakes?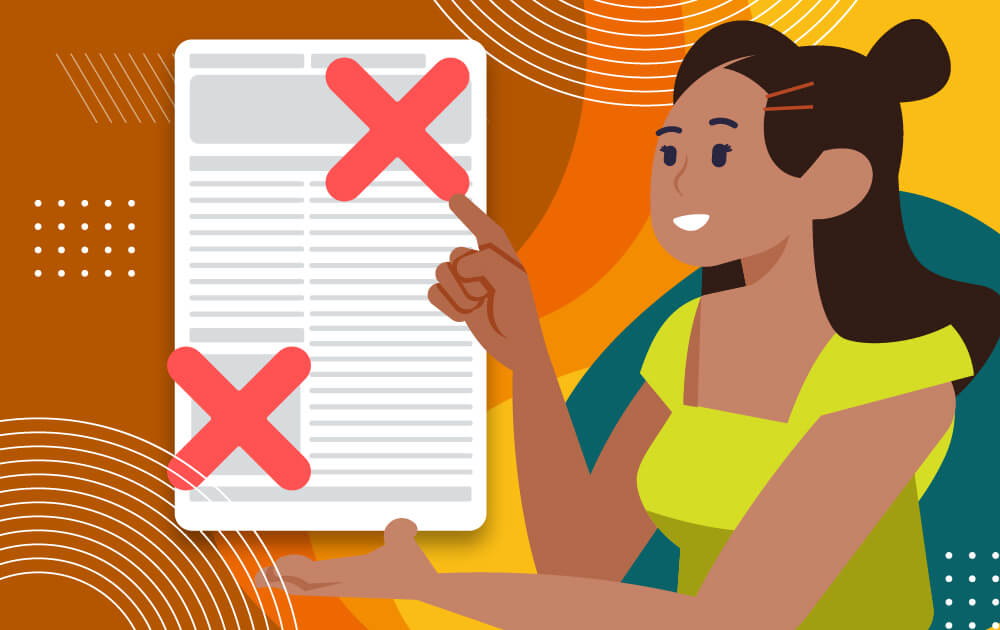 Since we've already shared with you what makes an effective newsletter, it is only fitting to educate about the other side of the spectrum. Do you have an idea of what you should NOT include in your newsletter designs? Do you know what mistakes you should avoid at all costs?
Do Not Add Random Articles
Bear in mind that you already have a targeted audience for your newsletters. Stop wasting time by doing articles and posts that will likely be left unopened. Do your research and know what THEY actually like, instead of just publishing what YOU like.
Do Not Overly Promote Your Company
We are not saying that you have to totally eliminate contents about your business. After all, newsletters are there to also increase brand awareness. However, there is a mix and right balance that you have to follow. As a rule of thumb, only 10% of the content should be for promotional purposes. The rest should be informative and must provide value to your readers.
Do Not Write About Sensitive Topics
As much as possible, try to stay away from topics that are considered sensitive. But if you feel that it is necessary, make it neutral so as to avoid offending anyone.
Do Not Publish or Send the Newsletter Unless You Checked Everything
Make it a habit to check and proofread your articles. It must be free from spelling and grammar errors. Having these errors can give your company a bad image. It will look as if you are not keen on details and that you always rush things.
Do Not Make Your Newsletters Too Long
Have you ever opened a promotional newsletter and read it word per word from start to finish? Probably not. In fact, if you're like most people, you'll scan the whole document before deciding if anything interests you. That said, it's best to keep your newsletter as short as possible. Tease your readers so that they'll have to go to the landing page to learn more.
Do not Make Your Newsletters Impersonal
The last thing you want is for the readers to feel that you're handing them random flyers to promote your brand. There are two ways to make your newsletter more personal:
Use the reader's first name as much as possible. Email platforms usually have this feature, so it doesn't have to be a tedious task.
Don't use a generic email account to send out the newsletter. For instance, you'll most likely open an email from [email protected] instead of an email from [email protected].
Requesting a Newsletter Design from Penji
Having a solid newsletter content plan is one thing, but creating a design that works is another story. You'll need to know what types of layout are best for newsletters and have a firm grasp on how lines, texts, shapes, and other elements work together.
Lucky for you, our designers are here to help. Our mission is to make graphic design accessible to all types of ventures – startups, mega-corporations, and everything else in between. And best of all, it only takes three easy steps to request a design from us!
1. Create the Project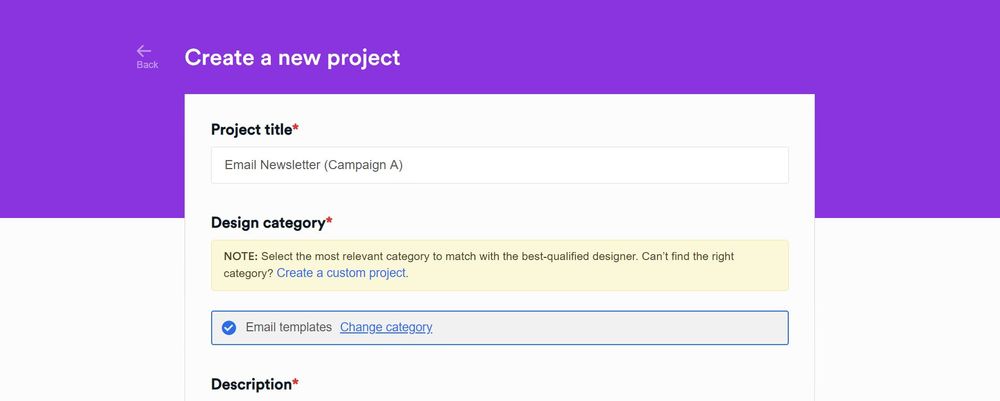 In the Penji dashboard, click New Project. Enter the title of your project, the category, and the description. For a newsletter, you can choose Email Templates. Add links to your visual assets or image pegs. You can also select a preferred color palette or royalty-free images if you have some. Click Create Project. The system will assign the project to a designer who specializes in email newsletter templates.
2. Review and Revise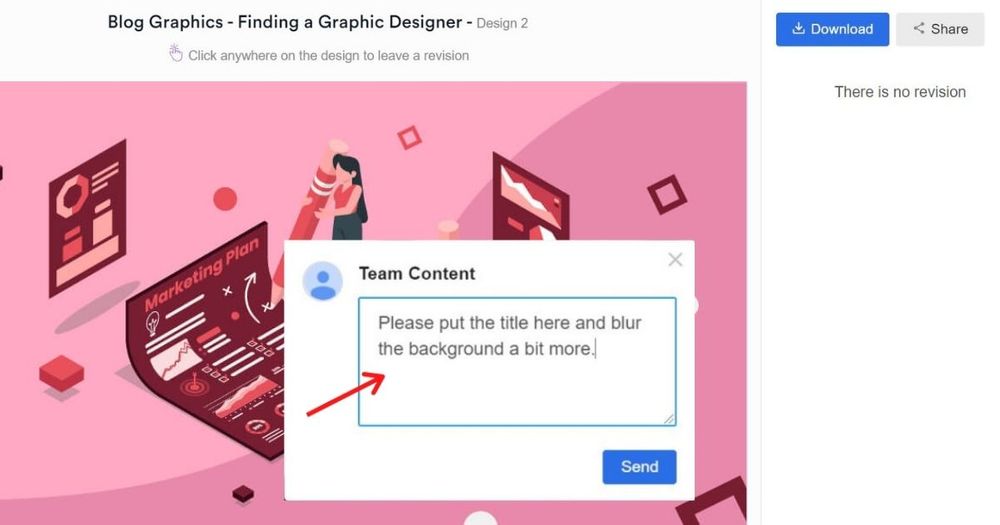 Within 24 to 48 hours, the assigned designer will get back to you with a draft. Simply click on the file within the thread to view it. If you need anything revised, click on that part and type in your comments. All our packages come with unlimited revisions, so don't be shy!
PRO TIP: We'll be more than happy to revise your graphic as many times as needed. However, we'd want to keep you within your campaign schedule. To ensure that you and your designer are on the same page, include links to image pegs you may have in mind. This will allow your designer to better picture the look that you're going for.
3. Download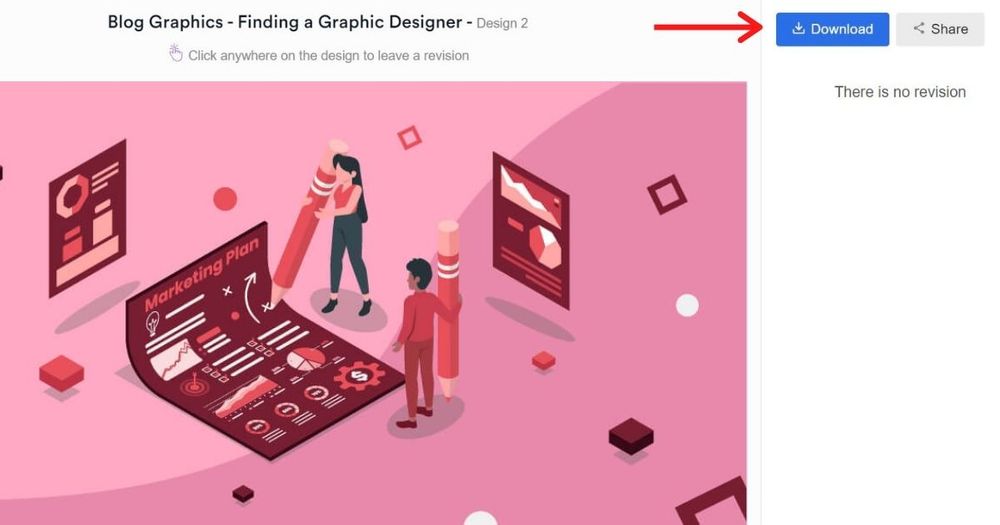 Once you're 100 percent happy with the design, click the "Download" button, and it will automatically be saved to your computer. That's it! A high-quality image is delivered to you in as little as 24 hours.
We have the top 2 percent of designers, so you can rest assured that you'll always get the best designs readers would want to click. And you know how it works with newsletters – more click-throughs equal more leads and an increased sales rate.
Final Words
Creating an entire newsletter takes time, effort, patience, and expertise. It's a representation that can catapult your business when done right. So, if you believe there is a need to consult a design expert to provide you with the best output, then so be it. You would be surprised how it will turn out.
See how an excellent newsletter design can make a whole lot of difference in your marketing. Sign up for a Penji membership today and try any of our packages risk-free for 15 days.