It's 2023. Enough with the vanity metrics and let's actually focus on the REAL KPIs. Increase your email open, click, and conversion rates this year by designing a beautiful Mailchimp design for email marketing. Make your email designs eye-catching by doing these tips.
Key takeaways:
5 Top Benefits of Email Marketing
How Mailchimp Increases Your Email Open and Click Rates
5 Tips to Create a Killer Mailchimp Design
How to Create an Email Design in Mailchimp
5 Top Benefits of Email Marketing
Before you start whipping up your Mailchimp design, let's first pinpoint some email advertising benefits and why it's so important:

1. Unparalleled ROI
Do you know that for every $1 you spend on your email promotions, you'll get a $32 return on investment? This is one of the reasons why emails are crucial to a business's growth.

Take a cue from Uber, the leading American ride-hailing company. Their drip email campaigns are effective as they're simple, clean, compelling, and straightforward.

Another factor that contributes to high email open and click rates is click-worthy email subject lines. And BuzzFeed seems to have its creativity in check. Take a look at these email subject titles; you almost couldn't resist clicking!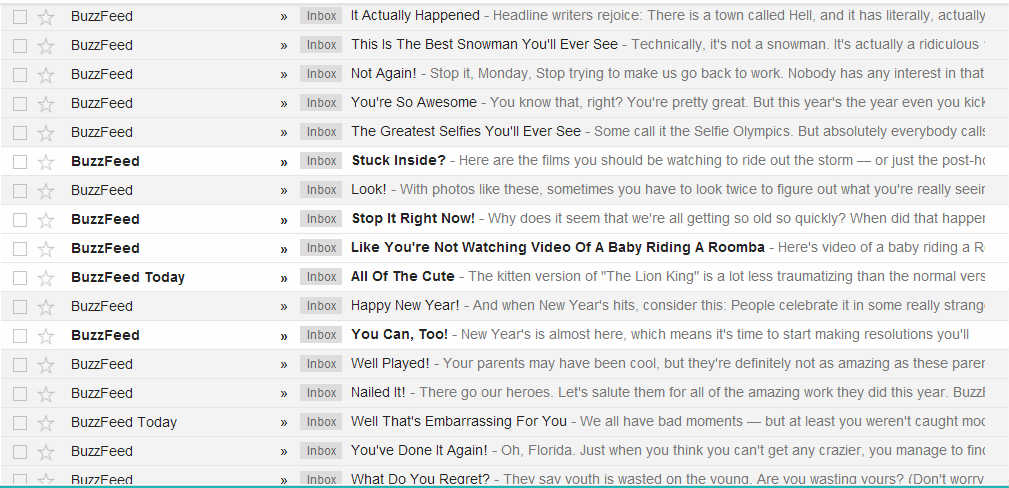 With helpful strategies like these, the return on investment for your emails will likely be favorable for your business.

2. Effortless
Marketers typically have a lot on their plate as they don't focus on one marketing method alone. That said, email marketing will allow advertisers to have more time on their hands.

Automation, segmentation, and scheduling are just a few of the features that make for effortless advertising.

3. Higher Conversions
With email marketing, brands are targeting audiences that are already engaged. That said, emails have a high conversion rate. For instance, welcome emails have an open rate of 82 percent!

4. Reaches Mobile-Based Audiences
The number of increasing mobile phone users further encourages brands to pursue promoting their products and services through emails. Roughly 90 percent of emails are opened via mobile phones, and that should be enough reason to put email advertising on your priority list.

5. Customizable and Measurable
The beauty of email promotions is that they are customizable from the get-go. Plus, once you've exhausted all your email campaigns, it's pretty easy to monitor, track, and change course if necessary.

How Mailchimp Increases Your Email Open and Click Rates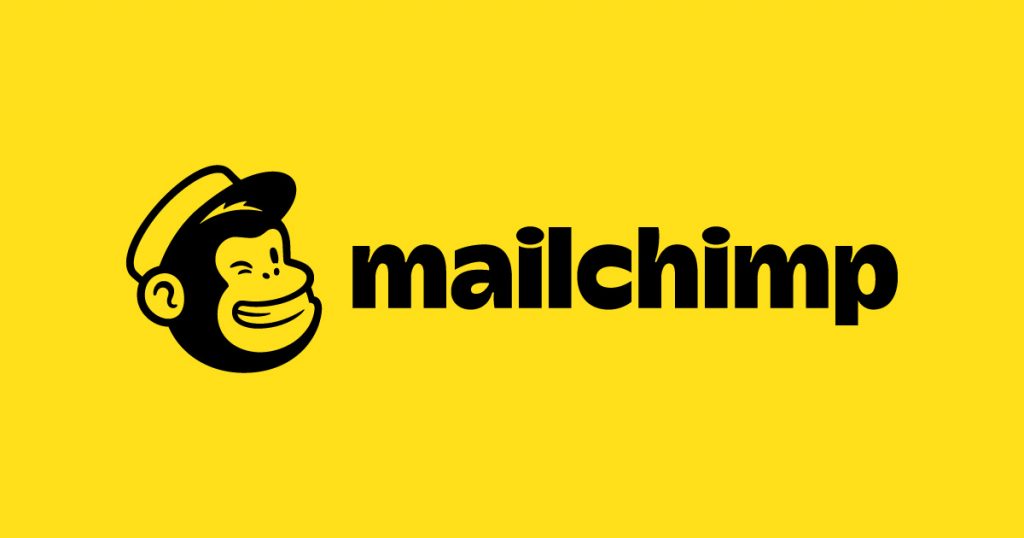 When you're all set to start your email marketing campaigns, choosing the perfect tool will make or break your goal. Mailchimp is one of the leading email advertising platforms that has all-in-one services.
You can use Mailchimp's classic builder to design your email newsletters. You can even put images and texts as placeholders while you finish the entire design.
Learn how you can leverage your Mailchimp design to convert leads through emails, as successful brands have been doing.

Versatility
Mailchimp caters to businesses of different sizes and levels. In fact, they have four plans that fit every business need. And here's the catch for startups, there's a free plan for small businesses and startups that have 2,000 or fewer subscribers on their list. They can send 10,000 emails monthly — at no cost!

Ability to Connect Your Store
Mailchimp allows users to connect their eCommerce stores to their system. With this feature, business owners will have the ability to add more contacts to their list. Additionally, analytics can sift through purchasing behaviors and help with more personalized emails.

Audience Management
Personalization is one upper hand that email marketing has over other digital marketing tactics. All thanks to tools that manage your audience.

With Mailchimp, users can segment their list, so emails have more success rates. For example, business owners can segment their lists according to location, purchase history, demographics, interests, user activities, and more.

List Expansion Through Sign-Up Forms
Your list is the bread and butter of your email marketing campaigns. Even if you have an amazing Mailchimp design that'll surely entice leads, it won't matter if you don't have a quality list.

The best part about Mailchimp sign-up forms is that they're mobile-responsive. That way, anyone on the go can instantly sign up. Plus, each sign-up form will have a dedicated URL, which makes it easier for subscribers to share it within their circle.

Efficient Email Campaign Features
Once you've established your list, users can start crafting email marketing campaigns. Templates are provided, so it should be effortless to create your Mailchimp design.

You can toggle between campaigns like A/B testing, plain text, RSS, or regular campaigns. In addition, you can even create Facebook and Instagram campaigns for free and use Mailchimp's scheduling tool.

Automation
Here's a scenario. Say, a customer just abandoned his cart and left your online store. What do you do? You let Mailchimp handle the follow-up email! Their automation feature sends a targeted email when triggered by certain factors, and one of them is subscriber activity.

5 Tips to Create a Killer Mailchimp Newsletter Design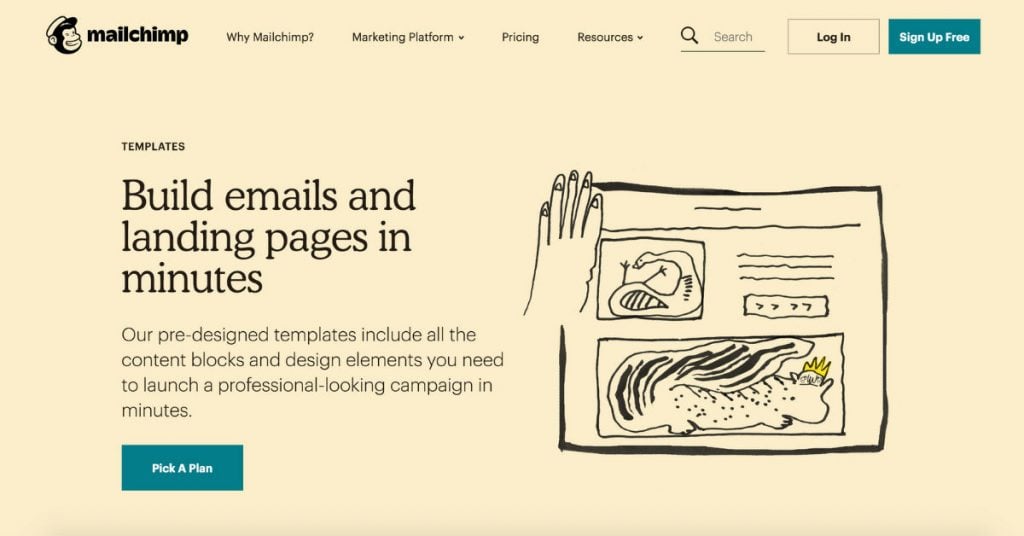 1. Create a Mailchimp Design Hierarchy
People spend seconds reading a marketing email, so make those few seconds count. Put all relevant information and graphics at the first hierarchical level so readers can process them. Plus, make sure the layout is clean for easy reading.

2. Don't Overload with Colors
It might be awesome to show your playful branding through different colors. However, this can complicate the Mailchimp email design. Stick to colors that stay true to your brand's identity, and use additional color palettes sparingly.

3. Size Images Correctly
If you're playing with templates and images, make sure you size your images correctly, or you run the risk of squashing or stretching the images. Here's a Mailchimp image size guide.

4. Keep Fonts Legible
According to Mailchimp, longer emails should have a font size of 14px. On the other hand, shorter emails must be limited to 16px. These are recommended so the emails are legible even when viewed on mobile. Additionally, try to stick to a two-to-three font combination.

5. Hire a Graphic Designer
Your Mailchimp email design is the lifeblood of your campaign. It's only appropriate to hire professional graphic designers for an effective and excellent design that will rake in more revenues. Experts know how and when to use the right color palettes, typography, images, and even call-to-action positioning. This way, your emails won't end up in your recipients' Trash folder.
How to Create an Email Design in Mailchimp

Mailchimp offers users pre-built templates they can edit to their hearts' content. Before we give you the quick rundown on how to create a marketing email design in Mailchimp, here are a few things to remember:
Always showcase your brand logo and colors in your email newsletter
Subscribing to a lower-tiered plan in Mailchimp means limited templates
Check out Mailchimp's image requirements for content blocks guide to ensure templates are displayed as expected
Here are the steps in creating a Mailchimp design for email marketing using the new builder:
Click Campaigns
Click Email Templates
Click Create Template
Choose the template you want to start with by clicking Select
Input an email design name and click Save
Add content blocks and styles to make your email design beautiful
Click Preview and see how it looks like on mobile and desktop
Click Save Template, Exit and you're done!
Here are the steps in creating a Mailchimp design for email marketing using the classic builder:
Click Campaigns
Click Email Templates
Click Create Template
Choose a template category and click the template you want to start with
Drag and drop content blocks as you go to format files, images, texts, and other design elements
Click Save and Exit
Type a name on the Save Template pop-up field
Click Save
Conclusion
Although templates are great to work with, nothing beats custom email newsletter designs. If you want to avoid using designs that other brands use, work with professional graphic designers.
Looking for hassle-free graphic design with affordable rates? Sign up with Penji, and you'll have quality designs that flow like airport conveyors!