Ready to take control of your social media presence and streamline your online strategy? You may want to explore Hootsuite – one of today's most popular social media management platforms.
In this article, we'll tackle how to use Hootsuite and discuss the ins and outs of the platform's versatile toolkit. We'll also look at ways to make the most out of its features to boost your social media presence.
Speaking of social media, we've got an ace up our sleeve to supercharge your social media marketing: Penji. Imagine having access to stunning, eye-catching graphic designs that make your posts stand out in the crowded world of social media.
Now, let's dive into the practical steps of leveraging Hootsuite's capabilities.
Step 1: Sign Up for Hootsuite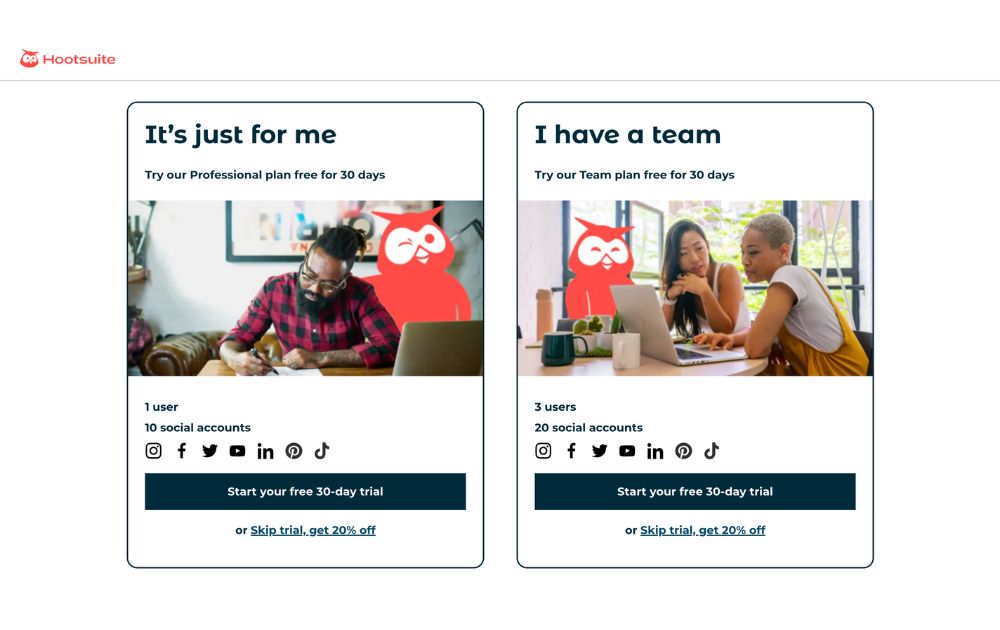 The first step in our how-to-use-Hootsuite guide is to sign up for an account. Go to Hootsuite's website and click the "Start your free trial" button to begin the sign-up process. At this stage, you can choose between a Professional plan for one user or a Team plan for three users.
Fill in your email address, create a password, and choose your role. Follow the on-screen instructions to complete the registration process.
Some users would want to know more about the platform before investing time in learning how to use on-demand services. If this is the case, you may also opt to schedule a demo first before signing up.
Step 2: Connect Your Social Media Accounts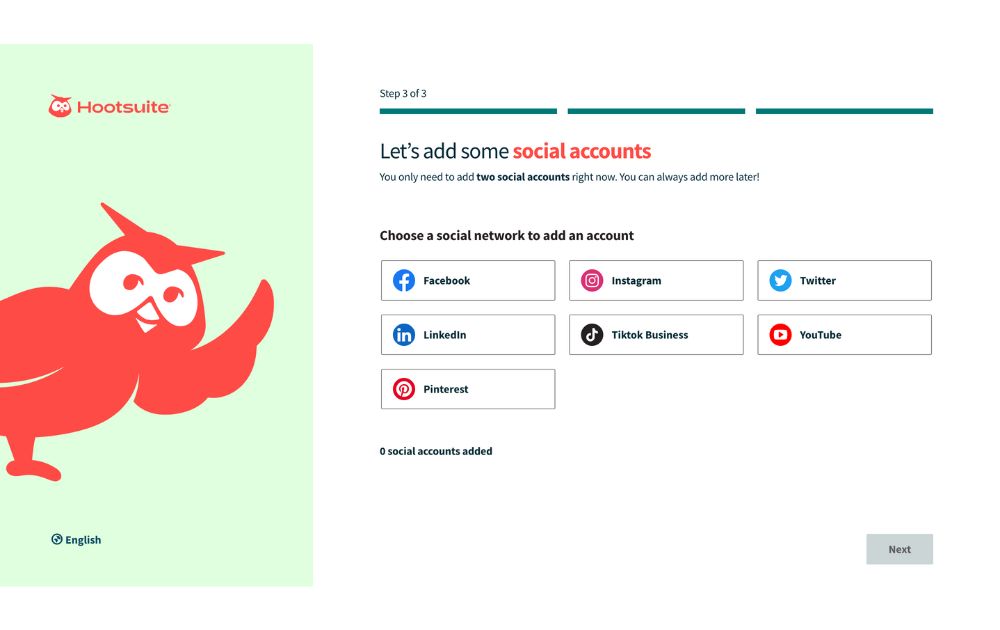 To learn how to use Hootsuite for social media, you'll need to add your social media accounts to your Hootsuite dashboard. You'll be prompted to do so after signing in.
Select the social media platform you want to connect to (e.g., Facebook, Twitter, Instagram). After that, follow the prompts to authorize Hootsuite to access your social media accounts.
Repeat this process for all the social media accounts you want to manage within Hootsuite.
Step 3: Schedule Posts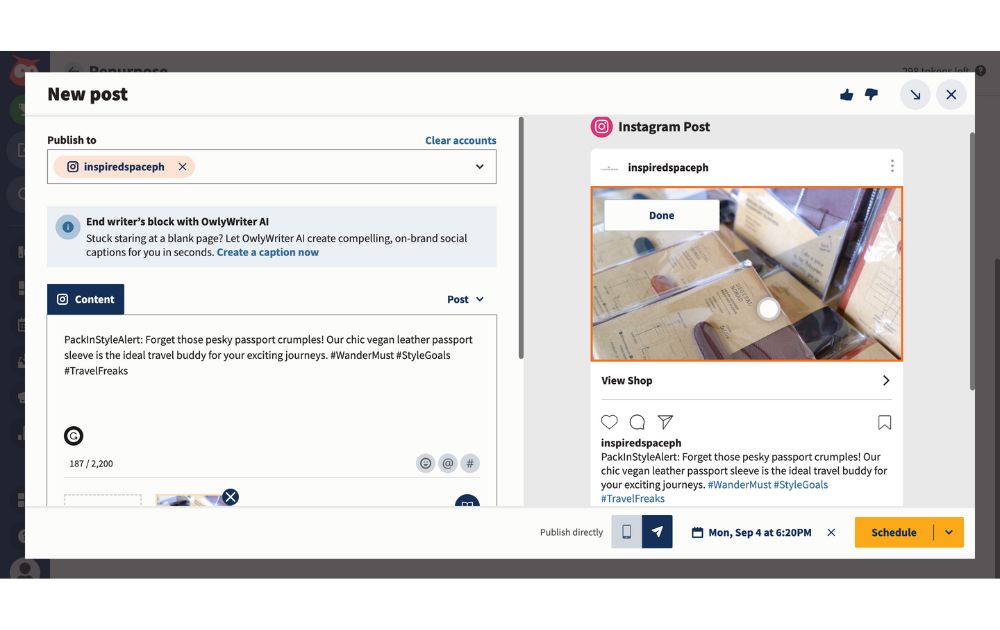 To make the most out of the platform, you need to know how to use Hootsuite to schedule posts.
Click on the Composer button in the left-hand sidebar. Select the social media profiles you want to post to. Compose your post, add images or links, and select the date and time for publishing. You can also tag products.
Here's a how-to-use-Hootsuite-for-beginners hack: use the tool called OwlyWriter AI. This AI writer can create on-brand and compelling captions in seconds, helping you schedule posts in a few seconds.
After setting up the post, you have two options. You can either publish the post immediately by clicking the "Post now" button or queue the post by clicking the "Schedule" button.
TIP: Make every social media post count. Learn how to create a brand style guide to have a cohesive strategy. You must also use high-quality images that boost your social media branding.
Step 4: View Your Post Calendar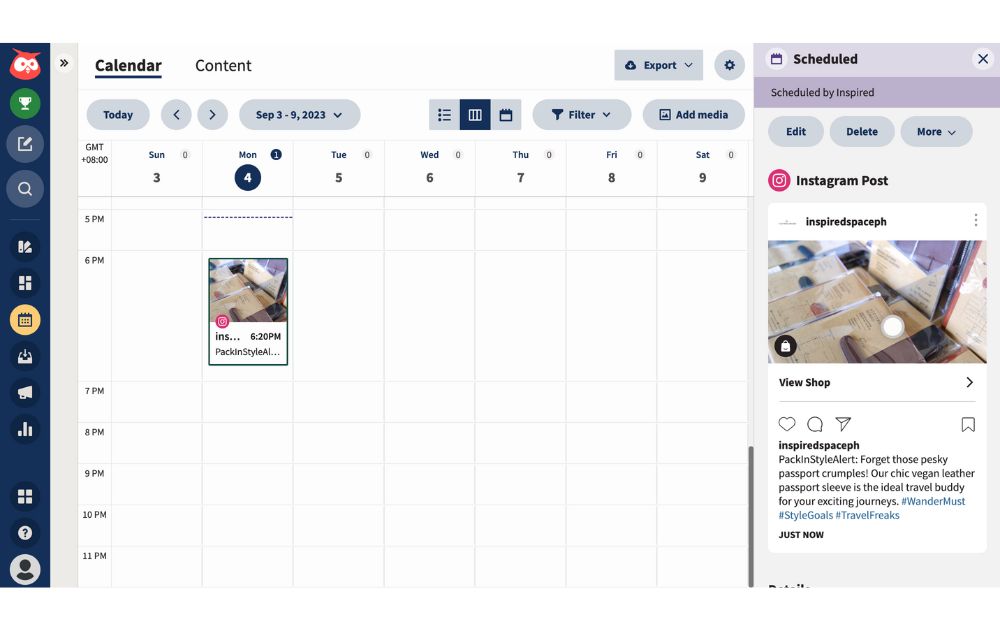 To oversee and handle your scheduled posts, navigate to the Planner section in the left-hand sidebar.
Within this feature, you have the capability to generate fresh content, as well as arrange, modify, or remove previously scheduled posts directly from the calendar.
You can also assess and control your planned content through multiple perspectives, including a list format, a weekly display, or a monthly calendar view. When you click on a specific time slot within the calendar, you can initiate the creation of new content slated for publication at that chosen time.
Step 5: Monitor Conversations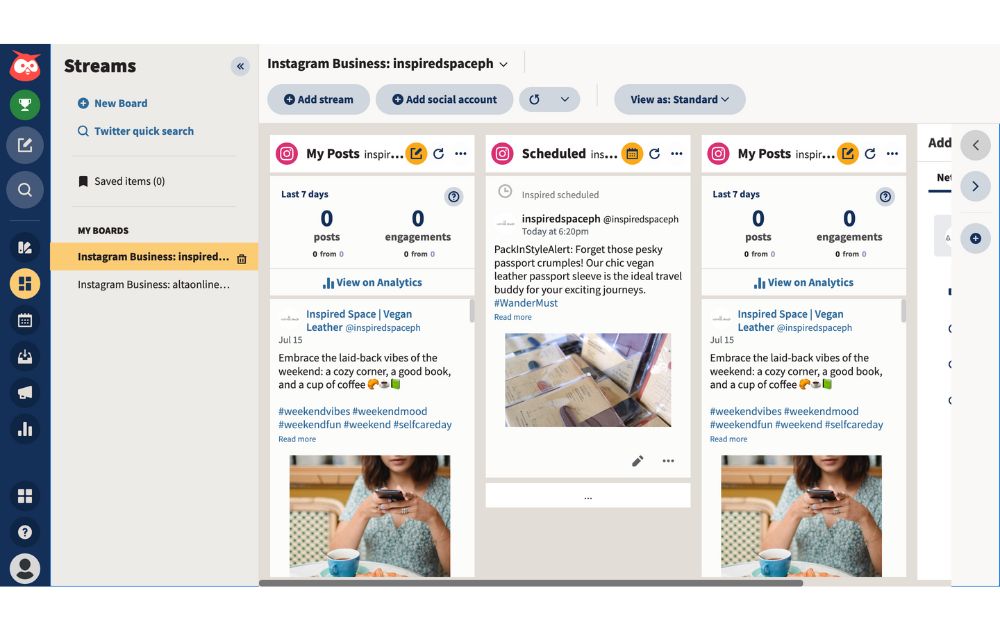 Here's a crucial part of our how-to-use-Hootsuite guide: monitoring conversations. When followers comment, mention, or message you, responding promptly shows that you value their interaction. This can lead to increased customer loyalty and positive brand perception.
To monitor your social media conversations, navigate to the Streams tab in the left-hand sidebar. Here, you can view your customized streams to see mentions, comments, and messages.
Beyond this, you can leverage streams for various purposes, including:
Engaging with your audience directly within the Streams interface.
Sharing stream content to your social channels.
Using boards as a means of stream organization.
Making edits or removing previously published content directly from the Streams section.
By harnessing the potential of Hootsuite streams, you can amplify your social media management capabilities, enhance engagement, and streamline content monitoring with ease.
Step 6: Analyze Performance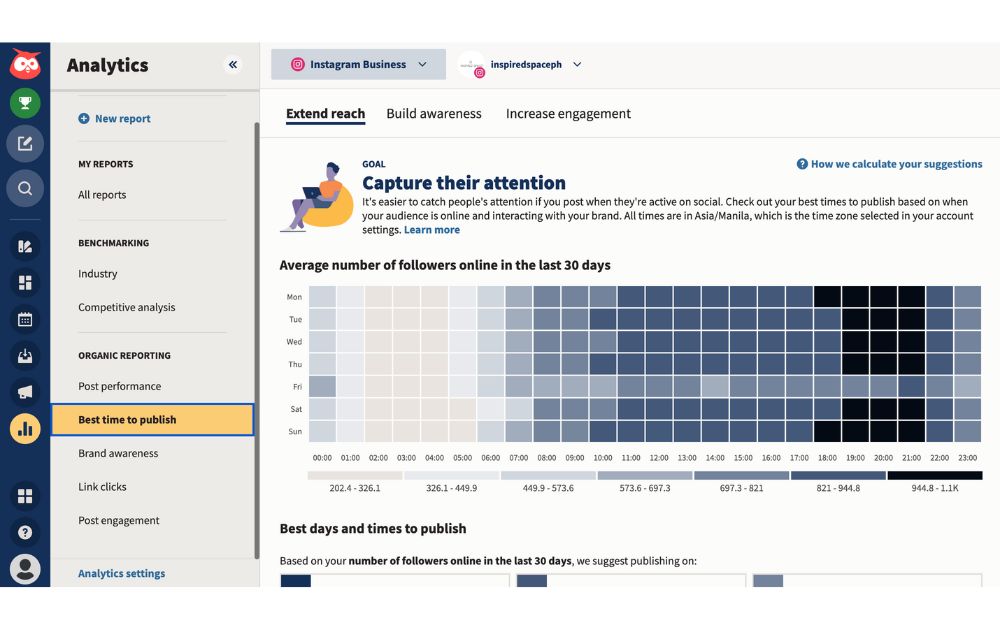 Here's another integral part to make the most out of the platform: how to use Hootsuite analytics.
Click on the Analytics tab in the left-hand sidebar and select the social media profile you want to analyze. Here, you can review key metrics such as engagement, reach, and follower growth.
Analytics provides valuable insights into the performance of your social media efforts. It allows you to measure the impact of your content and strategies, helping you understand what's working and what needs improvement. Here are a few ways you can make the most out of this feature:
Evaluating Your Top-Performing Posts. Discover which of your Facebook, Twitter, Instagram, LinkedIn, and TikTok posts garnered the most engagement, such as comments, reactions, likes, or clicks.
Determining the Optimal Posting Times. Instead of relying on generic industry and social network posting times, leverage your own data to determine the ideal moments for posting. Head over to the "Best time to publish" view, where you can see personalized recommendations.
Creating Reports. While Organic reporting provides an overview of post-performance, users can delve deeper into insights with reports. Opt for either pre-built template reports (templates tailored to track performance by goals or social networks for beginners) or custom reports (personalized reports, selecting the metrics you wish to include and analyze).
There you have it! A step-by-step guide on how to use Hootsuite. Remember, social media is a dynamic landscape, and success often comes with patience and persistence.
While Hootsuite is a fantastic tool for managing your social media presence, we'd be remiss not to introduce you to Penji – your gateway to breathtaking graphic design that can set your social media content apart from the rest.
Sign up now and have your brand style guide done by the world's top creatives.