Maximize productivity with your teammates by creating group chats or channels. Here's our handy guide on how to create a group chat in Slack. Alternatively, we detail how to create a channel on the app.
How to Create a Group Chat in Slack
You can create a group chat in Slack in a couple of minutes and three steps!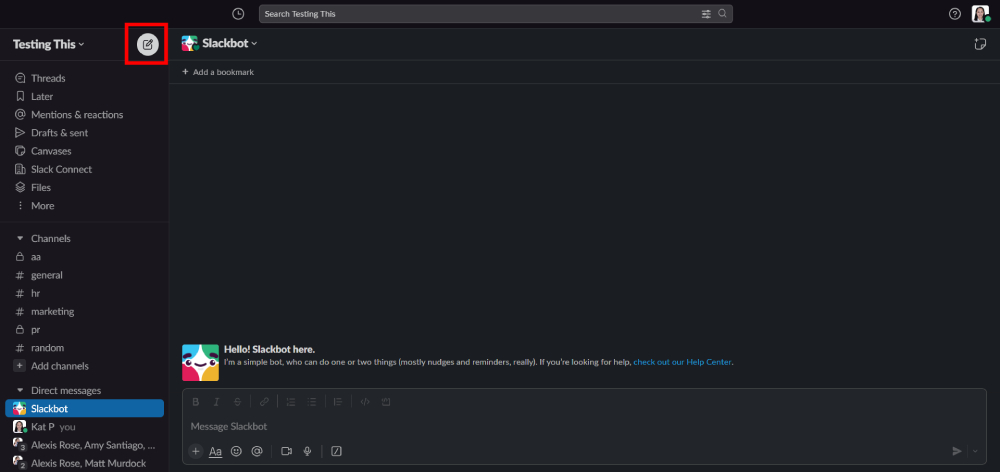 Step 1: Click the pencil and box button. This indicates a direct message.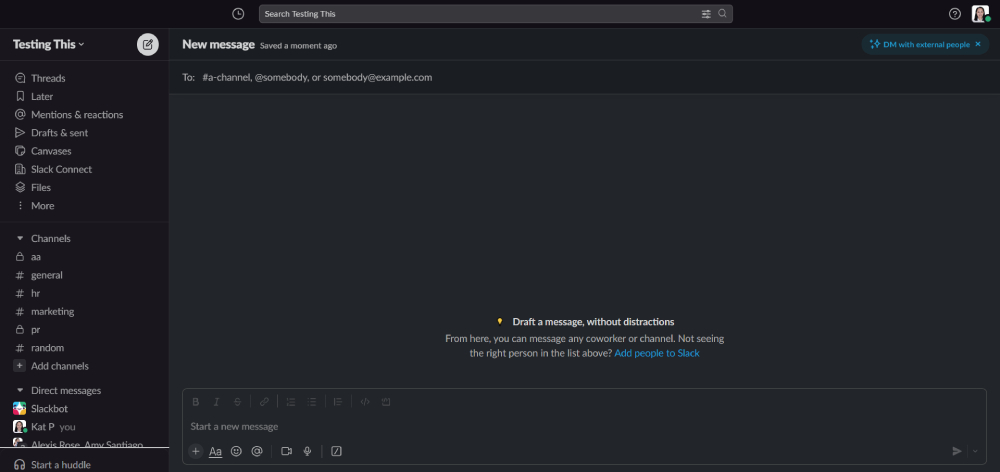 A search bar will appear prompting you to search team members to add to this group chat.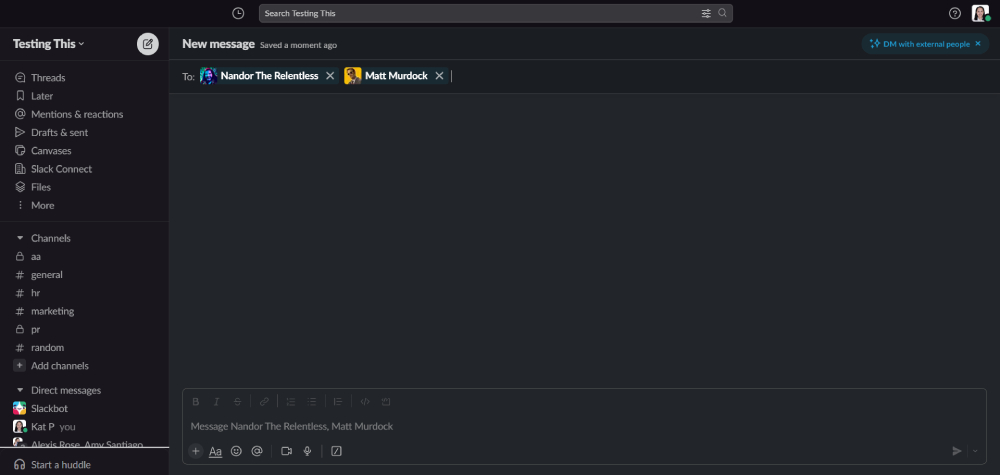 Step 2: Type the team members you want to include in this group chat.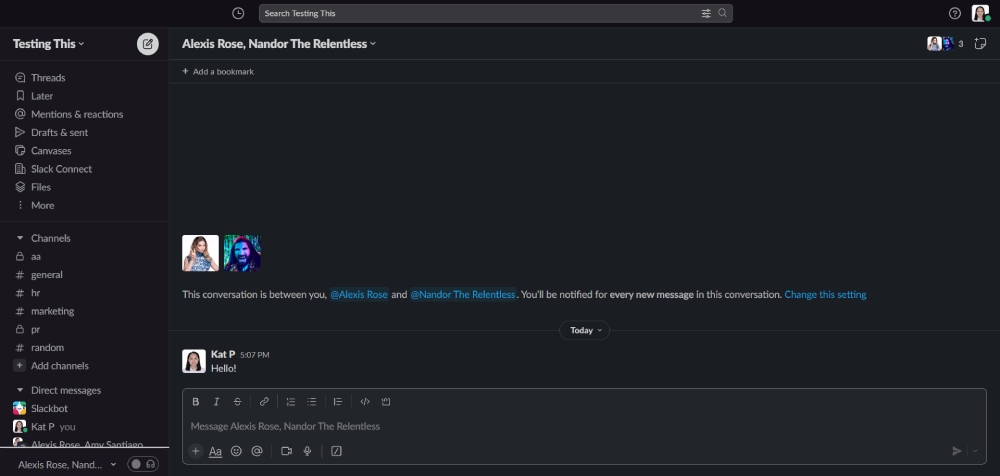 Step 3: Once done, click Enter (Return button for Mac users) and type your first-ever message to the group! That's it; you've created your group chat!
What about adding a person to your group chat outside your organization?
That's possible! Follow Step 1 of how to create a group chat on Slack.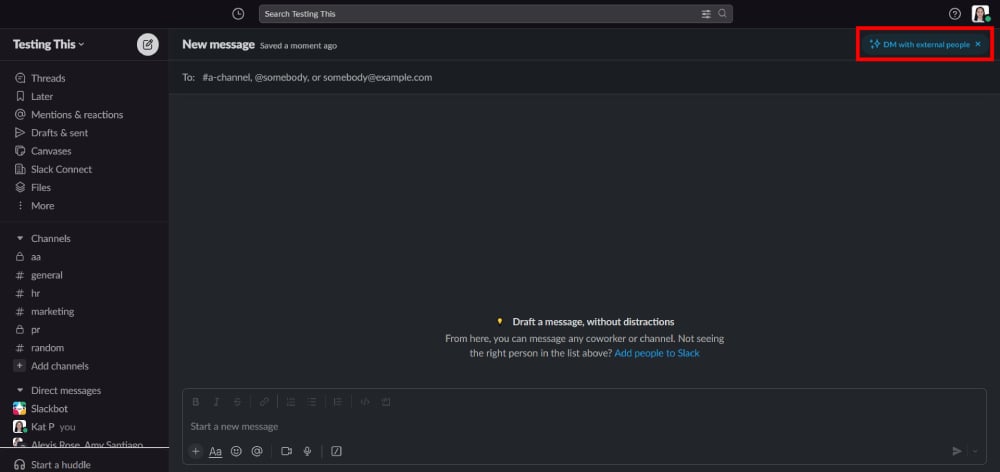 From there, click the "DM with external people" button. After that, type that person's email, and they'll be added to your group chat.
How many people can be added to a group chat?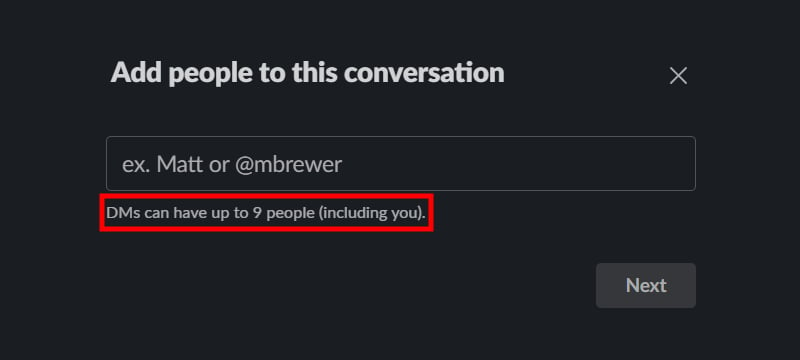 Unfortunately, there's a max of nine people on a Slack group chat. That's why creating a channel is ideal if you want to add 10+ more to a group!
How to Create a Channel in Slack
An alternative to a Slack group chat is a channel. This one's ideal if you want to add more than nine people to a chat, have a long-term project, or segment team members from different departments. This is how to create a Slack channel.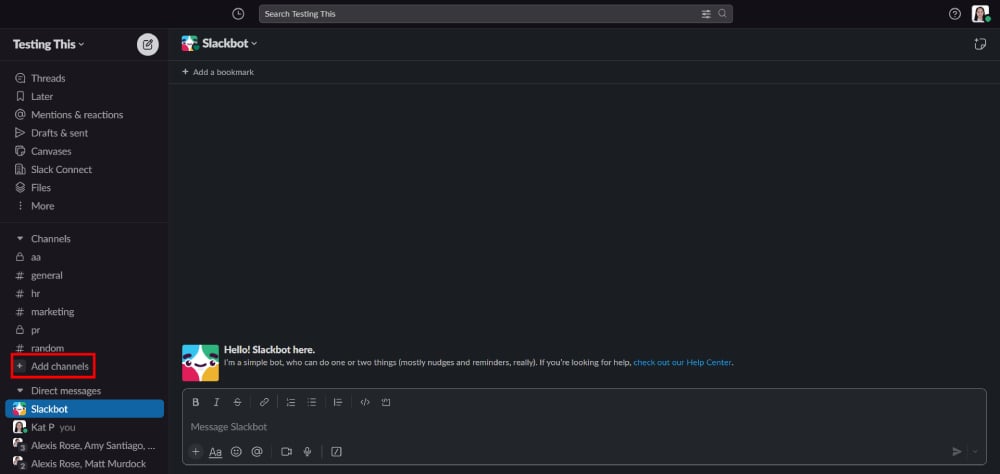 Step 1: Under the Channels tab, click "Add Channels."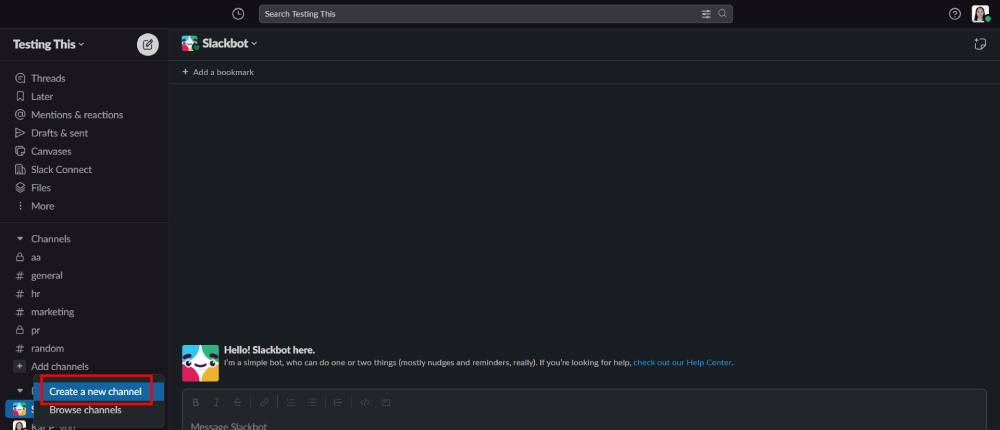 Step 2: Select "Create a new channel."
Step 3: Name your channel. There's an 80-character limit.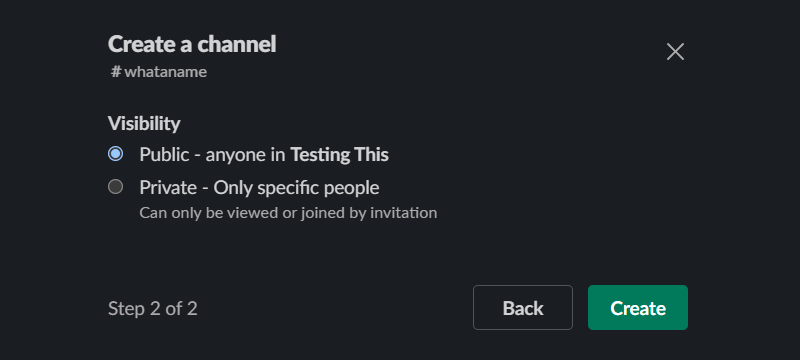 Step 4: Choose the channel's visibility (Public or Private)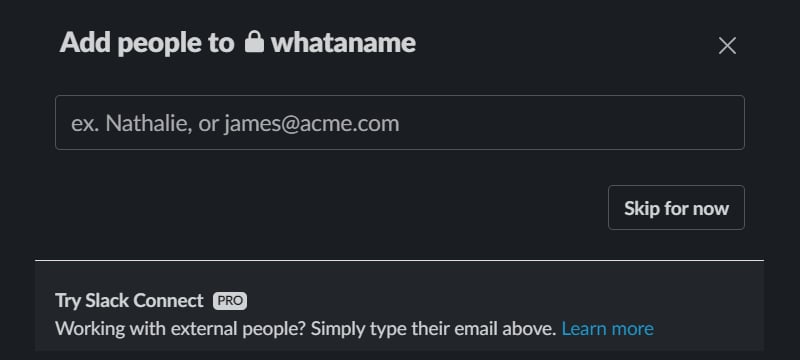 Step 5: Finally, add your team members (or Skip the step if you want to add everyone in one go).
How to add a new member to your Slack channel?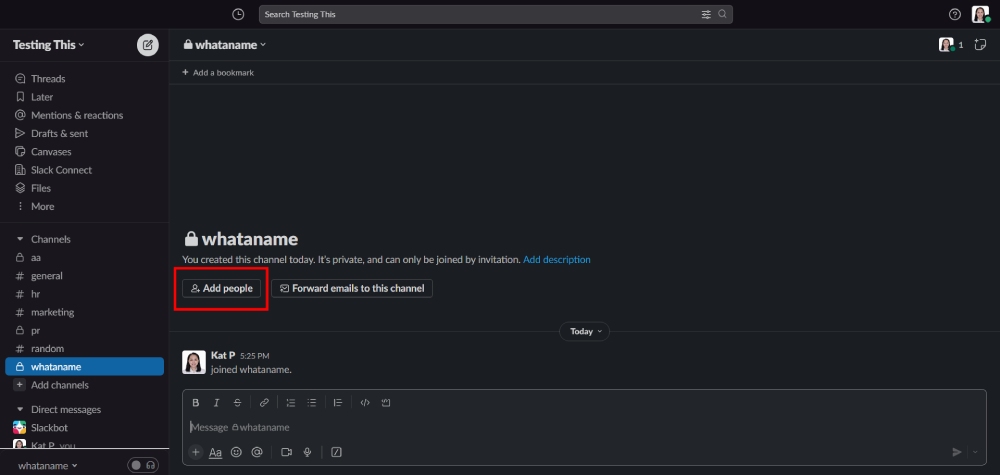 If a new team member joins your Workspace, and you want to add them to a Slack channel, you can click "Add people" on the Channel.
How many people can you add to a Slack channel?
According to Slack, you can add 1000 people to one channel.
Can you delete a Slack channel?
If you are a Workspace admin or owner, you can. However, if you're a member of the organization, you have to reach out to the authorized admin or owner to delete your Slack channel.
Eliminate Your Design Workload with Penji
get all the graphics you need for a thriving business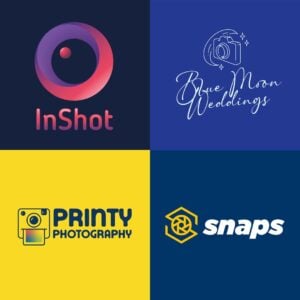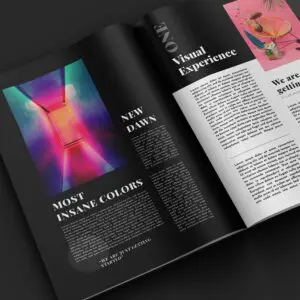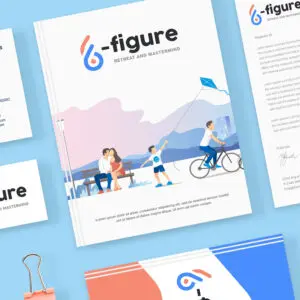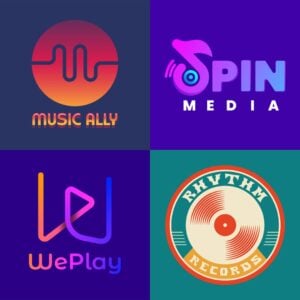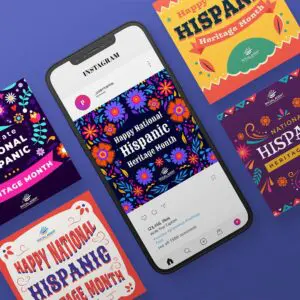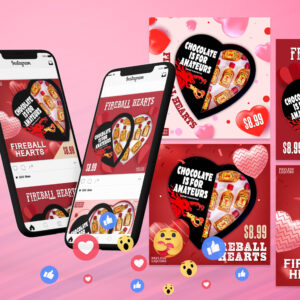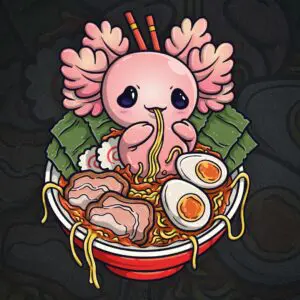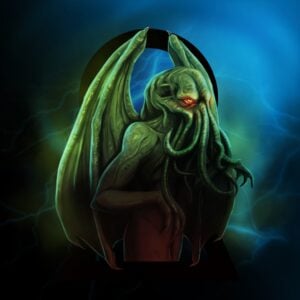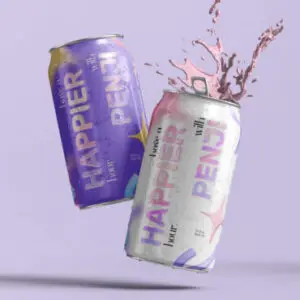 Things to Do in a Group Chat or Channel
Now that you have your group chat or channel discover the perks of having a Slack group chat or channel!
1. Share Files
Limit email use by sharing files directly to your Slack channel. This way, you can immediately view files and don't need to go to your email app to access them. There are two ways to do this.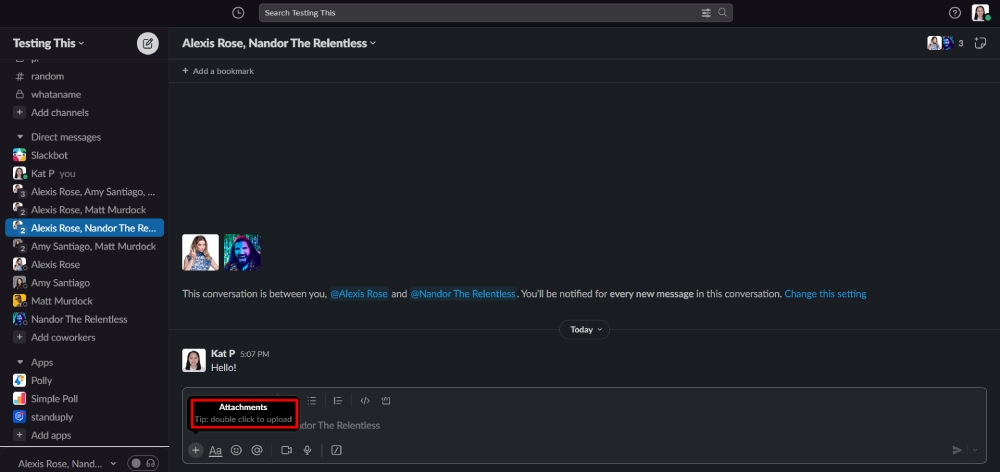 The first is to click the + button on your group chat or channel.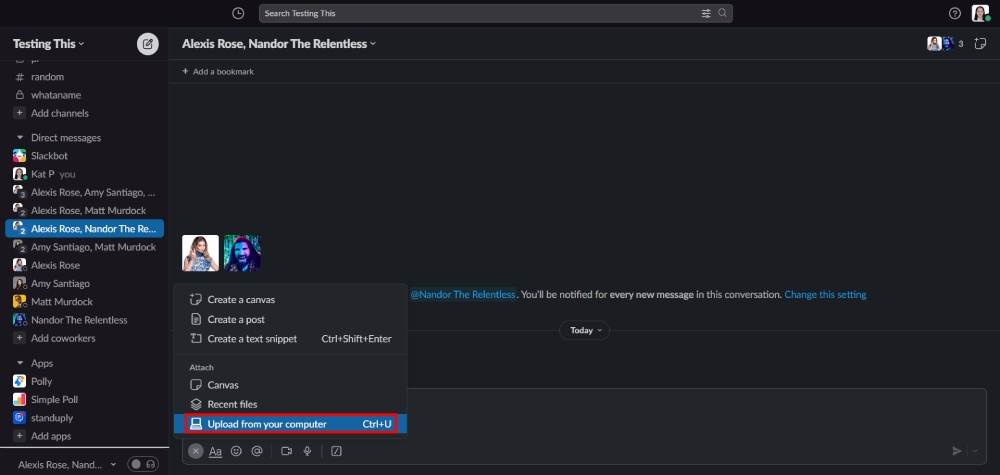 From there, click "Upload from your computer." Then, browse the file you want to share and upload it to your chat!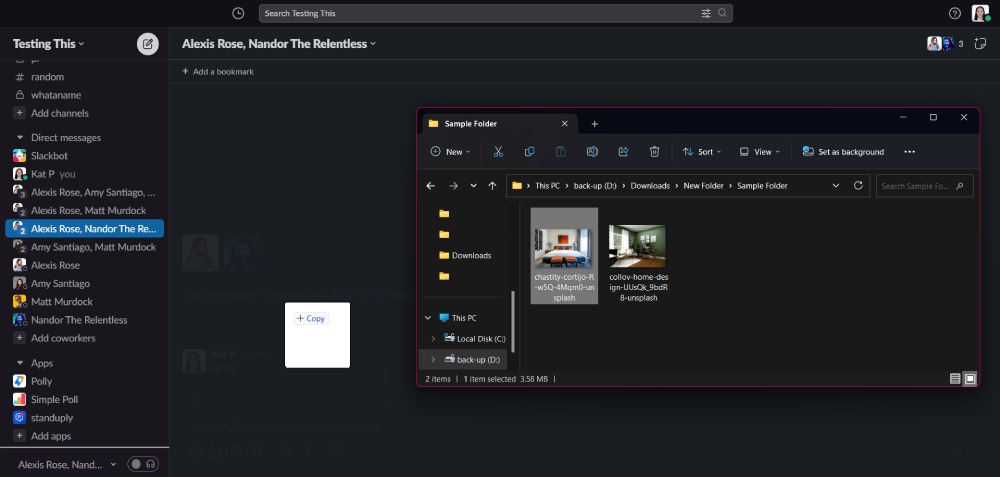 The second method is to drag the file from your computer. Then, send it to the Slack channel or group chat. After that, you can send it to your teammates.
2. Start a Huddle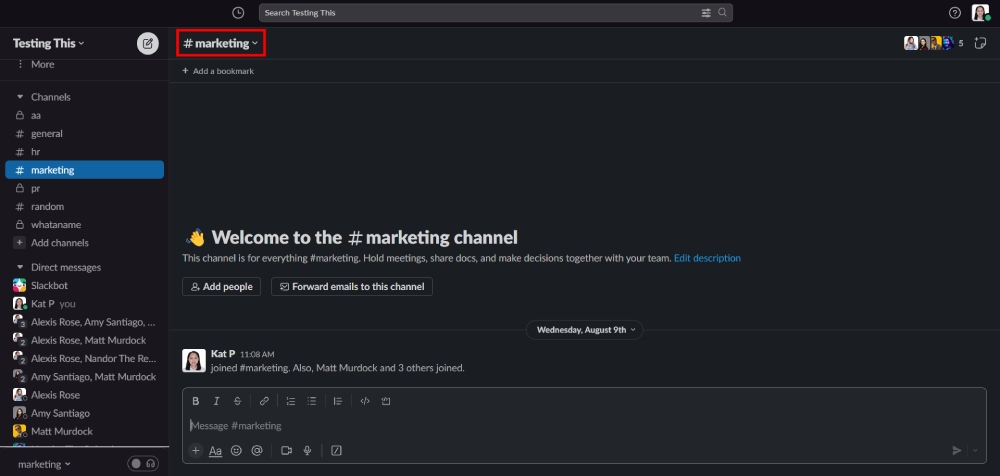 You don't need to use a meeting app such as Google Meet or Zoom to conduct a meeting on Slack. The Start Huddle button is found on the channel or group chat settings.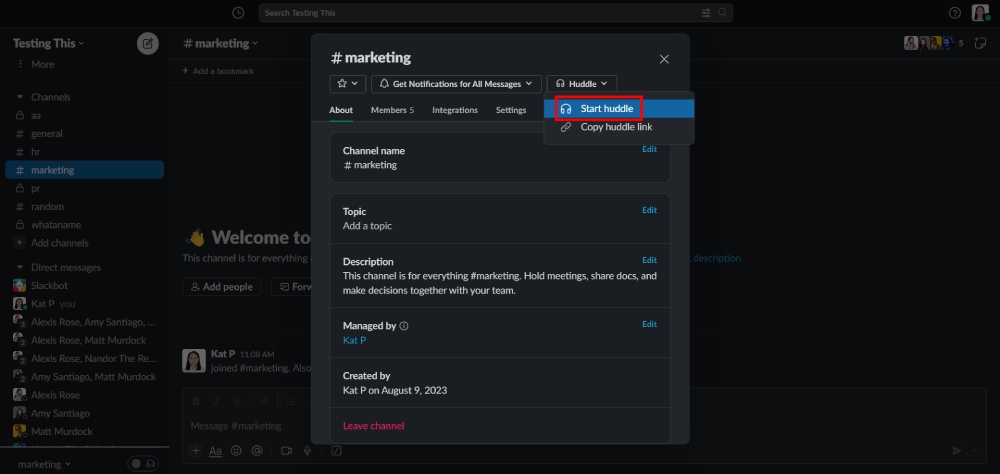 To go to your channel's settings, click on your channel or group chat's name. From there, click "Start huddle."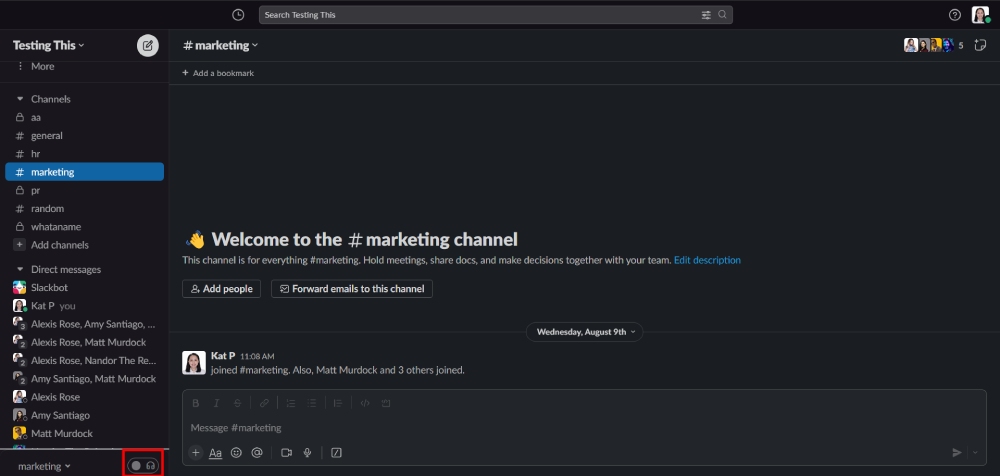 There's also a button on the lower-left side of the channel and click it from there!
3. Record a Video Clip or Audio Message
Do you have a message to relay or a new task to assign but have no time for a meeting? You can record a video clip or audio message instead of sending blocks of text.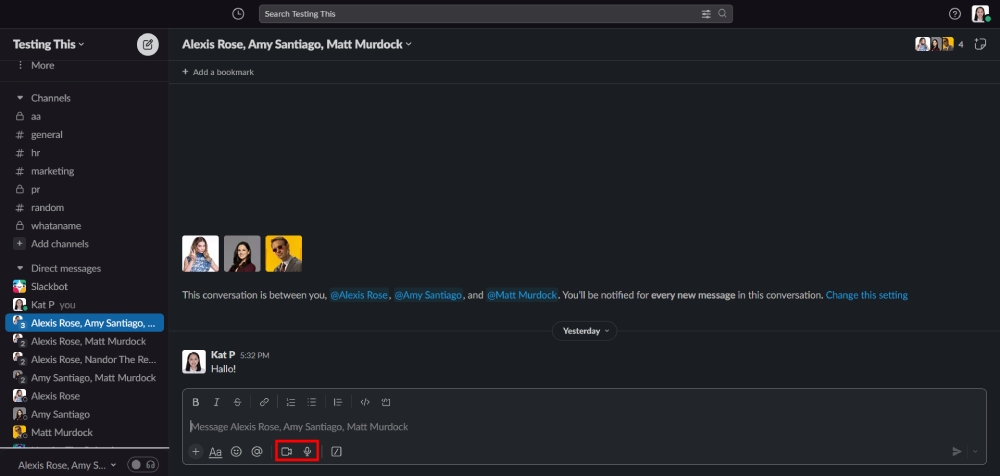 You can click on the video camera or microphone buttons to record! One neat feature of their video clip recording allows you to share your screen too!
4. Add Topics and Pin Messages
Stay on topic or save important messages when you add a topic or pin a message!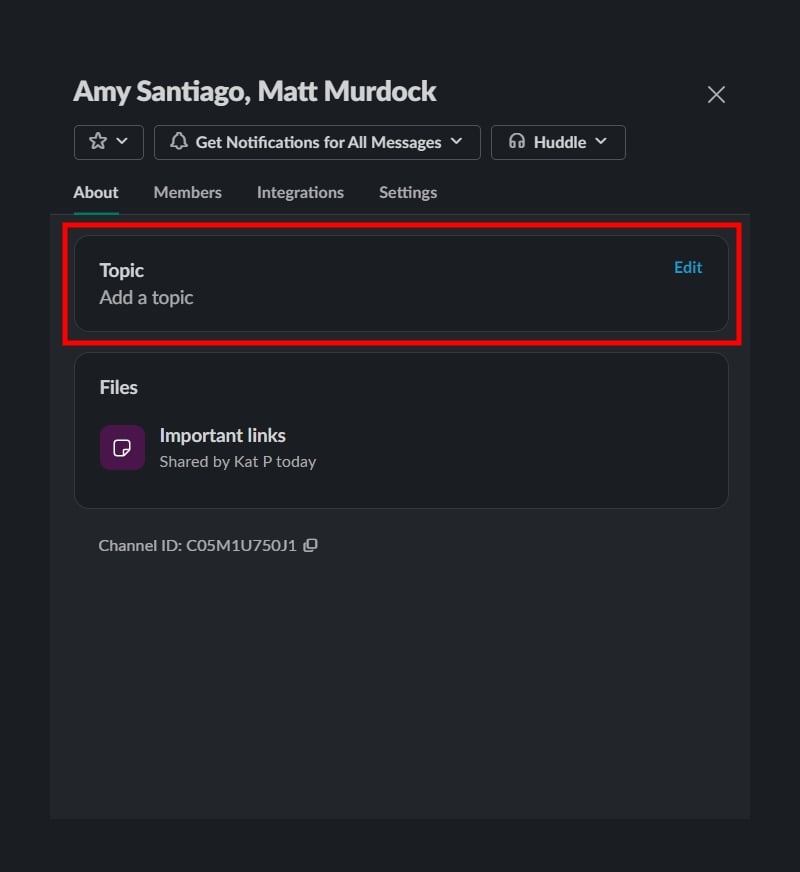 Adding topics helps you stay on track with your projects or objectives. You can add one by clicking your group chat or channel settings. From there, go to the "About" section.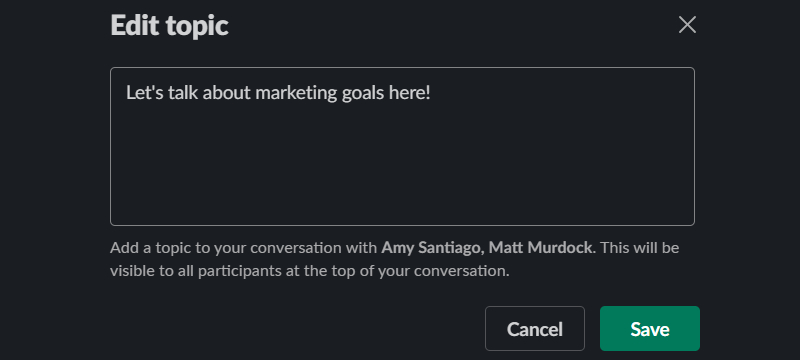 Under the "Topic" category, click "Edit" and input your topic. Your new topic should appear beside your channel or group name!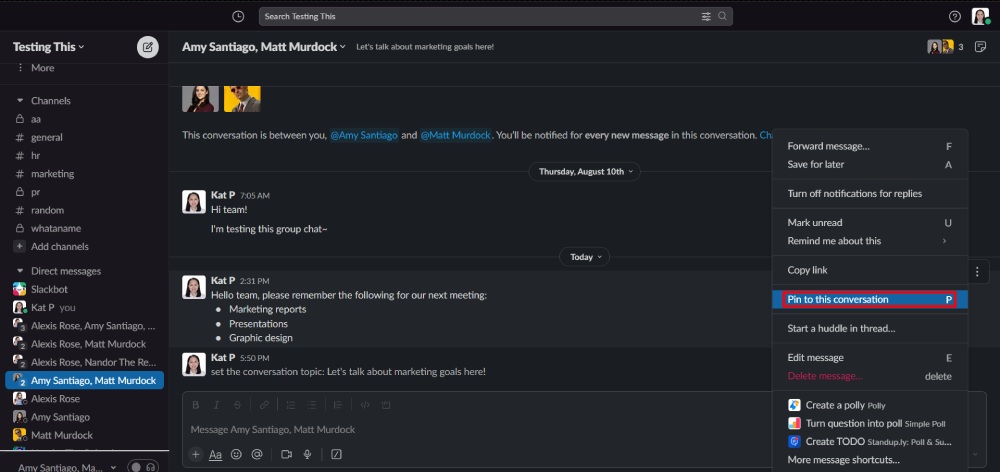 Meanwhile, you can pin messages when a teammate sends important details. To do this, hover over the message you want to pin. Then, a three-dot button should appear at the end of the message options. Click on those dots and select "Pin to this conversation."
5. Create a Canvas
This feature is only available on the paid plan.
However, if you have a free trial or are on the paid plan, you can take advantage of the Canvas feature. This is a nifty feature for note-taking, to-do lists, and resource storage.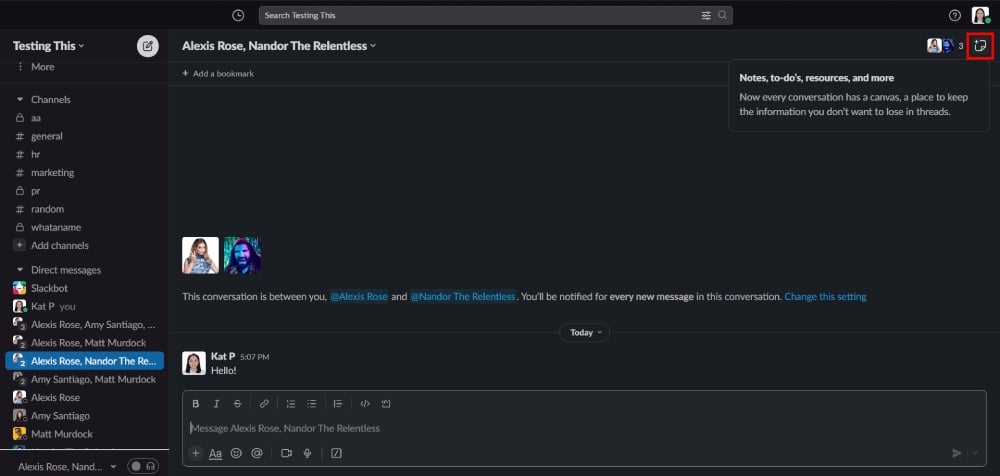 You can access the Canvas by going to any group chat or channel. This should be on the top-right corner of any channel or group chat, beside the member list.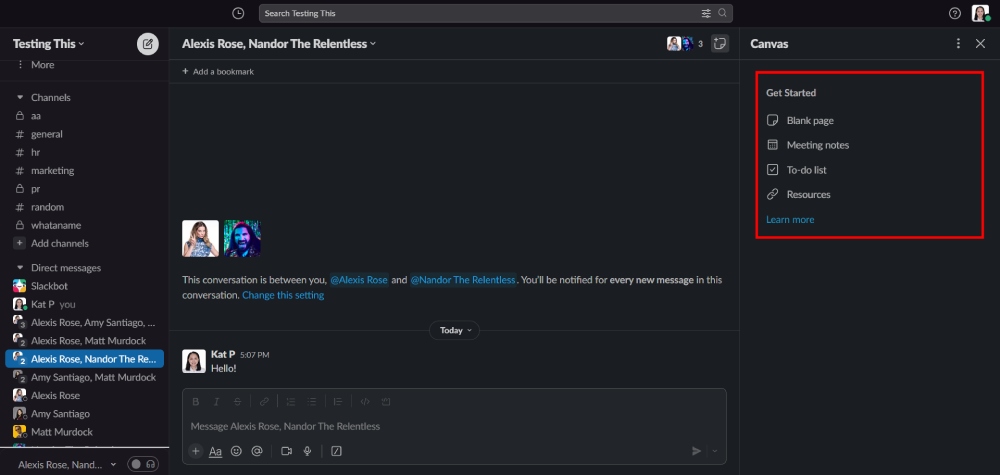 Click the Canvas, and select which option you want to choose!
6. Integrate Apps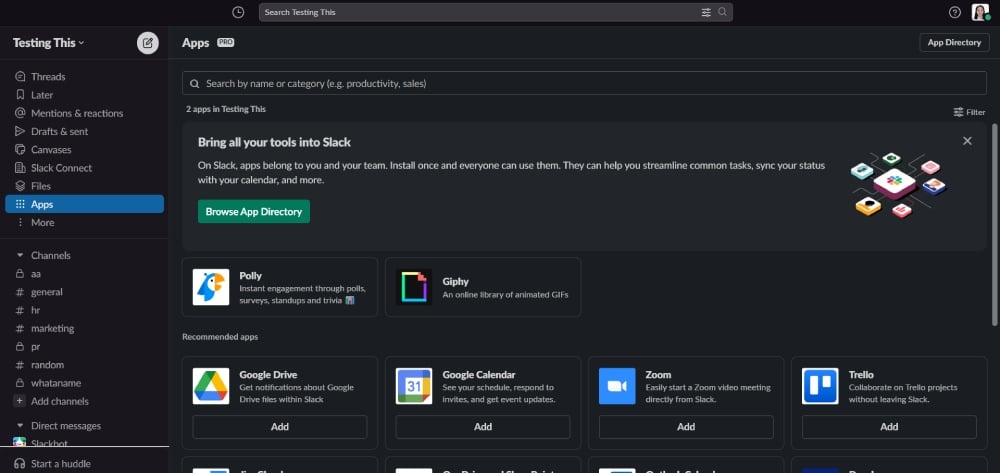 Do you use other productivity apps like Google Drive, Trello, or Asana? If so, your team can seamlessly use these apps with Slack. App installation requires Workspace admin or owner approval. But once approved, you can use these apps anytime and work without delay.
7. Create a Poll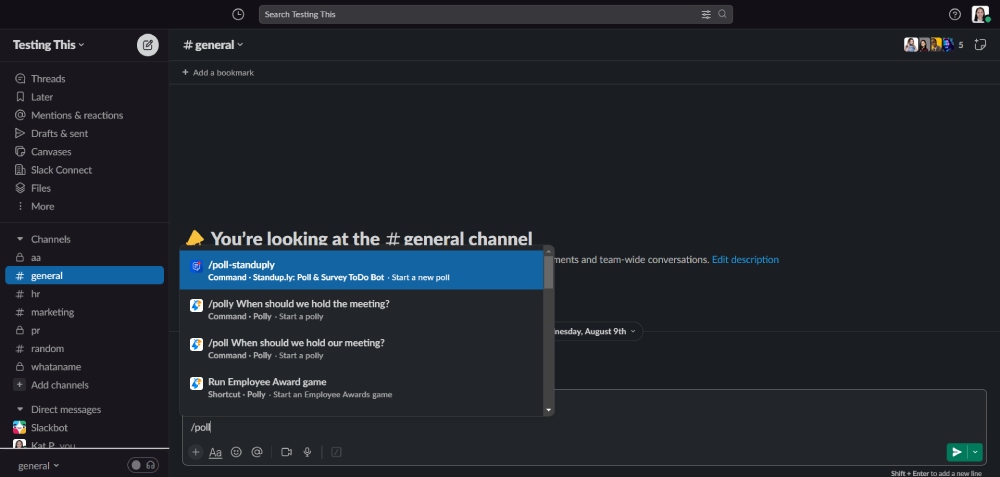 Don't know how to tackle a problem? Or do you want to know how your teammates are doing? Creating a poll can limit meetings and long threads to decide or help you understand your team's condition.
Starting a poll requires you to install a poll app. You can talk to your Workspace admin or owner to install a poll app to try this feature. Read more about creating a poll here!