Slack lets businesses get things done on one platform. As an all-in-one productivity app, your team can thrive and stay on track with all your projects. But what happens if you encounter a roadblock and need ideas or help from your team? Starting a poll can help you overcome that hurdle. If you're wondering how to do a poll on Slack, here's our handy guide on how to create one!
How to Do A Poll on Slack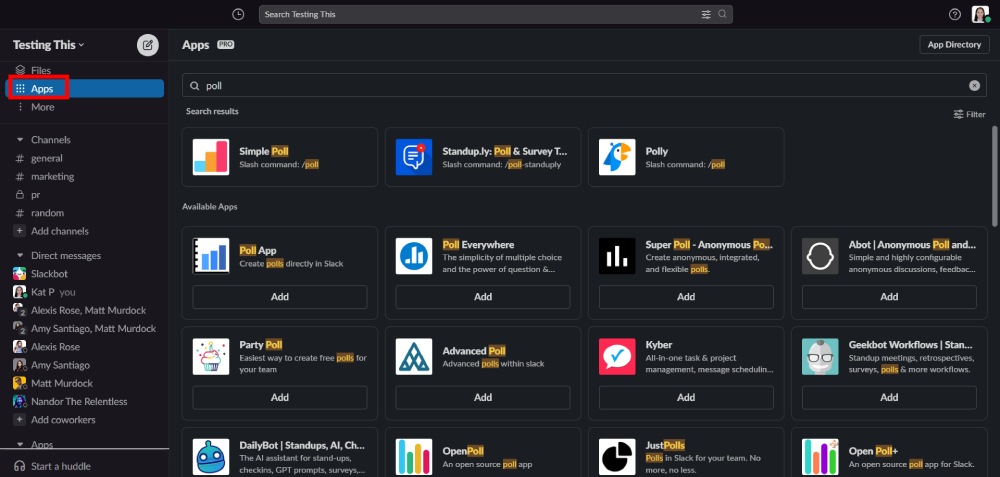 Slack doesn't have a built-in polling feature. However, you can install or configure apps on your Workspace. Luckily, Slack has 10+ poll apps to choose from when starting polls. But for this tutorial, we'll select the popular ones:
1. Polly
Ideal for: customized polls
Polly is one of the most popular poll or survey apps on Slack. You can install the app by going to the Apps feature and searching for "Polly." After it appears, you can add it to your Workspace. Here's how to do a poll on Slack with Polly! There are two ways to do it.
Method 1: Using the / command.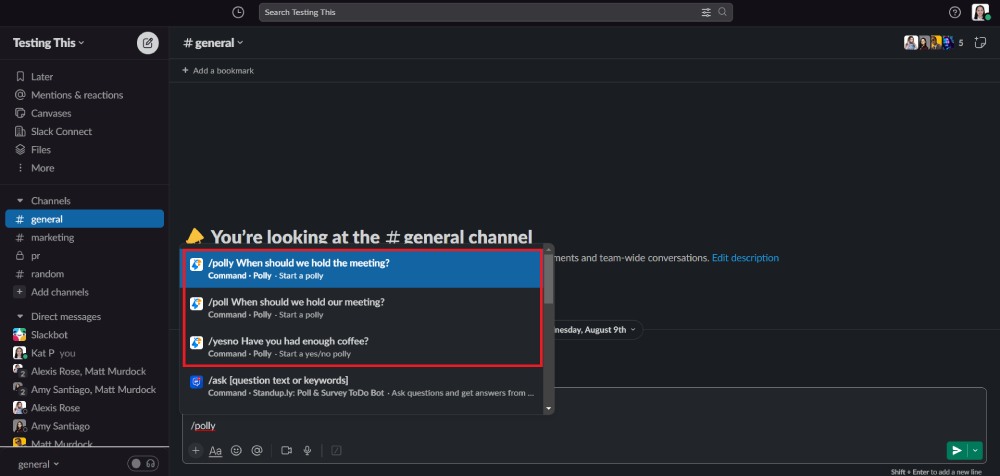 When you install Polly, you can immediately create a poll with the "/polly" command. It suggests various commands, such as:
/poll or /polly
/yes or no poll
Shortcuts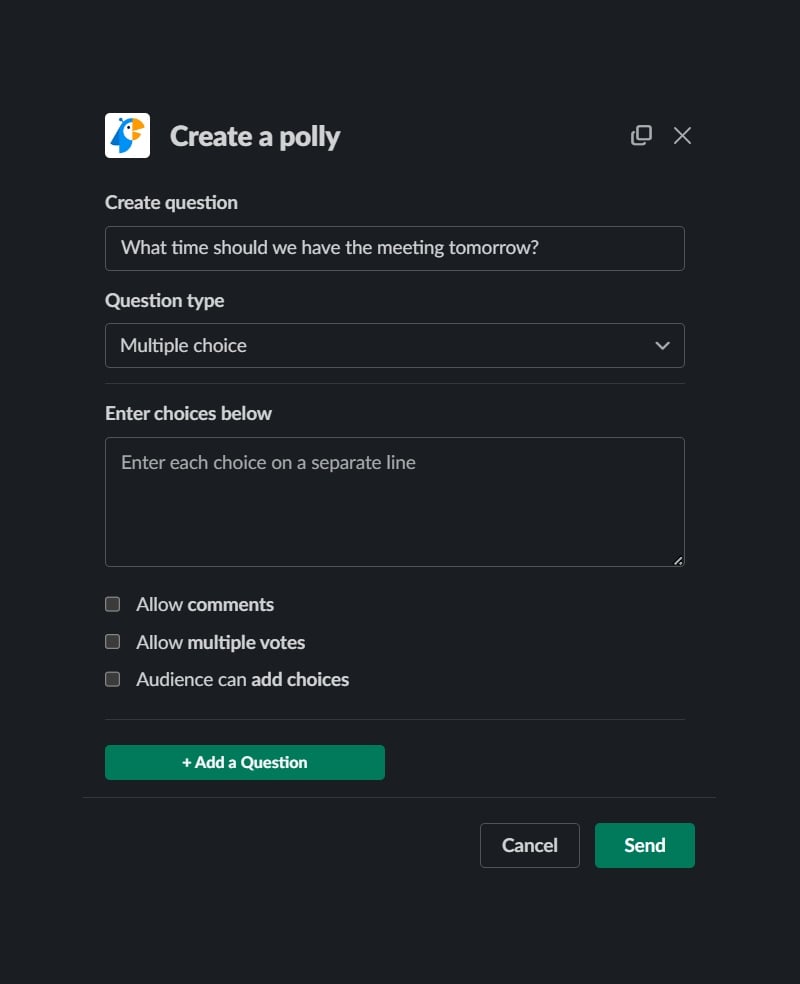 After selecting your preferred command, type your question, and a pop-up box will appear to customize the poll!
Once you customize it, click "Send," and your poll is ready to receive responses!
Method 2: Going to the App page
The alternative method to the command one is making a poll manually by going to the App page. These have various steps, depending on your needs. For this tutorial, we'll select one option for audience type and custom templates.
AUDIENCE TYPE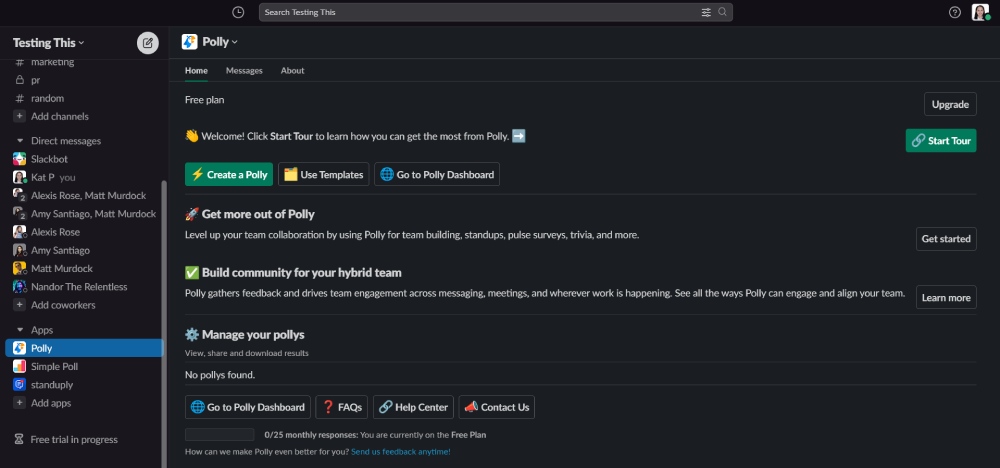 First, click "Create a Polly" and customize your poll. You can select a poll based on your audience, create a new one, or choose a template!
Creating a Poll for Your Audience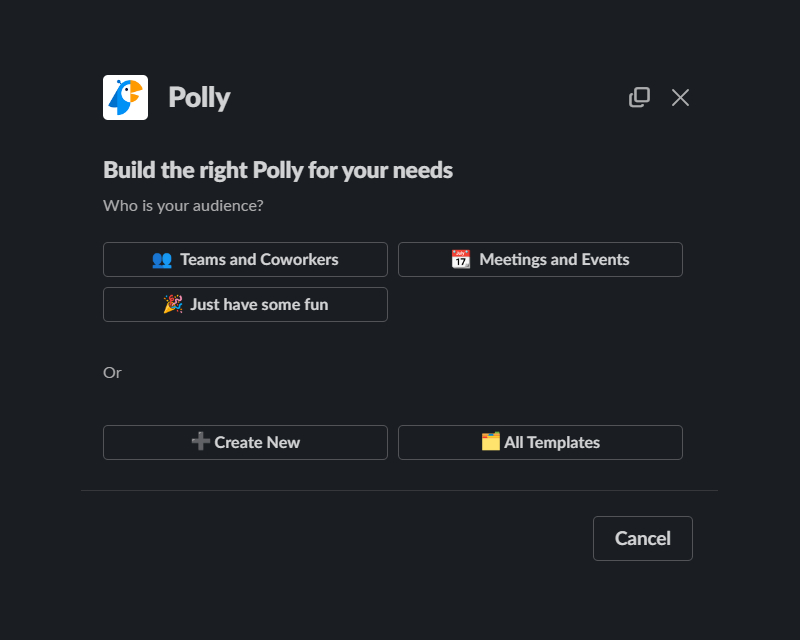 When creating a poll for your audience, you have three choices:
Teams and coworkers
Meetings and events
Just have some fun
For this tutorial, I'm choosing "Teams and Coworkers."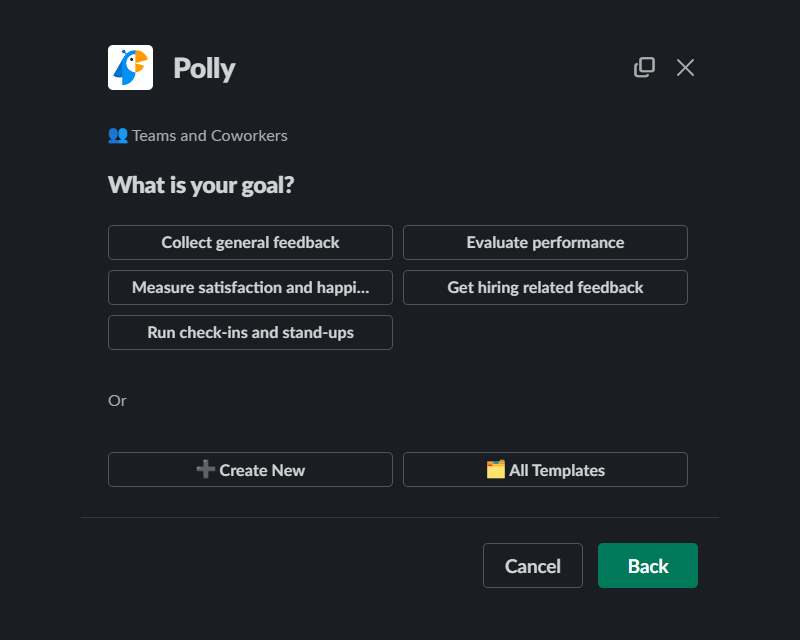 With this option, you will choose from different goals.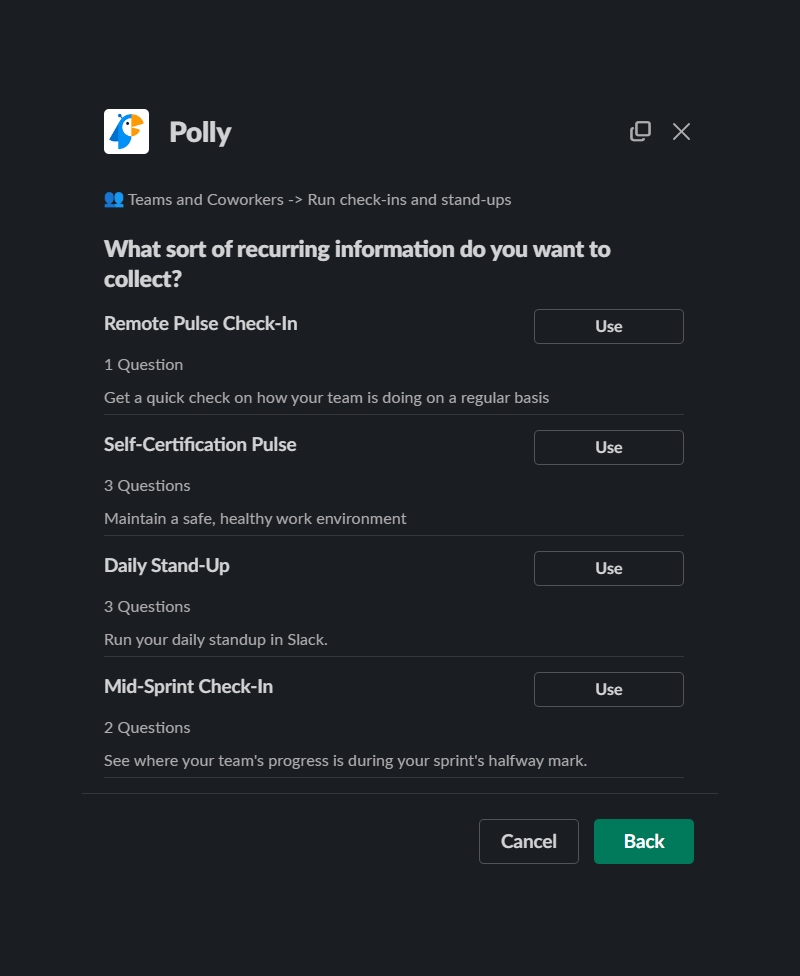 Let's say you need daily check-ins or stand-ups, so select "Run check-ins and stand-ups."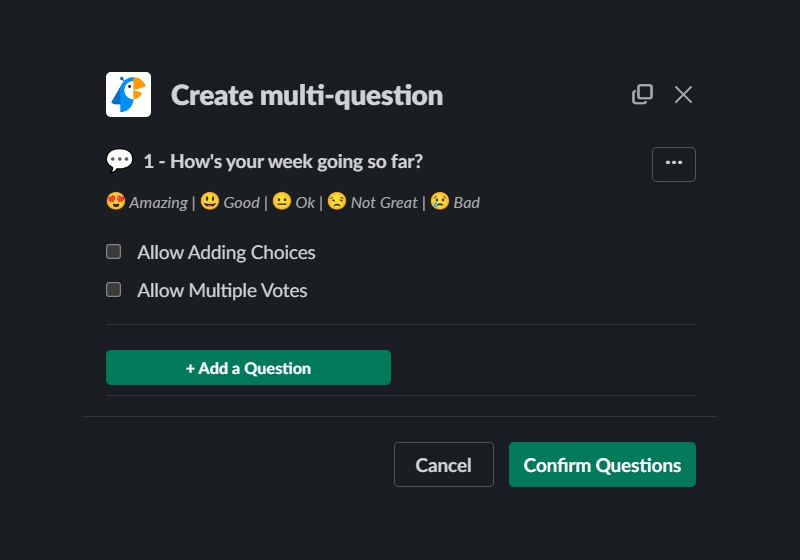 Then, if you want to know how your coworkers are doing every day, choose "Remote Pulse Check-in." After that, click "Use." Then, you can select to submit their preset template or add questions to personalize check-ins. Once done, click "Confirm questions."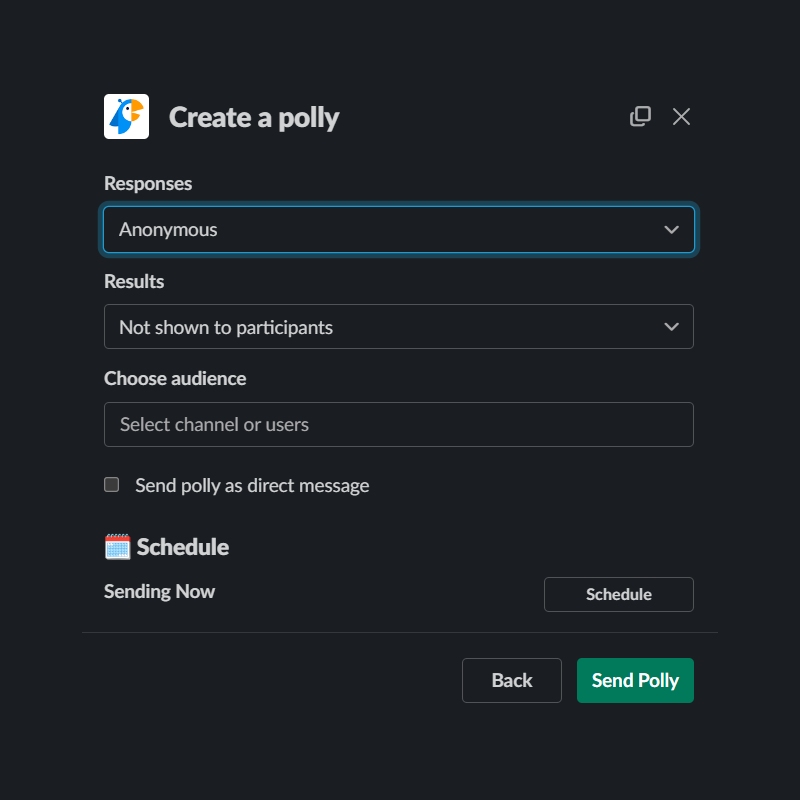 After that, you can customize the responses, results, and audience! Plus, you can even create a schedule to send Check-ins daily!
TEMPLATES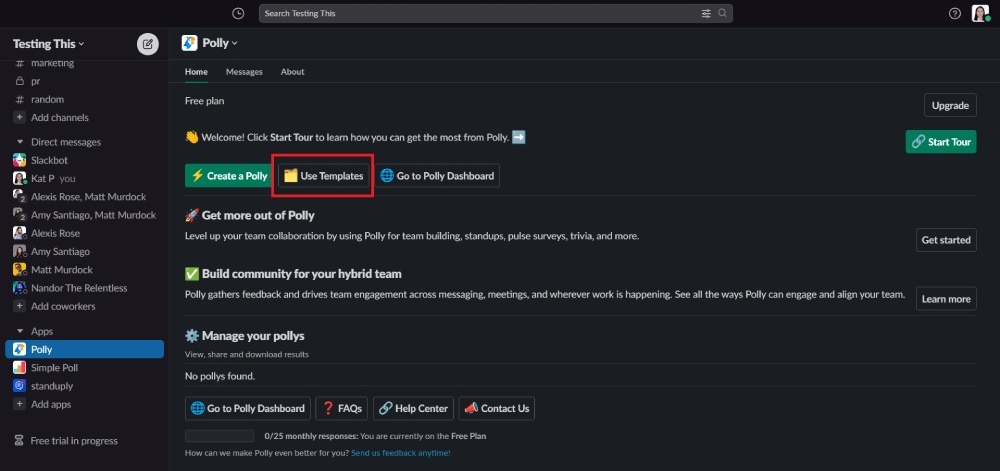 If you're unsure how to create a poll, you can use a simple template. You can select "Use Templates" from the app's homepage.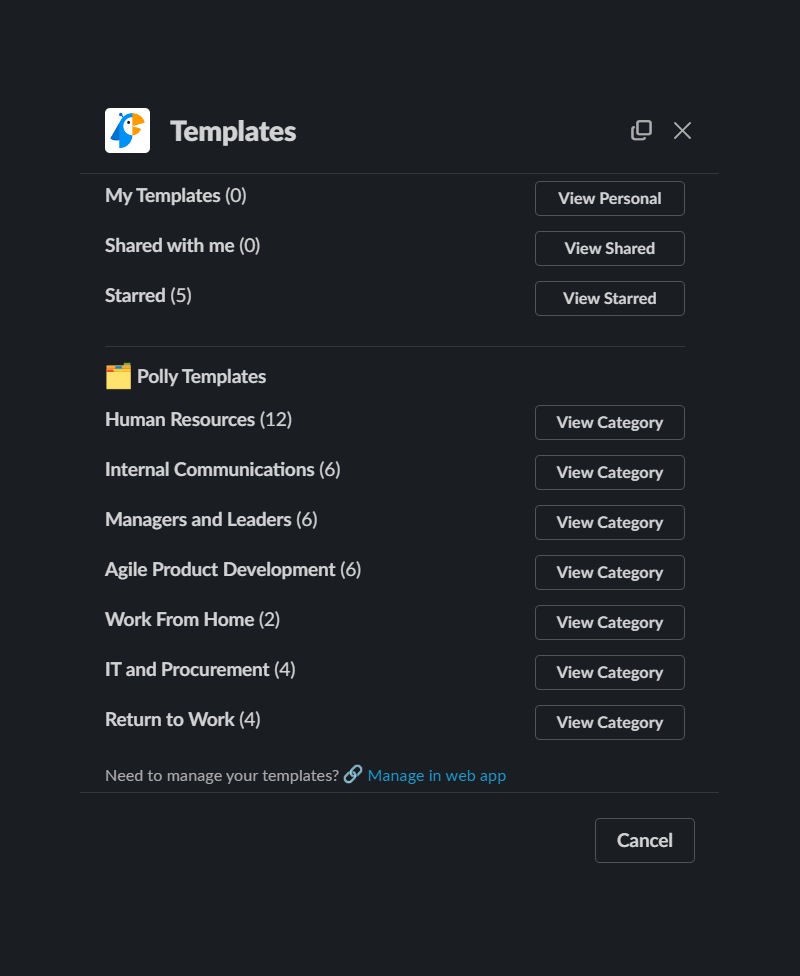 Here are the template categories available:
Human Resources
Internal Communications
Managers and Leaders
Agile Product Development
IT and Procurement
Return to Work
For this tutorial, let's choose the "Return to Work" template.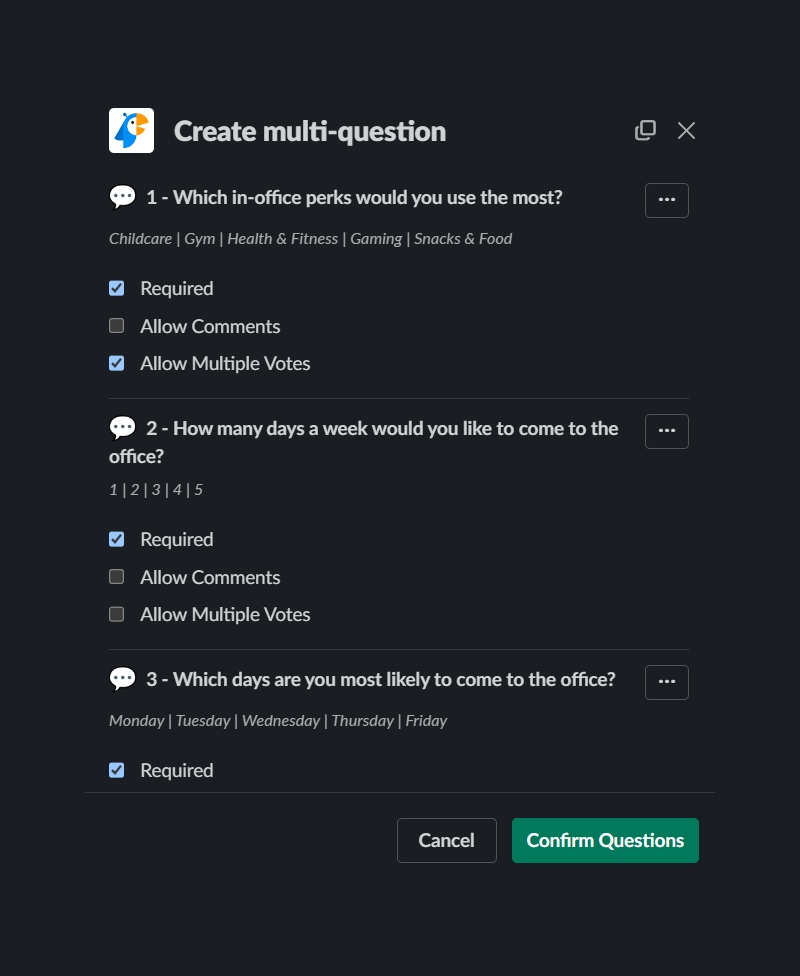 Then, we'll use the "Remote Work" option.
Like the AUDIENCE option, Polly will present a preset set of questions.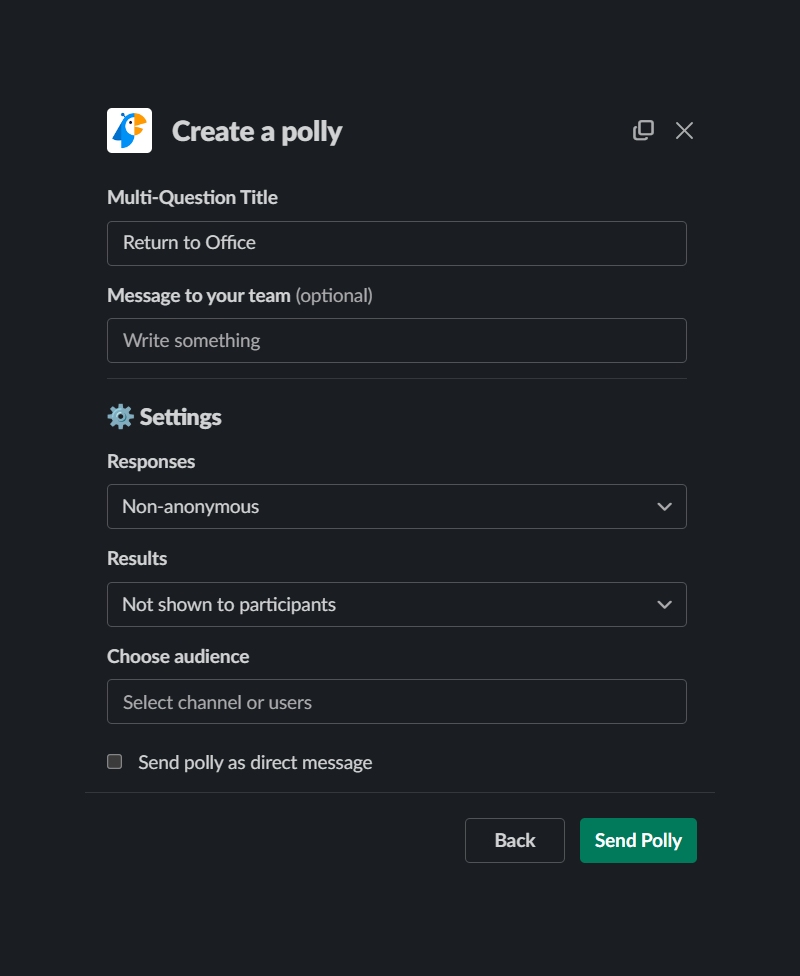 Then, you can customize this before sending this poll to your group chat or channel!
2. Simple Poll
Ideal for: quick poll creation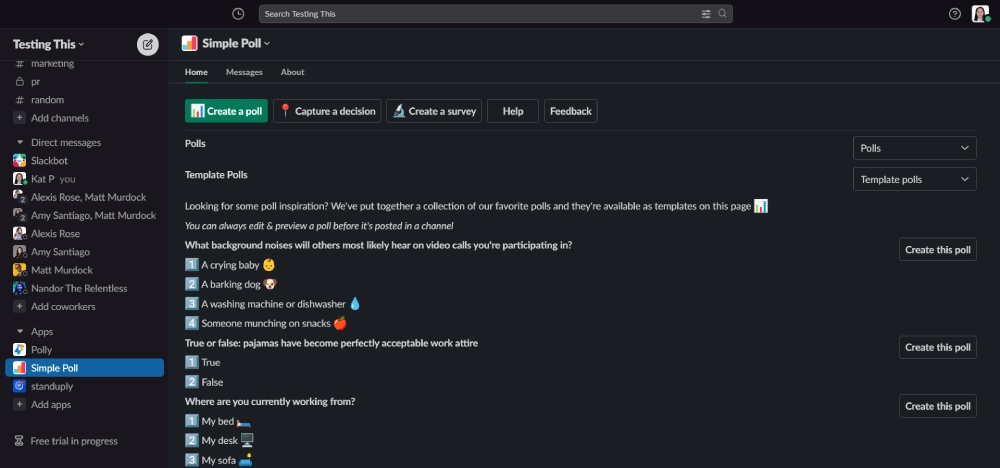 If you want a much simpler way to create a poll, Simple Poll would be your best friend! When creating a poll, it's similar to Polly. You can use a command or go to the App page!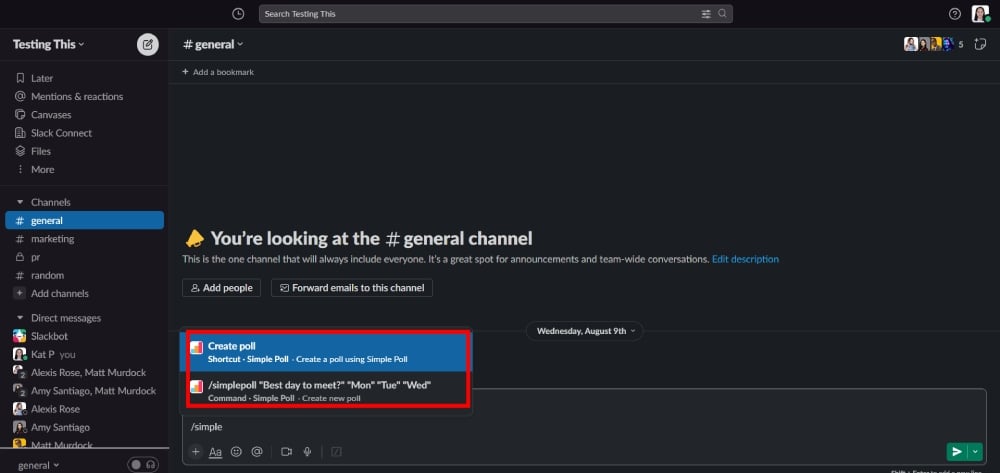 When using the command feature, simply type: /poll on Slack.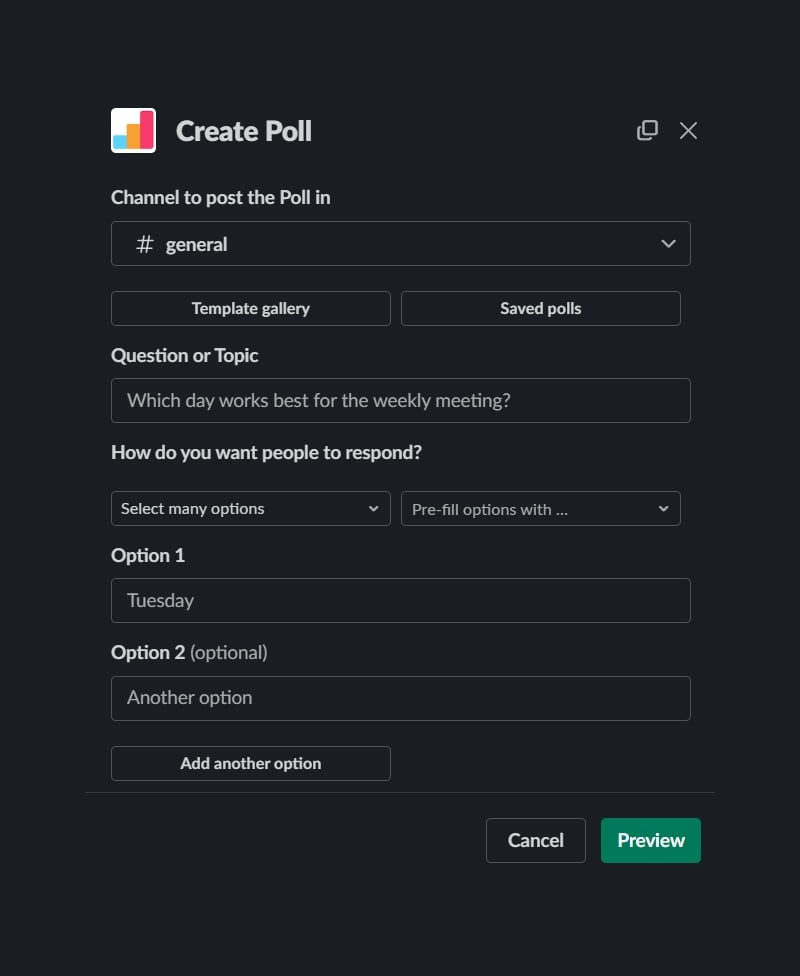 Then, you can customize your new poll!
Alternatively, you can go to the App's page on your Slack Workspace! Here's how to do a poll on Slack with Simple Poll!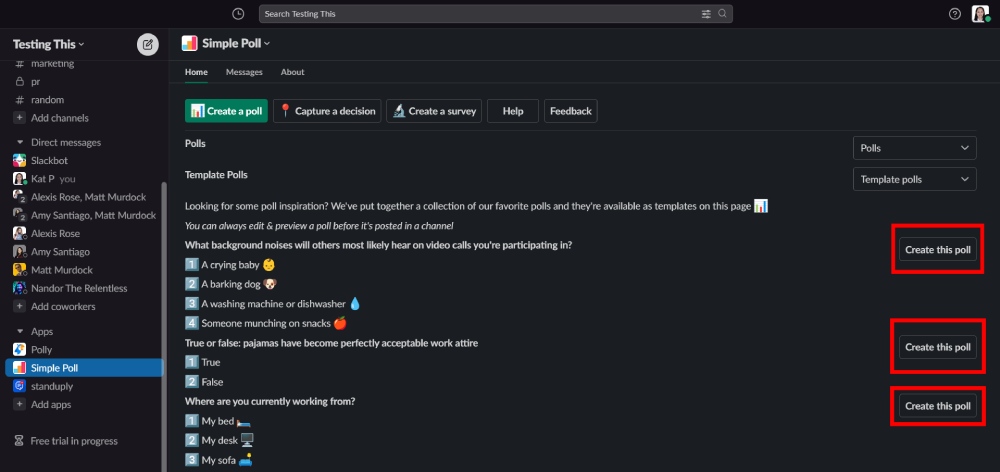 What's great about Simple Poll is you can view the templates on the App page and click on any of them to customize a poll immediately!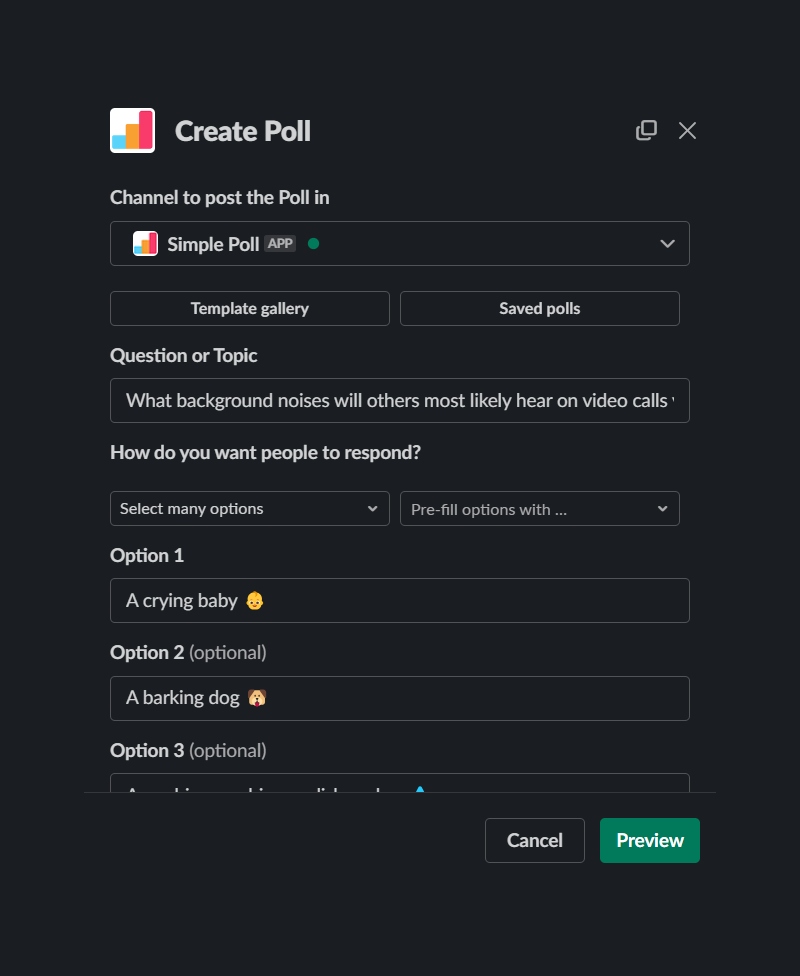 You can add options or personalize them before posting the poll.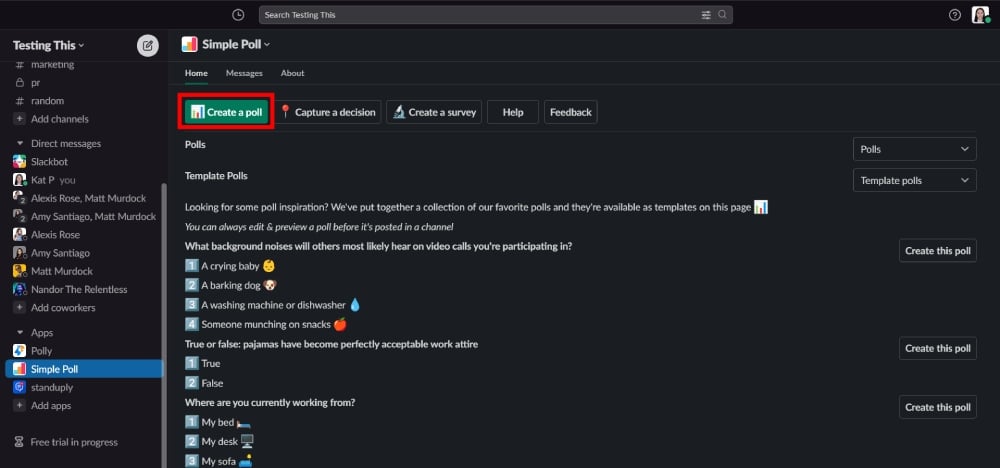 But if you don't like any of the choices, you can click "Create a Poll."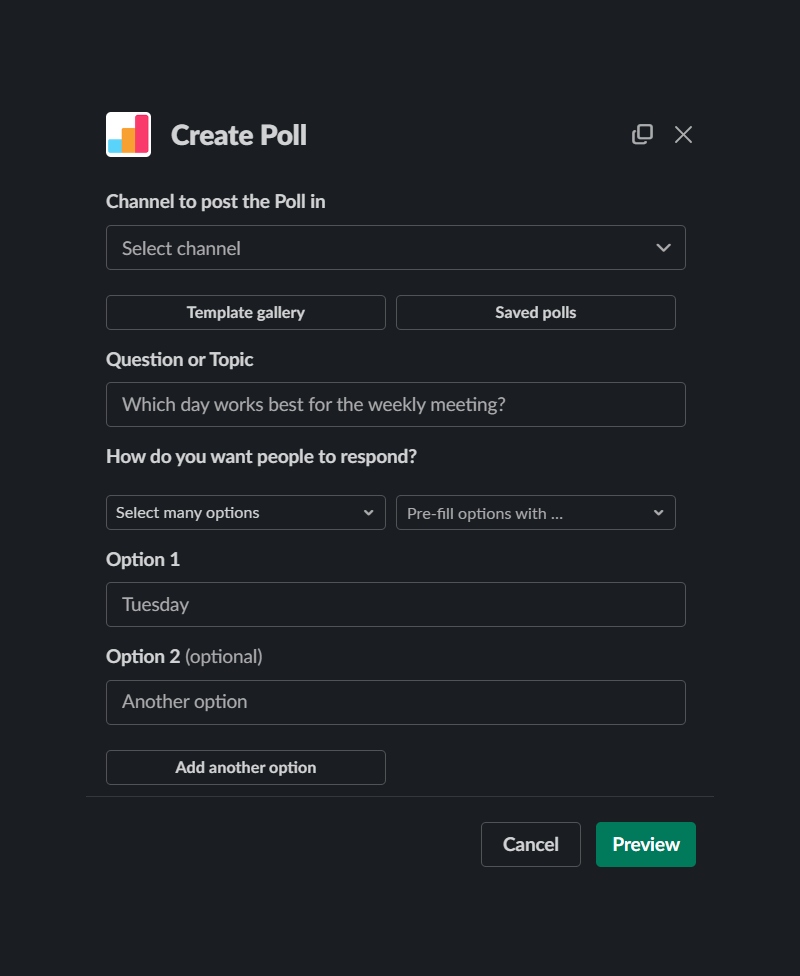 Then, customize your choices, such as:
Channel to post the poll in
What's the question
How many people should respond
Response options
Other settings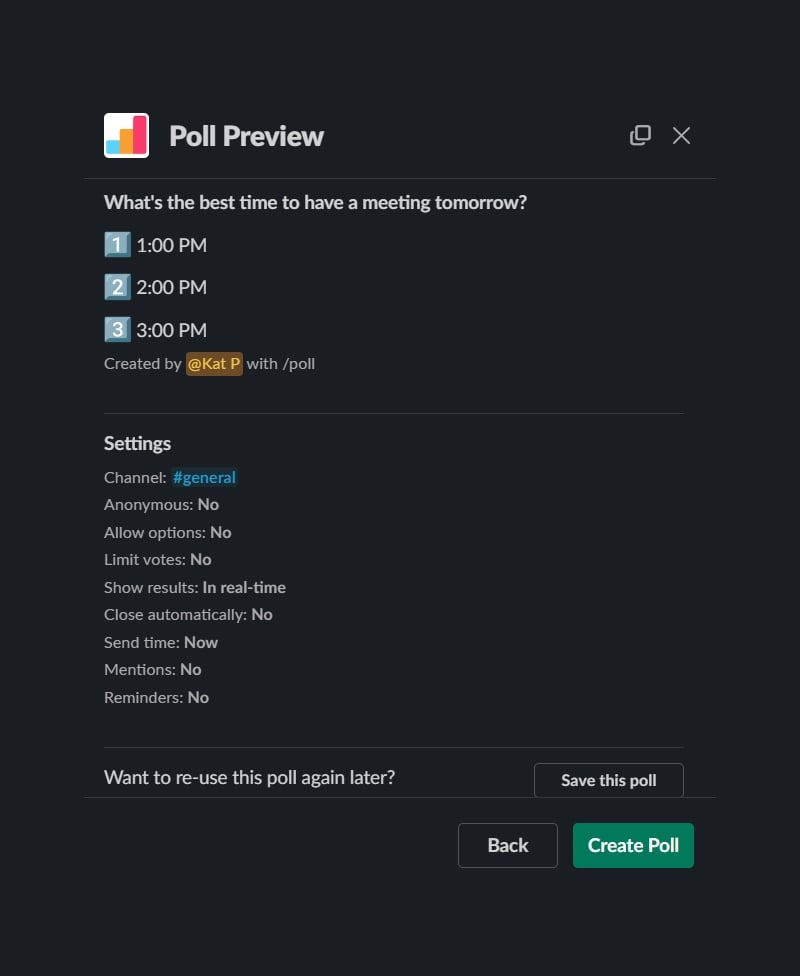 Before you publish the poll, you can see a preview. You can review the poll details before posting it on your desired channel and Create the Poll!
3. Standup.ly
Ideal for: polls and to-do lists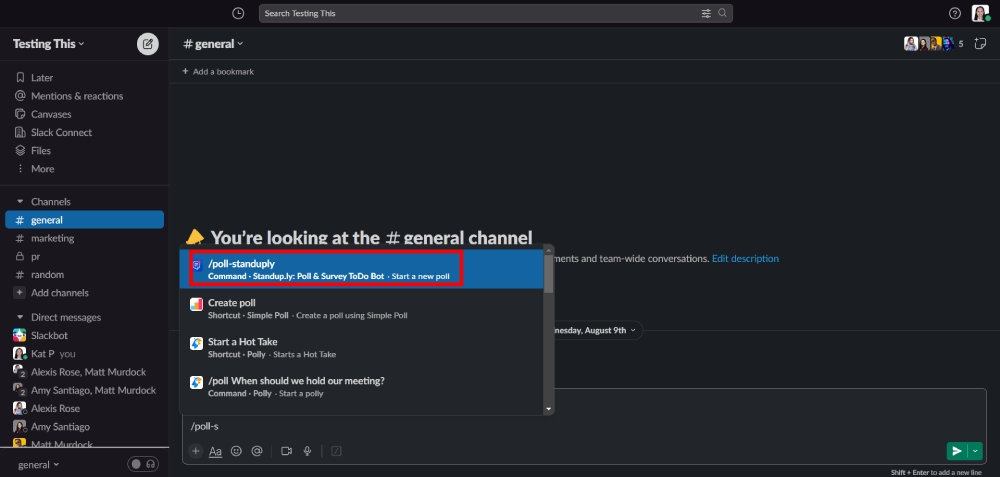 Standup.ly is a poll and to-do list app. However, if you want to create a poll, you can use one command: /poll-standuply. With this, you can start a vote on any channel!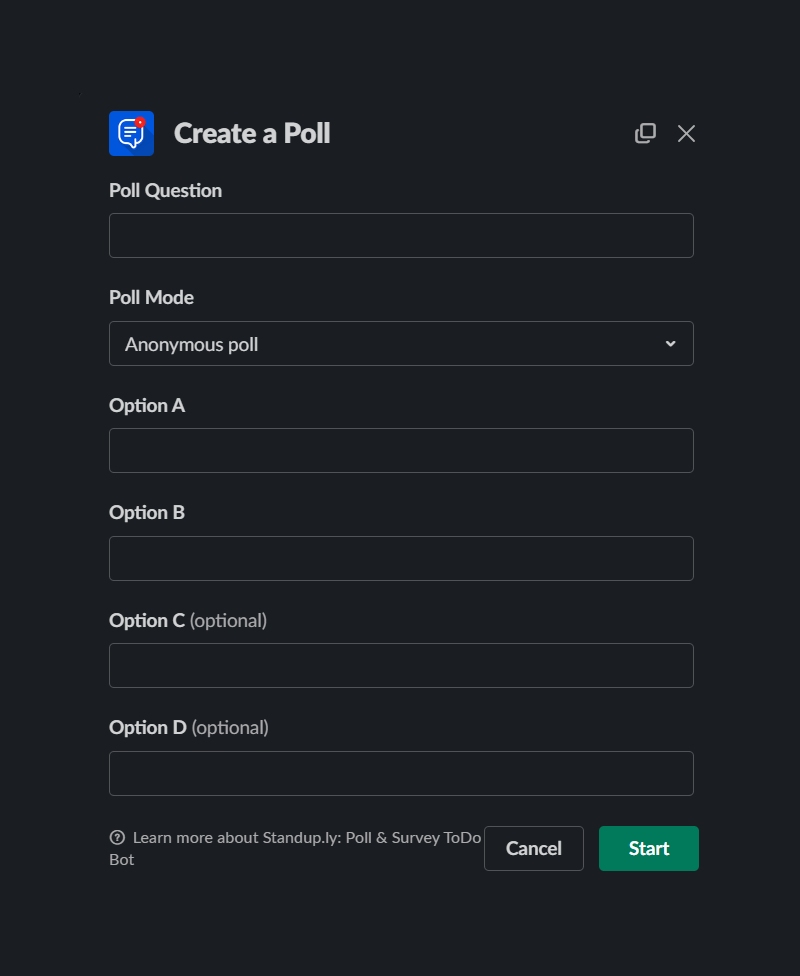 When you send the command, you can input your question and options! After that, click "Start" and let your teammates decide.
Other Poll Options
You're not limited to the top three poll apps many Slack users use. For example, SurveyMonkey, Zoho Surveys, and Typeform are three well-known survey software apps. However, you can integrate them into your Workspace. Meanwhile, some poll apps require you to create an account before integrating that into your Workspace.
Conclusion
Creating a poll on Slack is simple and easy to do! It requires installing an app since Slack doesn't have a dedicated poll feature. However you have multiple options for poll apps, but the ones listed above are the top options for ease of use and customization. With these apps, you'll know more about your teammates. Plus, you can make better decisions faster!