According to Upwork, a popular freelancing platform, 22% of the workforce or roughly 36.2 million Americans will work from home by 2025. Aside from this being the new normal, a survey conducted by the Becker Friedman Institute for Economics at the University of Chicago found that working remotely is just as productive as working in the office.
Because of this, it's time you ready yourself and create a comfortable work setup at home. Here are 20 home office setup ideas that you can try:
Minimalist Work Space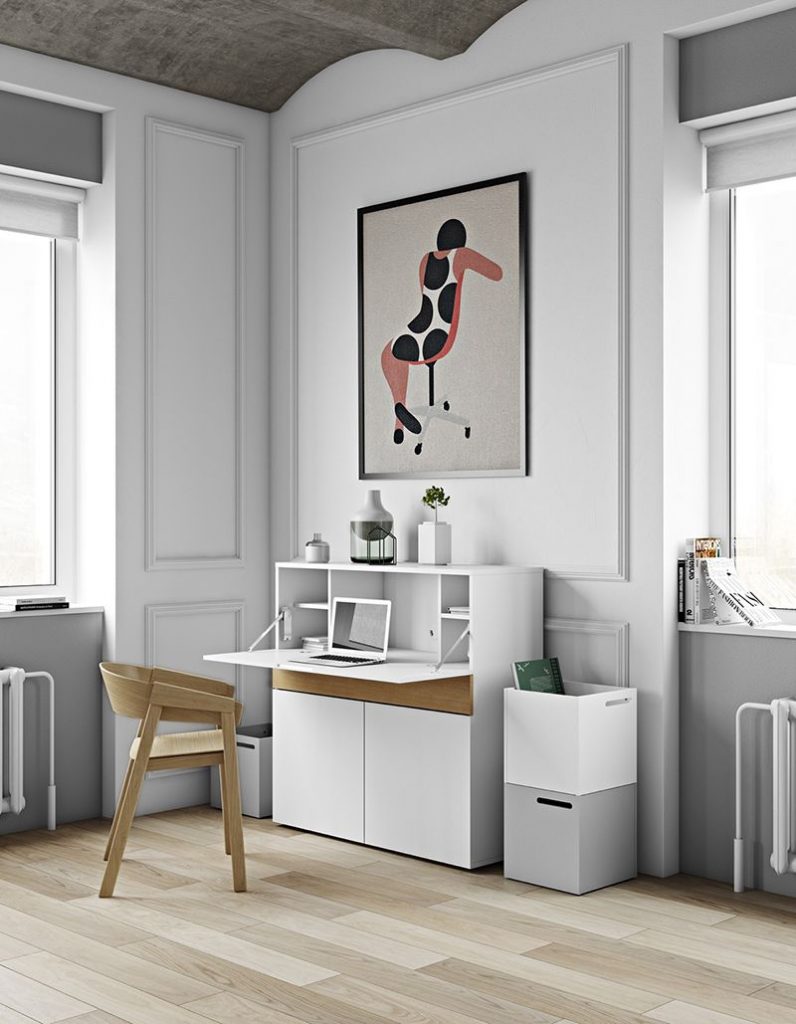 Image Source: Muuto
There are surprising benefits to health and wellness when you opt for a clutter-free environment. This is why experts favor minimalism in design, both in design and health. The example below has that clean and crisp look conducive to work.
The desk bureau can be closed to save space and hide work equipment when not in use. Its light and natural color palette add a quiet ambiance that gives clarity of mind. The splashes of reds and greens keep the design interesting and appealing. A minimalist workspace is also suitable for more modern interior designs.
Brooke Shields's Neoclassical Manhattan Study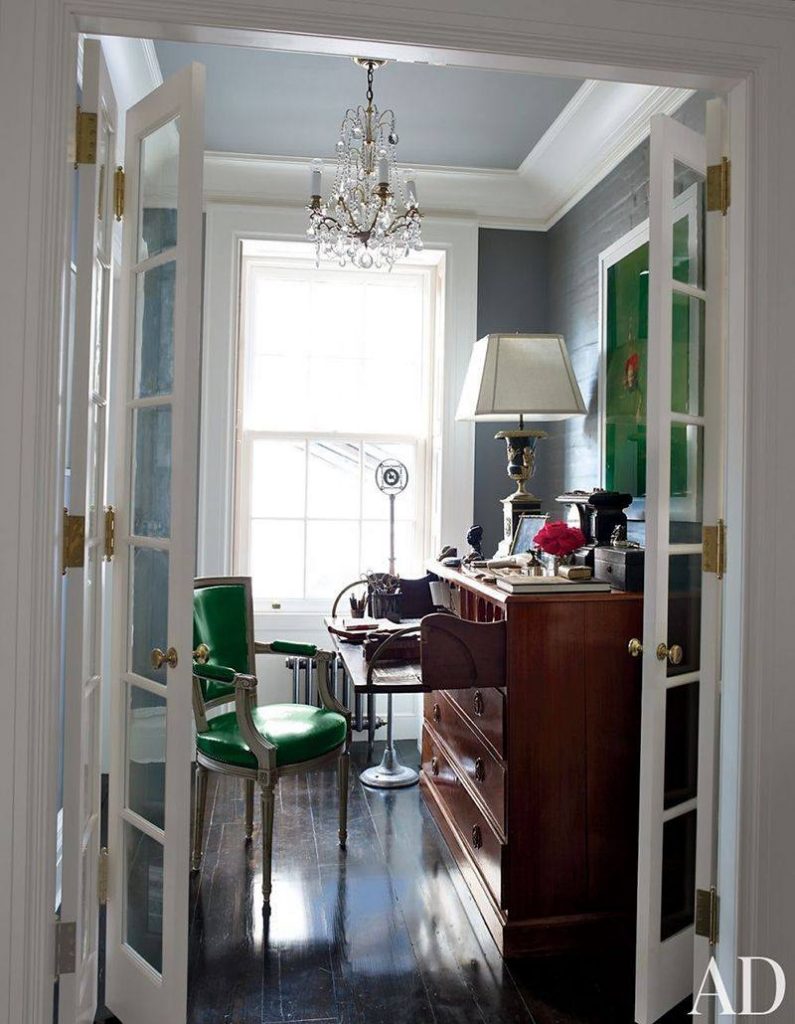 Image Source: Architectural Digest
Actress Brooke Shields's home in New York City is a staple of many architectural and interior design websites and blogs. And rightly so, it has a neoclassical touch that's oozing with elegance and charm. The Italian neoclassical secretary is the focal point of the whole room as it draws the eyes in.
The green chair and artwork bring life and provide contrast to the neutral colors of the study. The mini chandelier gives it a vintage feel without being overly ornate. The large window allows natural light to come in and provides the room with a quaint and peaceful feeling.
Monochromatic Home Office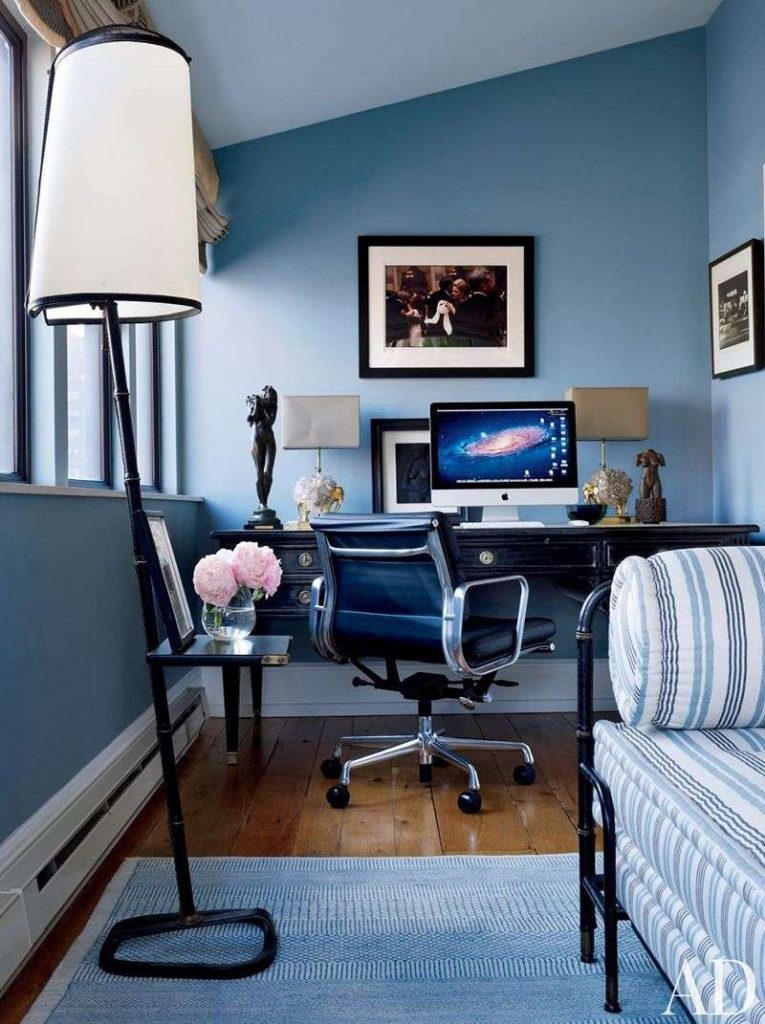 Image Source: Clever
A quick look at this design will make you want to go monochrome for your home office setup. This home office setup idea features various shades of blue that give a calming effect. If you want to reduce stress in your work, blue is the color to go for when you want a serene atmosphere.
The accessories such as the daybed and carpet provide a cozy contrast to the steel-framed chair. The wooden floor and table are perfect for adding that homey touch. These are great reminders that working from home doesn't always have to be rigid and formal.
Work-Life Balance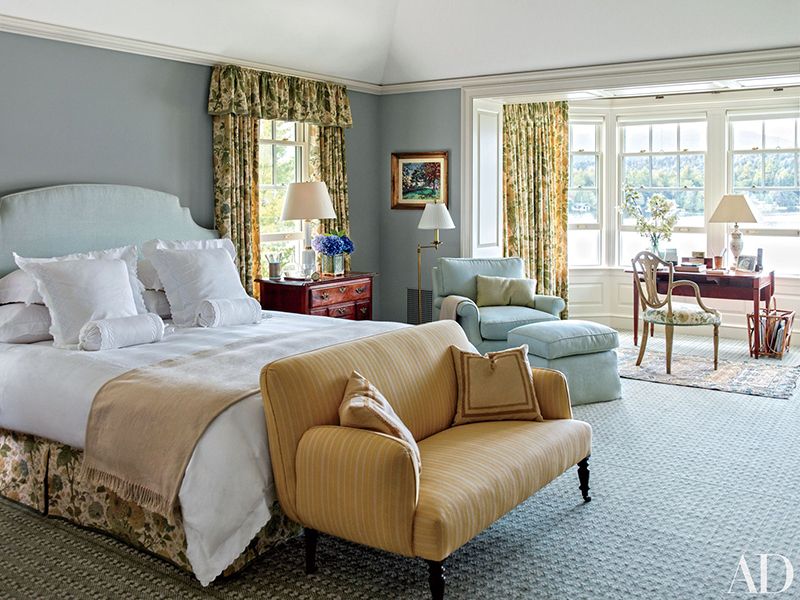 Image Source: Architectural Digest
Turn a corner of your bedroom into your workplace to have that outstanding balance of work and life. This WFH setup is ideal for those whose schedules offer flexibility. Once you get stressed with work, all you need is to take a few steps to the bed or the armchair.
This home office setup beautifully blends your workspace with your bedroom. Notice the curtain you can close behind once work is done or when you don't want distractions. The lake view provides inspiration with some sunshine to brighten up your day.
Picasso-Inspired Home Office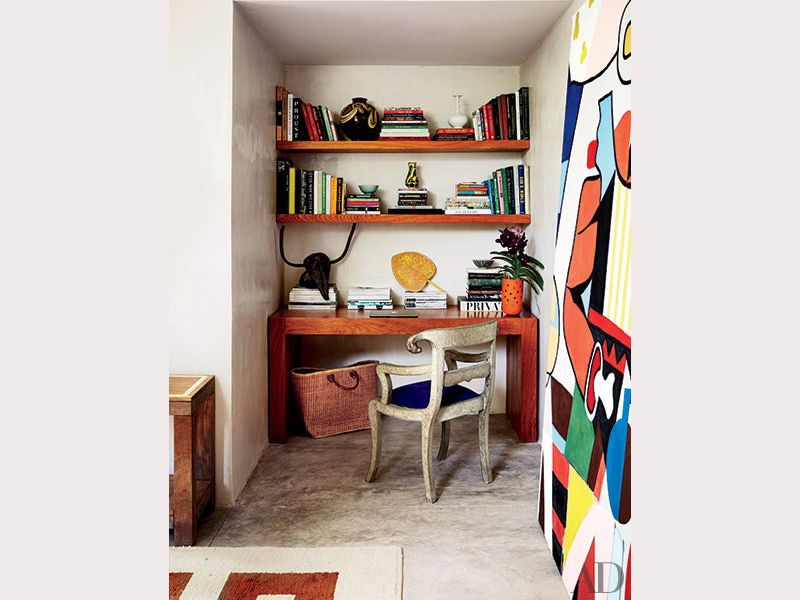 Image Source: Carlos Mota/Architectural Digest
While minimalism is the choice of many for home office setups, its opposite can also be an excellent option. Using bold and colorful designs, accessories, and furniture can give you a pop of energy to get you through a busy workday. The vibrant colors used in the styling of this WFH setup can elicit feelings of spirit and vigor, perfect to pump you up every workday.
The example below is inspired by Picasso's works because of its many bright colors, mural, and unique style of furniture. Stylist Carlos Mota designed this home office as part of his beach house.
Walk-In Closet Turned Home Office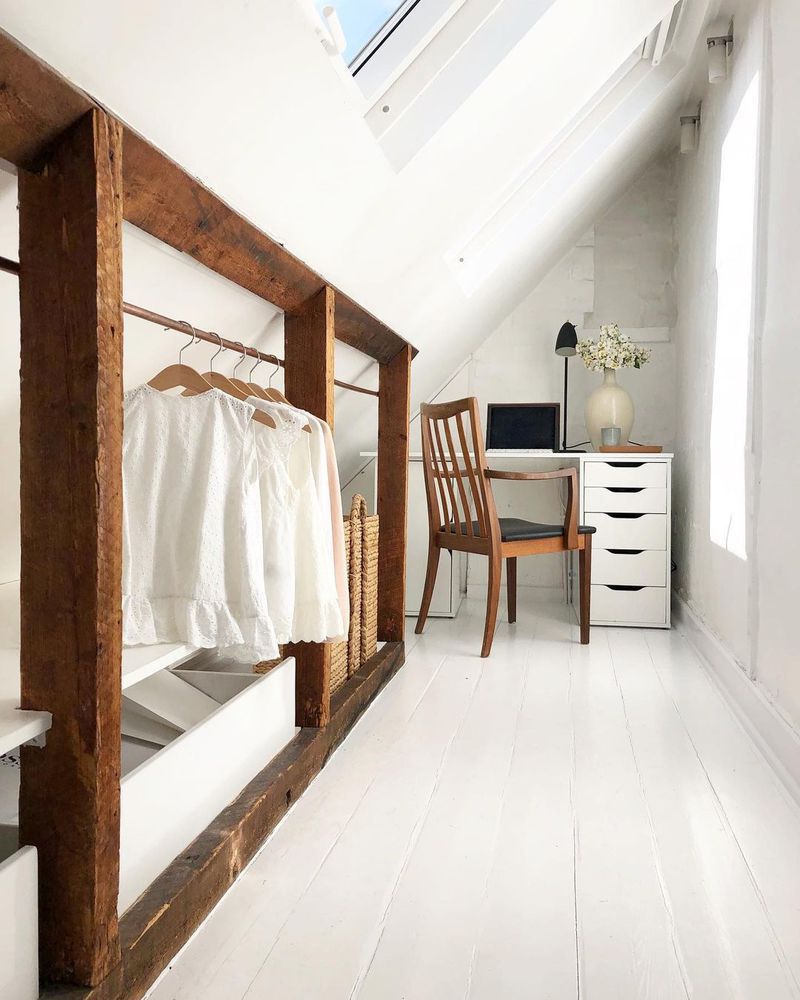 Image Source: Scandinavian Stylist
If you have a spacious walk-in closet, why not turn it into a home office? This example is perfect when you don't have more room to spare. It's small but cozy and ideal for setting up Zoom meetings as the white walls can be a good backdrop for work.
When you use white to paint your walls, it gives a sense of space. It makes the room seem bigger and brighter and provides a light and airy feel. If you have windows in your walk-in closet, arrange your workstation close to windows to invite natural light in.
Couples Work From Home Setup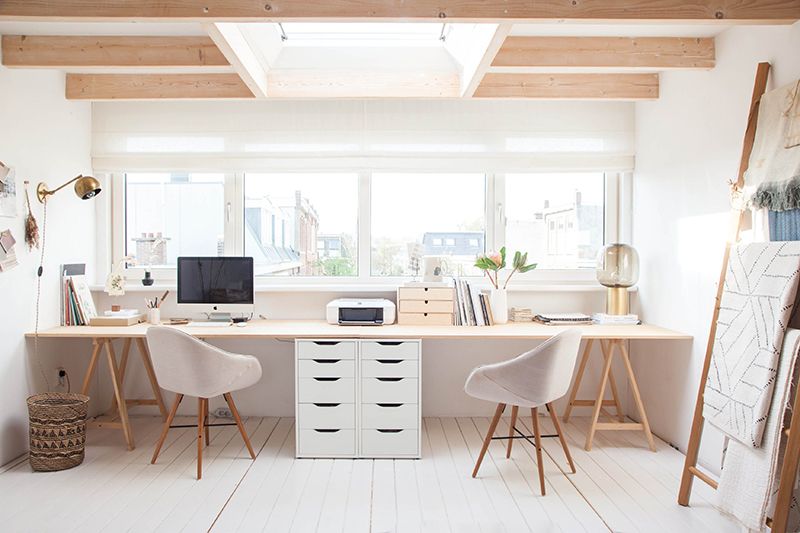 Image Source: Home Designing
Couples who work together stay together. Grab this home office setup idea for couples that is the epitome of coworking spaces. Instead of paying for coworking spaces, build your own and enjoy the company of each other. You can add your favorite plants or accessories to make the space your own or copy what Home Designing did here.
One side of the room mirrors the other, allowing you the freedom to design your side of the room. In this example, you can see a hodge-podge of styles without sacrificing harmony.
Chalk Board Home Office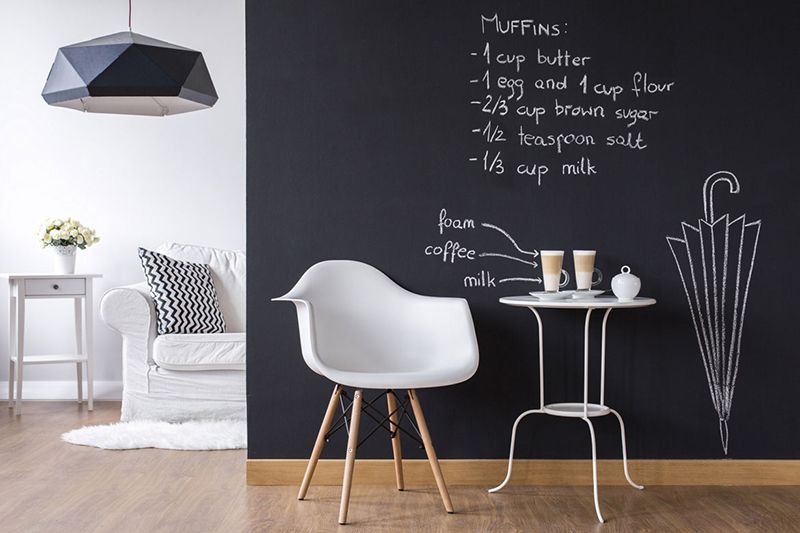 Image Source: Select Painting
For creatives setting up their home office, getting a chalkboard for your walls can be great for brainstorming. This home office setup idea is ideal for those with blank walls and lots of discussion sessions. You can use it as a memo board, wall calendar, to-do list, and many more.
This office setup lets you enjoy working while still feeling the comforts of home with a sofa and fluffy rugs nearby. Give it a minimalist color scheme, and voila, a fun and stress-free home office setup.
Boho-Inspired Work Space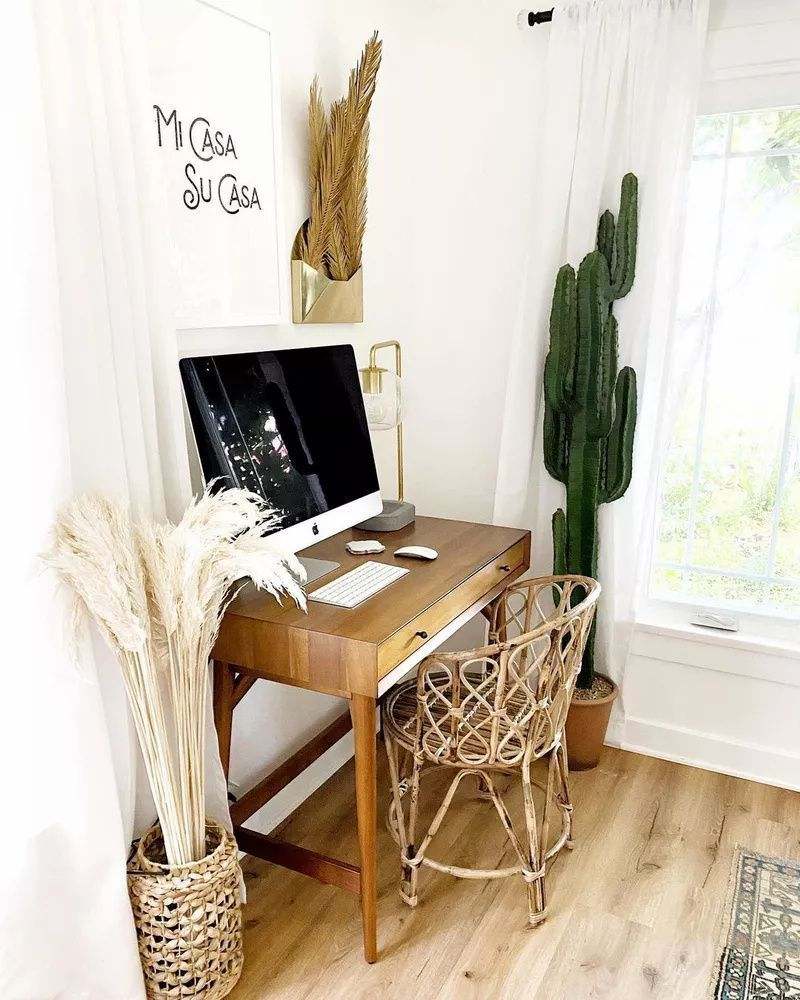 Image Source: Cottage and Sea
Blend wicker furniture with the plants of your choice to achieve this boho-inspired home office setup. Add a wooden desk to your hardwood floor to get the atmosphere of Bohemian chic. Use a neutral color palette to make the natural wood's beauty come out.
This home office setup idea is easy to copy as you only need to mix and match designs and styles. The main factor you should think about is bold, relaxed, and fashionable. This gives a laid-back atmosphere that can lessen the stress of work.
The Outdoor Office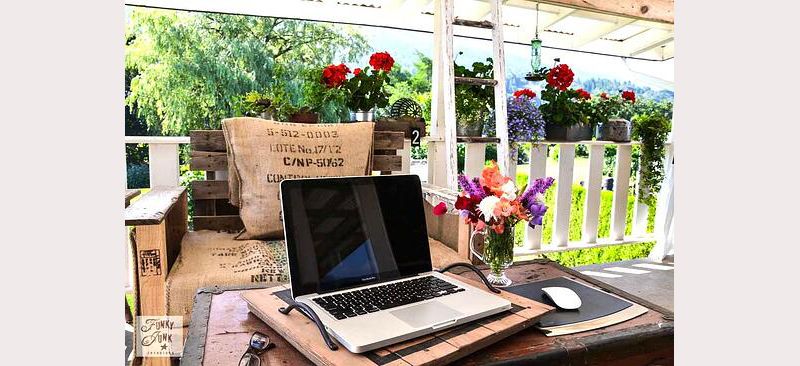 Image Source: Funky Junk Interiors
An outdoor office home setup will be perfect if you're lucky enough to live in a temperate climate. Surround yourself with plants, flowers, and all that nature can bring. Ensure that your Wi-Fi can reach you by using extenders or powerful routers.
This will be ideal if you want to scrimp on electricity as you'll be using natural light for your work. You won't ever need air conditioning, too, as you'll feel the winds of the outdoors breeze through your home office setup. Plus, you can inhale the beautiful view if you have a lush, green garden in front.
Bring the Outside In Home Office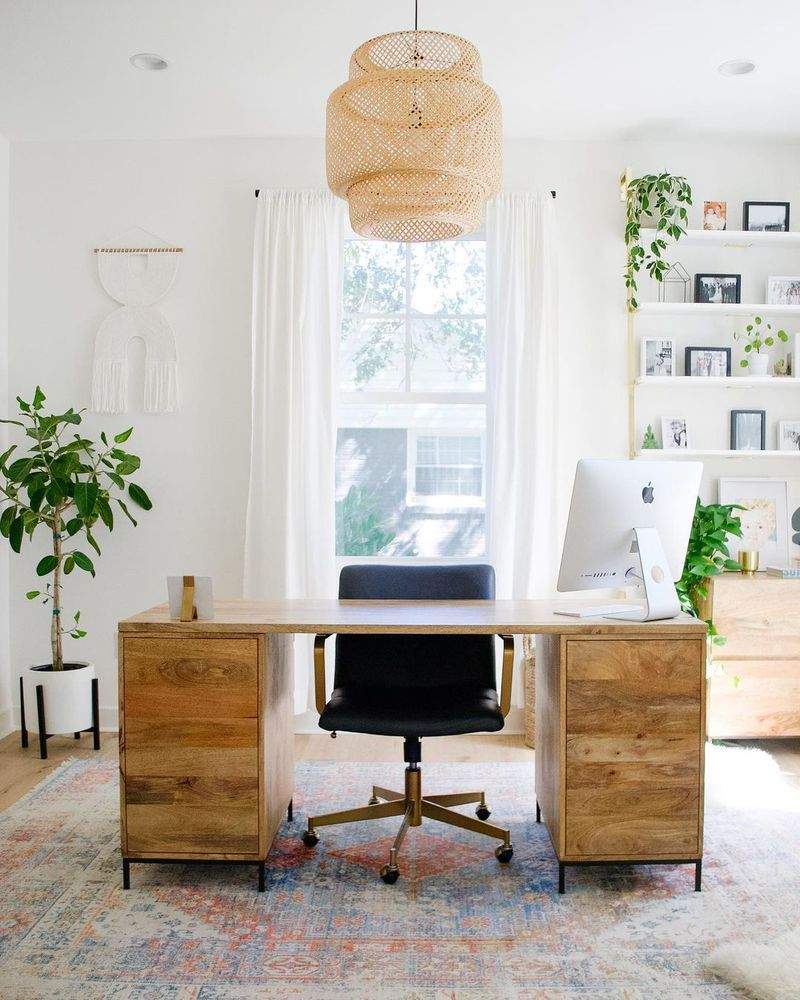 Image Source: The House on Hillside Lane
Now, if you can't build your home office setup outside, bring it inside. The example below is very suitable if you want to be surrounded by nature but can't. Plants not only can help clean the air, but they can also reduce stress and lighten your mood. It's all part of biophilic interior design that exposes inhabitants directly or indirectly to nature.
Don't worry about not having a green thumb, you can always use faux greenery dupes. They can still provide you with that serene vibe. It can also accentuate a light-toned home office setup.
Parisian Maison Work From Home Office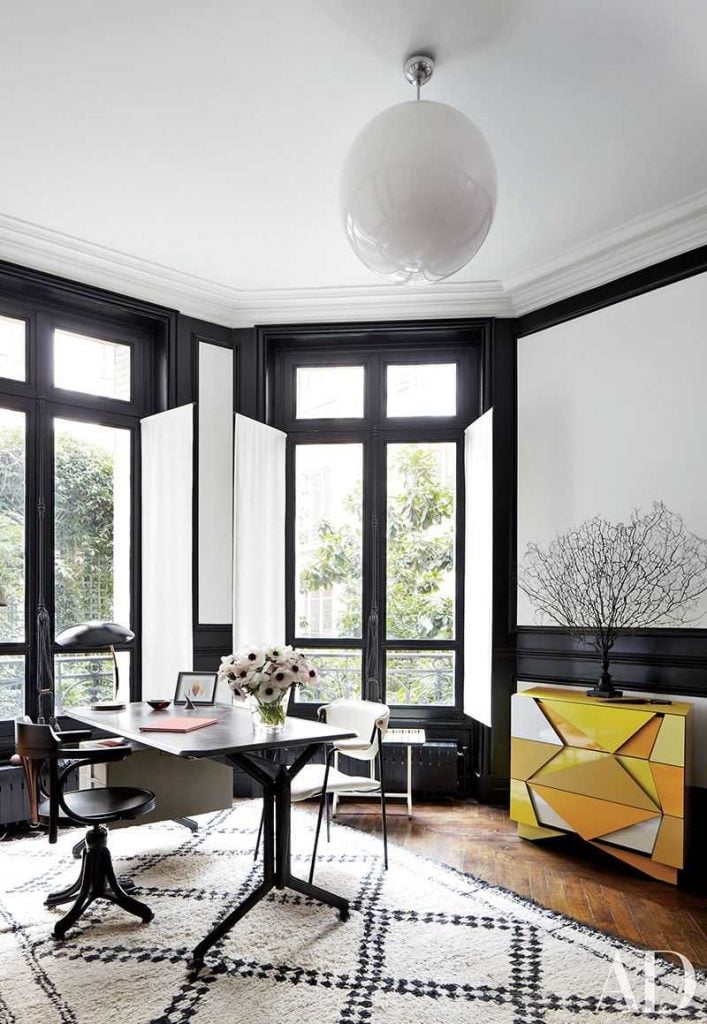 Image Source: Architectural Digest
With a predominantly black and white color scheme, this WFH setup gets a color boost from the Parisian Maison study. The result is a workspace design refreshing to the eyes and a pleasure to work in. The Morrocan rug takes the stiffness away and gives the area some much-needed luxuriousness.
If you're looking for home office setup ideas that are informal yet orderly, this is a good choice. Choose a two-tone color palette and add bursts of colors in a few choice spots to get that captivating and sophisticated look.
DIY Workspace and Living Room Setup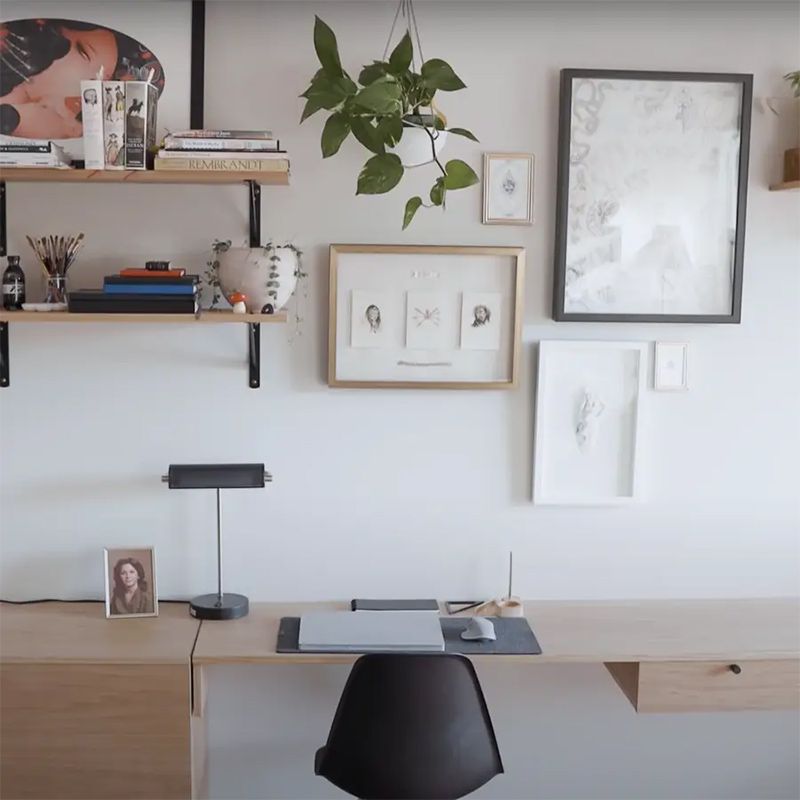 Image Source: Buzzfeed
When you decide to DIY your home office setup, it doesn't mean you won't make it as good-looking as a professionally designed one. The example below is a testament to that. Add your favorite painting, picture, or plant to make it look cozy, warm, and comforting.
The key to making the same setup is to add white space all over. This keeps the space clutter-free and clean-looking. This example also used natural and light colors to help you avoid distractions.
Zen Home Office Workstation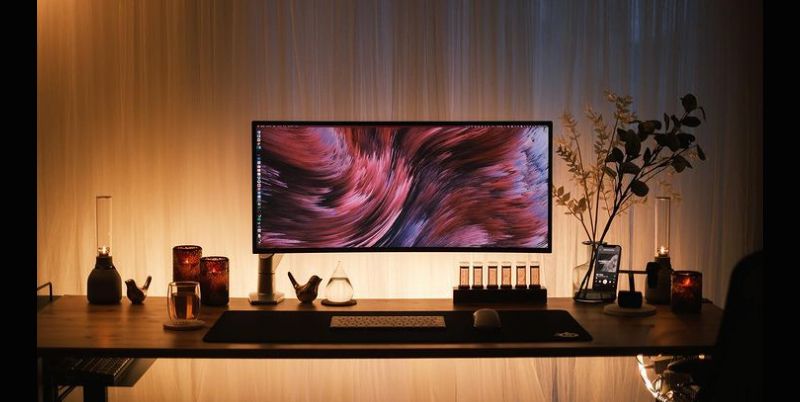 Image Source: Tsukishiro.Setups
Not to mistake this for a Zen spa, but this is the vibe that the designer wanted to achieve and succeeded in doing. It is replete with candles, bird accessories, and what seems like shot glasses. Actually, that thing with those small cylinders is a digital clock.
If your work is stressful or you spend long hours on it, this is the ideal setup for you. Nothing can be more relaxing than a Zen spa-inspired home office setup. This helps to relieve stress and keep your wits about you. Plus, you can even set the zen mood with the lighting, similar to the image below.
Mobile Home Office Setup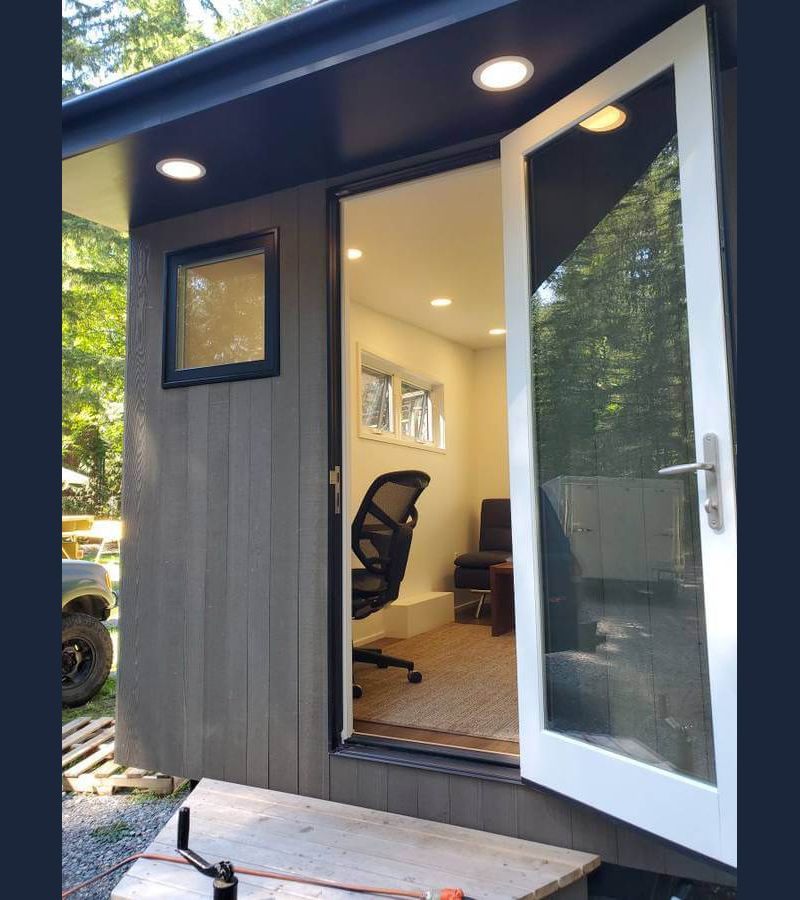 Image Source: Tiny House Talk
If space is no problem for you, build this mobile workstation, as seen in the image below. It is a standalone structure that keeps you off distractions, noise, and the sofa or bed that lures you into a snooze-fest.
If you plan on working from home for good, this is the best setup for you. It is a 14ft mobile studio complete with all the amenities you'll need for work. It may look compact, but the design lets in natural light and air.
Ralph Lauren's Personal Home Office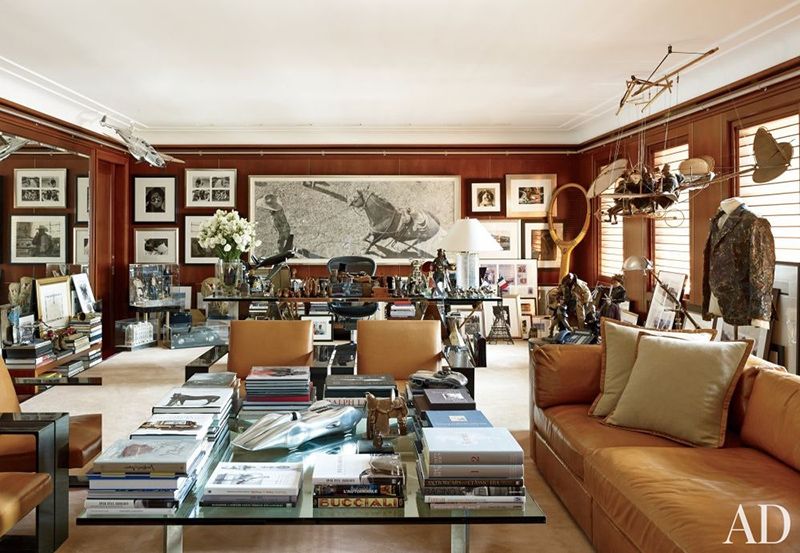 Image Source: Architectural Digest
World-renowned fashion designer Ralph Lauren has a home office that's to die for. It is filled with art, books, decorations, and many exciting accessories. Perfect if your job entails getting inspiration from nature, science, or life.
This office uses warm tones that give it a welcoming and relaxing feel. Notice the assorted objects hanging from the ceiling that add interest to the room's overall look. The comfy couch, coffee table books, and paintings give the room that homey atmosphere. If you go this route, make sure to always tidy up the space to prevent distraction from clutter.
Painted Ceiling Work Station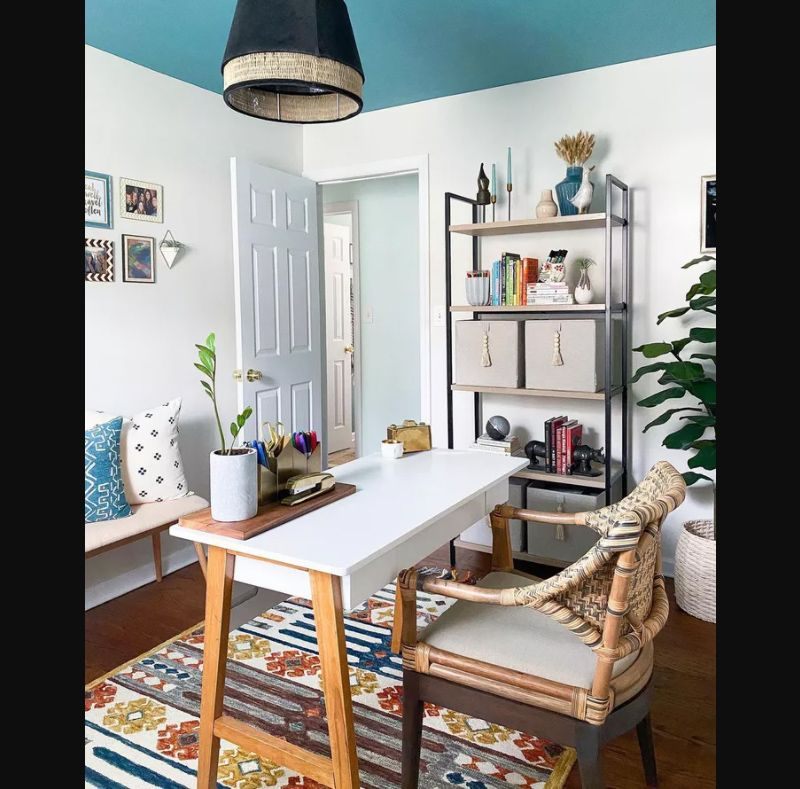 Image Source: Kelly von Weber
This elegant and cozy home office setup only needs a painted ceiling to make a statement. A darker color can accentuate a room and make it seem less of a workplace. You'll take advantage of the benefits of working from home with this snug-as-a-bug setup.
Add accessories that match the ceiling color to bring more life to the space. The colorful rug excellently ties down the balance of home and office atmosphere. The plant on the side helps liven up the room.
Workstation Under the Stairs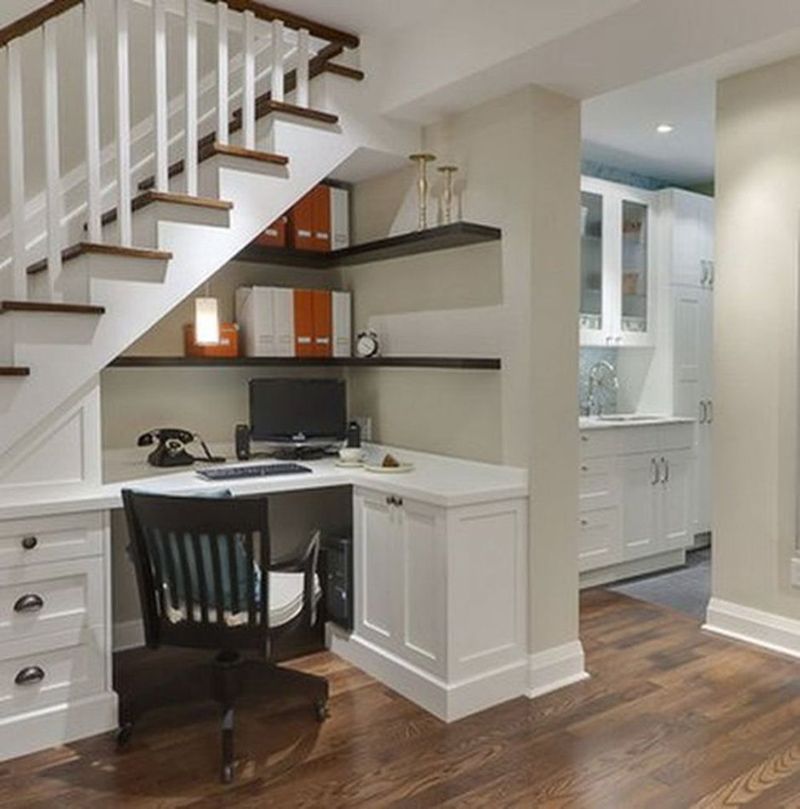 Image Source: Remove and Replace
Be inspired by Harry Potter's cupboard under the stairs by building your home office set up the same way. This is an excellent option in homes that have less space as you maximize what little you have without sacrificing beauty. The example below shows you how efficient and appealing this can be.
The extra space was turned into drawers. A table was incorporated into the area, and shelves were added. All these additions were made tastefully that it doesn't look forced.
Dark Home Office Setup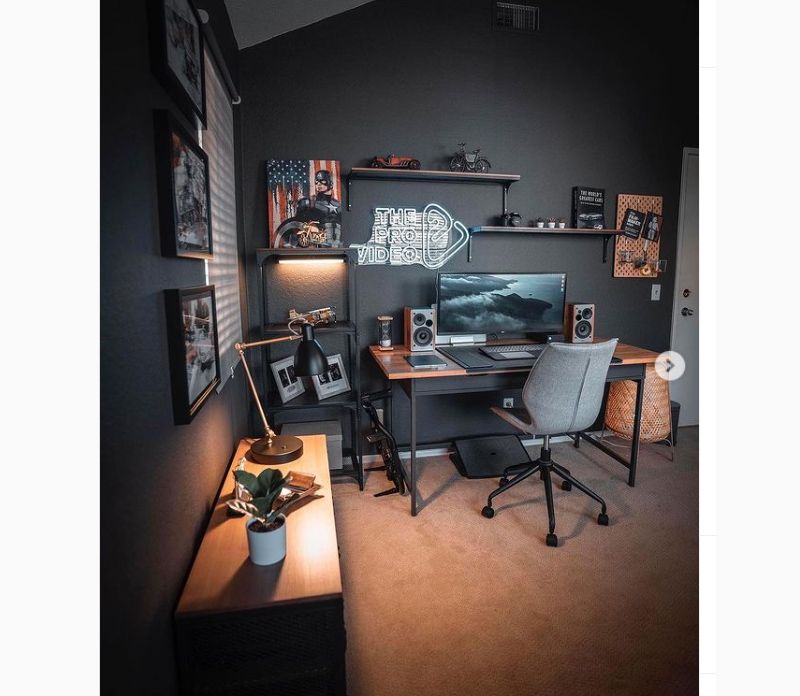 Image Source: Studio Atrium
While some people prefer a natural and light home office setup, there are those comfortable with a dark one. Here's an excellent example of this to inspire you. The dark-painted walls evoke a feeling of cleanliness while exuding charm, elegance, and serenity.
The wooden table and wicker basket, along with the brown carpet, provide an earthy ambiance. This dark home office setup blends vintage, pop art, and modern designs extremely well.
Beach-Inspired Home Workstation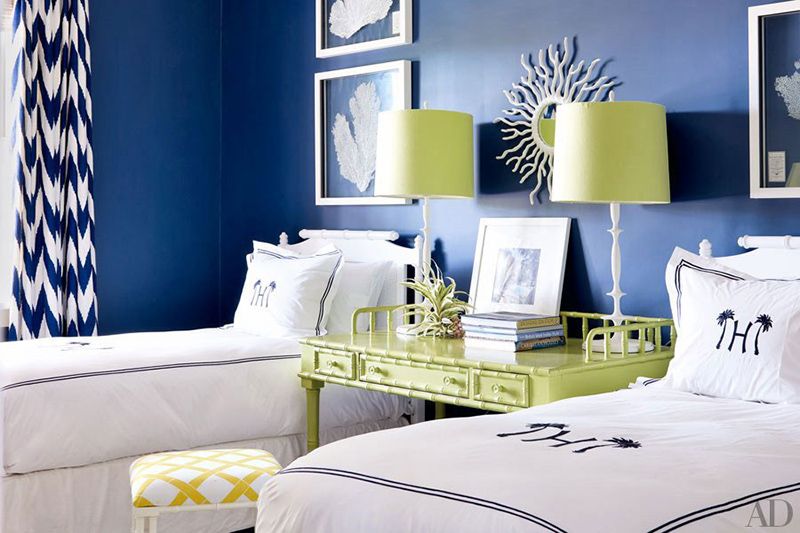 Image Source: Architectural Digest
Bring the beach to work with this coastal-style home office setup. This cool and clean home office design makes working feel like a vacation in the Bahamas. The blues and yellows and the white color combination evoke memories of warm sunshine and breezy walks on the beach.
You won't have to go elsewhere to destress as your home office alone can do it for you. The vintage desk adds a quaint atmosphere but is sturdy enough to hold your books, laptop, and other work equipment.
Final Thoughts
These home office setup ideas are a great way to jumpstart you into designing your own. If you need help, there's always Penji to turn to. Just sign up by clicking on this link to get help with graphic design and all your designing needs.