December is the perfect time to ramp up your holiday marketing and promotions. While Christmas and Kwanzaa are widely celebrated, Hanukkah has also become a significant holiday in the US. This means, many businesses have started incorporating Hanukkah into their promotional activities to be more inclusive. That's why, Penji is giving away these Hanukkah-themed designs to light up your Hanukkah marketing campaigns this year. Don't be shy and download all designs for FREE here.
And if you want to join in the celebration, here are nine effective Hanukkah ideas to try for your business.
Decorate Your Store

Join in on the festivities by dressing up your store with menorahs and dreidels in blue, white, and silver colors. Add wreaths and garlands with the Star of David and you're set. You can also have your staff wear costumes to add more pizazz and make the shopping experience more fun for your customers.
If you sell online and don't have a brick and mortar store, you can still join in on the fun of some Hanukkah decorations. Create a website banner like this one from Chabad or a pop-up window with Hanukkah ideas so you don't have to revamp the whole site.
Hold a Holiday Sale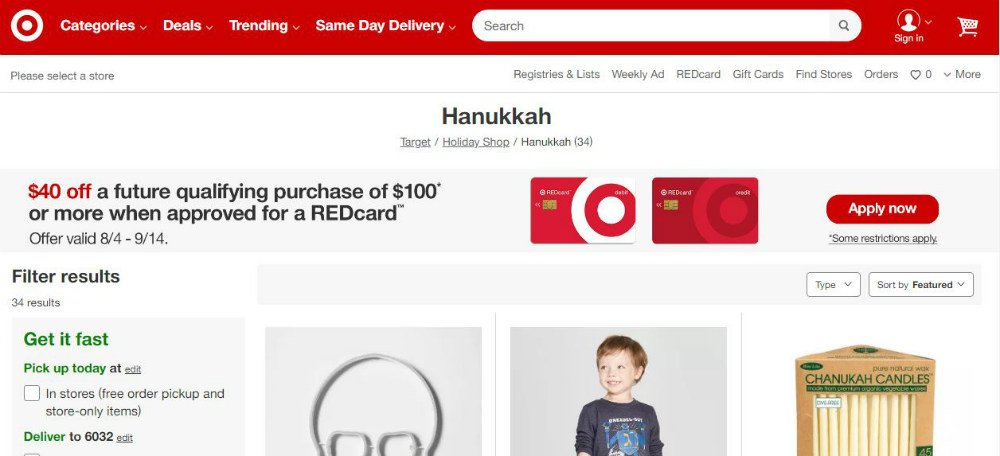 Consumers love getting the best deals so holding a Hanukkah holiday sale can do wonders for your brand's marketing strategy. Whether online or in your physical stores, create a promo specifically for that holiday. You can give freebies or discounts when people shop on that day or for a limited time.
Big retail shops hold sales during this season such as Target. They have a special page dedicated to all things Hanukkah and they offer big discounts for them. Remember that the more targeted your promo event is, the more sales you'll make.
Get In On Social Media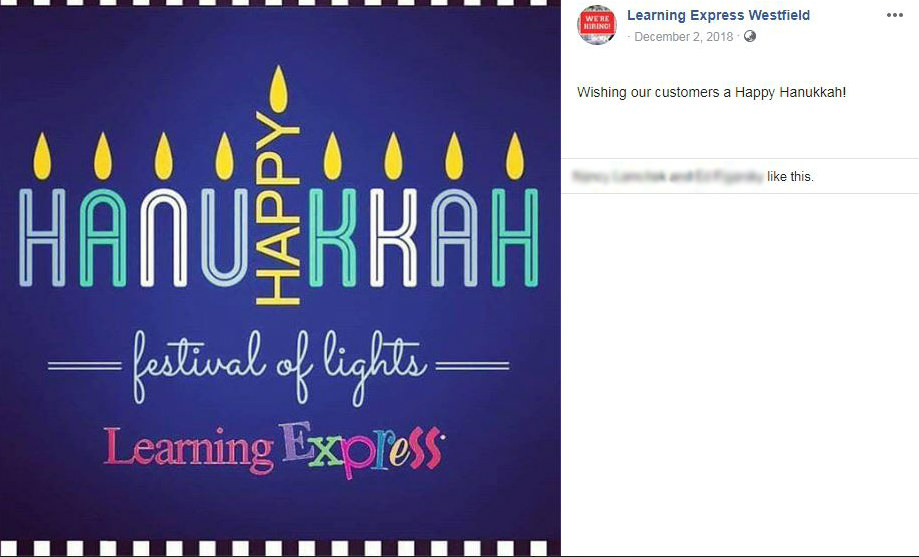 Greet your social media followers a Happy Hanukkah and let them know what's cooking in your business. Create Hanukkah-themed post ideas to get them talking about your brand. This is good for engagement and awareness.
This Facebook Hanukkah post from Learning Express Westfield is a good example. It doesn't have to be intricate or overly done, just a simple greeting will do. You can use graphic design software to create social media posts that are attention-grabbing. Or you can also subscribe to a graphic design service to produce social media posts for your business.
Create Videos
Videos are a great way to promote your business. So if you're still not tapping into this advertising goldmine, now's the time to do it. Creating videos is made simple with platforms such as Promo. You can either make videos that are informational or entertaining. Just make sure that your audience won't have the feeling of being sold to.
If you're unsure about what to create, take inspiration from this 1990 video advertisement for Hallmark Cards.
Tweak Your Packaging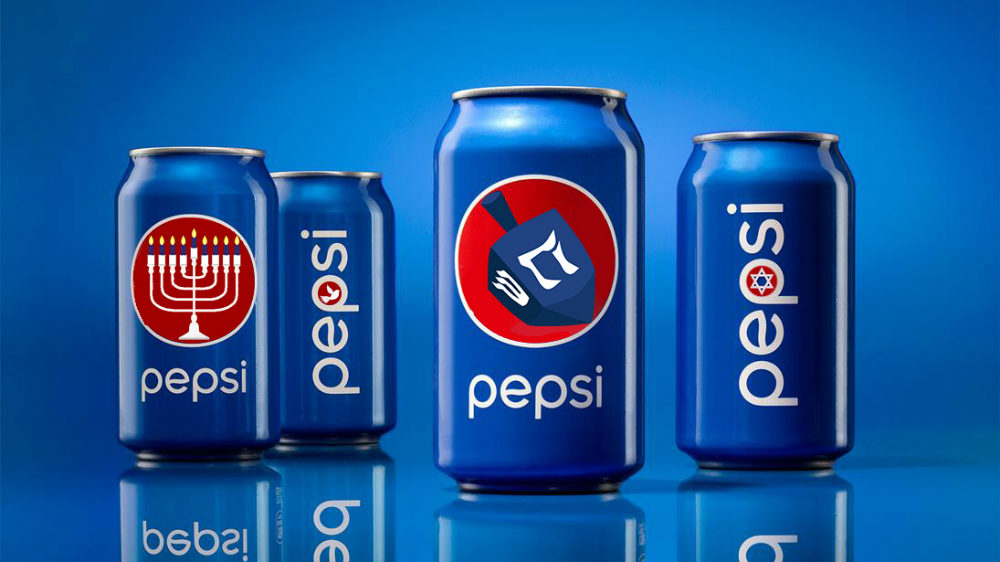 This Hanukkah, why not create Hanukkah-themed product packaging? Big-name brands such as Pepsi can easily release a Hanukkah version of their products. But for startups, it is still possible. You can change labels and have them made for the holidays to make them more special.
You can also create promo bundles and wrap them in blue and silver paper with dreidels printed all over it. A shampoo and conditioner bundle or peanut butter and jelly combo wrapped in Hanukkah bags. Give a good bargain price to get your customers to buy them.
Give Coupons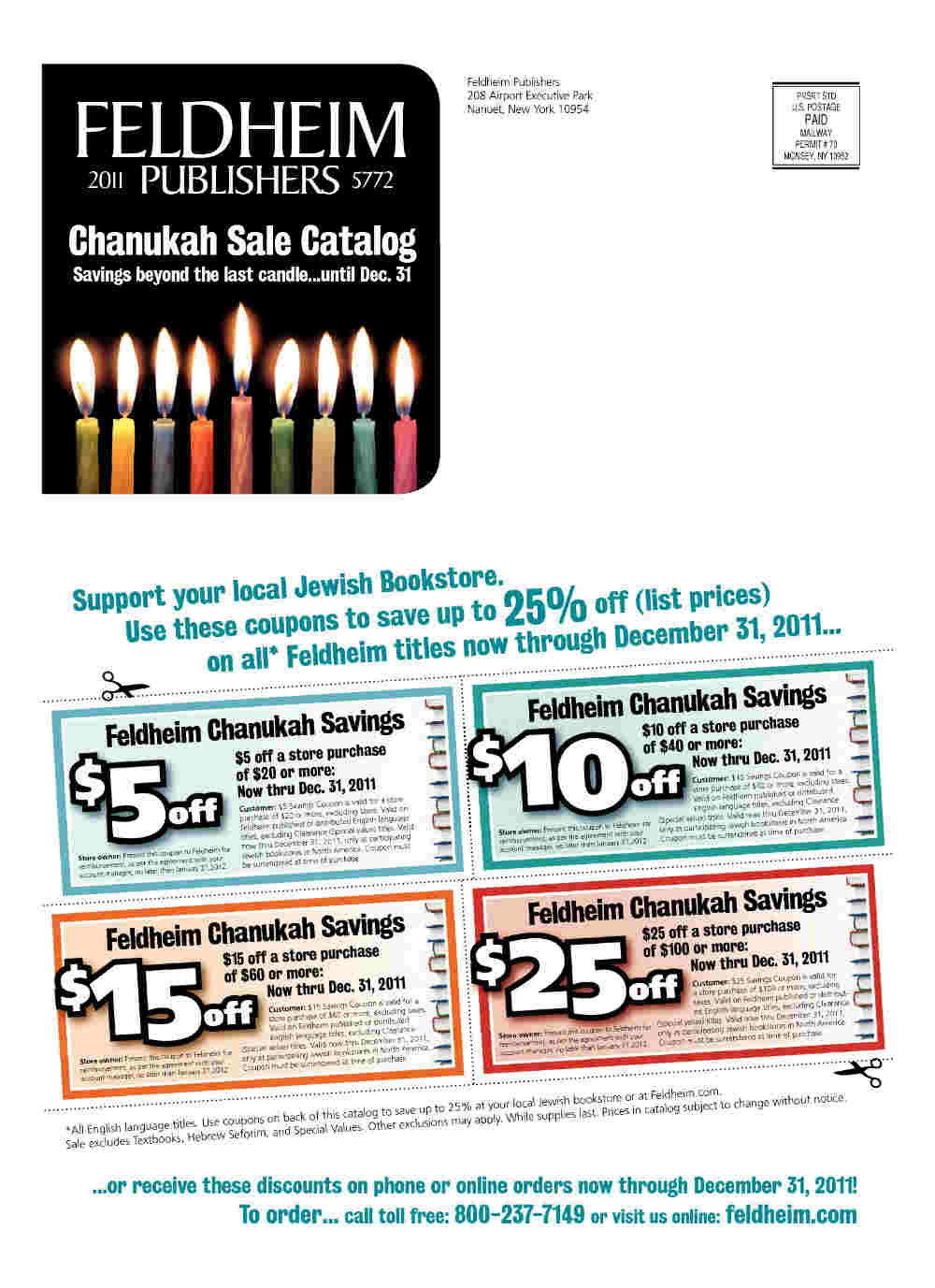 To get your customers to come back for more, give them coupons this Hanukkah. Feldheim Publishers issued this set of coupons for their 2011 Chanukah Sale. When people make a purchase, give them a coupon that they can use the next time they visit your store.
This will boost your sales well beyond the holidays when they come back to redeem the coupons. It is also a good way to get more traffic to your stores and reward your loyal customers as well. You can also entice new prospects to try out your products or services. Overall, this is a cost-effective way to advertise your wares.
Use Posters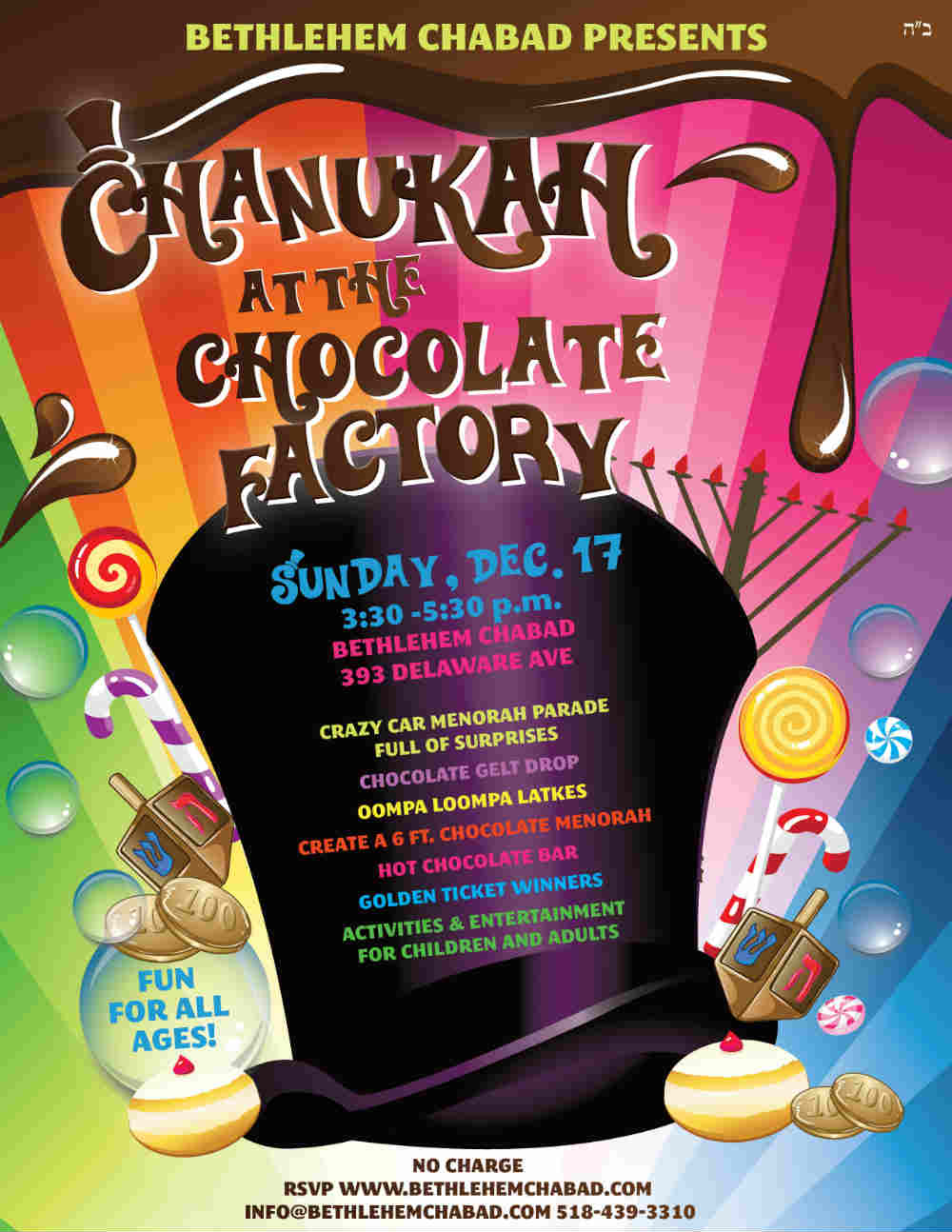 Posters are some of the best ways to spread the word around about your brand—they're cheap and extremely effective. Create posters that are eye-catching so that passersby will notice your announcement. Of course, it's also a good idea to have a digital copy that you can post on your social media platforms to get more people to see them.
Bethlem Chabad's Hanukkah poster of their chocolate event is a perfect example. Its design is joyous, cheerful, and festive with its bold and bright colors and images. It captures the spirit of the holiday and the event quite well.
Send Out Emails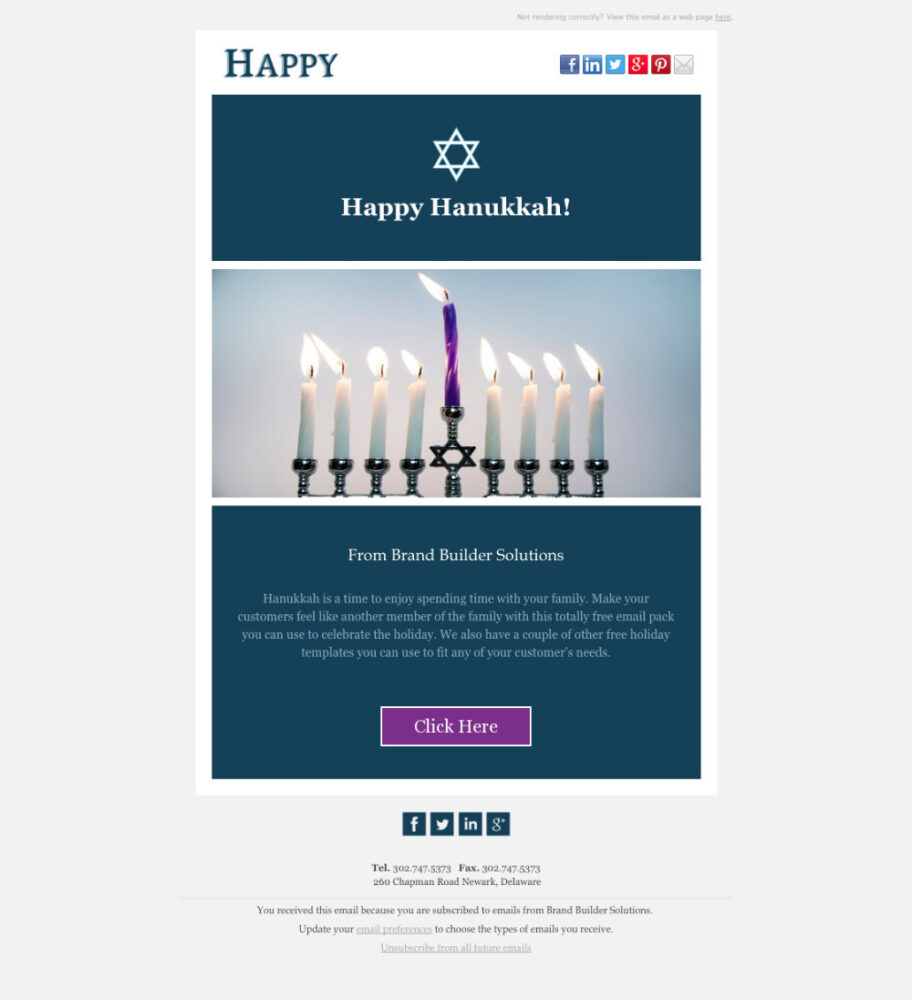 Make your customers feel your presence with Hanukkah email ideas. Marketing through emails is effective as long as you create emails that will be opened by the recipients. A killer subject line and some creative graphics will go a long way in reminding your previous customers of your products and services.
Since it is a holiday, send them emails with your Hanukkah greetings, product updates, service announcements, and many more. The most important thing is to maintain a connection with your audience. Brand Builders Solutions created a Hanukkah email that is not only beautiful but has an offer that you can't refuse.
Sponsor an Event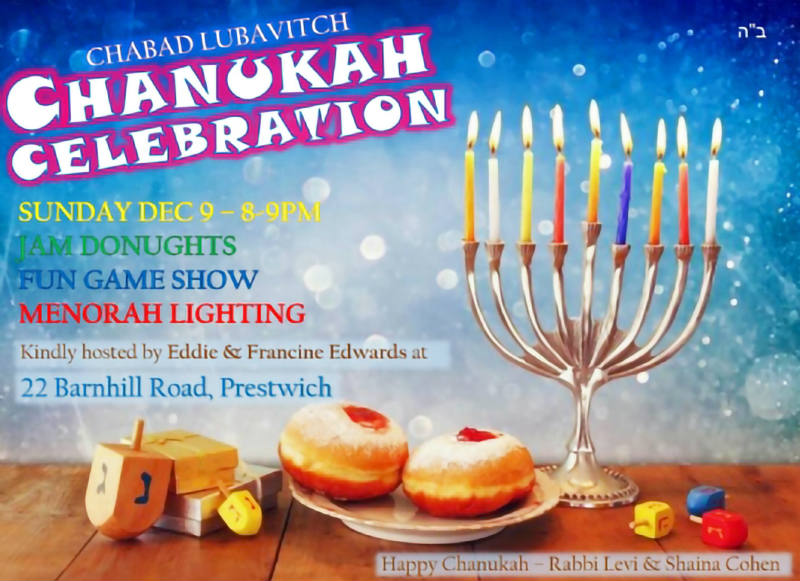 Give back to your community by sponsoring a menorah lighting event or any other Hanukkah celebration. You'll get free publicity and the adoration of your customers when they become aware of your involvement in their neighborhood. This will make them see you as caring and human, not as a corporation just out to take their money.
Let people know of the event by creating flyers, posters, or invitations like this one made by L'Chaim. This is for their Chanukah celebration in Prestwich, England. You can also partner with non-competing businesses and organize an event. This strategy will gather more attendees and strengthen your network connections at the same time.
Final Thoughts
By incorporating these Hanukkah ideas, businesses can make their celebrations more inclusive and memorable for their customers. From decorating your storefront to creating special packaging, there are many ways to light up your Hanukkah celebration and make it stand out. So, don't hesitate to get creative and make the most of this festive season!
If you need help getting amazing designs, Penji is here to help. Click on this link to know more.