Venngage reveals that marketers use infographics, stock photos, and illustrations in their posts. Marketers still relying on these content types need the right software to help them create compelling visuals. But which are the best graphic design apps free for marketers to use? We list the top choices below!
What Makes a Good Graphic Design App?
When searching for the best graphic design app to use, here is a list of characteristics to look for:
Ease of Use
The mark of any good graphic design app is that it can be used by anyone. And it won't overwhelm the user with too many elements. You'll see that most graphic design apps free to use would have almost the same look. Why change something that already works? It will help the user navigate to different areas of the editor, such as background, pictures, and icons.
Basic Editing Features
Any good graphic design app would have these basic features to help users in creating their designs:
Drag and drop
Add text, images, icons
Modify and resize one or many elements
Although some graphic design apps would go the extra mile by adding animations or editing videos, if a graphic design app has the three elements above, any user can make the most out of it.
Upload Branded Assets
Some online graphic design apps will allow most users to upload their assets such as logo, typography, and colors. This will enable them to customize templates. Without this feature, some users find another design app to do the job.
Save Different File Types
Any good graphic design app allows users to save different file types. File types like JPG and PNG are great for printing and publishing online. However, if you don't want your printer service to modify your files, you can save them into a PDF. That way, your design remains intact while printing.
Why Choose a Free One?
Saves you money from hiring a designer by doing the designs yourself
Allows you to play around with the design app and make your own
Introduces you to various tools that will enhance your designs
Gives you access to icons and pictures to add to your designs
Helps you create designs from templates
Graphic Design Templates Marketers Can Use
Social media posts (Facebook and Instagram)
Social media advertisements
Digital advertisements
YouTube channel art
YouTube screenshots
Poster
Email graphics
Top 12 Free Graphic Design Apps
1. Canva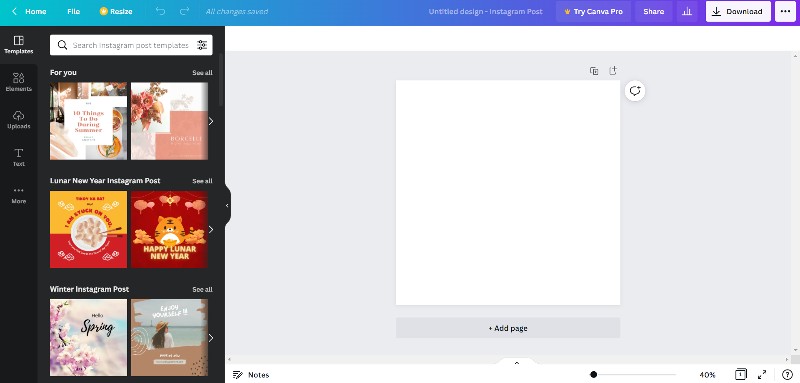 One of the premier graphic design apps free to use is Canva. You can create anything from scratch on the Free plan or access most of their free-to-use templates. Many marketers use Canva because of features like text animations, photo and video editing, presentation creation, and team collaboration tools. Plus, there's also a marketing category on Canva to save you time from searching for templates for specific marketing materials.
2. Adobe Express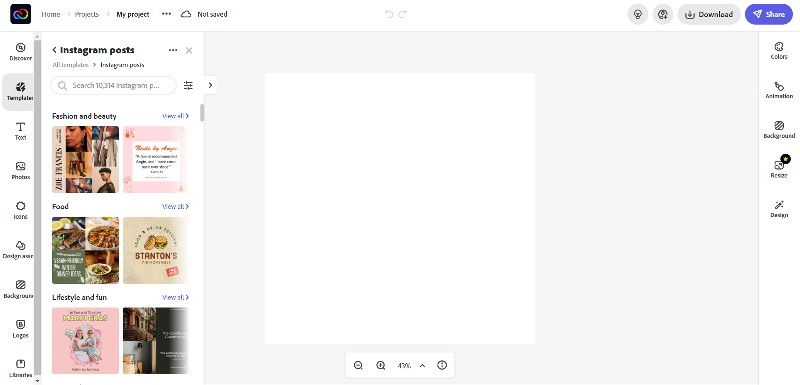 When it comes to online editing, Adobe Express is the leading choice of most marketers. The interface is similar to Canva and most of the graphic design apps on this list. However, Adobe Express has a leg up from the competition with editing features that rival Canva's. You can remove backgrounds easily and enhance photos with effects that will make your visuals stand out from your competitors.
3. Desygner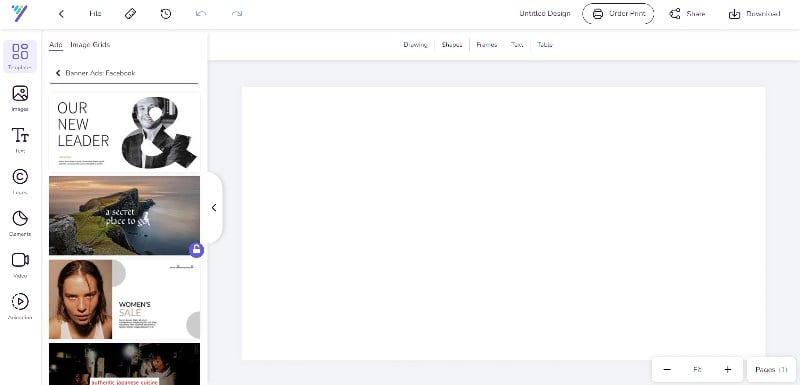 If you want to check out other template options for social media and other marketing assets, why not try Desygner? You have thousands to choose from here, and you can use royalty-free images for your visuals, too! Aside from that, Desygner allows you to edit PDFs for free. But if you need help from an expert, they have designers for hire that you can access through their Desygner Design Services.
4. DesignHill Studio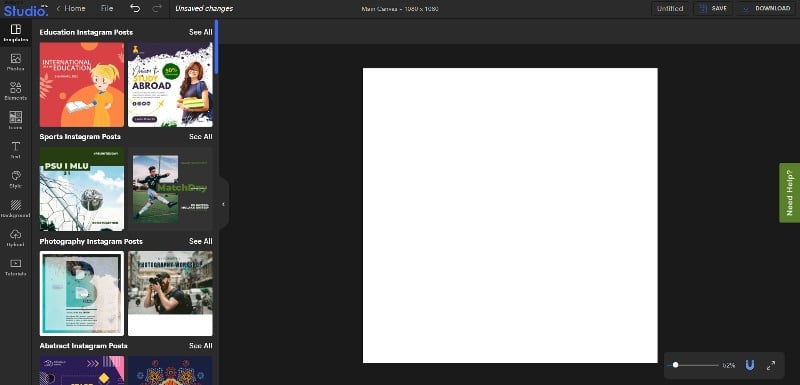 DesignHill is known for its design contests. However, they have branched out to print and their do-it-yourself design software, DesignHill Studio. You can design branding and marketing materials using this. Their interface is similar to most graphic design apps free to use. Although they don't have a lot of templates, you have one other option to create designs from scratch! And if you're a little lost on how to start, they have a Tutorial tab you could click on and watch on YouTube.
5. Snappa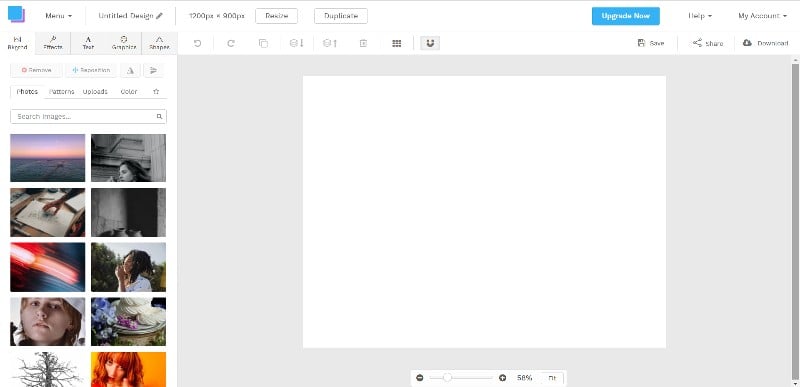 For more stock image options for your marketing materials, Snappa is your best bet. Here, you could use templates to save you time from creating a design from scratch. One handy feature that you might like here is the social media scheduler built-in to their app. You can simply add an account or connect it to your Buffer profile, and you're all set to share your image without leaving Snappa.
6. Vista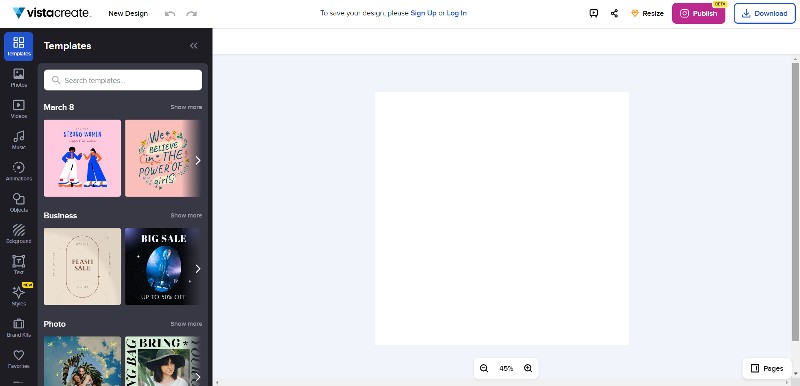 Vista, formerly Crello, doesn't require you to register to start creating a design. Similar to Canva and Adobe Express, Vista also has video editing features on the graphic design and photo design software. This graphic design software makes it easy for anyone to add or remove backgrounds and stickers to photos, animations to text and other elements, and audio to video. Plus, you can also easily modify the color palette of a particular design.
7. Design Wizard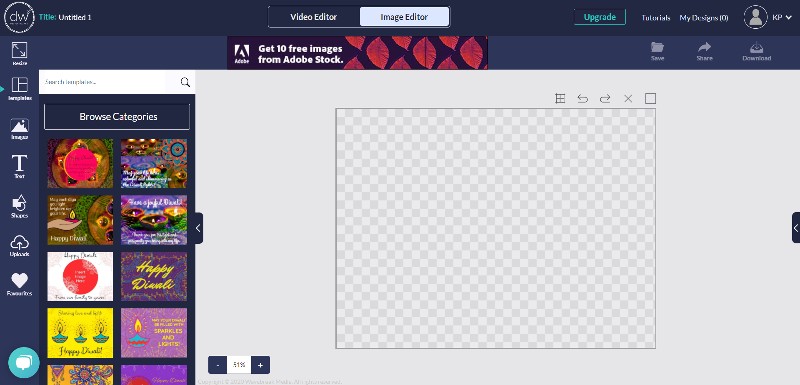 Before using Design Wizard, they ask you what image you need to make and if you want to create it from scratch or to use a template. Here, you can easily switch between the video and image editor, especially if you need either one for your marketing campaigns. Going back to the image editor, you can access premium images and customize your color palette based on your branding. However, unlike most graphic design apps for free here, you will have to pay to download your image.
8. Stencil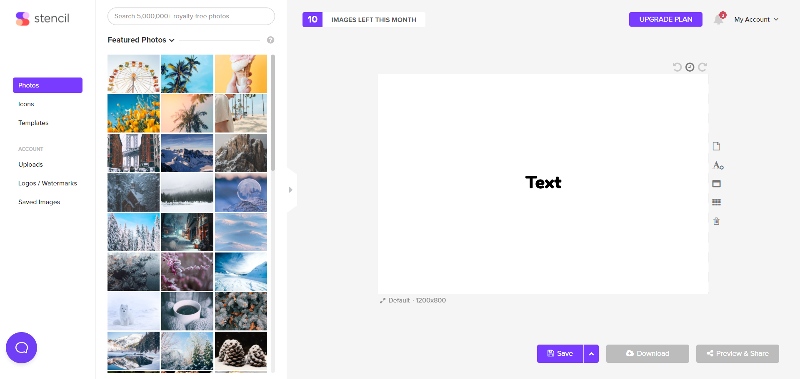 If you want to edit images quickly, Stencil is your best bet. You can use templates, but it is limited to only three on the free plan. Even so, you can still create marketing images quickly using royalty-free stock images and using icons from their partner sites. In addition, they made it easy for you to create your marketing materials thanks to the preset sizes they prepared for the app's users. One other thing to remember about using Stencil is it only has ten downloads on the Free plan.
9. Lunacy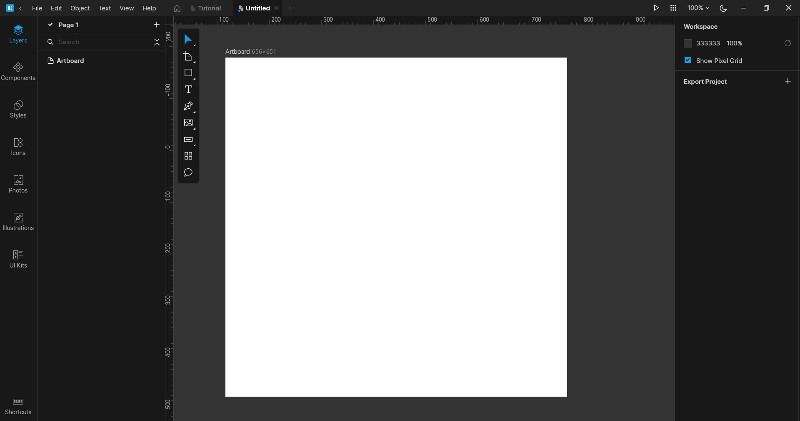 Here's one of the two graphic design apps for free you can download to your computer. At first glance, there are too many things going on. However, Lunacy comes with a tutorial before you even try the app. It comes pre-loaded with stock images and icons to use for your visuals. Plus, for those dealing with UI, Lunacy has UI kits to try as well.
10. Gimp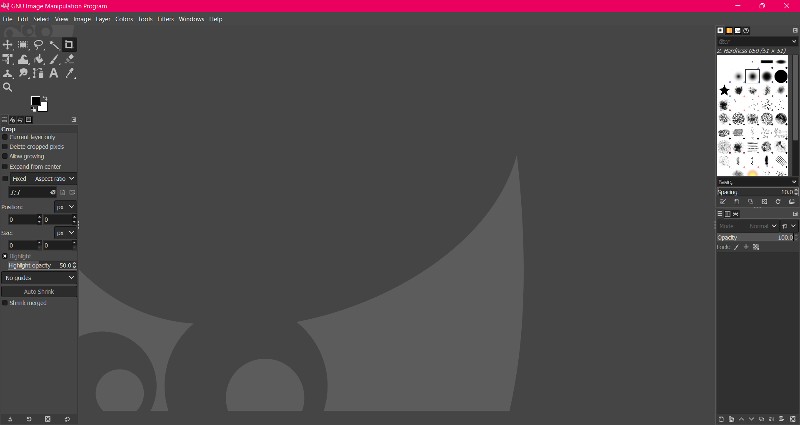 Gimp is another graphic design software to download. Many would compare Gimp against Photoshop and have said Gimp has a higher learning curve than the Adobe software. It's best to use Gimp IF you want to create designs from scratch. Although they don't offer any templates, Gimp is a way for you to learn how to create your own design. You can download your stock images from open source sites and look at marketing design inspiration from different design sites.
11. Visme
Although Visme is primarily an infographic and presentation maker, it has also offered other design types, making it an all-in-one graphic design app. Here, you can prepare social media posts and videos as well. Other available design types are infographics, marketing presentations, web graphics, and posters or flyers.
12. Design Cap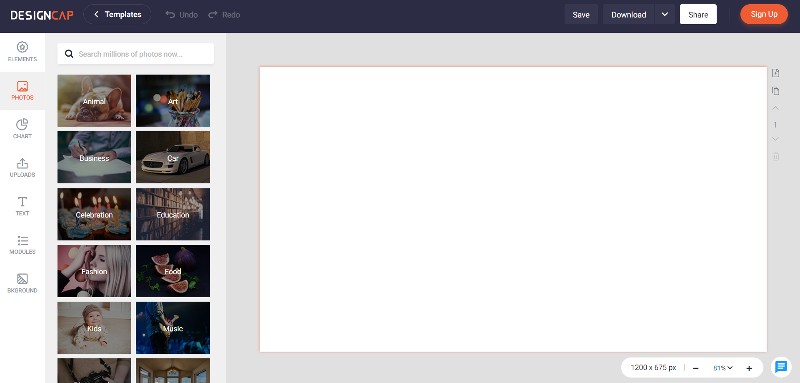 Like Vista, you don't need to register to create designs. You can start designing from templates provided by Design Cap. In terms of template options for designs, Design Cap is limited. However, they do have various marketing templates to start with such as flyers, posters, business cards, and Facebook ads. They make up for the lack of templates for different designs through their resources, charts, and modules.
Here's Why You Should Consider Using Penji
The graphic design apps listed are already free. Why should you still use a graphic design service and pay for designs?
Well, for one, if designing graphics for your business is eating up most of your time, you should delegate your design task to someone else. Or better yet, a skilled graphic designer.
Two, since most graphic design apps are free to use, anyone can use ready-made templates to save up time and money from creating a design from scratch. That's one issue you want to avoid. Why? You don't want to use templates that other marketers or business owners have used or will use for their designs.
Plus, you don't want to get into trouble because you and another business used the same template on social media, for example. With Penji, rest assured a designer will customize your graphics, from your branding to marketing materials.
Oh, and the best thing about subscribing to Penji? You don't have to hire anyone. Penji already has a pool of talented designers ready to tackle all of your marketing design requests. And by using Penji, you will be assigned to the best designer for the project.
If you want to give Penji a try and lighten your load, watch this demo video to see if Penji's the right graphic design service for your business!