Creating presentations can be tedious, especially if you have to make them from scratch every time. But an AI presentation maker can make our lives easier. With submitted prompts and a few clicks, you get a presentation out of thin air, all thanks to AI. That said, many AI presentation software applications have popped up. But which one is the best in 2023? Here are our top picks!
Who Can Benefit From AI Presentation Makers?
Startup founders
Salespeople
Marketing teams
Teachers
Speakers
Students
1. Slidesgo (Wepik)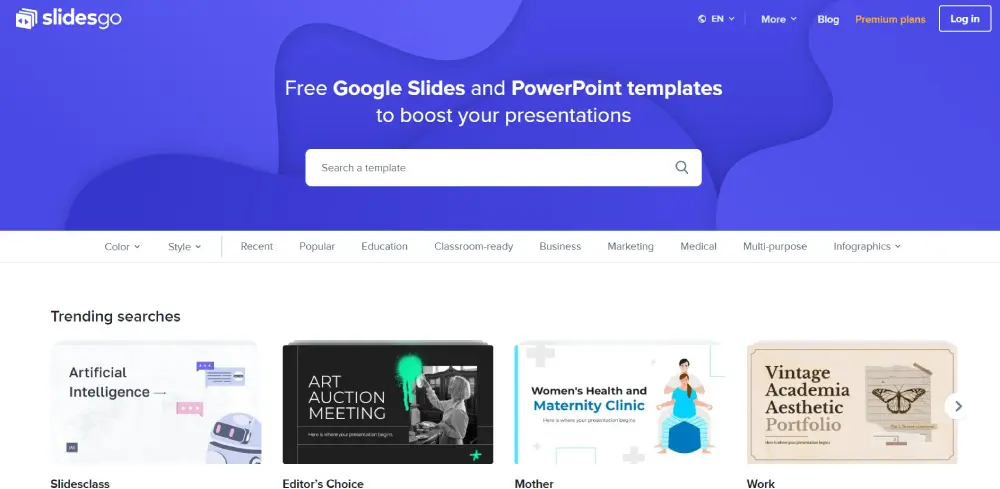 Slidesgo is any presentation creator or designer's go-to site for presentation designs and templates. Their newest feature is their AI presentation maker, allowing anybody to create presentations in a few clicks.
If you want to create a presentation, you can click "Get Started." From there, input your topic and choose the writing tone and style. It takes a while for the AI to assemble your fantastic presentation, so sit back and relax for a couple of minutes. Once done, the AI will show you its creation, and you can use its editor to add images and edit text or elements.
Features:
Access to thousands of images since they're part of the Freepik family
Integrate Slidesgo into Dropbox, Drive, and Google Photos for faster image uploads and file storage
Publish your designs to social media in one click
Download the files as PNG (with or without background), JPG, and PDF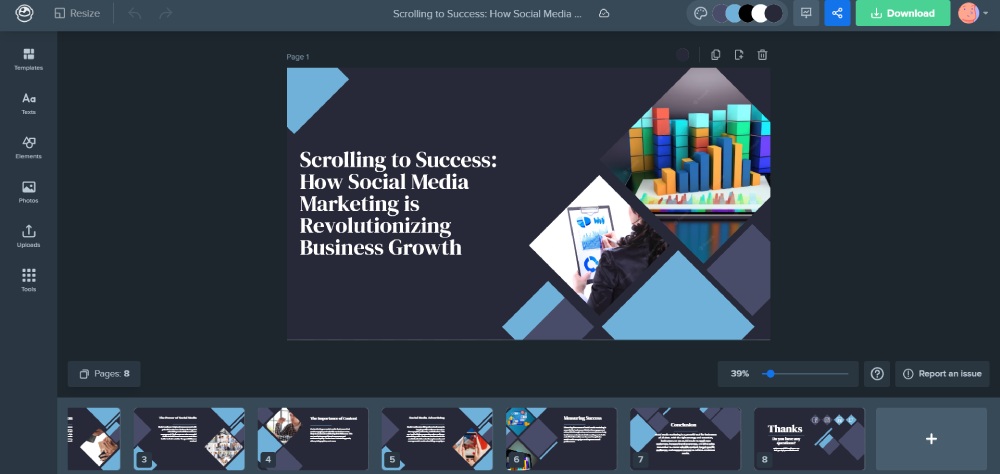 Here's an example presentation from Slidesgo.
2. Simplified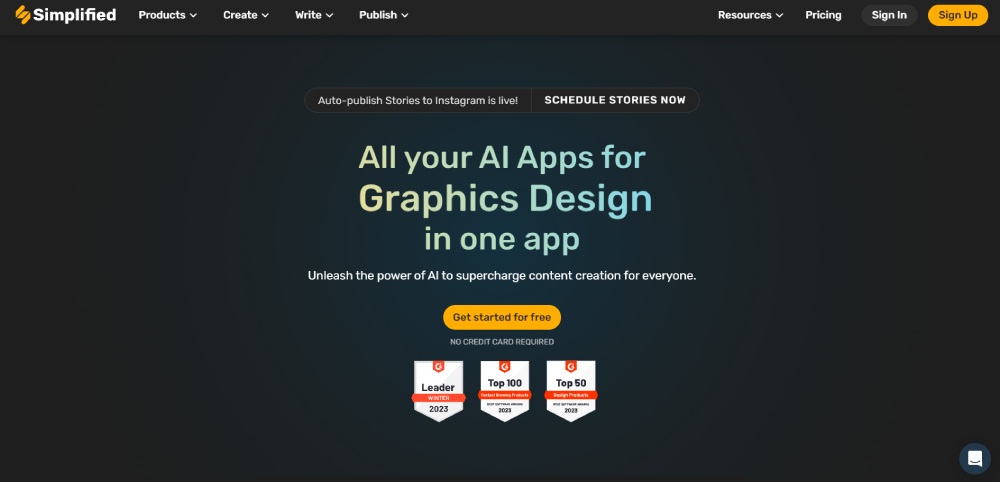 Simplified is your best bet if you want an all-in-one AI marketing solution. You can rely on them for AI graphic design, copywriting, and video editing. Under the graphic design umbrella, you can create a presentation in minutes.
Before you start, you must register to get full access to their AI marketing suite. Once verified, you can access their dashboard and select one of these options:
Generate with AI
Browse with Templates
Create from Scratch
Then, you can customize your presentation before the AI generates it. You need to input the following:
Topic
Creativity level
Output language
Once done, the AI slowly produces slides, which you can edit.
Features:
Add AI-generated images to your presentation
Export the presentation as a PNG, JPG, GIF, Video, GIF, PDF, or SVG file
Organize slides with the Artboard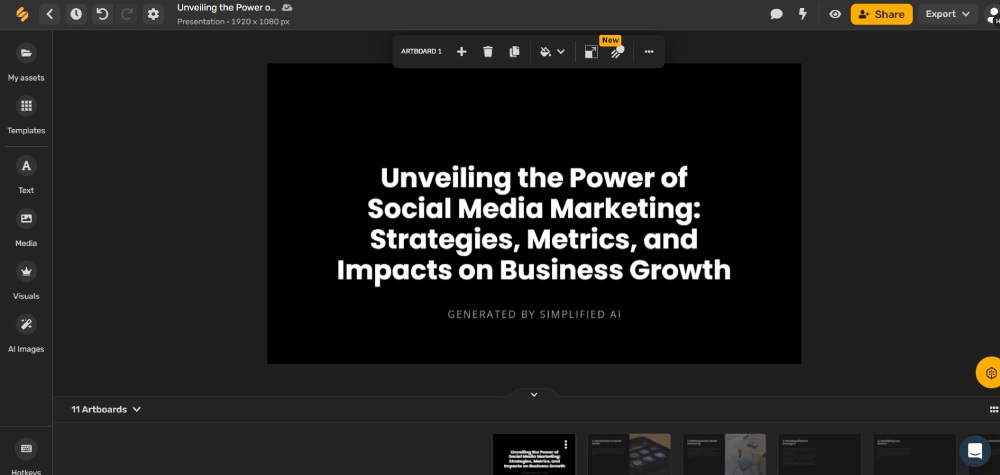 Here's an example from Simplified.
3. Presentations.AI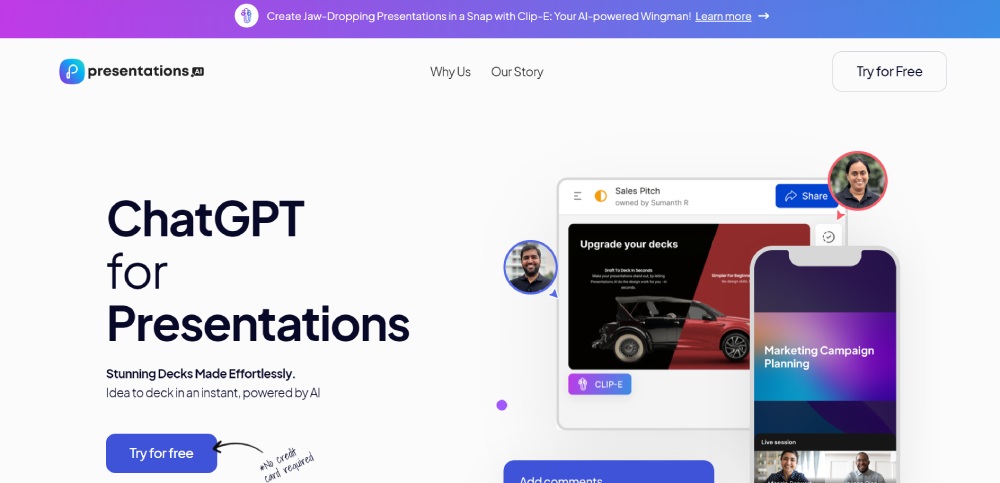 Presentations.AI is dedicated to creating presentations in a few minutes. You can bring your presentation ideas to life with ChatGPT's help and templates.
After signing up, you can access the dashboard and choose a presentation based on common decks, such as case studies, client check-in, and company culture and values. From there, you need to input a company and sub-industry to make your presentation accurate.
Features:
Use your AI presentation in a meeting after generating it
Tap Clip-E (their other AI) to change the slide's background and style
Collaborate with your team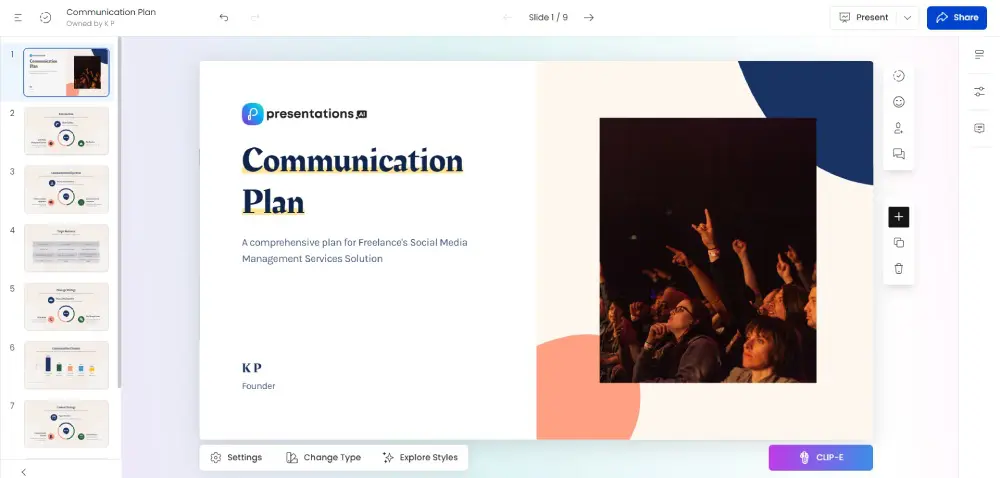 Check out this example from Presentations.AI.
4. Decktopus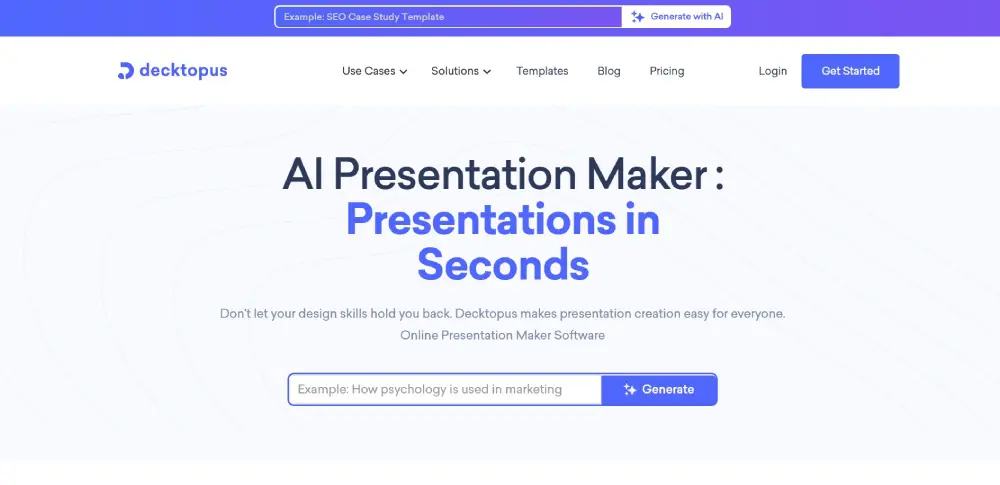 Although Decktopus requires you to subscribe to download your slides, its presentation editor is free to use. Like other AI presentation makers, you need to submit a prompt. However, Decktopus will create a customized presentation based on the following:
Audience
Objectives
Duration
Design style
Features:
Customize fonts, colors, and layouts
Add a slide note for your teammates or when presenting your slides
Download it as a PDF or PPT file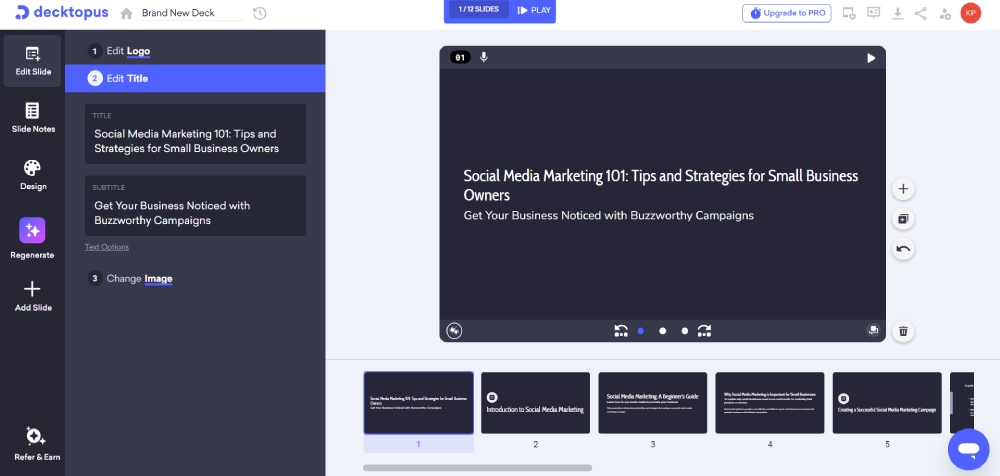 Take a look at this example from Decktopus.
5. Tome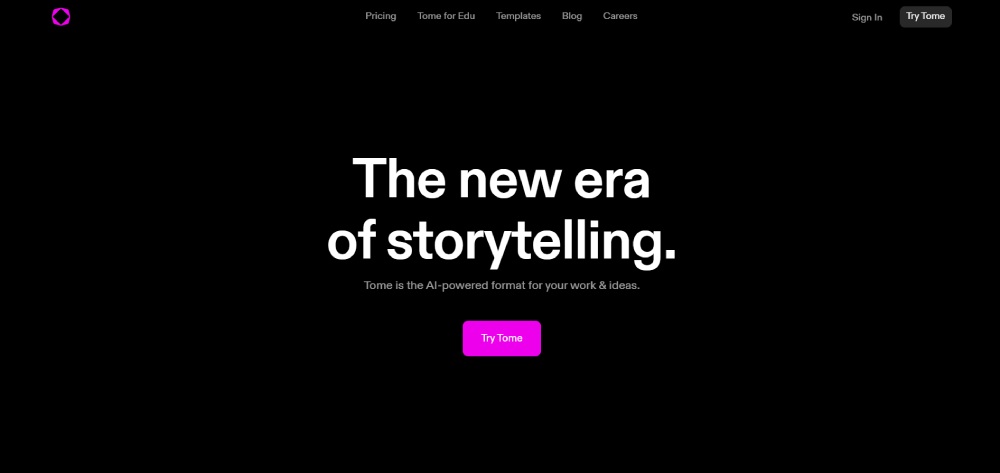 Tome promotes itself as an AI-powered storytelling app. However, it's another AI presentation maker to consider. The AI app generates slides faster than most competitors and ensures that every slide has photos. Additionally, this is ideal for any presentation creator, considering that their UI is minimalist and simple to follow.
Features:
Record a narration
Let the AI edit the text
Use assets from Figma, Airtable, Miro, Framer, Twitter, and Looker to personalize your slides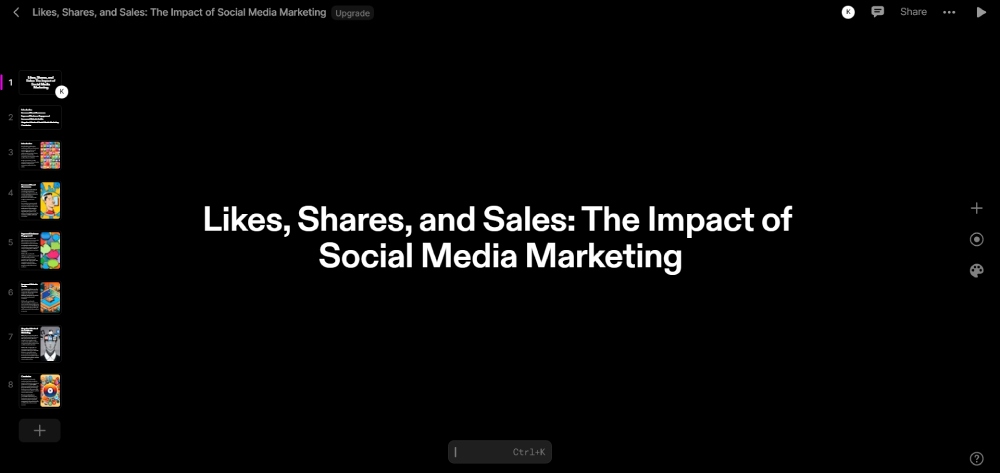 Here's what we had Tome made for our sample presentation.
6. Sendsteps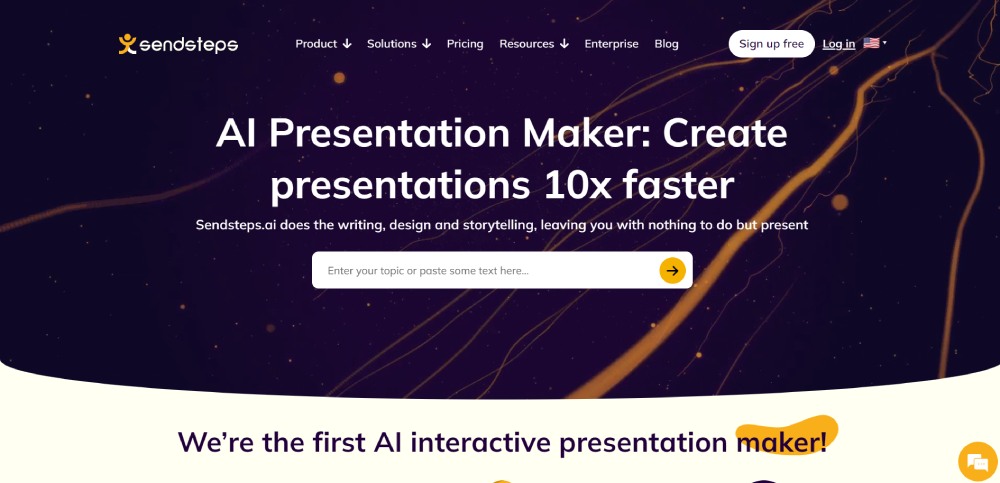 Sendsteps is like other AI presentation makers, needing a prompt. But if you prepared an outline, you can upload a Word Document. After that, you can choose the following:
Language
Audience
Title (or create your own)
Duration
Once generated, Sendsteps will create an interactive presentation for you.
Features:
Upload a Word document, text file, PowerPoint file, or PDF file, and let their AI take care of the rest
Engage with participants by allowing them to respond
Present your slides to up to ten people on the free plan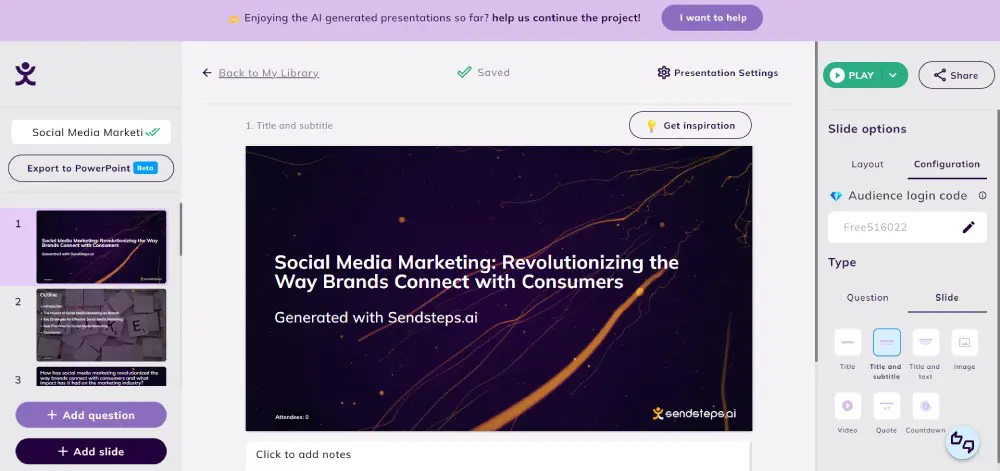 Check out this example from Sendsteps.
7. Gamma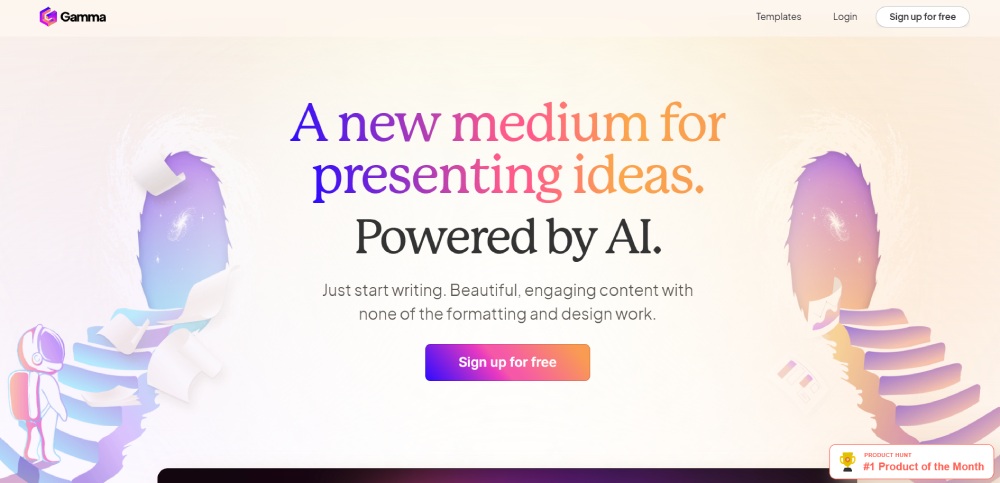 Gamma lets you start an AI presentation with a chat. After that, they create an outline, which you can edit before the AI generates it. Then, when you approve the outline, choose the designs, and the AI will create your presentation in real time.
It takes time for the AI to create a presentation, but it's comprehensive and adds charts and pictures.
Features:
Access analytics view if you're presenting sales decks
Add images, videos, forms, and buttons
Collaborate with your team by adding comments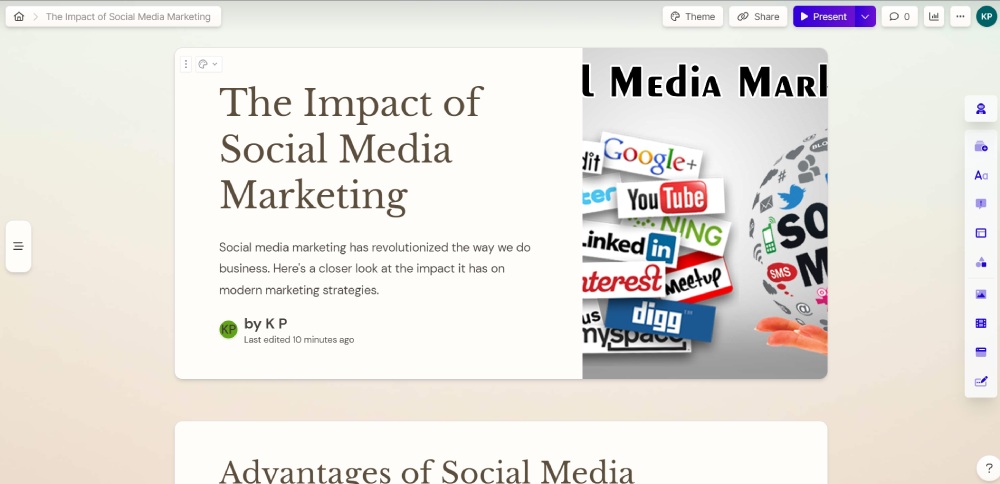 See what Gamma can do with your presentation with this preview.
Things to Consider When Using an AI Presentation Maker
Most AI presentation makers only require a topic, design style, and tone. You can edit the slides after the AI generates them.
You can use an AI presentation maker if you don't want to design but customize only your slide content (text and images).
Many AI design or presentation software applications have app credit limits on the free account.
You may need to pay for a subscription to download a specific file type.
Final Thoughts
AI presentations are ideal for anyone needing a quick presentation for work or education. And AI makers generate a presentation based on your topic, and it supplies all the info. However, its generated info may not match an outline or your envisioned slides. Plus, you need to edit the presentation some more, depending on the design and content it produces.
But what if you don't want to edit some more and let humans handle your presentation? Fortunately, design services like Penji can make compelling and personalized slides for your brand or business. And you don't have to do any editing. Submit your first request with the copy and design preferences, and let Penji handle the design work. If you want to try Penji, subscribe to Penji risk-free for 30 days!