One of the most cost-effective ways to get high-quality graphic design is by hiring freelance graphic designers. Many entrepreneurs have proven this and so they continually search for the best ones they can find. This may be the primary reason Fiverr has become a preferred channel for business owners to find freelance graphic designers.
A well-known freelancing platform, Fiverr is an online marketplace where freelancers can find work. It is popular with business owners as they can find a variety of workers on it. From graphic designers to bookkeepers, Fiverr has them.
In this article, we'll get to know Fiverr more and see how it compares with Penji. When searching for the best graphic designer, it pays to understand each platform and which one can give you the best value for your money.
Competitor vs. Penji
What is Fiverr?
What is Penji?
Competitor vs. Penji
The Costs
The Sign-Up Process
Getting Your Designs
Final Designs
Getting a Second Design
Communications
Testimonials and Ratings
Fun Facts
Final Thoughts
Competitor vs. Penji
While both Fiverr and Penji have multitudes of graphic designers on their roster, they are as different as night and day. On Fiverr, you will search for your ideal candidate on their website. You can also opt to post a request and wait for freelancers to contact you.
With Penji, you send a design request then wait for it to get done. The common denominator between these two is that they're both affordable sources of graphic design. If you want to know which one will be the most suitable for your business, read on.
While we're at it, why not try Penji's unlimited graphic design services. We want you to try us out by giving you a 15% discount on your first month of subscription. Just type in the code: FIV15
What is Fiverr?
An online freelance marketplace, Fiverr is a platform where you can buy and sell services. Here, you can find workers from all over the world offering a wide array of talents, skills, and rates. According to the US Securities and Exchange Commission, Fiverr has around 5.5 million buyers, more than 830,000 sellers, and has facilitated over 50 million transactions since it started in 2010.
Initially, all "gigs" (small one-off tasks) cost $5, hence the name. In 2014, Fiverr removed the price ceiling and now you can find gigs that can cost up to thousands. Because of this, the quality and quantity of gigs have increased swiftly, allowing for more choices both for the buyers and the sellers.
What is Penji?
An unlimited graphic design service, Penji also has a team of freelancers much like Fiverr. The difference is, with Penji, you won't have to search high and low for a designer. You won't have to interview candidates or train them to do what your brand's requirements are. When you submit a design request on Penji's platform, your project will automatically be assigned to the best designer for the job.
With almost 200 graphic designers on board, Penji offers a wide range of design types and genres. From custom illustrators to UX/UI designers, Penji has them. For a minimal monthly fee, you can send as many design requests as you can. We also offer unlimited revisions to ensure that you get the exact design you need without the extra cost.
Competitor vs. Penji
Let's take a look at what these two platforms have to offer. I made a list of the most sought-after features that business owners look for and here's how the two fared: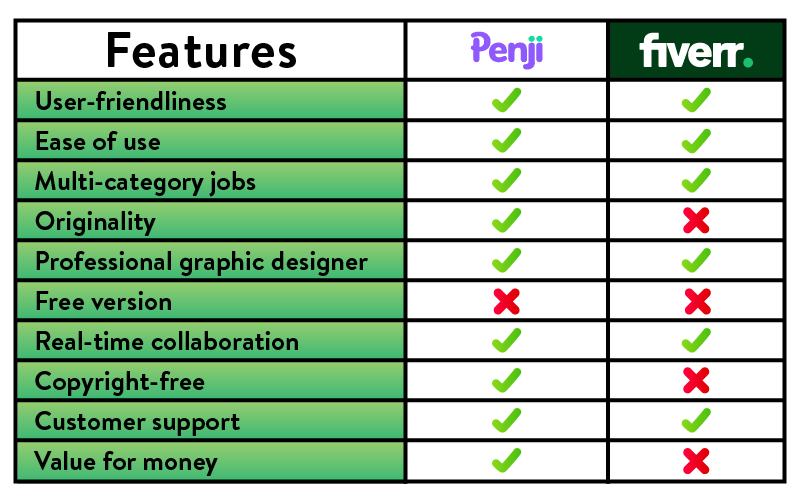 With millions of freelancers to choose from, Fiverr is a gold mine of talents. However, having too many choices can sometimes be a bad thing. For one, it can be overwhelming just to start. Although the platform has filters, searching for the right designer can take some of your precious time. Be that as it may, Penji's 200ish designers can't compare to Fiverr's millions.
From the table above, you can surmise that originality is an issue with Fiverr. The diversity of freelancers on the platform does not guarantee you with works that are all original. Yes, those on Fiverr Pro will know that they have a vetting system in place to verify the authenticity of the freelancers.
Having said that, there still isn't any guarantee that you'll get original works or be free from copyright concerns. You still have to do your best to ensure you get original and copy-right free works from Fiverr. With Penji, though, you'll get full ownership of the designs and be assured that your designs are free from copyright liabilities.
The Costs
The very first thing any business owner wants to know about a service they need to get is the pricing. This is only natural as they only want to get the best value for their money. And so, we checked the pricing of both Fiverr and Penji to know which one can offer the best deal.
For this competitor analysis, we've chosen to use the pricing for logo design. This is because it is one of the most challenging designs to create. It also doesn't require weeks or even days to complete, especially for freelancers who need to do as much as they can in short periods of time.
Fiverr Pricing
As its name suggests, you can hire someone to design a logo for you for just $5. Although the prices can now vary, it's still possible to get work done for that price. We scoured the site for logo design as this can be a good gauge to tell the skills of a graphic designer.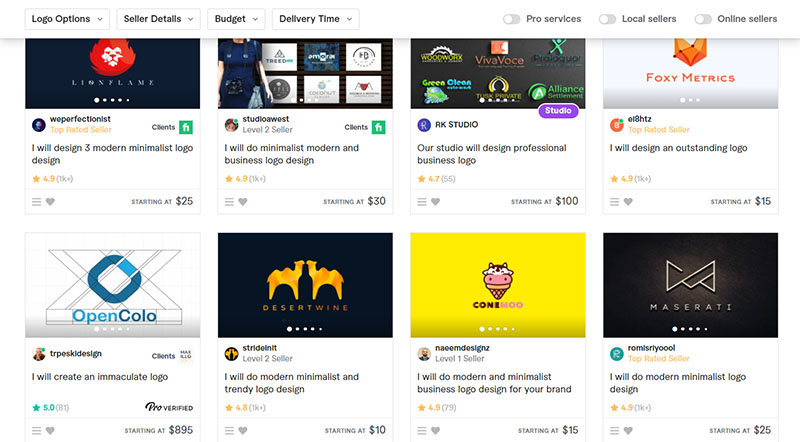 As a buyer (the one who's looking for designers), you will only pay what the seller (the one who's offering the service) charges. There is no subscription or any fees for signing up. All payments go through the platform and the freelancer gets 80% of every transaction.
We did find freelancers that offer $5 logo designs but were surprised to find some that charge in the thousands. This is because of Fiverr Pro, this is Fiverr's program of providing buyers with the site's top talents. The talents on Fiverr Pro have been vetted by Fiverr for quality, service, and reliability, among many others.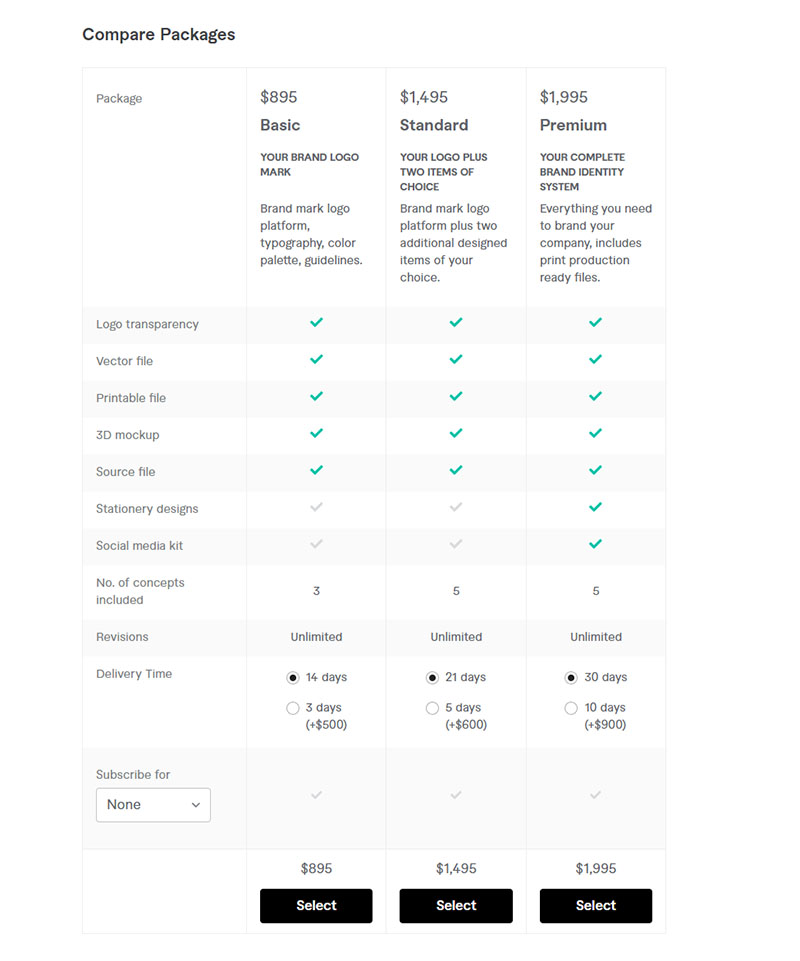 The image above was taken from a Fiverr Pro seller for his logo and branding design services. As a buyer, you'll have peace of mind knowing that these freelancers are sure to give you only their best. The main reason for the steeper fees they charge.
Penji Pricing
On the other hand, Penji has three subscription plans you can choose from. Unlike with Fiverr that you'll pay for what the freelancer charges, you'll pay a fixed rate when you work with Penji. Below is the pricing chart of Penji: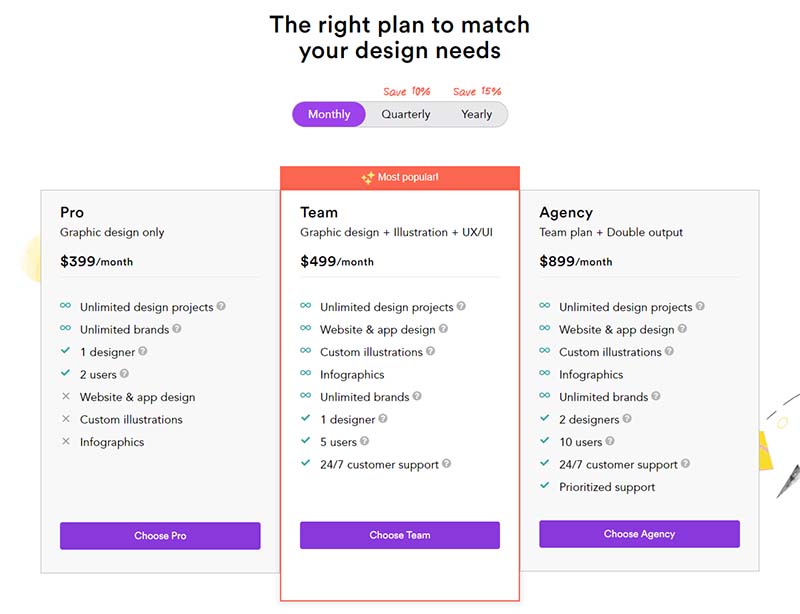 The rates are inclusive of unlimited design requests as well as revisions. This is ideal if you need more than a logo as you can request web and app designs, social media graphics, and many others. You'll even get more savings when you pay annually or quarterly.
Pricing Takeaway
Penji's prices can seem expensive when compared with Fiverr. It's true, especially if you only need a design every now and then. However, as any seasoned entrepreneur will tell you, branding is a continuous endeavor. It doesn't end with just acquiring a logo.
When you get your logo design from a Fiverr freelancer, you have the option to stay with that designer. This can also mean that you have to find someone else for your other projects. For every design that you'll be needing, you have to go through the process again and again.
That said, the Fiverr process can be straightforward and inexpensive for a one-time job. Find a freelancer, get your design created, pay, and forget about it. But if you need a regular supply of graphic designs, a subscription with Penji can be more cost-effective in the long run.
The Sign-Up Process
For a thorough assessment of each platform, we also analyzed each of their sign-up processes. This way, we'll know which can get you to your logo goals faster and easier. Here's how each of them fared.
Fiverr
Go to Fiverr's home page and click on the Join button.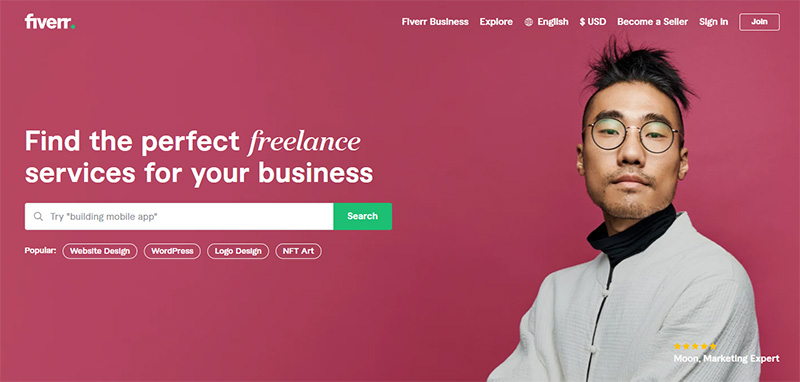 You'll be given the option to sign up using your Gmail account, your email that's not Gmail, or your Apple account. You'll be then asked to create a username and password.
You need to verify your account by clicking on the verification email that you'll receive.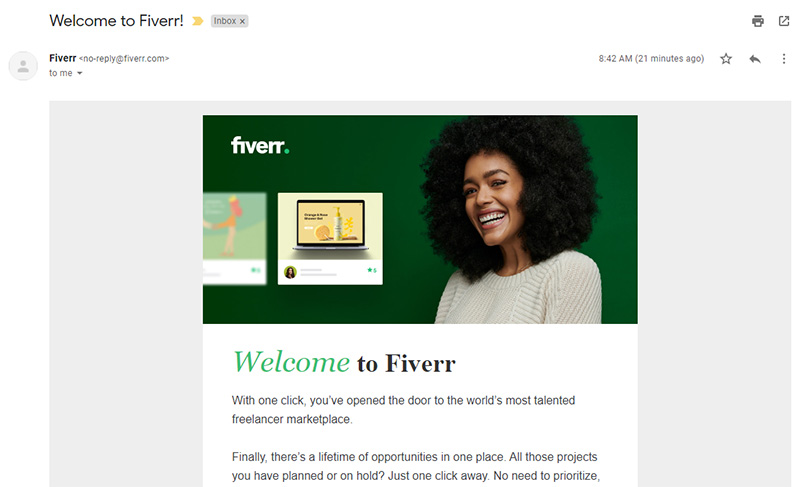 Once done, you can browse through the website right away. Here's what you'll see: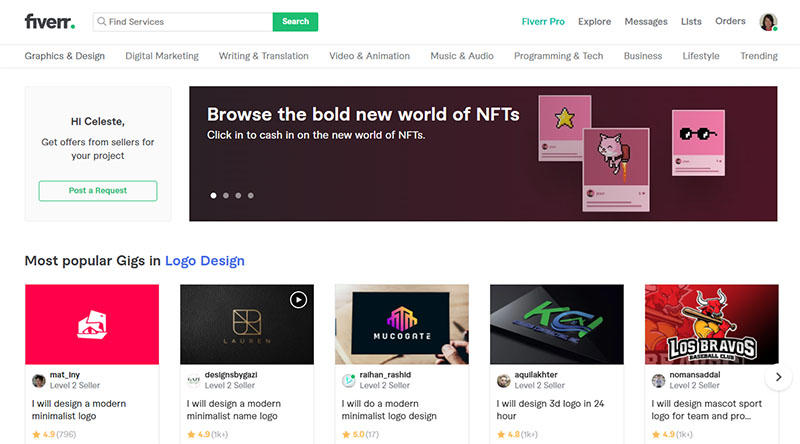 All in all, it took me 1 minute, 58 seconds to get to this stage. That's considerably quick and easy, having signed up for many platforms to review and analyze.
Penji
Prior to writing this article, I have already signed up for a Penji plan. Compared with Fiverr, it took me a longer time to get to the stage where I can already request a logo. Go to Penji's website and click on the Pricing button to sign up. Choose your plan and how often you'll be paying (monthly, quarterly, or yearly).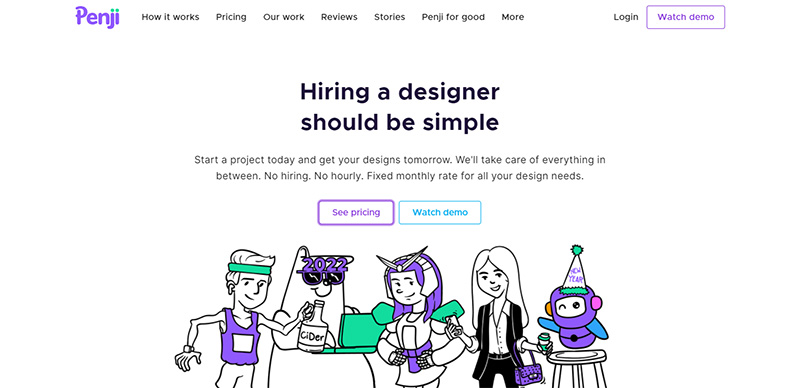 Using a timer, I spent 2 minutes and 19 seconds before I can start requesting a logo design. Here's what to expect when signing up for a Penji plan: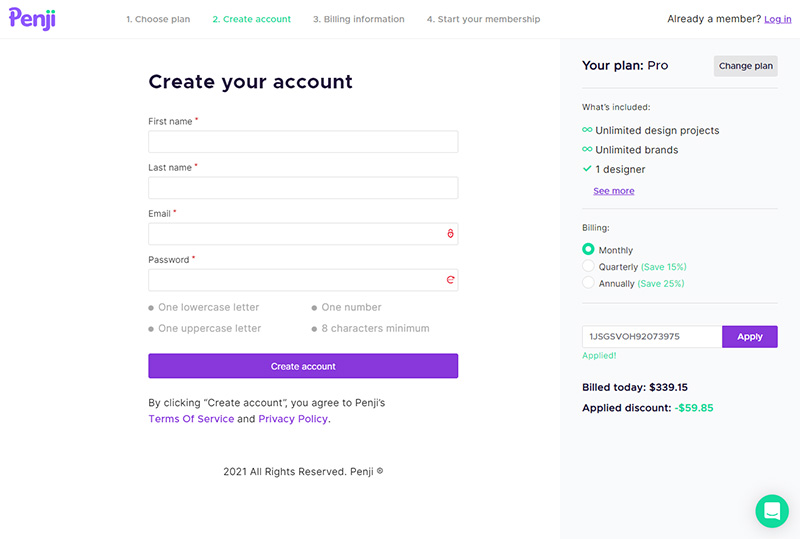 Once you created your account, you'll be asked to enter your payment details. Again, don't forget to use the promo code: FIV15 for more savings!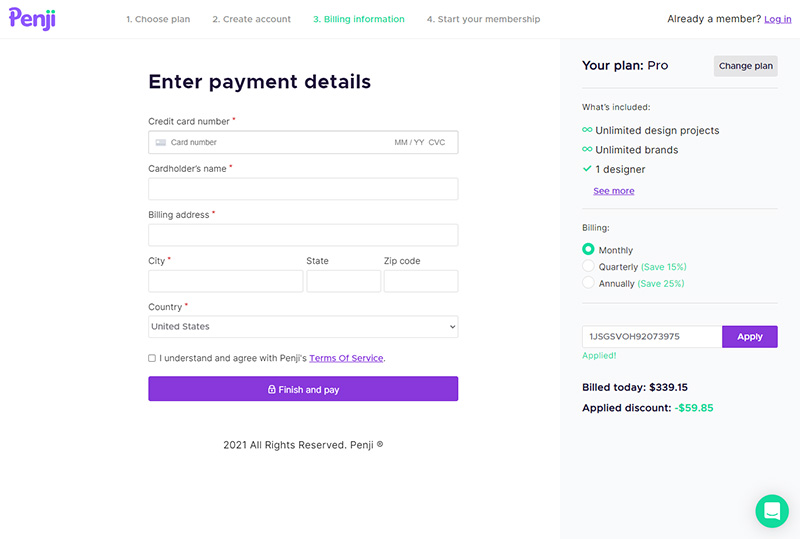 You're now ready to send a request for a logo design.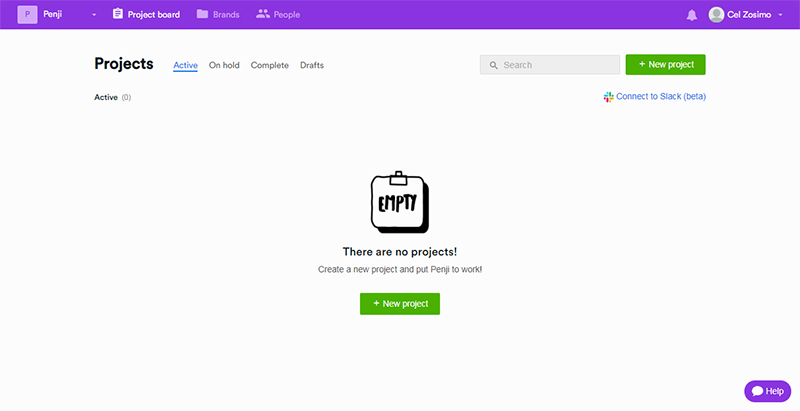 Getting Your Designs
This is the crucial part that can be the deciding factor on which one to choose, Fiverr or Penji. I will be requesting the same logo and will give the same project brief to help us compare the results.
Fiverr
There are two ways you can get your logo design on Fiverr. The first one can be a bit tedious as you will look at sellers' profiles and find one that will suit your needs. Fortunately, the platform features filters that can make your search easier.
For this analysis, I clicked on the Graphics & Design tab and chose Logo Design from the Logo & Brand Identity drop-down menu. You can narrow down your choices by selecting the logo style, clicking on the logo options, seller details, the budget, and the delivery time.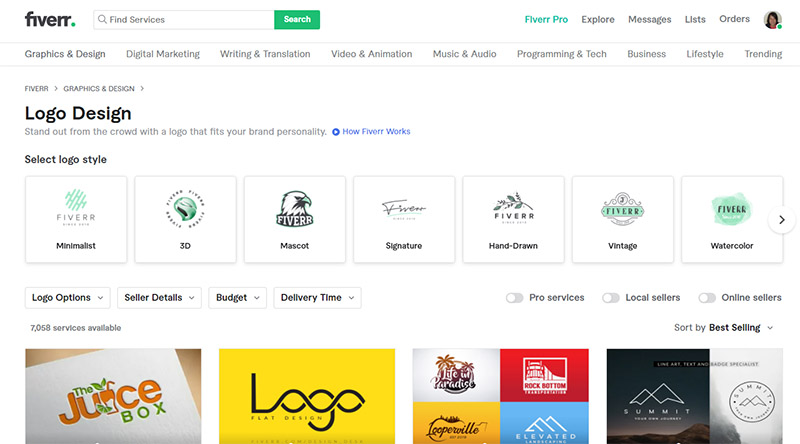 If you turn on the Pro services tab, you'll be shown the profiles of the site's top freelancers. Notice how the rates begin to change from tens of dollars to thousands when you turn on this button. You also have the option to choose from local or online sellers.
I clicked on a profile and here's what I saw: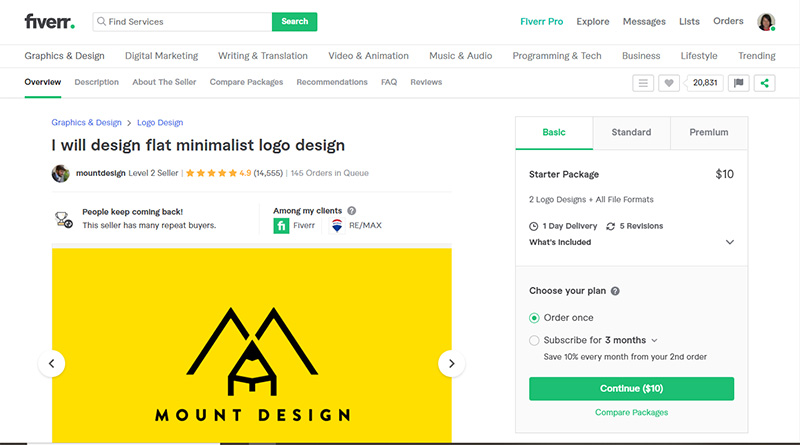 On this page, you'll see all you need to know about this specific seller. Their profile, a few samples of their work, where you can find their portfolio, and how to contact them, among many other details. This is also where you'll find feedbacks and what their previous clients have to say about them.
If you wish to hire the freelancer, click on Continue and you'll see how much you'll pay. You now have the option to hire this freelancer or try another way to find one.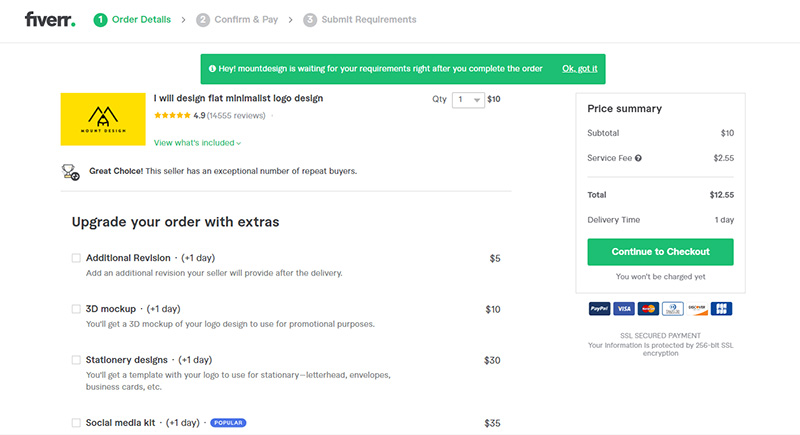 The other way to get your designs is to post a request. This way, the freelancers will come to you instead of the other way around. This is what I decided to do and this is my account of what happened: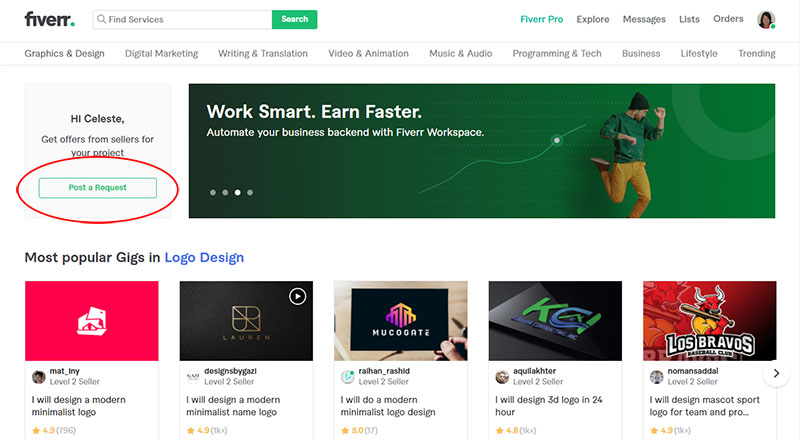 I was taken to a page where I wrote a project brief to describe the service I was looking for. There was an option to attach files that will serve as references to help the designer better understand what I need.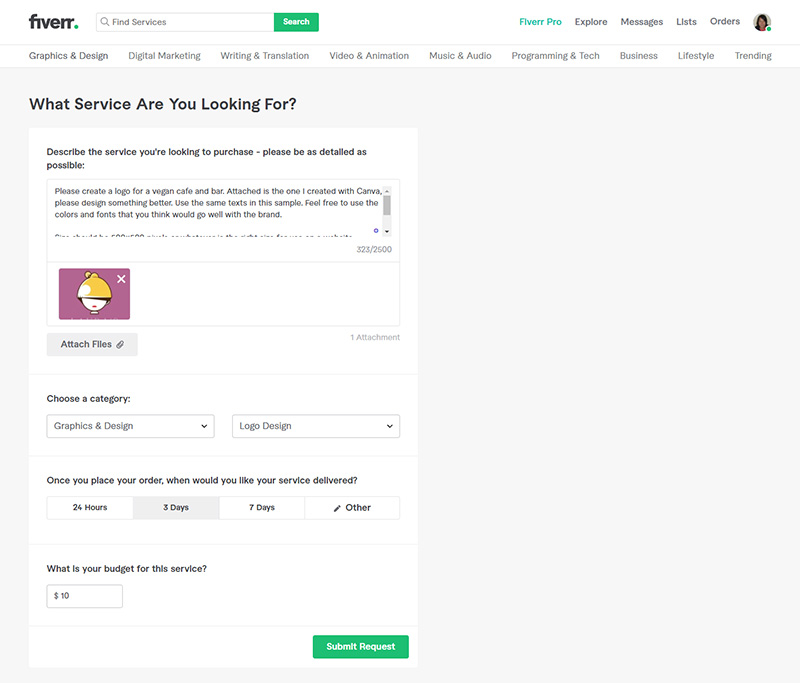 You can choose when your design will be delivered and what your budget is. I chose $10 to be delivered after 3 days. When you hover your mouse over the boxes, a blue box will appear. These are tips on how to fill out the blanks and write effective project descriptions.
When done, I clicked on Submit request.

I logged out of my account and went back after around two to three hours. While I was waiting, I was given suggestions based on my request.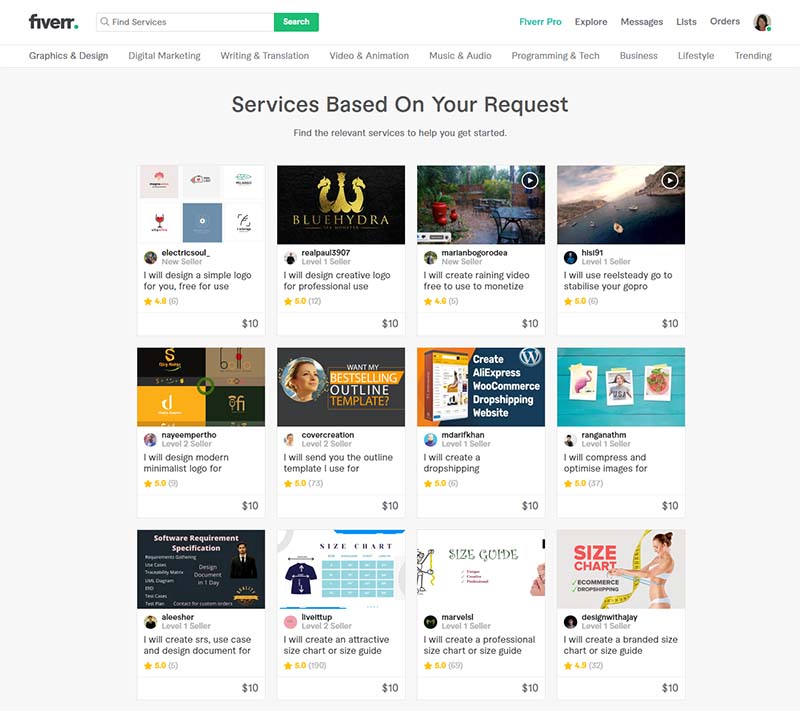 When I came back on, I saw that I already have 50 offers for my project. While most of them offered to design my logo for $10, which is what I specified, there are some that offered less. There are also a few that offered to do it for more.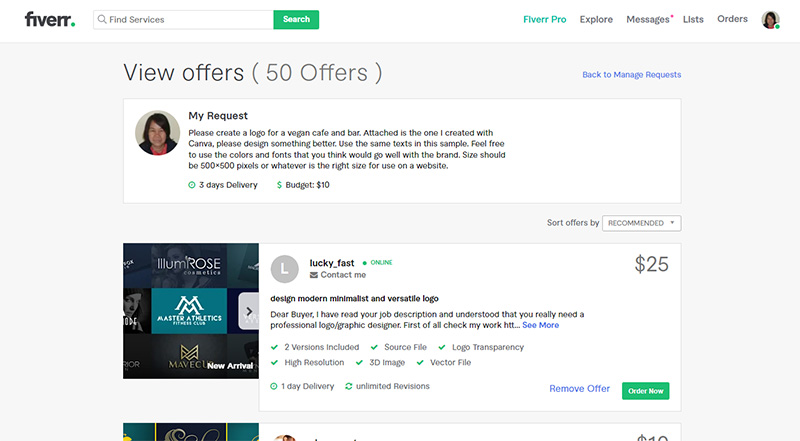 Just as I have written my project brief, the freelancers also wrote why I should hire them.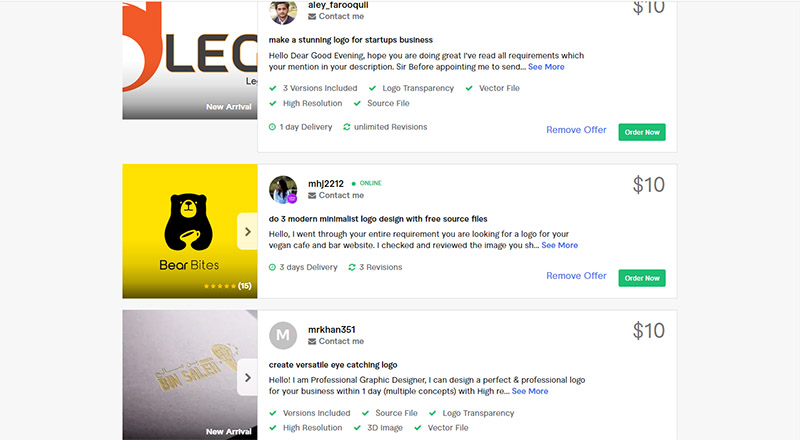 I clicked on the Order Now button when I found a suitable candidate.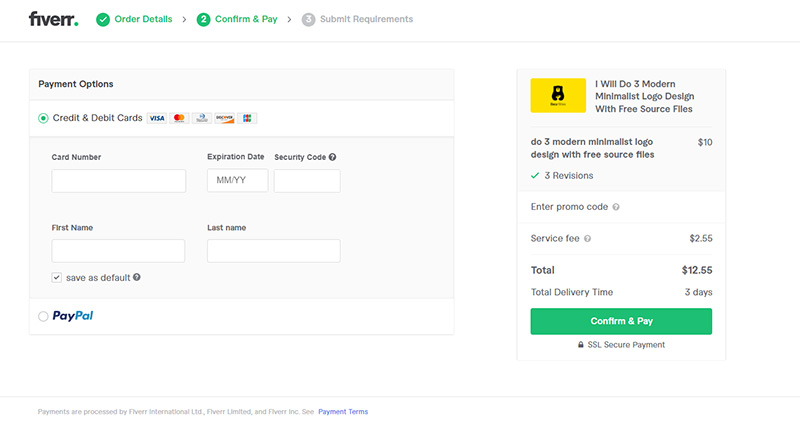 You now have to put in your payment details just as I did. Once done, I clicked on Confirm & Pay. You'll be taken to a page where you'll be asked for more project details.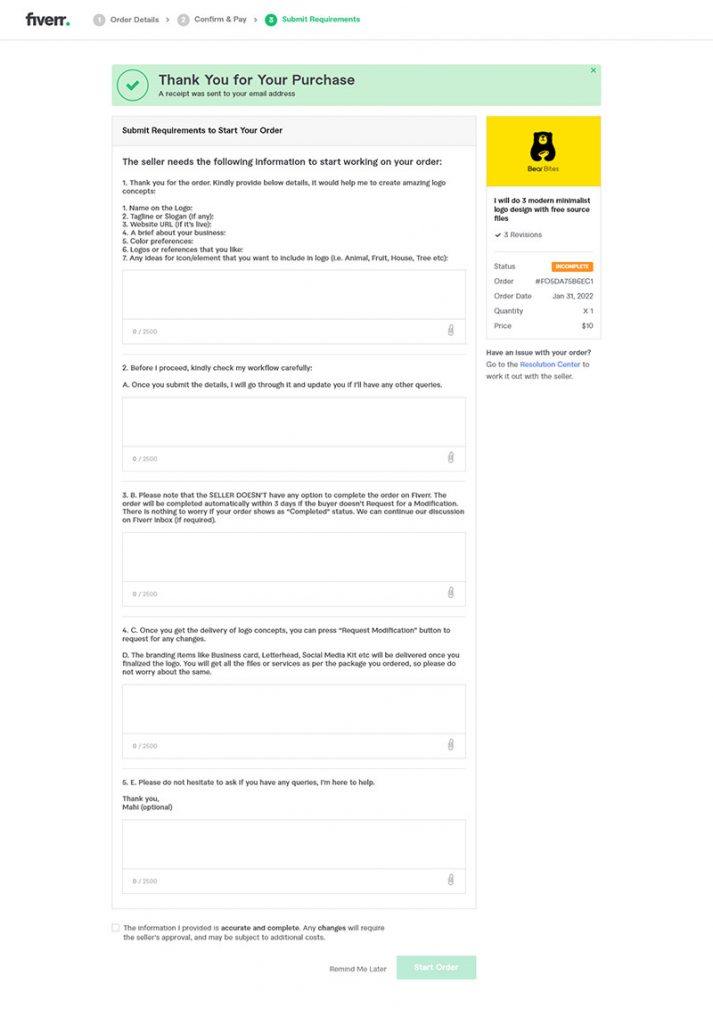 I answered the questionnaire the seller asked for, double-checked my description, and clicked Start Order.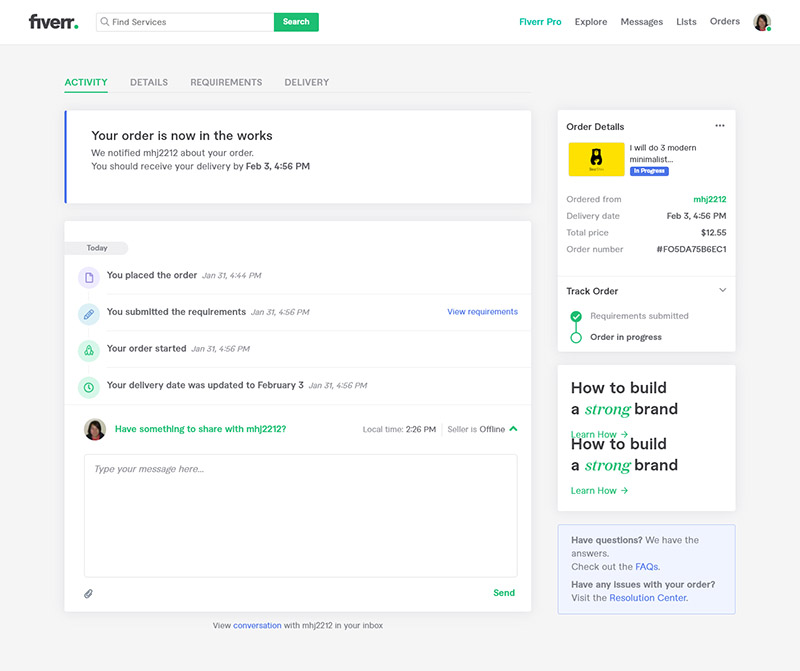 I chose the 3-day delivery for this project, but less than 24 hours late, I received an email notification that Mahi has already fulfilled my order. This was what the dashboard looked like: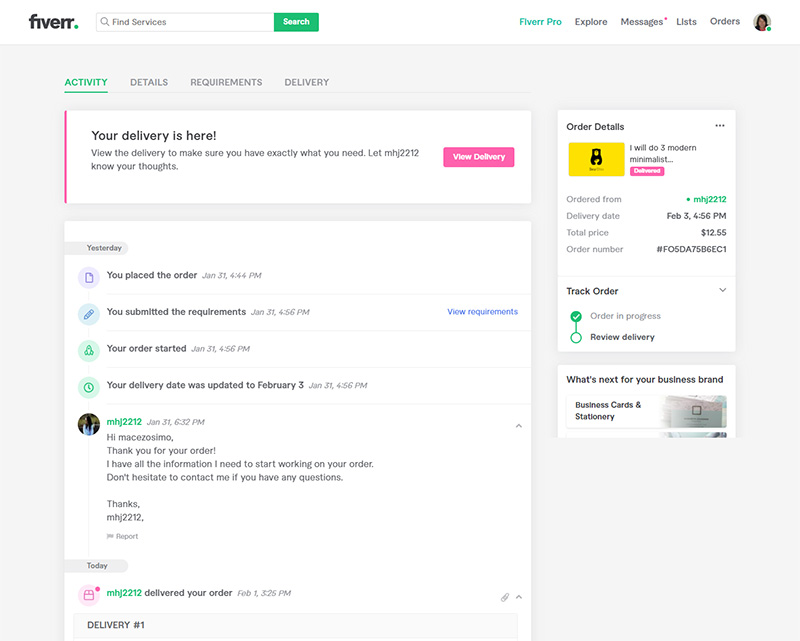 I then downloaded her work and this was what she sent me:

I was happy with the designs, but then I was entitled to three revisions so I asked for one. I asked her for a color change and after a few minutes, she delivered the final design which I approved and gave positive feedback to.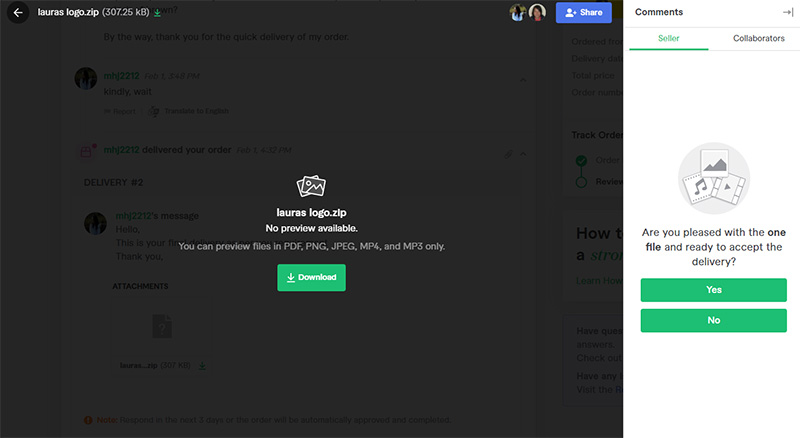 Penji
After signing up, I was given access to the Penji dashboard, ready for my first design request. I clicked on the New project button, gave the project a suitable name, chose the category, and wrote the description. I made sure to describe it the way I did with the freelancer on Fiverr.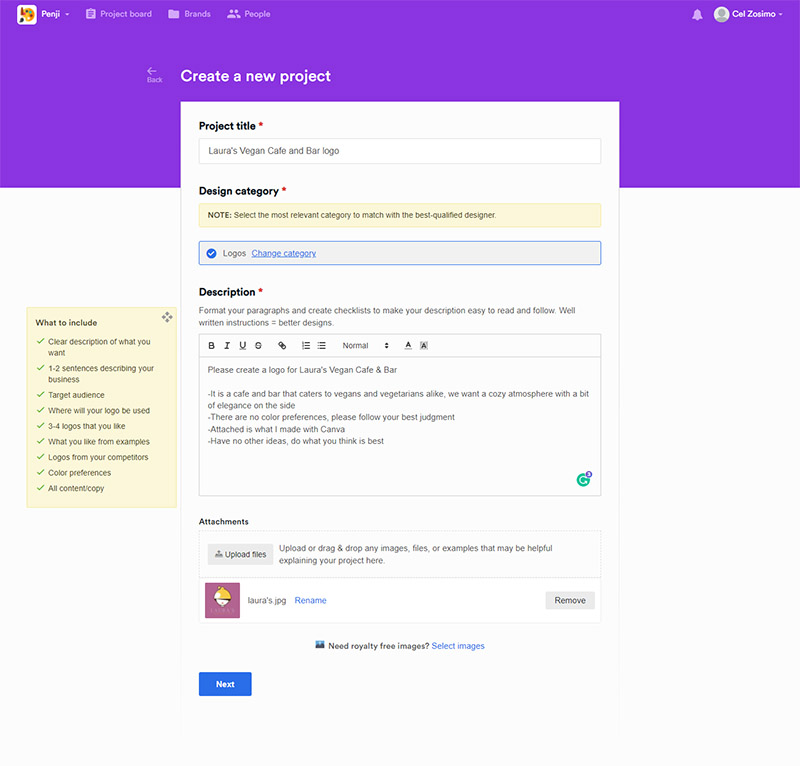 Just like with Fiverr, the yellow box on the left side of the page gives you tips on how to write an effective project brief. It also gives you the option to attach files that the designer can use as a reference. The platform also has stock images that are royalty-free if you don't have your own.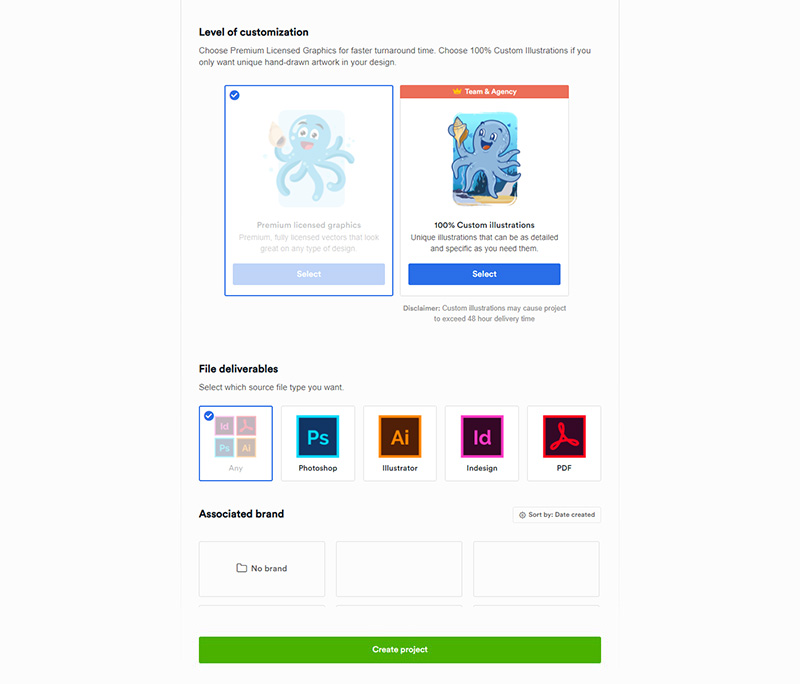 The next step is choosing the level of customization for illustrations. This is exclusively for Team and Agency plans. Then select the file deliverable you want your project to be in. To finish it off, click on the Create project button.
The system automatically assigns the project to the best designer for the job. You won't have to find a freelancer for every project you need. Penji will do it for you.
All you need to do is wait 24 to 48 hours for the first draft. After which, you can send revisions if you're not fully satisfied. Remember, it's unlimited revisions, you can have the design edited until you get the exact design you want.
You'll get notifications through your email and the dashboard for the progress of your project. I sent the request on a Tuesday afternoon at around 4 and got the first draft at around 2 in the afternoon. That's even less than 24 hours.
Final Designs
Requesting designs from Fiverr and Penji proved to be hassle-free. Both were simple and easy even though there were many differences in how I got my logos. And so, here are the final designs:
Fiverr
In less than 24 hours, Mahi delivered three minimalist logos with one revision:

Penji
True to their promise of a 24 to 48 hour turnaround time, Penji delivered these designs in around 22 hours. I sent the request on Feb. 1, 2022, at 4:09 PM and got the first draft the next day at 2 in the afternoon. Here's what Prince sent me:

I was impressed with what I got that I didn't ask for any revisions anymore. Although unlimited revisions come with a Penji subscription, fewer or no edits mean the designers can move on to my next request faster.
Getting a Second Design
This is where you'll see a big difference between Fiverr and Penji. With Fiverr, you'll have to go through the entire process again to get a new design. If the freelancer you previously hired can create what you need, there wouldn't be a problem as you can hire them again. However, if you need a new design type, style, or genre, you'll have to search for a new freelancer.
With Penji, you won't have to go elsewhere to get your second design. Everything you need is right there on the dashboard. This is ideal for those who need designs after designs as all you have to do is line up your requests and let the designers take it from there.
Communications
Excellent graphic designs result from great communication between the designer and the client. This is crucial especially when these two are in different parts of the globe. This will create the perfect designs right the first time and avoid unnecessary revisions. This is how the communications went with both platforms:
Fiverr
I have seen from Mahi's profile that she usually responds to orders within 2 hours. After I placed my order on January 31, 2022, at 4:44 PM, she sent me a thank you note:

Take note though, that her prompt response may not be the same for all freelancers on Fiverr.
After she delivered my order earlier than expected, she sent me this message: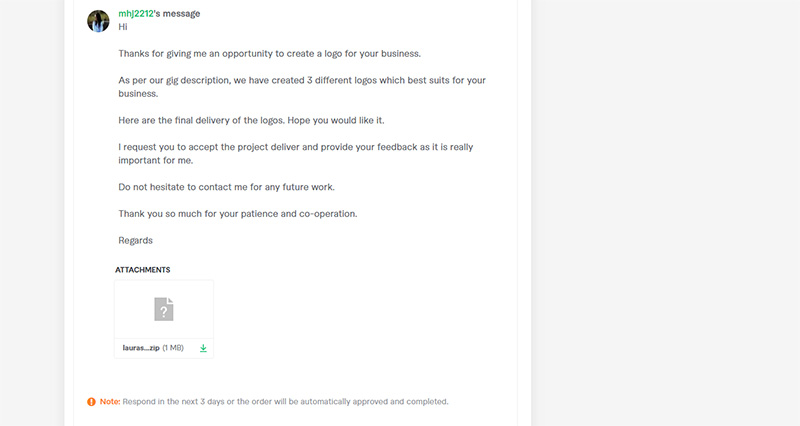 Communications-wise, Mahi was responsive, clear in her messages, and very friendly. Here's a screenshot of the rest of our conversation which was done entirely through the Fiverr messaging system: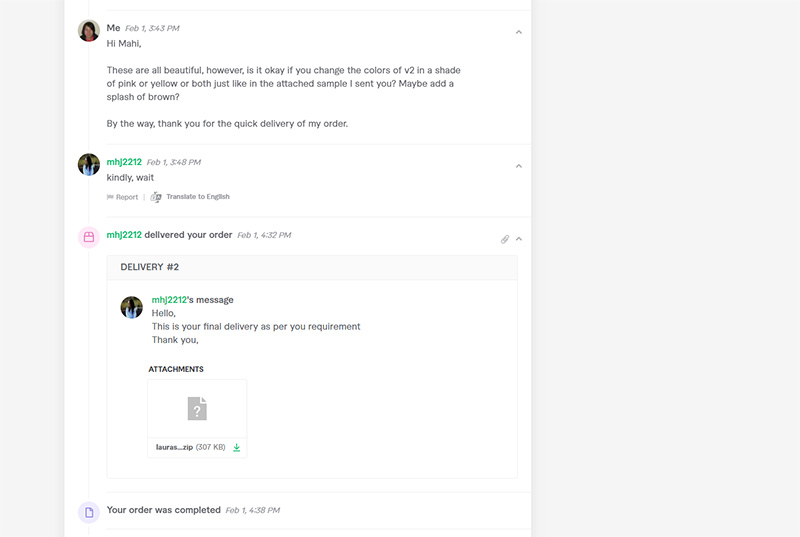 Overall, Mahi gets a thumbs up for her communication and designing skills, the reason she has 4.9 stars out of 46 reviews.
Penji
When you hit the Create project button on Penji's dashboard, you'll get an auto-response with the following message: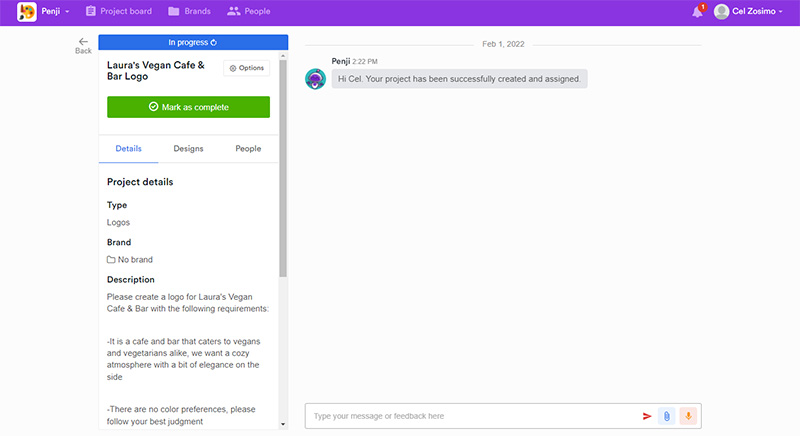 As mentioned above, I sent a request for my logo at 4ish in the afternoon and got a response from Prince at 8:15 the next morning. This was what he said:

The rest of the conversation went smoothly and I got the design I wanted in the turnaround time they promised.
Testimonials and Ratings
What better way to gauge a service's effectiveness is to see what others have to say. Here are a few testimonials and reviews we found for both Fiverr and Penji.
Fiverr
On Trustpilot, Fiverr got a 4.0 rating out of 6,396 reviews. On G2, they garnered a 4.3 out of 5 stars from 159 reviews. Lastly, out of 260,951 reviews, Fiverr got 4.7 stars.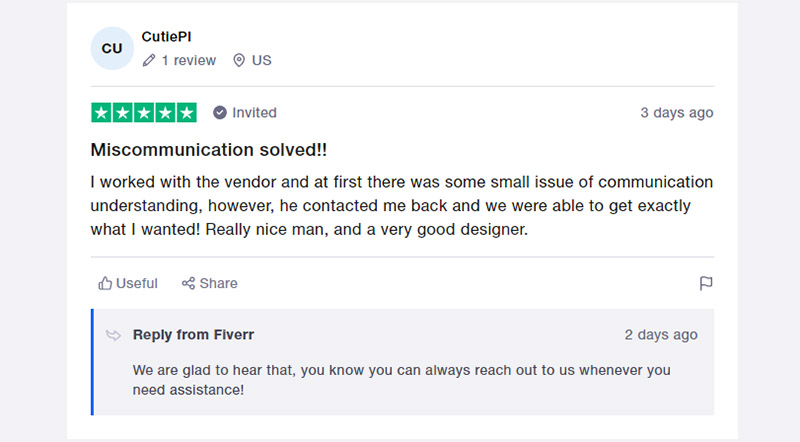 Image Source: Trustpilot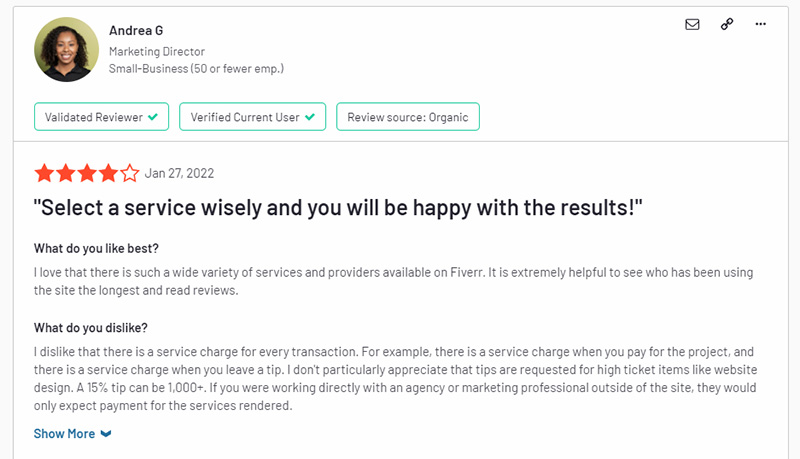 Image Source: G2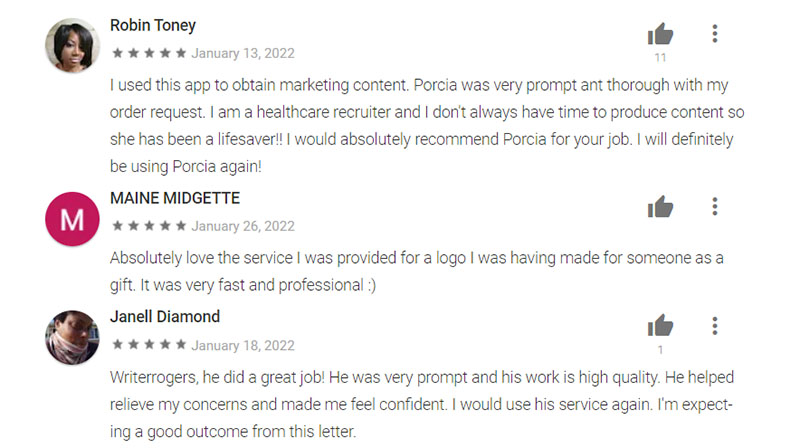 Image Source: Google Play
Penji
On Trustpilot, Penji got a rating of 4.7 stars from 105 reviews. On G2, the unlimited graphic design service garnered 4.8 out of 5 stars from 58 reviews. Finally, on Facebook, Penji has gotten 4.9 out of 5 based on the opinion of 122 people.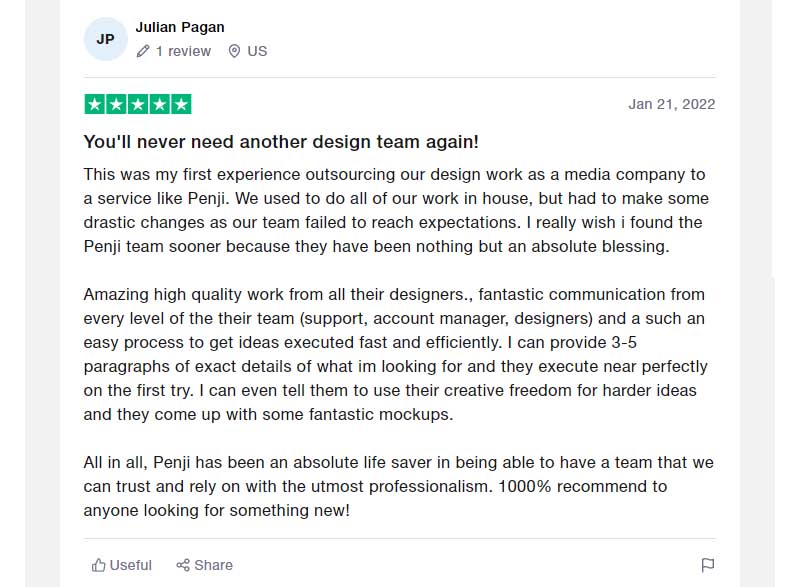 Image Source: Trustpilot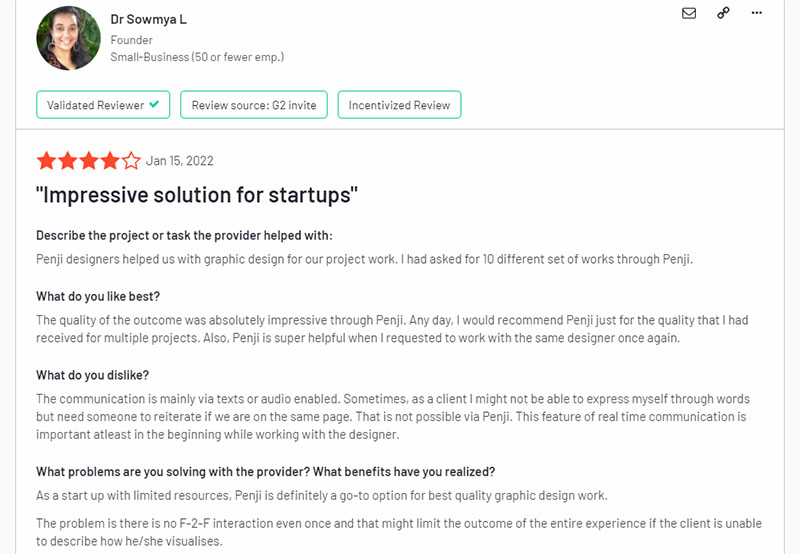 Image Source: G2

Image Source: Facebook
Fun Facts
Let's look at the less serious side of Fiverr and Penji with the following fun facts:
Fiverr
Founded by Micha Kaufman and Shai Wininger, Fiverr traces its roots in Tel Aviv, Israel where they still house their headquarters
Between 2012 and 2018, Fiverr grew by 600%
You can hire actors, actresses, voiceovers, and models on the platform
There's a seller on Fiverr that sells fun facts
Not even a decade old, but Fiverr has already provided jobs to millions around the world
Penji
Before becoming a graphic design company, Penji was once a digital marketing agency
Founded April 19th, 2017, it enrolled its first 50 customers on October 20th, 2017
Johnathan Grzybowski, one of Penji's co-founders, had his first business at age 15, a lawn-mowing service named Grzyly Services
The original idea for Penji was conceptualized while on a trip to Vietnam
In 2021, Penji hit $4.2M in revenue with 1,000 customers
Final Thoughts
When searching for a graphic design partner, Fiverr and Penji are both great resources. For those who need a "gig" every now and then, Fiverr would fill that need superbly. Once you find a graphic design freelancer, you can get your project, use it, and forget about the whole process.
The beauty of the platform is, it isn't limited to graphic designers alone. Fiverr holds a humongous amount of profiles from accountants to voice actors. You can find practically every type of freelancer you'll ever need.
On the other hand, when it comes to value for money, Penji is your best bet. The unlimited design concept can be hard to fathom for newbies, but trust us, our clients love it.