In business, great design is paramount. To get people to notice your brand, you need exceptional visual content. Gone are the days of stock images and graphics that even custom-made designs have become stale and boring. That's why many innovative businesses turn to illustration to get fresh perspectives. Below is a list of 15 outstanding websites to find your brand an illustrator freelancer:
1. Upwork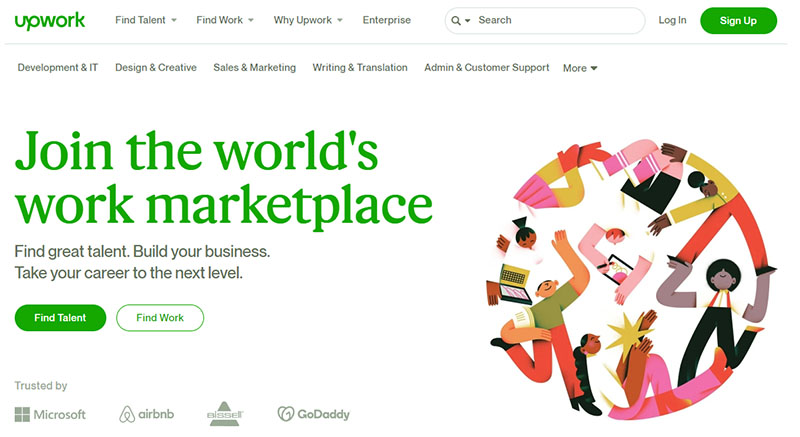 Formerly known as oDesk, Upwork is one of the most popular websites to find creatives. It's also one of the pioneers, so you know the hiring process will be smooth and straightforward. From job posting to managing payments, Upwork has got it pat-down.
The site has tools to help you find the best illustrator freelancer, some of which are the Talent Marketplace, Project Catalog, and Talent Scout. When you opt for their subscription-based service, you'll receive recommendations for the most qualified talents. This is especially helpful when you want to save time and spare yourself from the hassles of finding the right talent.
Pricing: $15 to $30 per hour
2. Toptal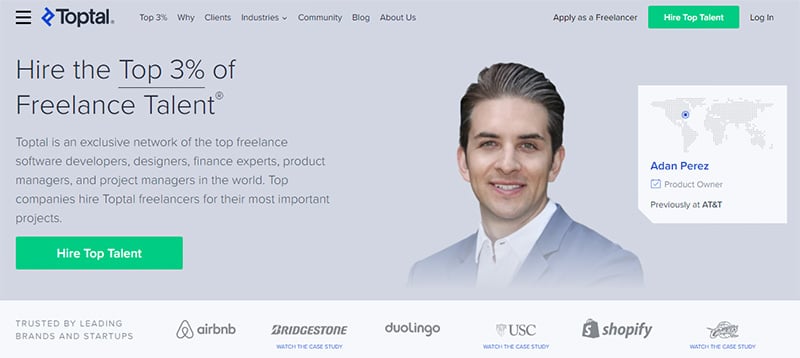 Claiming to have the top 3% of talents, Toptal is a gold mine of top creatives. You'll find the best illustrator freelancers here as it is one of the most established and trusted job platforms. The site has vetting and screening processes to assure you that you only get top talents.
Toptal also has a money-back guarantee that allows you to work with different illustrators until you find the right fit. The platform sends recommendations they find to be the best match for your brand. Toptal also takes pride in its 90% rate of clients hiring candidates at the first meeting.
Pricing: Illustrator hourly rates depend on the client specifications such as part-time, full-time, project duration, entry-level, seasoned illustrator, and more. May range from $75 to over $125 per hour.
3. Dribbble

A social networking platform specifically made for creatives, Dribbble is a large community of freelance designers, artists, photographers, and illustrators. Finding a freelance illustrator is easy as you can filter by keyword, skill, or location. You won't even have to ask for their portfolios as these are already displayed for everyone to see.
Feedback for their artworks is shown, making it easy for you to see the quality of their work. Once an online space for self-promotions, Dribbble lets you post jobs or find an illustrator freelancer through their hiring services. Dribbble Hiring sends you recommendations, so you save time and energy on finding and vetting your illustrators.
Pricing: Four pricing plans available, from $299 to $499 per month
4. Guru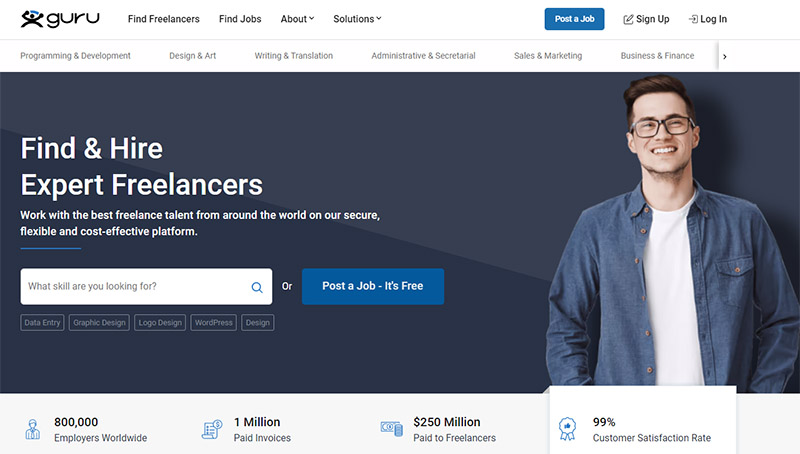 A freelance job board, Guru, lets you find an illustrator at no charge. The platform offers customer support 24/7, which is its differentiating factor as most of their counterparts don't. There's no limit to how many jobs you can post, and if this isn't enough, you can avail of its paid solutions.
Guru has over 2 million freelancers on their database, which means you have access to a diversity of candidates. Its membership structure focuses more on experienced professionals who can guarantee reliability from its freelancers. In addition, Guru's escrow-style shared account protects all transactions for both employers and freelancers.
Pricing: $5 per user per month to $20 per user per month
5. Twine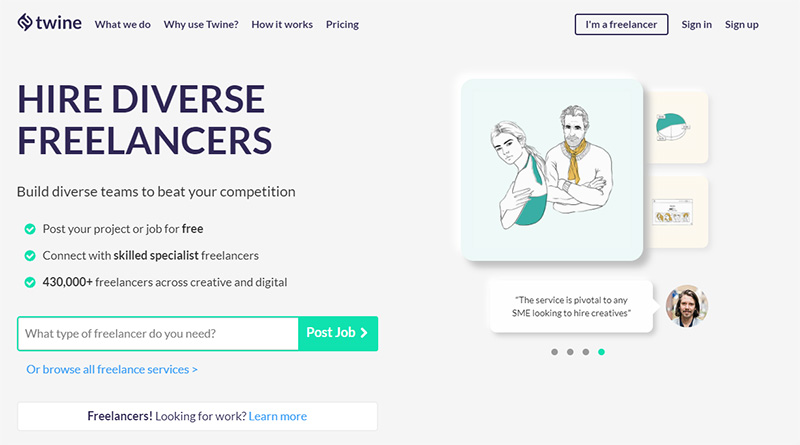 Concentrating on visual design freelancers, Twine is an excellent platform to find an illustrator freelancer. The site follows a straightforward system from hiring to pricing, which makes the processes more accessible and faster. You'll be asked to answer a series of questions to post your job ads, or you can choose to contact freelancers directly.
Finding a freelancer on Twine is free, but they also have paid subscriptions if you need a more convenient way to find one. The site has an efficient recommendation procedure to guarantee the best matches. It also offers superb customer service, which can help you with any issue you may encounter.
Pricing: Starts at $8 per user per month
6. Minty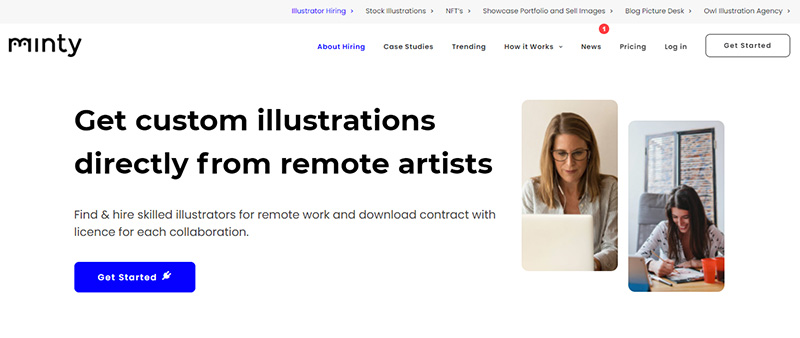 Custom illustrations are easy to get with Minty. It is a freelance illustrator haven as it caters mainly to illustrators looking for remote work. The platform gives you access to illustrator portfolios that will help you find the best fit. You can also contact the illustrator freelancer directly through their profiles.
One thing that makes Minty stand out is the option to buy ready-made illustrations should you find yourself pressed for time. Minty also takes care of contracts and licensing rights, so you won't have to. You can find illustrators for free, or you can get Minty's paid subscriptions.
Pricing: Plans range from $100 to $300 per month
7. Krop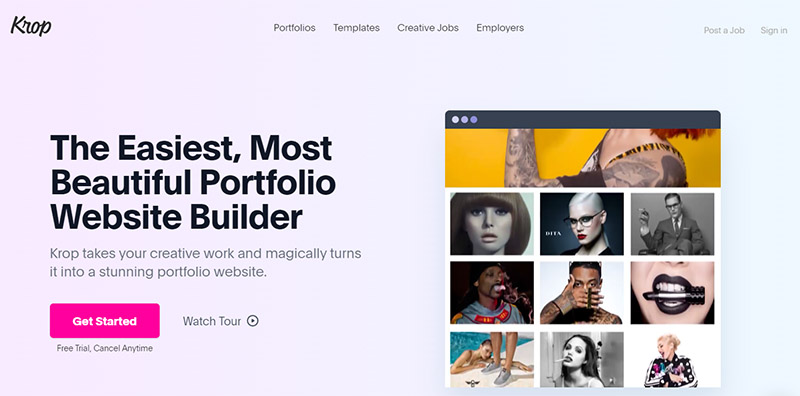 Another portfolio-based job marketplace is Krop. It offers two ways to find an illustrator freelancer. One must pay a minimal fee for every job post or get a monthly membership subscription. You can still browse through portfolios and profiles without paying, but you don't have the option to contact the illustrators.
Likewise, the creatives who use Krop also pay for the service. This is advantageous as you'll find illustrators that you know are committed to finding work. These will be the ones who have reliable traits that most business owners want in their employees.
Pricing: Depends on the number of postings (1 post costs $199, 20 posts cost $135 each)
8. Working Not Working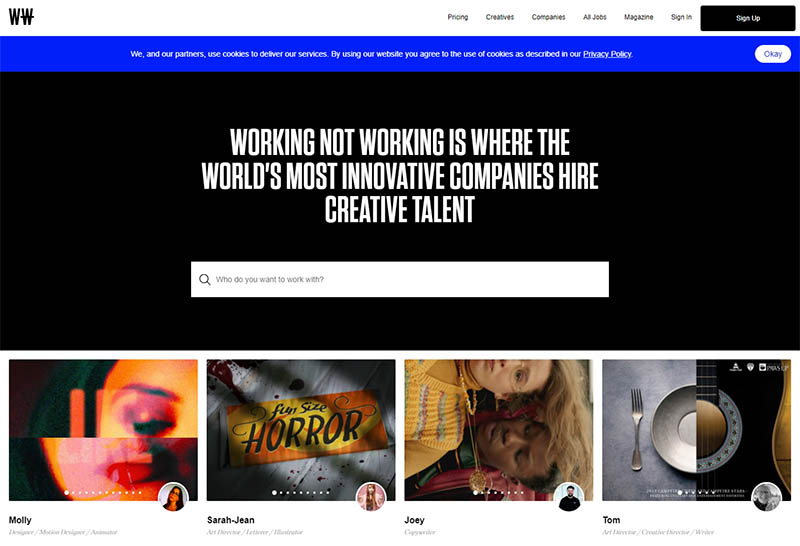 Find the best illustrator freelancer in Working Not Working, another job board specializing in creatives. It is used by top companies such as Google, Facebook, Airbnb, etc. So it's no surprise to find freelancer resumes here that are multi-awarded and respected by industry members.
The site asks job seekers unique questions which will give you insights into how creative they are. They offer packages that you can pay monthly or get their curated matching services which will connect you with the best fit. Working Not Working does not charge commissions, making it ideal for those working within a set budget.
Pricing: $450 per month, $300 per month if paid annually
9. Boonle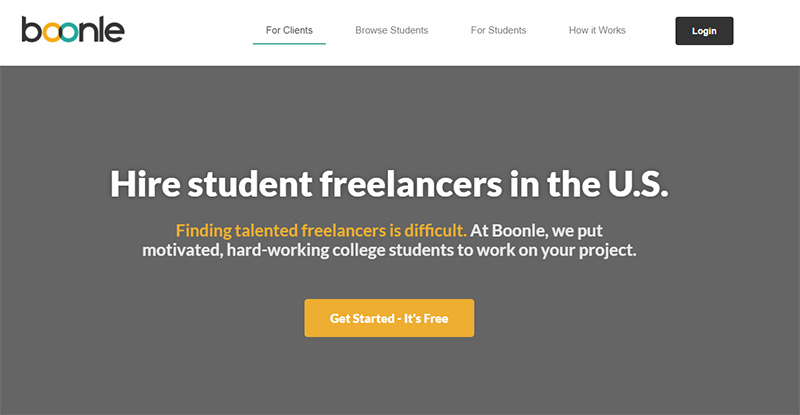 An online job marketplace for students, Boonle is a good source of young illustrators looking for freelance work. If you need fresh ideas at rates you can afford, this is the website to go to. The job posting is free, and you'll quickly find students in the US working as illustrators.
The platform has a tipping system which the clients can see on the jobseekers' profiles. This will give them an idea of the quality of work each candidate provides. Not only will you be getting excellent illustrations, but you're also helping students in need.
Pricing: Job posting is free and clients decide how much the rates are for students
10. Periodix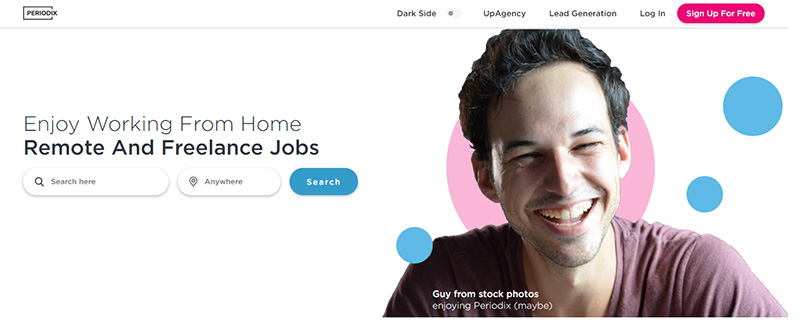 The newest kid on the freelancing marketplace block, Periodix is an excellent place to find an illustrator freelancer. It curates jobs from other online job marketplaces that offer remote work from various fields. The job postings are updated daily, so you can expect freelancers to keep tabs on the platform.
Periodix uses AI to find the best matches for your business requirements. In most instances, their clients hire one from their Top 5 recommendations. This saves you time and money as you won't have to go through dozens of resumes and portfolios to find what you need.
Pricing: Depends on availability and job specification match in your region. Those who want to post a job will pay $149.99, but for those who also want to source from other websites will pay $249.99.
11. 99designs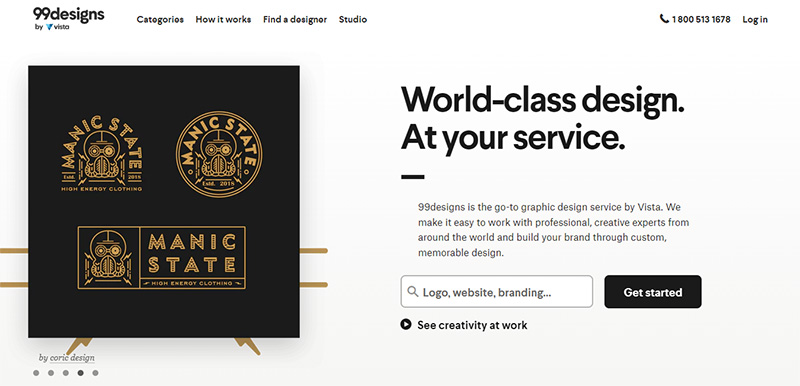 If you want to find a freelance illustrator through contests, 99designs is the best place to do it. All you have to do is post what you want to be done and wait for the submissions to come in. The site also lets you browse through portfolios and communicate with the illustrator directly.
Logos are 99designs' specialty, and holding contests for the best design is common on the platform. This is an excellent way to get yours and possibly find an illustrator that you would love to work together with for the long term. Their money-back guarantee also assures you that you'll get exactly what you need.
Pricing: $299 to $1,499 per project, contests cost $349
12. Designhill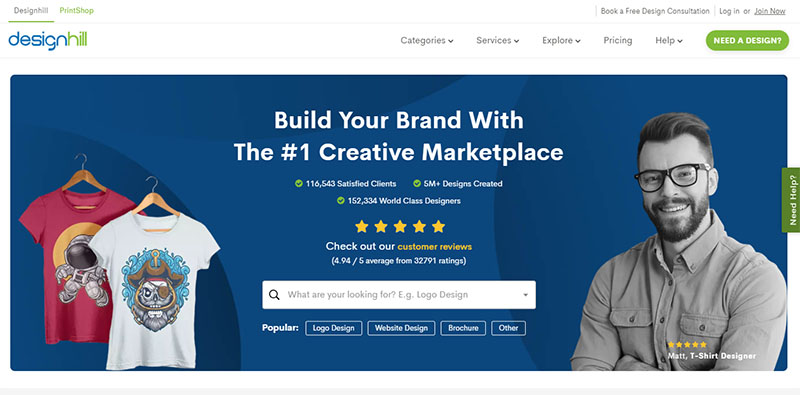 Another popular online freelance marketplace, Designhill, abounds with creatives from photographers to freelance illustrators. It gives you access to more than 150,000 talents worldwide, so there are so many skills and pricing to choose from. If you have an eye for design, you can also use the platform to create your own with their free tools.
Designhill also offers paid subscriptions if you need more from the site. It ranges from $249 to $999, which comes with guaranteed quality designs, full ownership of them, and access to 24/7 customer support, among many others.
Pricing: $249 to $999 for design contests or set your own price with a 5% discount
13. Etsy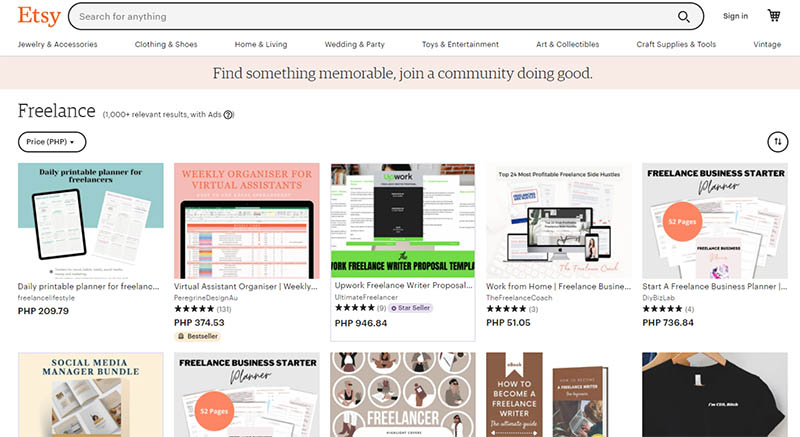 Known to us as a platform to shop and buy artisan handicrafts, did you know that Etsy has a freelancer website, too? This website is different because it lets freelance illustrators offer demos that you can buy directly. You can see their profiles with their works with reactions from previous clients to give you a good grasp of what they can do.
The site also has filters to make searching for an illustrator easier. You can then communicate with prospects, find a setup that you're both comfortable with, and negotiate your terms.
Pricing: $5 to $800 per project
14. PeoplePerHour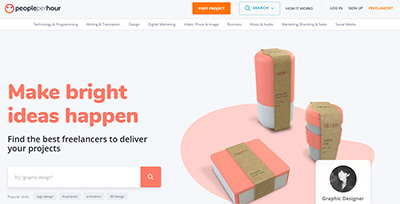 While PeoplePerHour doesn't specialize in a single niche, the site still abounds with freelance illustrators. The platform has vetting systems in place to help employers avoid scams. It offers multiple hiring options, which means you can browse gigs, choose to post your project, or directly contact a freelancer.
PeoplePerHour is user-friendly, affordable, and offers more security than most platforms. It provides many valuable features, including the capability to manage your projects outside the office through its mobile app. It has an internal ranking system that lets you see who the top performers are.
Pricing: Starts from $8 per hour, projects cost $10 apiece
15. AIGA Design Jobs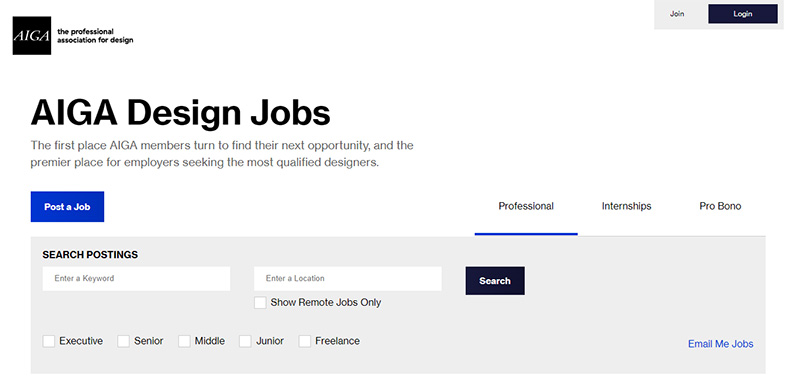 With 70 chapters and more than 18,000 members, AIGA Design Jobs is another viable option for finding a freelance illustrator. The website has a creative jobs board that lets you post jobs in the illustrating and designing niches. When you do, the post will be published for 45 days on AIGA.org, local chapter websites of AIGA, and their social media platforms.
You can post jobs according to categories which are professional, internships, and pro bono. Each of these corresponds with pricing that ranges from $50 to $599, which assures you of finding top-quality talents.
Pricing: $125 to $225
Why Penji?
The websites listed above are the most noteworthy places to find an illustrator freelancer. But Penji offers more than all of these combined. If you need custom illustrations, you should be working with Penji.
Our unlimited graphic design service lets you get as many illustrations as you need in a month, all at a fixed rate. While other design companies charge you separately for illustrations, Penji has them included in the Team and Agency plans.
Watch our demo video here to learn more. Or you can choose to sign up today by clicking on this link. We'd love to see you onboard and enjoy the many benefits of custom illustrations.