Your Facebook business page is one of the quickest ways to reach and connect with your target audience. But do you ever wonder how brands get users to scroll their pages and end up following them? This is all thanks to Facebook page customization. But how can you customize your Facebook page and make it "yours"? I'll show you how to customize your Facebook business page design with the essentials, plus examples!
How Do I Customize my Facebook Business Page?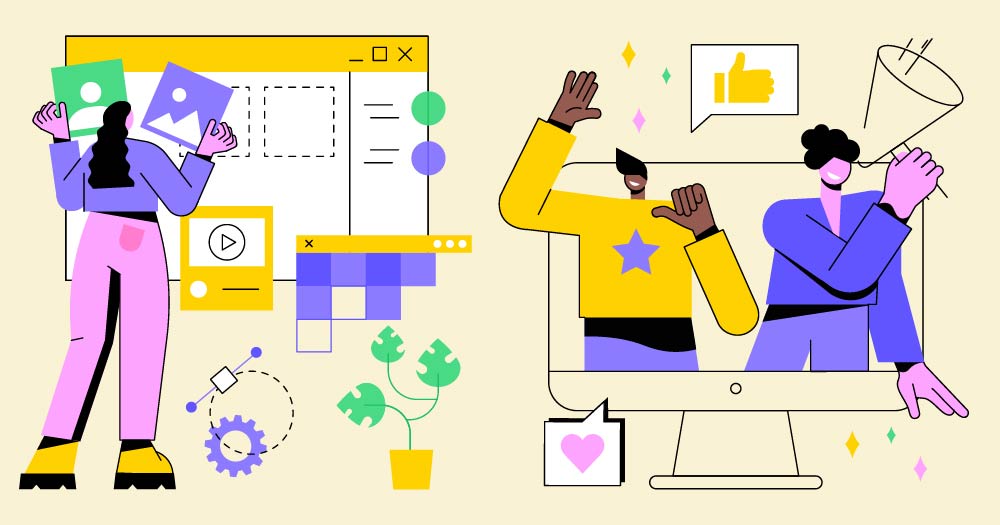 Profile picture – Most brands use their logo as their profile picture. You can follow their path or use a notable character or product as your profile picture instead to make your profile picture unique.
Cover image – The Facebook cover image further enhances your branding. Your cover image can be an image of your new product. Or, for service-based businesses, you can tailor it by adding an illustration or promotional content.
Custom images and visuals – Branding is essential for your Facebook page, and you should observe your branding guidelines for your custom images or visuals.
Branded videos – Finally, you can post branded videos as part of your overall Facebook business page design. Brands do this by customizing the thumbnail to keep branding consistent.
10 Examples of Facebook Business Pages
1. Oreo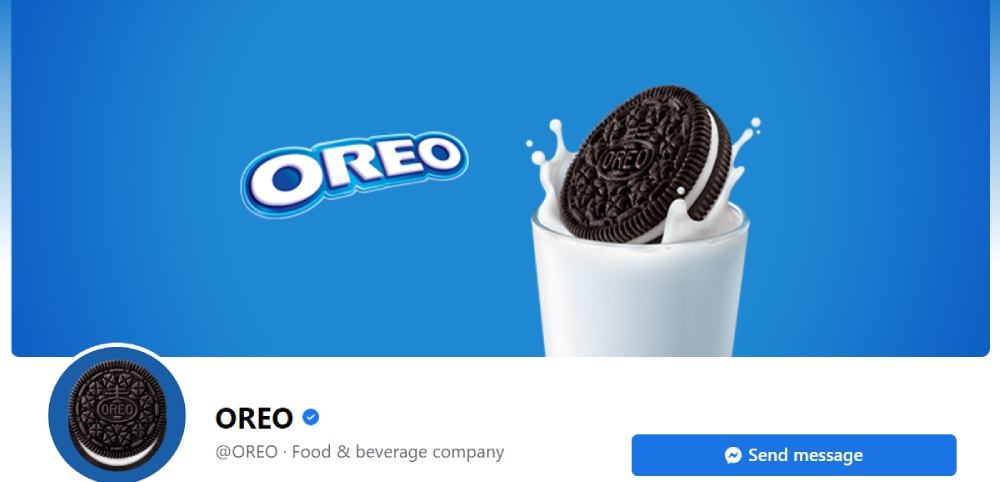 If you want to use an image other than your logo as the profile photo, check out this Facebook business page design from Oreo. They use their delicious round treat as the profile photo. Then, you'll see the logo on the cover photo instead. Plus, they added the image of the cookie falling on the full glass of milk. It's the beverage you drink when consuming an Oreo, further enhancing their branding.
2. Hubspot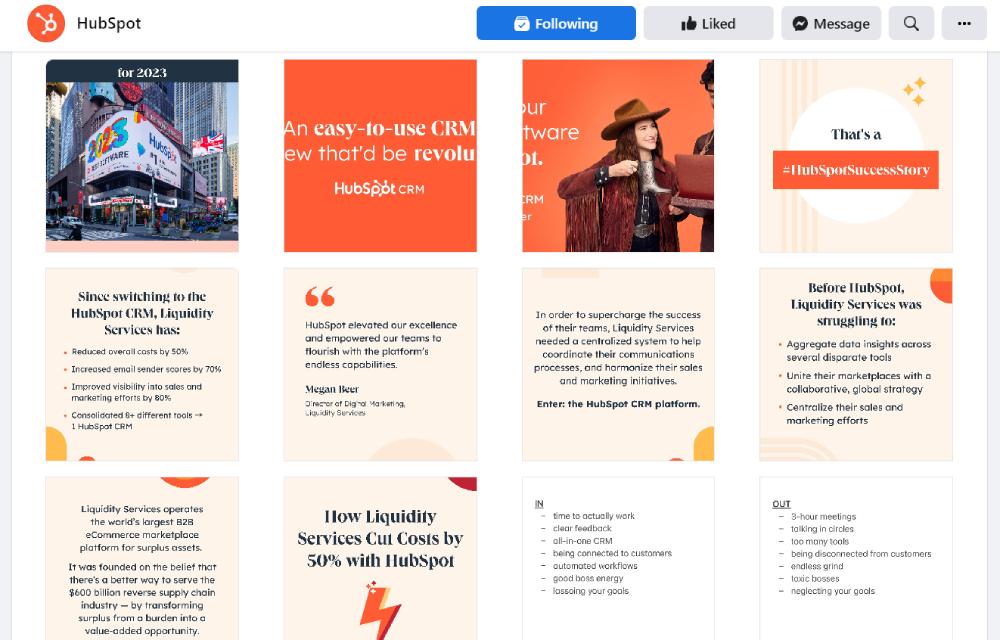 There's a reason why Hubspot is one of the most recognized brands by marketers. Across various platforms, they sport their signature orange paired with their Hubspot logo or typography. You will see those on their Facebook page, such as their cover image, profile photos, images, and videos.
3. Shein

Fast fashion company, Shein, has won the hearts of young audiences. It's beloved because they sell affordable clothes. Aside from that, the Shein brand features outfits and apparel that many customers love. One notable design feature is their Facebook cover photo. They are promoting new clothes inviting customers to visit their site and purchase it. In addition, they post various images and image edits using a serif font.
4. Arby's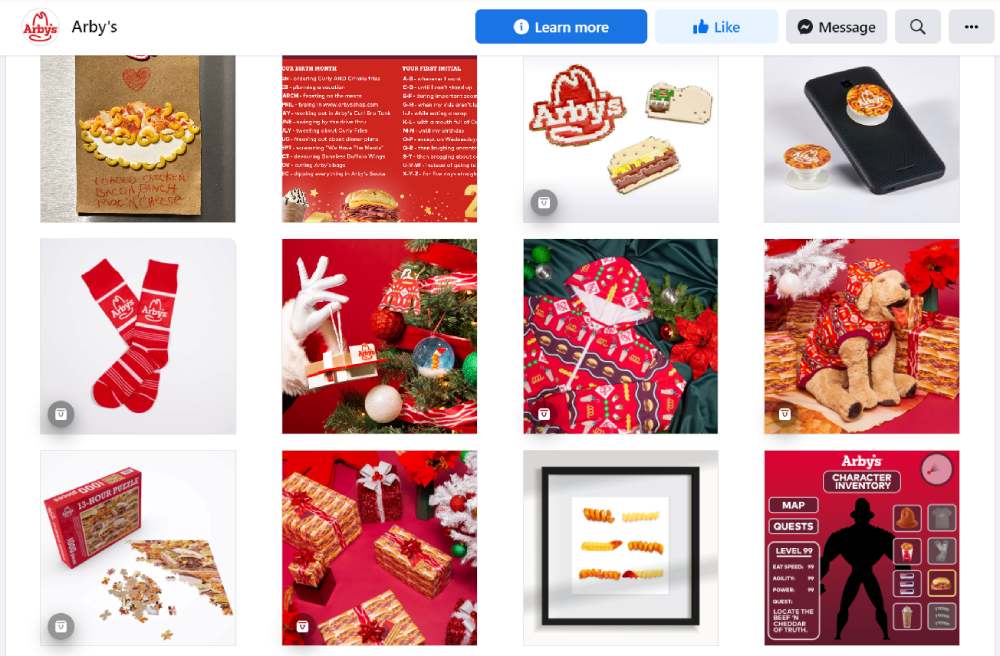 Arby's is another brand to check out if you want inspiration for Facebook business page design. When you visit their Facebook page for the first time, you'll be greeted with the sight of curly fries that will make your tummy grumble. Of course, they have the profile photo logo. But what makes Arby's Facebook page their own is the red motif. Plus, they mix up content with fun image edits, like choosing which burger to eat, delectable photos, and interesting videos!
5. rue21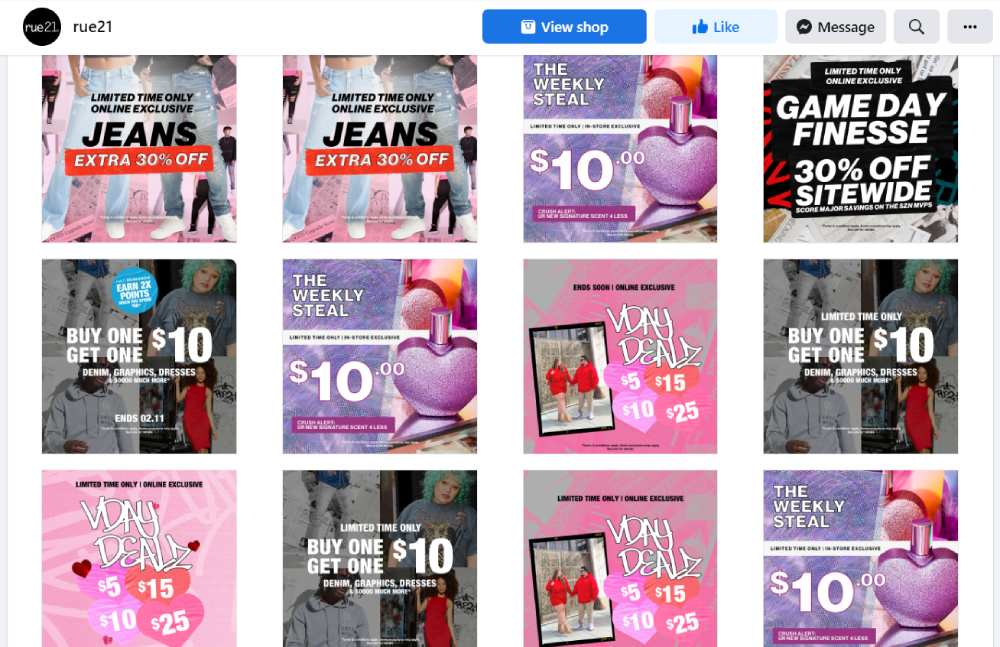 Here's another clothing brand to look at on Facebook. But instead of posting images of featured products, their Facebook profile is promotional. rue21 connects with customers by treating them to different promos and discounts. Most of their images are edited photos with their products layered or with added typography. The brand shows its unique personality and is not afraid to be straightforward with followers that they are here to promote our products all day long.
6. Sephora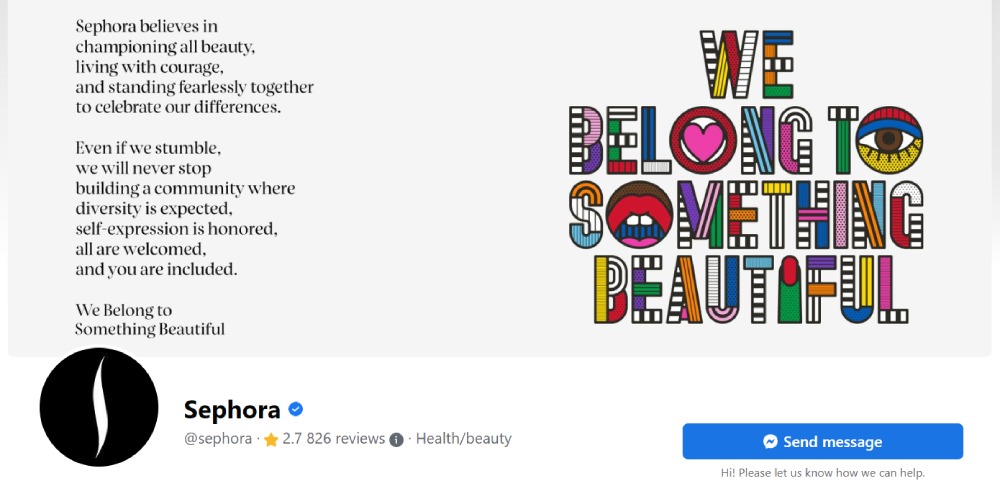 Sephora publishes a variety of posts on its Facebook page. But they ensure to keep their branding on some original posts. A photography style is another way to present your branding. Aside from that, Sephora posts image edits using their font.
Additionally, if you have an advocacy, why not show it to your followers via a Facebook cover photo? It's a one-of-a-kind idea to try, especially if you want to make an impact. And this one from Sephora gives us an idea of what kind of brand they are and what they stand for with this photo.
7. HP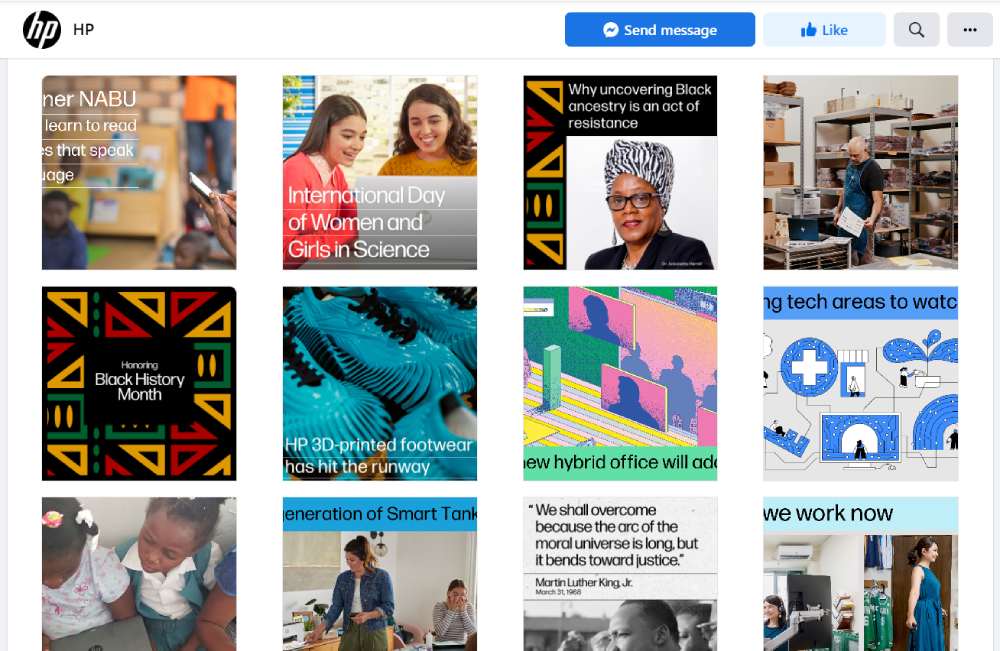 If you want a professional-looking Facebook business page, HP is the best brand to get inspiration from. You'll notice the typical profile photo logo. At the same time, their Facebook cover photo is of an HP employee. Additionally, they make an effort to post image edits. Plus, they published illustrations from time to time as well. Aside from those, you'll notice that they stick to one font and use pastel colors to give their Facebook page some color.
8. The Body Shop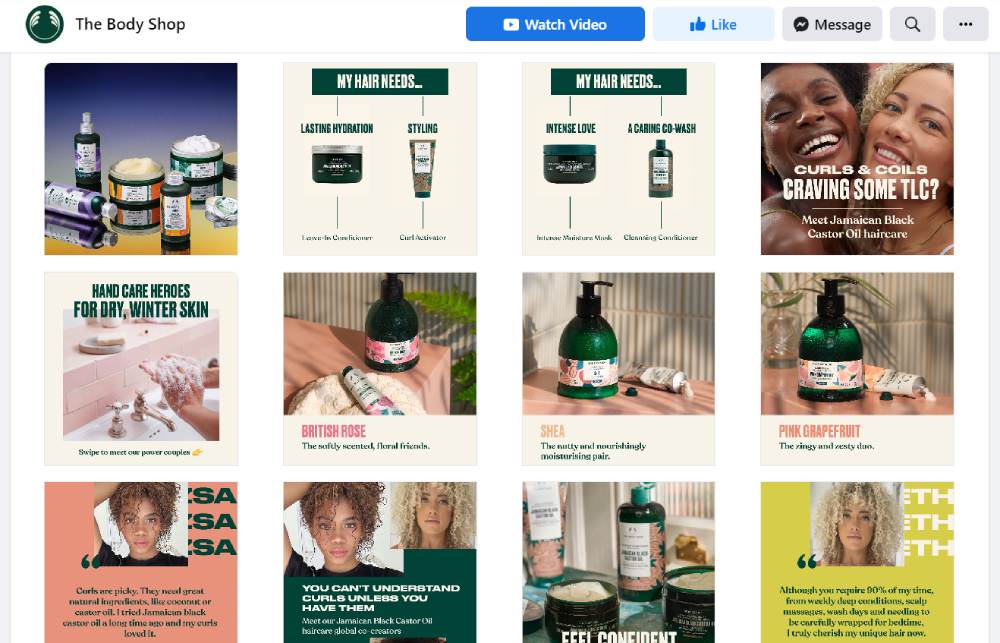 The Body Shop Facebook page also follows a similar trend to other pages here. Modern graphics are becoming more common since Millennials and Gen Zs dominate social media. Other than those, The Body Shop educates the audience and posts interactive content to engage with the audience.
9. Discord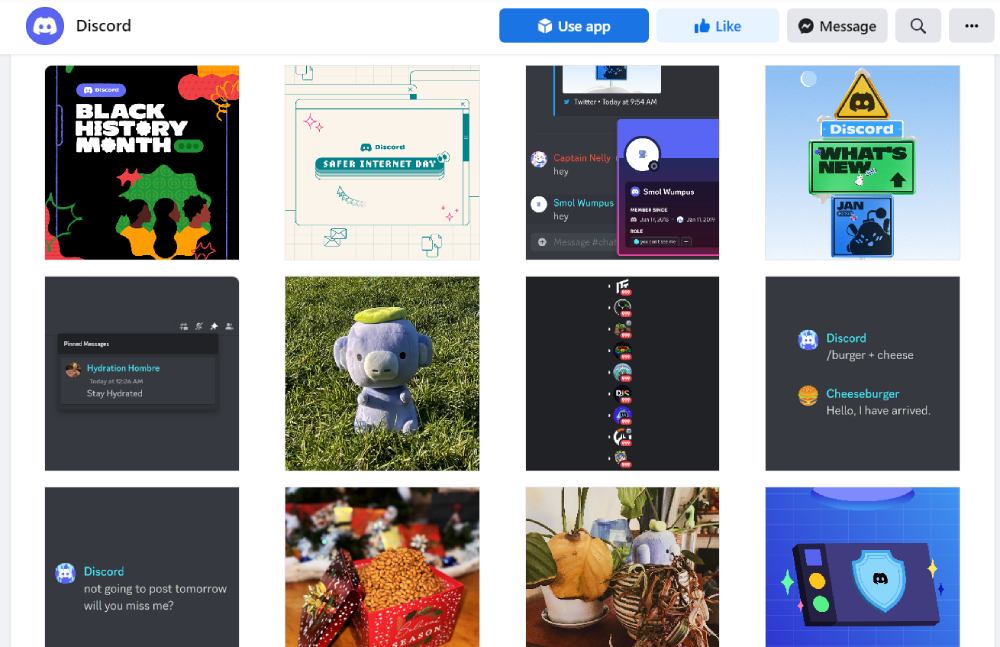 If you want to appeal to a younger demographic, following graphic design trends can help you attract this target audience. Discord uses this tactic on its Facebook business page. You will see modern-looking visuals. Aside from those, you'll notice they post memes and promote collaborations using image edits.
10. Amazon Books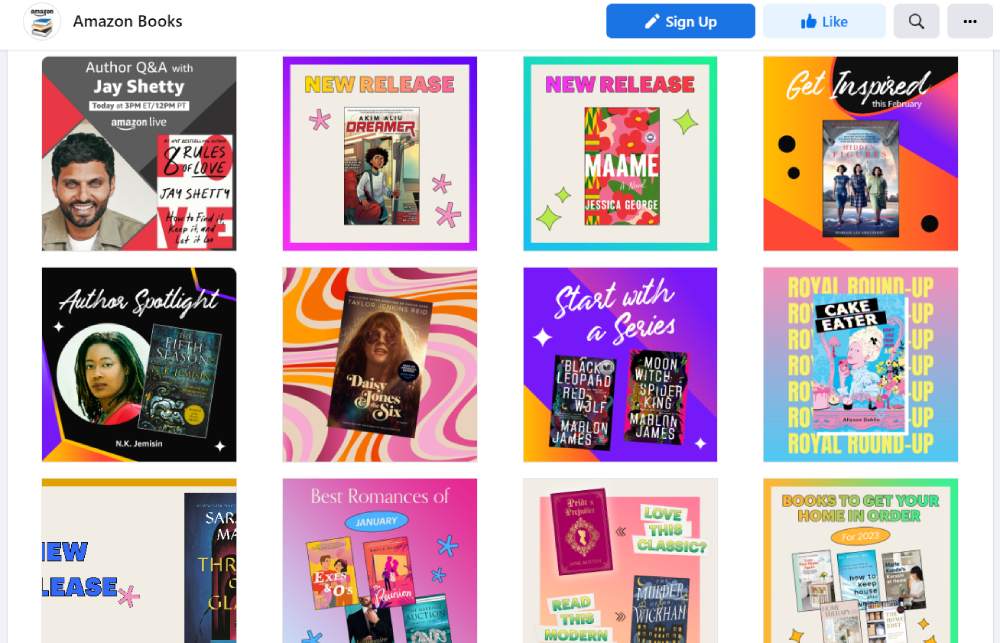 Amazon Books ensures that they promote popular and new books available in their store. They have specific image edits for new releases. Sometimes, they would combine different books to promote a particular theme. Finally, they have visuals for author spotlights too. If you have a variety of images like these, you can check which ones get more engagement when you analyze your posts at a later time.
Why Penji?
Your Facebook business page needs to be updated regularly so that your followers will know that your business is active. The easiest way to update your page is by posting images and videos. But if you want to level up and post various visuals and images on your page, let Penji help you with image edits and interactive visuals. And you can request those once you start subscribing to Penji!
You don't have to worry about creating those visuals all by yourself. Penji will help you with content creation and other graphic design-related projects your business will need. And if your business wants to be one of the thousands subscribed to Penji, try Penji for 30 days and see why companies love Penji!