Your Facebook cover design is crucial as it is often the first impression people have of your business. It sets the tone for your brand, reflecting your values, products, and services. A well-designed cover photo can grab the attention of potential customers and help you stand out from the competition. Whether you keep it simple and elegant or opt for a bold and more eye-catching design, ensure it accurately represents your brand and appeals to your target audience.
Here are ten of the best Facebook cover designs to inspire you:
1. Humans of New York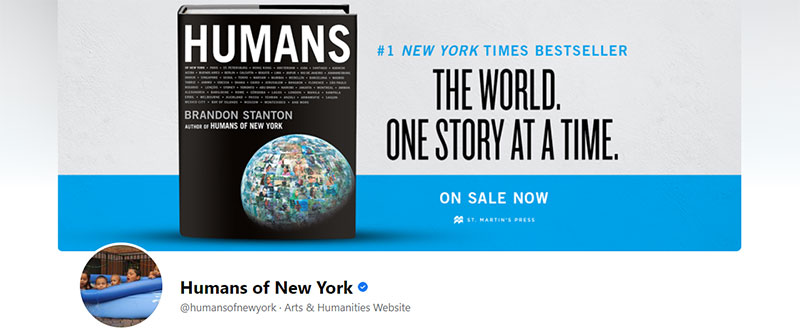 The Facebook cover design of Humans of New York reflects the brand's focus on capturing the diverse stories of the people of New York City. They regularly update their cover photos, but typically, it features a collage of black and white portraits arranged in a grid pattern, showcasing the diverse range of individuals who make up the city.
It is currently promoting a photography book with a vibrant cover image. The Humans of New York logo is present but in a subdued role to focus on the book.
2. The Good Twin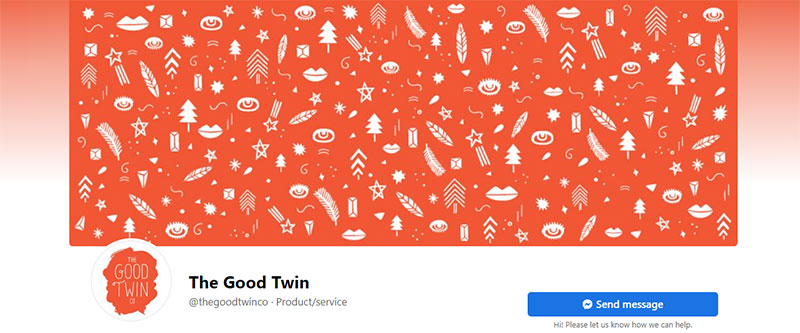 The misconception that graphic design is expensive makes some entrepreneurs avoid great design. You don't need complex and intricate designs to stand out. This Facebook cover photo from The Good Twin is an excellent example.
It is simplicity in action, using only icons and symbols of feathers, stars, lips, and trees, among many others. It is placed against a background with only a single color. Despite this, it is still an attention-grabbing design that effectively shows the brand's personality.
3. BellaSoleil.com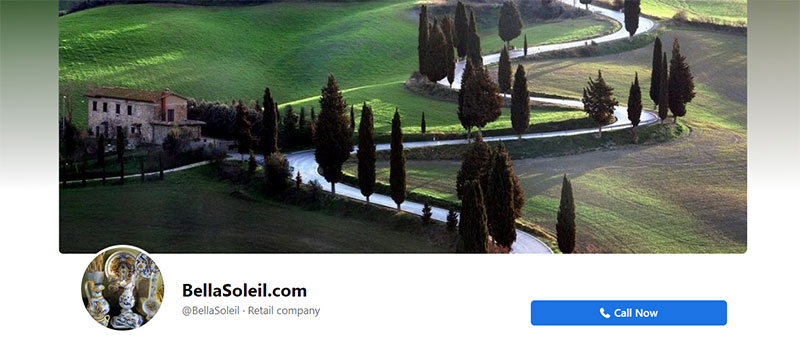 A retail company specializing in handmade Italian ceramics, BellaSoleil.com uses storytelling in its Facebook cover design. By featuring a beautiful landscape of Italy with vast lands and trees, it showcases the company's focus on creating the finest in "practicality & comfort with a distinctive European influence."
The use of such a peaceful and calming image is an effective way to draw in potential customers and set the tone for the rest of the page. Overall, the cover design provides an excellent first impression and tells the company's story effectively.
4. Airbnb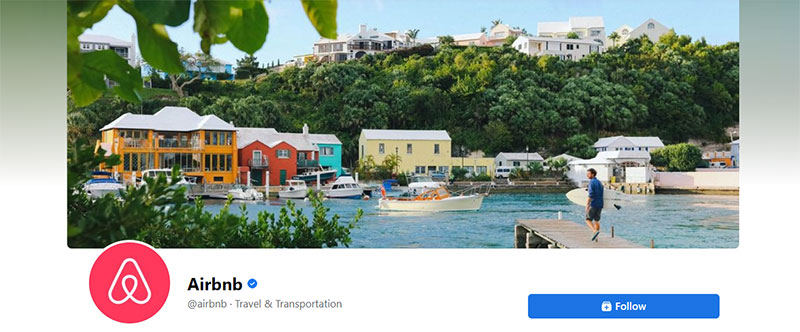 Entice viewers to use your service by giving them reasons to travel, as Airbnb's Facebook cover design does. The cover design features a beautiful snapshot of a marina with colorful boats and houses, showcasing the variety of unique and stunning properties available on the platform.
This design immediately evokes a feeling of adventure, excitement, and wanderlust, encouraging people to explore new destinations and book their next travel experience through Airbnb. The design is visually appealing and effectively conveys the brand's message of providing travelers with a diverse range of properties and experiences to choose from.
5. Elfindor Chronicles

The Facebook cover photo for Elfindor Chronicles showcases the fantasy world and themes of the book. As it is a fictional story, the design features an illustration of a magical world, characters from the story, and a visually stunning scene from the book. It also includes elements such as a book page and some art materials used in its creation.
These design elements create an immersive and visually appealing experience for the audience. The design effectively conveys the fantastical and imaginative world of Elfindor Chronicles and entices readers to explore the story further.
6. Slack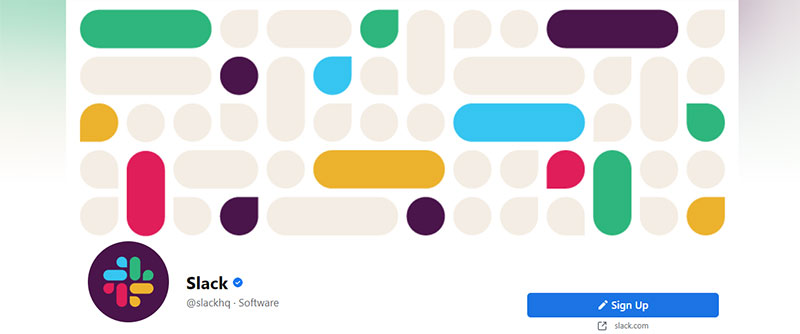 A popular communication and collaboration platform Slack is popular with many businesses and organizations. Its Facebook cover design features its logo as the main focus, extended throughout the cover space to create a visually appealing and recognizable image. The design uses the brand's signature colors, typography, and other visual elements to reinforce its identity and make it easily identifiable.
The design helps build brand awareness and familiarity with its target audience. This is also good as it positions Slack as a leader in the communication and collaboration space.
7. Old Spice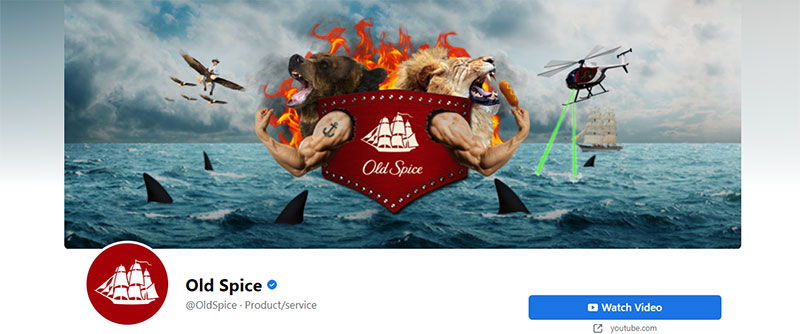 Known for using humor in its marketing and advertising campaigns, Old Spice also uses this approach in its Facebook cover design. The design features witty visuals, such as an illustration of a lion with a human arm holding a corn dog to its face.
By incorporating humor into the design, Old Spice differentiates itself from other brands and appeals to its target audience. This is likely made up of consumers who enjoy a good laugh and appreciate humor in their daily lives.
8. The Tea Spot

Showing your offerings is one of the best ways to get viewers' attention. This is what The Tea Spot did in its Facebook cover photo. It features a pattern of images of its various teas and the ingredients used in the blends. Doing this in a visually appealing and engaging way entices visitors to explore its products and learn more about its products.
Patterns in design can add visual interest, texture, and depth, making it more engaging and eye-catching. They also help create a consistent and recognizable look, making it easier to remember the brand. They can also emphasize specific elements, in this case, the teas.
9. Estee Lauder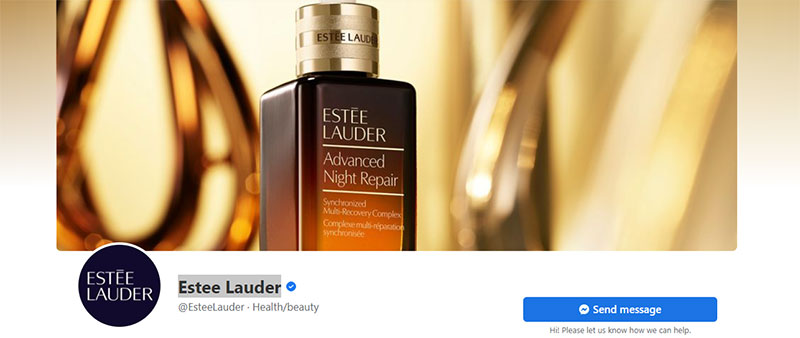 A business' Facebook cover design can also give updates on the company's latest. This is what Estee Lauder does in this excellent cove photo example. Focusing on its latest product offering, the Advanced Night Repair solution, the cosmetics giant creates excitement and interest among its followers, encouraging them to learn more about it and try it out.
In addition, by showcasing the latest product in the cover design, Estée Lauder demonstrates its commitment to innovation and staying at the forefront of the beauty and cosmetics industry.
10. Penji

Being straightforward with your Facebook cover design lets prospects know at a glance what message you need to convey. In this cover photo done for Penji, you can see a sample of our work, plus the fixed rate, which allows you to have as many Facebook cover designs as you can request in a month. Not only that, we can create logo and UI/UX designs, social media graphics, and many other visual assets you will need for your business.
Click on this link today to get our talented designers working for you!