ChatGPT has received a groundbreaking welcome since launching in November 2022. By January, the AI chatbot had amassed over 100 million active users—the fastest among TikTok, Facebook, or other software. OpenAI introduced ChatGPT as a free tool, with an option to upgrade to ChatGPT Plus. Plugins are handy for maximum output whether you're using ChatGPT for personal or business projects. Here's how to install ChatGPT plugins.
1. Sign up for a ChatGPT account
The first step is to sign up for a ChatGPT account. Many developers and users have wanted more from the AI chatbot, and OpenAI delivered through ChatGPT plugins.
2. Upgrade to Plus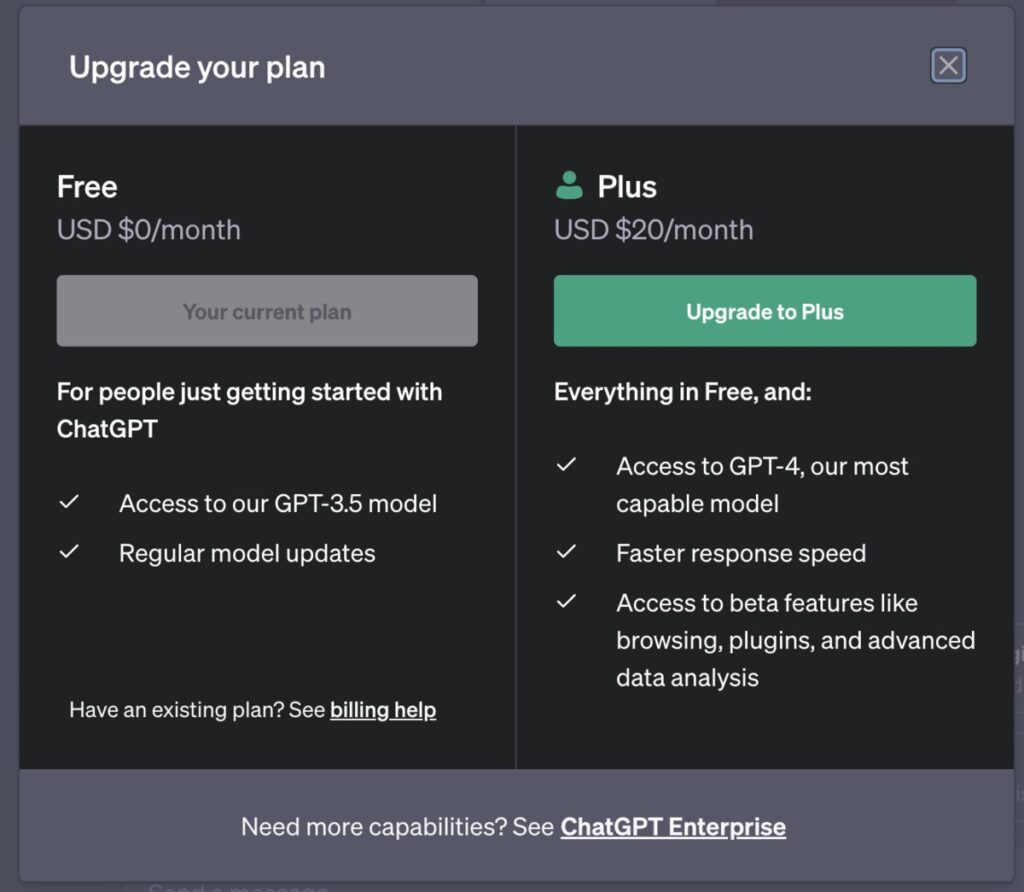 Upgrade your account to ChatGPT Plus to access the plugins store. Go to the dashboard and click Upgrade to Plus in the lower left corner. Choose ChatGPT Plus for $20 per month.
You may also click the GPT-4 option at the top of the screen and click the Upgrade to ChatGPT Plus button. Enter your payment information and click the Subscribe button.
3. Enable plugins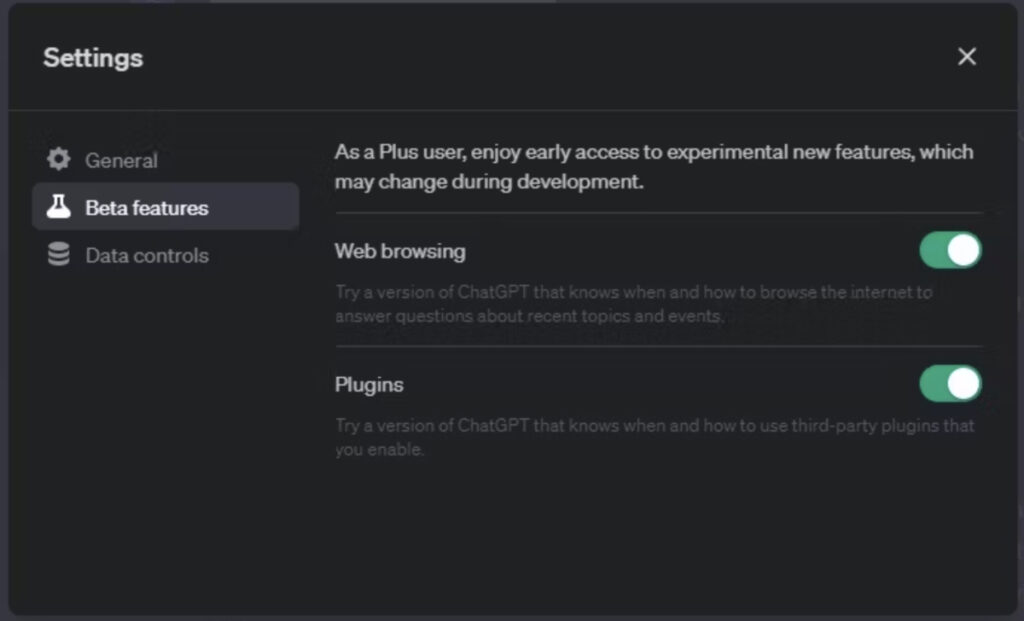 The next step is to enable plugins by clicking Settings and choosing Beta Features. Untoggle the Plugins option.
4. Go to the Plugin store

Once you've turned on the Plugins option, you will see a Plugin store menu on the main page. It will be displayed at the top of the chatbot. Click the arrow beside the Plugin store option.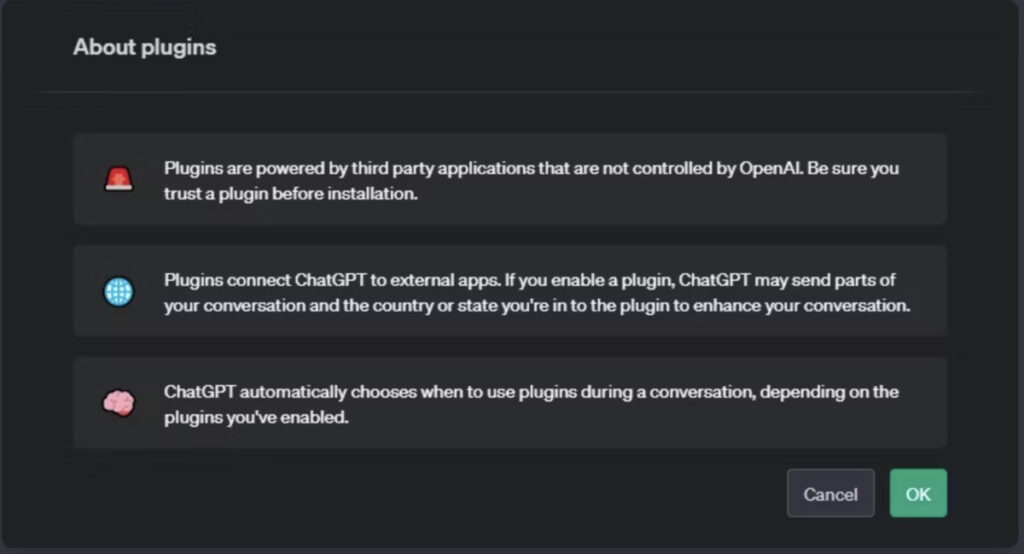 A popup that says About plugins will remind you what ChatGPT plugins do. It should look like this. Click OK.
5. Choose from the Plugin store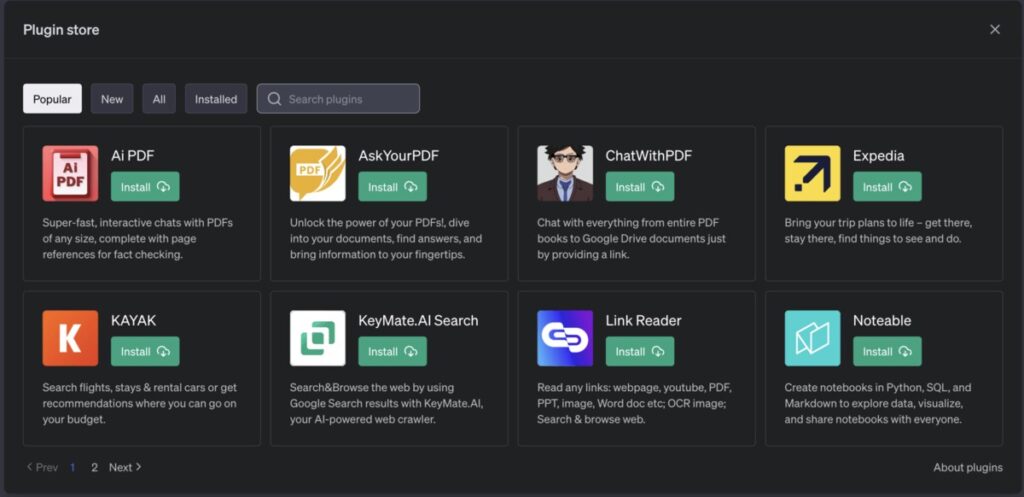 Once you click OK, it will take you to the Plugin store. Choose the ChatGPT plugins you want to install. The plugins are categorized by popularity and recently added ones. You'll also have the option to check all plugins by clicking on All or all plugins installed by clicking on Installed. You may also search for a particular plugin by typing on the Search plugins search box.
ChatGPT included the first 12 plugins in their store, which will be listed below. The AI chatbot also hosts two plugins: a code interpreter and a web browser. The AI chatbot also created an open-source knowledge base retrieval plugin. This should be self-hosted by any developer and ChatGPT promises to extend plugin alpha access to more developers and users on their waitlist.
6. Wait for installation or get redirected to third-party websites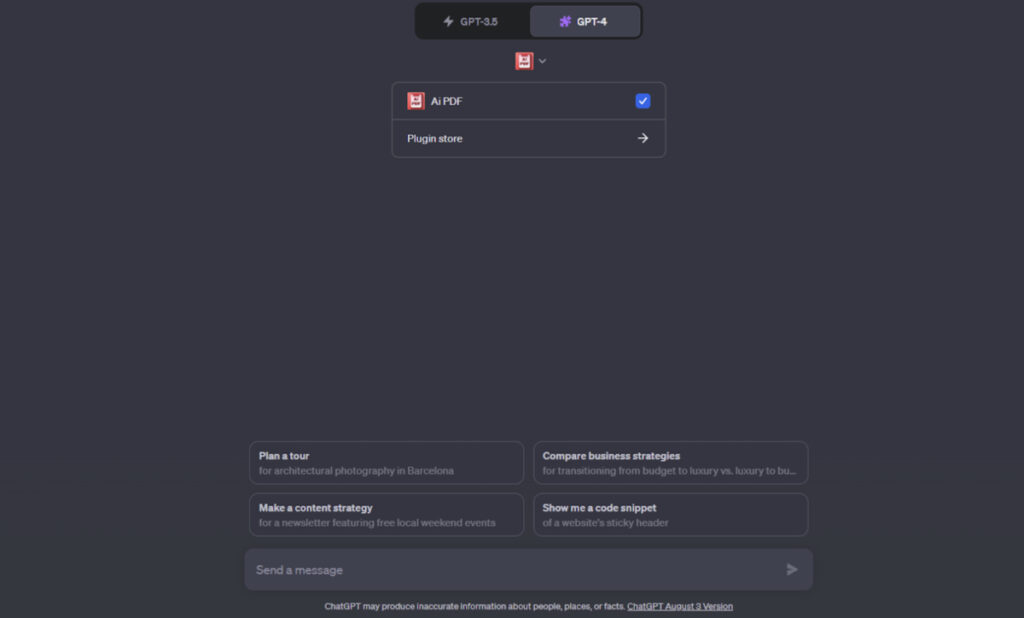 Once you've chosen your preferred plugin, click the green Install button. The installation could take seconds or minutes. Once the installation is complete, the plugin should be added to your list of plugins. You will see the installed ChatGPT plugins in the chatbox area of the platform.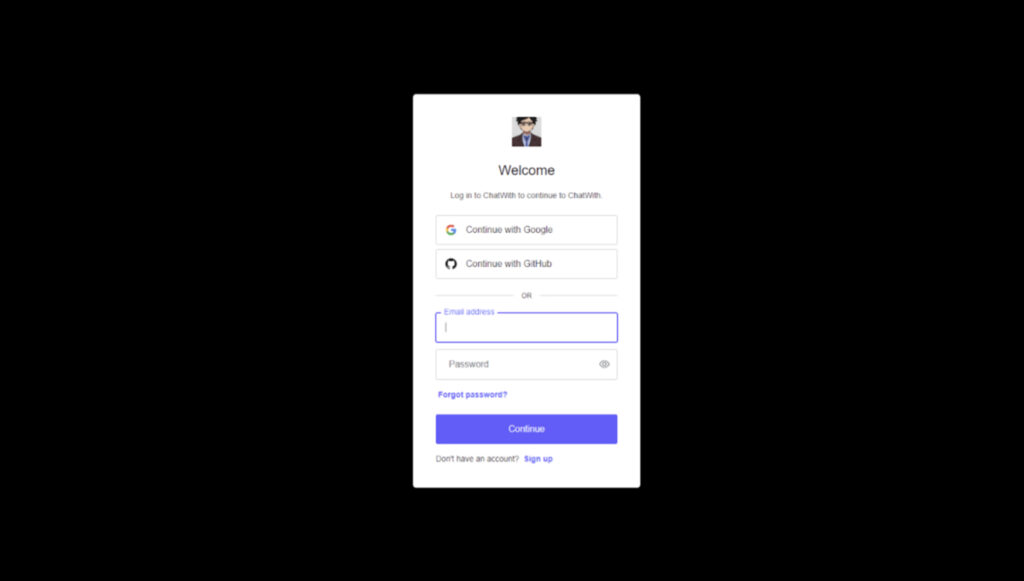 However, some plugins may require you to authenticate ChatGPT integration. So expect to be redirected to a third-party website and fill out a form. It should look like the above image.
7. Enable the plugins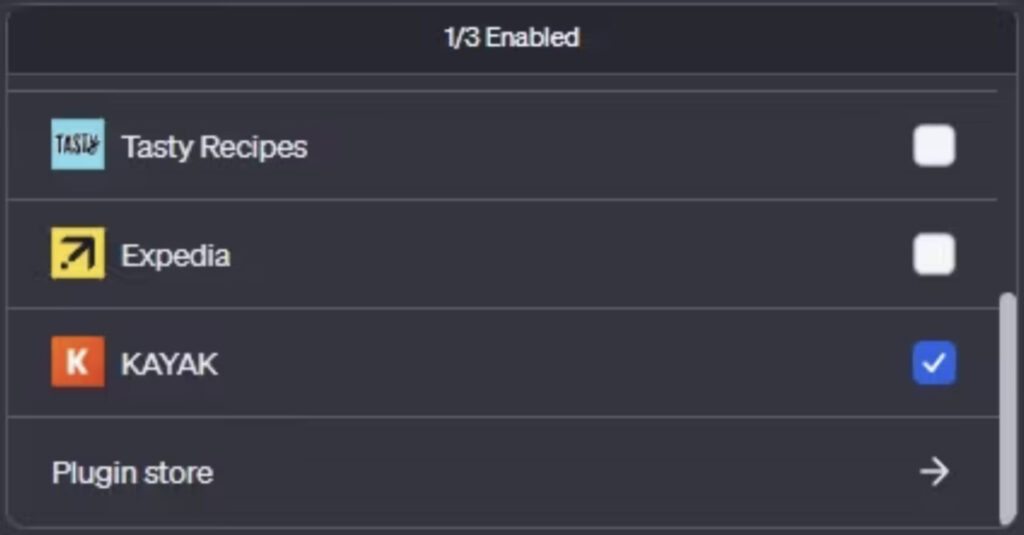 ChatGPT allows you to enable up to three plugins at a time. However, you can always change this by turning it on or off from your list. To enable a plugin, go to the drop-down menu on the Plugin store option and check the ChatGPT plugins you want to use.
8. Use a plugin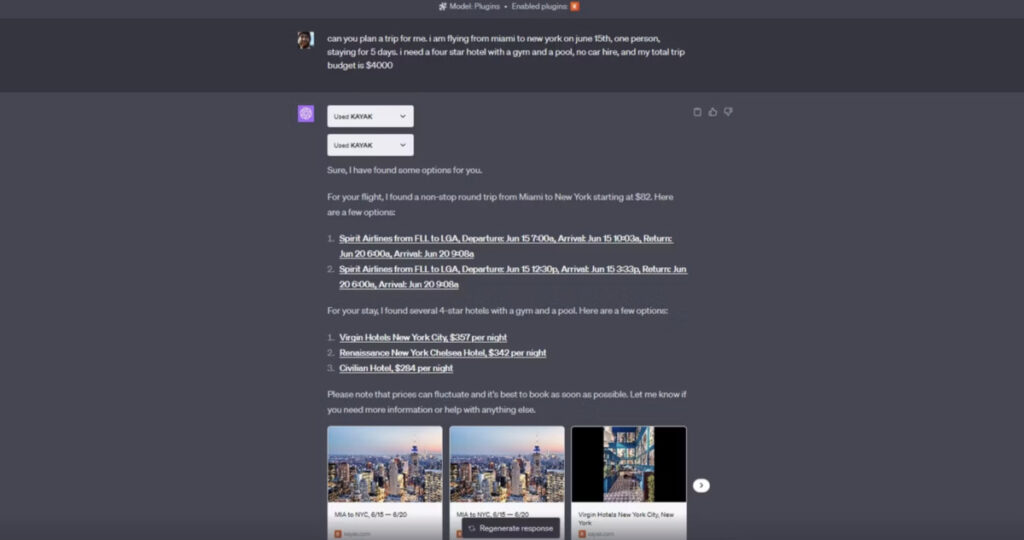 To use a plugin, you must enable it before typing your prompt. The chatbox will show you what plugin was used for the prompt. If you're unsatisfied with ChatGPT's response, you can type the plugin name with your text prompt.
For instance, if you've activated Kayak, the travel ChatGPT plugin, the chatbox should look like the above image.
15 Best ChatGPT Plugins
Here's a list of the top ChatGPT plugins you must try out.
1. Kayak
Kayak is a travel plugin that provides a hotels, flights, and car rental database. It should give you real-time information and is useful when you frequently travel.
2. Ask Your PDF
This ChatGPT plugin lets you query PDF documents and get answers based on the content of the documents.
3. OpenTable
If you're a foodie, OpenTable should be a plugin you must install. It helps you book restaurant reservations on the go. ChatGPT helps with bookings that set the time, date, number of people, and location.
4. Prompt Perfect
If you're not very good at expressing yourself in writing, let Prompt Perfect help you. It enables you to write clear and concise prompts to get the best responses.
5. Music
Music can be a fun ChatGPT plugin you can use to determine what song you need at the moment and what topics you want from it. ChatGPT gives you the lyrics and a link to the website to listen to the music.
6. Expedia
Expedia is similar to Kayak, where you will know flights, hotels, things to do in a particular place, and more. This is one of the first few ChatGPT plugins made accessible in the AI chatbot platform.
7. FiscalNote
This ChatGPT plugin could be a good assistant if you're in political, legal, or regulatory industries. It provides you with necessary and real-time data and information.
8. Instacart
The Instacart plugin helps you order seamlessly and quickly from your favorite grocery stores.
9. Klarna Shopping
If you're shopping for stuff online, you can use Klarna Shopping to compare prices from thousands of online stores.
10. Zapier
Zapier could be a useful plugin if you interact with many other apps, such as Trello, Gmail, HubSpot, Google Sheets, Salesforce, and more.
11. VoxScript
You no longer have to visit YouTube to find videos. Let ChatGPT help you by installing the VoxScript plugin.
12. Speak
Want to learn a new language? Use the ChatGPT plugin Speak, a robust AI-powered language tutor.
13. Milo Family AI
Milo Family AI helps you create magical memories and make parenting easier daily. It provides you with resources and expert advice.
14. Shop
Shop is one of the best ChatGPT plugins for shopping online. It helps you find thousands of products from multiple online shops.
15. Wolfram
Try Wolfram if you're quite the math wizard or want to curate knowledge and get real-time information. You can get accurate computation and learn math quickly with this ChatGPT plugin.