Using ChatGPT for essays is not recommended, especially in the education and publishing industries. While the ChatGPT essay writer tool is an efficient assistant to craft long-form content, that's all it is—an assistant. You can use ChatGPT as an essay writer tool to assist you. Here's how.
Ways to Use ChatGPT as an Essay Writer
If you're writing an essay, using an AI writer isn't approved by your professors. Moreover, AI writing detectors will gauge if the content is written by artificial intelligence. Most of these AI detectors check multiple components.
One is burstiness, which refers to the tone and style throughout the article. If the entire essay sounds monotonous, there's a high probability it was AI-generated. However, AI detectors also consider other factors, such as perplexity, context, internet search, word or phrase familiarity, etc. Check out this article to learn more about one of the most used AI detectors, GPTZero.
Meanwhile, here are some ways you can use ChatGPT to assist you in essay writing.
1. Find topic ideas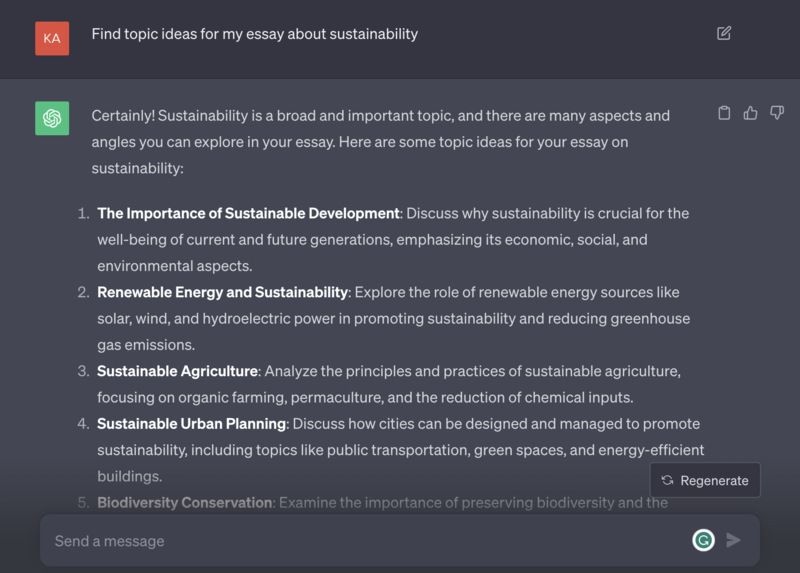 One thing ChatGPT is good at is finding engaging article ideas. The AI writer even provides excellent titles for you to work on. All you have to do is type your essay's general or specific topic and let ChatGPT drill down on article ideas. The platform can generate ideas in seconds that most people can think about in days. This will give you multiple angles to write your essay and introduce you to ideas you never thought of before.
2. Generate titles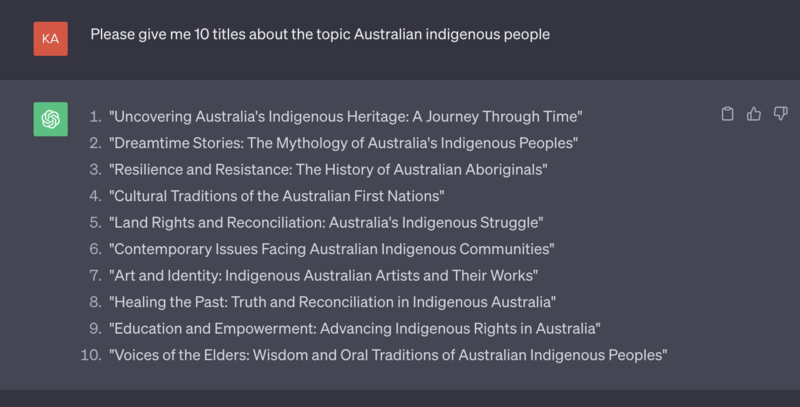 On top of generating ideas, you can let ChatGPT help you generate titles. The AI writer creates good, catchy titles that fit the intended topic. You can choose the best title, revise it, or even use the title suggestions for inspiration.
3. Create an outline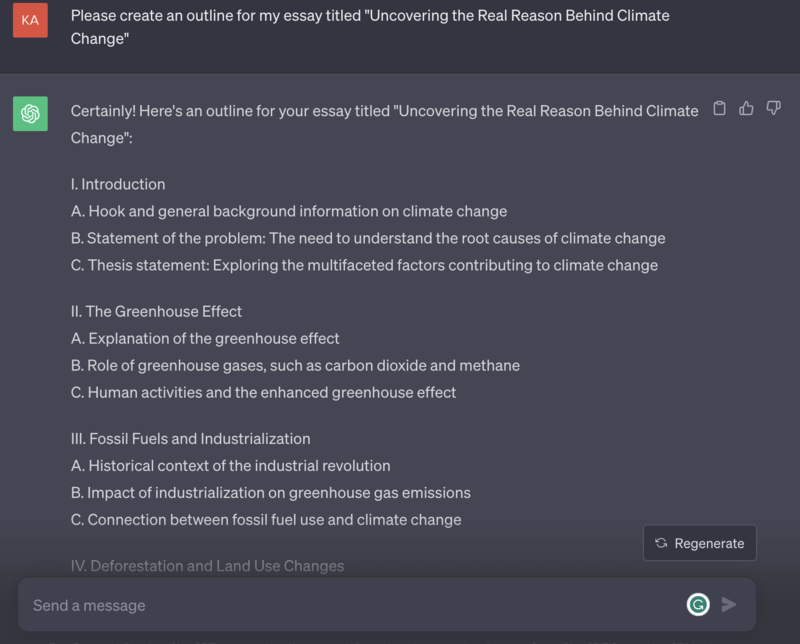 It's forbidden in the educational sector and publishing to use ChatGPT for essay or article writing. A human's creative input is still better than aggregated information from the internet put together by artificial intelligence. This is why using ChatGPT to create outlines is a brilliant idea because the platform gathers many subheadings from similar articles online.
4. Find relevant keywords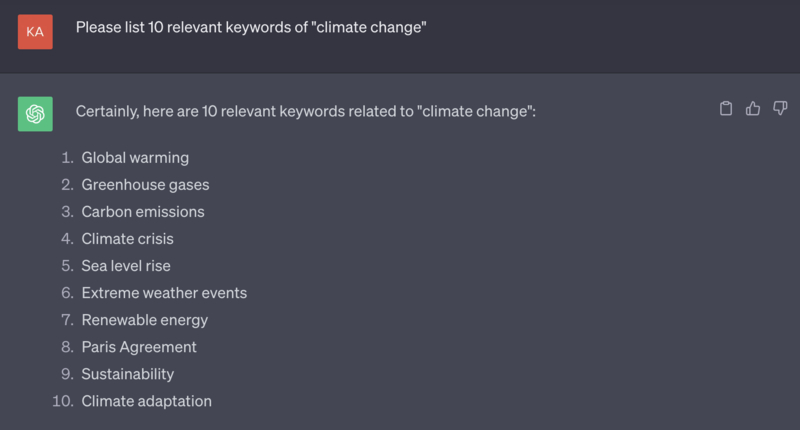 Whether you're writing an essay for business or school or crafting your blog, including relevant keywords is vital to rank on search engines. You can input your text prompt on ChatGPT and ask about the relevant keywords or synonyms for your main topic. ChatGPT will give you a list of keywords in seconds. You may even ask the platform to list more keywords until satisfied. This way, you know you're covering every user query that might give your article more chances to rank.
5. Find reputable sources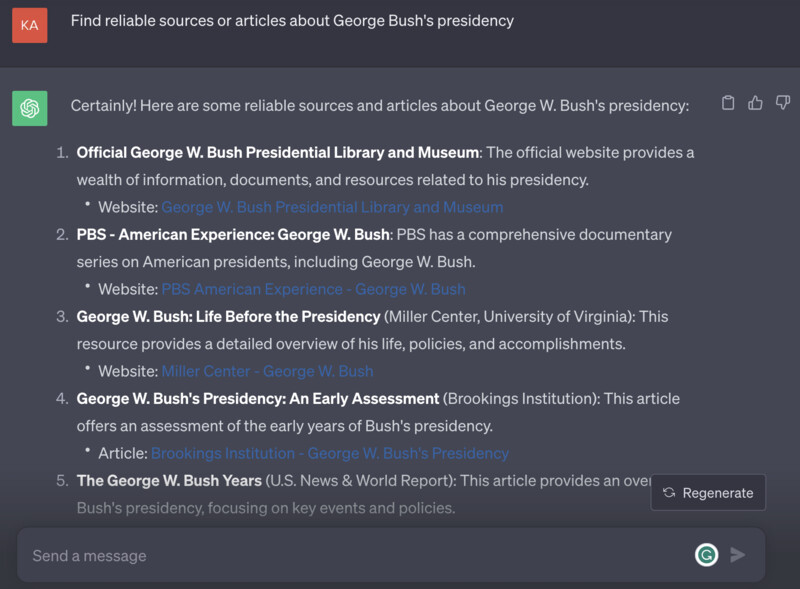 Writing an essay needs reputable and reliable sources for you to write valuable and trusted information. Instead of browsing through millions of articles on search engines, you can let ChatGPT do that for you in seconds. For instance, you can ask the AI tool to find sources for your essay topic. The only caveat is that ChatGPT doesn't have information after September 2021, so it might be hard to find older sources for your paper. Otherwise, you can search for sources manually.
6. Write a sample essay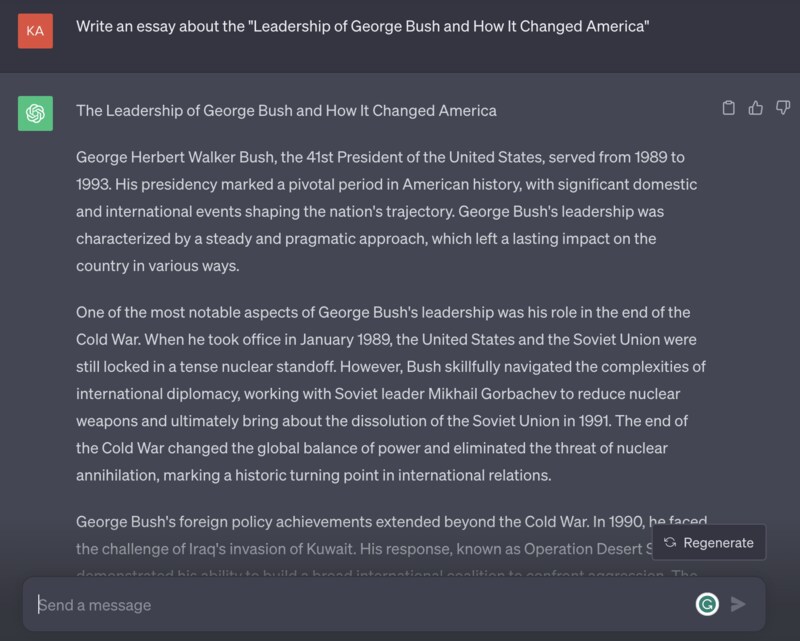 If you're not used to writing essays your entire life and this assignment is a big challenge, you can ask ChatGPT to write a sample essay for inspiration. However, using an AI-generated essay is not recommended as it might be flagged as plagiarized content. What you can do, though, is check the essay's format and structure so you know how to craft your own. You can also use this AI-written essay as inspiration to choose the best angle for your topic.
7. Edit your essay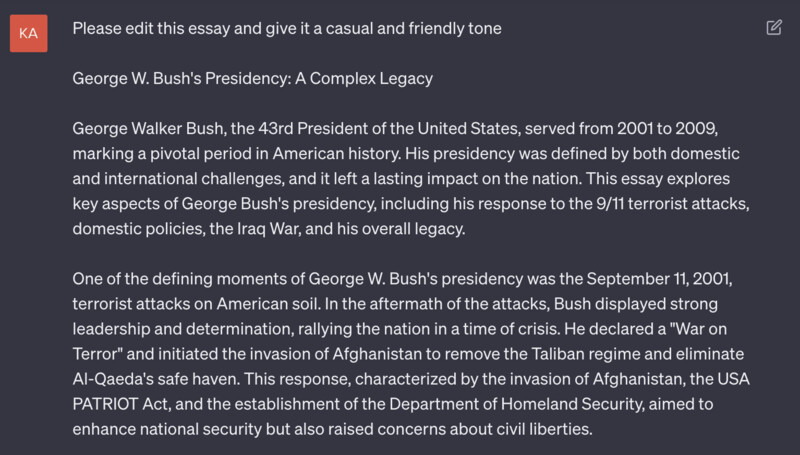 EDITED VERSION: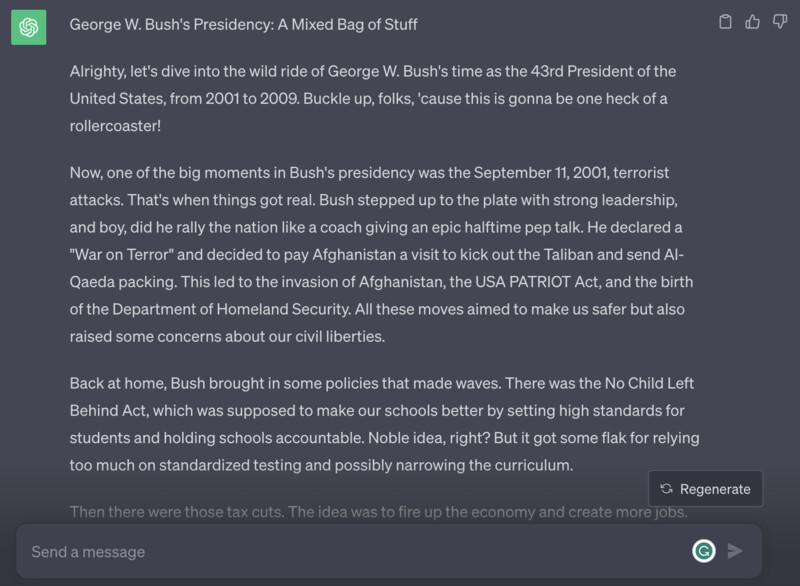 The last way you can use ChatGPT as an essay writer tool is to let it edit your draft. You can input your essay on the platform's chatbox and ask the AI writer to edit the article. Additionally, you can even tell ChatGPT what you want to be edited. For instance, you can ask ChatGPT to edit the tone, flow, structure, and more. However, making the final edit is essential to ensure the piece will pass as human-written content.
Tips When Using ChatGPT for Essays
Considering ChatGPT as your essay writing assistant is a good idea if you know how to use it. Follow these tips to make the most of this essay-writing tool.
Type clear prompts. Always provide clear and concise prompts to get precise answers from ChatGPT. For instance, type all the necessary details if you're working on a specific topic. You can think about a general keyword or topic and follow it up with more specific ones. Then, ask ChatGPT the right questions. Are you writing about the pros and cons of something? Or are you writing about the tips and techniques on a particular subject? Additionally, tell ChatGPT about the tone, structure, and length of sentences.
Filter and refine answers. Once ChatGPT provides you with paragraphs of information, you can filter and refine these. Get the most crucial information and enter a more detailed prompt to dig deeper into this subject. This will make your essay more valuable. Plus, filtering and refining responses will prevent your final write-up from being tagged as plagiarized content.
Include personal opinions. You can use the ChatGPT essay writer platform to create a sample essay. But make sure you're integrating personal insights for a more human touch. You want to include your own voice in your essay so it doesn't seem impersonal.
Verify information. ChatGPT drew flak for providing false information. This is why always verifying information and citing relevant sources is essential. Do your research.
Proofread. ChatGPT sometimes gives you long, compound sentences. Some writeups are even apparent with typos and grammatical errors. Ensure you proofread and edit the final essay on other platforms, like Grammarly or Hemmingway. This way, your writing is easier to read with a good readability score.
Add images. Images are an excellent way to let the eyes breathe from chunks of text in your essay. Images also give your piece a good structure by breaking up paragraphs into smaller, digestible parts. Moreover, images engage the reader, encouraging them to read until the end.
Need help with your essay's images? Work with Penji's professional graphic designers. For a flat monthly rate, you can have unlimited designs and revisions. Sign up now for a 15 percent discount.