Black Friday is still the biggest shopping event on Thanksgiving weekend. That's why businesses and marketers create superior Black Friday graphics during this time more than ever. And if you are managing a small business, you might want to take advantage of the occasion. Hire professional designers from Penji that can work on your marketing visuals.
Plus, want to see a sneak peek of what Penji designers can do for you? We have FREE Black Friday graphics that you can use for the holiday. They're graphics to use for emails, social media profiles, or other posts or printed materials. Don't miss out on these awesome graphics! Get them here now.
In the meantime, check out these Black Friday graphics to make your brand memorable this season.
Why the Best Black Friday Graphics Sells
Experts in the marketing niche know why graphic design will always be a primary success factor. This fact holds true both in conventional and digital marketing. Excellent Black Friday graphics brings customers through your doors. Why? That's because your Black Friday campaigns will serve as the first marketing effort.
For instance, how can a Black Friday poster with a pixelated design ever size up to a poster with clear and powerful graphic design? No matter how big and where a marketer strategically displays the low-quality poster, no one will ever stop to notice if the design isn't compelling enough.
The marketing campaigns should encapsulate Black Friday graphics that stop people dead on their tracks to look and scrutinize. Once entrepreneurs and marketers achieve this, they'll be putting their brands into the limelight. Because mind you, shoppers will always remember the best Black Friday deals with topnotch designs.
That said, here are some Black Friday graphics from big brands that'll motivate you to do yours impeccably.
Top Black Friday Graphic Design Examples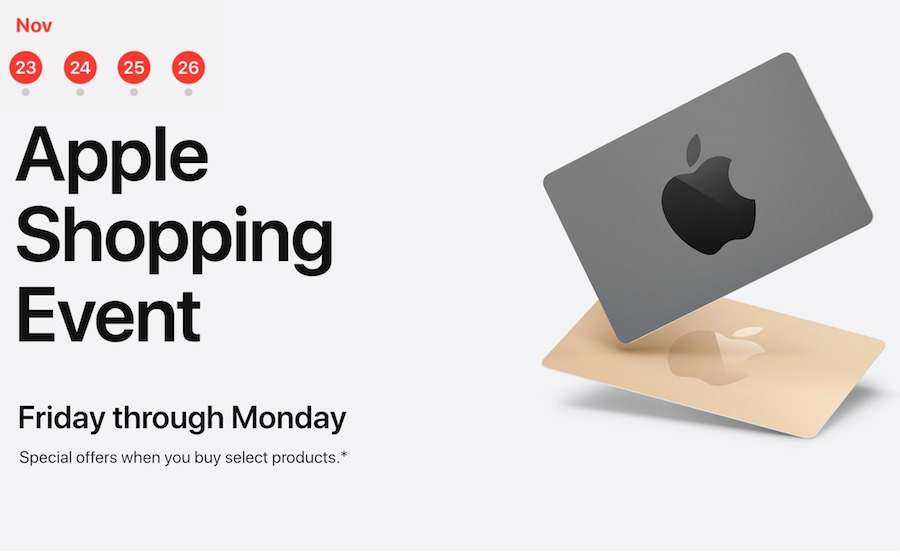 Nothing is more remarkable about this Apple Black Friday graphics that earned brownie points from us than its simplicity. Apple has been known for creating clean and uncluttered designs that are stylish and elegant. And their Black Friday campaign from last year is no exception.
Third-party Apple retailers offered discounted prices for the entire Thanksgiving weekend while Apple stores offered up to $200 worth of gift cards. The sleekness and straightforwardness of the Black Friday design caught our attention. The entire white background gave life to the laptops, dates, and texts on the campaign.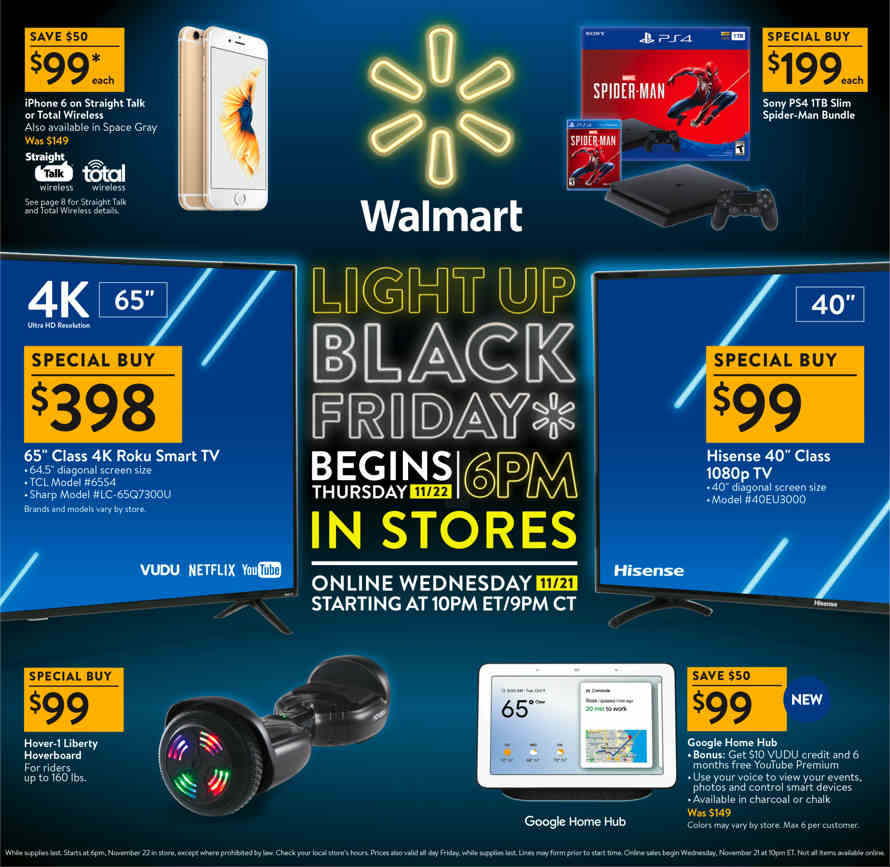 This Walmart marketing campaign dons graphics of the hottest gadgets in town. Walmart has well-played the typography factor too staying true to its campaign to let customers "light up" Walmart stores on Black Friday. Check out their Light Up Black Friday commercial.
It shows a neon lighting-inspired logo and texts surrounded by gadgets with the best deals. The color combinations are also brilliant as the prices on a bright, yellow background enticingly protrude from the overall ensemble.
Udemy's Black Friday and Cyber Monday deal last year was too irresistible. They offered $10 on all courses for their campaign in 2018. With over 90 percent off on some of the courses, users hopped on a particular course in a snap of a finger.
Their Black Friday ad had a flawless overall design with the texts "All Courses: $10" popping out of the black and grey image. Plus, the discernible call-to-action button urges you to click it to view the courses.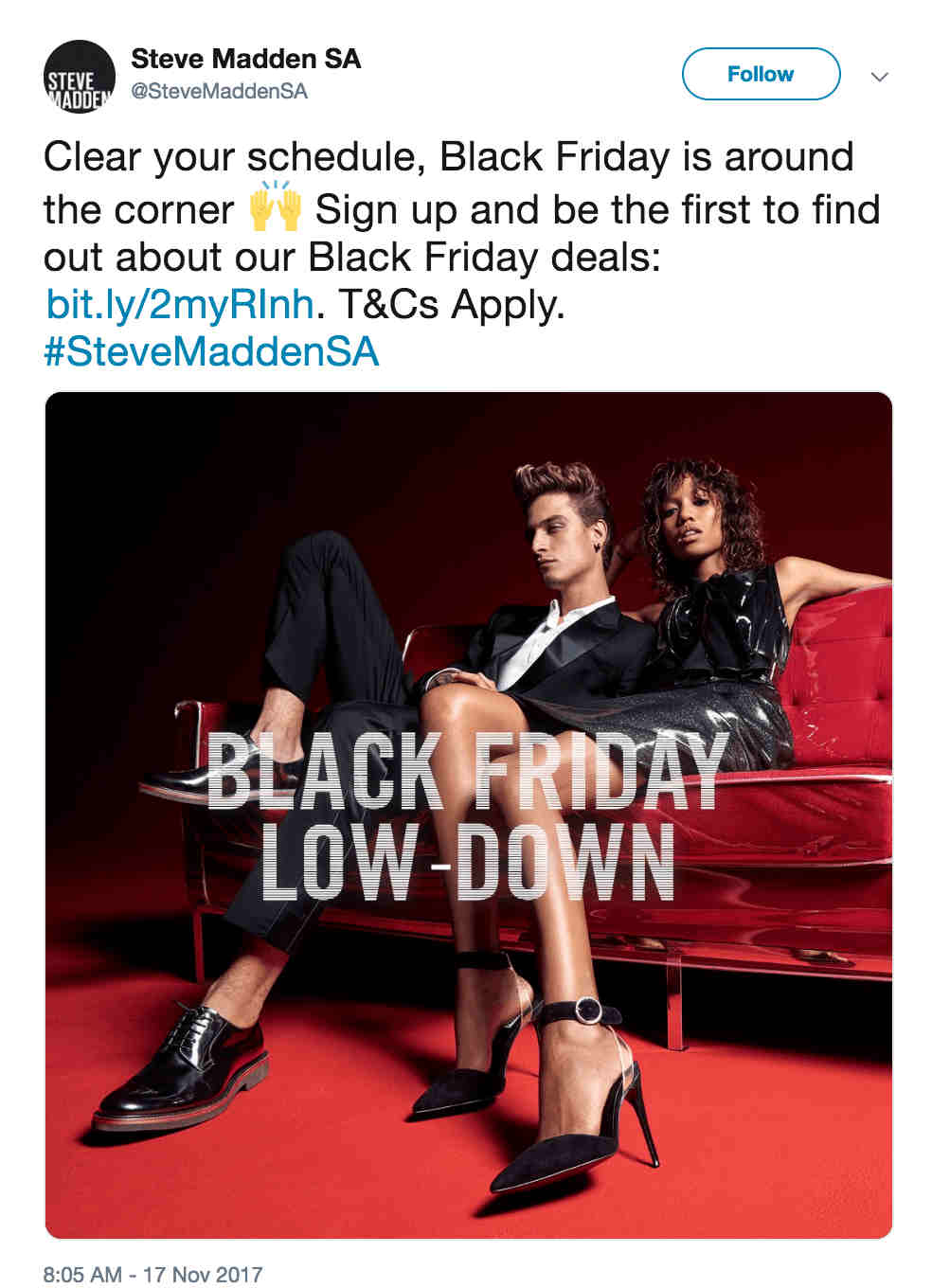 Steve Madden is known for its exquisite and tasteful products, and they didn't disappoint with their 2017 Black Friday campaign. The graphics says it all. They posted this ad on Twitter collecting email addresses for those who want to know the deals before making it 'public.'
This is not only a brilliant way to make shoppers feel like VIPs, but this is a perfect way to reconnect with them year after year. And the two beautiful models with a black suit and dress on a provocative, red couch? Just lustrous!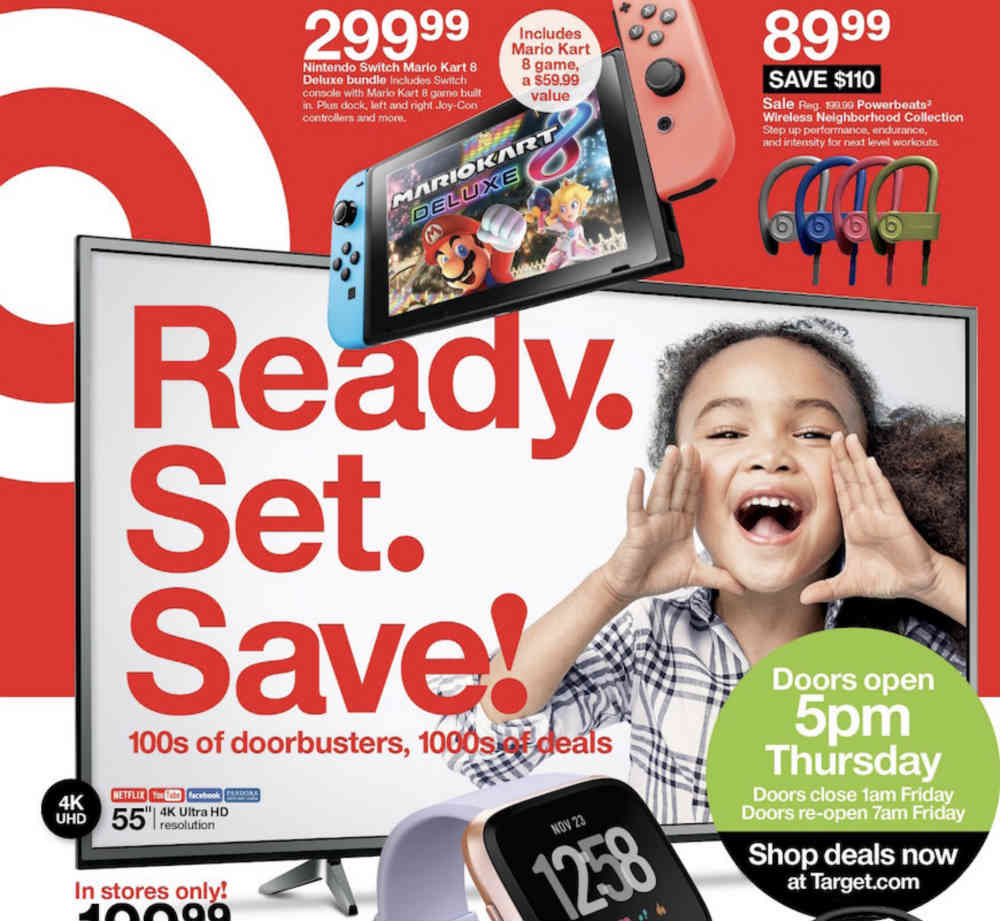 Target is one of the leading brands that take advantage of Black Friday promotions annually. And they never fail with their Thanksgiving weekend graphics too. Gift cards, bundles, free shipping, huge discounts, and more are what we see year after year on their Black Friday ads.
Red is a dominant color that represents excitement, passion, and urgency. And Target took that to their advantage to urge people to grab these limited-time offers. The little girl in the middle surrounded by the logo in the background with the catchphrase "Ready. Set. Save!" ties the entire ad together.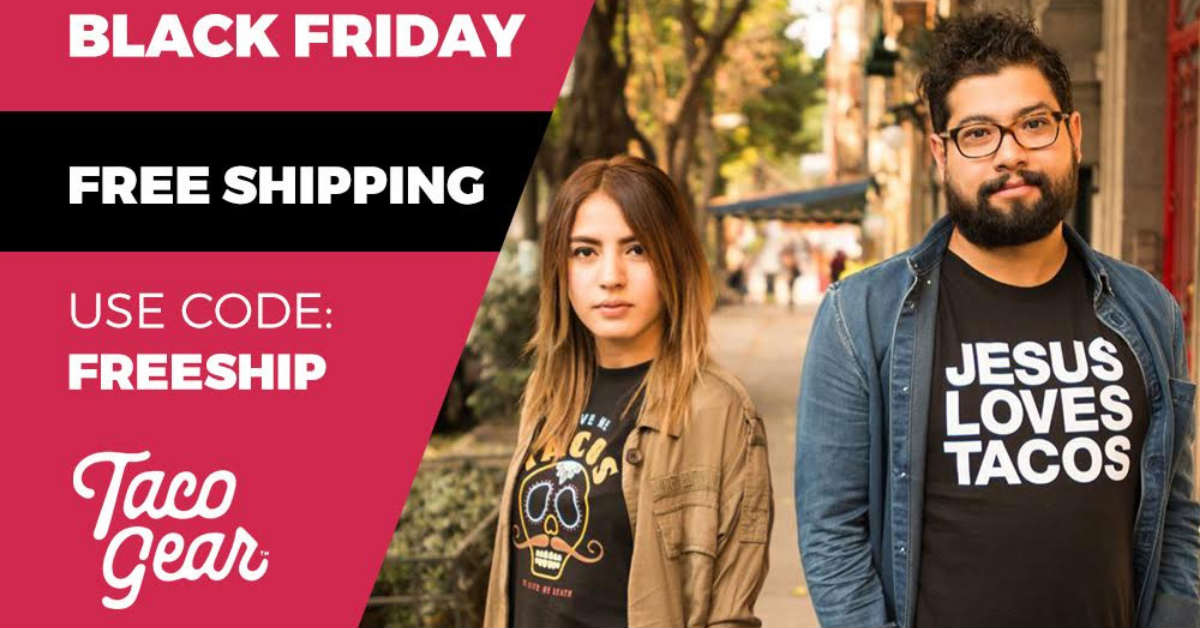 Taco Gear, an online store dedicated to all things tacos, knows how crucial the shipping fee is for shoppers. They know that more than 50 percent of shoppers abandon their carts due to this. And last year, they decided to offer a Black Friday free shipping deal to their online customers.
There's not much going on in this ad except its conciseness and ability to put a face behind the brand. With a photo of two people clad in their funny taco-inspired shirts on the right and the free shipping code on the left, this ad could be everything that shoppers need — nothing more, nothing less.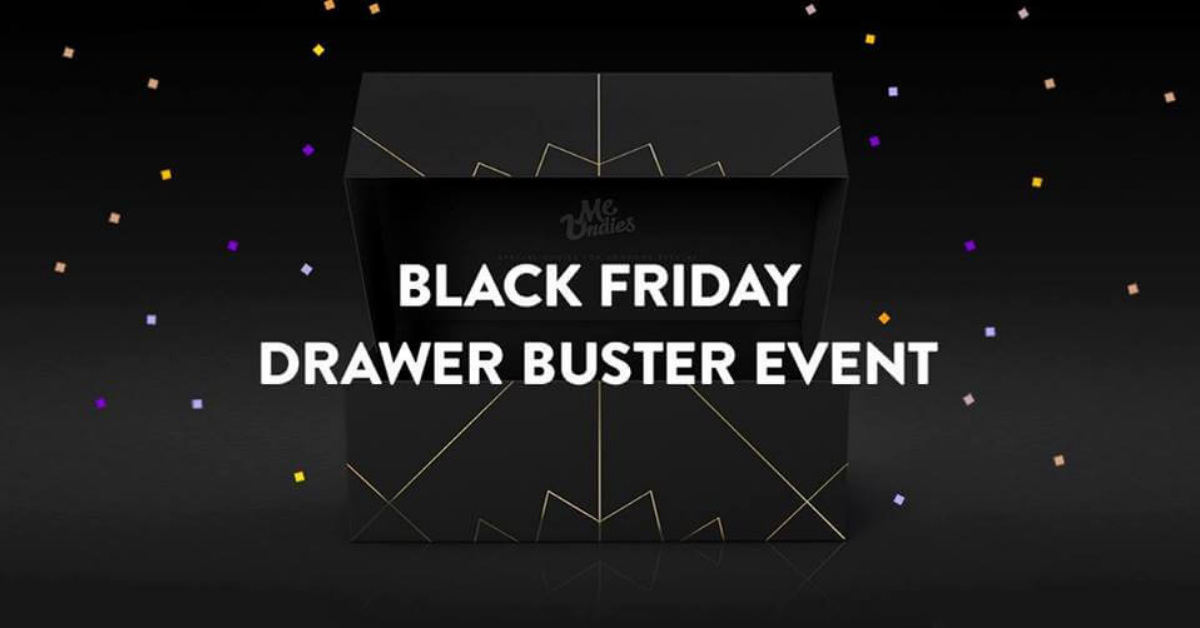 MeUndies, an online lingerie store, brought its social media A-game in 2016 when they hosted a live Facebook event. It was a two-hour event with DJs and dance contests that attracted over 13,000 viewers. As more and more people joined, MeUndies unlocked bigger discounts. Overall, this event reached over 600,000 people that created a buzz online.
Their Black Friday design was also simple yet eye-catching. With black and white as the primary colors, the ad denotes an edgy and chic vibe akin to the unique event.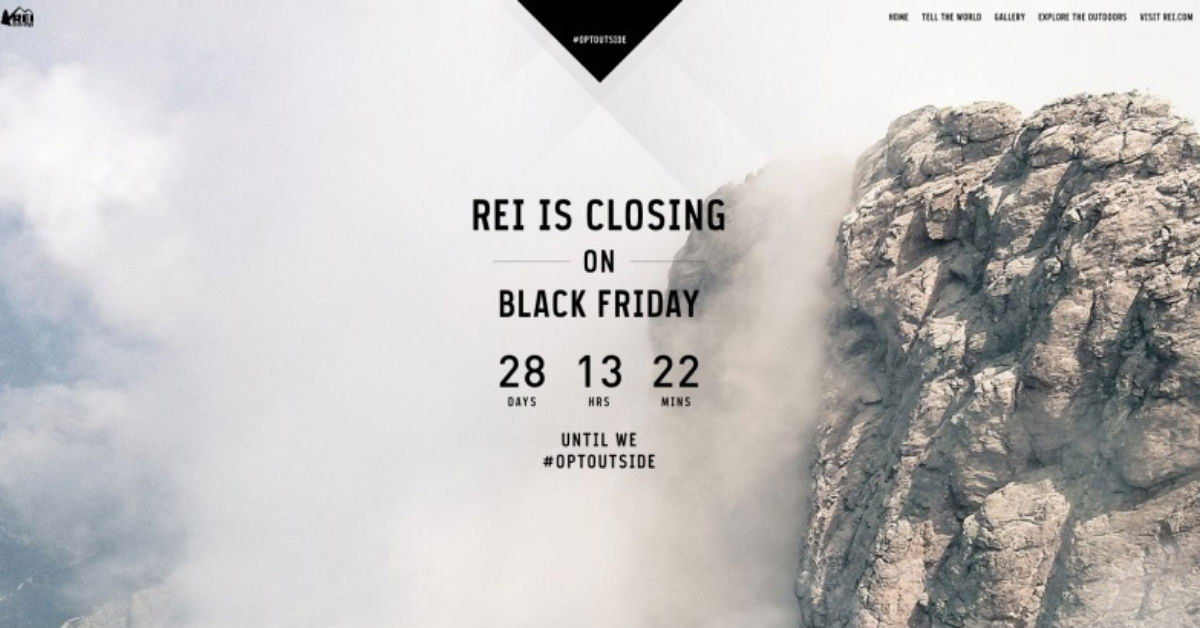 REI's Black Friday #OptOutside ethos is completely unorthodox from all the other brands, that's why we love it! While people are in a shopping madness on Black Friday, REI still stays true to their branding. Their stores close on Black Friday, and they encourage their employees and people to spend their time outdoors instead of getting consumed by all these exclusive deals.
While they release various compelling Black Friday designs every year, the foggy cliff with a simple countdown is a cut above the rest.
Use Penji for Your Black Friday Graphics
If you are planning to create your own Black Friday graphics, it's going to take up so much of your time. You might as well focus on getting more clients or organizing your inventory. Leave all the graphic design requirements to the experts such as the Penji team. We recommend that you use their services because they have an app that can make requesting designs a breeze. Here's how to use it.
Request for Black Friday Designs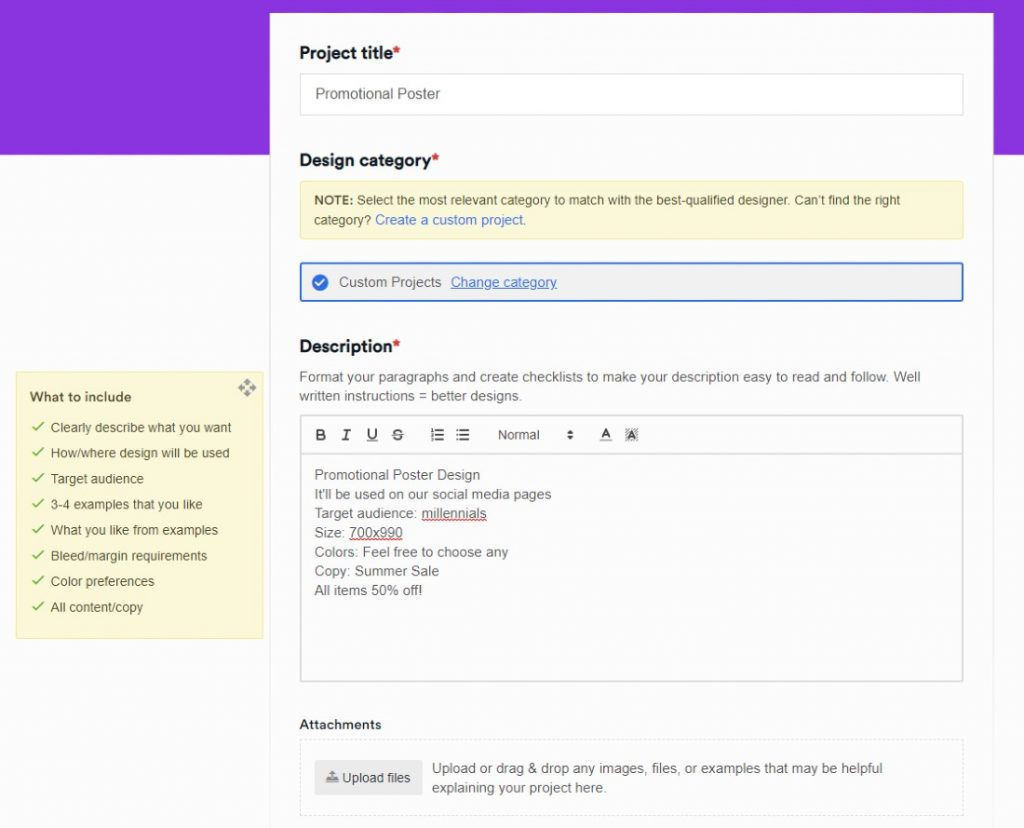 Once you sign up with them, you can now get access to their app. Don't worry if you are not tech-savvy as their platform is easy to understand. Look for the New Project button which is located at the top right corner of your screen. Click that and you will be directed to a new page.
From this page, you can now send your request. There are guide questions and even a checklist so you will know what information the designer needs.
Send the request and wait for the first draft.
Ask for Revision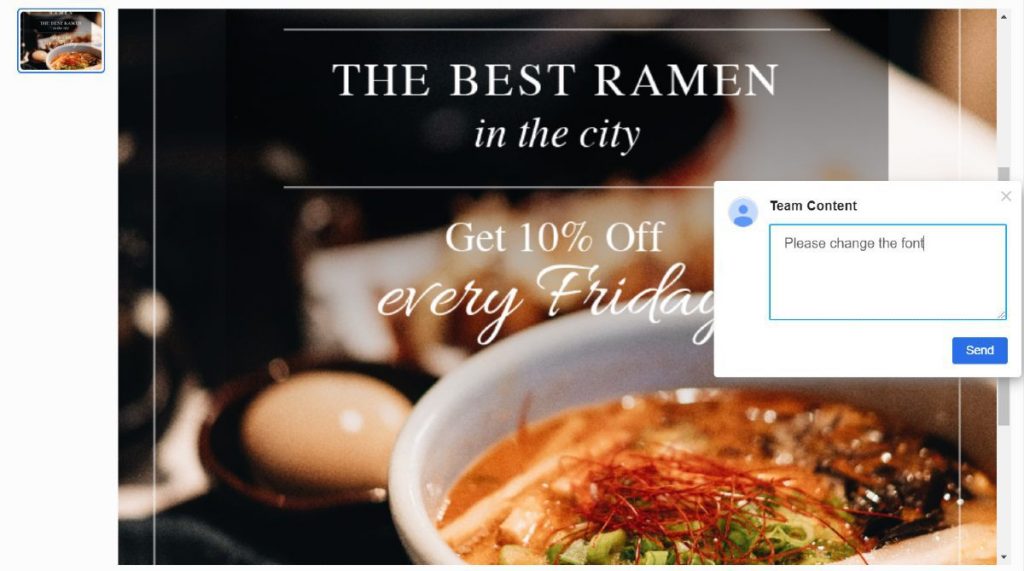 Within 24 – 48 hours, you can expect your first draft. To have a closer look, click the image and see if there are details that need to be changed. If there are, type your comments directly and send it back to the designer.
However, if the first draft looks perfect, you can proceed to the last step right away.
Download and Start Promoting Your Brand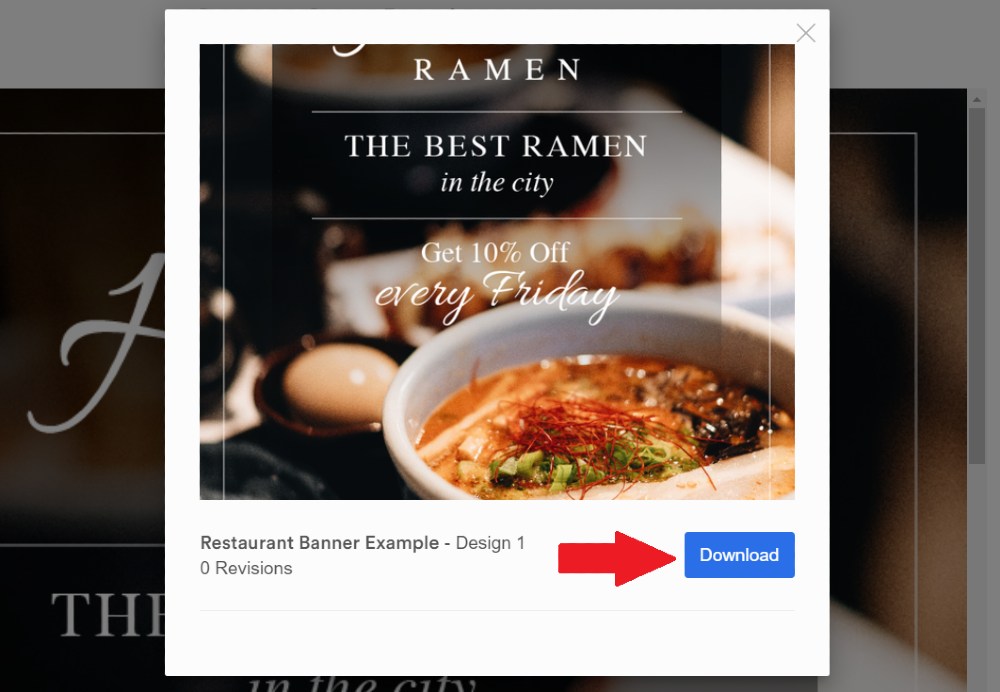 The source files are always available for you to download. So even if you check during the wee hours or late at night, you can get the files and start working on your promotion. The Penji app eliminates the need to send multiple emails if you want to request the raw files from the designer. Thus, making the process efficient.
They guarantee outstanding marketing graphic designs that work. You must sign up now and enjoy the non-stop sales you'd get online thru your visuals.
Wrap Up
These brands are just a handful of the prominent companies that raked in huge earnings during Black Friday. Follow their lead by creating Black Friday graphic designs that initiate a buying desire. Whether you hire a graphic designer or use online tools, ensuring high-quality graphics will give your brand more leverage than others.