When people hear outdoor marketing, they usually think it's outdated, archaic, and uncool street advertising. And seeing the impact of the digital shift, you can't blame them. However, ventures who are turning out their backs on outdoor marketing miss out on a lot of opportunities.
Outdoor marketing is tried and tested. Just look at the billboards around you, and you'll see that even the most prominent brands are still using them! Want to put your outdoor marketing strategies to good use but don't have the creative chops to make designs? Stick until the end and get an outdoor marketing design code for 25% off the first month of your Penji subscription.
Want to jumpstart your outdoor marketing strategies? Sign up with Penji today and add code OUTMARK15 for 15% off your first month.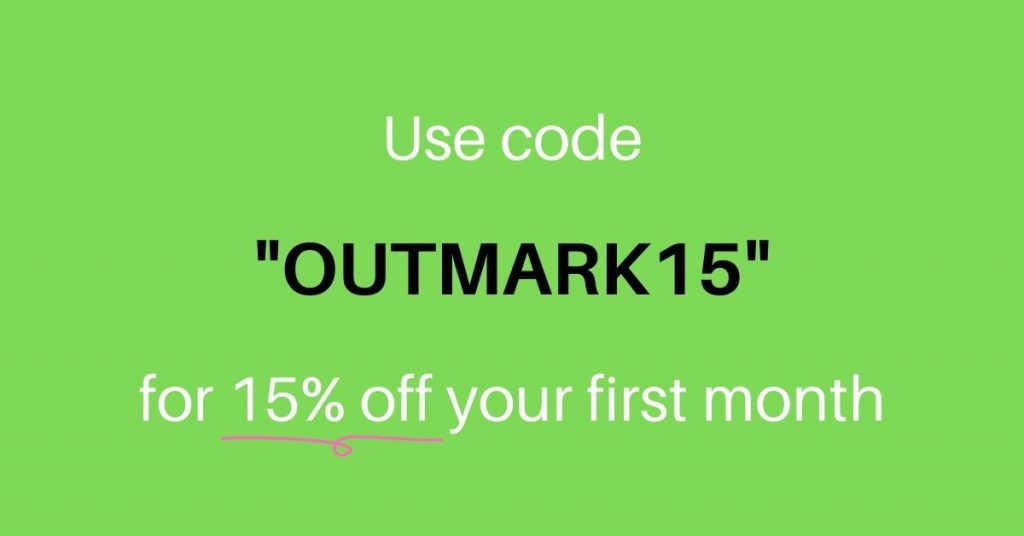 Does Outdoor Marketing Still Work?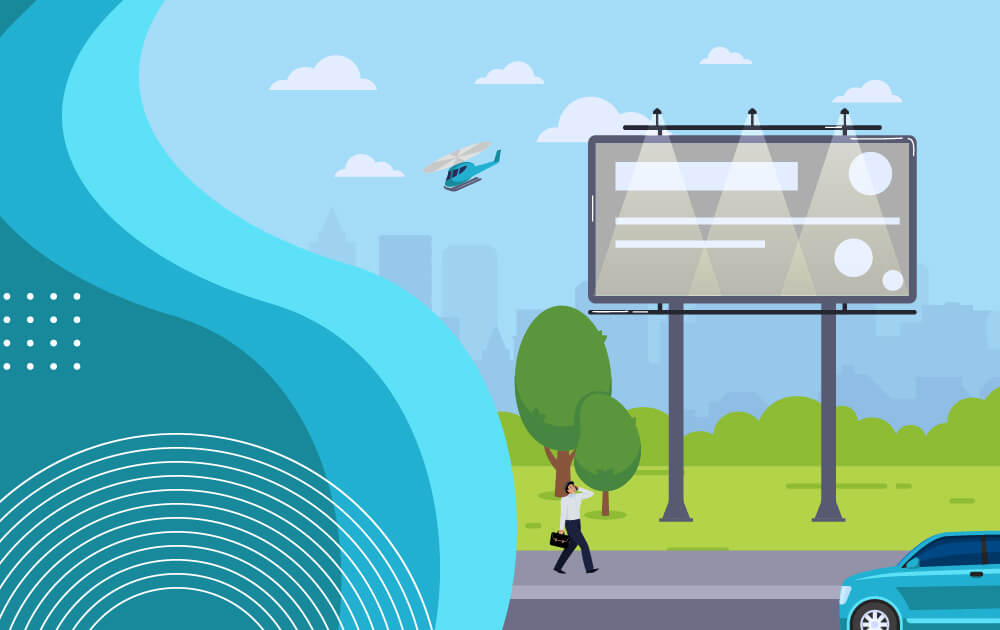 Some people tend to think that with the rise of digital marketing, street marketing has lost its potential to influence people. However, if that were the case, we wouldn't see outdoor marketing around us anymore, would we?
Here are a few points that prove outdoor advertising is still powerful amid the rise of the information superhighway:
Many people spend a big part of their day outside their homes. In fact, it's estimated that people engage in outdoor activities for about 8.74 hours per day. During this time, the most efficient way to reach your audience and grab people's attention is through outdoor marketing.
Outdoor advertising is inevitable. You can't hide a billboard the way you close a popup window. And they end up consuming the information without even realizing it.
It's pervasive and subtle at the same time. No one forces you to look at it, but it's so prominent – and sometimes compelling – that you can't avoid it.
Outdoor marketing does a great job of constantly reminding people of your brand. Keep in mind that visibility nurtures familiarity. And familiarity builds up trust. If you aspire to reach your customers and build some familiarity, then outdoor marketing can help you more than you think.
To help you start, here are proven outdoor marketing strategies that can boost your brand visibility:
1.Billboards
If you want to make a strong impact, creative billboard ads should be on your list of strategies. According to Out of Home Advertising Association of America, 2020, Q1 revenues were 4.8% higher compared to 2019, proving its steady growth.
With today's technological advancement, billboards today have become a lot more creative in terms of form and content.
For instance, moving and digital billboards have made it possible for brands to make an even greater impression among commuters. After all, an oversized visual is attention-grabbing enough in itself – pair that with moving graphics, and you're guaranteed to turn heads.
Here are a few things to consider when going for billboard advertising:
Size and location matter a lot when it comes to billboard ads.
You need to make your billboard impossible to miss.
The more creative and entertaining your billboard is, the more impact you'll have on your customers.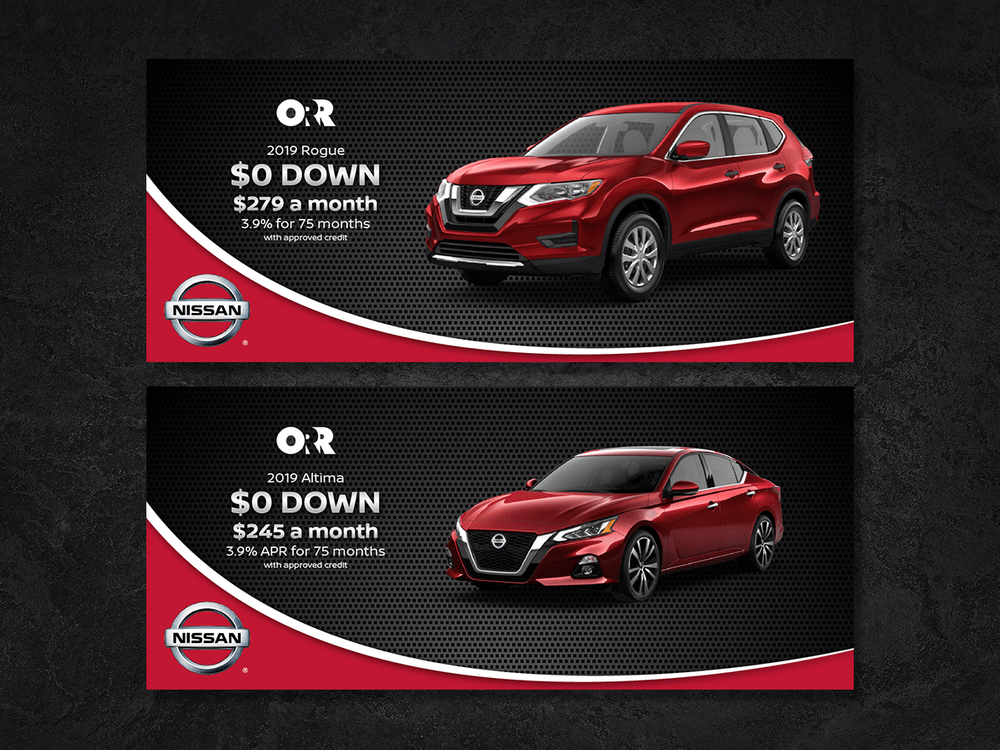 TIP: Your billboard design should catch attention but shouldn't be an eyesore. You wouldn't want your brand to be remembered for the wrong reasons! This billboard ad created by Penji is a perfect example of a clean design that makes an impact.
2. Transit Advertising
Transit advertising is displayed on public transportation (bus, train, subway, etc.) or public transportation areas (bus station, subway station, airports, etc.). These ads may be attached directly to the vehicle, such as in the form of car and train decals. In the same vein, it could also be in the form of posters and live boards placed near the platforms or waiting area.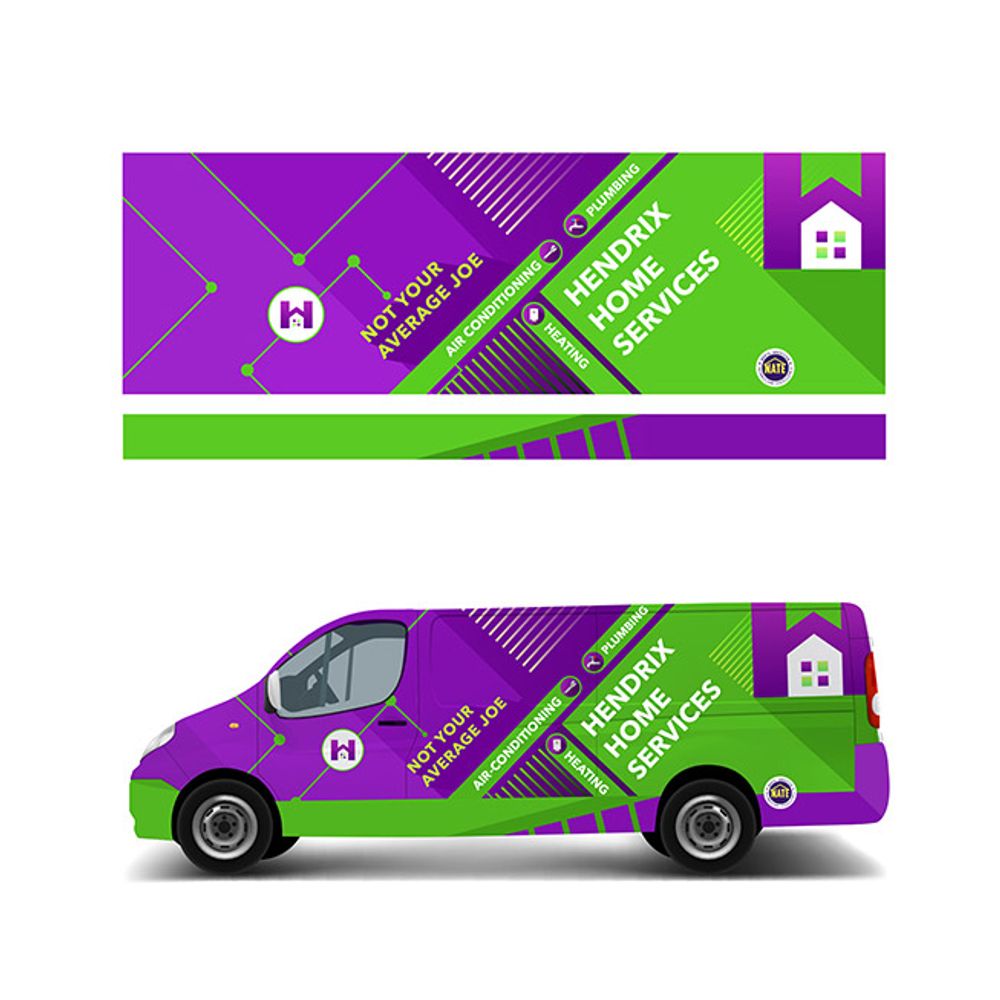 Wherever people are waiting, there's potential for advertising. The objective of transit advertising is to constantly display your ads in front of riders and familiarize them with your brand.
Create smart, effective campaigns efficiently

Meet your conversion goals using visuals that stand out

I need this!
3. Street Furniture Advertising
Street furniture advertisement is about using equipment like benches, bus shelters, kiosks, parking garages to display your ads. This kind of advertisement is mostly targeted towards pedestrians.
Generally, this type of advertisement affords to include some details in the ad. Street furniture ad's audiences usually have the time to check out the ad and even take pictures.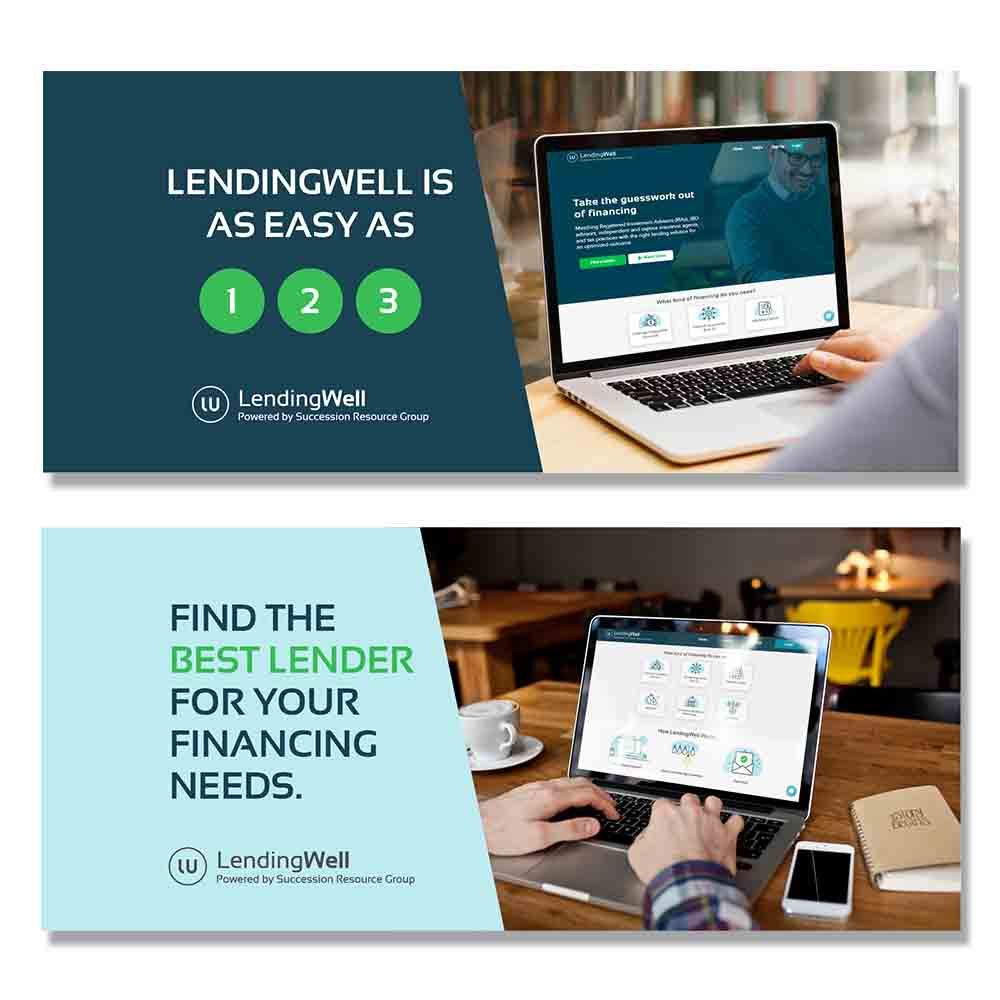 If street furniture ads are something you want to do for your brand, consider the following tips:
Make sure that the design specifications are precise and tailor-made for the unusual surfaces that would hold the ads.
Use a color palette with hues that don't clash; again, you wouldn't want to create an eyesore.
Limit the text. Your audience will most likely be on the move while viewing the ad, so it's best to keep it simple. For instance, this sample made by one of our designers shows a straightforward design that would look great on a bench backrest or a waiting shed.
4. Point of Sale Displays
This type of advertising is positioned next to the point of sale – for instance, the checkout section at stores. Point of sale displays catch customers' attention at the point of purchase.
Here are some types of point of sale displays:
Free-standing display units (FSDU)
Shelf edging
Dummy packs
Standees
Counter display units (CDU)
Display packs
This kind of advertising is effective because it targets an audience that's ready to checkout. As people are already buying, they're more likely to add another item to their purchase. That said, it's an excellent chance to offer discounts to give the customer that final nudge to buy.
5. Retail Advertising
Retail advertisements usually promote a product or brand present in the retail location and invite the audience to visit the store. They take up a large surface on walls, roofs, floors, windows, or screens. In the same vein, they can also be inserts in newspapers or even flyers.
Here are a few factors that define this ad type:
Unlike regular banners or billboards, retail advertising's main purpose isn't specifically to raise awareness about the brand.
The main objective of retail advertising is to compel customers to visit the store close by.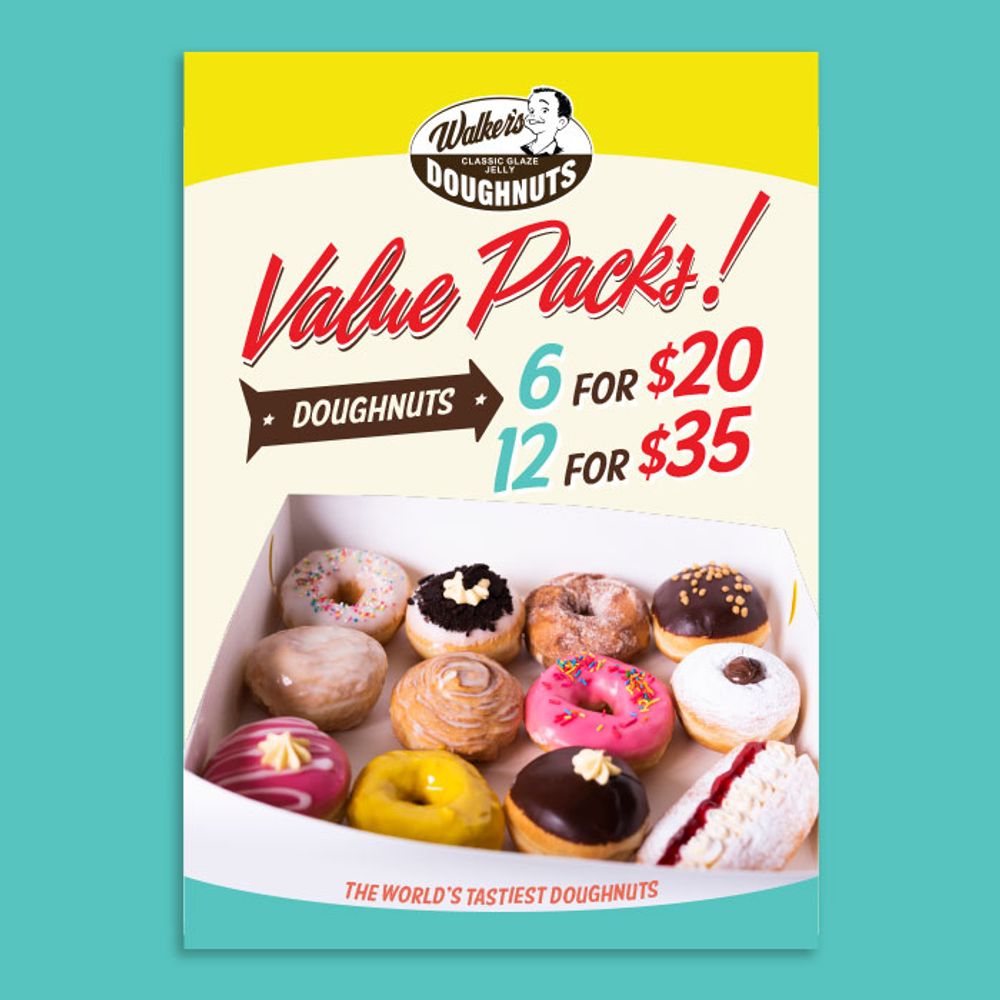 LEARN FROM THE PRO: Take a look at this advertising art made by one of our designers, for instance. The flyer uses the power of visuals (look at those delectable-looking donuts) and the impact of value (price packs presented) to convince prospects to buy.
6. Sticker Marketing
For a long time, stickers have played important roles in the political and artistic sphere. They're low cost and long-lasting. Politicians and musicians have both used stickers to promote their name and gain visibility.
Although not often considered in marketing, stickers can be a great outdoor marketing tool for your business. Why? Well, here are a few reasons:
Stickers turn customers into your brand advocates. When they use those stickers on their laptops, water hugs, or any other stuff, they instantly market your brand.
People love freebies. And by giving away stickers with purchases or at events, you're making your audience feel that you're offering them added value.
Sticker marketing offers permanence. Unlike digital freebies such as wallpapers or eBooks, customers can keep them for as long as they want.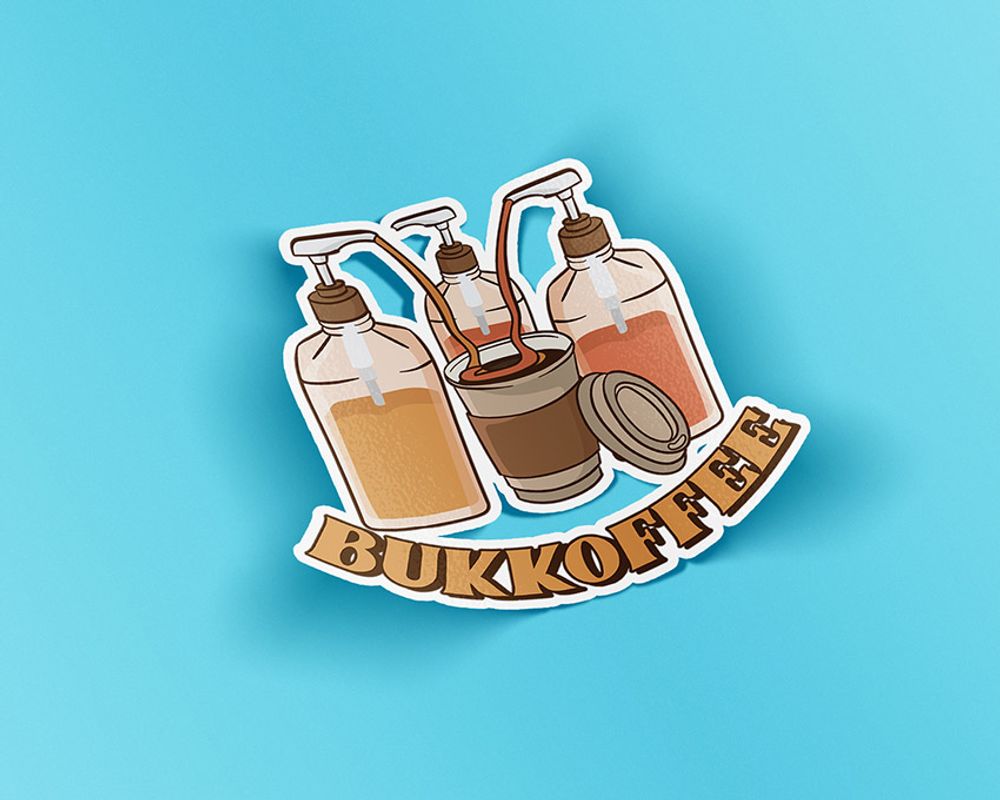 TIP: Make sure that your sticker displays creative images, just like this one made by Penji. People should find the stickers cool enough that they want to stick it on their belongings. Otherwise, it will just be a waste of ink and adhesive.
7. Guerilla Marketing
Guerilla marketing is an alternative outdoor marketing strategy that relies on creative and unique advertising to attract customers. It's a low-cost tactic, and it's different from anything customers have seen before. Guerilla outdoor marketing is about experimenting and trying new innovative and affordable marketing ideas to yield maximum results.
Guerilla marketing is effective because it's creative and witty. It gets people's attention but also creates social media buzz.
Here are a few examples of how to pull off guerilla marketing:
Art Installments. Want to get attention? How about placing a giant version of your product in a high-traffic area? We've all seen this done before and it surely turns heads.
Floor Ads. We usually see ads on walls, benches, and even vehicles. One surefire way to catch your audience's attention (at least those on the upper floors of a building) is by placing your ad on the ground floor.
Flash Mobs. They may seem like they belong in the early 2010s, but you gotta admit – those things make an impact! Plus, there's that benefit of going viral, so that's traditional and digital marketing in one.
8. Outdoor Events
If you want a disruptive outdoor marketing campaign that channels energy and has a human touch, consider outdoor events. Here are a few examples of events you may want to hold to promote your brand:
Mini concerts
Car shows
Product demo
Free product trials
Free taste
Game promotions
The great thing about outdoor events is, they're simply hard to miss. People are naturally drawn to commotions, and once they see a crowd huddling around your venue, their curiosity will make them look and pay attention.
Tips to Make Your Outdoor Marketing Successful
Without a doubt, design plays a huge part in outdoor marketing. Aside from making sure that your ad looks stunning, here are a few more tips to gear your campaign for success:
Make Them Shareable
Create outdoor marketing strategies that are out of the box so that when people see your billboard, they will want to take a picture or video and share it online. You're getting noticed while being advertised for free! Create a stir and shock them but never overdo it to cause violent reactions, you want them to notice you, not hate you.
Go For High-Traffic Areas
As they say, less is more, so if you're planning on getting a large-sized transit advertising but is located in an area that only a few can see, you're wasting a good opportunity. Go for high-traffic areas even if your billboards or ads are small. The most important thing here is to get more people to see your ads rather than having a big one that nobody looks at.
Look at the Competition
Make sure that your advertising overpowers that of the competition. Look before you leap so do a little research and find out where your competition places their ads and what theirs look like. It pays to know who your enemies are to have a good fighting chance at winning at this outdoor marketing game.
Request Unlimited Graphic Designs for Outdoor Marketing
Instead of working on your own marketing collaterals, you should consider outsourcing the services from a credible graphic design team like Penji. You do not have to worry about transactions with us as we make sure that our process is client-friendly. Let's have a closer look.
Create a New Project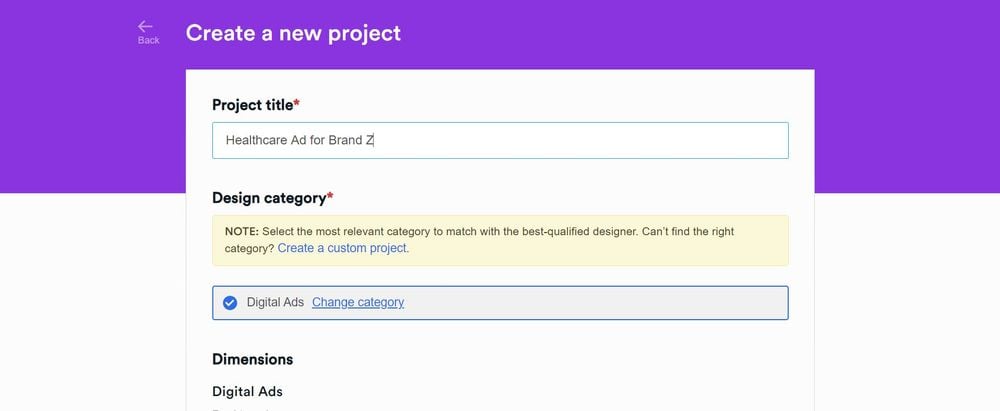 At Penji, we invested in our very own platform, which we share with our clients. From our app, you can directly send project requests by clicking 'Create New Project.' Include links and images that could help our designer visualize the final output you have in mind.
Review and Revise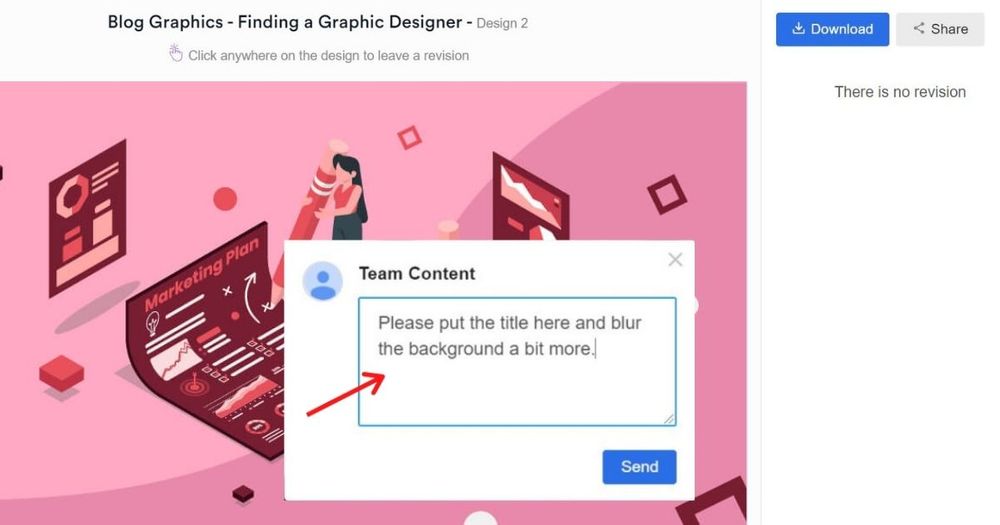 We send our initial draft the soonest possible time, usually between 24 – 48 hours. Our designers will wait for your feedback, which you can directly do in the image.
Download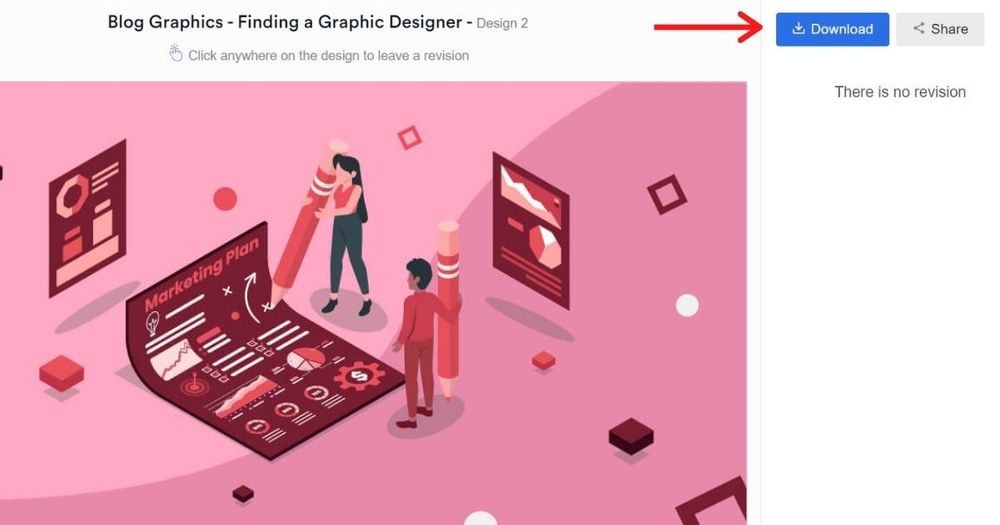 You are now on your final step. All you have to do is download the files from the same platform.
Conclusion
All the big brands we love are still using outdoor marketing campaigns, and they're huge successes. Here are key takeaways to keep in mind as you plan your outdoor marketing campaign:
Despite the popularity of online marketing, outdoor marketing strategies still work.
Location is a crucial factor when placing billboards and outdoor furniture ads. Choose a high-traffic area and consider other elements like nearby amenities, establishments, and transportation.
Catching your audience's attention doesn't necessarily equate to creating an eyesore outdoors. Keep designs clean and simple; Your prospects must be able to digest the message without stopping what they're doing.
Digital marketing may have taken a big portion of customers' attention, but outdoor advertising still has a special place in their hearts.
Outdoor marketing will be viable as long as customers walk, drive, and move around the streets. And no one can resist looking at a billboard in front of them.