Whether you're selling stickers or using them to promote your business, knowing the best sticker ideas is crucial to make your messages stick!
Here at Penji, for instance, we get many requests from clients who need awesome sticker designs. After all, they know just how crucial design is to producing stickers people would actually want to use.
In this article, we'll discuss the secrets to producing great-quality stickers that would stick out from all the rest. We'll also throw in tips on how to design and print your stickers sans the hassle.
Best Sticker Design Ideas that Stick
Let's dive right into the best ideas for your sticker design:
1. Old School-Style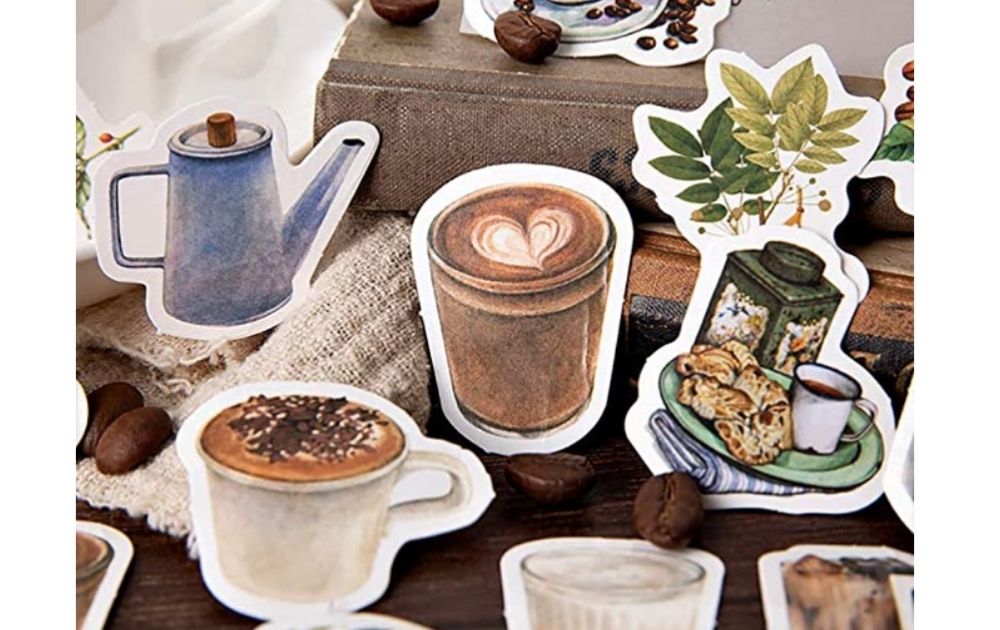 This is one of those great sticker ideas to sell, especially if you're targeting the crafting niche. Beautiful stickers like these ones from Doraking Store Amazon offer an old-school charm no crafter can resist! Because they lend a dainty look to journals and scrapbooks while still giving the crafter room for creativity, you'll have a ready market for stickers like this.
2. Minimalist Graphics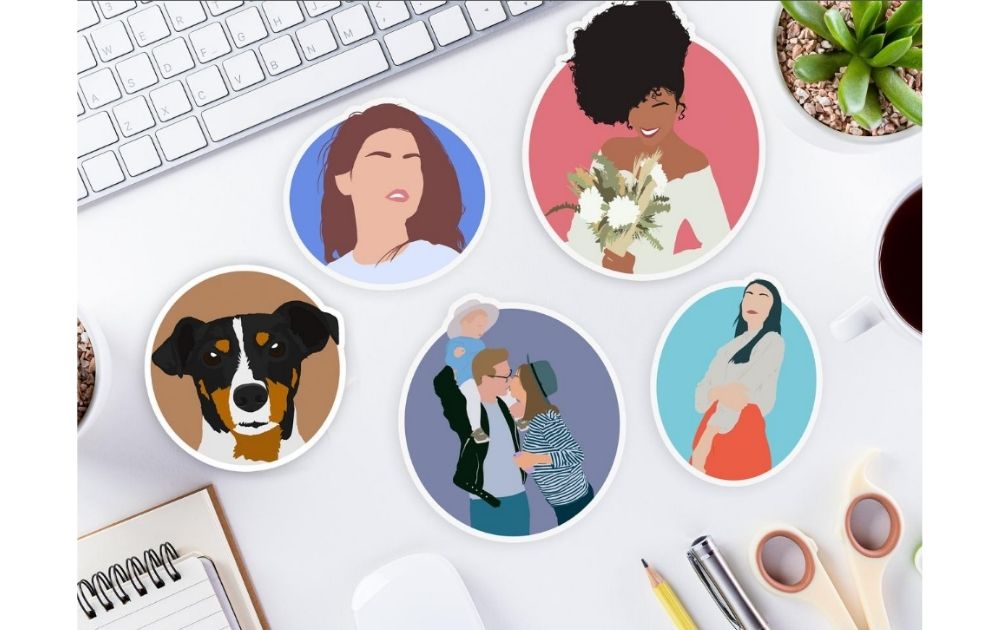 More and more designers are entering the realm of minimalism, just like these stickers by PalmBlueDigital on Etsy. If you're a designer yourself and you're looking for trendy sticker ideas to make, this style is surely making the rounds online. The key is to make the layers as simple as possible and leave out the details.
3. Target Interests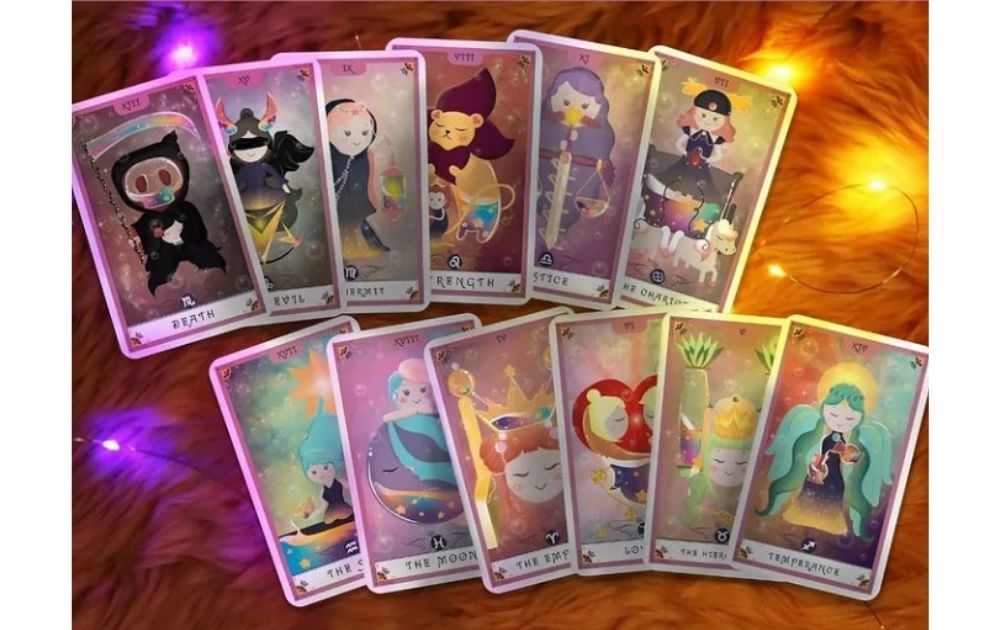 When you design stickers, you'll probably have a target market in mind – crafters, tech buffs who lug their laptops everywhere, or maybe gym rats who'd want to spruce up their water flasks. Just like Facebook ad marketers, it's crucial to know the interests of your target audience and pounce on it.
This sticker set by Instagram seller AstroBlock.PH, for example, targets audiences who are into astrology. That said, the artist integrated the concept not only in the visual design (Zodiac signs) but also into its form and shape (tarot cards). That's hitting two birds with one stone!
4. Organic Illustrations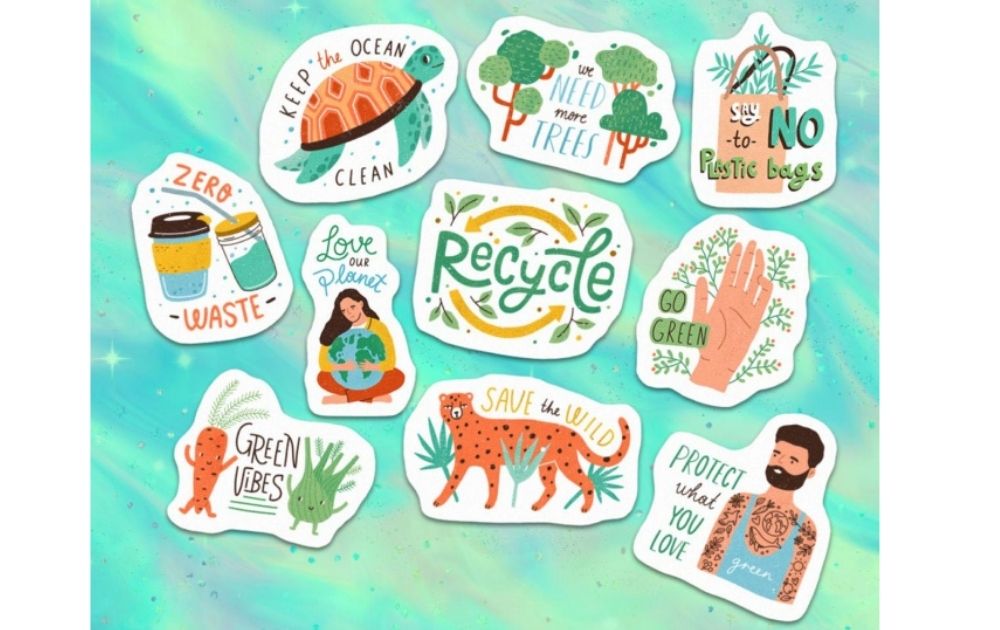 There's something refreshing about designs that aren't 100 percent polished, or at least made to look that way. For instance, these illustration stickers by WonkyAvocado in Etsy feature handwritten fonts and irregular shapes. And since the concept revolves around saving the environment, the style made the set look more natural and organic.
Related Post: Digital Illustrations: What to Expect From Penji Illustrators
5. Color Harmony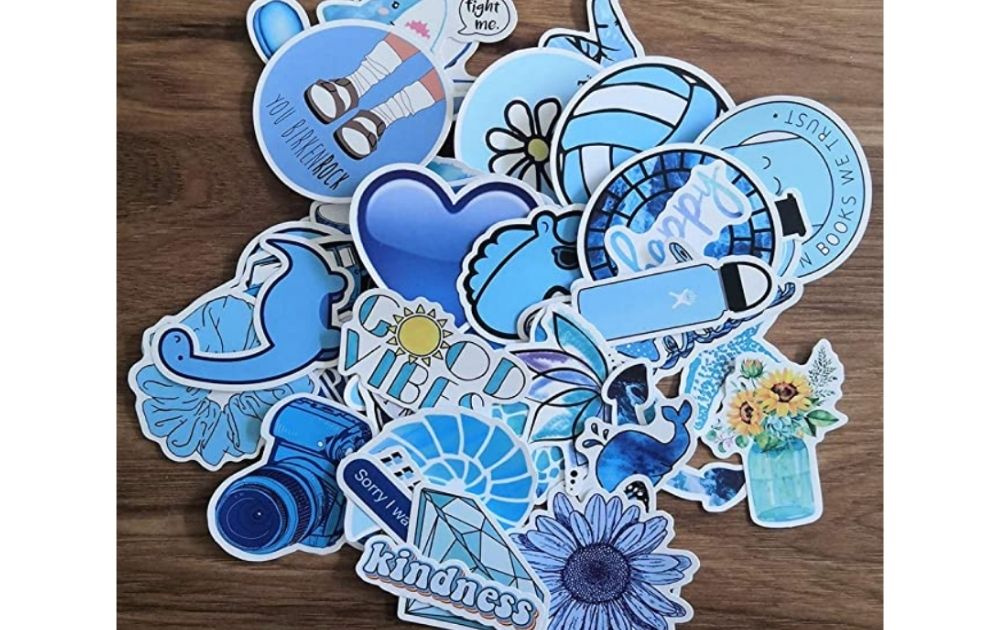 If you're creating stickers to sell, chances are, you'll be offering them as a set. One way to make different designs look cohesive is to choose a color palette. For example, this set of stickers from Homabachyco Store on Amazon all don various shades of blue. In addition to that, the pieces also tackle ideas related to happiness, such as flowers, kindness, and books, further unifying the set together.
6. Create Depth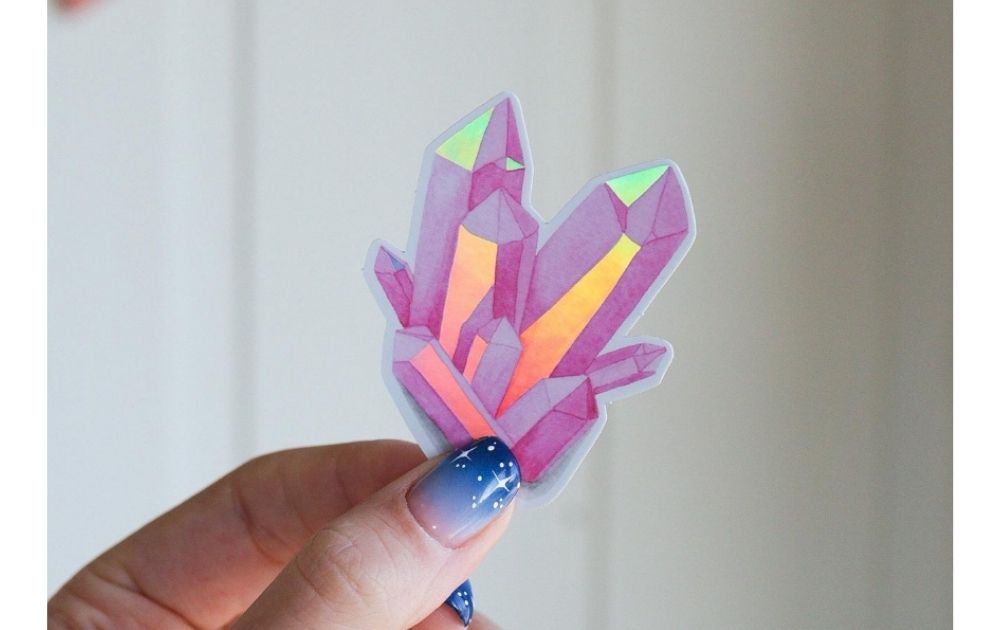 Who says you need a full-on 3D-making app to create cute sticker ideas with depth? Take this sticker from Herinterneststuff on Etsy, for instance. It shows us just how crucial color is to create an illusion of depth. The bright gradients strategically placed in the right places make this rose quartz design a treat for the eyes!
7. Monochrome Design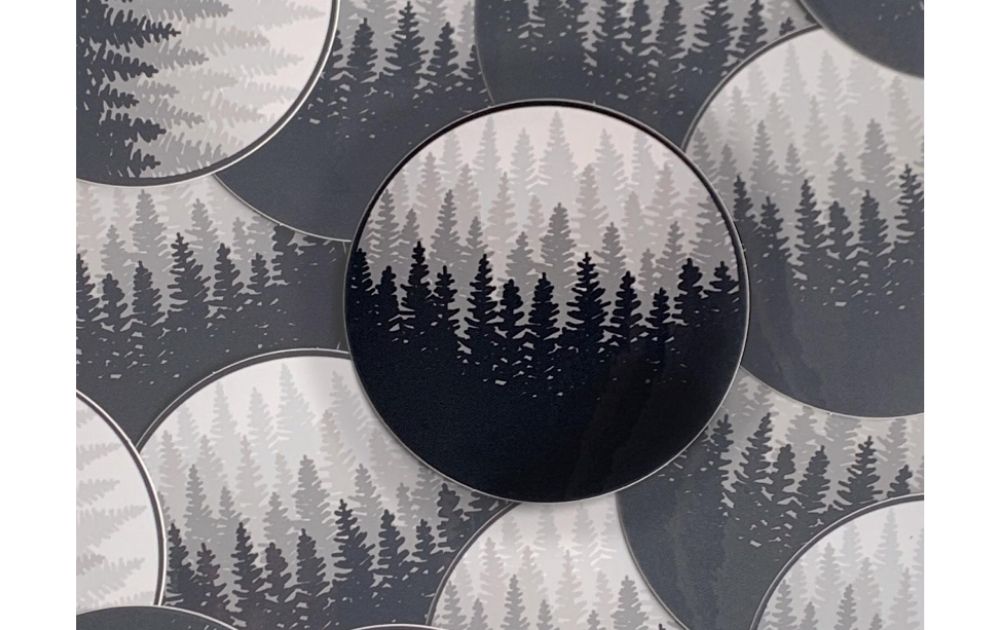 Just because you have all the beautiful colors to choose from doesn't mean you should cram a load of them into your design. In fact, you may even choose to stick to only one hue and still come up with a great visual. This example from SolsticeDesignStore on Etsy shows us how it's done – the monochrome design looks interesting despite the limited hues.
8. Typography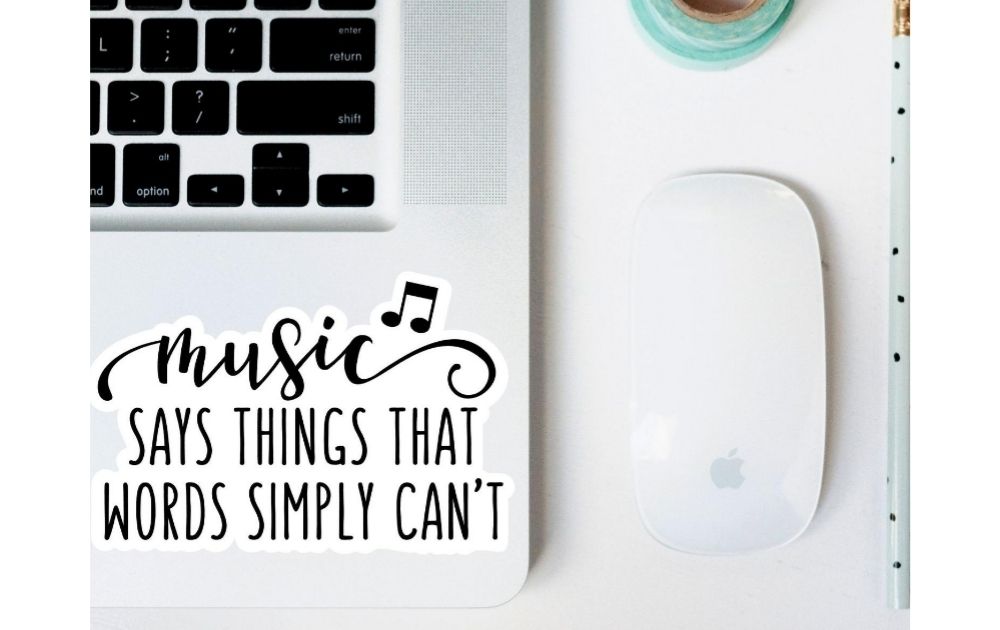 If you're looking for sticker ideas for a laptop, take a cue from typography designs that feature inspiring quotes. After all, most people who can't part with their computers are usually getting important work done. And what better way to help them boost their productivity but to offer some words of inspiration! This example from LibbyandLouStickerCo on Etsy features a typography design that's simple but makes a mark.
9. Creative Doodles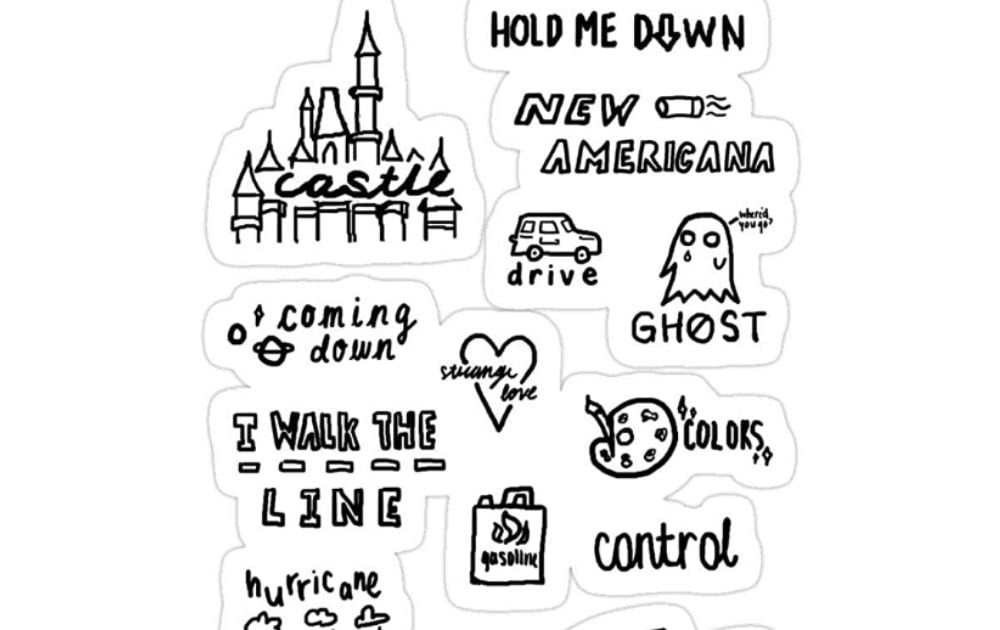 If you're artistic and you're looking for sticker ideas to draw yourself, try making doodle stickers. For example, this set from Andrews Mall on Amazon has a quirky quality to it you can't find in many designs. Designs like this would look cool on laptops, helmets, and even bikes.
10. Pop Art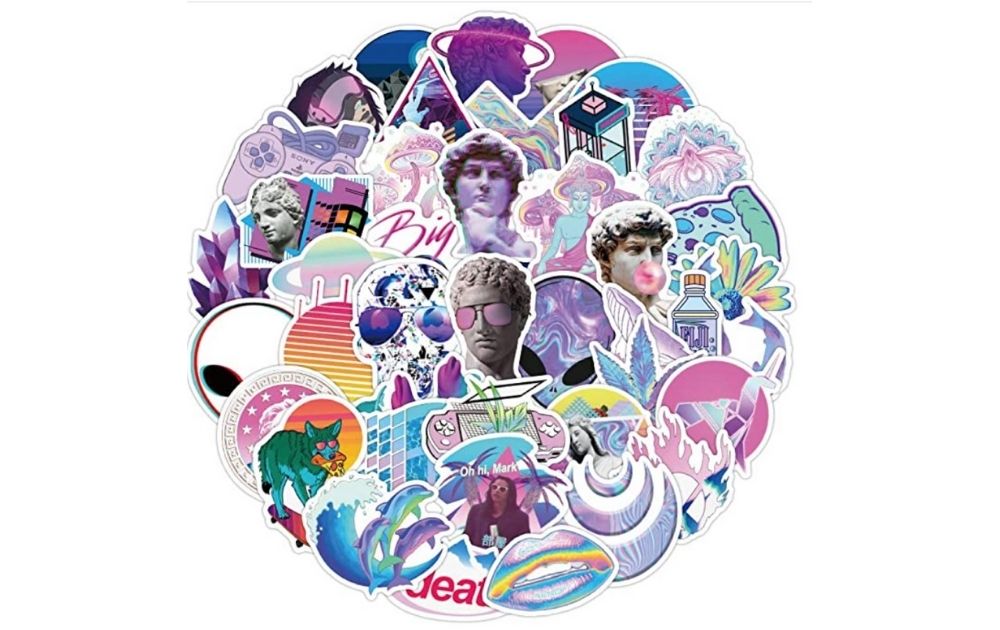 Pop art is a cool sticker idea aesthetic trend you might want to ride. It basically combines traditional art with new visuals and ideas – think David of Michelangelo blowing bubble gum. These stickers from Ratgoo on Amazon offer a dose of interest and would surely entertain customers looking for unique designs.
Related Post: Make Your Own Custom Sticker Design (Ideas You Can Copy!)
Sticker Design Factors to Consider
When brainstorming for sticker ideas to sell, it's not enough that we ride the trends and make the designs pretty. We also need to consider certain factors to ensure that the design we're making will fit its specs and purpose.
Material
One of the first factors to consider when creating a sticker is the material. What type of material will the design be printed on? Aside from paper, here are a few types of options you might find on your printer's list:
Polypropylene. This material can be clear or white, and it's a durable film used in many types of sticker printing.
Static Cling Vinyl. Vinyl is usually used for decals and sticks to non-porous surfaces, such as plastic or glass. Also, this material depends on its static cling rather than adhesives.
Polyester. This material is highly durable, thus used mainly for outdoor and industrial purposes.
PRO TIP: These are just three out of a myriad of materials available today. Avoid info overload by asking your printing supplier about the materials that they offer. That said, you can also ask them about design guidelines related to those materials, such as color restrictions.
Size
There are no standard sizes in sticker printing. In fact, many sellers cut the designs from the sticker paper anyway, so the sticker size doesn't matter in printing. However, how big or small the sticker will affect the way you must create the design. For instance, creating a too-intricate design for a one-inch design sticker will not be practical because the viewer won't be able to see those details anyway.
Use
The design of your stickers depends a lot on how you're going to use them.
Stationery. If your stickers are used for crafting, journaling, or writing letters, they need to have an emotional appeal. For instance, the design must be able to frame a moment or trigger nostalgia down the road.
Gadgets. Many users put stickers on their gadgets to boost energy and trigger productivity at work. That said, there's a big allowance for creativity in this area, spanning from quotable quotes to quirky images.
Vehicles. Designing stickers for cars, bikes, motorcycles, and helmets are different from creating designs for stationery. For one, these vehicle designs should be in line with users' interests. The material would have to be water-resistant as well, so the design restrictions could be different.
Packaging design. Stickers are a great way to turn a simple box into a parcel that reflects brand identity. From bottle labels to mailer box designs, stickers offer a cheap but effective way to boost branding.
Related Post: Creative Packaging That Caused Products to Sell Out
Where to Get Sticker Designs
Here are a few options you have to get the sticker design you need:
DIY
If you're the type who likes to tinker with designs, you can always try to do it yourself. For instance, online graphic design platforms like Canva offer basic resources you can use to create sticker designs.
The best thing about this solution is, you won't have to spend a single cent. That said, it's an excellent option for ventures without much budget for design. There's a caveat, though – doing the designs yourself, especially if you're not a pro, may lead to amateur-looking graphics. In addition to that, learning the ropes can also take up a lot of your time and energy.
StickerYou
StickerYou is one of the available online custom sticker providers that get the job done easily. This service provider is focused on offering stickers – from labels to decals and even temporary tattoos.
The platform offers a PageMaker that enables users to adjust and arrange designs. As a result, users can control the number of stickers per page and pay only for the number of pages printed. Aside from that, the platform also offers a one-stop-shop from design to printing. That said, StickerYou is a good resource if you haven't got a printing supplier yet and you want your tasks to get done in one place.
Penji
If you're operating a business, chances are, you need a lot of sticker designs. In fact, you might need MORE than sticker designs – you'll also need logos, social media designs, email templates, and more. If that's the case, Penji is an invaluable resource that can help you with all that. Scroll down below for more info and to get a link that will get you 15 percent off your first month of any plan.
Related Post: The Biggest Trend In Custom Stickers
Getting Your Stickers Printed
Here are a few options for printing your sticker designs:
Stickermule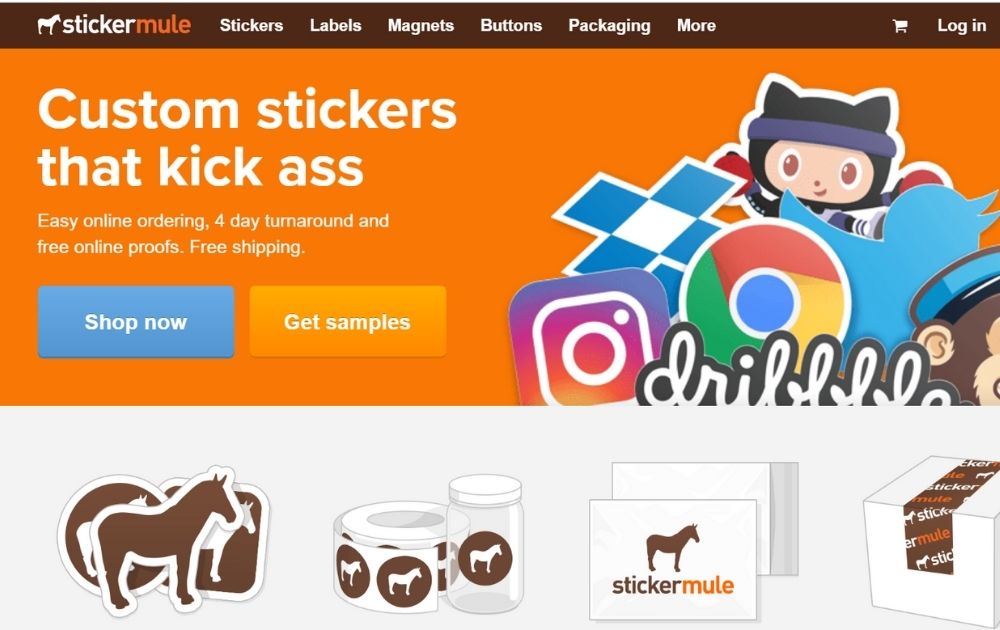 This platform offers easy online ordering and free shipping. They promise to provide stickers in "any shape or size" printed on their premium vinyl. This service provider also offers a special laminate that protects the print from rain, sunlight, and wind exposure. That said, if you need stickers that will outlast outdoor conditions, you might want to give them a try. If you already have a design, you'll only need to send it to them and wait for the print at your doorstep.
Printrunner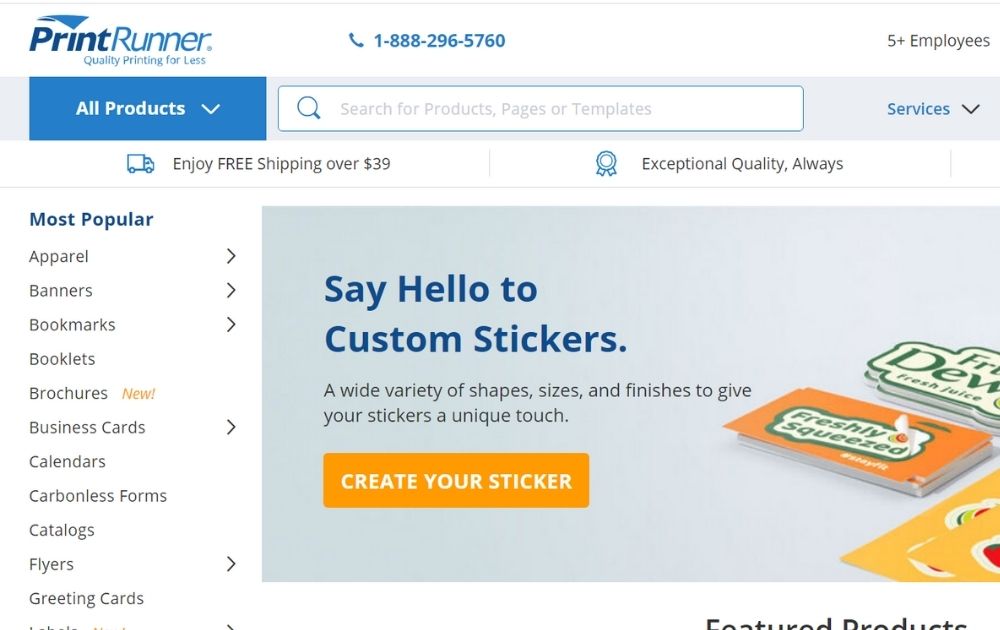 If you need visual materials printed other than stickers, check out Printrunner. They also offer printing services for apparel, banners, booklets, business cards, and even flyers. As for stickers, they offer rolled, in-sheets, and cut-to-size options, so you'll have the best solution for your needs. In addition to that, they print stickers in bulk or in small quantities, which means you won't have to comply with a huge minimum quantity order if you don't have to.
Printrunner also offers several materials and coating options. These include sticker papers (matte, gloss, and high-gloss) as well as vinyl. As for the format, they offer cut-to-size, roll, sheet, and kiss-cut options.
Vistaprint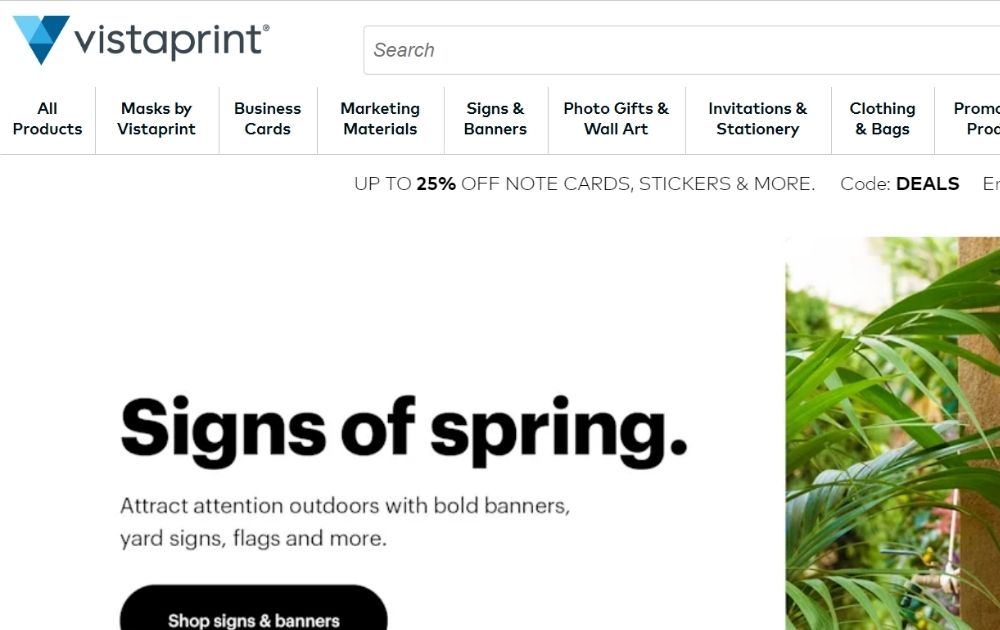 Vistaprint is another option to explore if you want to get all your printing done in one place. They print sheet stickers, roll labels, and sticker singles. As for material, they offer white paper, clear plastic, silver foil paper, and gold foil paper.
Aside from stickers, they can print just about anything and everything under the sun. In fact, they can also print wall art, clothing, bags, and even reusable face masks. That said, they offer an excellent option if you're looking to expand your merch business.
The Lowdown
By knowing the best sticker ideas, you'll have the chance to offer what your audiences are looking for at the moment. After all, sticker designs can be heavily influenced by trends, just like most things related to visual design.
If you need help with sticker designs, we, at Penji, are here to the rescue! We offer unlimited graphic design at a flat monthly rate. So, you can have all the designs you need without spending an arm and a leg. From sticker designs to book illustrations and everything else in between, we've got you covered.
Here are some of the sticker designs we've done in the past: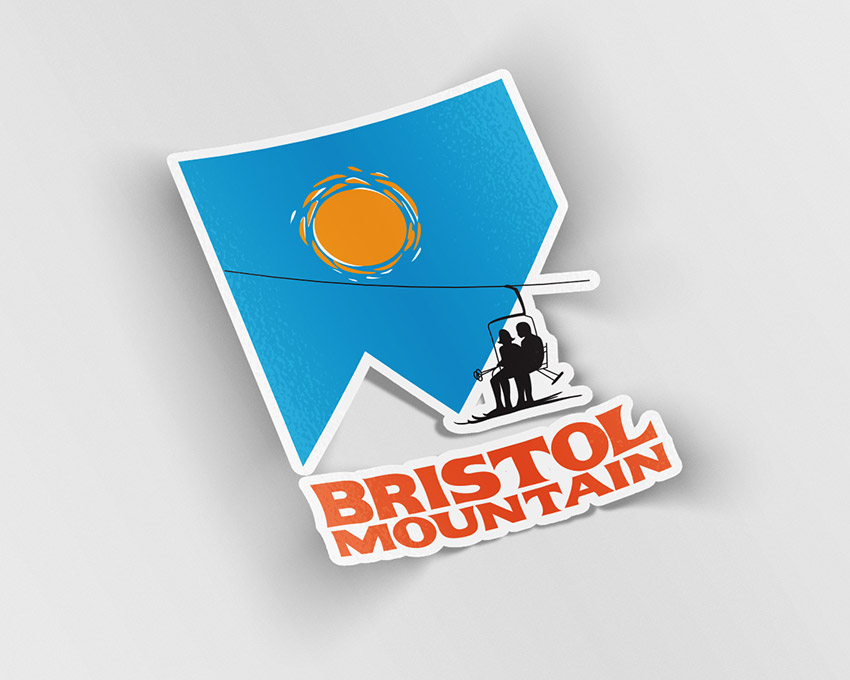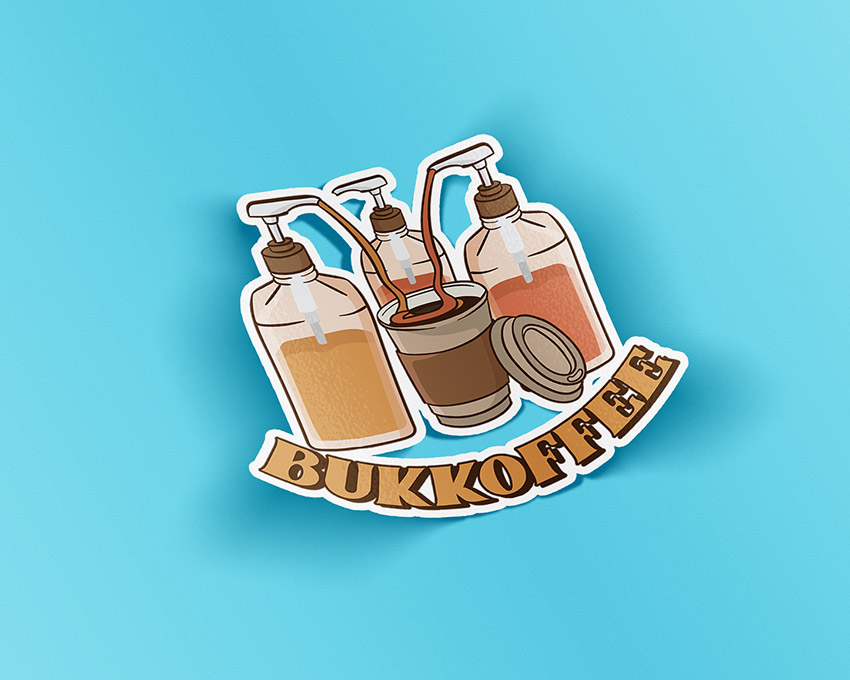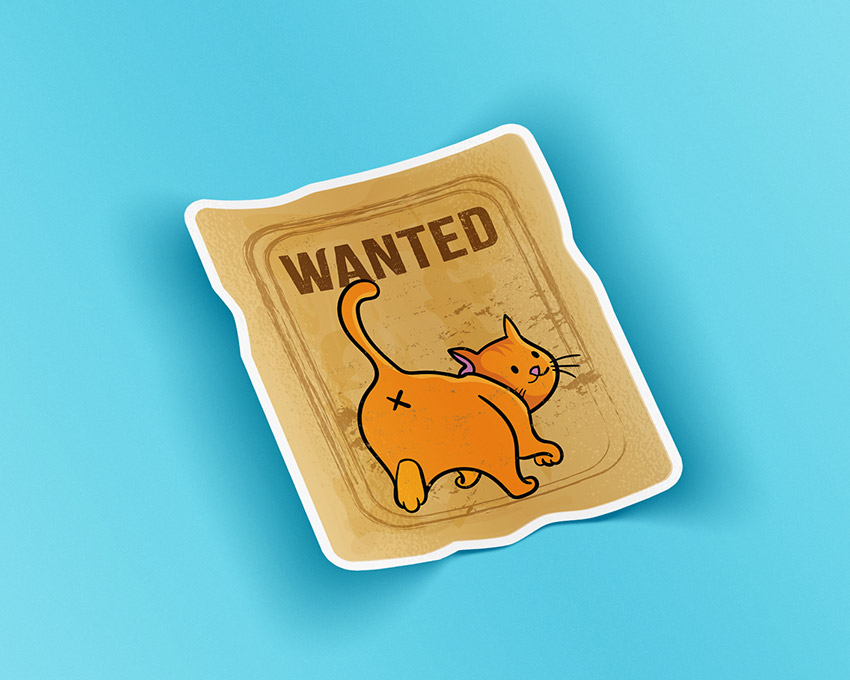 Because we have the top 2 percent of designers, you can rest assured that your project is in good hands. Sign up now by clicking this link to enjoy 15% off the first month of any plan. And the best part? You can try any of our packages risk-free for 15 days.