Popular YouTubers know the value of uploading a custom thumbnail to attract viewers to click on their videos. Their thumbnails show big, showy fonts with exclamation marks. Meanwhile, some express emotions, such as anger, sadness, or shock. Most YouTubers (or their assistants) use graphic design software to create a custom and clickbaity thumbnail to lure viewers. But what if AI can help you create personalized thumbnails for your marketing videos? Check out these AI YouTube thumbnail maker options!
Before that, here are some nifty tricks to design and create YouTube thumbnails.
Best Practices When Designing YouTube Thumbnails
Know the size and dimensions – 1280×720 px under 2MB
Integrate branding assets into the image – Logo, font, and colors will get your brand recognized on the video platform.
Feature your speaker – Introduce your speaker from the get-go so that users know who'll inform or educate them. Plus, points if it's a well-known person from your industry to increase your views!
Screenshot content – This works especially for how-to or case studies. For how-to videos, tease users with a screenshot of your UI or product. Meanwhile, for case studies, add a screenshot of the result to pique your viewer's interest.
Write engaging copy – Increase viewership with clickbait copy like "[software or product] for beginners!" or "What is _______?"
Top AI YouTube Thumbnail Maker Choices
1. Thumbnail.AI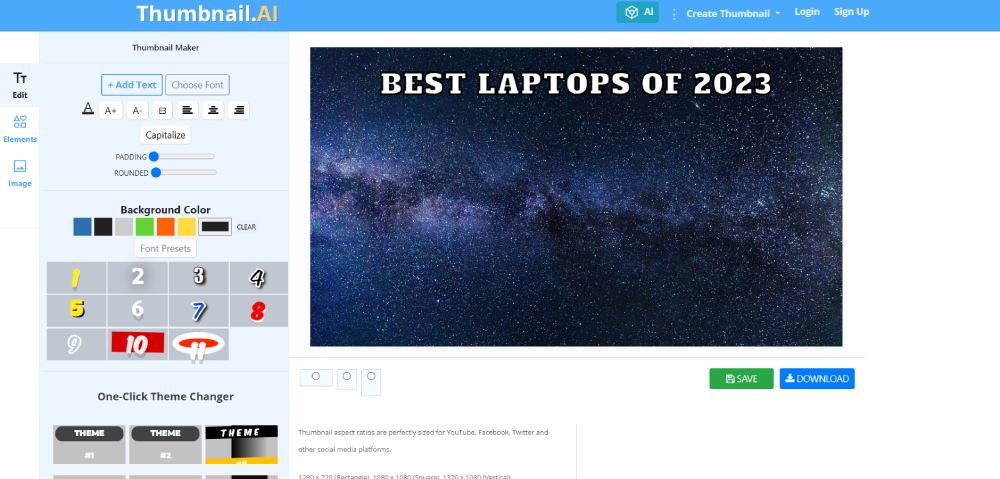 Thumbnail.AI is a great starting point for beginners in AI tools. Getting a YouTube thumbnail is simple and starts with clicking "Generate a Thumbnail." Then, you describe your thumbnail by adding text and picture. After that, wait for a few seconds, and you can edit your desired thumbnail.
However, Thumbnail.AI needs more work in interpreting the image you want. For example, I inputted: Best Laptops of 2023 as the text, and the keyword image is "laptop." Unfortunately, Thumbnail.AI didn't generate my envisioned thumbnail. But you can edit the AI-generated image with preset fonts and elements. Plus, it's free and optimized for YouTube, Instagram, and vertical videos!
2. Veed.io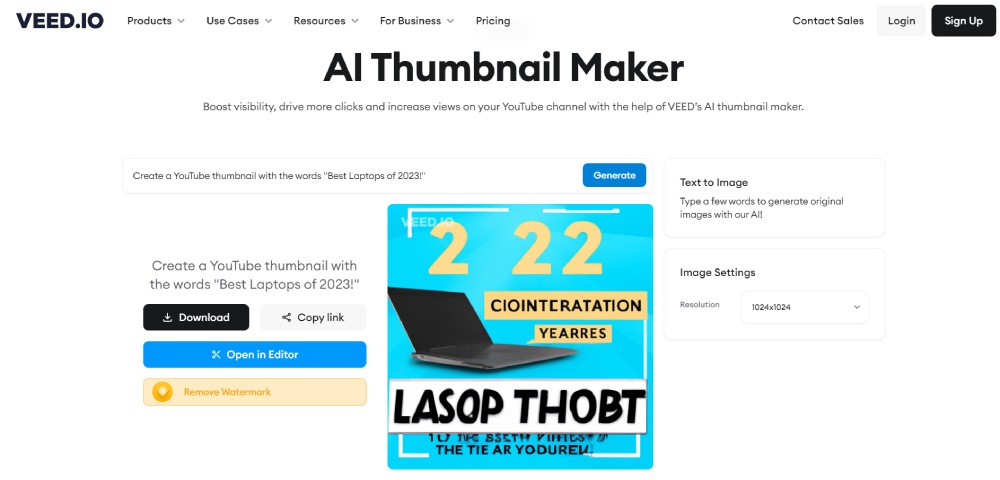 Veed.io is a great AI YouTube thumbnail maker if you want custom images for your thumbnail. It's similar to most image generators, where you submit a short prompt about what you need. From there, the AI whips up something for you.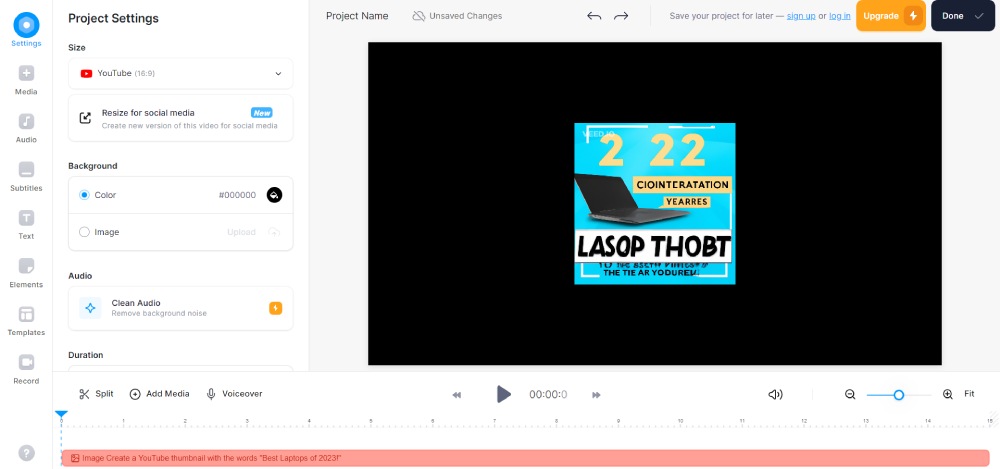 However, Veed.io's AI needs more polishing. For one, if you had a specific text in mind, it would write gibberish. Also, they don't have the option to choose 1280x720px on the thumbnail generator page. You can edit the image if you're not satisfied.
They also have advanced tools to edit your image. But if it has text, unfortunately, you can't tweak it. That's why this tool is ideal if you want a customized AI-generated image on your thumbnail. This way, you can include the image on your final thumbnail draft.
3. Designs.AI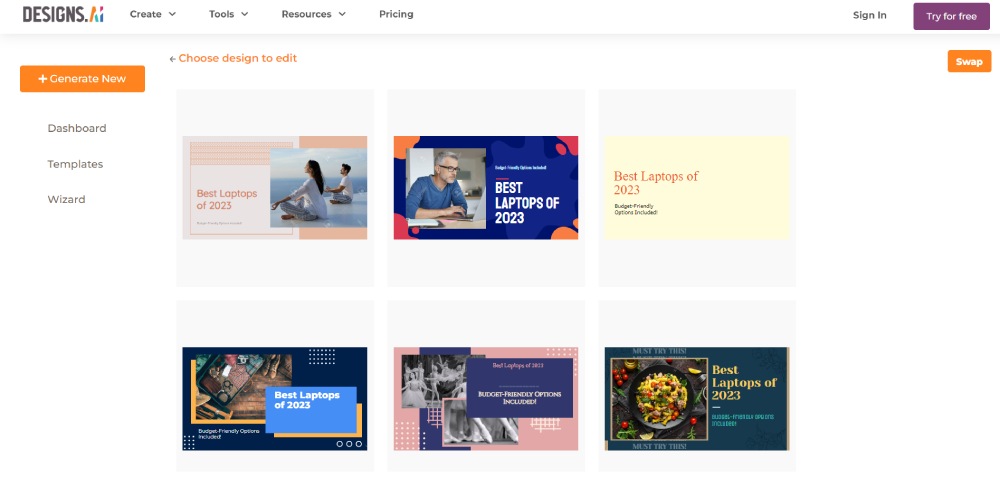 Another well-known AI YouTube thumbnail maker to try is Designs.AI. Although they require users to subscribe for full access to all their features, they have free tools for design, writing, and speech! Their Wizard has a dedicated YouTube thumbnail creator where you can input copy and caption.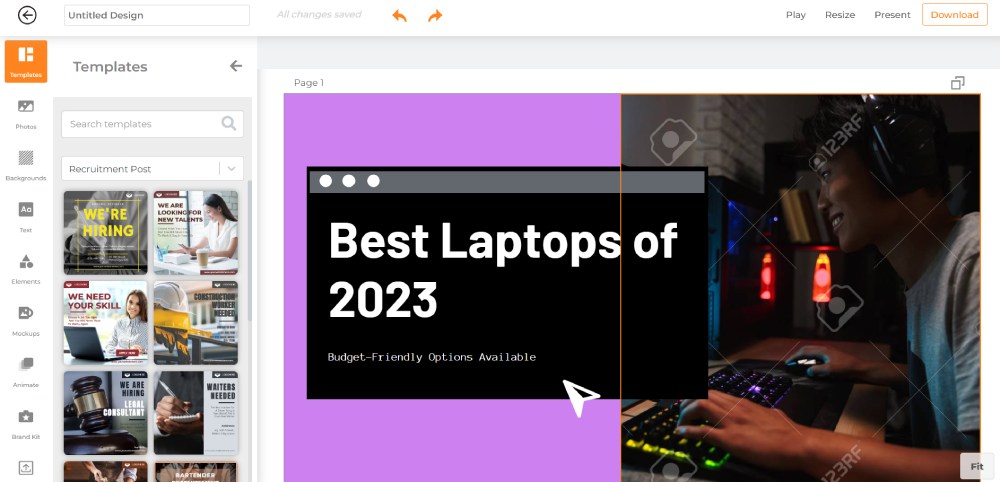 From there, their AI will generate various design options. So far, Designs.AI is the only one from this list that provides many AI-generated images. Although they generate designs unrelated to your prompt, you can edit that and add your branding. Unfortunately, on the Free plan, you can't download AI-generated images. It's best to subscribe to get the full experience.
4. Simplified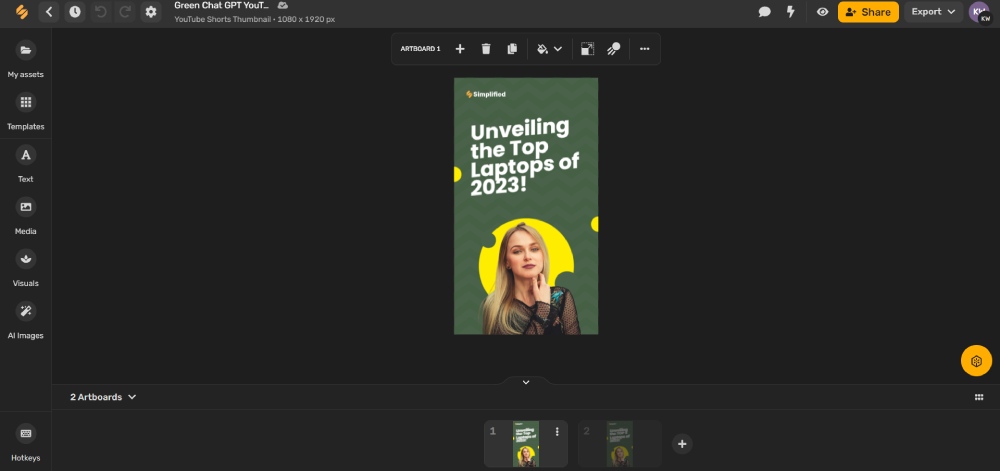 Do you need a thumbnail for YouTube shorts and other vertical videos? Simplified is one of the top options! As their name implies, they simplify the process of getting thumbnails. It starts with submitting a short sentence of what your video is about. You can decide how many thumbnail suggestions you'll need and the creativity level. After that, wait for the AI to generate designs.
Simplified's AI provided decent options. However, the images are similar, but the copy was changed. Plus, I didn't see a hint of a laptop in the image. But, like other AI YouTube thumbnail makers here, you can edit the images as necessary.
5. Plus AI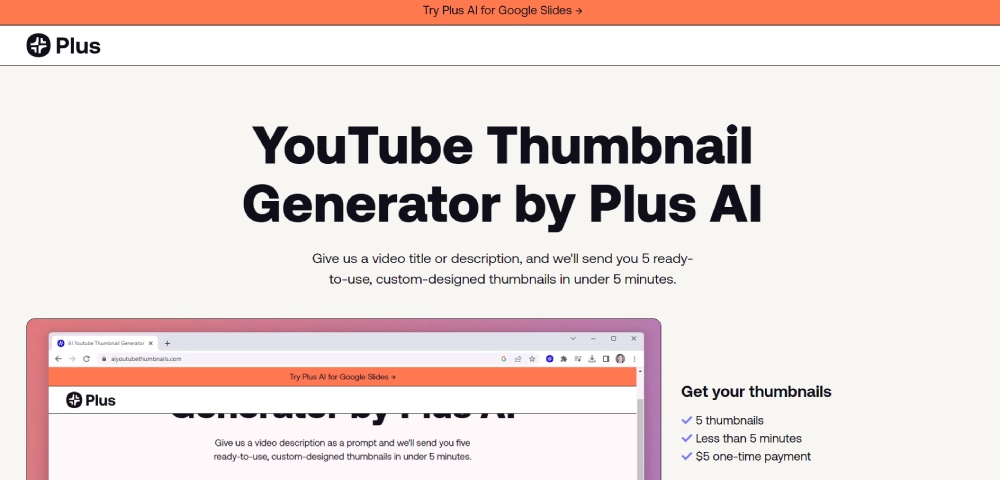 Our final option on this list is from Plus AI. It's similar to the other AI YouTube thumbnail makers, where you submit a prompt or describe what the video is about. However, you can already upload custom images to add to your generated images. But they have a unique feature, they generate five versions and send them to your email!
They guarantee that you'll receive your designs in five minutes! However, you have to pay $5 every time you need designs. It's a small price to pay to get custom AI designs for your videos!
Alternatives to AI
AI provides a hassle-free solution to get thumbnails. However, it's common that you're not impressed by AI-generated images. After all, most AI or language models are still training to understand what you need. That's why traditional approaches for creating YouTube thumbnails come in handy. Here's where you can get YouTube thumbnails for your marketing videos:
Graphic design software – Many marketers still prefer this option considering the beginner-friendly and intuitive software when creating graphics. Aside from making designs from scratch, marketers can rely on templates to edit in minutes. You can easily place your logo, make small tweaks in the template, and upload it immediately!
Hiring freelancers – Freelancers are another affordable alternative to DIY graphic design software. You can rely on them for one-off projects and hire them anytime you publish new videos.
Unlimited graphic design service – This approach has been the go-to for marketers, especially if they have a high demand for graphics. As such, this is the best option if you're posting videos regularly. Plus, if you need visuals for your videos as well!
How Can Penji Help
A solid YouTube marketing strategy requires various assets, such as a compelling script and copy, engaging videos, and killer graphics! Of course, this includes custom thumbnails that would pull in audiences to your videos. And if you need a design partner for your videos, Penji is one of the best in the biz!
Penji can create captivating graphics for your video content and photo edits. You also want to promote your videos on social media or other platforms. Our designers can create various marketing graphics! Finally, you might need other visuals for other purposes, like sales, advertisements, and so much more! Let Penji whip something up for you. Experience the Penji magic when you subscribe here!