While many people still aren't aware of the capabilities of AI, it is slowly changing our lives. From transportation to agriculture, it is making lives more efficient. This includes designing websites. Here are the top ten AI web design builders to help you create your website quickly and easily.
What is an AI Website Design Builder?
An AI website design builder is a DIY tool that lets you create a website using the power of AI. It has pre-made templates that you will choose from. Most of these websites will ask questions about your brand and base their suggestions on them.
Once the platform gives its recommendations, you can edit them to your specifications. Traditional web builders may work the same way, but AI makes the design more customized.
Top 10 Recommended AI Web Design Builders:
1. Wix ADI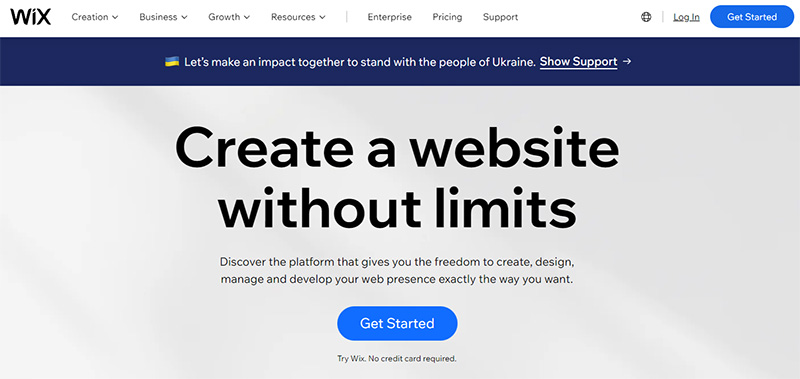 One of the most trusted website builders, WIX ADI (Artificial Design Intelligence), has advanced features that many entrepreneurs love. With more than 10,489,954 websites to its name, it is also one of the most popular. Its interface is intuitive and gets your design in just a few clicks.
Wix ADI will generate a guideline for you to follow in creating a web design that's unique and professional-looking. This platform is free to use. But a paid plan is recommended if you want to enjoy more of its amazing features.
2. Bookmark's AiDA

Design your website in just two minutes with Bookmark's AiDA (Artificial Intelligence Design Assistant). It understands the pain points in designing a website, so it eliminated those. This will ask you about your brand like other AI web design builders. In minutes, it will give you your optimized website and different versions of it.
The platform's drag-and-drop editor makes designing easy, even for those without design experience. Bookmark has two plans to offer with prices of $11.99 and $24.99 per month.
3. Leia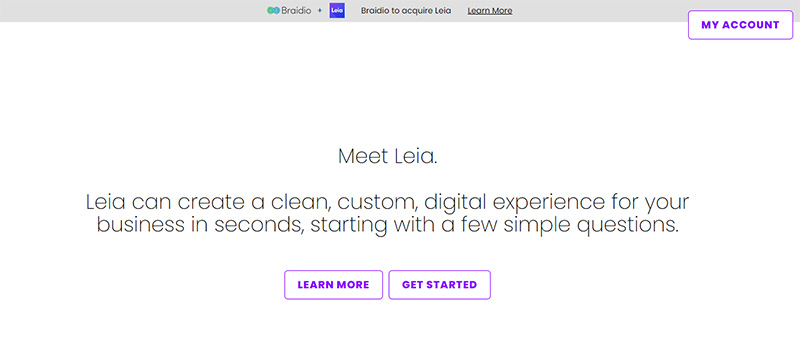 Create custom-made websites from scratch in seconds with Leia. It can help you create unique web designs with its voice command feature. The design process is straightforward, thanks to its intuitive interface. It will ask you how you want your website to look, then provide you with the most suitable templates for you.
Leia has a forever-free plan, but its premium plans are super affordable. At $0.00 or $9.99 per month, there's practically no reason not to subscribe.
4. Zyro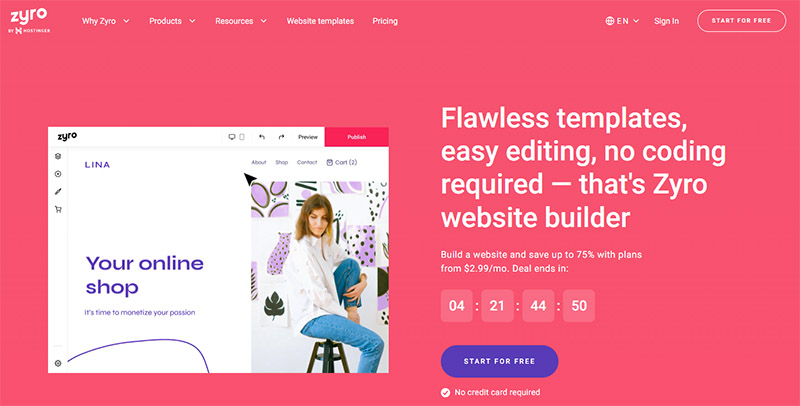 Even without coding skills or an eye for design, Zyro will let you build your own website. This is all thanks to its AI technology, user-friendly interface, and fantastic web design tools. It offers you two options to create a website: use a template or its AI website generator.
Zyro doesn't offer a free plan, but its $2.99 and $3.99 monthly plans are affordable and cost-effective. It even has a content generator if you need written text for your website.
5. Jimdo Dolphin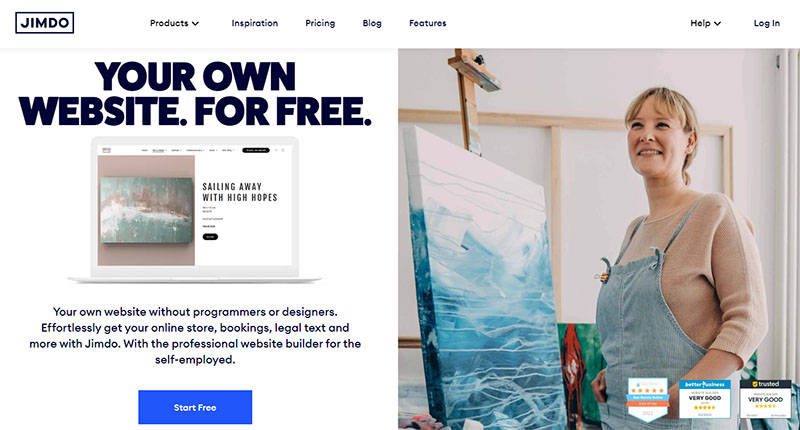 Promising to let you build your website in three minutes, Jimdo Dolphin works like Zyro and Bookmark. The more details you give the platform, the more accurate the web design will be. Its key features include tools for ecommerce, social media marketing, and advanced SEO, among many others.
It has a free plan, but its three others are cost-effective with price tags of $9, $15, and $39 per month. You'll enjoy more savings if you pay annually.
6. 10Web AI Builder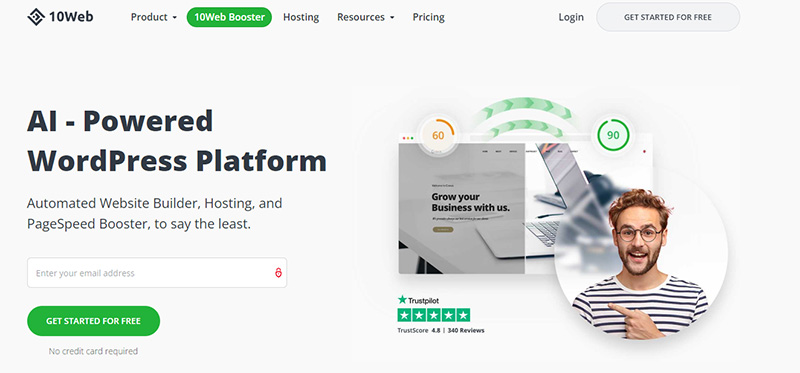 While others will ask you numerous questions when creating your site, 10Web AI Builder will only ask for your existing URL. And in under a minute, it will import your existing website's design into its builder. You can then customize your website however you want it.
If control over your website's design is what you're after, this platform offers you flexibility. This AI web design builder provides a 30-day money-back guarantee that allows you to see if it is the best fit for your brand.
7. GetResponse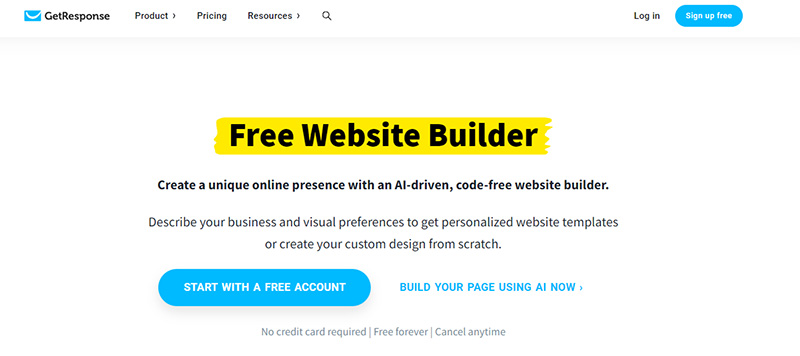 An email marketing platform, GetResponse has recently introduced its AI-powered website builder. You can start building your website even without creating an account on the platform. Answer a few questions, and it will generate design suggestions and recommend features you may want to add.
GetResponse has a forever-free plan aside from its three other premium plans. What makes it different is that you can do more with its free plan than others that offer the same. However, if you want more, a paid plan subscription is recommended.
8. Appy Pie's AI Website Builder

With its drag-and-drop functionality, Appy Pie's AI Website Builder, you can customize your website even without coding skills. In just three easy steps, you can already launch your websites on your preferred app store. It offers real-time updating, no-code development, and many other helpful features.
Appy Pie's AI website builder prices are $18 and $36 per month. This includes unlimited bandwidth, site customization, marketing, and monetizing tools, and many others.
9. Gator Website Builder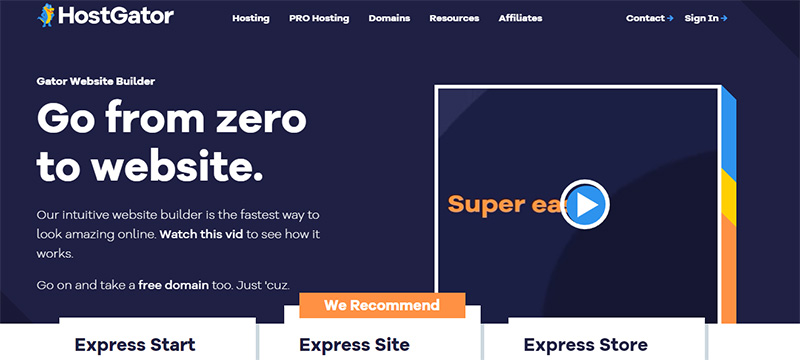 AI templates, design customization tools, logo maker, and many other features landed Gator Website Builder its place on this list. It is ideal for ecommerce, blogging, and many different website types. It has free, ready-to-use templates that are mobile-ready and fully customizable.
Gator Website Builder does not offer a free plan, but its three premium plans are more than affordable. And since HostGator powers it, you know you're in good hands.
10. Bizin.ai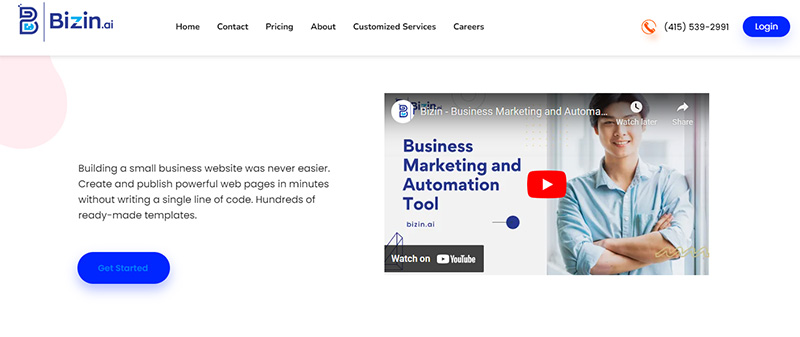 If you're feeling creative, Bizin.ai can help you design a professional and beautiful website. For ecommerce store owners, this is highly recommended as it focuses on customers when developing websites. Its key features include tools for ecommerce and sales funnel creation, professional content writing, and many more.
While Bizin.ai has a higher price than many on this list, it has the bells and whistles in web building. Its free plan lets you try it for fifteen days.
Final Thoughts
AI may seem to work like magic, and it's understandable why many industries are taking advantage of it. However, the technology is far from perfect. It has flaws that aren't defined fully yet, but whether tolerable or not, the old traditional way still does wonders.
If you're looking to design a website for your brand, call in the experts. Our team of talented website designers at Penji can whip up your dream web design. While AI may produce results in minutes, nothing beats the talent of a real live website designer. Watch our demo video here to learn more about what we do.
You speed up the process by subscribing to any of our plans today. Click here to get started.