Many young people in the business industry claim to be social entrepreneurs or "sociopreneurs." After all, the idea seems cool – making money while saving the world. But what is social entrepreneurship exactly? And more importantly, how can we say that our sustainable business falls under this category?
In this article, we'll discuss:
Social entrepreneurship definition
Social entrepreneurship characteristics
What social entrepreneurship is not
Types of social entrepreneurship
Social entrepreneurship ideas
What it means for your business
Social Entrepreneurship Definition
Before we dig deep into the topic, let's get the basic definition out of the way: what is social entrepreneurship?
To fully understand this complex term, it's vital to review the social entrepreneurship definition by authors as well as various business experts and scholars.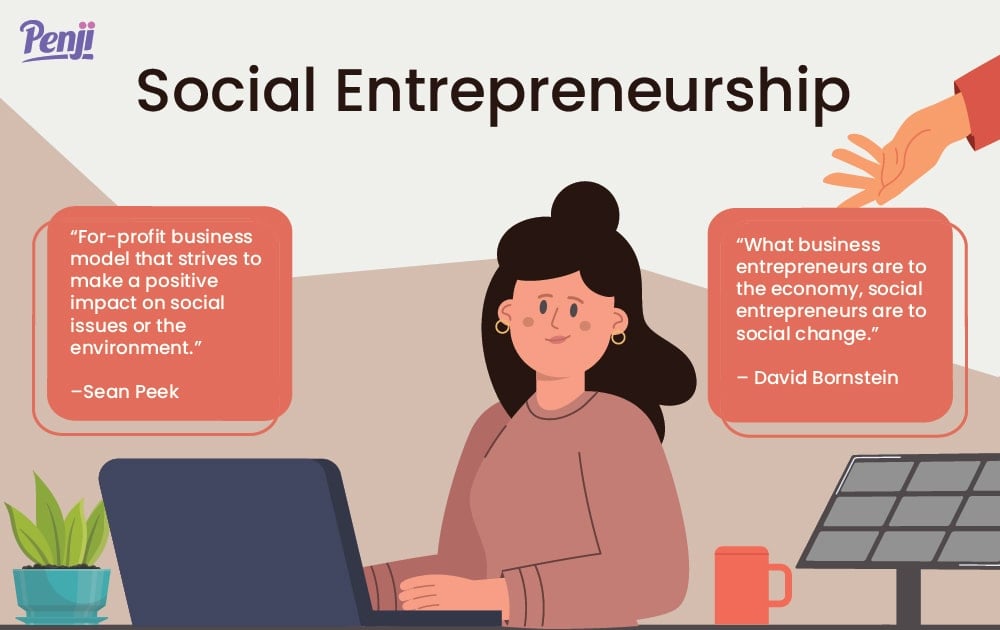 In a contributed article to the U.S. Chamber of Commerce, Lightning Media Partners co-founder and COO Sean Peek defines the term as a "for-profit business model that strives to make a positive impact on social issues or the environment."
Going by this meaning, social entrepreneurship means the business is built to earn profits. But what, there's a key difference compared to old-school firms – there's an intention to address social issues.
David Bornstein, a journalist and author of social entrepreneurship books, gives us a simple but powerful concept of the term.
"What business entrepreneurs are to the economy, social entrepreneurs are to social change," Bornstein once said.
Social Entrepreneurship Characteristics
A business that tries to make the world a better place. The concept sounds ideal; every person in business and their brother probably has it on their mission-vision statement.
But talk is cheap, and when it comes to social impact, actions speak louder than words.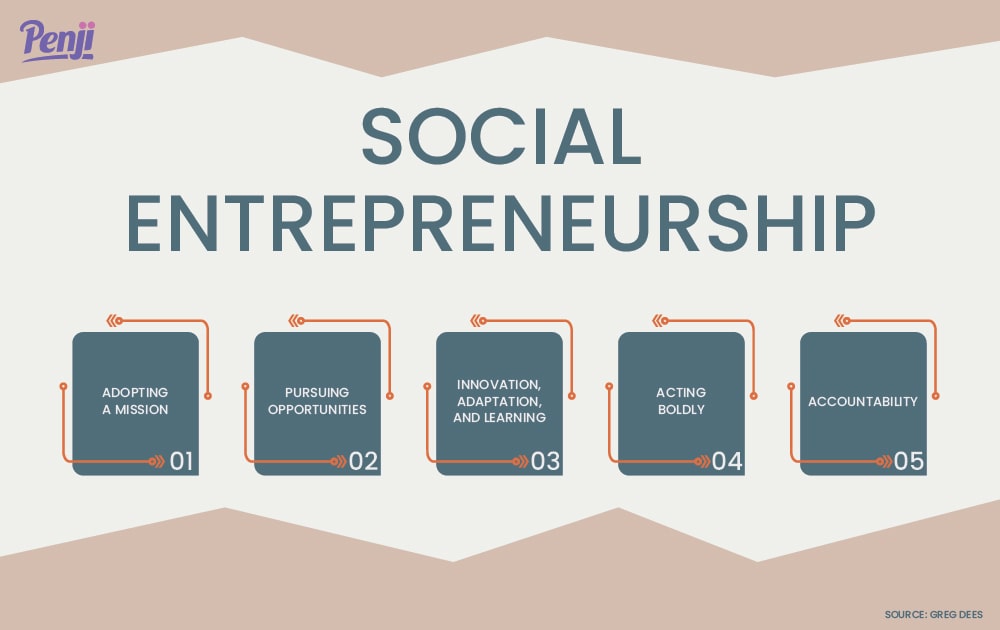 According to Center for the Advancement of Social Entrepreneurship (CASE) founder Greg Dees, to be a social entrepreneur means to:
Adopt a mission to create and sustain social value
Recognize and pursue new opportunities to serve that mission
Engage in the process of continuous innovation, adaptation, and learning
Act boldly without being limited by resources in hand, and
Exhibit heightened accountability to the clients served and for the outcomes created
Often touted as the "Father of Social Entrepreneurship Education," Dees surely knows what he's talking about.
That said, if you're aiming to fit the category, embracing the social entrepreneurship characteristics above will be a good start.
What Social Entrepreneurship is not
Alongside knowing the answer to the question, "what is social entrepreneurship," it's also crucial to know what it's not.
A social enterprise is combined profit generation and social goals, but it is not:
A Non-Profit Organization
Non-profits advance social issues. This umbrella term includes civil society orgs, non-government orgs, and charities. Despite gearing towards social impact just like social enterprises, however, non-profits acquire money from donations and fundraising. In the same vein, they may also get funding from the government. This funding goes straight to the non-profit's beneficiaries or causes, meaning the group doesn't keep profits.
A Traditional For-Profit Company
On the other side of the coin, a traditional for-profit firm works to grow the business and, along with it, the capital invested. Many for-profit firms may have corporate social responsibility (CSR) practices – their own way of giving back to society. However, these CSR projects are more of an add-on to the key goal, which is to earn profits.
Smack in the middle of the two is a social enterprise. Unlike non-profits, social enterprises work to grow profit margins. But unlike traditional for-profit firms, social enterprises are centered around social impact – doing good is built right into its core and is not merely an add-on.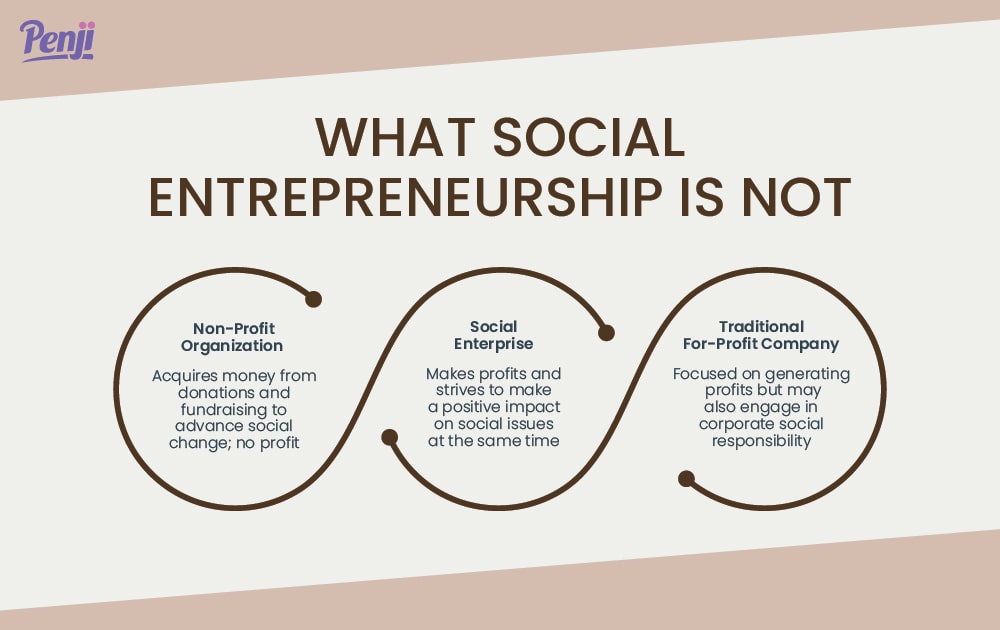 Types of Social Entrepreneurship
Now that we've tackled the meaning of the term let's discuss the types of social entrepreneurship.
Social enterprise consultant and lawyer Nicole Motter organized the spectrum of for-profit models into several categories. Here are four categories that fit into the for-profit model relevant to this article:
1. Socially Responsible Business
Motter states that firms under this list were built to address a social issue. In the case of a Benefit Corp, also called a B-Corp or a Public Benefit Enterprise, the formational documents may have a provision stating the adoption of practices for social benefit. In some cases, they may be legally permitted to maintain those practices even if it goes against maximizing profits among shareholders.
One example of social entrepreneurship companies under this list is Thrive Farmers, which offers coffee and tea products while directly supporting farmers.
2. Donate Portion of Proceeds Model
Also called Give One, Get One model, these firms give a portion of their sales to charity. Motter explains that a business under this list would have its income-generation activities separate from its social-impact activities.
Many social entrepreneurship examples use this model. For instance, ROMA Boots donates a pair of footwear to a child living in poverty for every pair of boots sold.
3. Awareness Brand
On the other hand, an awareness brand does business to bring awareness to a social issue. However, Motter notes that firms under this list don't necessarily address the root cause of the social problem.
For example, Doshi FCSA (Fine Clothes Shoes and Accessories) offers vegan leather products like bags, belts, and other accessories. Instead of real leather, they use synthetic material for ethical reasons. They've also been donating to orgs that help animals and people who need assistance.
4. Other Models
Other models don't fall under the first three. For instance, Bitty and Beau's Coffee is an example of social entrepreneurship that hires disadvantaged people as part of its identity.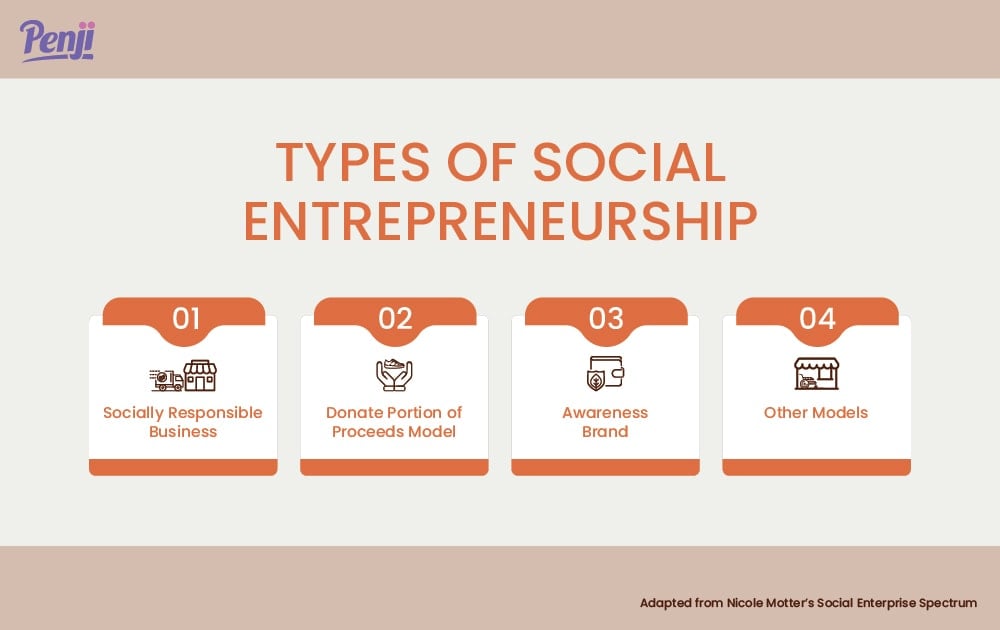 What it Means for Your Business
With all the social entrepreneurship notes we tackled, it's time you ponder on how your sustainable business can make a difference.
Going back to Greg Dees' concept, one of the first steps would be to adopt a mission.
Here are a few questions to get you started:
What social issue do you want to address or help solve?
Backed by research and data, how does your business plan to address the problem?
What unique value will your business offer?
Driving up profits while creating positive change will surely be a challenging task. But armed with a clear mission, hard work, and a sincere intention to make the world a better place, you'll surely find the courage to endure.