Thanksgiving is quickly approaching, and companies are actively seeking ways to embrace the season and boost brand recognition. Thanksgiving-themed social media content presents a fantastic opportunity to get to know your audience. It will also ensure your brand stays relevant in a season that's known for increased spending. However, to make your Thanksgiving social media posts truly memorable, you must incorporate captivating visuals that grab your visitor's attention.
If you need help with the visuals, hire the Penji team. They provide small businesses with great images that can improve your online presence. You can check more of their services from the website. Otherwise, download these FREE Thanksgiving-themed images and illustrations to start your social media campaigns right away.
Meanwhile, if you're looking for Thanksgiving social media post inspiration, here are some tips and examples.
Effective Thanksgiving Social Media Posts for Your Small Business
Here are some ideas for social media posts this Thanksgiving. Take note of how these brands immersed their campaigns in all the best activities, emotions, scents, and flavors the season has to offer to make their business relatable to their target audience.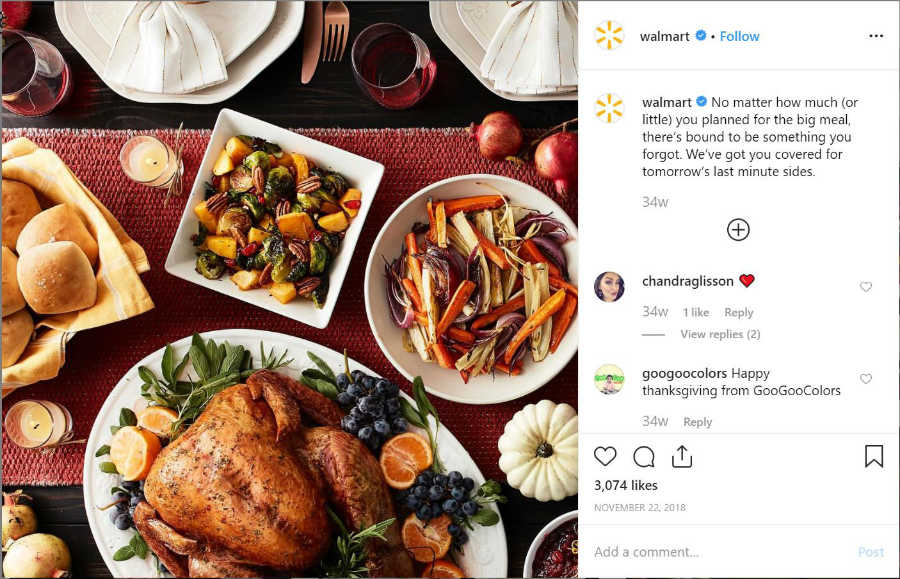 Walmart's post last year reminded customers that their store is just around the corner should there be a need for last-minute shopping.
This strategy is an excellent one to use. Most especially if your small business offers products related to the holiday's festivities such as food and other essentials.
Reminding clients that your business is just there to serve them promotes your brand. More importantly, it also reaffirms you as a reliable product or service provider that got their back no matter what season. Check out this article on Facebook Event Promotion Ideas That Will Boost Attendance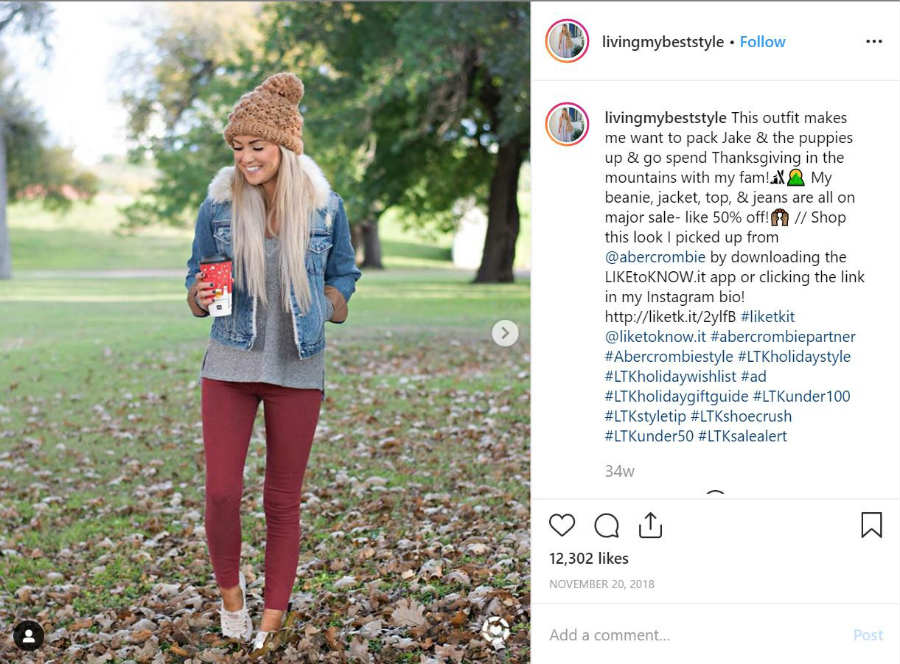 Trying out influencer marketing is a great way to reach out to your market. Also, this strategy makes your product appear more relatable.
Last year for, example, Abercrombie and LIKEtoKNOW.it app were featured in an Instagram post by social media influencer, Katy Roach. The photo showed a Thanksgiving ensemble of beanie, jacket, top, and jeans, all of which were on sale via the app.
If you're thinking of tapping an influencer to promote your brand, it's essential to choose one who appeals to the same demographics and psychographics as your brand.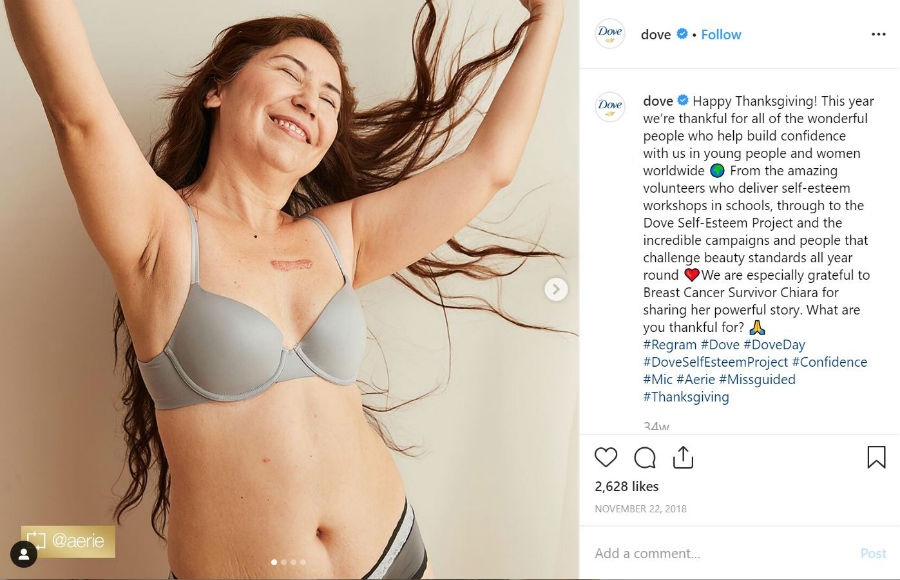 Thanksgiving is all about expressing appreciation for people, events, and things that make us grateful the most. The holiday is an opportune time to thank everyone who contributed to your business and advocacy.
As Dove's advocacy is all about women and youth empowerment, the brand took the chance last year to appreciate everyone who helped move their cause forward.
These people included Dove Self-Esteem Project volunteers who delivered self-esteem workshops in schools, as well as "people that challenge beauty standards all year round." Their post featured the photo of a breast cancer survivor who shared her story through Dove.
Stop using templates

Custom social media posts get more shares than overused design templates.

Design this for me!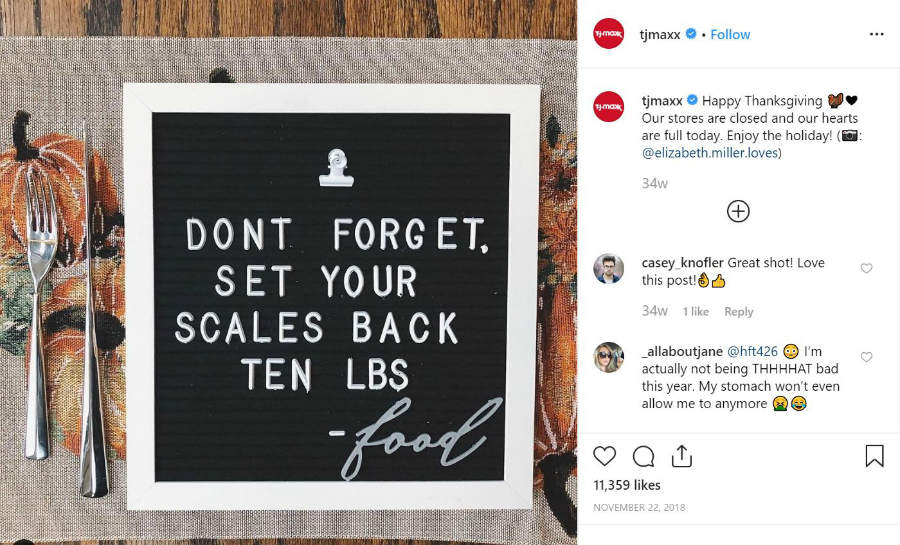 Breakaway from all the turkey and pumpkin pie photos of the holiday and inject some humor into your Thanksgiving social media posts!
This post from T.J. Maxx, humorously reminding followers to enjoy the day without thinking of the additional holiday pounds, is a fresh way to catch prospects' attention. Humor is also a great way to have your posts go viral. It expands the reach of your social media account and helps improve brand recall. Check out this article on Design Elements You Can Learn From Top Online Shopping Apps
However, if you are to use humor in your social media posts, make sure to be sensitive. What could be fun for you might be offensive to others. And so we need to be careful if you are to take this approach.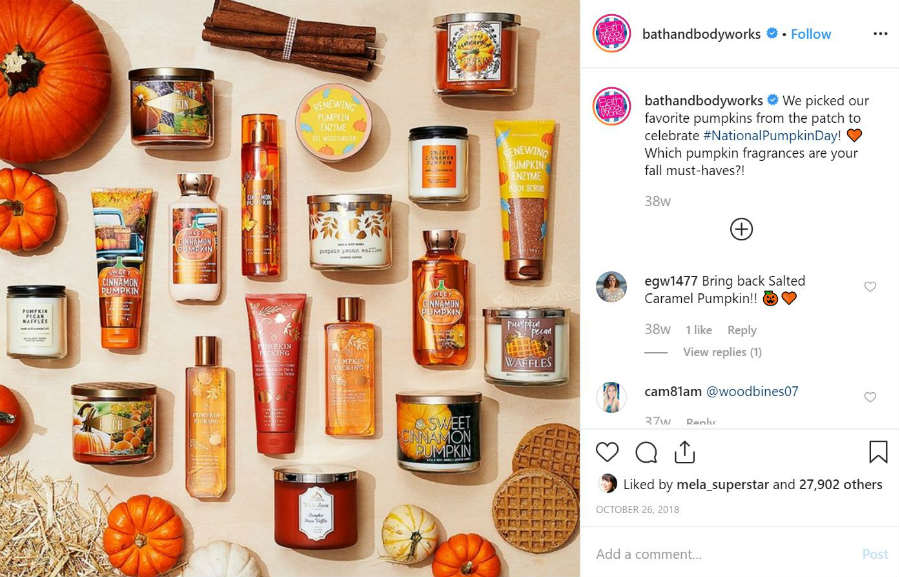 If your business releases unique variants for the season or variants available all-year-round that work particularly well during fall, Thanksgiving is the best season to showcase them all and make them seem like parts of a set that's fun to collect.
Bath and Body Works, for example, created a post featuring all their pumpkin goodies, from Pumpkin Pecan Waffles candle to Cinnamon Pumpkin body lotion.
Though the brand posted the photo for National Pumpkin Day, the timing is perfect. A few days after Thanksgiving, when everyone still isn't over that delectable pumpkin pie they savored during the holiday.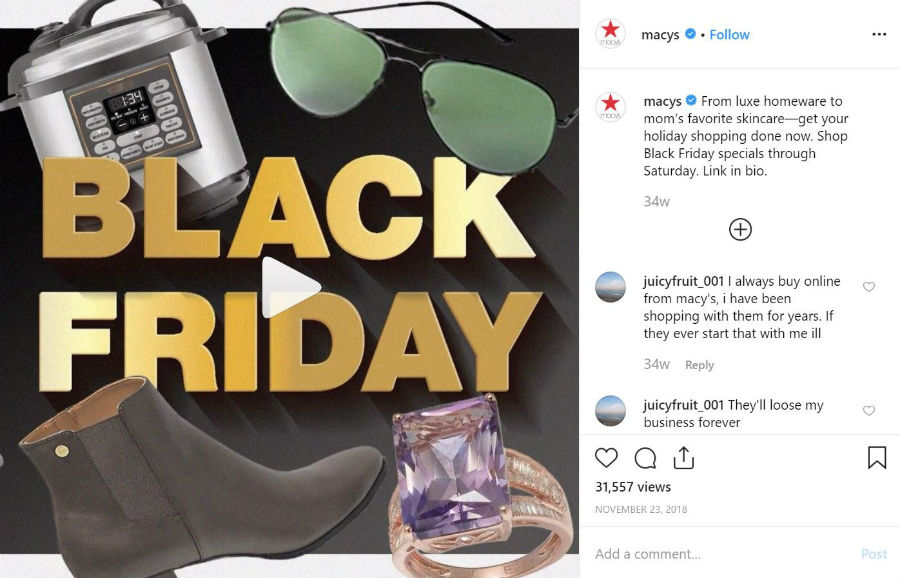 Right after Thanksgiving festivities is the shopaholic's favorite time of the year – Black Friday!
Have clients something exciting to look forward to after ravishing their Turkey dinner by posting a preview of the stuff you'll have on sale for Black Friday.
This pre-Black Friday video post from Macy's gave followers a quick rundown of bargain items. The video was just the right length. It was long enough for customers to spot something they might be interested in, but short enough to tease a person's shopping appetite. Check out this article on Top Ecommerce Marketing Strategies for 2019
If you must know, posting a bland 'promo' about your products and services will not cut it. The right images, design elements, and perfect layout are all crucial to increasing conversion. This is where professional graphic designers are good at. The Penji team has a pool of talented experts that can work on your social media posts. They are not only designing visually impactful materials, they know how to relay your brand messages through images.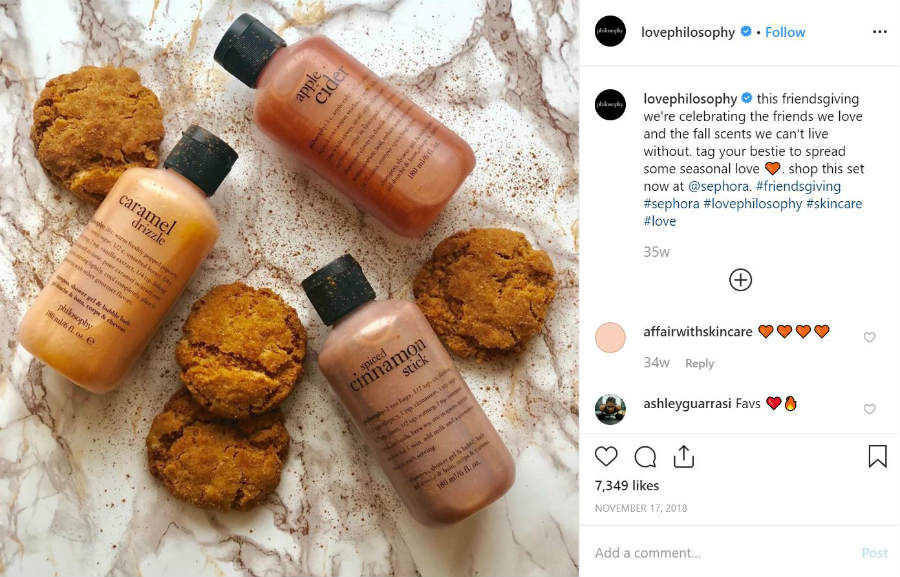 Highlight seasonal flavors by posting about them on social media.
This post by Philosophy features their variants for the season. Who could resist the scene of caramel drizzle, apple cider, and spiced cinnamon stick in chilly fall?
Philosophy made their products even more relevant by suggesting that sharing them with people you love is akin to spreading seasonal love.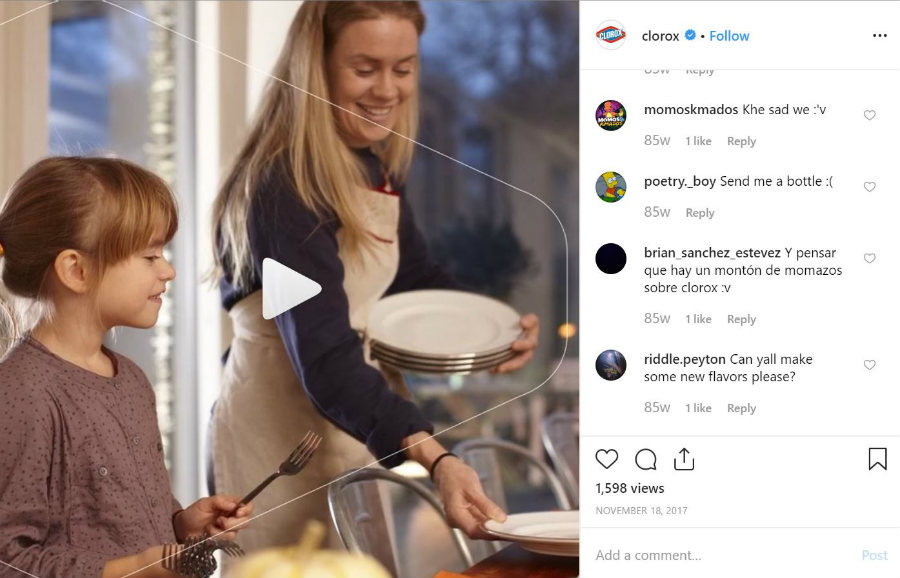 Thanksgiving is all about family bonding over a mouth-watering dinner spread. However, it could also mean a lot of kitchen utensils to clean up after all the holiday cooking and eating.
Clorox's Instagram video post last year subtly acknowledges this but still manages to focus on the value of family. The lines used in the video incorporate their brand into the season's festivities: "Clean is the beginning. What comes next is gratitude."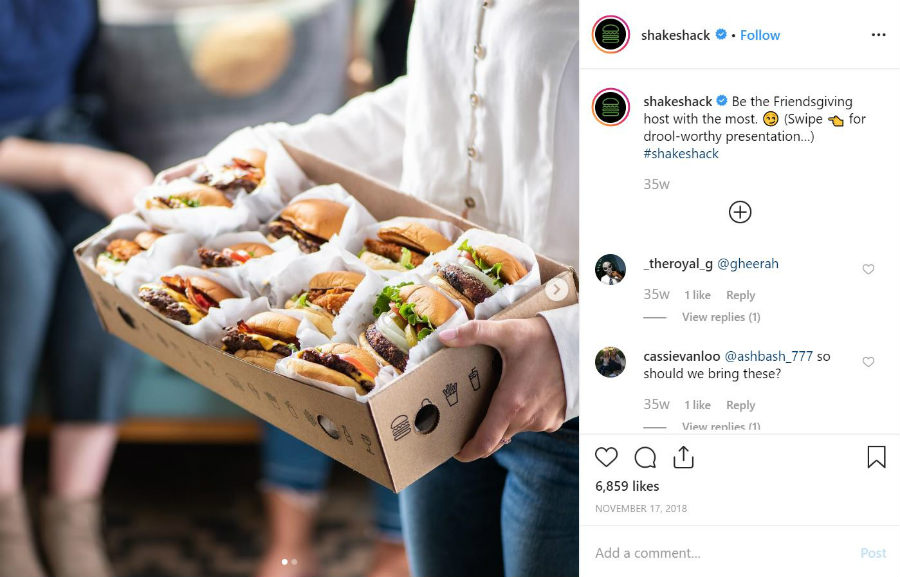 Shake Shack knows that families celebrating Thanksgiving most likely wouldn't pick up burgers or hotdogs for dinner. However, a group of friends probably would.
This reasoning is presumably why the fast-food chain decided to target people celebrating "Friendsgiving" or a large meal eaten with friends on or near Thanksgiving. Their post featured a box of burgers. A delight that a group of buddies would plausibly get for a holiday get-together.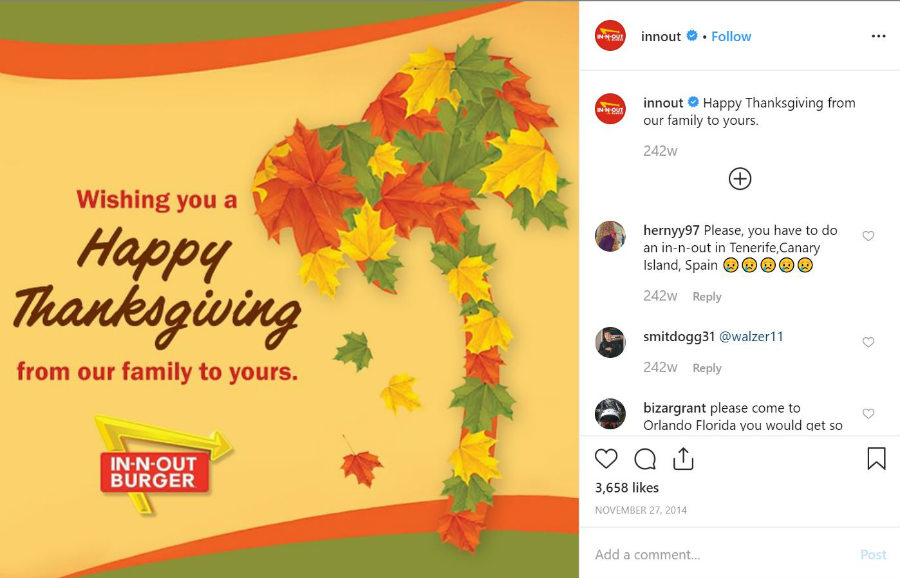 Despite the melange of ideas on Thanksgiving social media posts available out there, sometimes, nothing beats an uncomplicated holiday greeting.
Simply expressing sincere holiday wishes from your business to your clients is a straightforward way to express celebration. This post from In-N-Out Burger is the perfect example.
How to Request Social Media Graphics from Penji
With millions of businesses posting their Thanksgiving messages on social media, how can you make that an opportunity stand out? Again, seek the help of professionals like the Penji team. As a small business, you might think that it's going to be costly. It won't be.
With Penji, they offer unlimited graphic design services for a fixed fee every month. So whatever graphic design you require this Thanksgiving, they can give it to for a fraction of the cost. You can sign up now and choose the right plan for the business. Once you are done, you can follow these three easy steps.
Request for the Social Media Post Design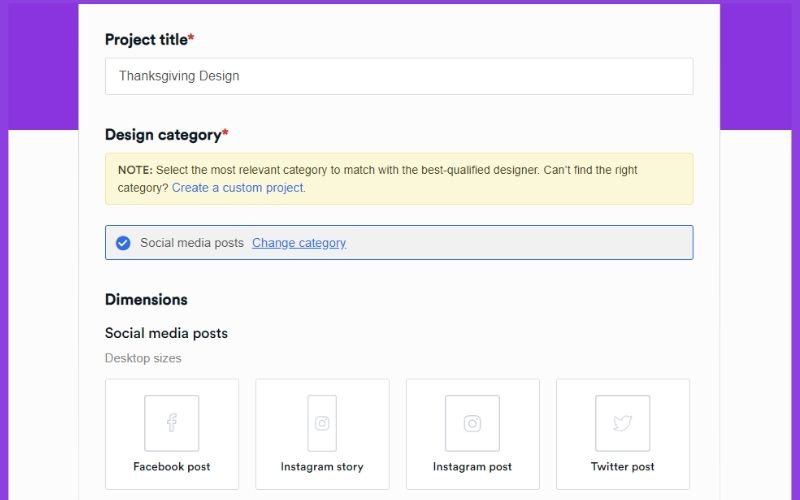 First, use their app to request designs. The app is intuitive and you can easily navigate through it. Make sure that your request has the complete information so you can minimize several back and forths.
Revision Stage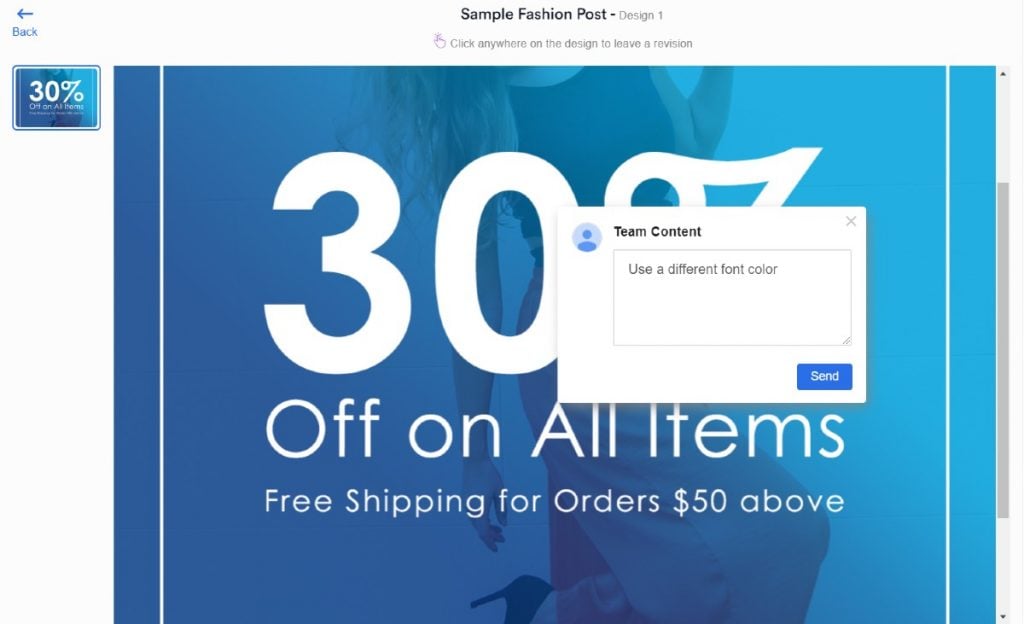 Wait for the first draft within 24 to 48 hours and if you want it to be revised, you can easily send a message using the same app.
Download and Post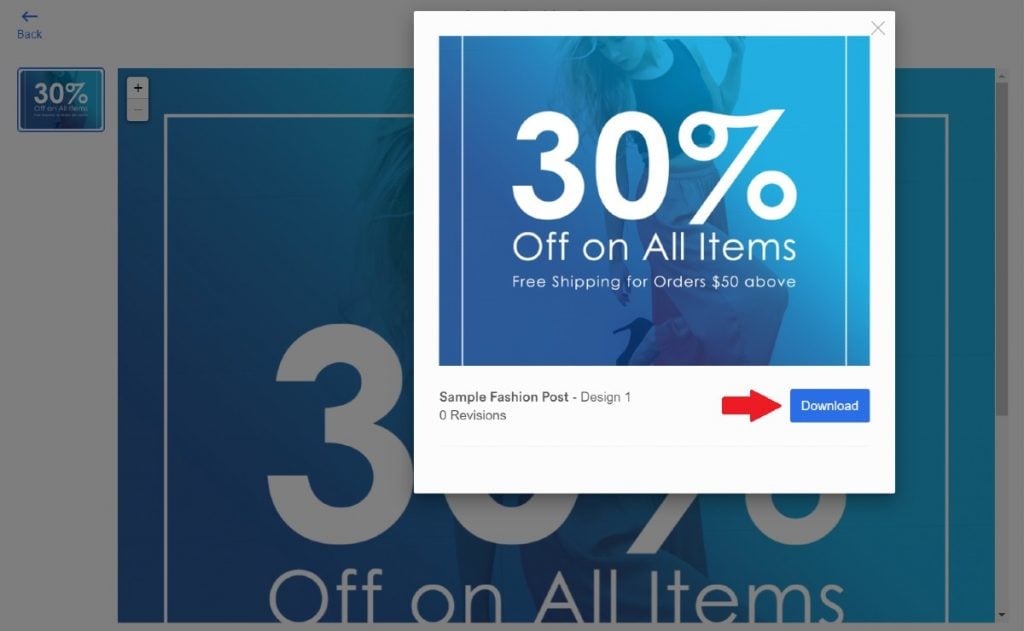 Once you are fully satisfied with the design, you can now download the files and start posting on your social media accounts. Make sure that you have a great caption to go with it.
The main reason why you need Penji's help is that professionals know the right configuration and specifications for each social media platform. This is what most people do not realize and they end up having odd images posted on their walls.
So, why don't you check out some of Penji's work? Try their services and see the difference it will make.