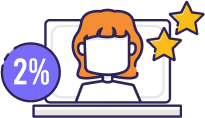 More qualified designers
Meet high demands this season without sacrificing quality. Penji's design team is handpicked from the top 2% of a global talent pool.

More streamlined process
Our intuitive platform helps your team keep track of designs with no latency. You can sign up and start your first project in under 5 minutes.

More consistent branding
Keep track of all your designs with our built-in platform. Our designers will use your guidelines to make sure every design is on-brand.