Thanksgiving is an excellent opportunity for individual users, nonprofit organizations, or any community to take a shot at expanding their social media base. Engagement from social media users nowadays is the new currency. And the only way to boost engagement is through valuable, funny, and visually entertaining Thanksgiving social media ideas.
If you want yours to be the most shared and viewed Thanksgiving post, you need to hire the services of professional graphic designers like the Penji team. Likewise, you can get inspiration from the past social media gimmicks that were considered successful. Here are 20 Thanksgiving social media ideas you should try this year.
But wait, there's more! Penji is a customer-centric design service that helps leverage visuals to boost sales. So here's a Thanksgiving treat to get you started on your Thanksgiving marketing visuals. Download free Thanksgiving images and illustrations here.
1. Easy dessert recipes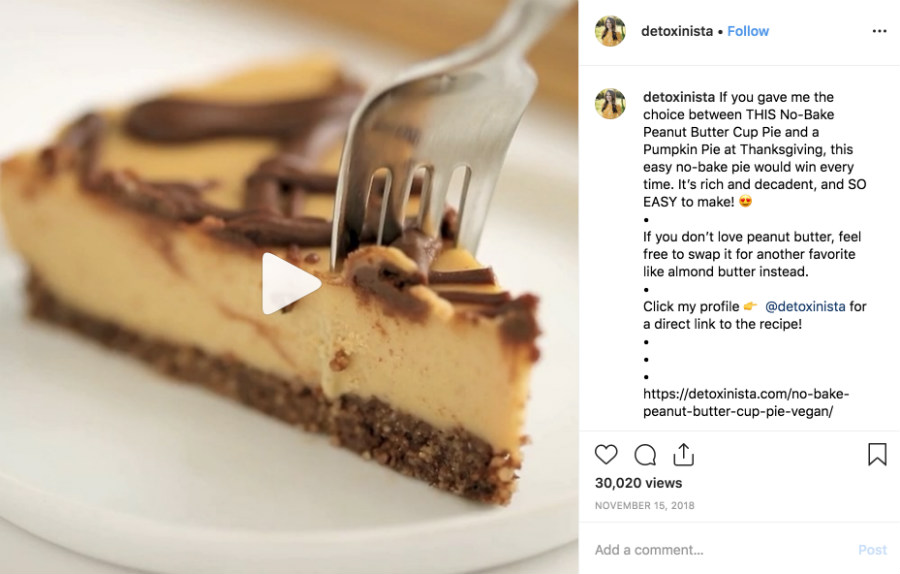 A Thanksgiving feast won't be complete without a delectable dessert that will cap the turkey meal off. If you know of any century-old family pie recipe, share it with the world. Accompanying it with mouthwatering pictures and videos will make others wear their chef's hat on to give it a go.
2. Use seasonal puns and jargon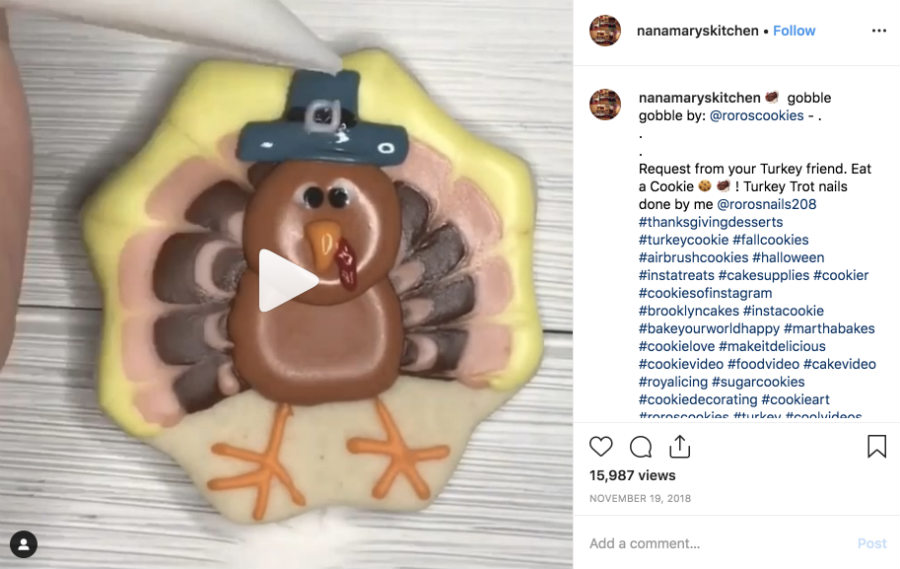 Witty humor sells on social media nowadays. Incorporate Thanksgiving puns and jargon on any Thanksgiving social media ideas. Pilgrims, acorns, Mayflower, or how about the most common one — gobble, gobble. Use it as hashtags so people can search for it.
3. In-store freebies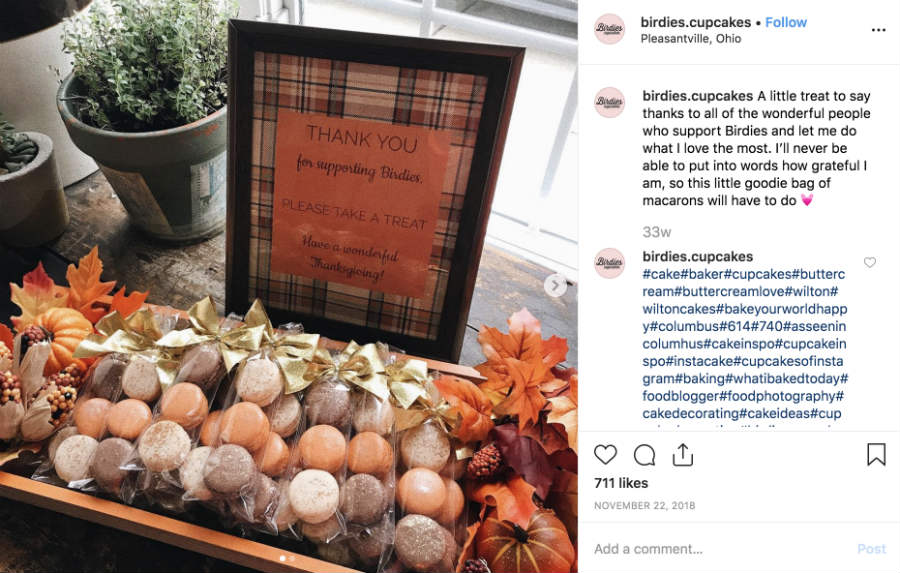 Thanksgiving season is also a time to take advantage of store freebies! Whether you're giving out freebies, promotional, or limited-edition items, post them on social media platforms to excite consumers.
4. Thanksgiving-themed post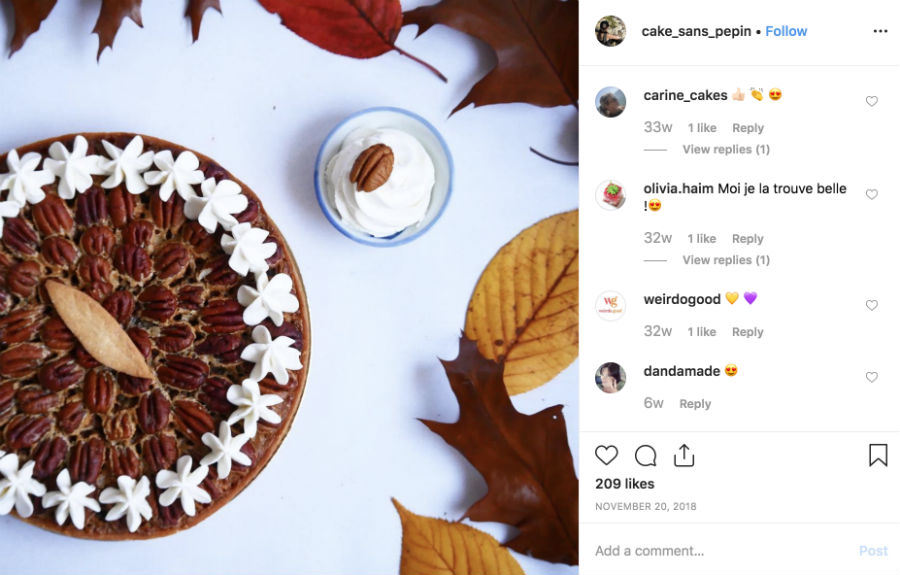 Just like how users and companies doll up their platforms and cubicles during Halloween, Thanksgiving should also give you a reason to decorate as well. The best Thanksgiving social media ideas will use Thanksgiving-themed design elements. In this case, a pie and fall leaves.
5. Post something extraordinary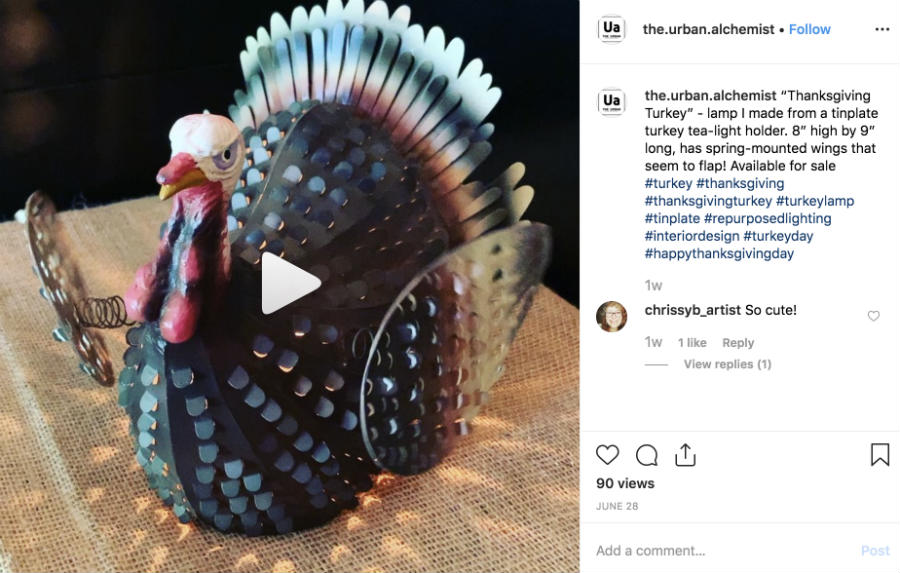 A Thanksgiving social media post that will truly stand out is when it goes against the grain. Check out this creative Thanksgiving turkey lamp made out of tinplate!
6. Informative content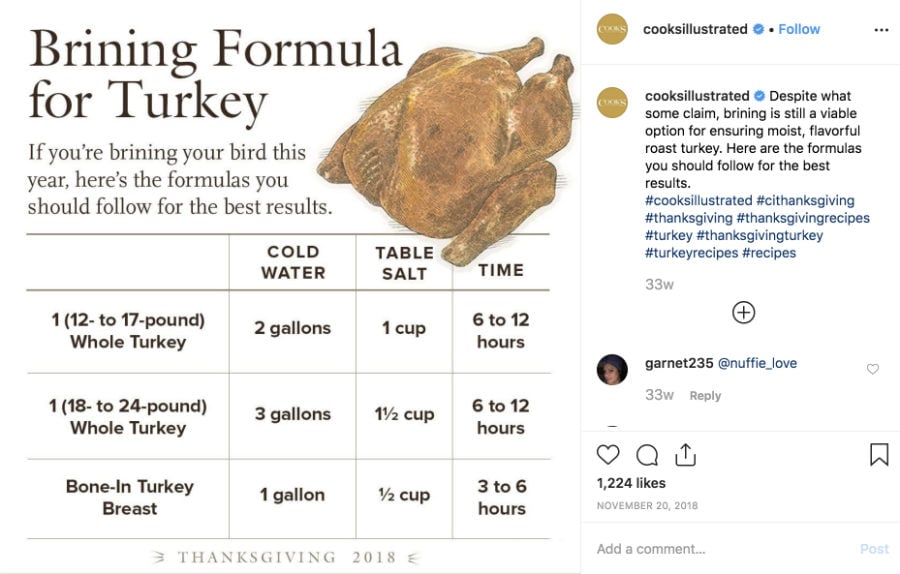 Social media users love valuable content. Everybody will be prepping their turkey stuffing this year, so why not make it less stressful for them by posting informative content. Turkey is best served moist and flavorful, so here's a brining formula for our chef warriors this season.
7. Customized Thanksgiving items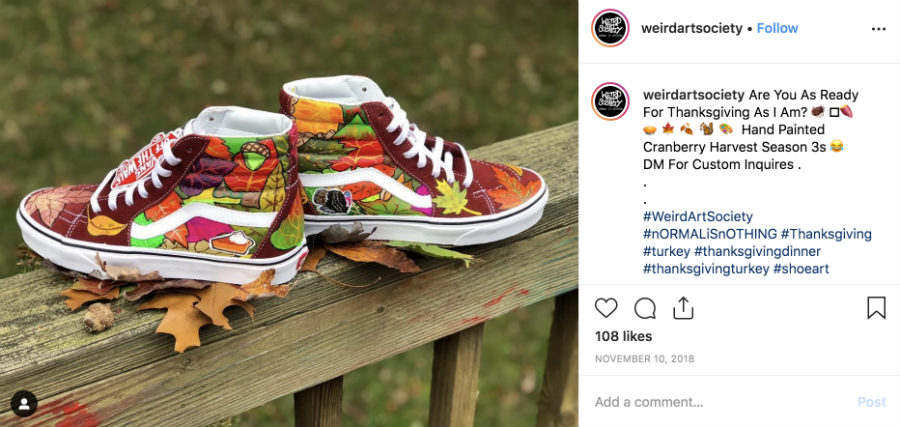 Whether you have an eCommerce or brick-and-mortar store, customizing some of your products for Thanksgiving is one way to boost short-term sales. Of course, anyone with oozing creative juices can also partake in the festivities by sharing their works of art.
8. High-quality images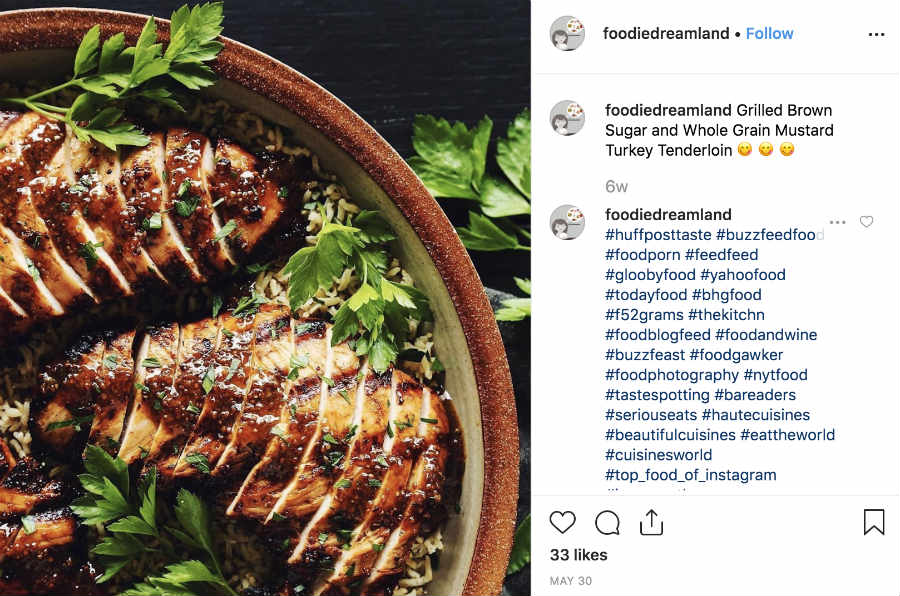 When one is browsing through social media sporadically, high-quality images will always catch anyone's attention. Always ensure that you're posting quality photos and design that won't be just like other run-of-the-mill Thanksgiving social media posts.
9. How-to blogs and videos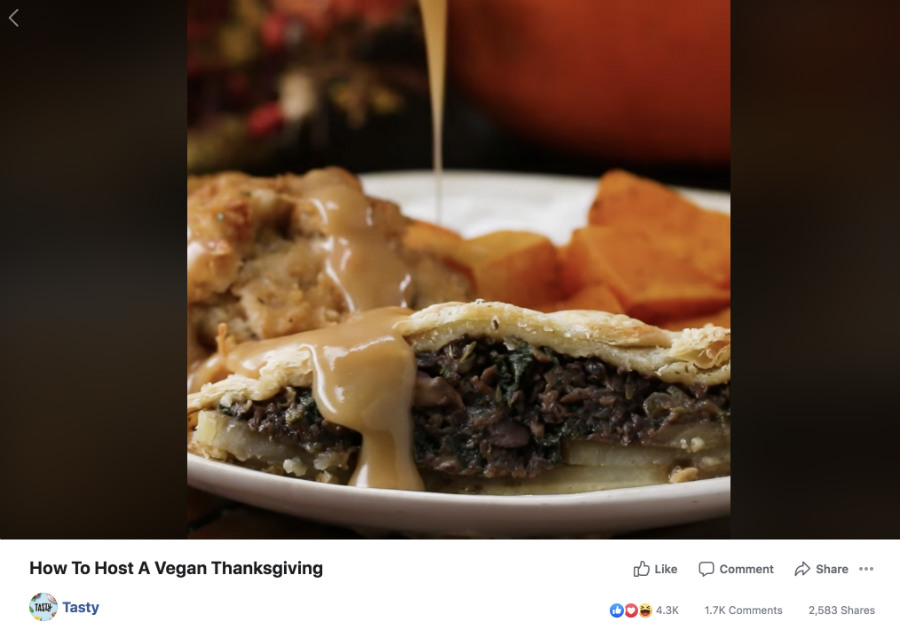 We can't help but notice how frequently shared how-to articles or videos are. As I've mentioned, people breeze through social media either for entertainment or learning. How-to blogs also give you broad choices. From how to style a Thanksgiving table to how to host a vegan Thanksgiving, you're surely giving social media users what they want — value.
10. Emotional videos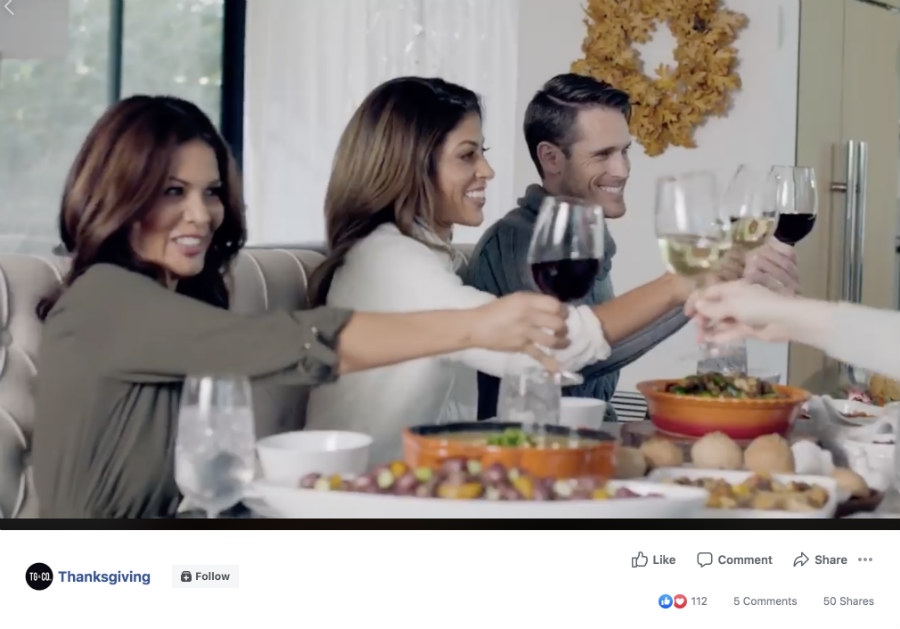 This is a time to be grateful for your life and others that surround you with love and positivity. Spread the love and inspire others through social media. In this video, the creator is telling us to be thankful for our loved ones, the food on the table, and so many other little things. How about you, what are you thankful for?
11. Easy cocktail recipes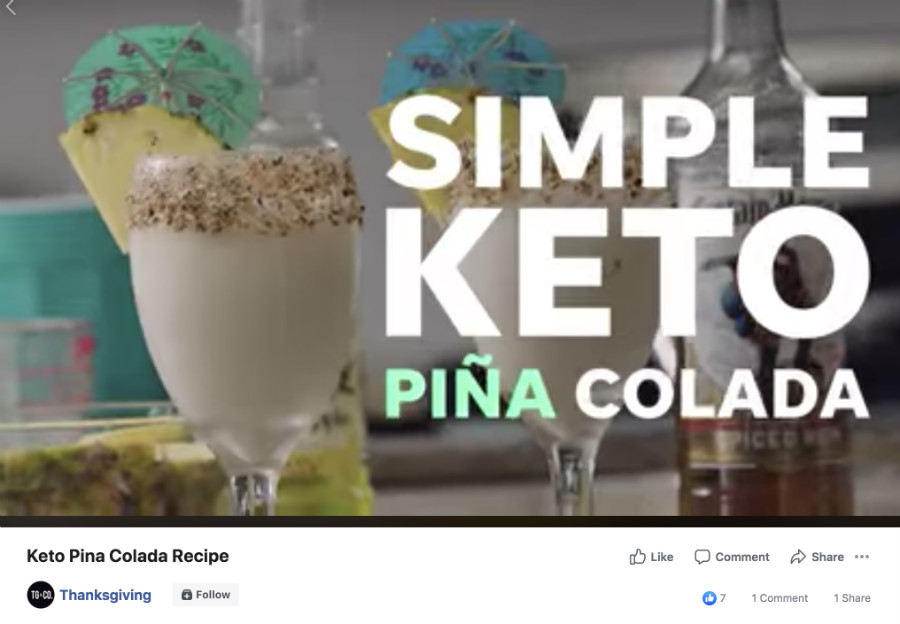 What's a celebration without alcohol? Now is the perfect time to drink and be merry. Let's toast to all the pilgrims and natives back in the day for starting a harvest festival that we now get to celebrate yearly to this day. Share some easy and refreshing cocktail recipes for kicks.
12. Share delicious turkey stuffing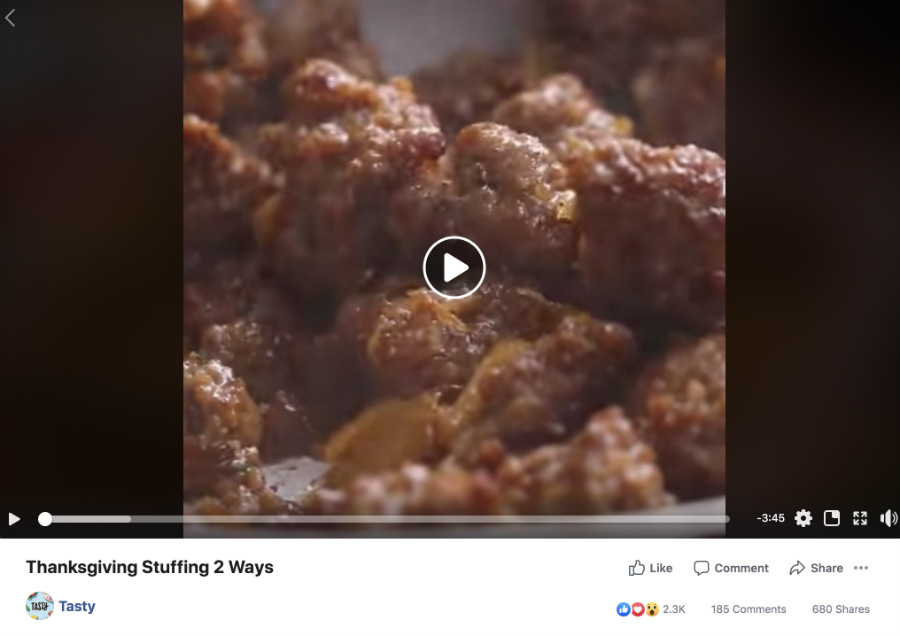 In the 1620s, colonists and natives stuffed their fowl with all sorts of herbs, onions, and even oats. This tradition is still observed today. Since people are always thinking of ways to break the mold, share delicious turkey stuffing for them to try.
13. Festive table decorations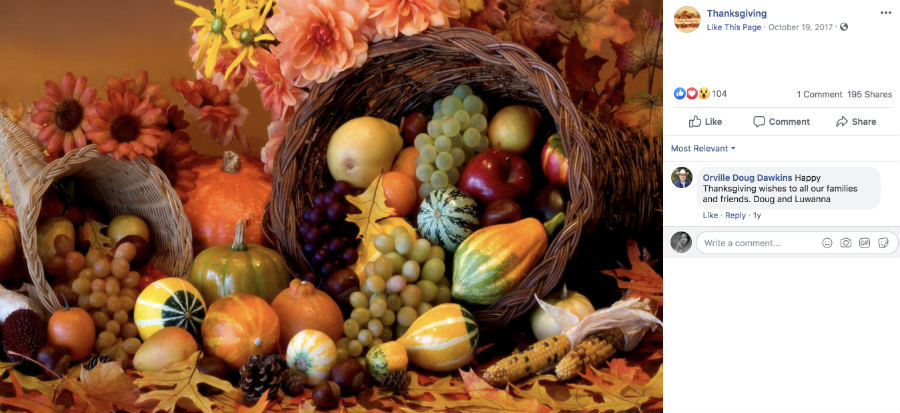 The festivities always mean cladding your table or nooks with a cornucopia of bright and colorful decorations just like this eye-catching design.
14. A slice of history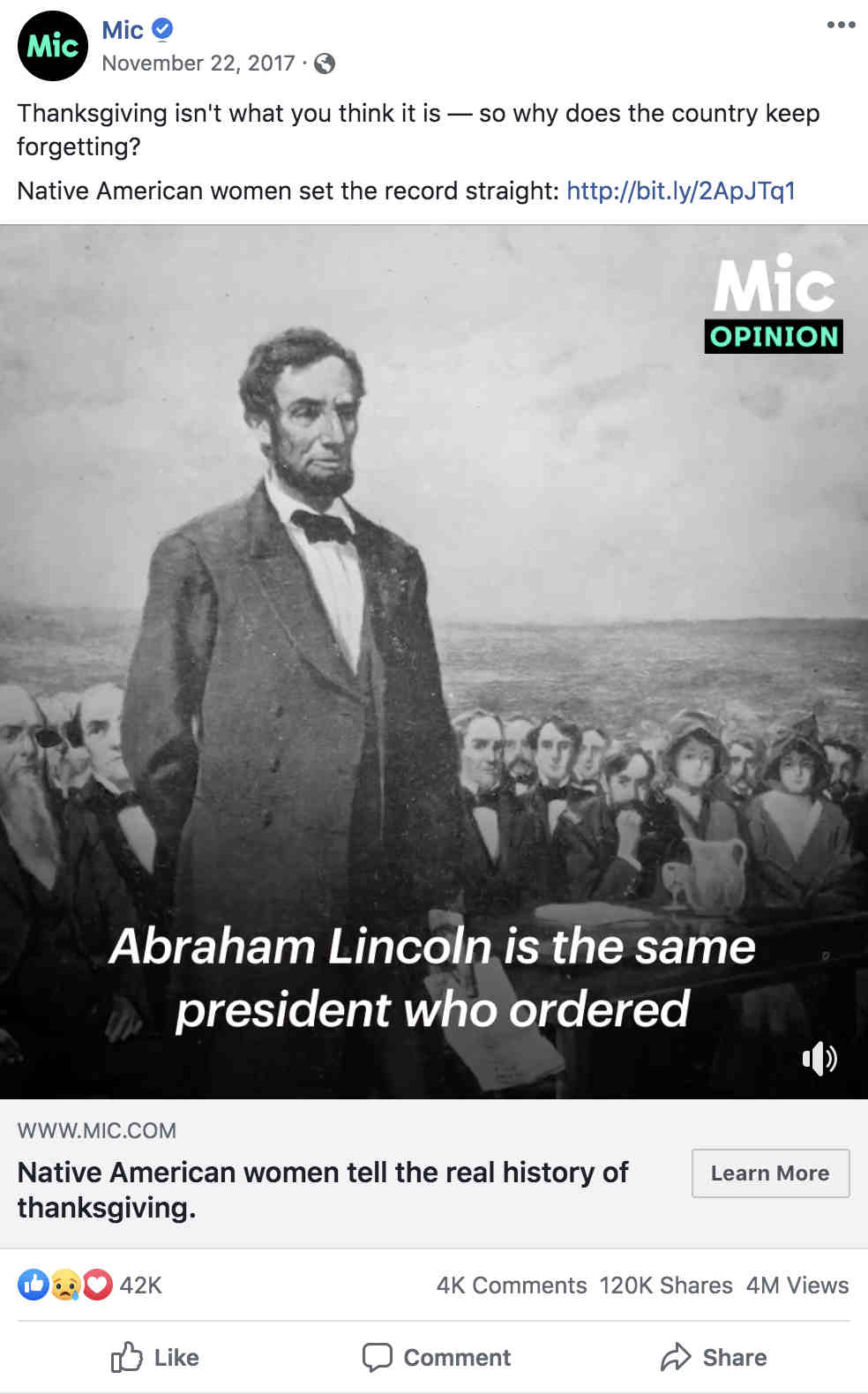 While this holiday is celebrated differently, do we really know the real meaning and story behind this momentous occasion? Thanksgiving was connected to genocide in the past, but people aren't very comfortable talking about it. Sharing the history of Thanksgiving doesn't only give value, but it will serve as an eye-opener for the uneducated.
15. Giveaways and contests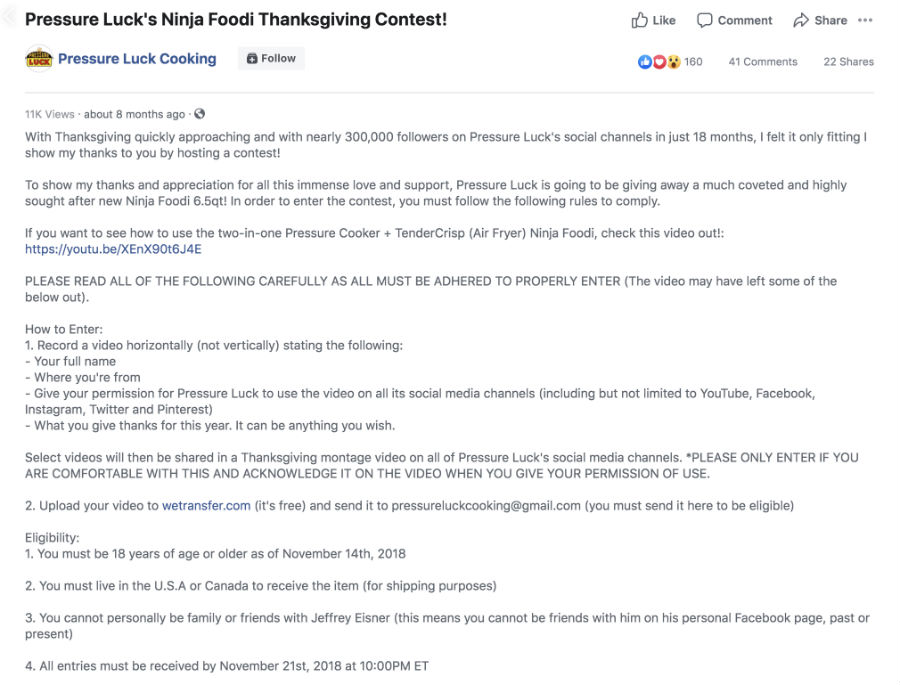 You don't have to be a big shot to organize a social media contest. And Pressure Luck Cooking is proof of this!
16. DIY Thanksgiving social media ideas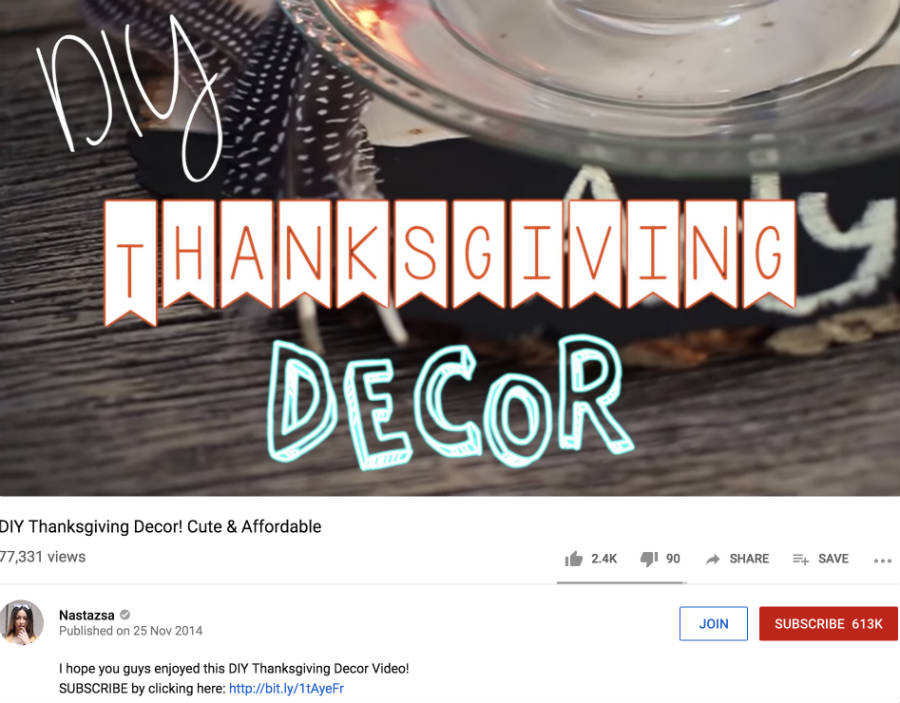 For the do-it-yourselfers, Thanksgiving may be a time to unleash their dexterity in all things DIY. You can either repost or share some DIY secrets of your own to inspire others.
17. Leftover hacks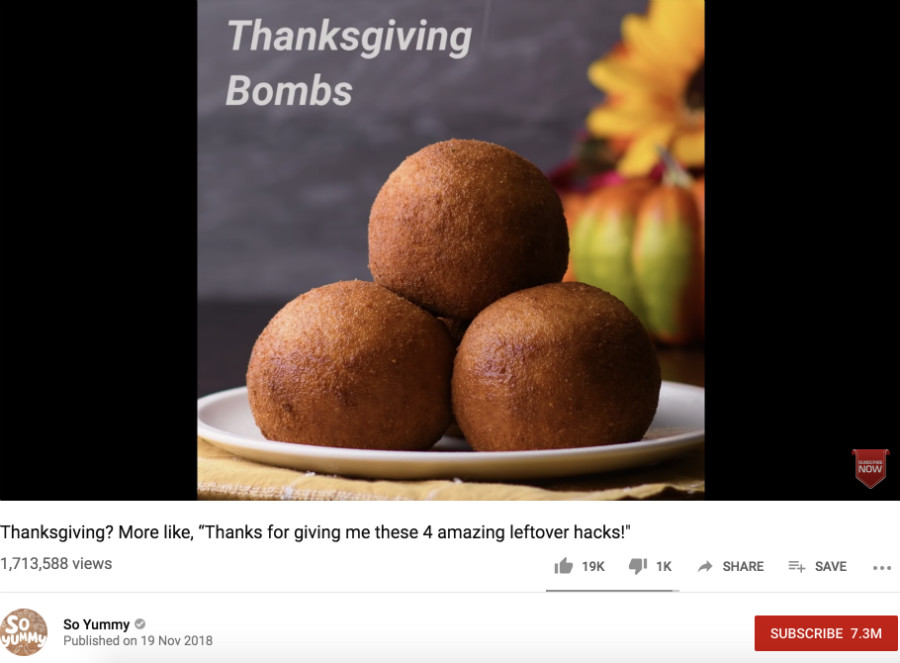 We've all been there before. The day after Thanksgiving means we have to deal with all the leftover food. So while users will scour for the best dishes before the big day, they'll also be searching for leftover hacks afterward.
18. Funny one-liners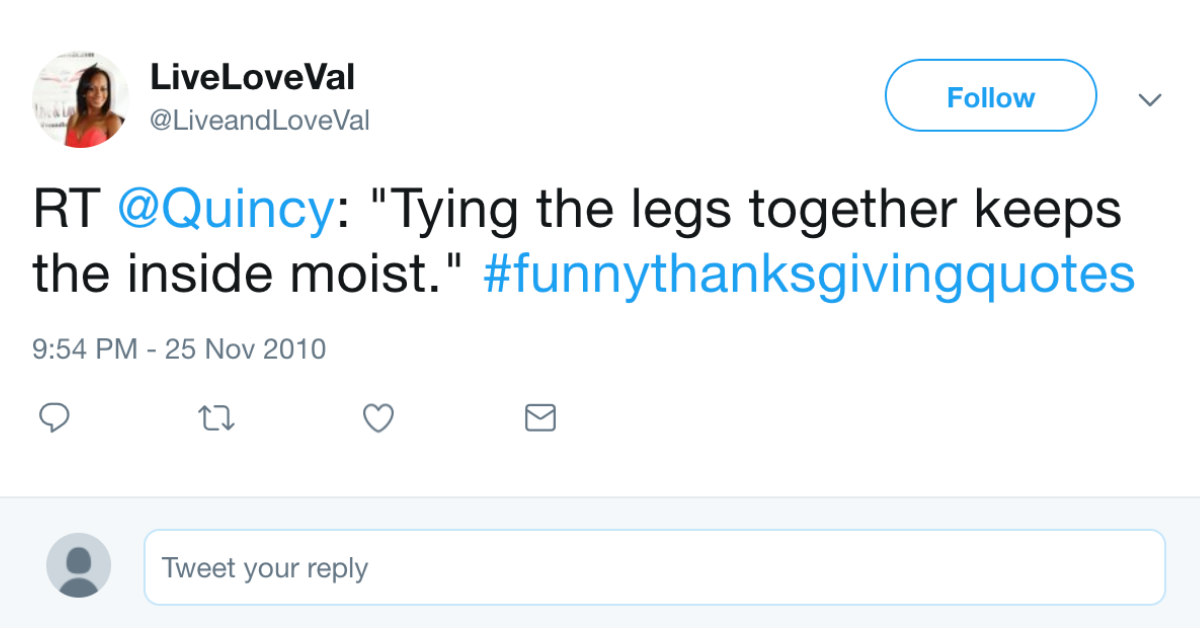 Pithy one-liners can always make anyone crack up. If you pull this off, chances are, it's going to be shared and in this case — RTed. Take this example from Quincy, the famous American actor, and singer. And oh, he's talking about the turkey by the way.
19. Thanksgiving checklist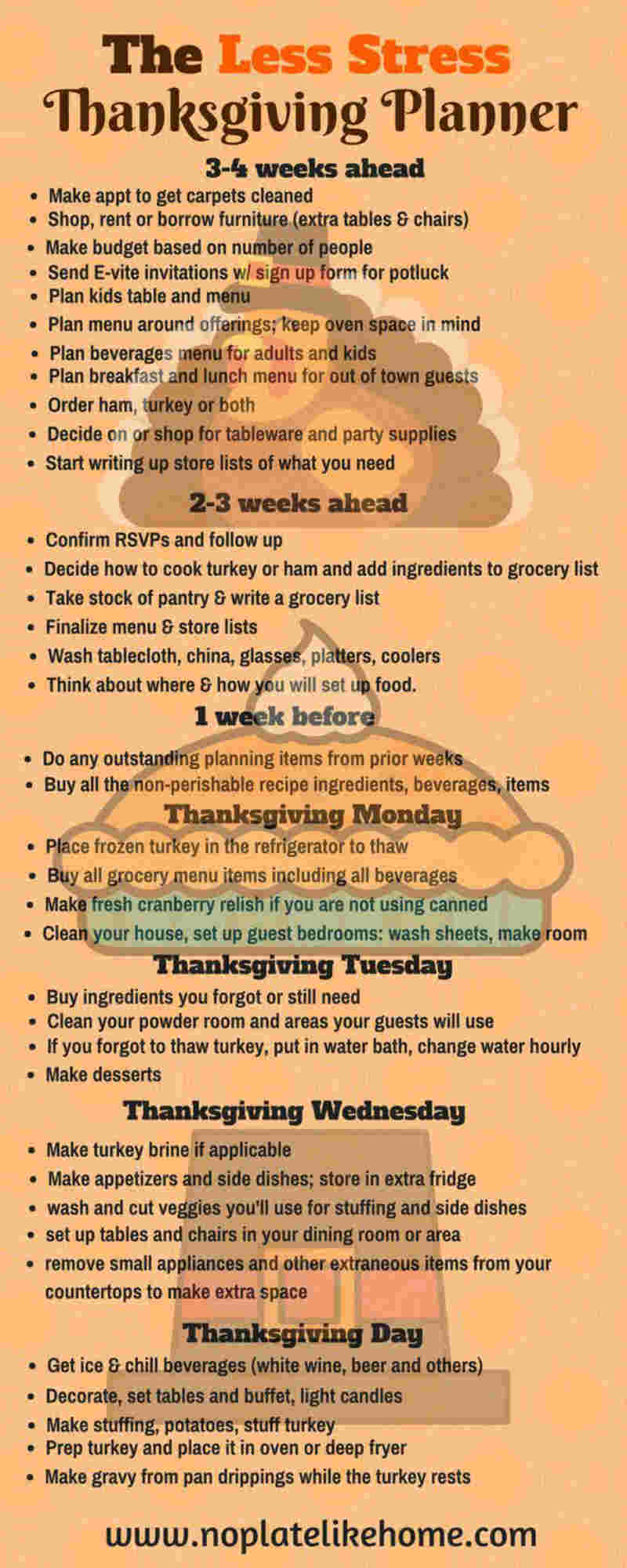 Anyone does not have the most impressive time management skills. For the most inspirational Thanksgiving social media ideas, simply help them out from day one until the most awaited day through a planner. This infographic is uncomplicated yet extremely useful and all-encompassing.
20. Inspirational quotes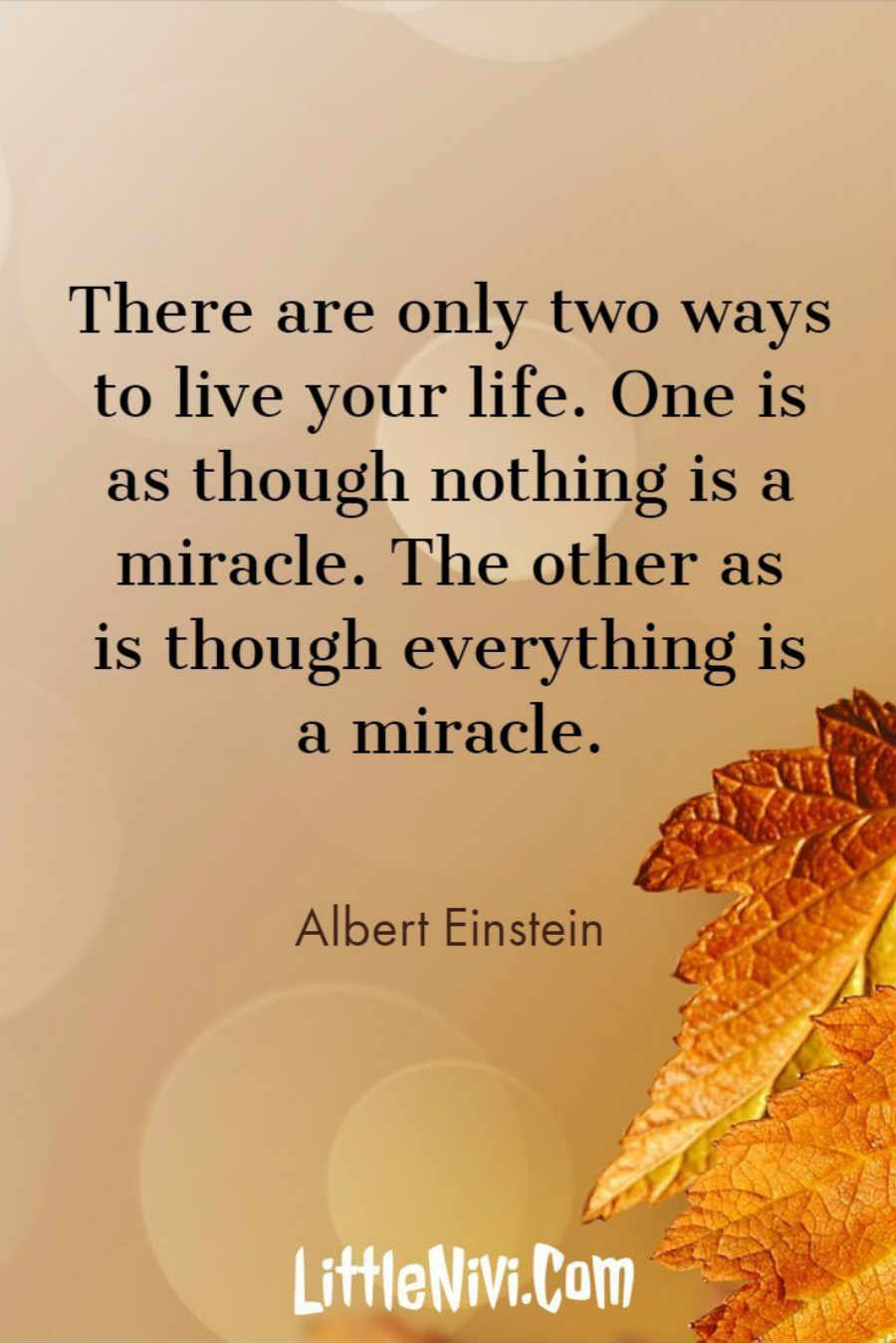 There is no simpler and better way to inspire others during Thanksgiving than to share the most motivational quotes. While others are jubilant on this day, others may be carrying burdens they can't seem to handle. Thanksgiving is all about celebrating with everyone — loved ones or strangers, physically or virtually — and to be grateful for the intangible things in life.
How to Use Penji to Boost Your Social Media Posts
Since the competition is tougher by the minute, you need to work with experts so that your social media posts will stand out from the crowd. Work with graphic designers such as the Penji team and you will have no regrets. They have already worked with several businesses and their clients are always more than satisfied with the results. With them, you are certainly in good hands.
Here's how you can get unlimited graphic designs from them.
Click the New Project Button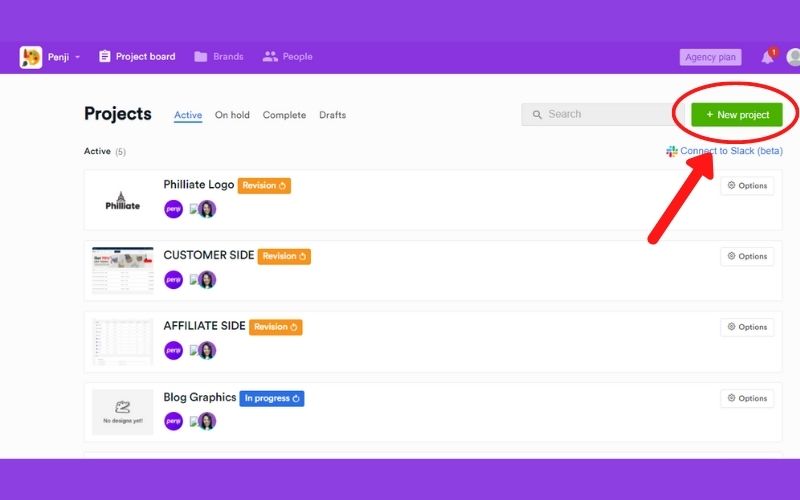 After you sign up with the team, you can now access their app. This is easy to navigate and you can use it without any help.
From the dashboard, find the New Project button. This is located at the right corner of the screen if you are using a laptop or desktop. Click that so you will be routed to the next page.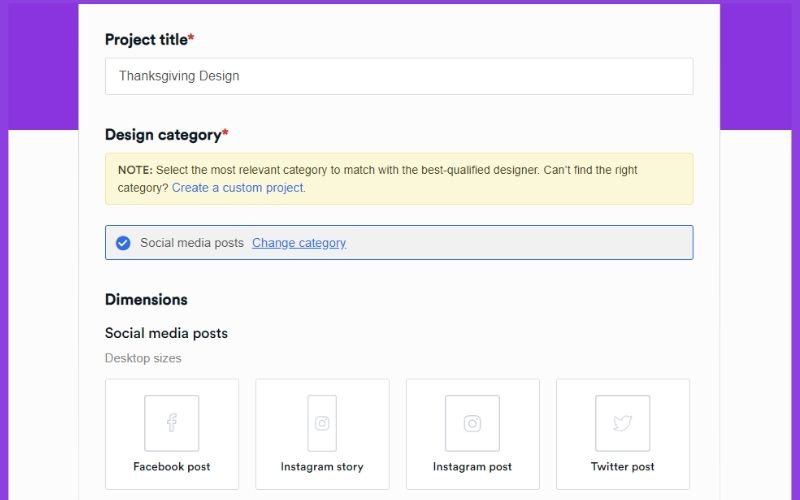 The next page serves as your guideline when creating a request. You will find the information needed by the designer so they can easily start your project. We recommend adding as many details as you can. You can send your branding kit and even some links that can serve as the designer's inspiration.
Wait for the Draft and Ask for Revision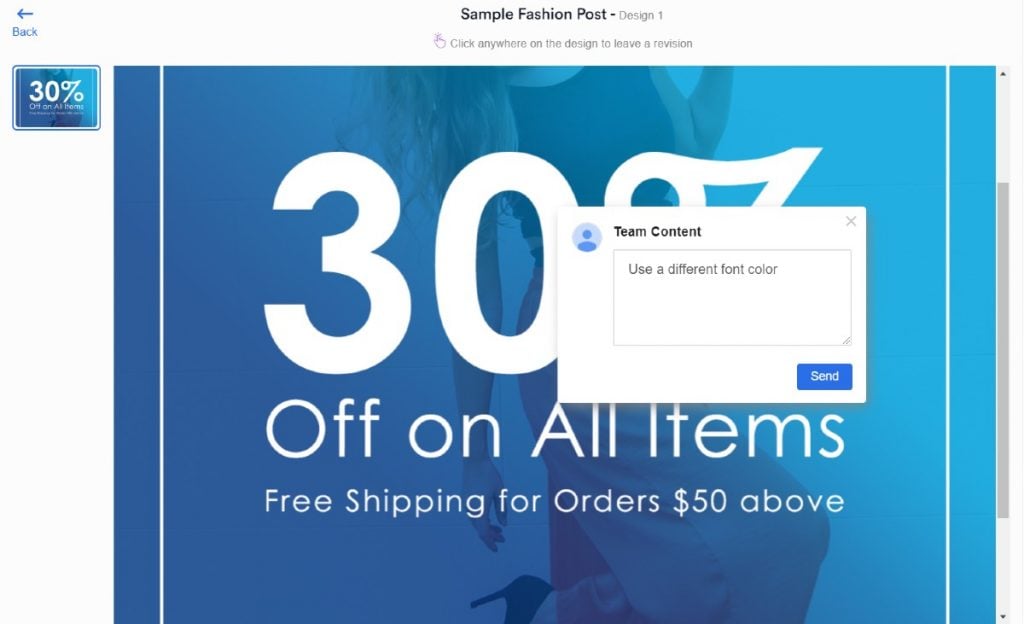 The draft will be submitted within 24 to 48 hours. This should give the designers ample time to create your project. But of course, this is dependent on the project specifications. For easy ones, the task should be completed fast. Otherwise, they might need some time.
Upon receiving the draft, you can click the photo to enlarge. This will allow you to carefully review the output where you can pinpoint the improvements to be made. If you are happy with the design, you can go to the third and final step. But if there are necessary changes, you can type directly onto the images and send the feedback to the designer.
Download the Designs and Post It With Engaging Caption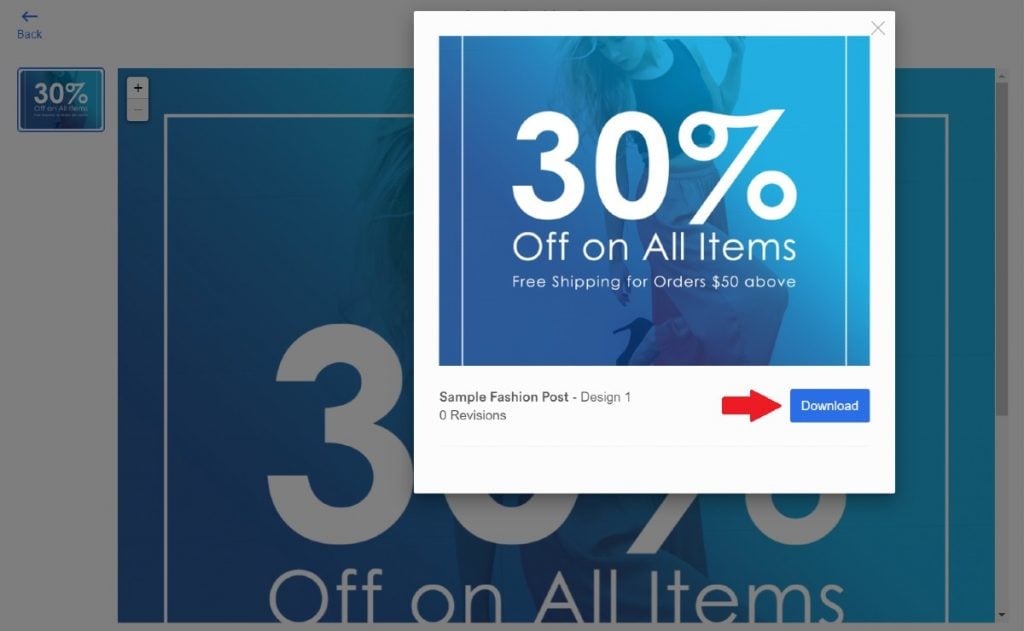 Lastly, you can download the design from the same app. You don't even have to send a separate email requesting the source files. These are readily available and you can get them anytime you want.
Now, you can start posting your images in your business accounts and add a lovely caption to match them.
See, it's so easy! Hire Penji's services and get more traction this Thanksgiving.
Updated October 21, 2021