Thanksgiving is just around the corner and marketers are scrambling to create campaigns that rake in more sales. Brands think of the best Thanksgiving promotions to lure more customers, and these are the top 20 campaigns you must check out.
One thing in common with these campaigns is the incredible visuals. If you need help with your Thanksgiving graphics, subscribe to Penji. You can request unlimited graphic designs at half the cost and half the time! To give you a taste of what you can expect, we're giving away free designs for Thanksgiving. Download these lovely background designs for TikTok and start promoting your brand!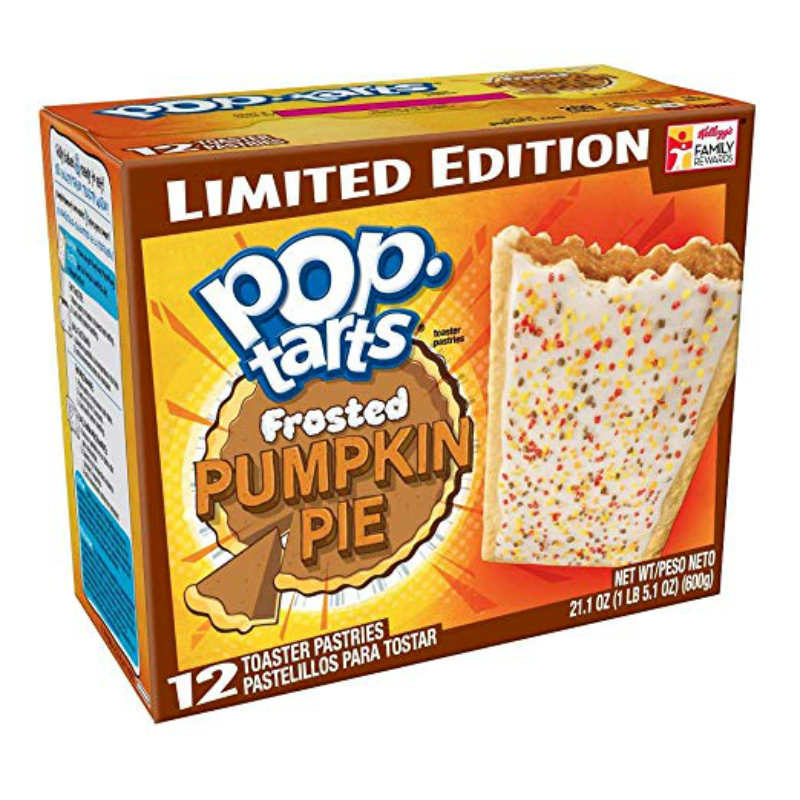 Kellogg's Daily Poptarts offers a myriad of flavors regularly. But they made Thanksgiving season extra special by making this limited-edition frosted pumpkin pie flavor. Their packaging is a rare sight for Poptarts lovers too. Instead of the usual blue, they opted with a pumpkin orange just to ride with the Thanksgiving tide.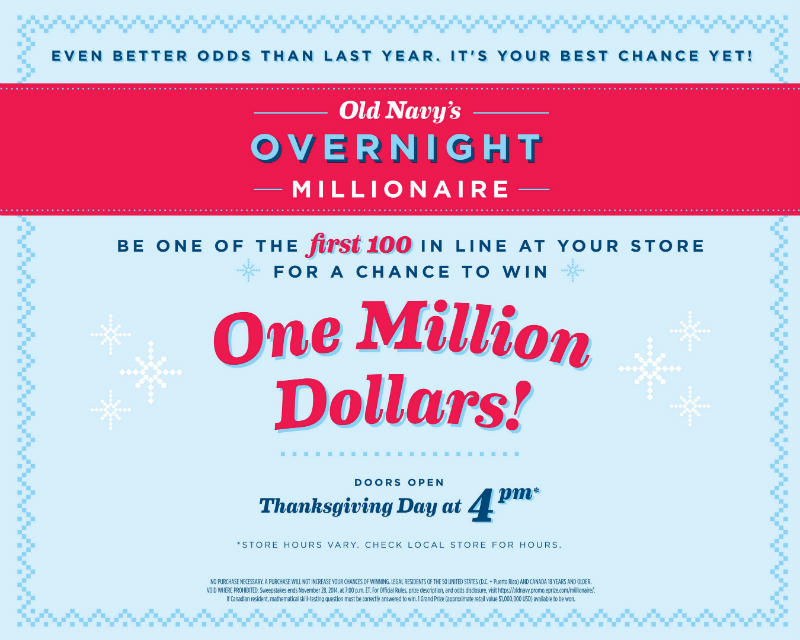 Old Navy's giveaway dons a two-tone contrast. The bright red tone against the sky blue background really makes the texts pop. I admit, the moment I saw this ad, the words "One Million Dollars" was the first thing I saw. Aside from the captivating colors, the campaign itself is too tempting to resist.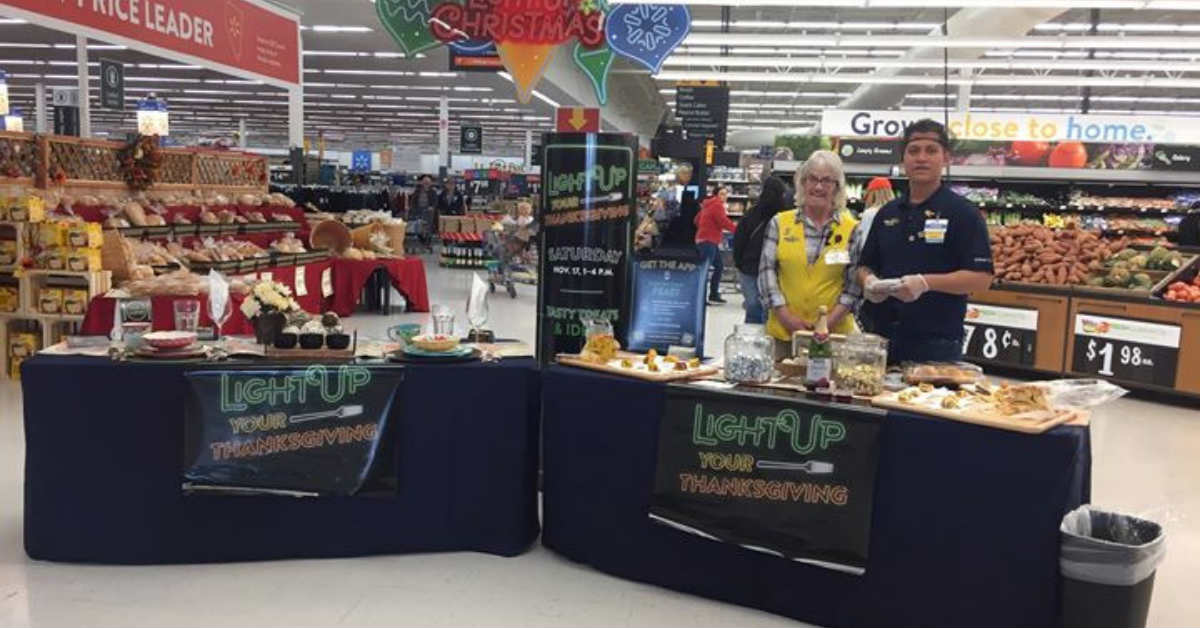 Walmart sure knows how to pump up the store's vibe. They did two major in-store events during Thanksgiving week — Light Up Your Thanksgiving and Light Up Black Friday. The former gives customers some tips and tricks to host holiday parties, and the latter offers tasty treats and a cup of coffee.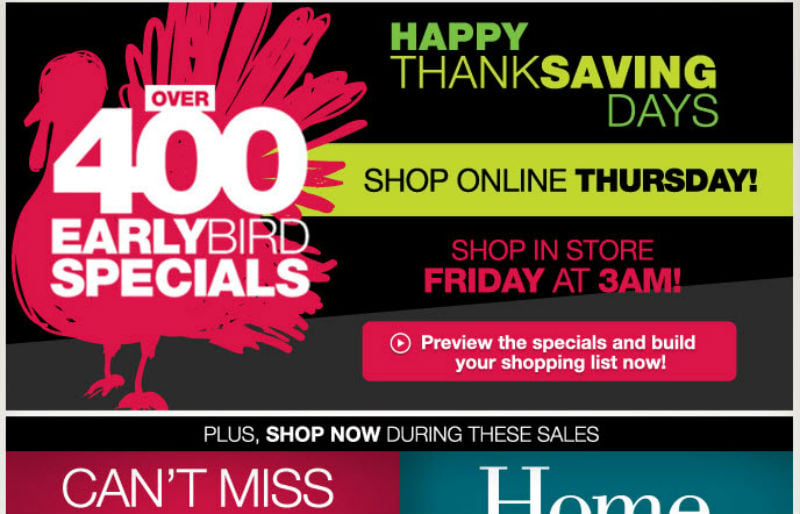 While some businesses offer exclusive Black Friday deals on the day itself, Kohl's gave customers a sneak peek of what's to come after Thanksgiving. Not only that, they made some Black Friday deals available on Thanksgiving day! They also had an early bird special for the first 400 customers. All these done in an eye-catching array of bright colors. This is where expert graphic designers come in. They know which design elements (including colors) to use to persuade the market. The Penji team knows this and they apply the principle in all their works.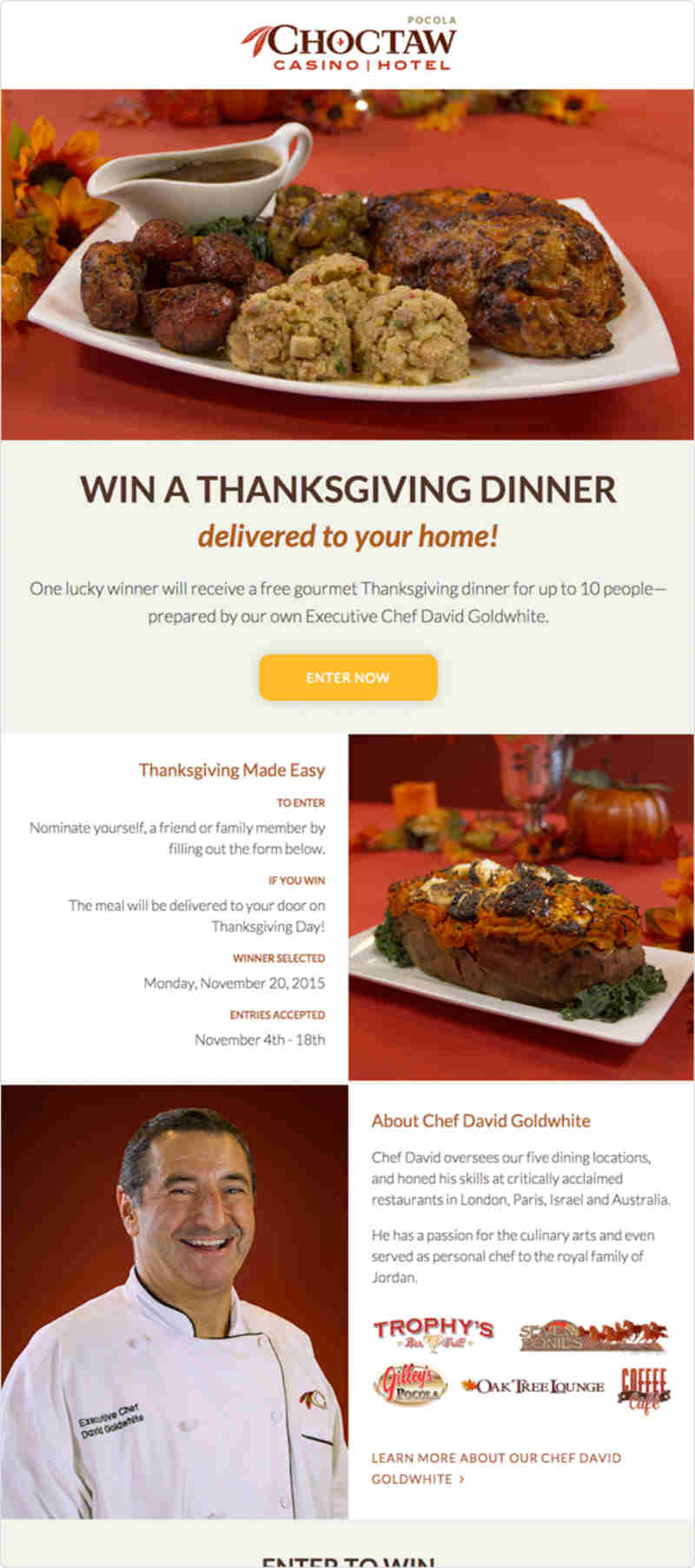 Stress is inevitable during turkey season. That's why these Thanksgiving promotions are good stress-relievers. And Choctaw Casinos thought of something extra special for one lucky winner by delivering a Thanksgiving meal. The enticing graphics on their ad would prompt hungry gobblers to join.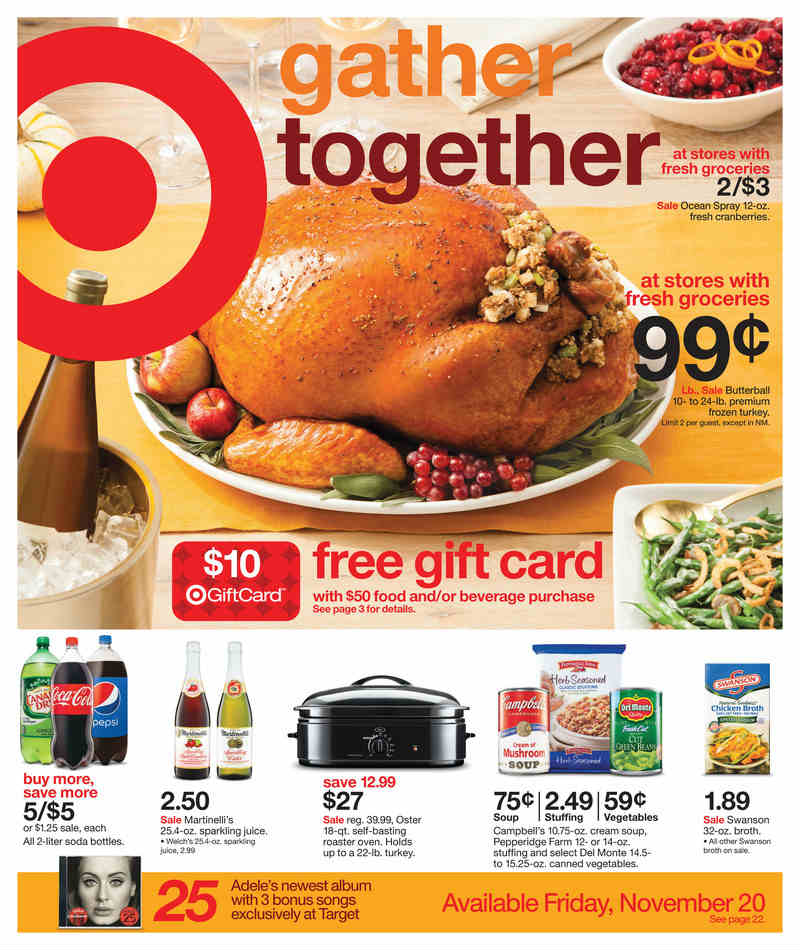 This one is Target's magazine ad promotion. The layout is uncomplicated even though there are a lot of things going on in this page. But this ad didn't lose focus on the main ad attraction — the turkey.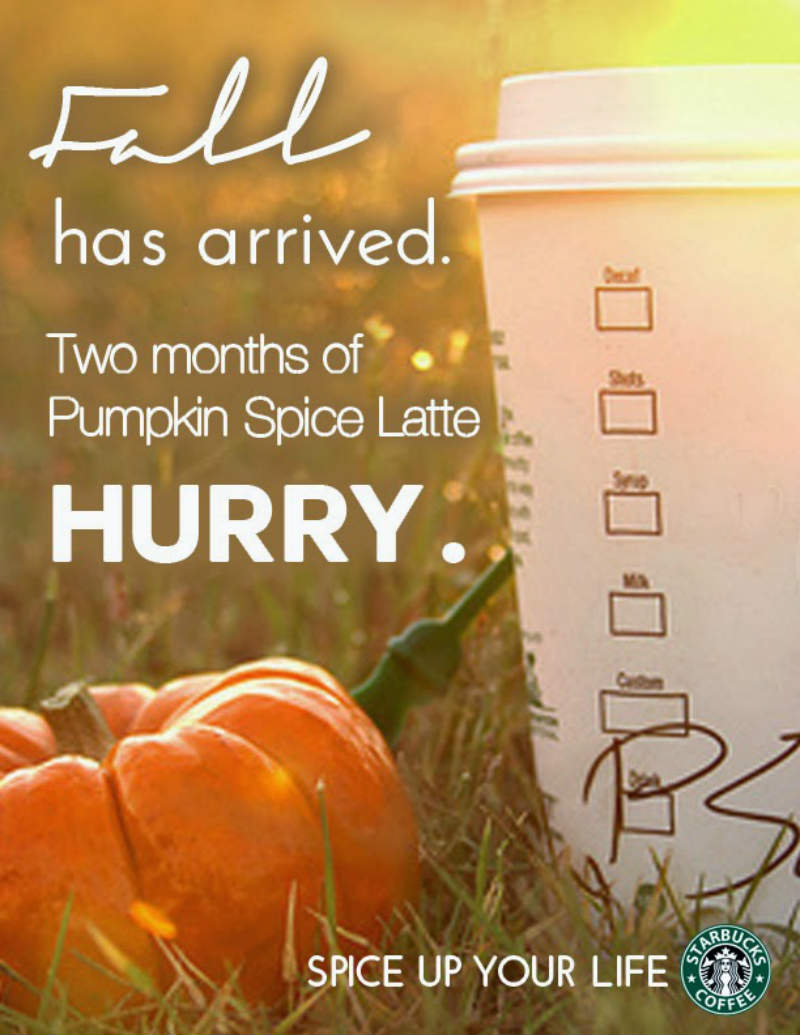 Starbucks couldn't have advertised their limited-edition Pumpkin Spice Latte better. The raw pumpkin plus the coffee cup on the grass with what seems like sunlight in the background, and the words, "Spice up your life" all look like a motivational postcard. But you realize it's not the moment you see the word, "HURRY."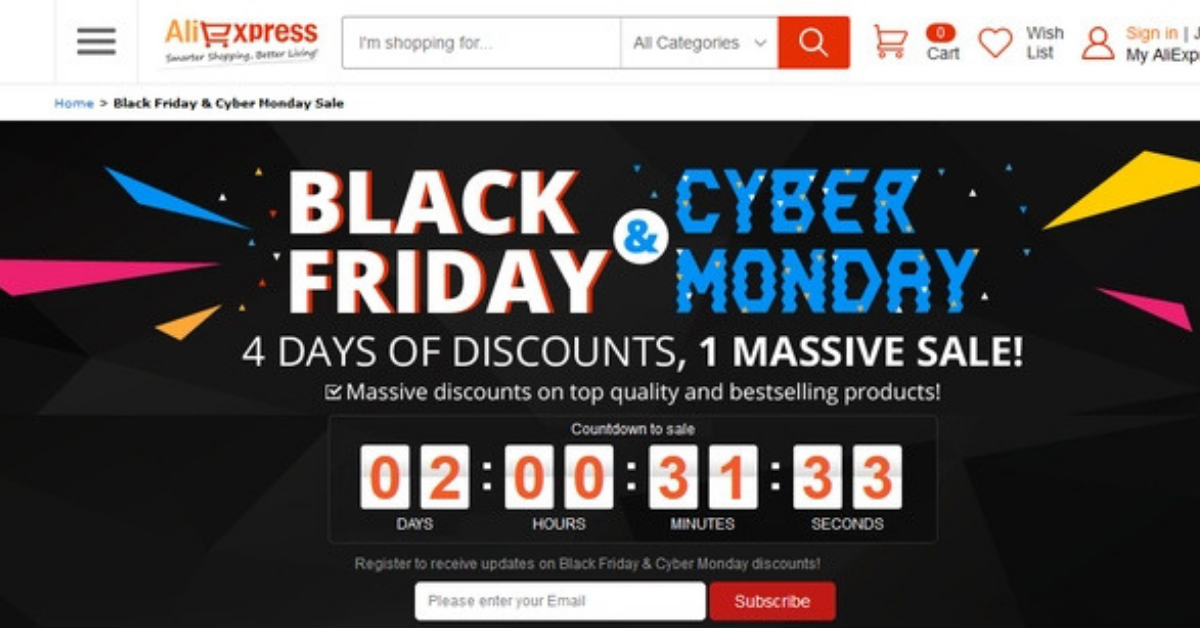 If you're doing a four-day discount frenzy, what better way to create a sense of urgency than to add a countdown? And that's what AliExpress did on their homepage. Thanksgiving countdown promotions will make your customers look forward to the red-letter days.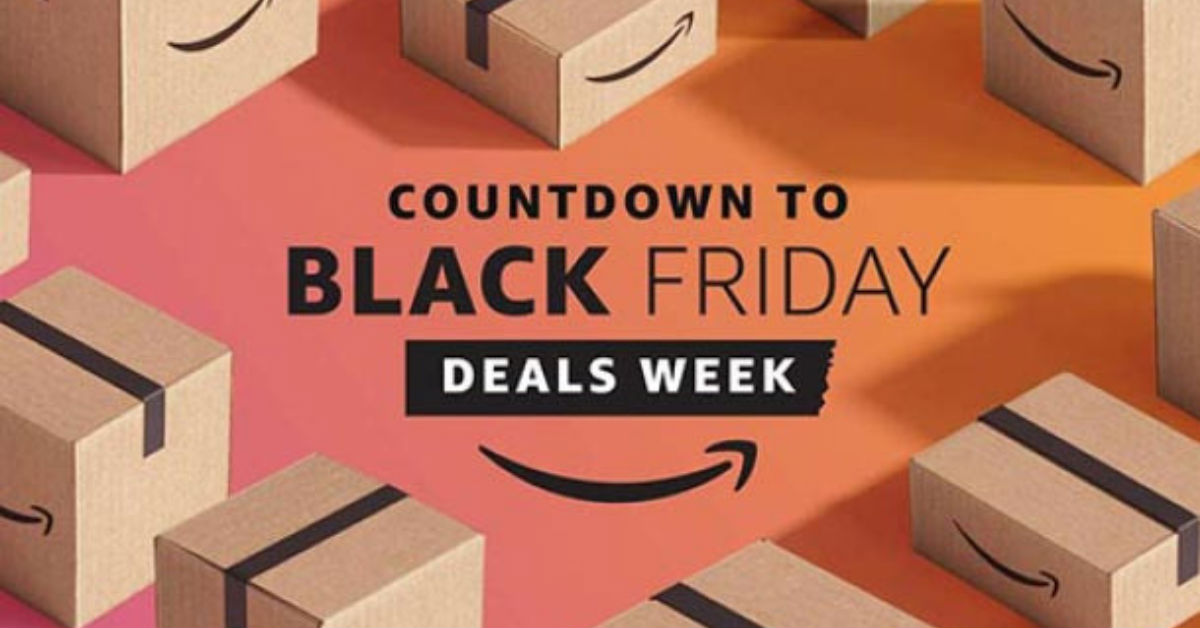 Another one of those Thanksgiving countdown promotions, this ad from Amazon is creatively done with simple but significant elements. Overall, the various boxes surrounding the advertising texts with a logo in the middle and several logos imprinted on the boxes are tasteful.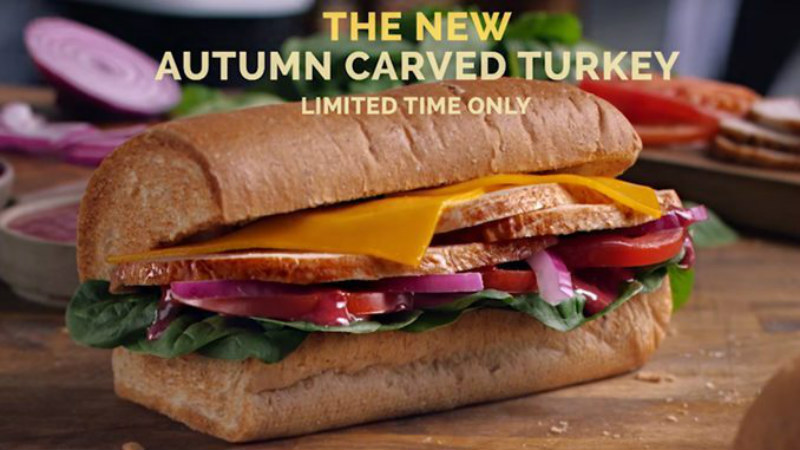 When you're in the food industry, graphic design is essential in your holiday promotions. You have to present your food in a way that makes customers salivate just by looking at the image. And this limited-edition autumn carved turkey ad from Subway is the perfect example.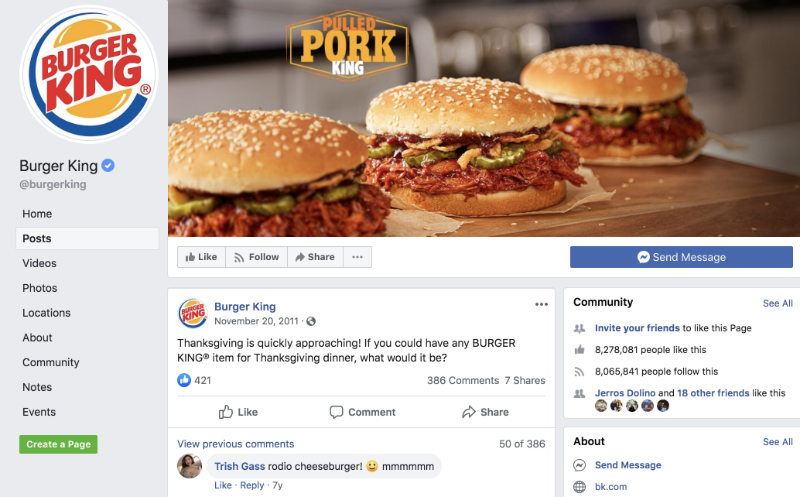 Thanksgiving social media promotions increase audience engagement. You don't even have to go all-out. Sometimes, a simple question like this Burger King post can ignite conversations. Although I would want a nice BK burger image to go with it, a cleverly well-thought-out question could be just as effective.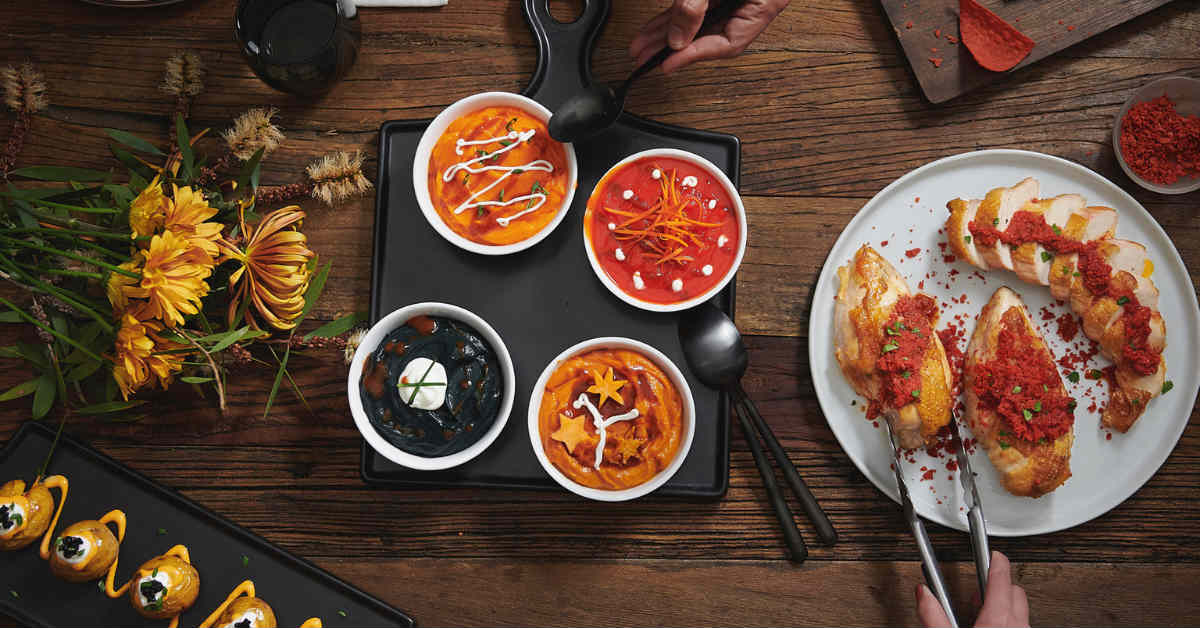 Taco Bell releases an annual Friendsgiving menu using a variety of their sauces and ingredients. This example has all the right elements — colors, layout, creativity, visuals, and quality.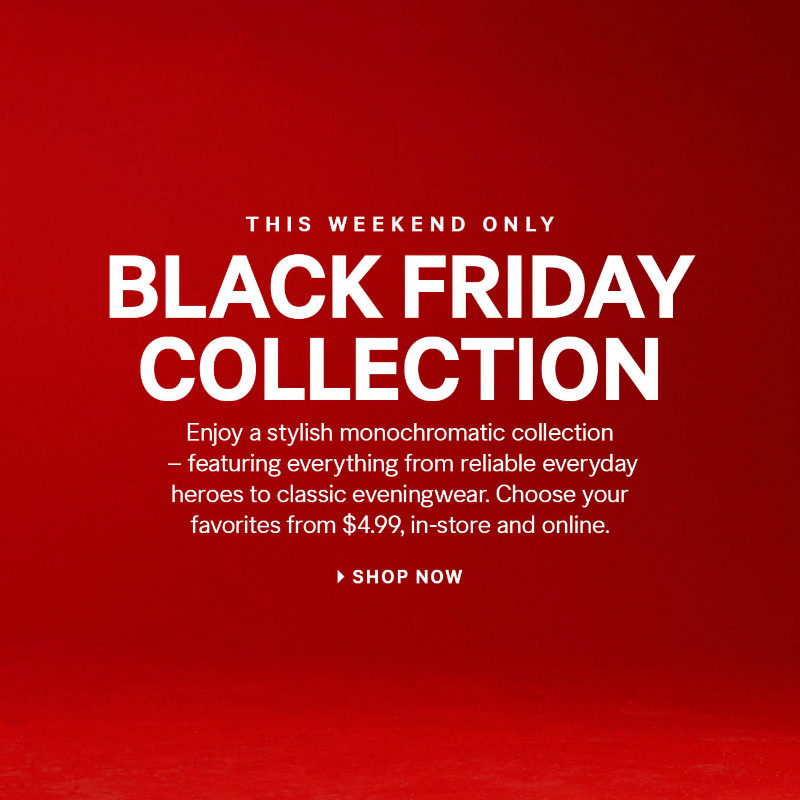 H&M knows how to use minimalism to their advantage. Their Thanksgiving campaign for their Black Friday Collection is straightforward yet alluring. The white typeface against a bright red background is well-played and versatile. H&M can put this on any marketing medium, and it'd still look exquisite.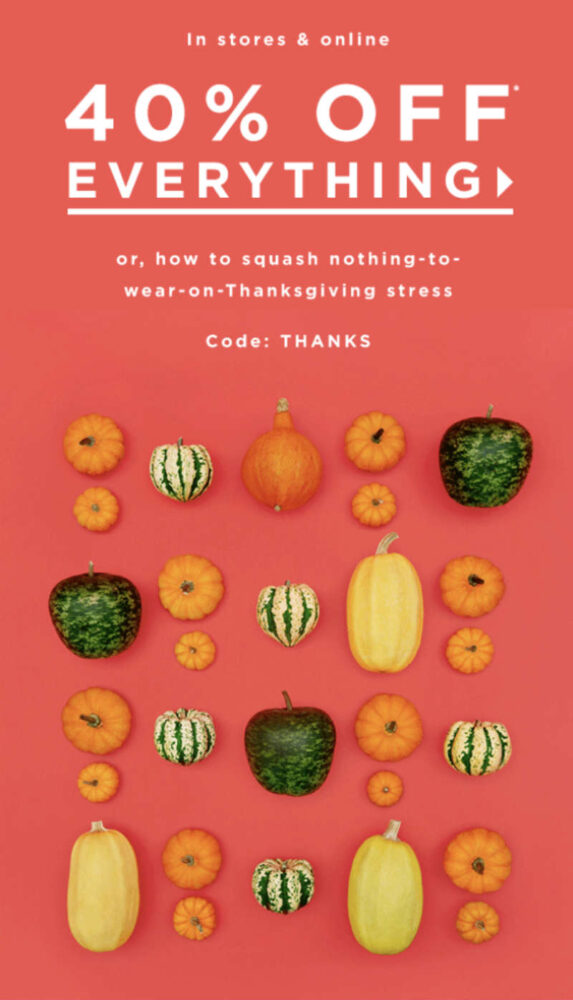 This is a GIF ad with different fruits that intermittently disappear and appear. This Thanksgiving marketing idea from Loft is playful and exquisite at the same time.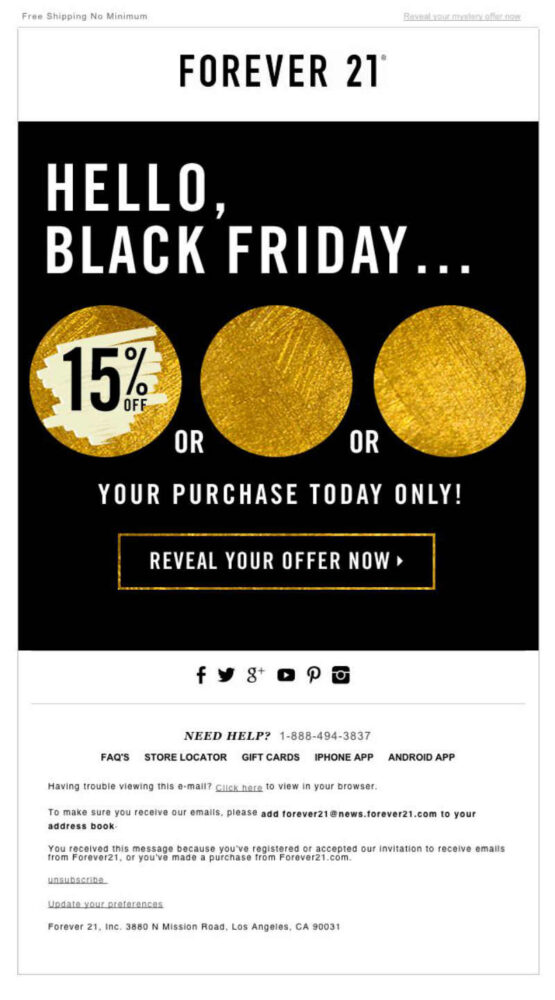 Forever 21 always thinks of the most clever Thanksgiving promotions using an element of surprise. This newsletter from the fast-fashion company reveals two other discount offers in a GIF format.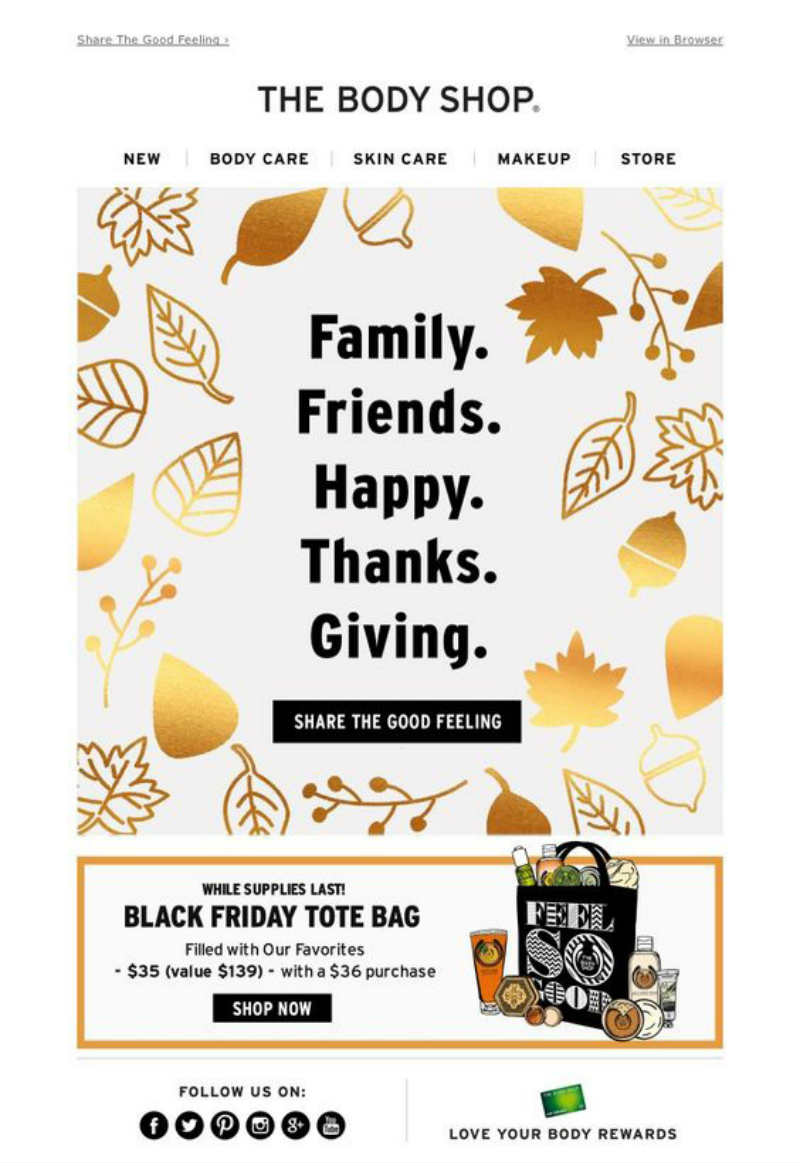 Brands can also take this time to thank their customers for their patronage all those years. By sending them a simple greeting, coupled with a beautiful design and seasonal elements, customers can surely appreciate the gesture.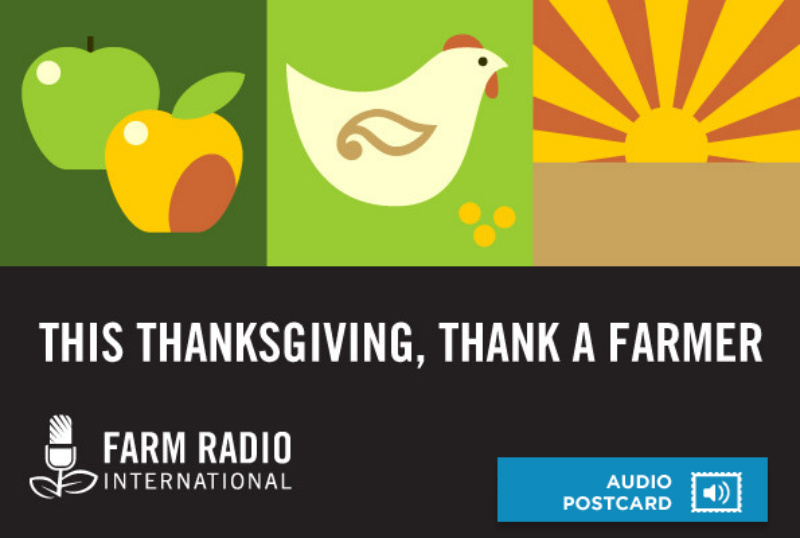 Farm Radio is a nonprofit organization for small-time African farmers. They thought it'd be nice to show a little gratitude before devouring a huge Thanksgiving feast. This campaign has a caricature feel to it and a simple reminder to thank a farmer this Thanksgiving.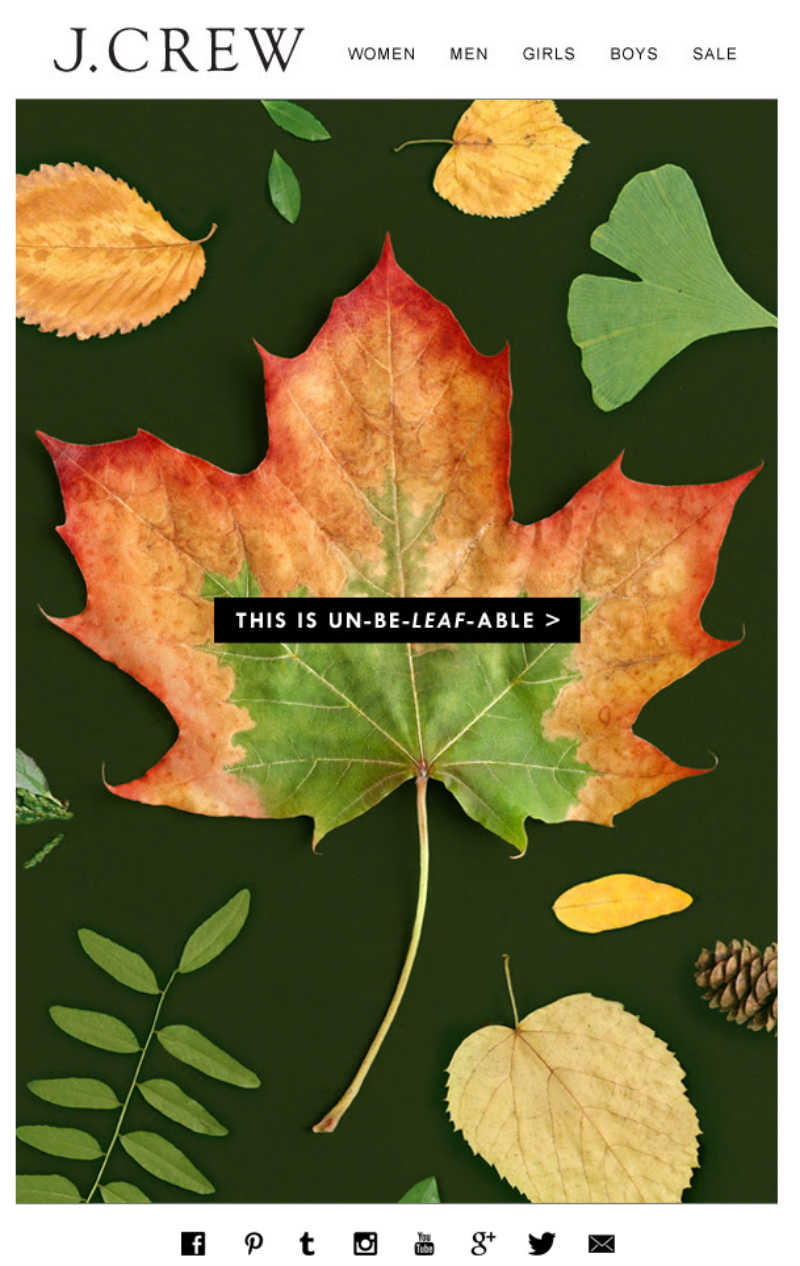 Witty catchphrases will undoubtedly catch anyone's attention. And J.Crew knows how to play it smart in the marketing division. The montage of various autumn leaves and the witty line were enough to make me an official J.Crew fan.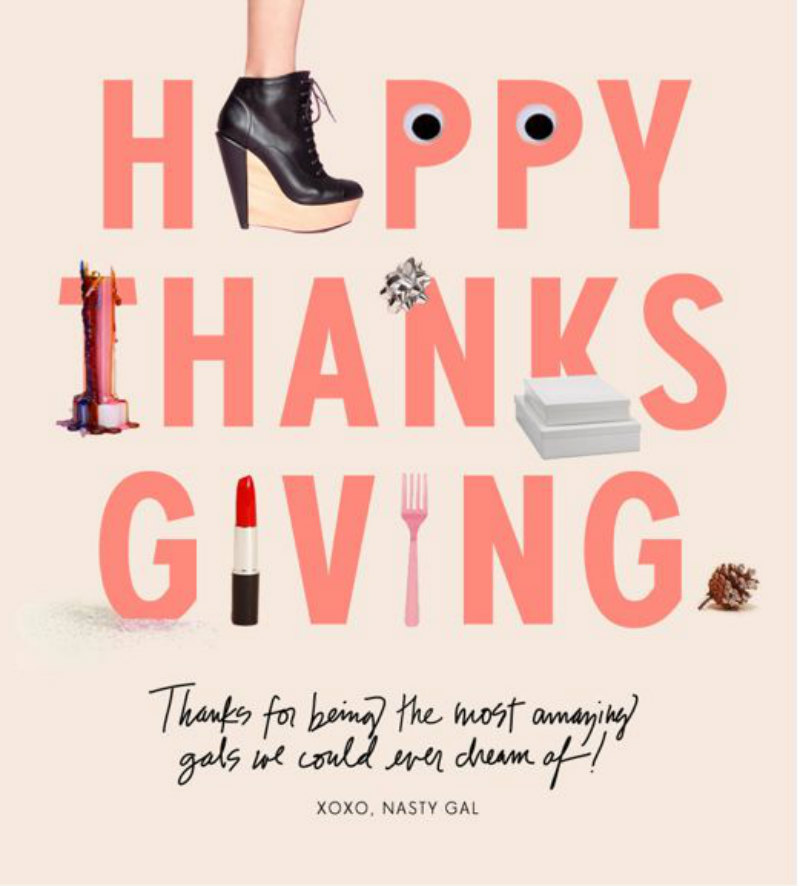 Nasty Gal's greeting didn't fall short on chicness. The beautiful pastel colors and the unique "Happy Thanksgiving" typography, together with the different "girly" elements, could genuinely make a gal smile. The little motivational boost, "Thanks for being the most amazing gal we could ever dream of," can truly make any girl's day.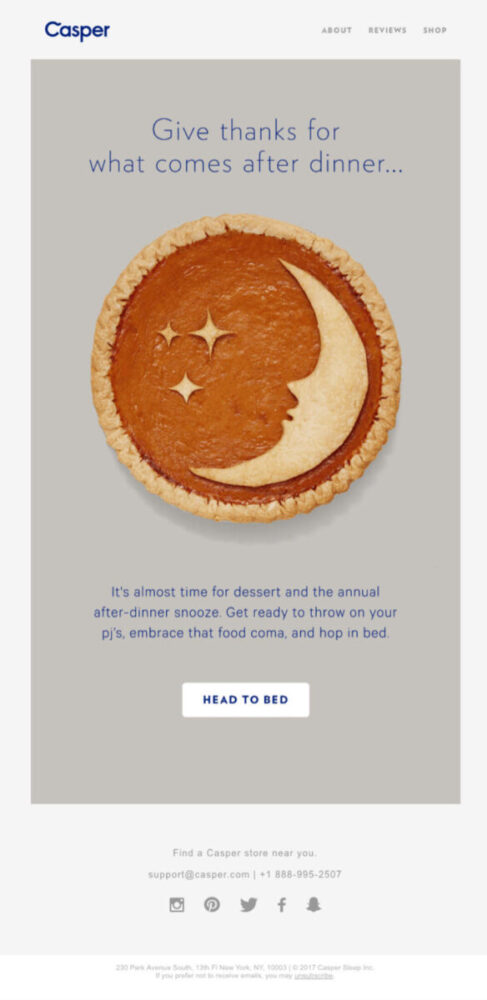 When creating Thanksgiving newsletter promotions, always ensure that you affiliate your products with the message or design. Take this example from Casper, a company that sells mattresses. This particular ad reminds everyone to be thankful for simple things like sleep, especially after a huge Thanksgiving feast. But we have to commend the mattress company on how they presented this campaign. From the pumpkin pie crescent moon to the "Head to bed" call-to-action button, everything is akin to their branding.
Steps to Requesting Thanksgiving Designs from Penji
Apparently, all the examples we provided above need graphic design. And don't you think you already have a lot on your hands to still work on these? The best solution is to outsource all your design needs from the experts. In this case, we recommend Penji. There are three main reasons why you need to work with them. Affordable Price. Quality of Work. Quick Turnaround.
A lot of small businesses enjoy working with Penji because getting projects from them is a breeze. Let's explain how.
Request for a Project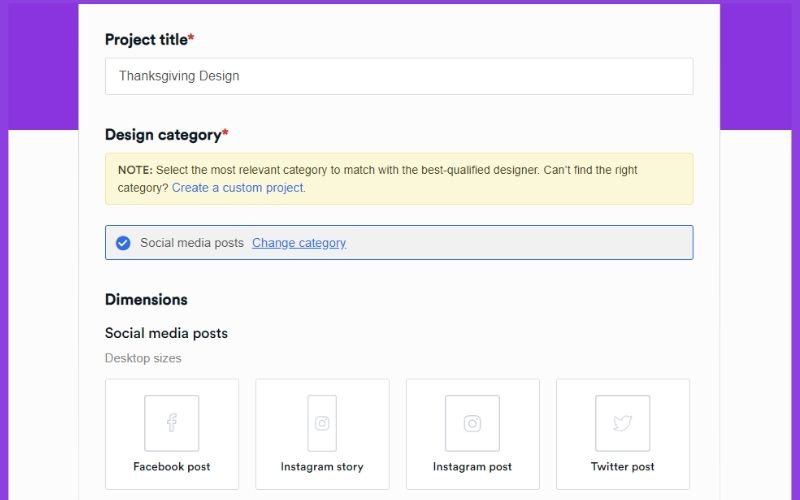 After you sign up with them, you can now use their platform where you can directly request for designs. Click the New Project button at the top right corner of your screen (if you are using a desktop or laptop), and you will be taken to the next page.
This next page will look like a form where you need to add all your design specifications. And to make sure that you won't forget any vital information, there are guidelines provided for you. When ready, submit it and a designer will reach out to you as soon as possible.
Check for Points for Revision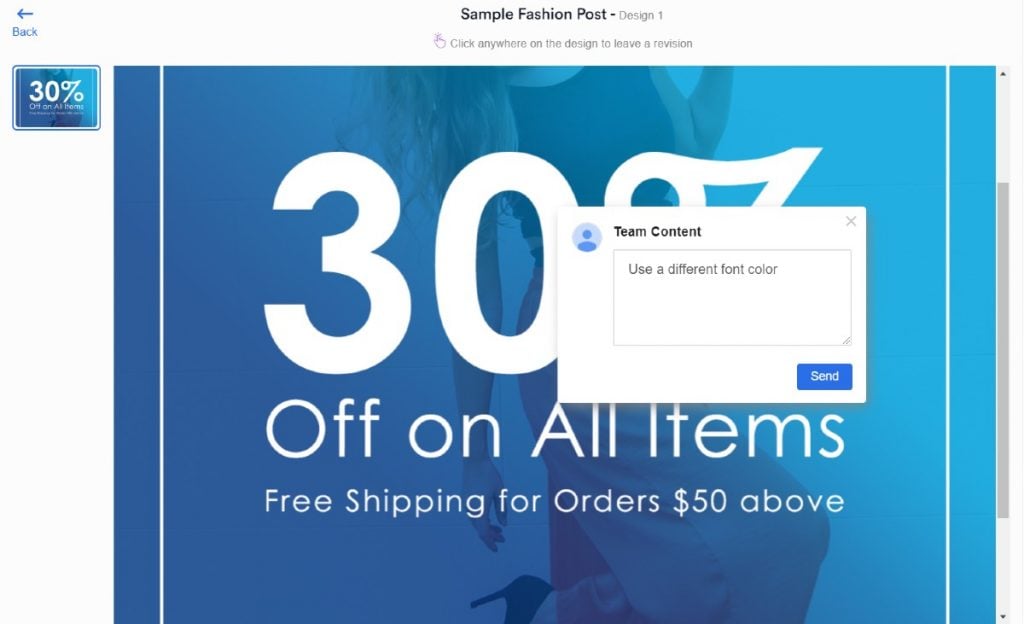 After 24 to 48 hours, you will receive the initial draft of the design. If you are not 100% satisfied, then you can always click the image, point to the areas for revision, and type your comments directly. From there, your designer will amend the project.
Download the Source Files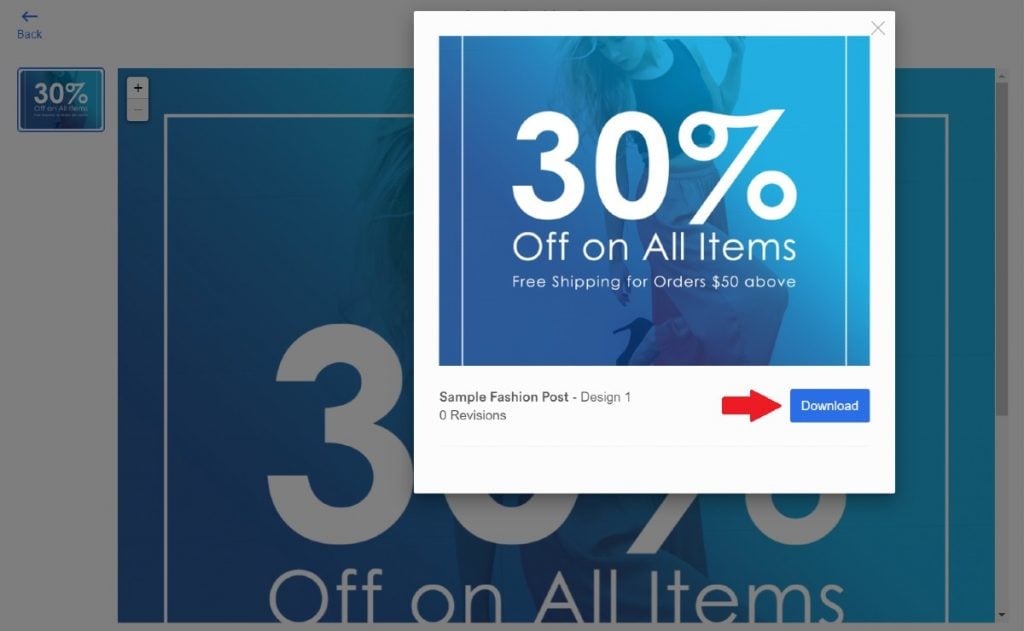 When everything is perfect, download your files anytime you want. You got that right. The platform completely eliminates the use of email. Hence, making the transaction seamless.
Don't take our word for it. Try Penji's services for 15 days, with the option to get your money back. Subscribe to one of Penji's affordable plans now!