Thanksgiving marks the start of the holiday shopping season. Thus, it is one of the busiest for entrepreneurs. They go into a frenzy as this is an excellent time to drive traffic, boost engagement, and boost sales.
But take note, though, that the competition is rough. Make your visuals stand out by hiring the services of Penji. Once you're ready for your campaign, try these Thanksgiving marketing ideas. And to start you off, we're giving away Thanksgiving designs for your flyers, all for free! Download them here and start getting into the Thanksgiving holiday mode.
Send a Thank You Note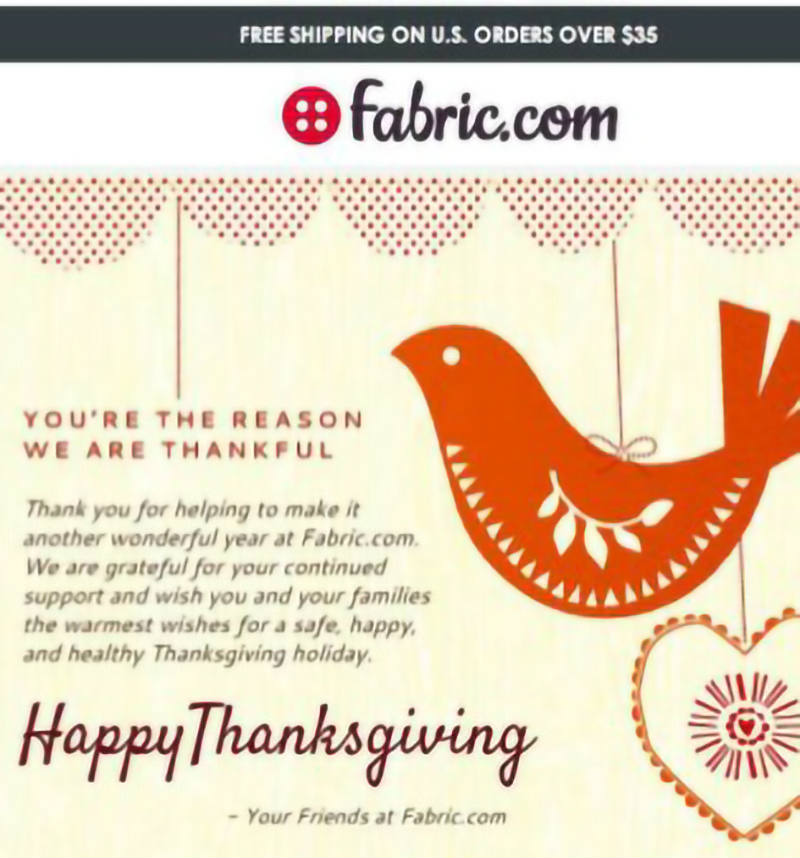 Show some love to your customers and send them thank-you notes via email. Or by handing them discount coupons when they go to your physical store. Fabric.com sent out their thank you's with this simple email design. They offered only their gratitude and nothing else, but the gesture more than makes up for it.
Thanksgiving is the best time to show your appreciation for your customers. And as a small business owner, getting to know your customers should be on top of your to-do list. This will show them that you care, and they will see you as human and not robots just looking out to get a sale.
Use Social Media Creatively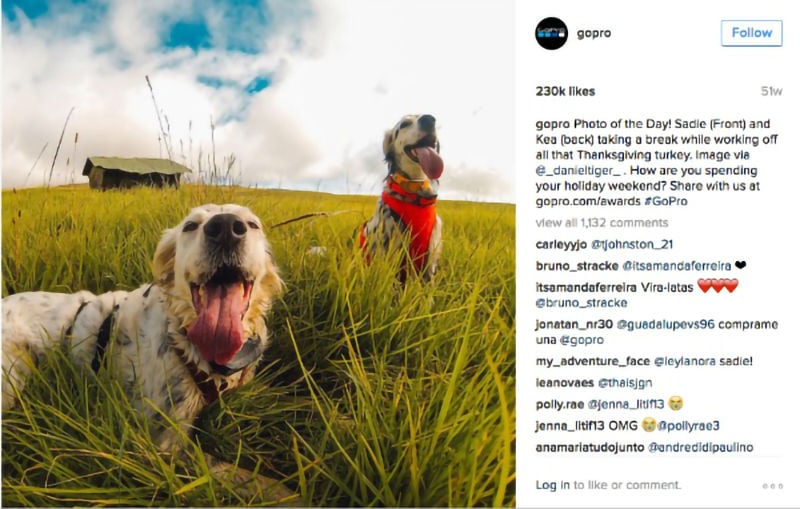 Social media has given small businesses leverage with the bigger known companies, which was unheard of before its widespread use. This makes building your online presence more important than ever before. Use it to your advantage by posting content that will set the mood for Thanksgiving and get the attention of your target audience.
This Instagram post of GoPro has gotten a lot of engagement because, of course, DOGS! You don't have to spend a lot of money creating great posts such as this to get engagement. All you need is a play on the emotions. It can still be a wonderful post without having to sell anything. But just by looking at the photo, getting an action camera can be very tempting.
Offer Discounts and Promos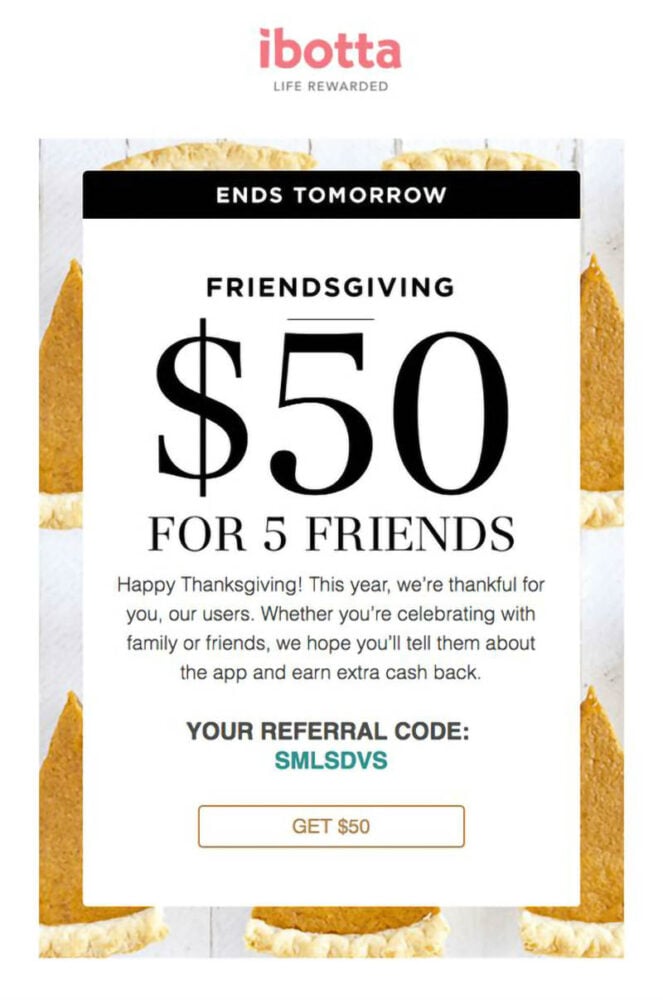 Most of the time, simple Thanksgiving marketing ideas for your business, like promos or discounts, can boost holiday sales. Offering a month-long Thanksgiving sale or a one-time limited offer can do the trick. Ibotta, a mobile technology company, offered a reward for every referral that their customers could give them, which is a good way to get new leads.
Giving a sense of urgency, such as "promo good while supplies last," can have your customers wanting to take on your offer at the earliest time possible. If this approach seems to sit well with your business, make sure that your visuals are striking enough. The promo itself should stand out.
Otherwise, it will just blend with other graphics that your customers have seen. Hire professional graphic designers from Penji to make your visuals compete. They don't just create visually appealing marketing materials, they also know what works best for your market. Subscribe to one of our plans right now.
Give to Charity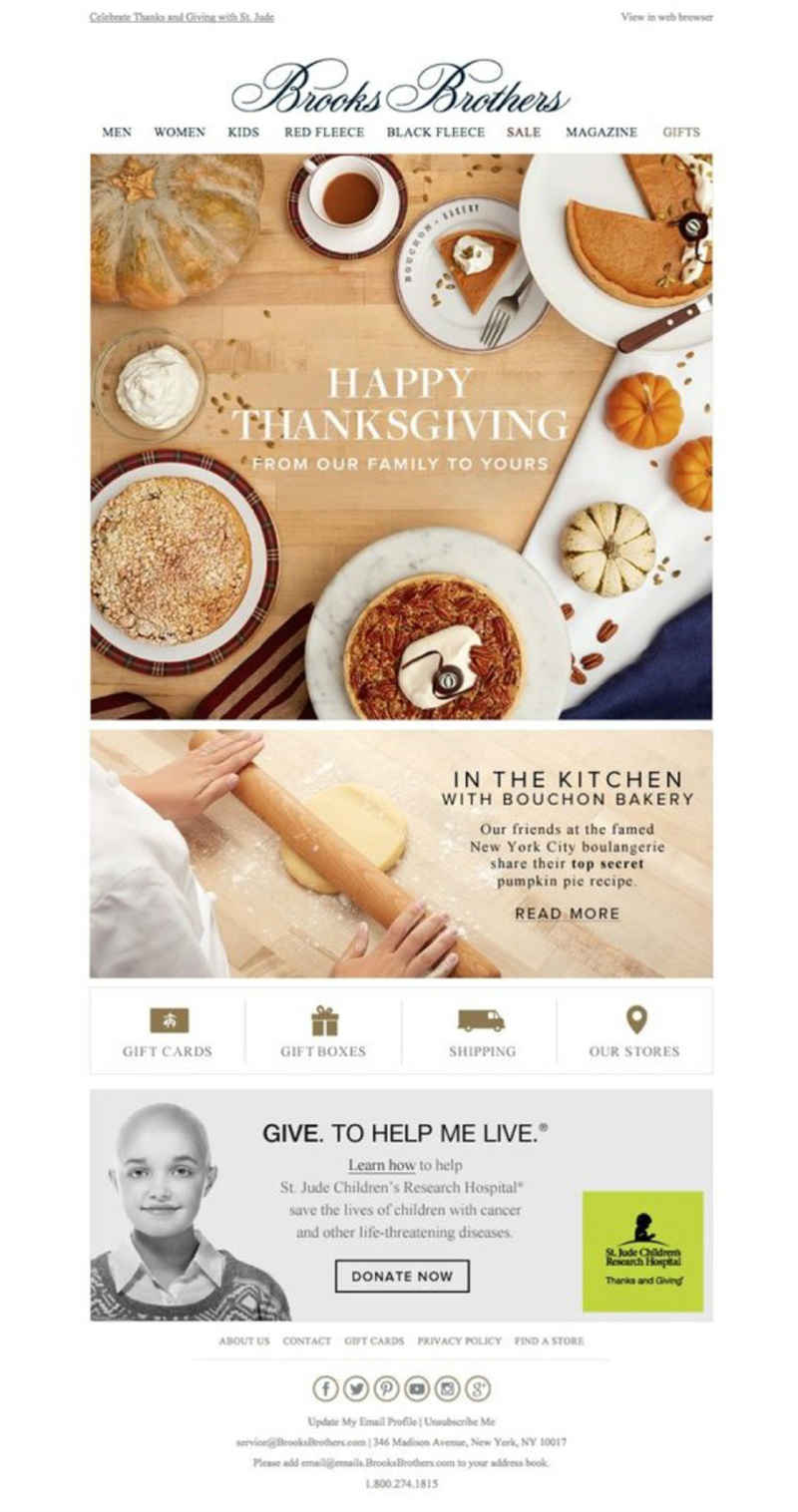 Thanksgiving is also about sharing and caring. Thanksgiving charity marketing ideas could be good for your business. Giving back to your community will show them your human side and that you care. This is one of the best ways to let people know that you're not a faceless corporation out for the consumers' money.
Brooks Brothers added a Donate Now box to their Thanksgiving email to support a charity. You can choose a charity that's close to your heart or ask your social media followers for ideas on what organization to give your support to. Share them online so that the word gets spread around and gets more people involved.
Get Your Staff Involved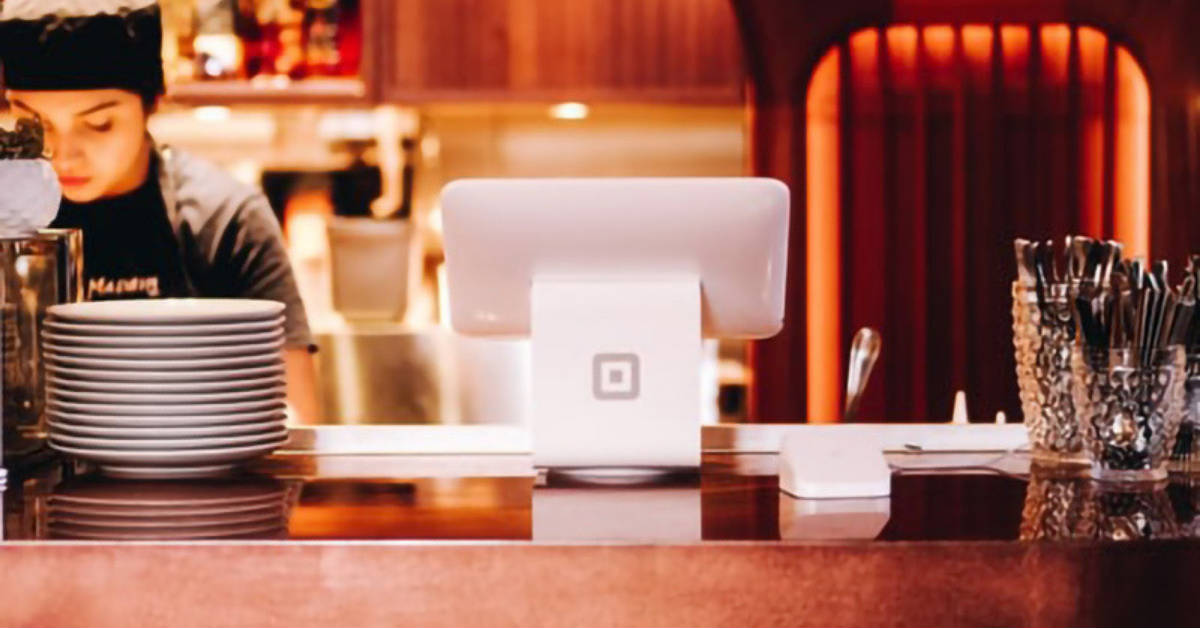 If you have a brick-and-mortar store, have your staff come up with costumes or dress them up in pilgrim clothes. When your employees get a sense of value and involvement business-wise, they become more productive. This will resonate well when they interact with your customers, which in turn will translate to a better buying experience.
If you have an online store, create a section wherein you feature one of your employees. Then tell the world how good your business is doing because of these dedicated people on your staff. This builds employee morale which can provide many benefits to your company.
Guide Your Customers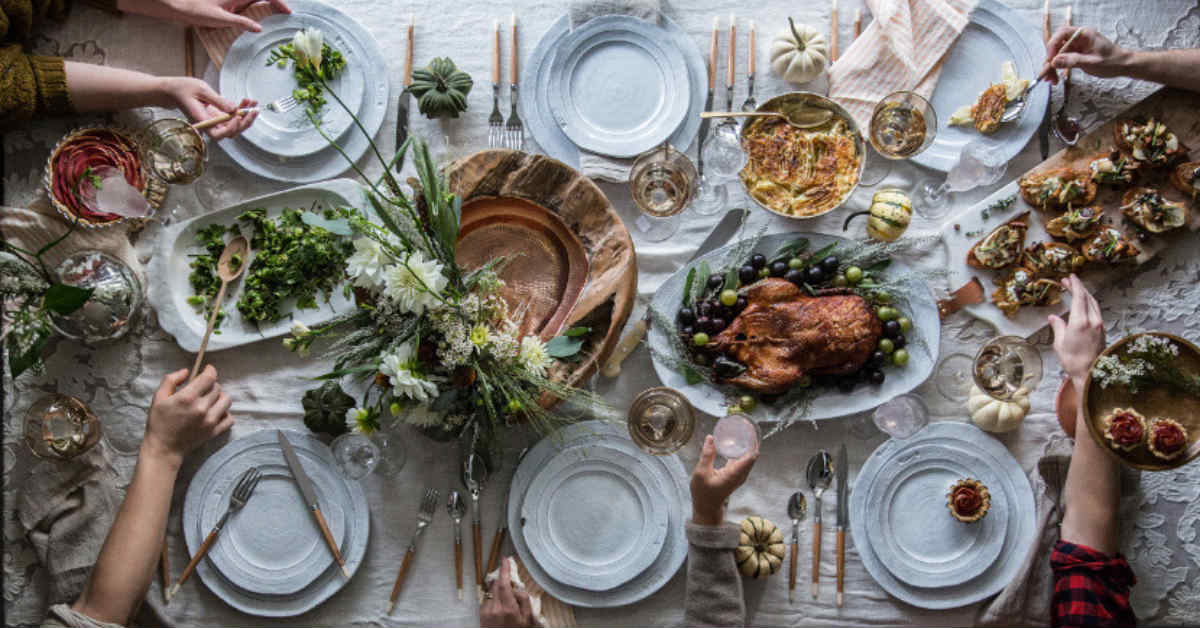 Give out free guides like whatAnthropologie did, where they made suggestions on how to set up the table for the holidays, what gifts to give to the hostess, and many more. Not only are you helping your customers make solid decisions, but you're also practically asking them to buy stuff from your store.
If you're in the fitness business, you can create a guide on how to eat healthily. Or what about how to lose all the calories you took in with all the feasting. A pet business owner can show their customers how to care for their pets when going on a vacation. On the contrary, a restaurant owner can show them how to cook their favorite traditional dishes.
Host a Live Event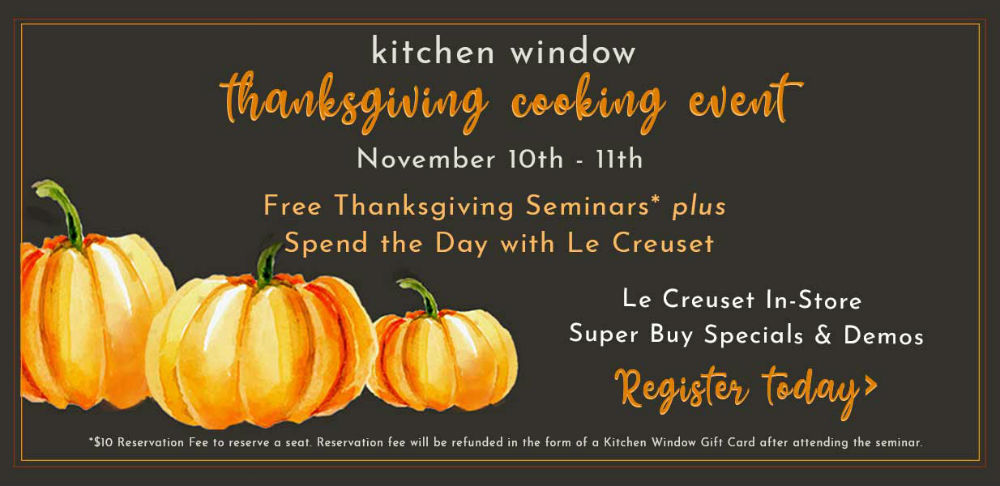 Thanksgiving is also about food and feasting, so it's always a good idea to include food in your marketing strategies for this holiday. Get someone from a good restaurant for a cooking demonstration and live-stream it to all your customers and prospects. This is good publicity, especially if you have customers who are overseas and are unable to come to an event in your vicinity. Host a webinar that people can learn from and have them use your products or services at the same time.
This Thanksgiving cooking event hosted by Kitchen Window is a good example. It offers seminars, discounts, and other specials. You can create an event depending on what business you are in, but hosting a food-related one can have people talking about you because, after all, Thanksgiving is about sharing, and everyone loves food, especially when shared.
Before you run the event, make sure that you have compelling teasers like posters or social media images. Instead of using templates that you can easily find online, work with professional graphic designers so that you can amplify your event and that more people will join. The Penji team can certainly help you with their amazing and creative ideas for your visuals.
And since we're talking about graphics, this leads us to our last marketing idea for Thanksgiving.
Create Amazing Graphic Designs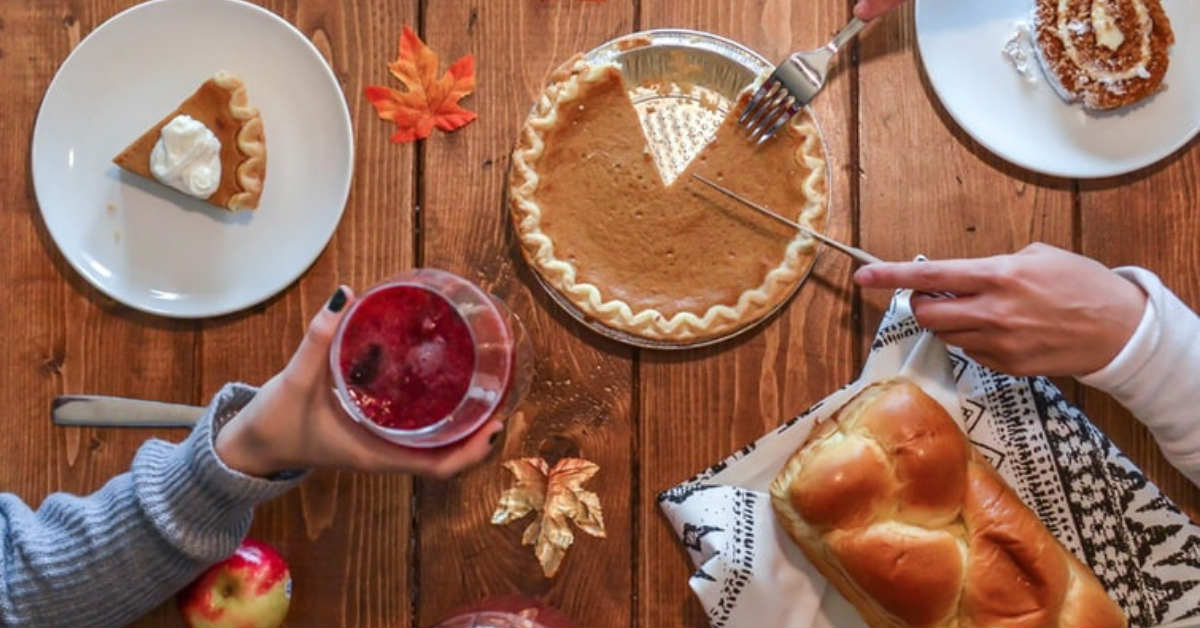 You can use graphic design in almost all of these Thanksgiving marketing ideas for your business. Illustrations for your social media content, landing pages for your website, flyers, banners, posters, and many other advertising peripherals will have more impact when created by professional graphic designers. In this age of advanced technology, competition is fierce, and getting noticed by your target audience is not a small feat.
Standing out from the crowd is definitely a big challenge. More so for small businesses wanting to compete with bigger and more moneyed competitors. Having an amazing graphic design can help you attract everyone's attention and set yourself apart from the rest.
How to Request Thanksgiving Designs on Penji
Since Thanksgiving is a busy season especially for small businesses, it is best to outsource your design needs to a credible team like Penji. With them, you can get your visuals in three easy steps.
Choose a Plan and Sign Up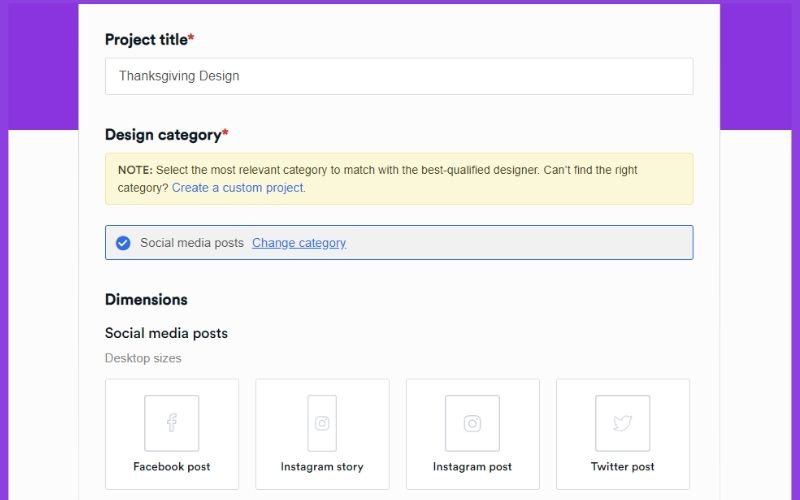 Visit our website and choose a plan perfect for your requirements. It's easy to sign up, and it will only take you a few minutes. From there, you will be given access to our dashboard, where you can request projects.
Request and Ask for Revision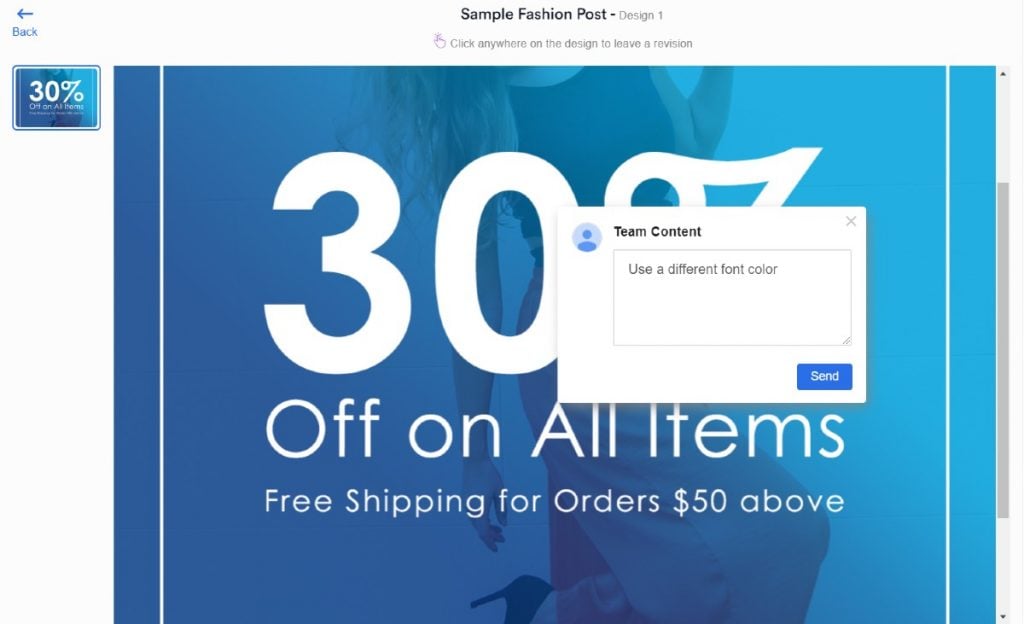 From the dashboard, just click New Project. This will take you to a new page where you will have to provide all the required information about the design. We made it easy for you, and there's a guide so that you won't miss anything.
Here's a tip, though, when requesting designs, always supply the complete information so that the designers can work on it right away. Send the form once completed and wait for the assigned designer to respond back. If the designer has questions, they will reach out to you through that same platform.
Your initial output will be submitted within 24 to 48 hours. If there are points for revision, you can click on the image, type your comments, and send it back.
Download and Start Marketing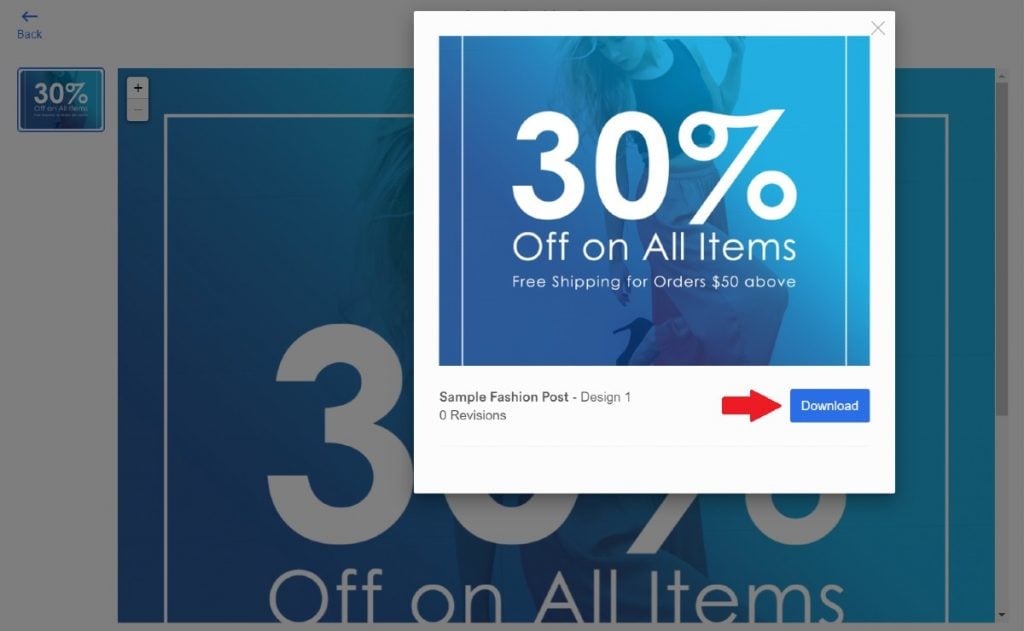 Once you are satisfied, you can now download the source files anytime you want and start marketing for Thanksgiving. No need to send a separate email to our designers for it.
Experience the ease of outsourcing your graphic design. Subscribe to Penji right now and try its services with a 15-day money-back guarantee.