Thanksgiving is the best time to show your gratitude to your customers and win over some new ones. Whip up a Thanksgiving email blast that will bring as much value to you and your customers. And if you want yours to stand out, make sure to get the services of professional graphic designers like the Penji team. Penji can handle all your Thanksgiving marketing visuals and more. We'll even throw in a few Thanksgiving-themed visuals to help you get started. Download these images and illustrations for FREE.
Then, work on creating an email marketing campaign that will make your brand stand out from the rest. Here's how:
Have a Killer Subject Line
Inboxes are usually teeming with emails from numerous companies and most of the time, they get ignored. This is the main reason your subject line has to be impactful or forget about sending out emails at all. Your subject line is where your reader will get a first impression of your email. It has to catch their attention enough for them to open it because if not, it will go down the trash bin along with all the others.
Even if your offer is the best in the land, if your email doesn't get opened, it amounts to nothing. Your subject line is the difference between making a sale and being dumped. We cannot stress this enough so make it count!
Here are some good examples: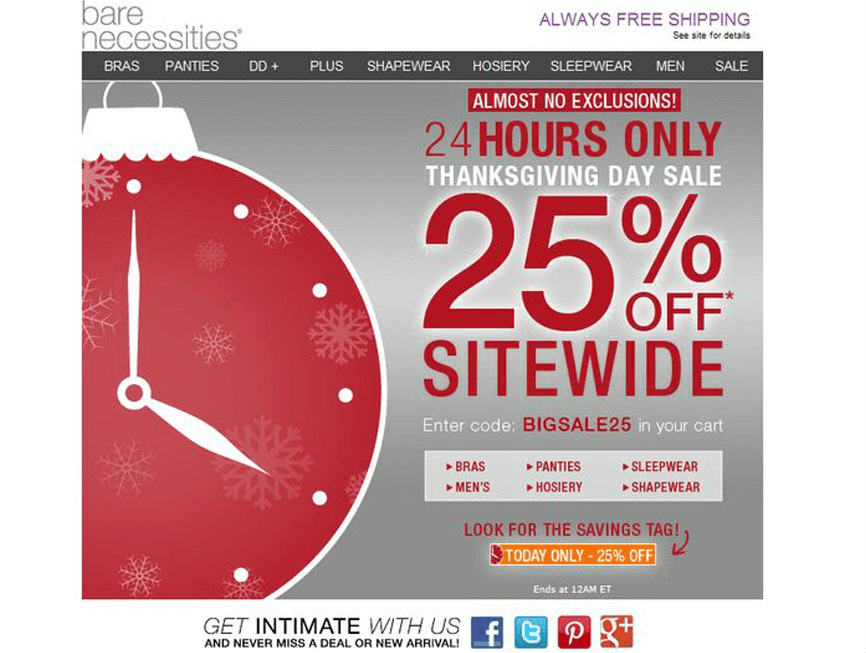 The first step in having a successful Thanksgiving email marketing blast is getting your recipients to open them. Give them a sense of urgency that will make them want to open your email NOW. Phrases such as "For a Limited Time Only" or "Final Hours" are great ways to do this. Then follow it with a deal they can't refuse such as this one by Bare Necessities.
Keep them short, not more than 50 characters will do just fine. Remember, people have a very short attention span and you need to come up with a subject line that won't bore your readers. A play on words, a short joke, or even an emoji can do the trick.
Keep It Short, Simple, and Straight to the Point

Write emails that are short, simple, and straight to the point. Don't add fluff words to make it seem long, let them know from the start what you want them to know. You can hold off the business part after a paragraph or so and send out your expression of gratitude first to make them feel valued.
Try to avoid using big words that would intimidate your readers. Instead, make it seem that you're speaking to them directly as their friend or someone they can trust. Write in a language that your audience can understand and not as robots sending out templates like this one from Nic + Zoe.
Include Creative Graphics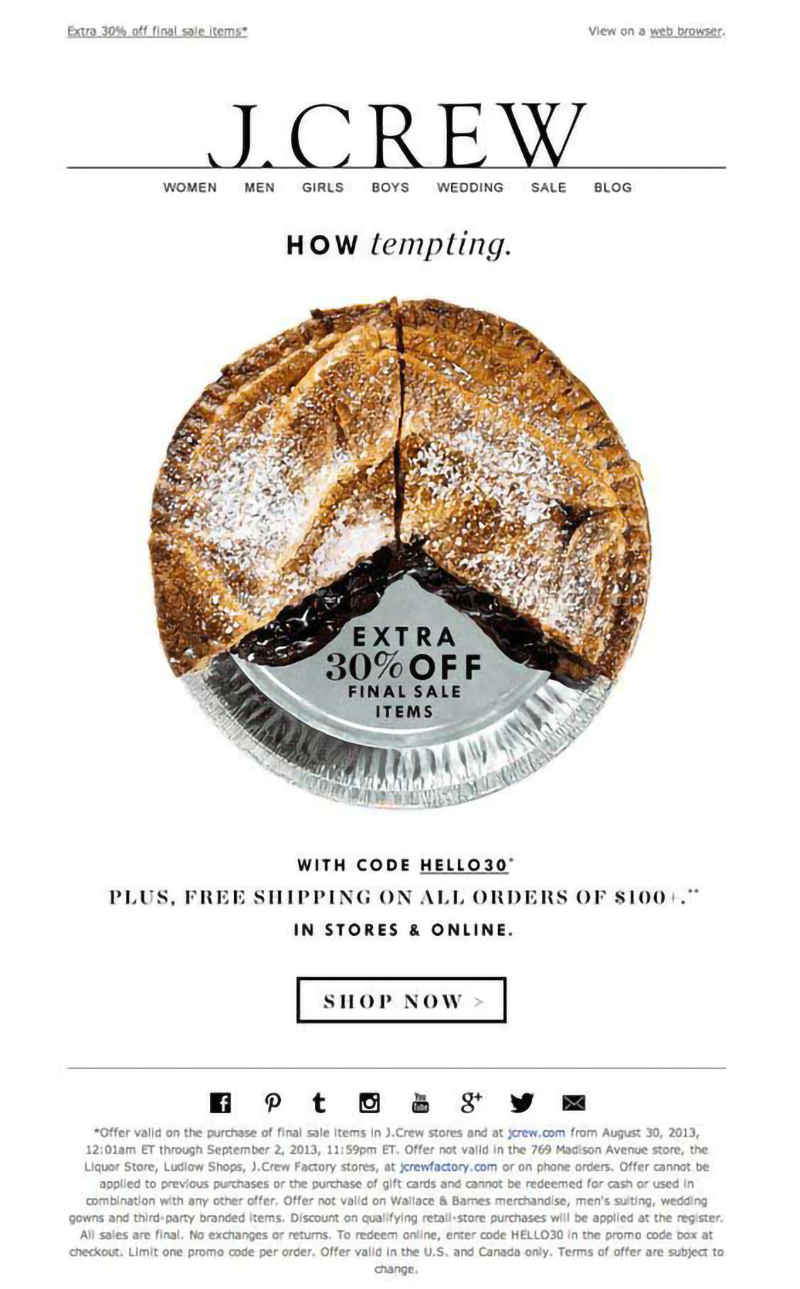 Graphic design should be a part of your Thanksgiving email blast as this can translate to a more enticing content for your readers. A turkey illustration to go with your email is one effective way to associate it with the holiday. This email example from J. Crew sums it up so well.

You can also use typography that can boost the holiday spirit and add spice to your emails. Make sure that they're easy to read and flow well with the overall design of your email. Seasonal fonts like this one from Kevin & Amanda abound. You can take advantage of them and evoke emotions usually associated with Thanksgiving—love, gratitude, warmth, and so much more.
The use of colors is also good in setting a festive mood. Add splashes of oranges, reds, and yellows and other autumn colors to your email to add the warmth that would make your customers feel important.
Give It a Responsive Design
Mobile internet traffic accounts for 40.61% of all internet traffic as more and more people use their mobile phones to open their emails. This is the reason you should design your emails that can be viewed across multiple platforms—desktop computers, mobile phones, and tablets. This will give your emails a higher chance of being opened, read and possibly convert prospects into paying customers.
Mention Black Friday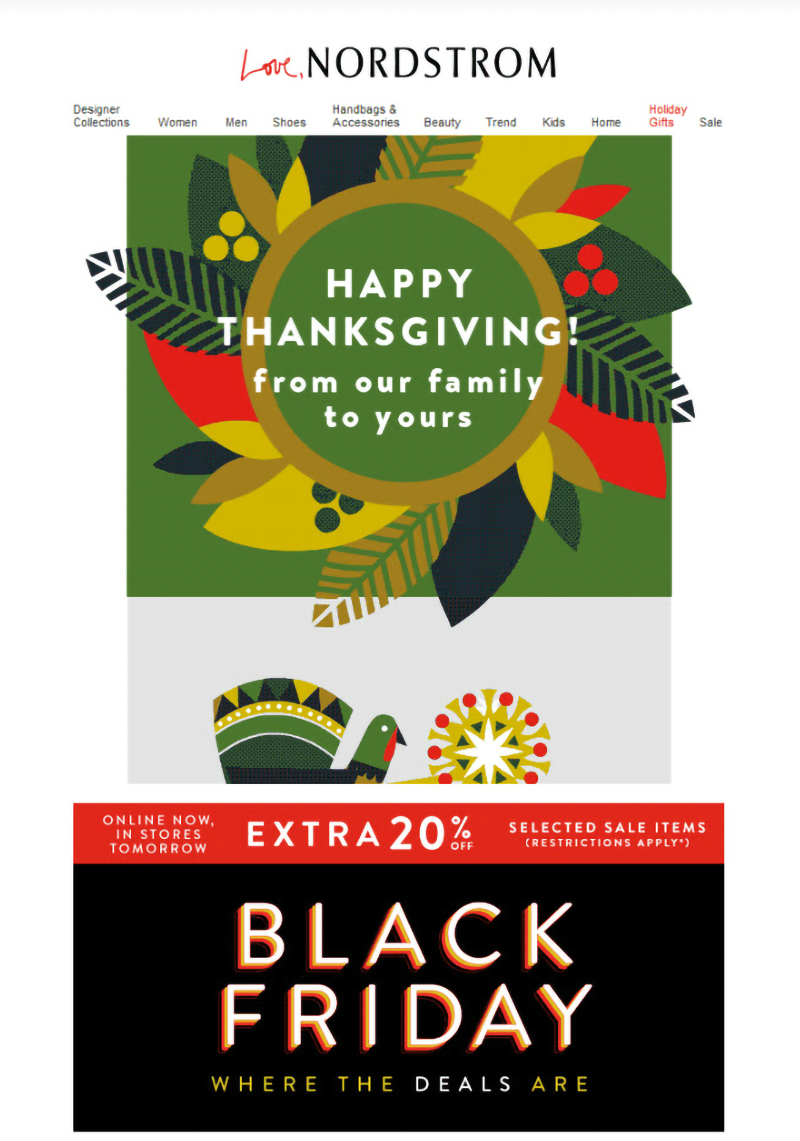 It's totally fine if you just want to send thank-you emails and show your appreciation for your loyal customers without asking them to purchase. Nordstrom shows here in this example that it wouldn't be a bad idea to let them know about your upcoming Black Friday sale while you're at it. Research shows that emails have a higher open rate on Thanksgiving. So a friendly reminder about your next holiday event as long as you do it with style and not in a sales-pitchy way.
Add a Call-to-Action Button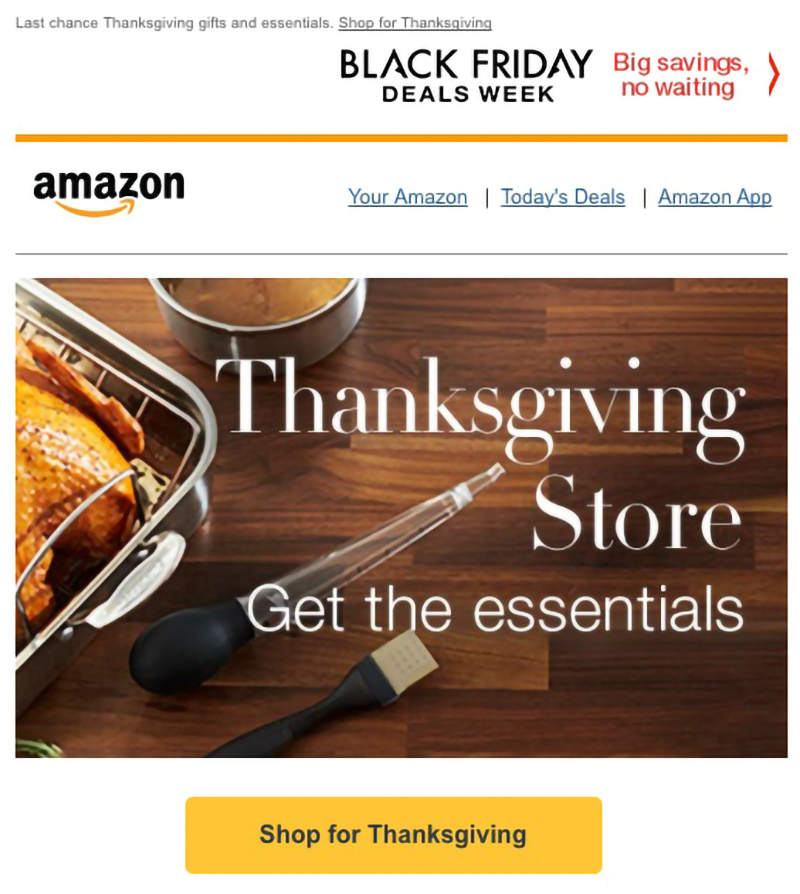 Make it easy for your customers to get the deals you're offering by having a call-to-action button on your emails. This Amazon email has all the buttons you need to get what you want for Thanksgiving. A one-click feature is what your customers need to get to your store or website and partake of your Thanksgiving offer.
When to Send
Now that you know what to include on your Thanksgiving email blast when is the best time to send it? Most holiday-themed emails should be sent right before or on the day itself, according to research. That is if all you're sending is a thank-you note to your customers. But if you have a promo or deal, of course, it's best to give your customers time to prepare for it by sending them the emails a few days or weeks earlier.
Penji Creates the Best Thanksgiving Email Design
We understand that the season can be overwhelming and you are probably busy with your inventory and products. However, make sure you have the right graphic designs made by experts such as the Penji team. We are emphasizing the need for professionals because the competition is tough! Most businesses will send their Thanksgiving email as well, and how can you make yours stand out without the help of professionals?
Anyway, getting your designs from them is as easy as ABC. Here's how.
Sign Up and Request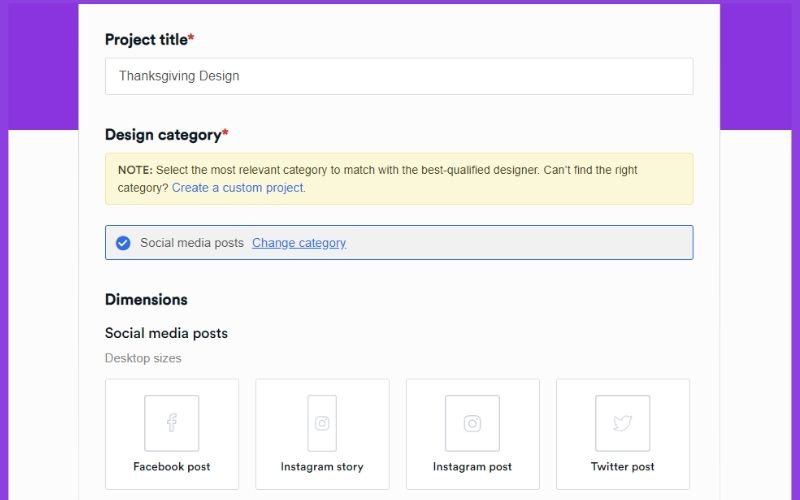 Choose the right plan according to your needs and budget. Sign up and wait for your access to the company's app.
When are you already in the app's dashboard, find the New Project button to request for graphic design. This will take you to a new page.
Give as much information as you can to the designer. If you have images or links to serve as inspiration, we recommend that you include those as well. Submit and wait for the first draft.
Review the Draft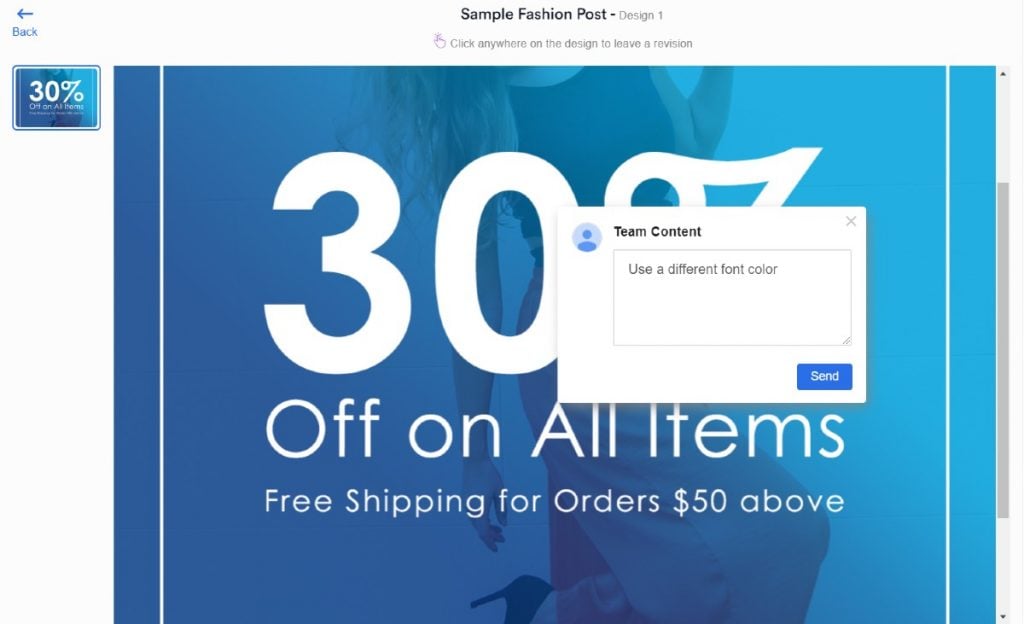 The first draft will be available within 24 to 48 hours. This depends on your request. The simple ones are apparently easier and can be finished in just a few hours.
Once you receive the draft, take a closer look and see if there are areas to be revised. If you are happy, you can go to the next step. If you want improvements, just click the image, type your feedback directly, and send it back.
Download the Email and Start Sending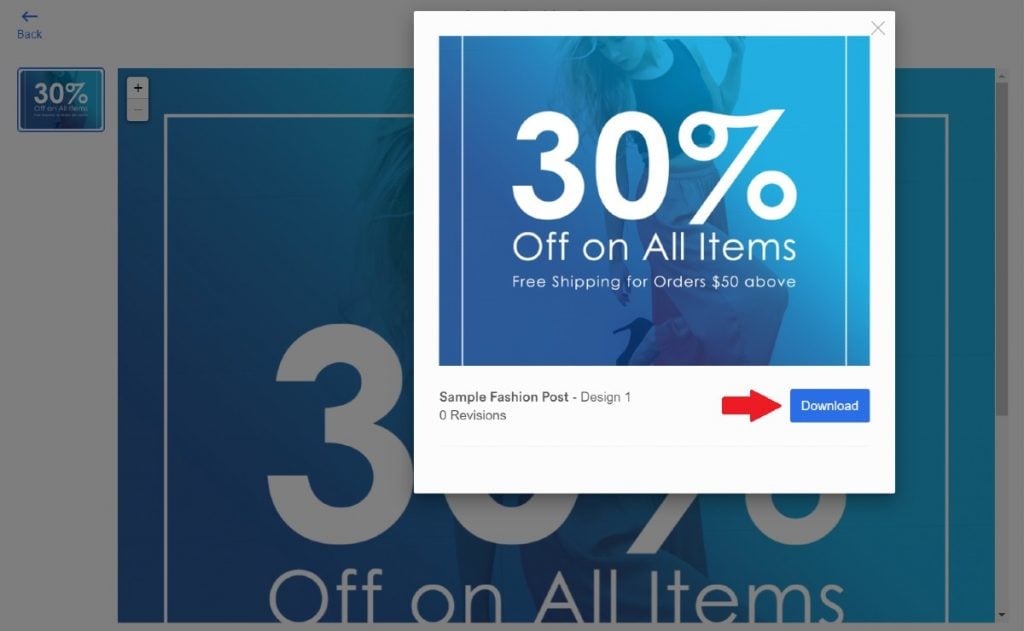 If you think that every design element is in place, you can already download the source files and start sending it to your audience. We bet you'd be getting sales using the designs.
We only have a few weeks before Thanksgiving. Make sure to get your unlimited designs now from Penji. Check out their website and get the right plan for you.