As soon as October ushers in, businesses jump right in on celebrating Halloween and for good reason. It's one of the biggest holidays of the year! And it's the best time to craft fang-tastic Halloween social media campaigns. Startups, in particular, shouldn't be afraid to dip their toes when creating social media campaigns.
In fact, the smartest startups turn to Penji for high-quality graphic designs without breaking the bank. Your startup can still achieve the same success big brands have had, even on a budget. To get you started, here are some spooky downloadable designs, yours for free. These email headers are perfect for Halloween! Replace your usual email headers with these to add a scary, but joyous touch to your emails.
Why Your Startup Should Have Halloween Social Media Campaigns
The National Retail Federation reports that Halloween spending this year can reach up to $9 billion with more than 175 million Americans planning to celebrate. That's a scary amount of money any entrepreneur would want to get a piece of. The very main purpose of creating a marketing campaign is built around this huge holiday.
As a startup, getting in on the action is a must and you should not forego this chance to build awareness for your brand. This is also a perfect time to make a lot of sales and generate new leads. Whether you're in the restaurant or any form of retail industry, you can get a lot of mileage by having a campaign in these times that people are ready and willing to spend.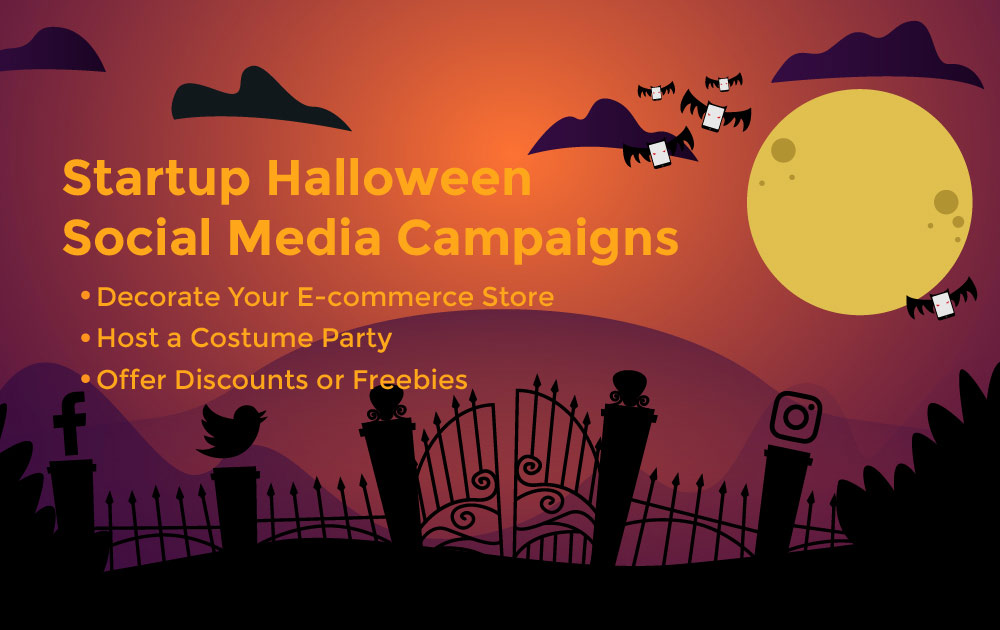 Decorate Your E-commerce Store
Not only is this a fun endeavor, but it can also create interest for your startup. Decorate your store with pumpkins and skulls and get people to notice you. For your e-commerce store, you can add a Halloween-themed banner on your website. Or you can also post spooky graphics on your social media platforms. You can do this yourself or hire someone who can design killer graphics for you.
Dress up your website in spine-tingling designs that can grab your prospects' attention. Remember, you're not the only brand who's trying to get their business so you need to make yours as unique as possible.
Host a Costume Party
Invite people to your store or place of business and ask them to come in a costume. You can organize the event in a public area or rent out a place where you can hold the event. This is a great way to spread the word about your company and advertise your wares at the same time.
You can arrange for food and drinks to be served or give away treat bags that have your name and logo printed on them. The possibilities are endless and there's no way you won't come out with new customers and an increase in sales with this campaign.
Offer Discounts or Freebies
Spook your customers with discounts, freebies, raffles, or contests to get them engaged and spending money on you. This is the most exemplary time your startup should magnify those Halloween social media campaigns. This is a fun holiday and giving them just that can result in more sales for your startup. It doesn't have to be big, just something to make your customers feel a special need to have what you're offering on this special occasion.
You can offer a free appetizer when they order a meal or offer free shipping on higher-priced items. There are lots of ways you can do this to entice your customers into buying from your store or trying out your services. Looking for freebie design inspiration? Check out our past works and see what we've previously done for our clients.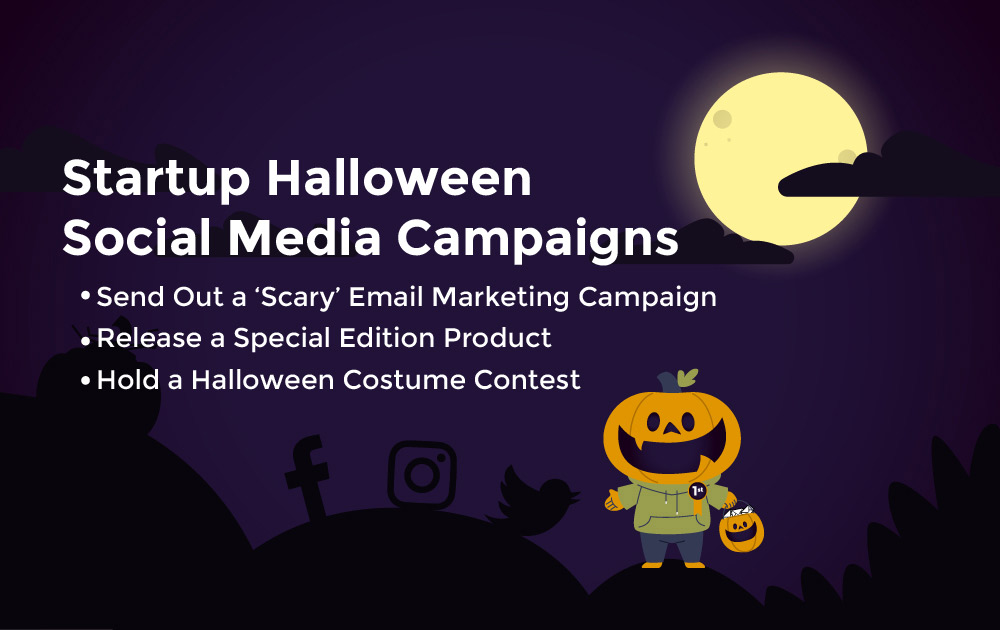 Send Out a 'Scary' Email Marketing Campaign
A few weeks before Halloween, send out an email to all the people on your mailing list. Tell them about your Halloween plans and give them an incentive to join you. It could be a special coupon that they can redeem on the day itself or for a limited time. You may also include a freebie when they purchase something from your store.
This is also a good way to remind your previous customers about going back to your store and telling them of your upgrades or new products and services.
Release a Special Edition Product
People love things that are out of the ordinary, hence the popularity of collectibles. Create a design for a product label that's specifically made for Halloween. Better yet, whip up a dish with pumpkins and some mystery ingredient to add that scary touch to the season. Amping up your startup Halloween social media campaigns will let people know that this is a limited offer and will only be available at the specified time.
Hold a Halloween Costume Contest
Get your customers to post a pic of them in their most creative Halloween costume and offer a prize for the best one. Have a poll on social media to know which ones will win. This will have your customers and followers engaged and can help with building awareness for your startup. Don't worry about giving out prizes as this will come back to you in more ways than one.
You can also ask the participants to include products from your store and use them on their costumes to make the contest more challenging. For those with a brick and mortar store, have your customers walk in with their costumes on to instantly get a prize or discount. Ask them to post their pictures on your social media platforms and tag their friends to get more people to see your event. As a startup, these Halloween social media campaigns will widen your reach during this special season.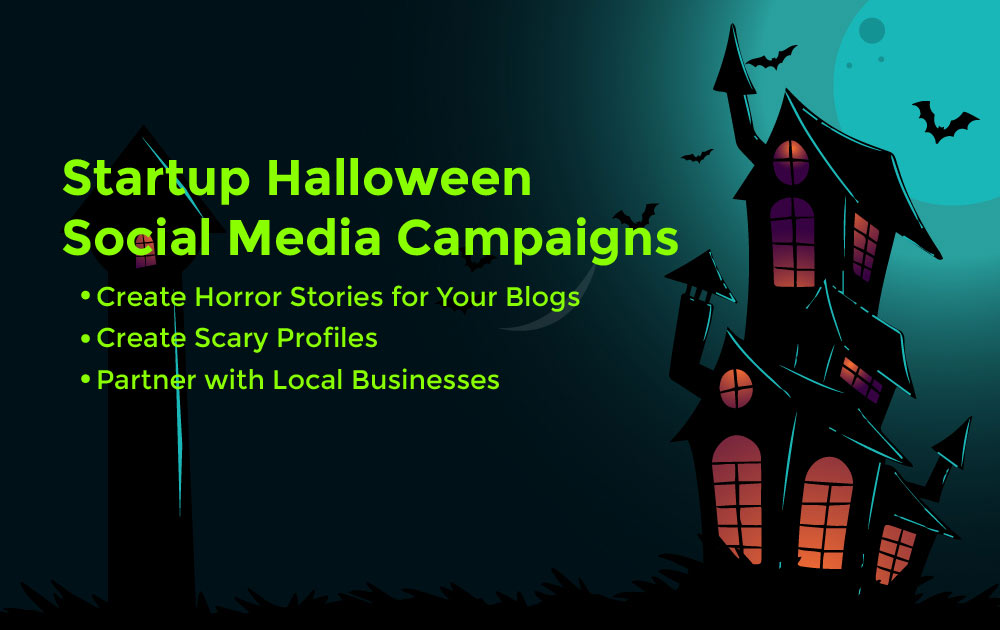 Create Horror Stories for Your Blogs
Everyone loves a good scare. If you have a limited budget, one good way to have fun with your customers this holiday season is to post articles on your blogs or websites. You can write horror stories or ask your customers to share theirs. Again, rewarding them is the key but it still wouldn't cost you much.
The important thing here is to use relevant keywords that would help your blog or website with search engine rankings and get more organic traffic.
Create Scary Profiles
Change your social media profile pictures into something horrifying. Alter your avatars by making them look like skulls or zombies. Also, create banners for your websites with hanging spiders, or include vampire bat images on your newsletter. You can also use hashtags with Halloween themes.
Partner with Local Businesses
As the saying goes, two heads are better than one. Ask a business within your area to partner with you to make your campaigns reach more people. Get a business that will complement your startup. A wedding coordinator can partner with hotels, a restaurateur with an organic grocer, and so on.
Once you start your campaign on social media, they will do theirs as well. And with both of you spreading the news, you get more people to see the campaign and get engaged.
Requesting Social Media Designs from Penji
Having a solid Halloween social media plan ready is one thing. However, having a set of high-quality visual assets is another story. It goes without saying that it's hard to make the former work without taking care of the latter.
Luckily, Penji is here to help. It's our mission to make graphic design accessible to all types of ventures – from startups to mega-corporations, and everything else in between. And best of all, it only takes three easy steps to request a design from us!
1. Create the Project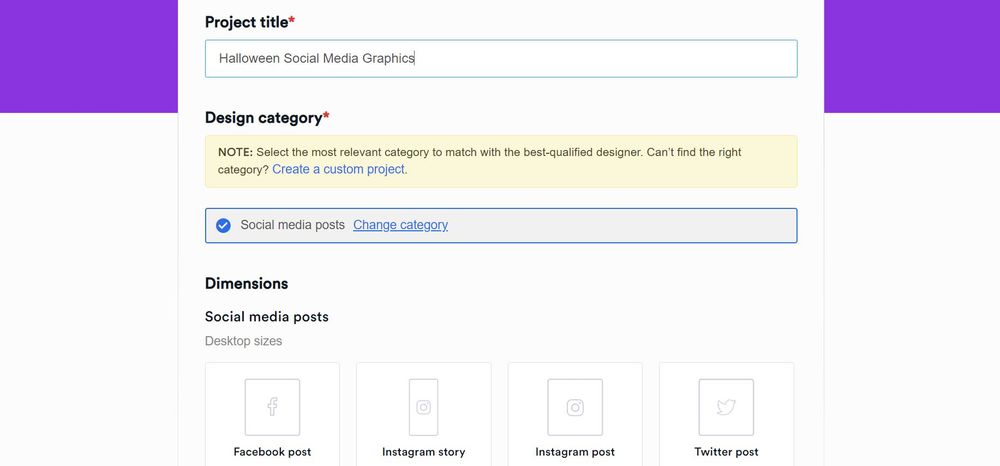 Go to the Penji dashboard and click New Project. Enter the title of your project, the category, and the description. If you need social media designs, you can choose from various sizes such as Facebook posts, Instagram posts, or FB and IG stories.
Select a preferred color palette or royalty-free images if you have some. You can also add links to your visual assets or image pegs. Click Create Project. The system will assign the project to a designer who specializes in social media content visuals.
2. Review and Revise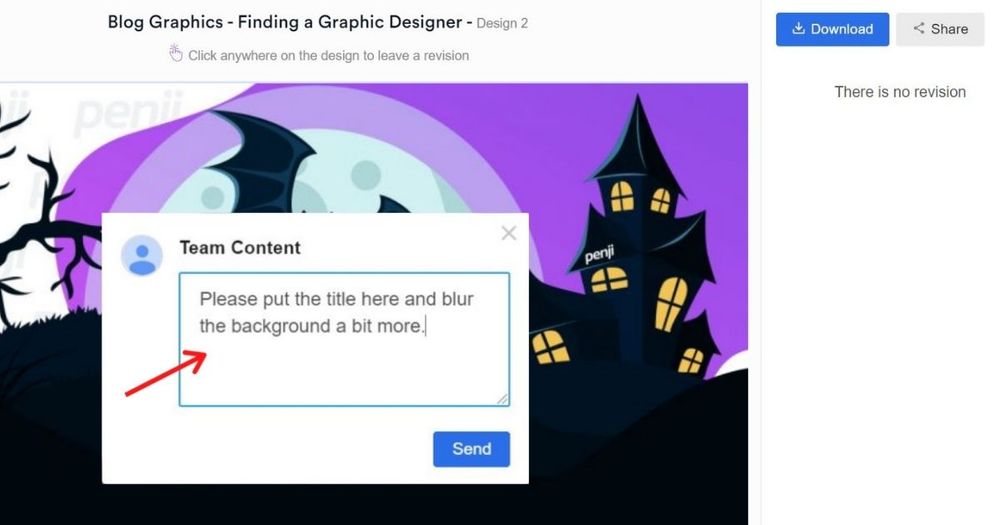 Within 24 to 48 hours, the assigned designer will submit a draft. Click on the file to view the design. If you need anything revised, click on that part and type in your comments. The design will be returned to the designer for revision. We offer unlimited revisions, so you can return the design over and over until you're satisfied.
3. Download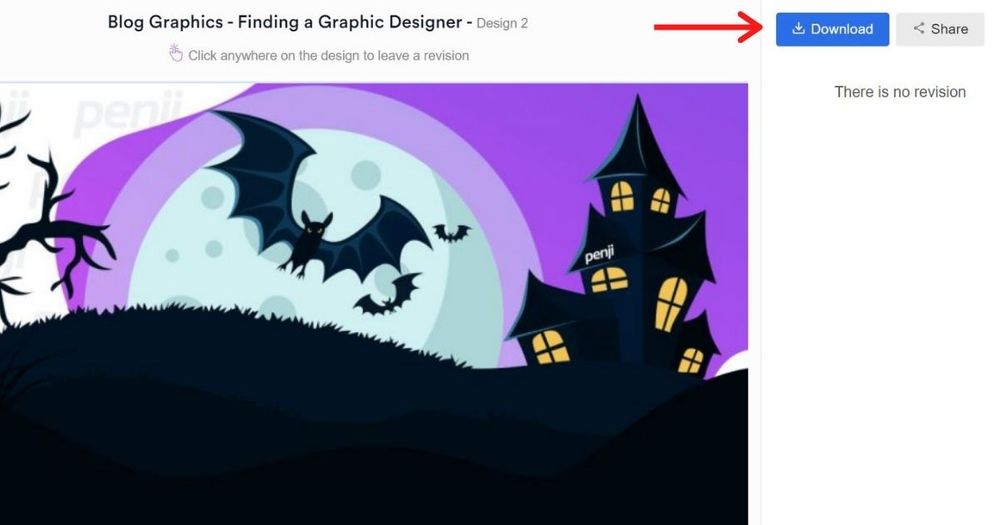 Once you're 100 percent happy with the design, click the Download button and it will automatically be saved to your computer.
Sign up today and see how we can help you gear your social media campaigns for success. You can try any of our packages risk-free for 15 days, so there's really nothing to lose!