As early as September, netizens normally see the best Halloween social media campaigns online as well as traditional marketing materials like posters, streamers, and flyers. At this time, you should prepare your Halloween-related materials, campaigns, and promotional activities. After all, it's estimated that Halloween spending for 2021 may reach billions. And you don't want to miss out on that.
If you have yet to get started on brewing the best Halloween social media campaign, consider subscribing to Penji to get your visuals. In 24 hours, you can have stunning visuals for your campaigns, which you can post in a snap. For now, let's view the best social media campaigns crafted by the biggest brands.
How Do Consumers Spend for Halloween?
How do American consumers spend on Halloween and when do they start shopping?
If you're planning to launch the best Halloween social media campaigns a week or two before Halloween, then you might be too late.
According to a digital advertising solutions provider, 29% of consumers start shopping for Halloween by September. Plus, 44.4% shop by the first two weeks of October.
The last two weeks of October could still be a chance to get a slice of the 21.6% of consumers doing their Halloween shopping. But by joining the race this late, a business would've passed up the chance to get more exposure and bigger sales.
With consumers spending $3.1 billion costumes, $2.5 billion candy, $3.1 billion decorations, $2.5 billion greeting cards, and a lot more bucks in between, the weeks leading up to Halloween could be one of the most lucrative seasons for businesses.
The Role of Social Media in Halloween Marketing
NRF data says 35% of consumers use the internet to look for a Halloween costume.
Though the data only specifies costume, it's safe to assume that netizens are browsing the net to look for inspiration. Also, they search for possible goods to purchase in relation to Halloween.
This makes it undeniably fruitful for businesses. Ecommerce, as well as brick-and-mortar stores, take advantage of social media marketing to increase publicity and income.
Because timing is everything in business, marketing experts advise entrepreneurs to start Halloween campaigns early. This is to position one's promo before all other brands start launching their campaigns.
A Halloween campaign in August seems absurd. But starting a promo by mid-September would allow you to catch the wave early and ride it until shopping crunch time by the end of October.
One advised strategy is to use a combination of social media platforms. Though some campaigns work really well on Facebook, Instagram, and Twitter, it's never a bad idea to use other platforms. Snapchat, YouTube, and Pinterest are to name a few.
In fact, data shows one in every four millennials use Pinterest to find costume inspiration. Because of its highly visual nature, many people who are into crafts, party planning, and other hobbies flock to this platform to get ideas.
Unsurprisingly, the social media web and mobile application have partnered with new commerce platforms to increase the variety of products that can be purchased through the site.
Best Halloween Social Media Campaigns
Here are some of the best Halloween social media campaigns launched over the past couple of years. See how businesses rode the consumer wave and used the season to bring their brand closer to consumers.
It's important to note how these campaigns used out of the box strategies. This is to market the brand during such an important commercial season. They optimized social media platforms that offer an instant connection with potential customers.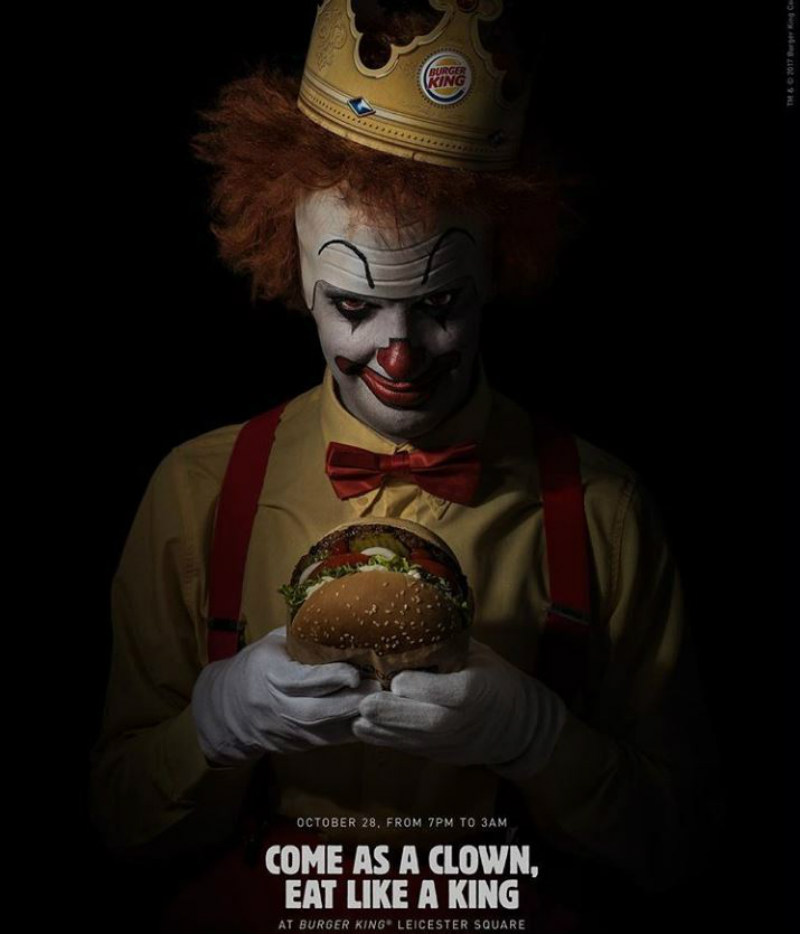 Burger King's Halloween 2017 campaign married creativity with a bit of playful but clever trolling of its competitor, McDonalds and its clown mascot. Their promo – the first 500 customers to visit select Burger King stores dressed as a clown got a free Whopper burger.
The social media campaign featured a series of images with a creepy-looking clown. The clown is holding a burger, seeming to emerge from a dark background. Social media campaign materials, donning the hashtag #ScaryClownNight, gained a lot of attention among netizens.
Want high-quality graphics like this poster? Check out our portfolio to see samples of our past work.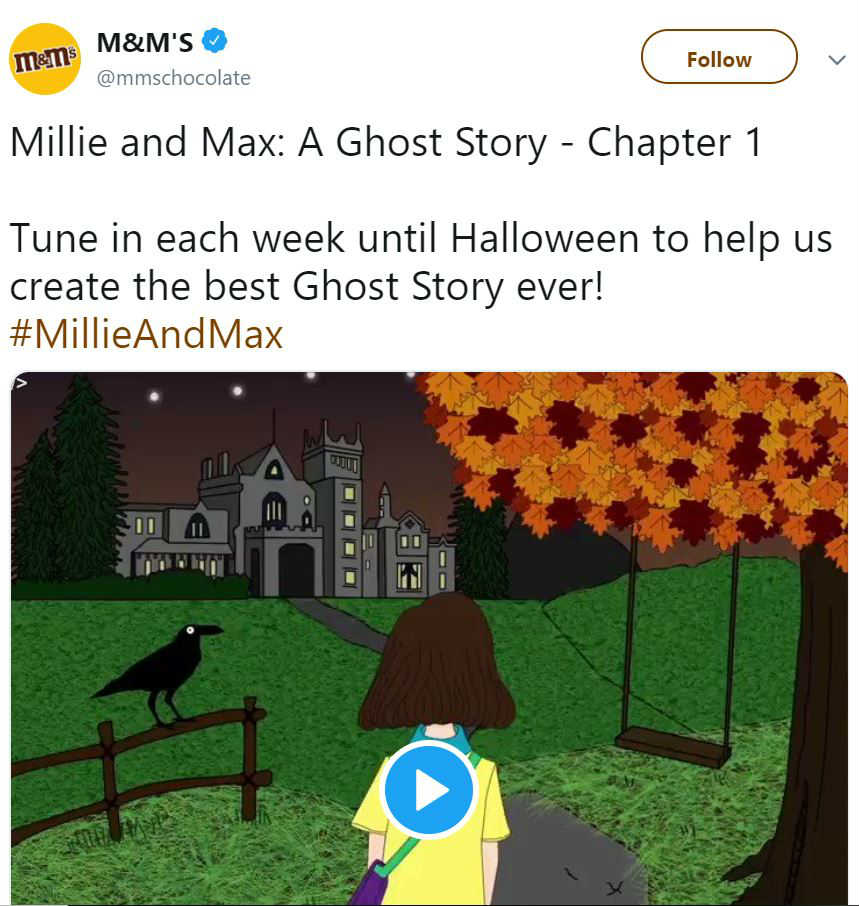 In 2017, M&M's came up with a Halloween campaign that made the most out of the interactive capabilities of social media.
Akin to choose-your-own-adventure novels (and lately, choose-your-own-adventure film through Netflix's Black Mirror: Bandersnatch), the campaign titled Millie & Max: A Ghost Story was told in multiple chapters via 30-second animations released on Facebook, Instagram, and Twitter.
After every installment, a poll is issued where followers can vote from two choices. The story of the animated shorts progressed based on the poll results.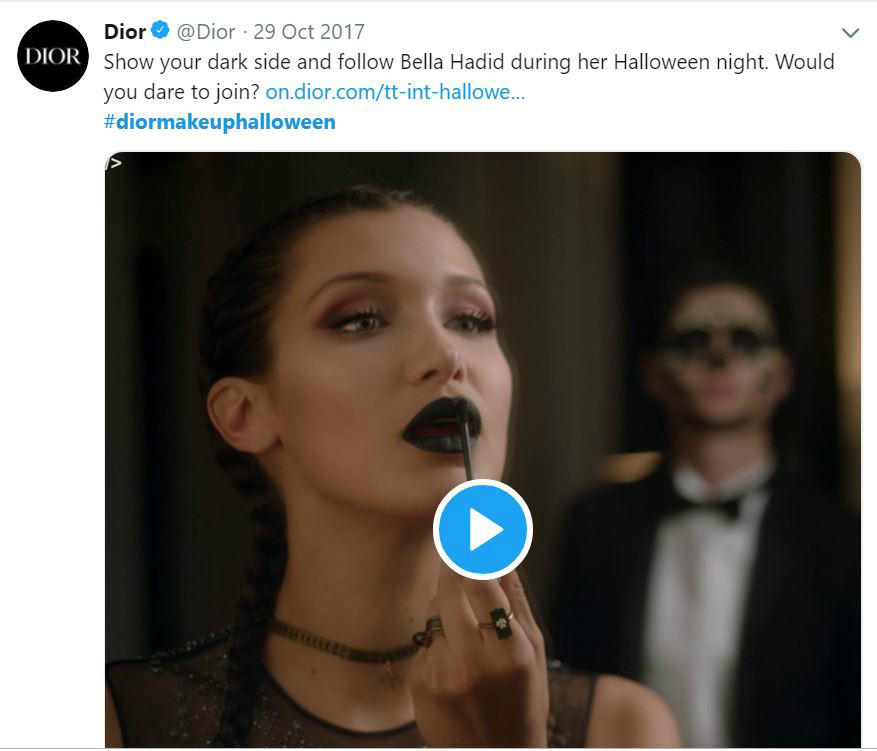 Finding the right costume is an annual goal for many. Aside from the garb, makeup is also a crucial part of a Halloween look and Dior made sure they used this to their advantage.
For their Halloween 2017 campaign, the French luxury goods company featured Bella Hadid creating glamorous looks for Halloween. The campaign was shared on Twitter and other social media channels using the hashtag, #DiorMakeupHalloween.
Dior's strategy to make their makeup line relevant – almost essential – during Halloween makes this promo an excellent marketing campaign.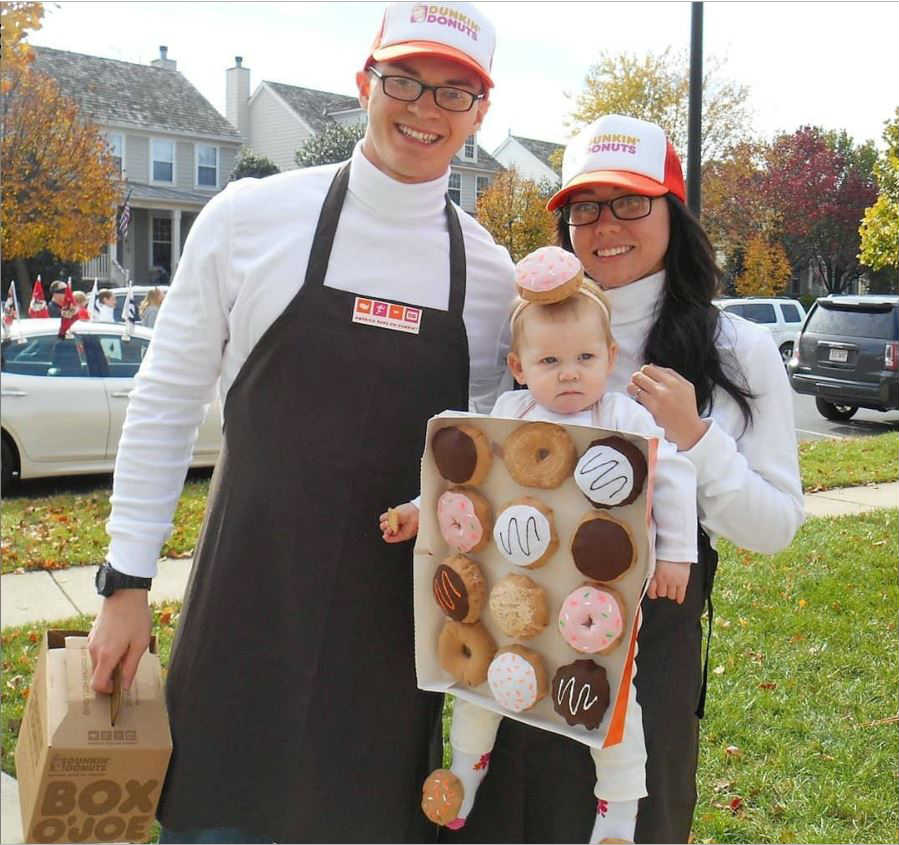 With costumes being the highlight of everyone's Halloween activities, Dunkin' Donuts found a way to be present in customers' posts on social media.
For their Halloween 2018 marketing campaign, the coffee and quick restaurant chain launched a costume contest. It encouraged people to use their brand and products as inspiration for their Halloween garb.
With a chance to win $1,000 and a year's supply of Dunkin' Coffee, many Instagram users happily sported donut and coffee costumes and posted their photos using the hashtag #DunkinDressUpContest.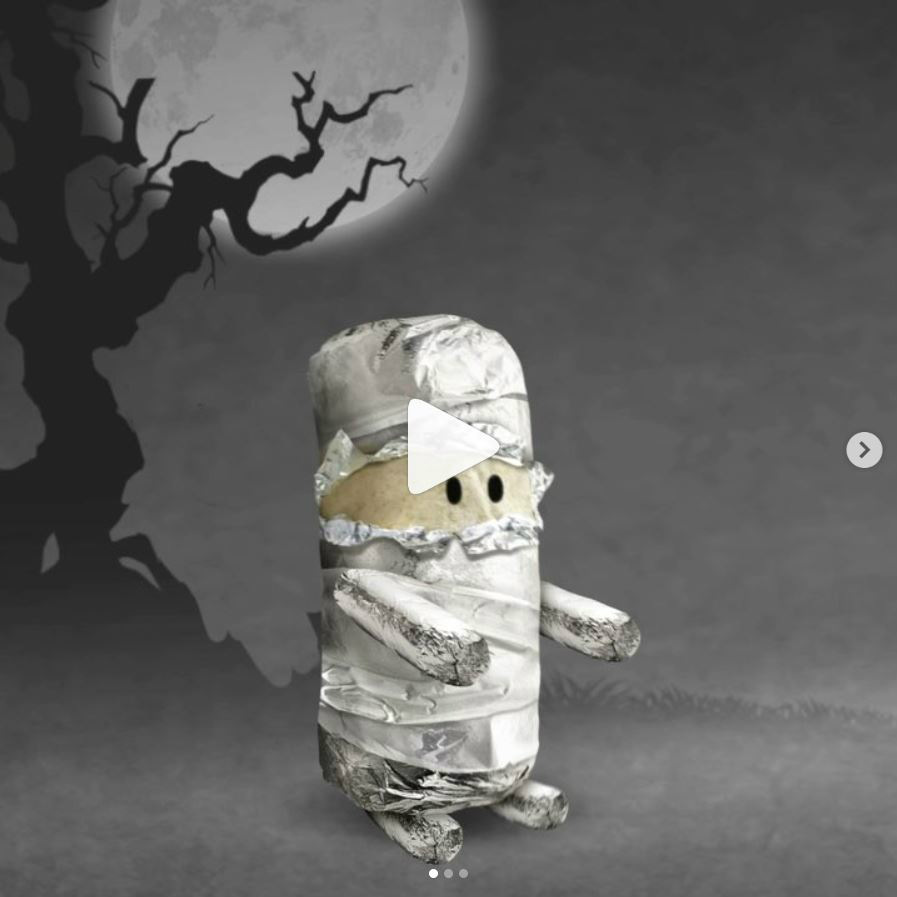 Chipotle's 2018 Halloween campaign offered free food for customers who came in wearing a costume.
Anyone who came to their US and Canada stores at a designated time got free "Booritos." But those are just a small treat compared to the hefty grand prize.
Costume wearers who tagged Chipotle on social media got a chance to win free burritos for a year. That's quite a handful of yummy wraps for free!
Requesting a Social Media Design from Penji
Halloween campaigns can be a lot to handle. But fret not, because we're here to help you get high-quality graphic designs with just a few clicks.
1. Create the Project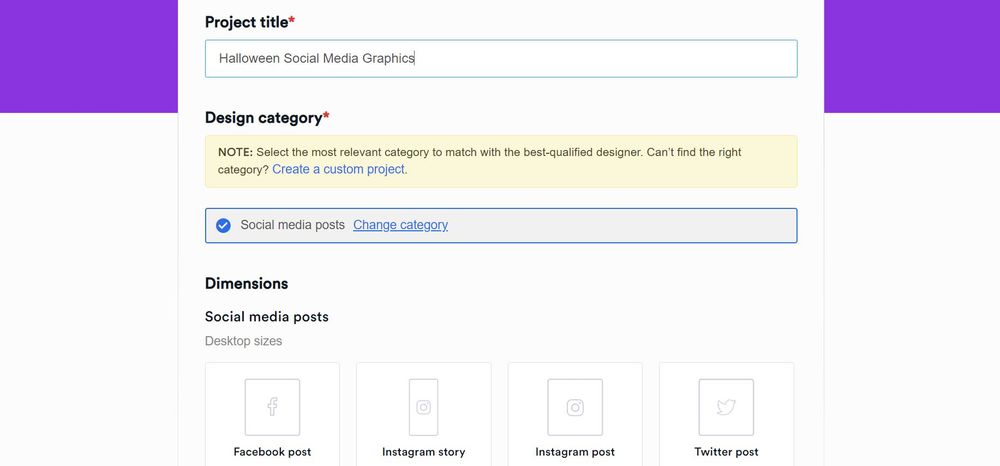 In the Penji dashboard, click New Project. Enter the title of your project, the category, and the description. For social media posts, you can choose from various sizes such as Facebook posts, Instagram posts, or FB and IG stories. Add links to your visual assets or image pegs. You can also select a preferred color palette or royalty-free images if you have some. Click Create Project. The system will assign the project to a designer who specializes in social media content visuals.
2. Review and Revise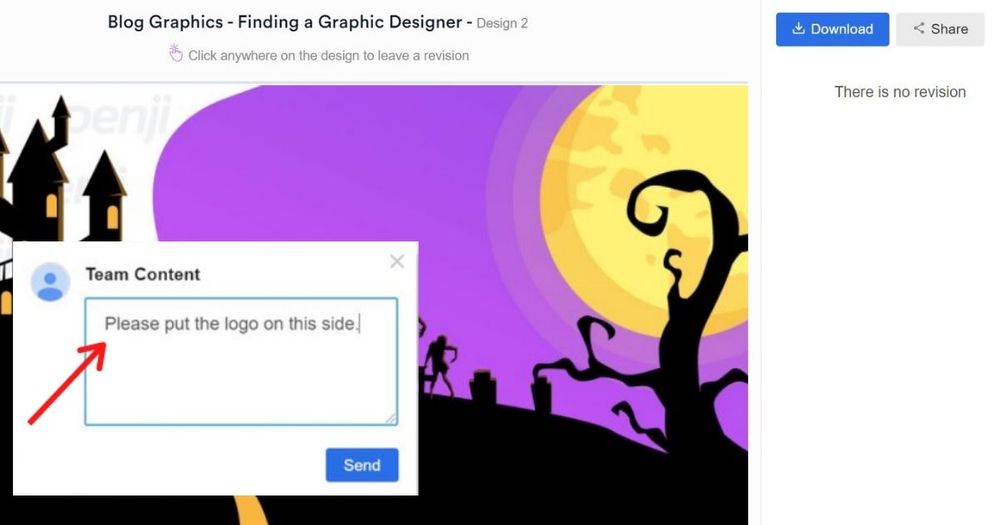 Within 24 to 48 hours, the designer will get back to you with a draft. To view, click on the file within the thread. If you need anything revised, simply click on that part and type in your comments. The design will be returned to the designer for revision and will be re-submitted to you within 24 to 48 hours.
PRO TIP: Communication is key when it comes to requesting designs. To make sure that the designer gets the look you want, take the time to include links to image pegs. It's also best to attach links to your website and to include info such as color palettes and other branding assets.
3. Download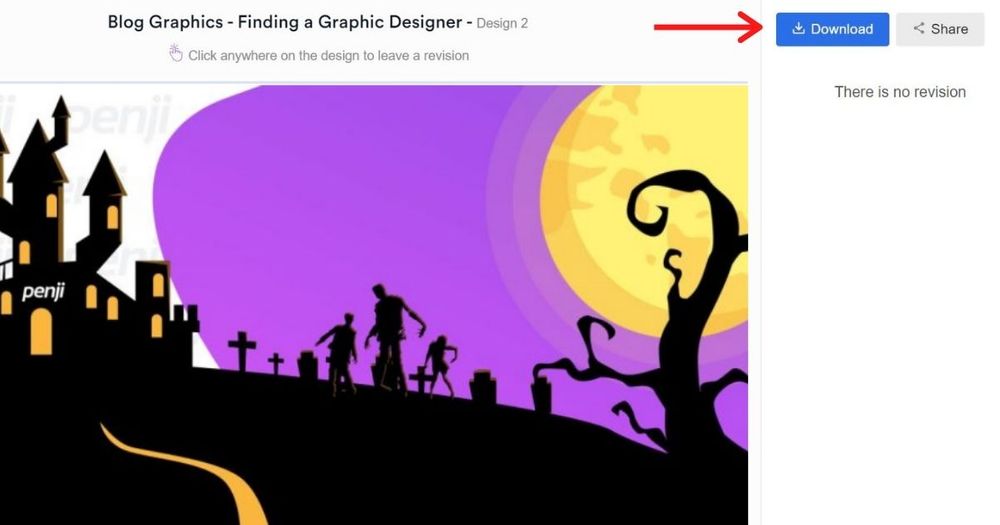 Once you're happy with the design, click the Download button and it will automatically be saved to your computer.
See for yourself how we can help you mount successful social media campaigns that rake in sales. Sign up today and try any of our packages risk-free for 15 days!