Recent statistics show that there are 4.55 billion actively using social media, representing 7.6 percent of the world's population. It also means an increasing percentage of consumers who stay online to discover new products and services. That is why, as a business owner, you need to invest in social media management. Luckily, there are excellent social media management apps available to help you accomplish your goals.
Things to Consider When Choosing Social Media Management Apps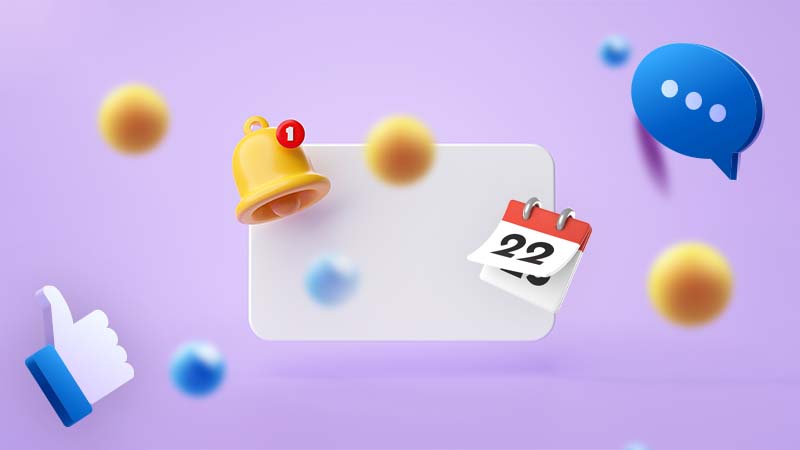 Here are the factors to consider in choosing a social media management app:
Compatibility with various social media platforms
The most crucial factor of any social media management tool is compatibility. Using an app compatible with all major platforms is helpful for brands connected with multiple social networking sites. For example, Hootsuite is compatible with over 35 social networks, including Facebook, Instagram, Twitter, and Pinterest. Because of this, Hootsuite is the most popular social media management app.
Social media monitoring
Social media management mainly involves replying to messages or tweets as quickly as possible. But social media marketers can't monitor all the conversations on all brand's social profiles. It's quite impossible for us humans. Thanks to AI-based social media tools that can track your brand name, keywords, hashtags, and more.
Content scheduling and content calendar
You have decided to invest in a social media management app to save time logging into each account and posting content. So, it's wise to choose a tool with easy-to-use schedules and calendars. Scheduling posts with the help of a tool lets you plan your content based on the rules you have prepared.
Features that allow engagement with the audience
One of the winning social media strategies is to engage and interact with the audience. Promoting two-way communication is quite essential for brands to succeed. Therefore, you should consider an app that allows you to listen to your clients and identify their needs.
Generate performance reports
Creating and publishing content on social media is an essential component of the social media marketing (SMM) strategy. But identifying which content is performing well is a difficult task. The only way to do this is by analyzing the reports on social media performance. Because of that, you need the help of the right social media analytics tools.
Cost-Effective
Cost is also a critical factor businesses consider before choosing social media management apps. Many of these tools have varied features and different pricing strategies. Before subscribing to an app, check if it offers you enough options at a reasonable price.
Competitor analysis
Social media management tools should assist businesses in posting and scheduling content and analyzing competitors. Social media marketers or managers should know their key competitors and analyze their social media activities.
10 Best Social Media Management Apps for Small-to-Medium Businesses
1. Buffer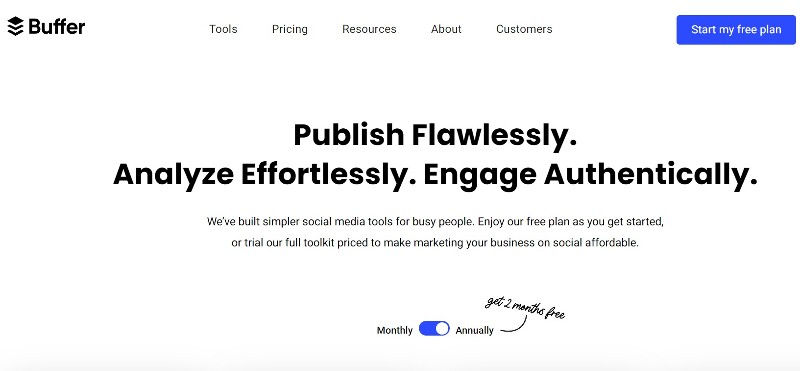 Buffer is the most intuitive and affordable social media management tool. Its mission is to provide straightforward social media tools for business people. Buffer offers monthly and annual plans for several clients. Also, Buffer provides assistance to marketing teams and agencies maintaining ten or more social channels.
The platform assists social media marketers through their suite of products for:
Social media analytics
Planning and publishing
Customer engagement
Social media analytics
2. Hootsuite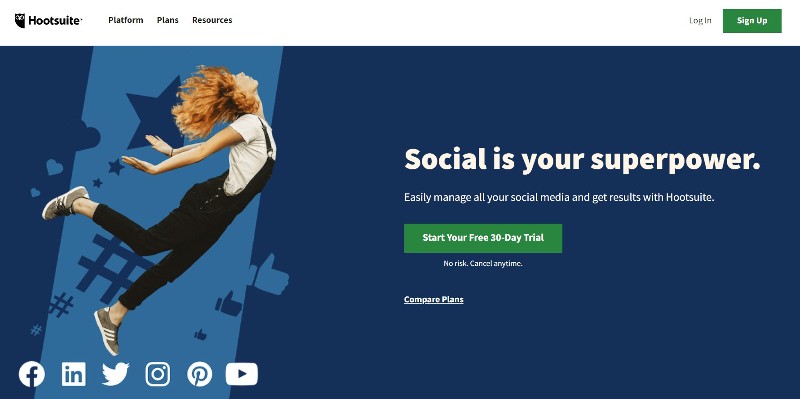 Hootsuite is a robust social media management app trusted by more than 15 million people worldwide. Its long list of clients includes over 800 Fortune 1000 companies.
Hootsuite's growth and popularity are attributed to its being an all-in-one platform that offers the following features:
Create and schedule posts
Manage multiple social media channels
Plan upcoming campaigns
Interact with users from different channels in a single platform
Analyze performance and create custom reports
3. Agorapulse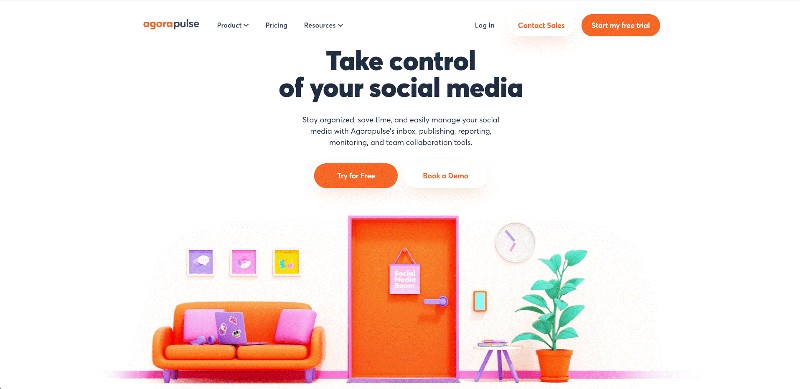 Stay organized and manage your social media accounts easily with Agorapulse. Agorapulse is an integrated social media management tool with scheduling, responding, and reporting capabilities. Currently, the app supports Facebook, Twitter, Instagram, LinkedIn, and Youtube.
Here are the features that entice many customers to try Agorapulse:
Unified social inbox for hassle-free handling of all incoming social media messages, comments, and reviews.
Intuitive publishing for planning, collaborating, and scheduling content for your social networking channels.
Social Listening for discovering new trends about your brand and your competitors.
Insightful analytics for creating attractive and actionable reports.
The Agency Love program and shared external calendars help agencies become more efficient and profitable.
Fast, friendly support for clients that promises to be faster than Agorapulse competitors
4. Sprout Social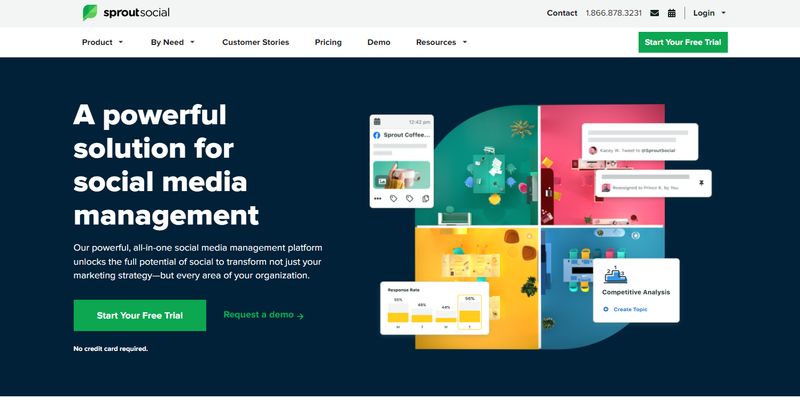 Like Hootsuite, Sprout Social integrated different social media management tools into a single platform. It's one of the few tools that offers customer relationship management (CRM) options. These options give you a complete profile of your customers. And in turn, it helps you build a stronger relationship with them and improve your services.
Below are the features of Sprout Social:
Social Publishing
Customer Engagement
Analytics
Review
Social Commerce
Social Listening
5. Sendible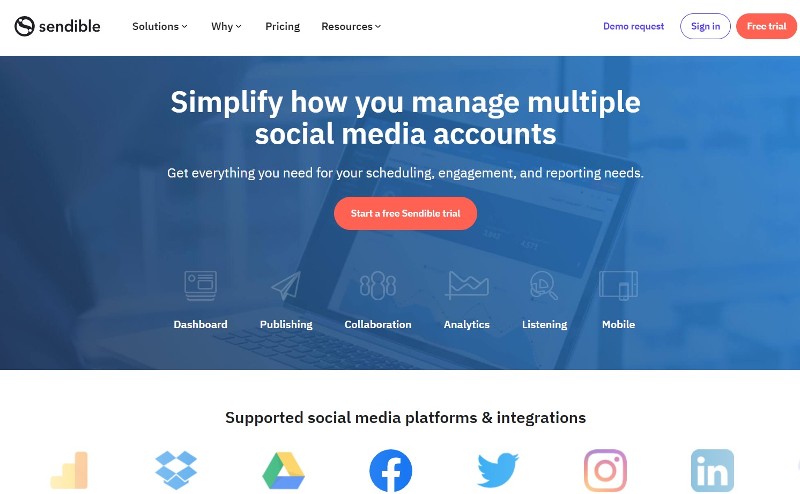 Sendible is explicitly designed for agencies with multiple clients. In addition to standard features of social media management tools, Sendible allows you to customize your dashboard by brand. Also, it has notable integrations like Canva graphics editor, royalty-free image search, and YouTube search.
Here's how Sendible can help your business or agency:
Planning and scheduling your content
Drafting and preparing your calendar
Screening your post before publishing them on various social media sites
Creating a comprehensive report in minutes
Building a solid and engaged community
6. eClincher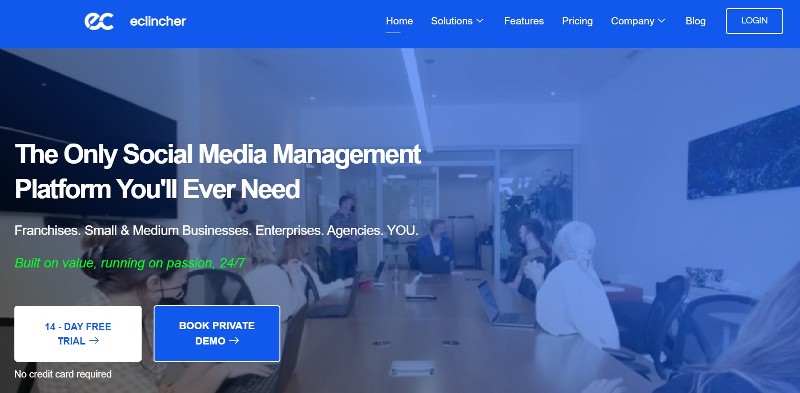 Like most available tools for SMM, eClincher enables you to schedule and publish content, respond to messages, and analyze your social media performance. It allows social media managers to auto-post using smart queues and RSS feeds and provides a media library for images. The eClincher app also allows you to search for social media influencers.
The platform guarantees to help clients in getting things done by:
Publishing and scheduling posts
Auto-posting with queues – an intelligent way to recycle and publish content
Visual calendar
Providing suggested content
Creating and sharing stunning images, video, and animated gifs via free media libraries
Monitoring, listening and engaging with live social feeds
Integration with leading third-party apps like Google Analytics, Canva, Bitly, Zendesk CRM, etc.
Post-customization across social channels
7. SocialPilot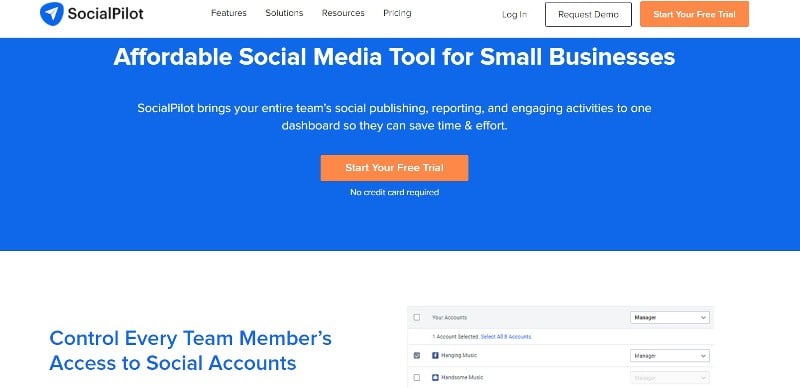 Be a more prolific social media marketer with SocialPilot's cost-effective and straightforward social media management tool. The client management feature is helpful for agencies that work with several clients. Apart from that, SocialPilot curates and recommends content from several industries. This platform is an excellent option if you want to find relevant posts easily.
Here are the features that SocialPilot provides to its clients:
Publishing and scheduling ( bulk scheduling, social media calendar, content curation, RSS feeds automation)
Analytics and reports
Collaboration (client management and team management)
White labels (customized dashboard and analytic report to match your brand identity)
8. Post Planner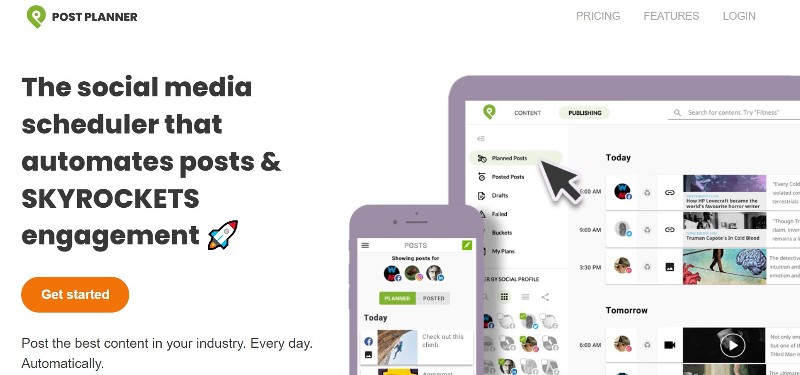 If you aim for more innovative social media management, Post Planner will help you. Post Planner is a cloud-based social engagement platform for small, medium-sized, and large businesses. It allows users to measure and predict social media engagement on various social channels like Facebook, Instagram, Twitter, etc.
Post Planner provides users with the following functions:
Connect all social accounts (Instagram business accounts, Facebook pages and groups, LinkedIn profiles, and pages, Pinterest accounts, Twitter Profiles)
Curate top-performing content
Schedule a calendar of future posts
Insights to improve performance
Optimize business listings and reviews
9. Tailwind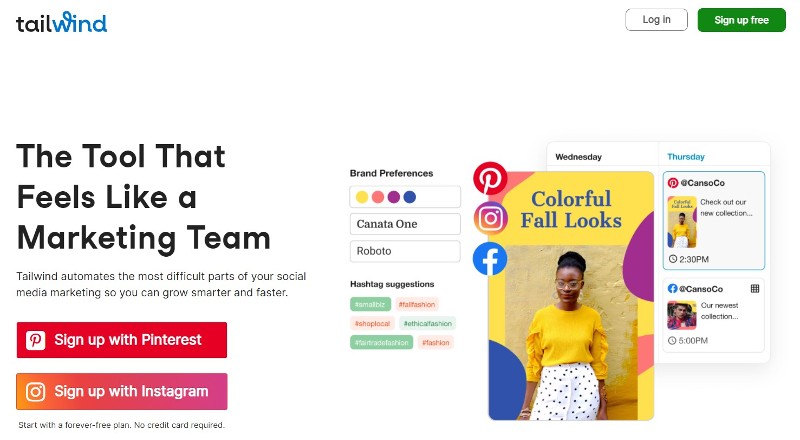 Tailwind believes advertising must be a great experience for consumers and marketers alike. It is a social media management app developed for Pinterest and Instagram marketers providing a suite of exclusive features to these visual platforms.
Features:
Create – turn your photos into excellent social media posts in just one click.
Schedule – save schedule while allot more time doing the things only a human can do.
Optimize – powerful hashtag finder, shoppable Smart.bio feed, drive traffic, and create communities.
10. Later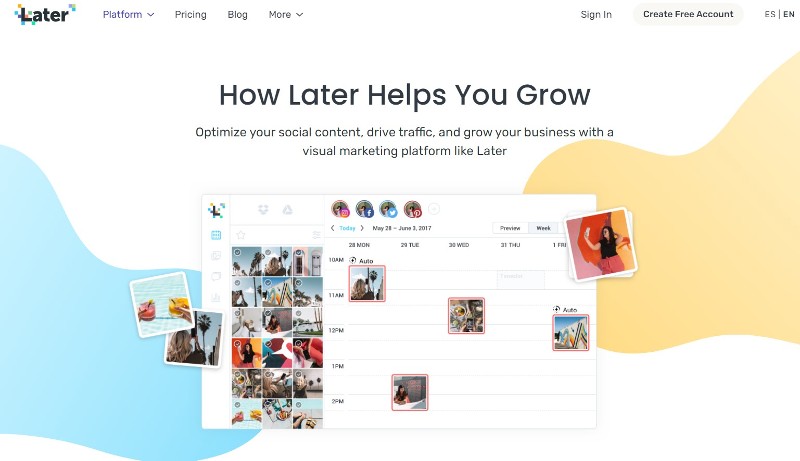 Later focuses mainly on Instagram. The distinctive feature of Later is its visual content calendar, where you can easily drag-and-drop images to schedule them. Likewise, it has a free link tool for Instagram profiles. It can be linked to a shoppable feed or various websites and posts.
Summary of features:
Social management – analytics, publishing, and engagement
Reports and dashboards – customizability, exporting, and scalability
Social analytics – competitor analysis, follower analysis, post-performance, paid campaign tracking, and attribution
Content and collaboration – calendar, library, and shared inbox
5 Best Social Media Management Apps for Enterprise Businesses
1. Sprinklr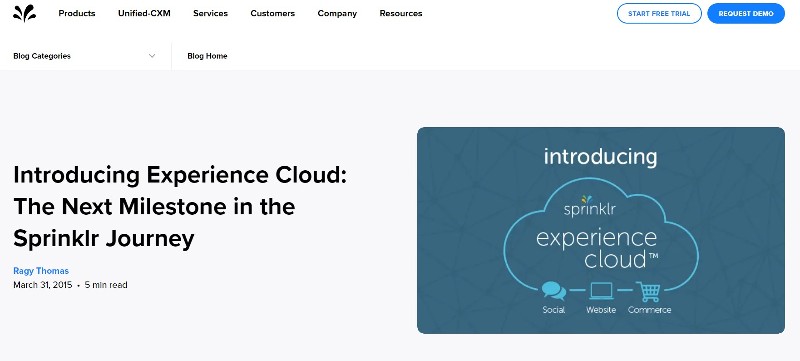 Sprinklr is a robust customer experience platform (CMX) that handles all digital customer experiences. Many large companies use Sprinklr to advertise, market, research, etc. The Sprinklr Social Cloud is part of Sprinklr's wide range of products to help enterprises connect and serve their customers. Sprinklr also enables teams to collaborate effectively and engage their customers across 25 social channels.
Here are the main features of Sprinklr:
Advertising
Audience management
Benchmarking
Distributed user management
Planning
Governance
Reporting
Asset management
Automation
Campaign management
Engagement
Publishing
Social data visualization
2. Oktopost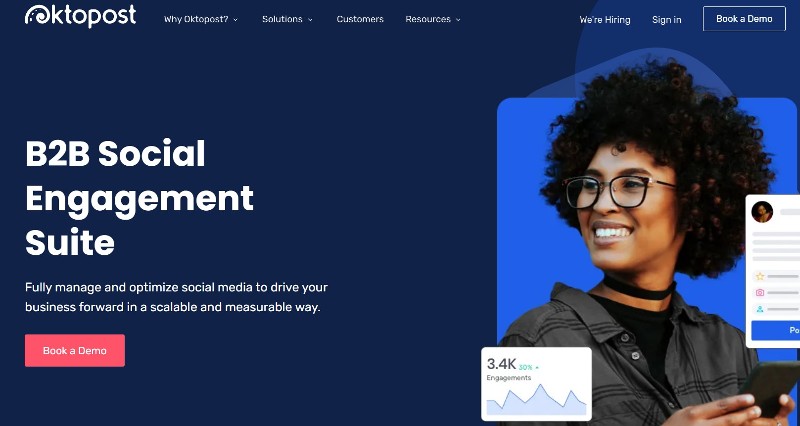 Oktopost is an app that addresses the needs of B2B marketers. The app allows them to generate leads through social media and enhance and widen their social media activities. Interestingly, Oktopost has all the tools most B2B marketers want, from social media management to promotion to employee participation.
Summary of features:
Social management – analytics, publishing, campaign optimization, and engagement
Reports and dashboards – customizability, exporting, and scalability
Social analytics – follower analysis, post-performance, and attribution
Monitoring and listening
Data management and analysis
3. Hubspot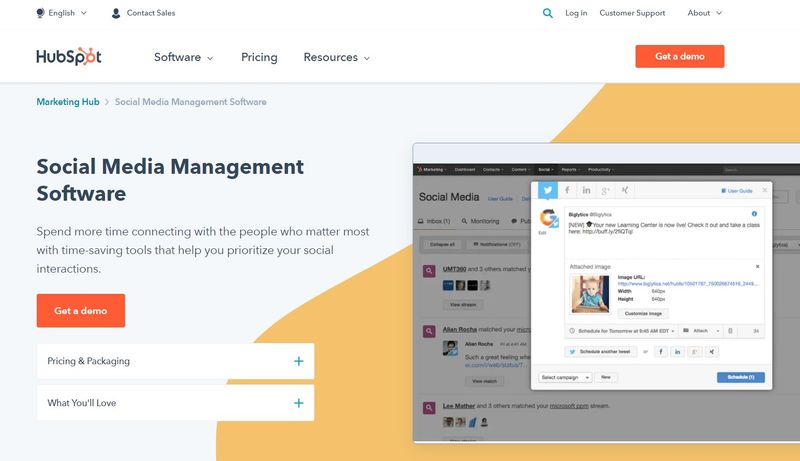 Part of Hubspot's all-in-one marketing software, it integrates the marketing efforts of an enterprise into a single platform. This tool helps the social media marketer easily compare results across all. It also measures social media return of investment (ROI).
Hubspot Marketing Hub Features:
Email marketing
Online marketing
Lead marketing
Reporting and analytics
4. Falcon.io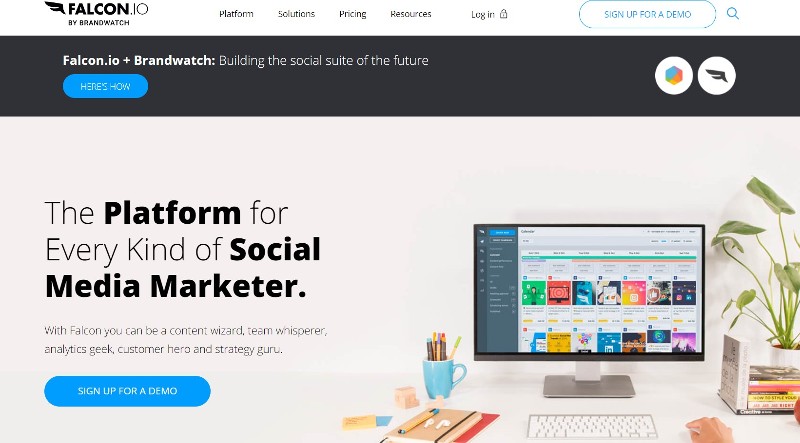 Falcon.io is designed for every kind of social media marketer that combines all their needs into one platform. It allows brands to explore the full potential of digital marketing and advertising, allowing them to deliver more personalized brand experiences. Likewise, the platform has a highly intuitive and collaborative UI complemented by comprehensive support services.
Its package of services includes the following:
Social media management
Engagement
Analytics
Customer experience management
Do-it-yourself landing page builder
5. Social Hub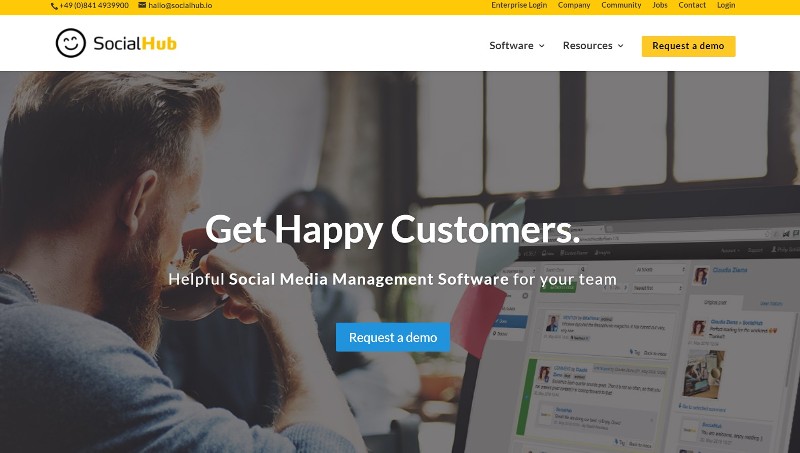 Social Hub is a social media management tool developed for businesses, agencies, and governments. It is the easiest solution for social media management. Generally, Social Hub offers an efficient, scalable, and secure solution based on its target audience and customers.
Increase your impact on social media with SocialHubs powerful features:
Publishing: plan your content strategy through a collaborative calendar
Monitoring: track brand mentions, hashtags, and searches in your Smart Inbox
Collaboration: increase productivity as a team with tools for better collaborative workflows
Analytics: inform your strategy with a package of social media analytics tools
Security: be protected from social media risks with SocialHubs' advanced security features
How could Penji help with social media designs?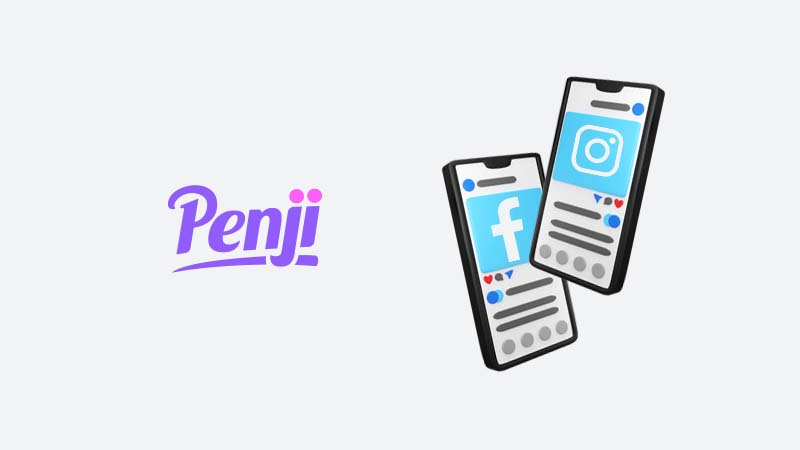 Anyone can easily access Penji's unlimited graphic design services from a single platform. All design requests, revisions, feedback, and communication are made on this app. So, whatever social media design you need, their talented designers can deliver it to you hassle-free.
You can sign up now and choose the right plan that matches your requirement. Then, you can follow these four easy steps:
1. Create a design project
Use their app to request designs. Fill out the form to help your designers understand your needs. You can also upload attachments you want to include as references for your designs.
2. Connect to designers
At this stage, Penji will automatically assign your projects to the best designer for the job.
3. Review and give feedback
You can see your draft within 24 – 48 hours. If you are not 100% satisfied, you can request as many revisions as possible until you're finally satisfied with the design.
4. Download and post
Once you are satisfied with the design, you can instantly download all of them and the source files. Now, your design is ready for posting on your social media accounts.
One of the many benefits of using Penji for your graphic design needs is that its designers know all the specifications for each social media platform. Plus, you'll always communicate with someone during the entire design process.
Start a project with us today. We charge a fixed monthly rate for all your design needs. See our pricing page to learn more about our monthly, quarterly, and annual plans.