In this era of visual communication, a custom logo can be a vital asset for any business or organization. For example, you can use a custom shark logo as a distinctive symbol to represent your brand. Whether creating a logo for a sports team, a clothing line, or a resort, a well-design shark logo can help you stand out from the competition. Here are ten shark logos created by Penji designers to inspire you.
1. Akheilos Software Company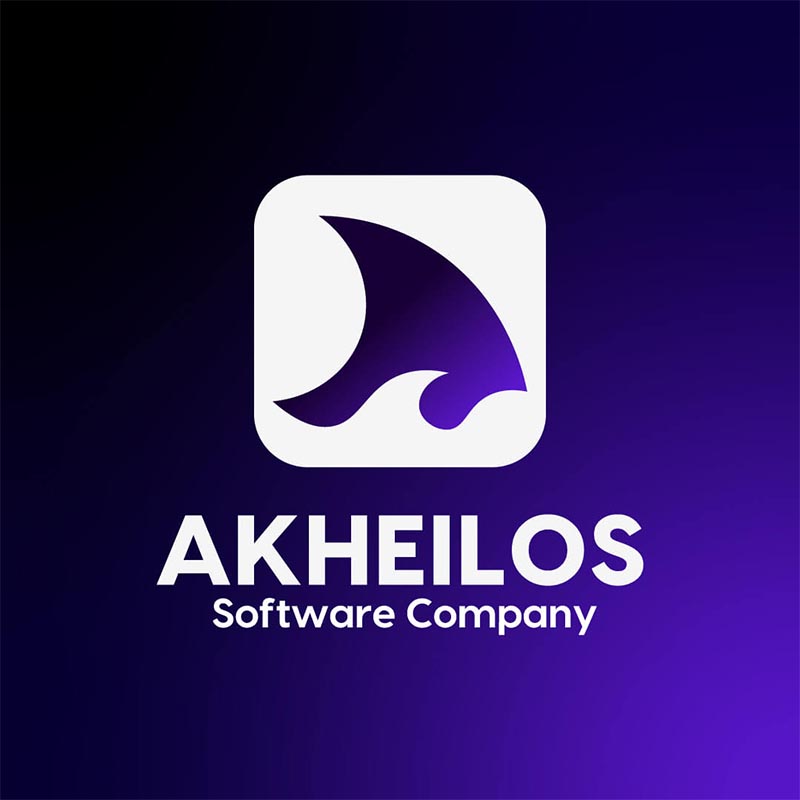 This software company logo features a shark logo with a rounded square frame. The sleek, modern design and bold colors convey a sense of power and quality. The square logo design resembles the share of computer chips, symbolizing the company's focus on technology and innovation.
It's important to design a simple, recognizable, and memorable logo like this logo made for Akheilos Software Company. The iconic symbol and minimalist layout make it influential in building brand awareness. So, if you're looking for a sleek design, this logo is an excellent example to consider.
2. Bliss Hotel and Resort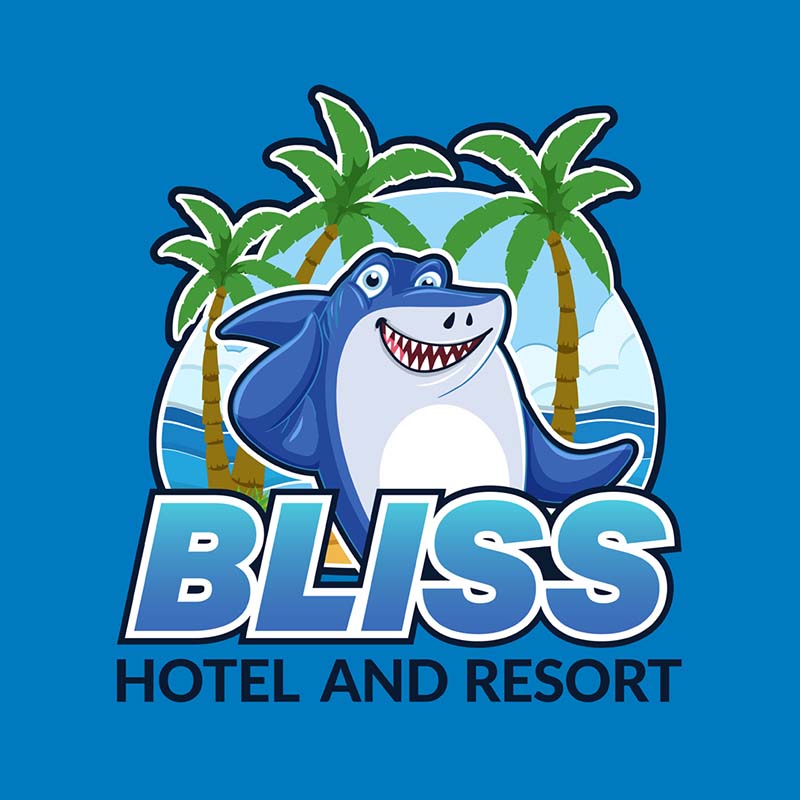 The three words that best describe Bliss Hotel and Resort's logo are playful, adventurous, and entertaining. The logo design tells everything about a tropical getaway that offers a memorable vacation experience. With a minimalist style, the design focuses on clean lines and bold shapes. Plus, the color scheme is relaxing and visually appealing. This shark logo has an overall appeal that is timeless and memorable.
3. Hey! Shark Kids Apparel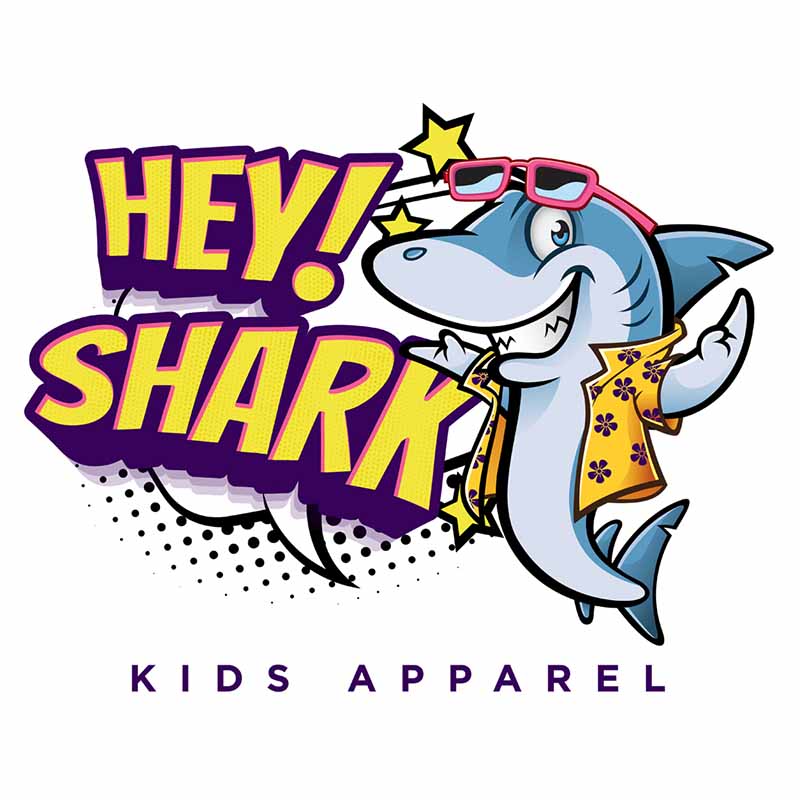 Draw inspiration from this item in our shark logos collection if you're a company planning to design a kids' apparel logo. The Hey! Kids Apparel logo brings a playful and fun appeal to a children's clothing brand. The logo features a stylish, cute shark character with a big smile and cartoon-like appearance. Specifically, the shark's bright yellow polo shirt is relevant and creative at the same time. With bright shades of blue, pink, and yellow, the playful logo evokes a sense of adventure and excitement.
When designing a logo, it would be best to consider your prospective customer's age profile. Hey! Shark Kids Apparel was able to follow this rule through a logo that will instantly attract parents and children looking for quality apparel.
4. Lamia Cafe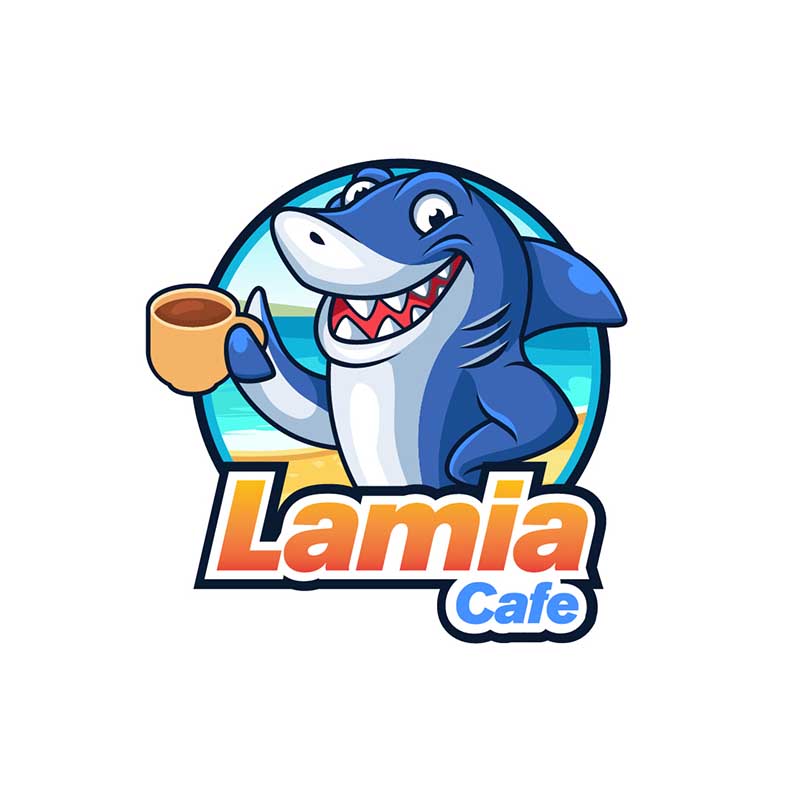 You can always create a fun character representing a cafe or restaurant logo. By looking at the shark holding a mug and showing her big smile, the customers will be delighted to enter Lamia Cafe. The fun logo design creates a happy mood and a relaxing atmosphere- two qualities that customers expect at a cafe.
The color combination and the choice of font for the wordmarks are perfect, too. Mixing the colors with varying shades and strokes makes the overall design more balanced and visually attractive. Draw inspiration from this example, and don't worry about using several colors for your logo.
5. Mako Film Production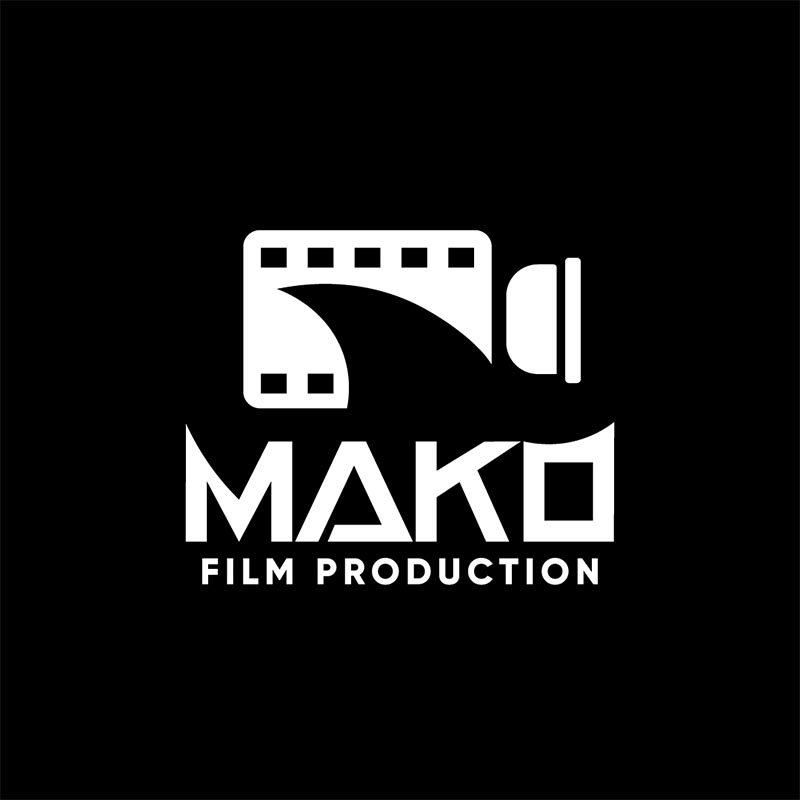 This black-and-white logo for a film production company is simple but elegant. Mako Film Production logo conveys engaging and thought-provoking films that captivate audiences of all ages. The company's distinctive logo features a sleek and intriguing shark design. It symbolizes their bold and fearless approach to filmmaking.
6. Maño Gym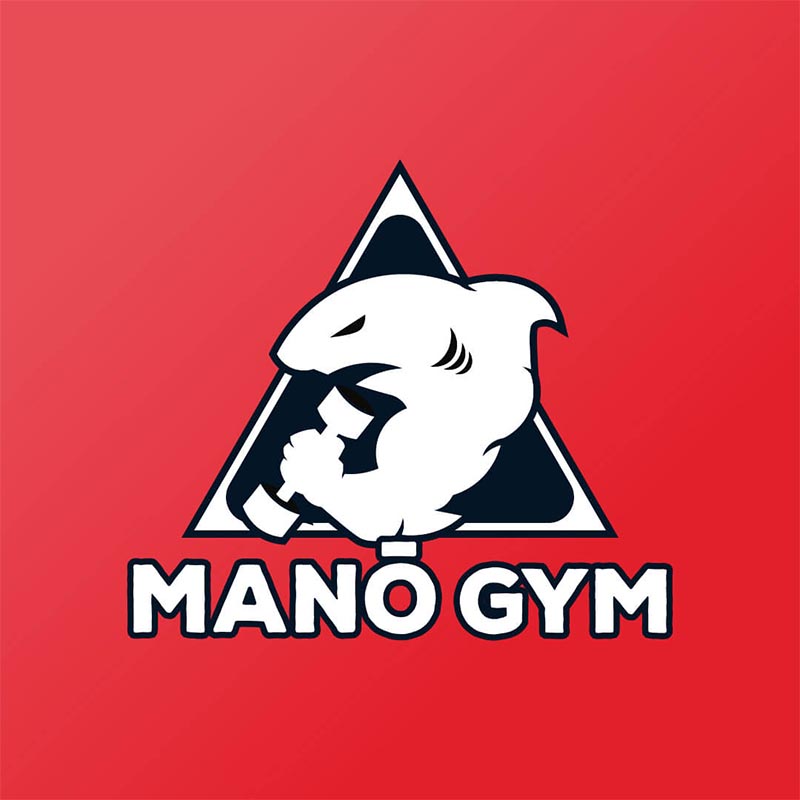 If you're looking for a gym logo that is fierce and determined, look no further than the Maño Gym logo design. This logo features a sleek and powerful shark, representing the determination and strength of its members. The creative representation of a "muscular" shark with a triangular shape background conveys the holistic approach of Maño Gym. Overall, this shark logo design is a compelling image to promote the business for anyone looking to get in shape and achieve their fitness goals.
7. Shark Security Agency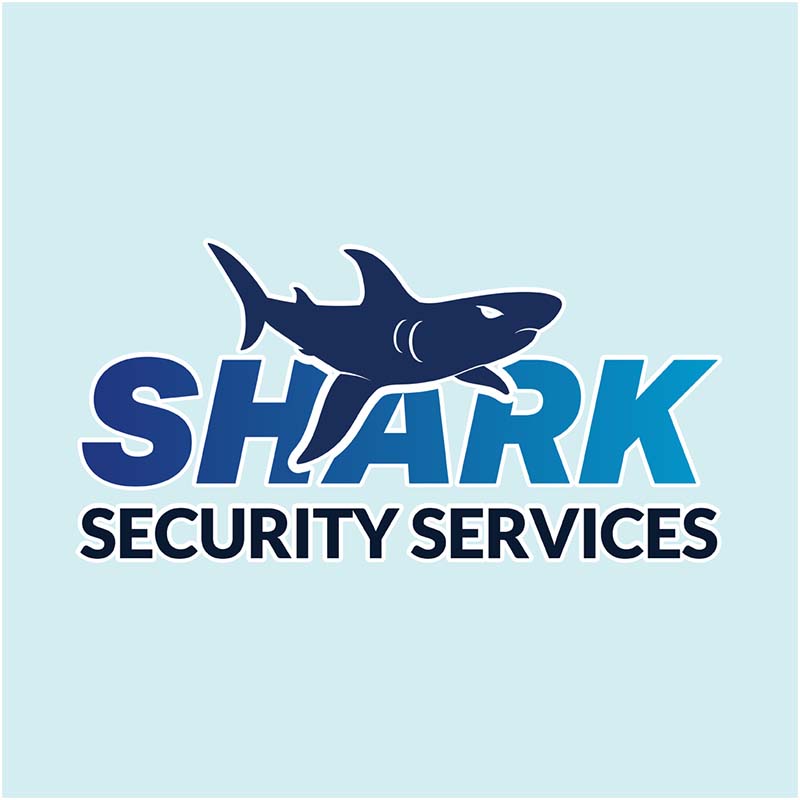 The main goal of a security services agency is to help prevent crimes against persons and property. And security personnel must have to have a good vision to perform their essential duties. Similarly, good eyesight is one of the characteristics of sharks. That is why the shark is an effective symbol to represent the business.
The Shark Security Agency logo features a robust and intimidating shark, symbolizing the strength and fearlessness of its security personnel. The color scheme suits the shark's qualities and the security agency's professionalism. Get inspiration from this shark logo design to represent your security services-related company.
8. Shark Squad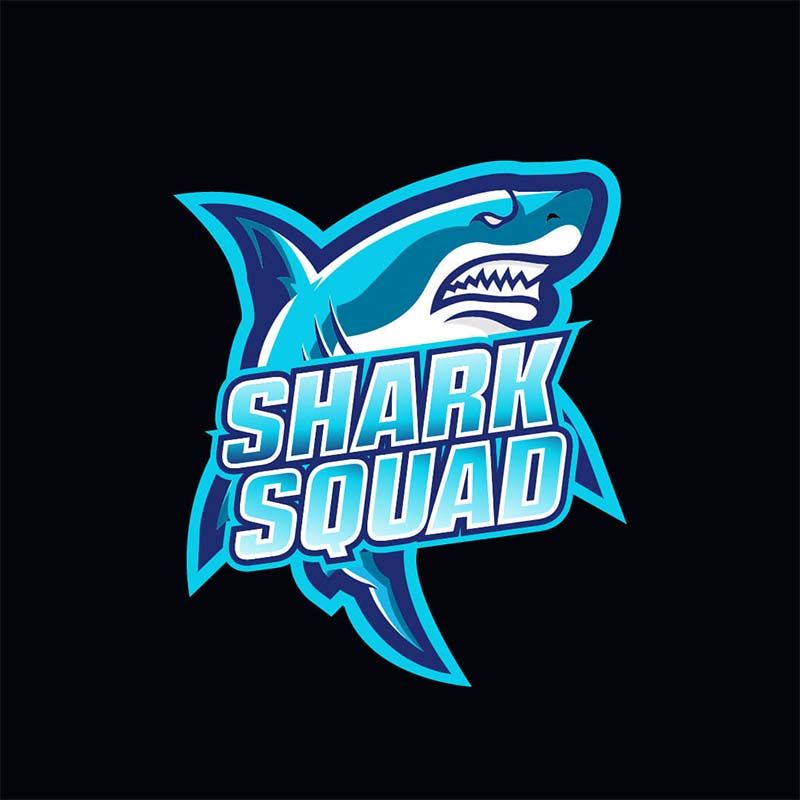 Shark Squad is a nice logo that represents an esports team. Mobile gaming is popular today. It is best to design a logo to attract young mobile game players and fans. The combination mark shows a large shark image, and the team name is visible on a black background. Overall, this well-design shark logo perfectly communicates the brand to its target audience.
9. Sharkey Locksmith Services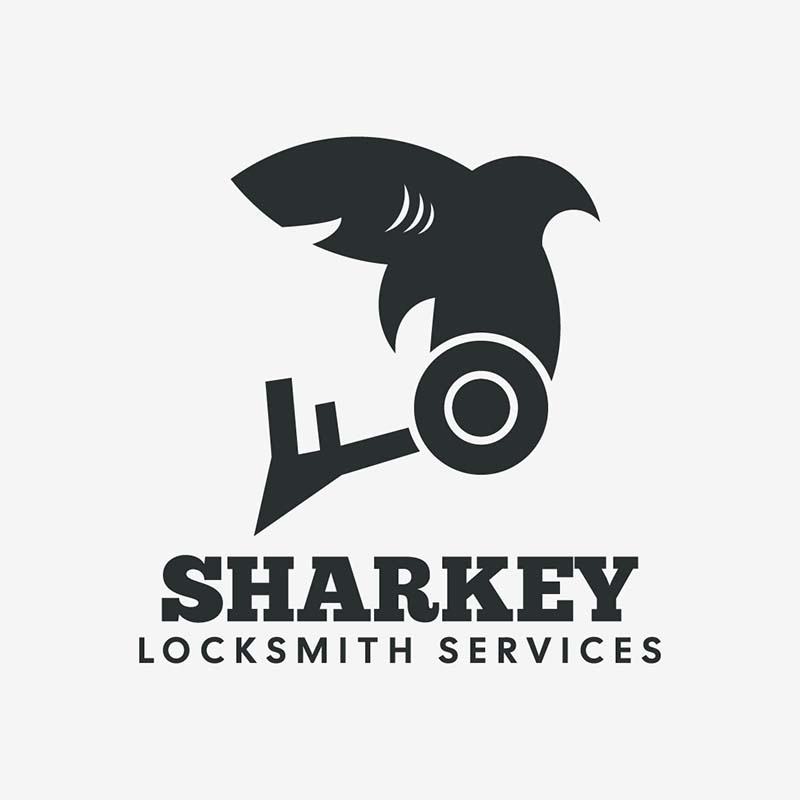 This logo for Sharkey Locksmith Services is an excellent example of a straightforward and relevant design. The fierce shark logo evokes strength, quality, and protection. The black symbol of a shark and a key symbolizes the speed and efficiency by which the business operates.
The logo features a shark in motion with its mouth open. It shows the ability of the company to protect its clients' homes and businesses. The business name is a wordplay of "shark" and "key." It is incorporated into the logo and is written in bold, easy-to-read font, ensuring it is immediately recognizable to customers.
10. SHRK Clothing Line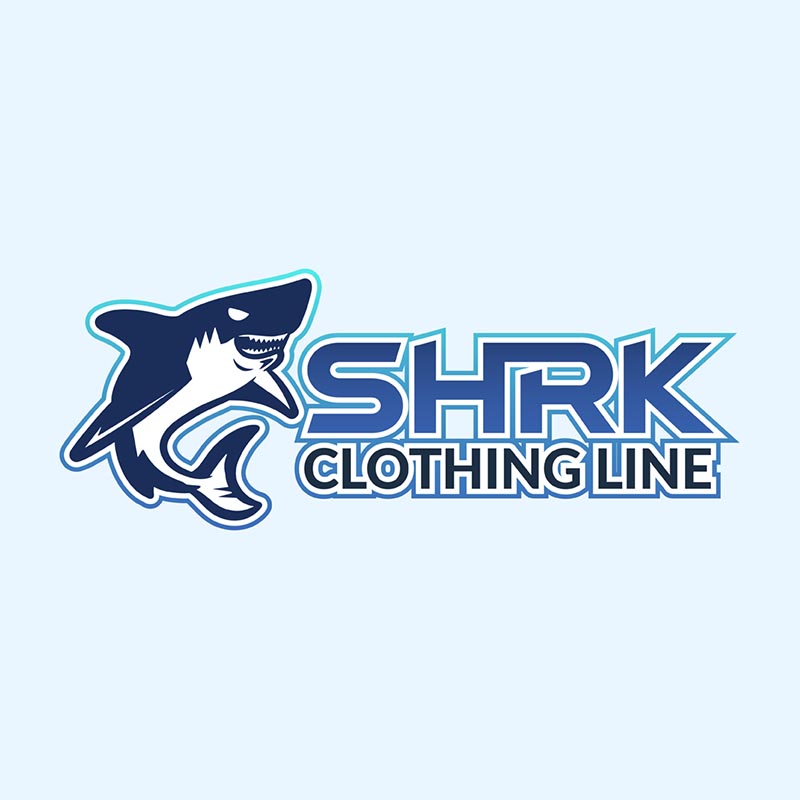 Here's another clothing line business logo inspired by a shark. SHRK Clothing Line's logo features a shark image alongside the brand name. The shadows or outlines around the icon and wordmarks make the design unique compared to other symbols. Adding distinctive marks to a logo is vital to making the design stand out.
Conclusion
Sharks are generally fierce and powerful. It would be perfect for many business types. They have been around for a very long time and continue to multiply in the oceans around the world. This makes them a perfect symbol to represent your brand in a timeless and memorable way.
With the rising popularity of AI business logo makers, it could be easier to create a logo for your business instantly. However, achieving unique and relevant shark logos with these AI-powered logo generators might take much work. If you want to get professional logo designs, Penji is the best option.
Visit our website's art gallery to see over 1 million designs made by the Penji design team. Then, choose the best pricing option that suits your needs. We'll be happy to assist you in creating a professional logo for your brand.