Remarketing and retargeting are used interchangeably. However, these two couldn't be more different. Aside from spelling, what gives each of these strategies its distinction? Here's our guide on remarketing vs retargeting.
What's the Difference Between Remarketing vs Retargeting?
Before we compare these two marketing and advertising strategies, let's define them first.
Remarketing deals with engaging with former customers and alerting them to buy again. It's considered a retention strategy. Meanwhile, retargeting is an advertising method based on user behavior. Basically, users or visitors will be shown an ad when they visit a website or search for something of interest.
One area of distinction between these two concepts is the delivery of these strategies. Remarketing is usually done by email, while retargeting is done through display or social media advertising. But how else are these two strategies more different? Scroll down below.
Types of Retargeting
If you're planning on a retargeting strategy, you should know that this advertising method has various types.
Search retargeting – This refers to targeting users based on their search. For example, I would search for a backpack. An ad from Herschel or JanSport might appear.
Site retargeting – On the other hand, site retargeting is when a user visits a company's website then ads about that company will show up on other websites or platforms.
Cross-channel retargeting – You are connecting with your audiences via their devices. This means they will see related or personalized ads on devices connected to the same internet connection. For example, if their smart TV, phone, and laptop are on the same network, they will see similar ads on all devices.
Social retargeting – This refers to social media targeting. For example, you can go on Facebook to start your marketing campaigns based on their behaviors. Aside from that, thanks to Meta's Off-Facebook activity, you can learn more about your target audience based on their behaviors outside the platform. From there, you can target them based on their activity.
Mobile app retargeting – This is when a user has visited your app but didn't convert into a subscriber or has not done any transaction in the app. With an ad, you can remind them to use the app again and become a subscriber, full-time app user, or repeat customer.
Types of Remarketing
Since remarketing is associated with emailing, the list refers to well-known email remarketing strategies:
Cart abandonment
Low stock
Upselling or cross-selling
Subscription re-activation
Re-engaging with previous customers
Choosing Between Remarketing vs Retargeting
One point of contention for marketers is when to use each strategy and which is more effective. However, one challenge of retargeting is users opting out of cookies. This could reduce the effectiveness of retargeting strategies, making remarketing an attractive option.
However, a cookieless world wouldn't end retargeting because you can still personalize or target your audience due to their behaviors, such as searches or purchases. Even with that, there's one simple solution to the remarketing vs retargeting debate: Choose both strategies.
Although remarketing and retargeting are slightly different from each other, one thing is for certain: you want to engage with consumers and boost sales.
Statistics on Retargeting and Remarketing
If you're hesitant about using these methods, here are stats to convince you to try them.
56% of marketers use retargeting to get more leads and customers (Invesp).
Site retargeting is the most popular strategy used by marketers (Invesp).
26% of website visitors return to your site after seeing retargeted ads (Invesp).
77% of marketers use retargeting as a strategy for their Instagram and Facebook ads (Sharp Spring Ads).
According to 90% of marketers, retargeted ads perform the best as compared to email or search (AdRoll).
Retargeted ads have a click-through rate of 0.7% (AdRoll).
Consumers are likely to click on an ad if they like the product shown on it (Signifi Media).
Want to reduce abandoned carts? Retargeting ads can do that. Plus, it can boost sales by 20% (MotoCMS).
44.1% of emails are opened after receiving abandoned cart emails (Digital Marketing Jobs).
Over half of consumers are influenced by email marketing to purchase a product (SaleCycle).
Examples of Remarketing and Retargeting
Remarketing Example: Colourpop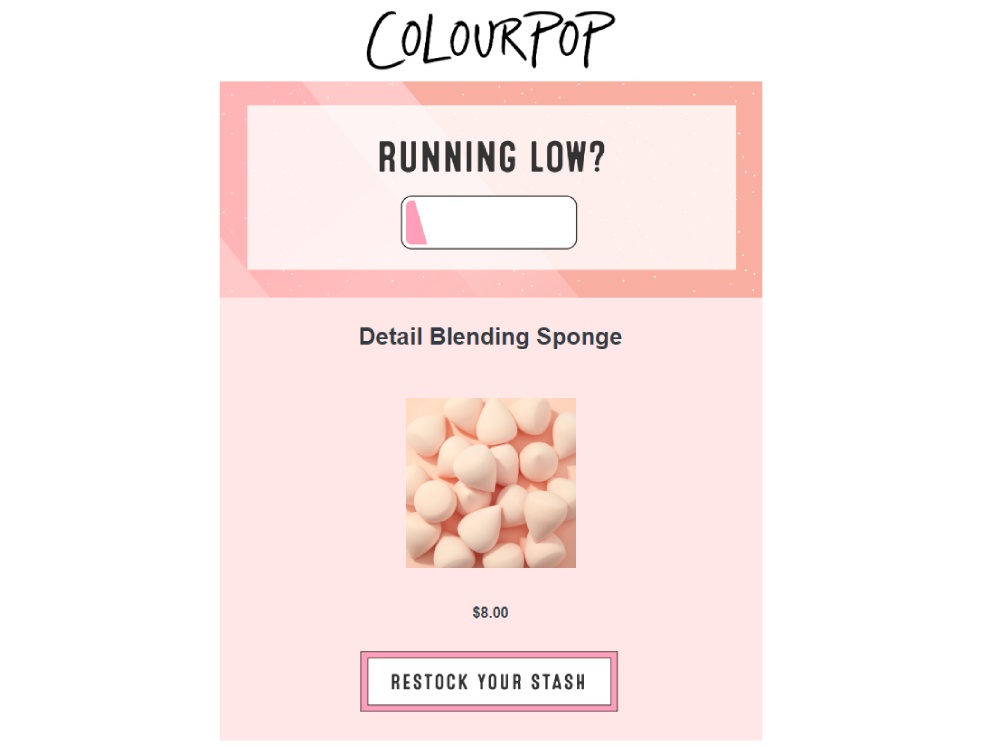 Aside from cart abandonment emails, remarketing can also come in the form of replenishments. For example, if you buy an item from a brand, they can remind you to buy from them again. Here's an example from Colourpop.
I bought make-up sponges a few months ago. But they reminded me to re-stock my sponges. I'm not yet interested in stocking up, but I'll consider buying more when I need them.
Search Retargeting Example: UnionSPACE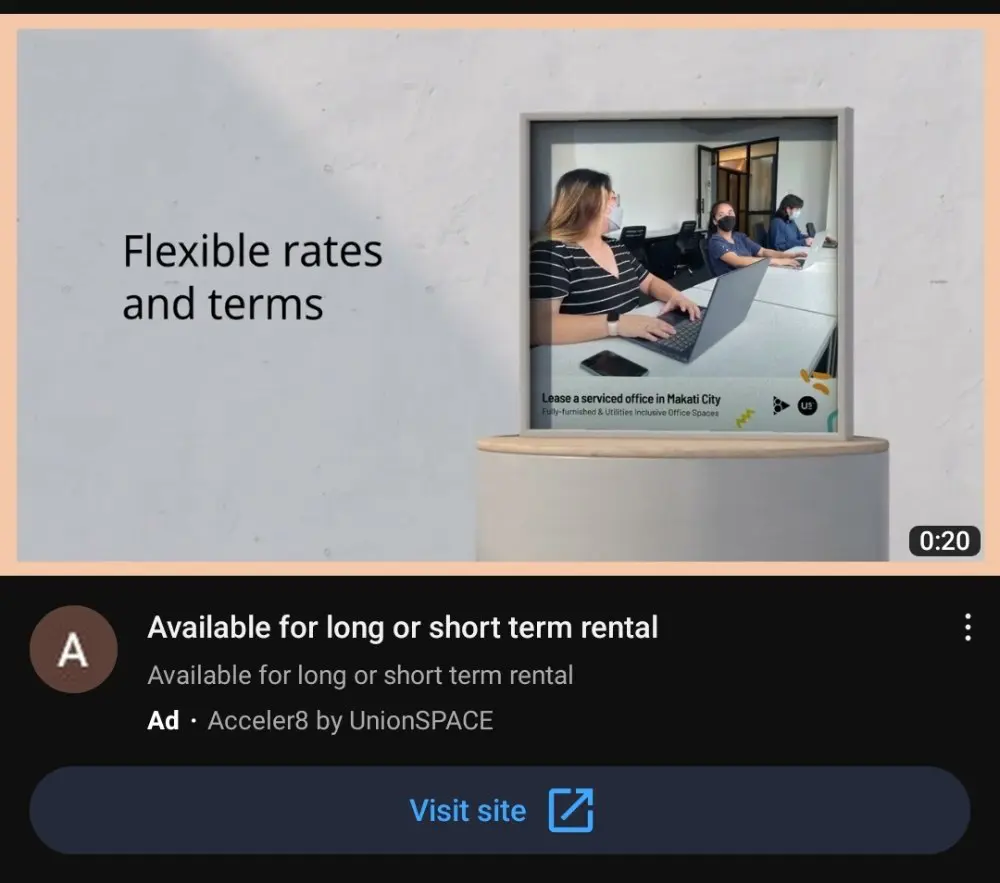 A few days ago, I was looking for a co-working space. I read listicles and visited one website to find a co-working space. Then, a few days later, this ad appeared on my YouTube app. It's an ad for a local co-working space in the Philippines, telling me to consider working there.
Mobile App Retargeting: BPI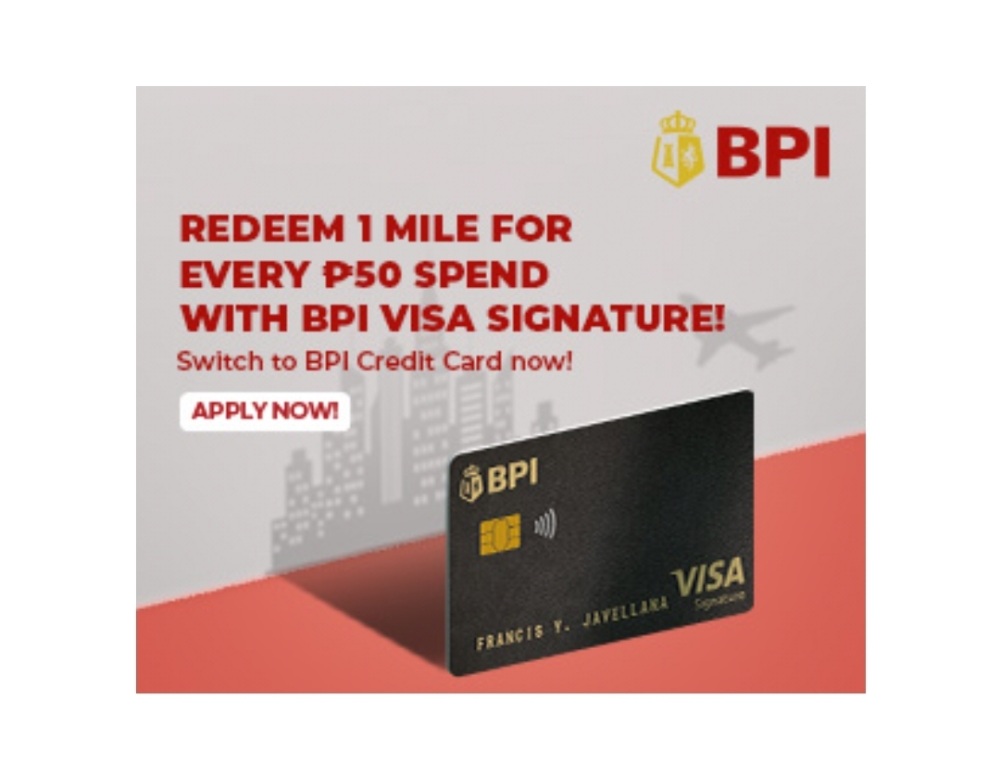 Here's the last example of retargeting ads shown to me. I use this local banking app. I do open it from time to time, but I don't make a lot of transactions. This ad appeared to me on one website. Although I'm not interested in getting a new credit card from the bank, I believe this app was shown because I recently opened their app.
Final Thoughts
Remarketing and retargeting are two different concepts. If your plan on getting more leads, retargeting is your best bet. But if you want to retain your customers, remarketing is the way to go. Even if they have distinct elements, one fact remains true: the goal is to increase sales. And it won't hurt if you use both strategies to achieve your marketing and sales goals.
So, if you're ready to start any of these strategies, plan your campaigns to acquire more prospects, convert them into customers, and nurture them into repeat customers.
And with any remarketing or retargeting campaign, you'll need visuals. Whether it's email marketing design or social media ads, Penji will be here for you if you need graphic design help! Plus, you can submit your requests anytime you have a marketing or advertising campaign. So, if you're interested in trying Penji but need more info about how Penji works, book a call with us!