One of the industries known for being highly competitive is real estate. Agents and brokers go to great lengths just to help their clients find new homes and properties. Some go head-to-head with the top firms to emerge as the authority and leader in their niche. If you need help doing this, you also need to think about branding. A good start would be a real estate logo design. Here are 20 inspirations you need to check out now.
Real Estate Business Branding Designs
Before we go over real estate logo ideas, what else should your business have before selling or helping new homeowners get or find their dream home?
Business cards
Flyers
Website
Advertisements
Social media headers and posts
Brochures
Banner
Instead of doing this by yourself or hiring a freelancer, you can tap Penji for all your design needs! After all, you want to get moving with your real estate business as soon as possible. Let Penji handle the design work while you meet with leads and clients.
20 Real Estate Logo Ideas
1. Keller Williams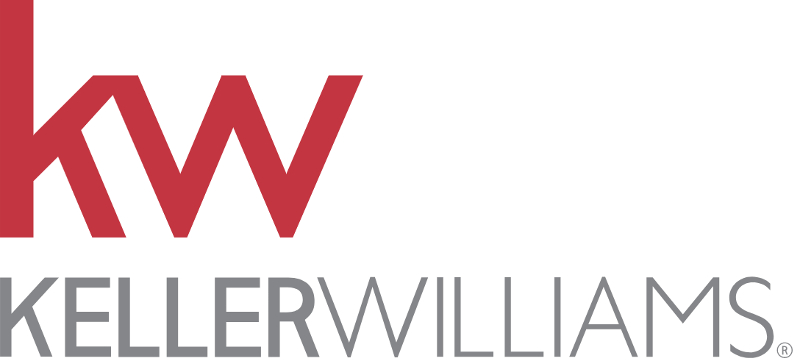 Keller Williams is one of the giants in real estate. It makes sense to have a logo that looks bold and modern to capture the attention of those looking for a new home. Plus, it can indicate that Keller Williams wants to continue establishing itself as a leader in the real estate industry.
Unique real estate logo that get sweet deals
Design your real estate logos today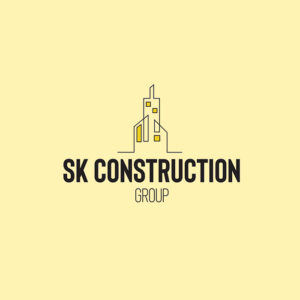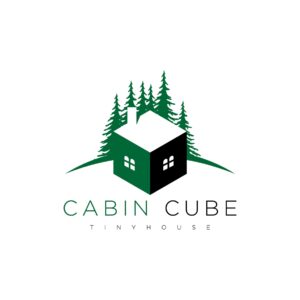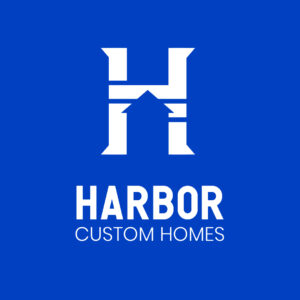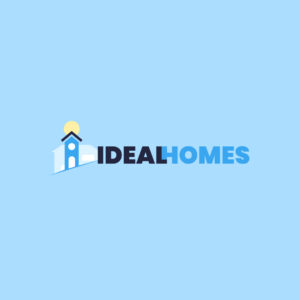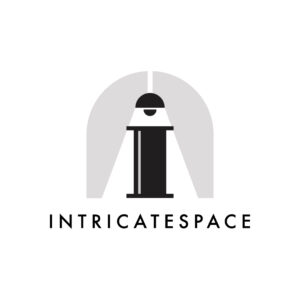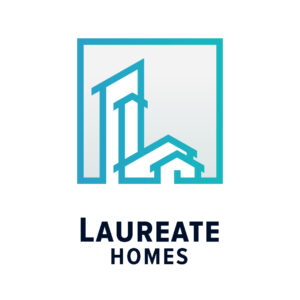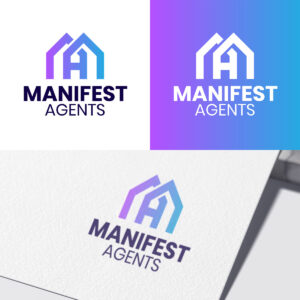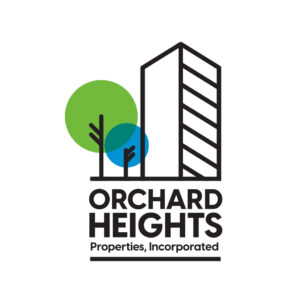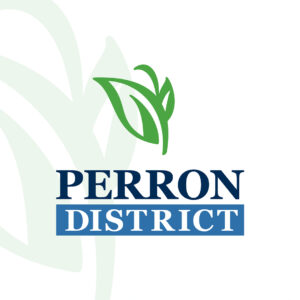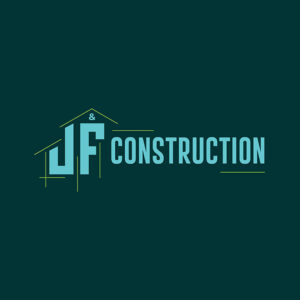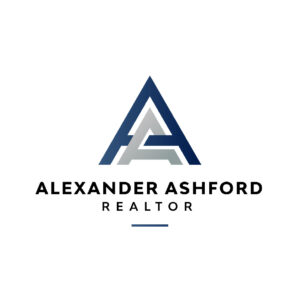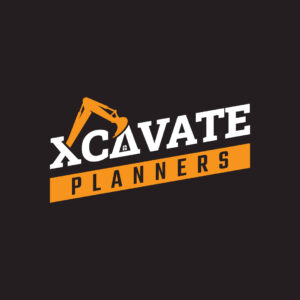 2. Re/Max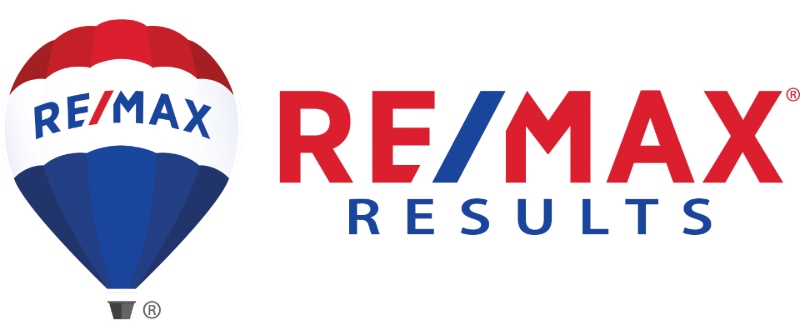 Re/Max is a leader in the real estate industry. Similar to Keller Williams, they also use red in their logo. However, Re/Max mixes it with blue. It gives Re/Max an identity that projects their lead in the industry, but also demonstrates their reliability and trustworthiness as well. Plus, they give out the idea that wherever you may be, you can rely on Re/Max agents to help you find homes to rent or sell.
3. CBRE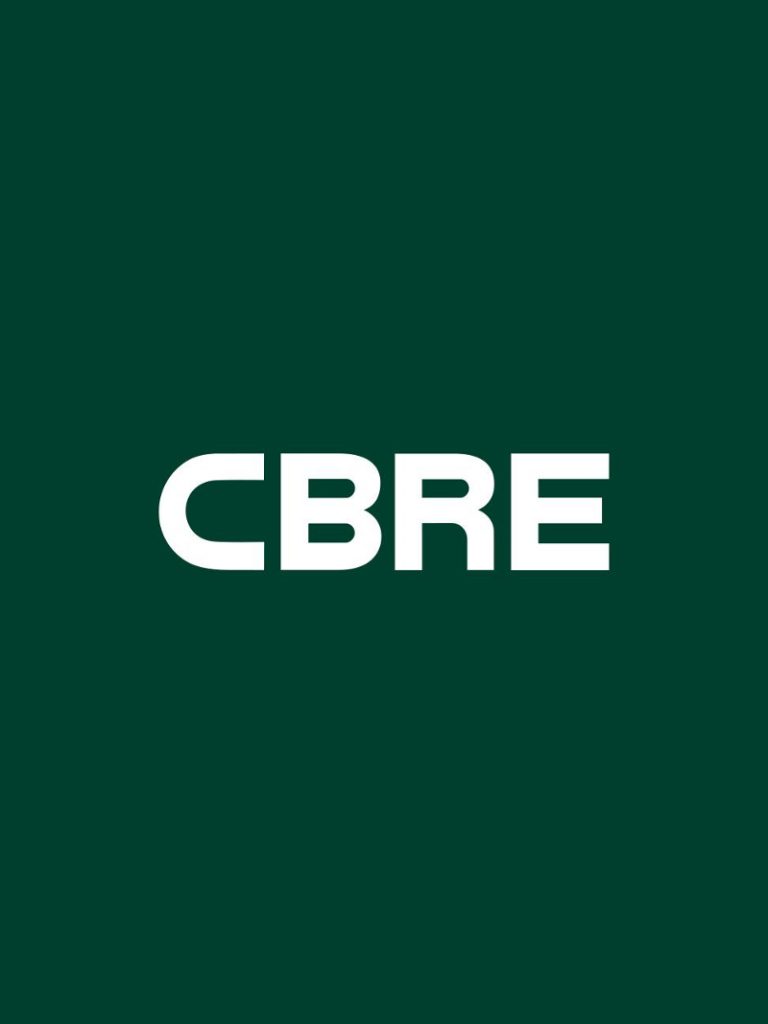 Unlike most real estate companies on this list, CBRE focuses more on commercial real estate and investments. That's why it's ideal they used green for their logo. As green is also associated with money, wealth, and growth, it suitably matches their investment services. After all, they want to help businesses grow with their real estate services.
4. Cushman & Wakefield

Cushman & Wakefield is another global leader in real estate. Similar to the logo designs above, Cushman & Wakefield uses red to help give them the identity of being an authority in the industry. Their logo is an excellent combination of shapes and lines that represent buildings. It clearly shows that they manage residential and commercial properties.
5. Century 21

When you think of real estate, Century 21 is one of the brands that would come to mind. With gold in their logo, you'll instantly associate it with luxury. Although Century 21 offers affordable homes, they promise that potential homeowners won't settle for anything mediocre. Plus, having a redesigned modern logo, you'll know they remain a relevant entity in the real estate business.
6. Sotheby's International Realty

Sotheby's International Realty has also gained global recognition over the years since the '70s. And their logo helps with their branding as a luxury real estate company. Pentagram, the agency that handled its redesign, mentioned that it was essential to keep the brand's heritage alive while making it modern. That's why they landed on a serif font called Mercury to achieve that exact branding.
7. Corcoran

If you want to exude elegance and sophistication, you can take inspiration from the Corcoran logo. On their website, they are a modern real estate company that follows traditional values such as quality service and integrity. The horizontal rainbow line also reflects their storytelling efforts through advertising and social media. It shows they want to reach out to different demographics and reflect their "Live who you are" slogan.
8. ERA Real Estate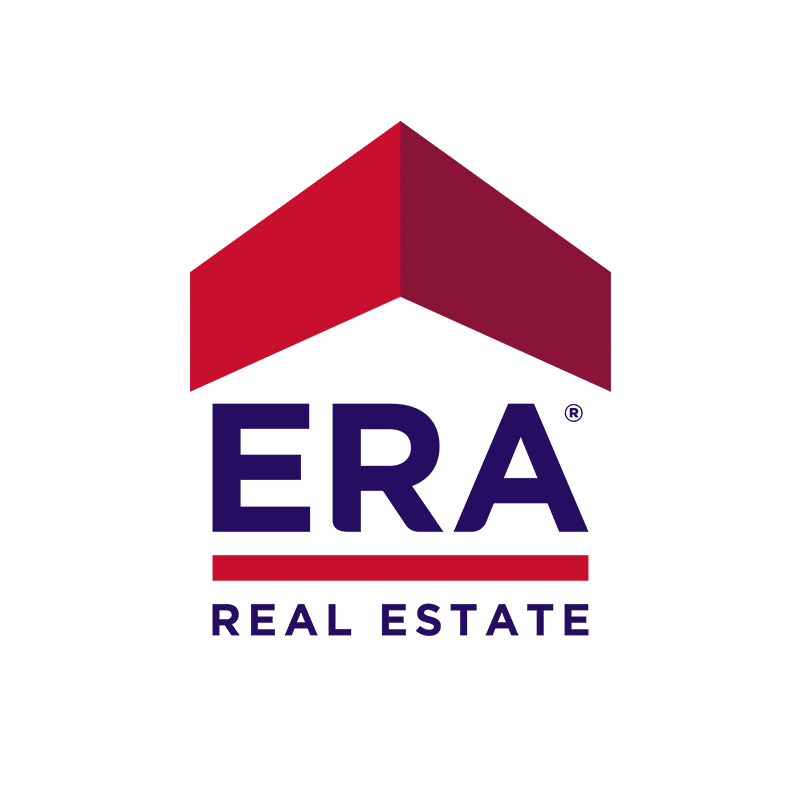 ERA Real Estate also has the blue and red combo on its logo. They designed their logo to look like a house but in a subtle way. This is to make them stand out from the competition while letting people know of the industry they're in. The upward arrow looks like the roof and with the horizontal line, completes the house shape. This is a suitable choice as the arrow pointing upwards represents growth and movement.
9. Senné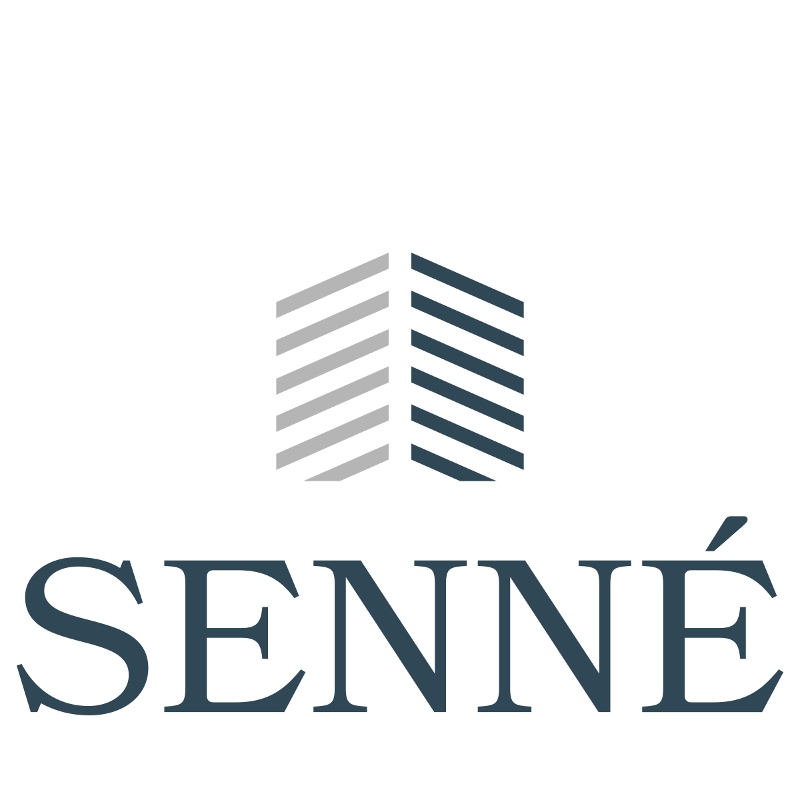 Going for a simple logo? Here's the logo design for Senné. It uses gray and black, presenting stability and sophistication. And it rings true for the real estate company. They want to ensure their clients that they can help them meet their goals and level up into the future.
10. Thompson Thrift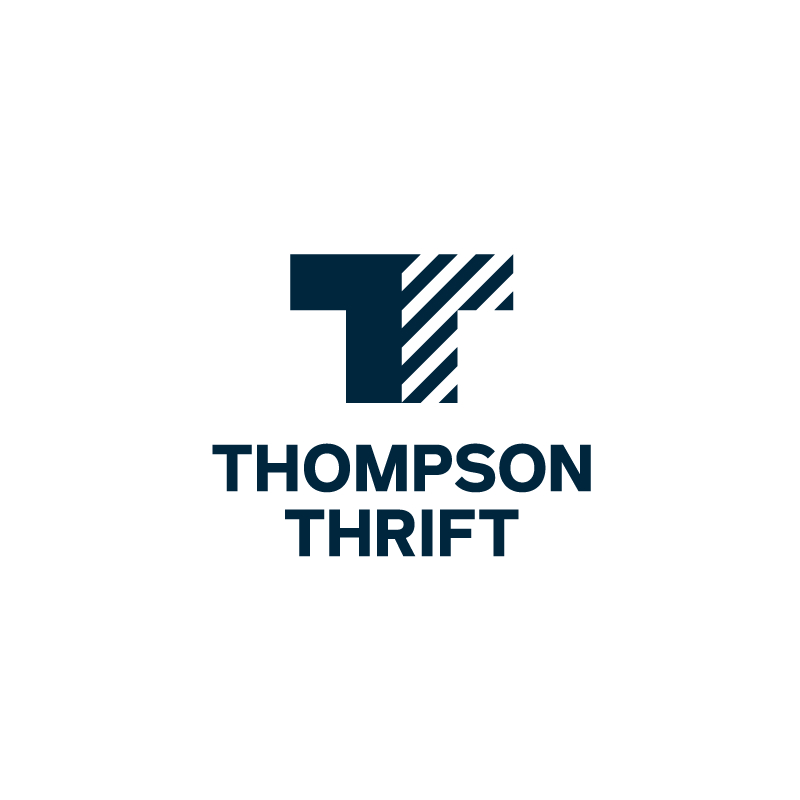 If your real estate company covers different fields, the Thompson Thrift logo should be one of the real estate logo ideas to have in mind. They offer commercial, residential, retail, and construction services to their clients. To put those together in one logo, they had half the T appear as if it's under construction.
11. eXp Realty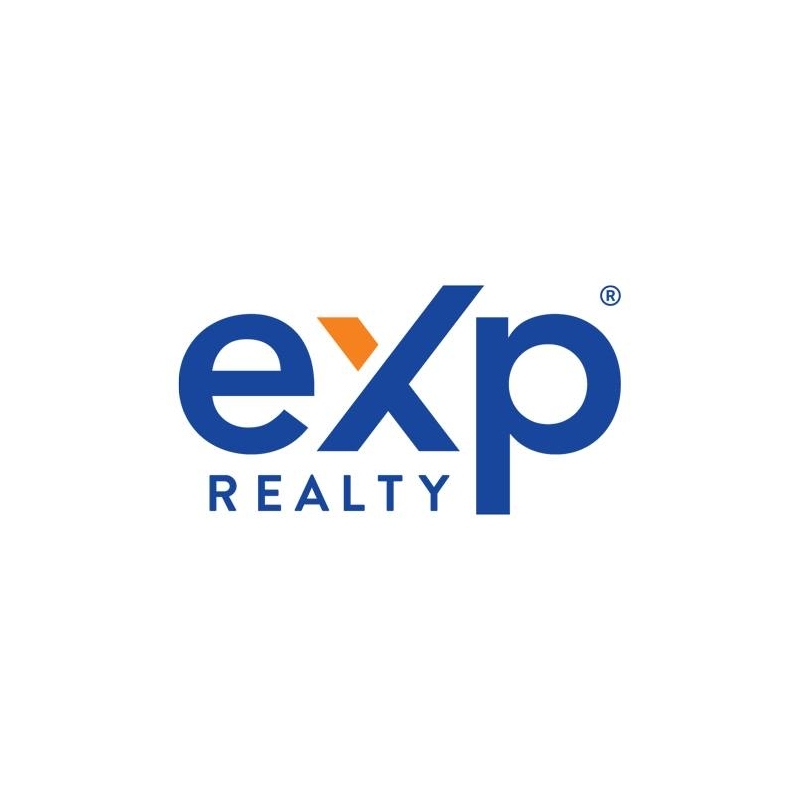 Make an impact with your real estate logo like this one from eXp Realty. Blue is the dominant color that represents reliability and trustworthiness. The slight tinge of orange adds contrast and interest to their logo. Based on their core values, their logo means service, innovation, sustainability, and integrity.
12. Homie

If you want a minimalist logo, you can look at Homie as an excellent example. Similar to some of the logos on this list, you'll see a house as part of their pictorial logo. Aside from that, the use of green will help potential homeowners feel calm as they use Homie to find their next home. In addition, Homie aims to become a dependable company for homeowners which their logo clearly communicated.
13. Brookstone Realtors

Here's another logo example to check out if you want your logo to exude elegance and sophistication. The Brookstone Realtors logo uses black and gold which denotes luxury. The company showcases the initials in a clever way by making the two initials "B" and "R" complement each other. Plus, the fonts used are also appropriate in presenting luxury, further strengthening its real estate branding personality.
14. XCellence Realty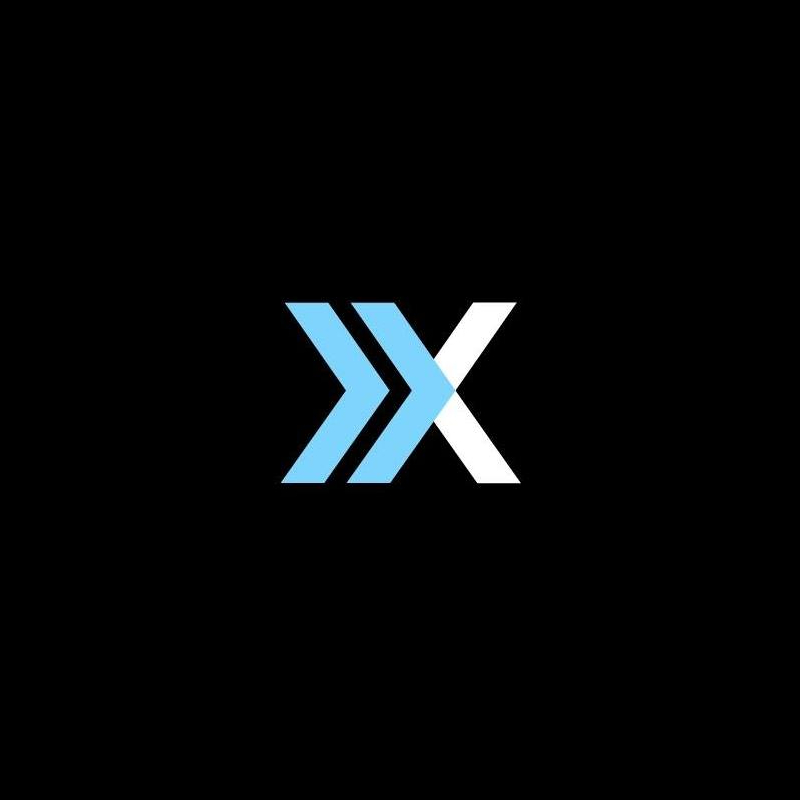 If your real estate company wants to denote "moving forward," here's an excellent example from XCellence Realty. The two blue arrows show us that they're ready to help homeowners find their new place. Furthermore, it signifies growth for all agents that work in the company. Not only that but the blue projects their dependability so well.
15. Urban Nest Realty

Unlike most real estate logo ideas in this list, Urban Nest Realty uses a more contemporary logo style than its competitors. Although modern, it has a playful and approachable appearance, which is what they want to achieve in their community. They pair their company name with a nest, which symbolizes a safe haven for its inhabitants. Plus, they also maintain their credibility and commitment to providing better real estate services.
16. Housing Catalyst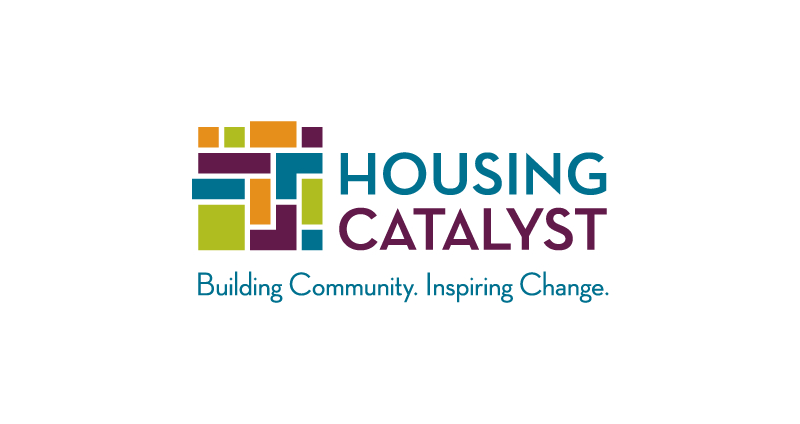 Dare to be different with your logo, similar to what Housing Catalyst did on theirs. On their website, they use vibrant as one of the words to describe their mission. And as we can see, it's perfectly aligned with their logo. On it, we see four different types of colors that come together. While that's not exactly a must-do for logos, this one gets away with it quite well. They do want to show their core values such as teamwork, accountability, fun, compassion, and honesty which is what they achieved.
17. Elmington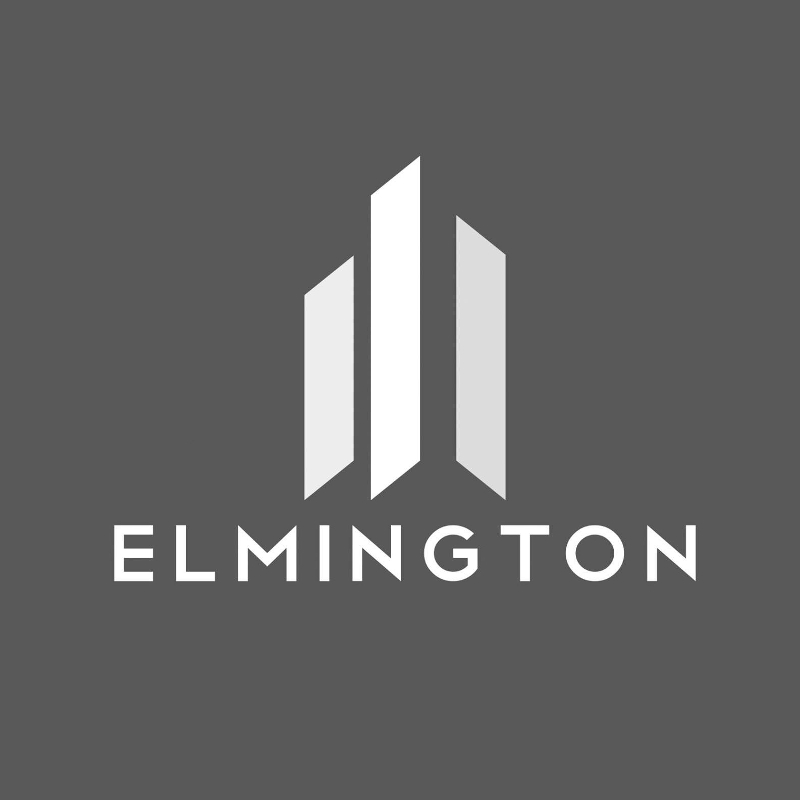 If you need real estate logo ideas that encompass ALL of your services, check out this logo by Elmington. Their logo has three different prisms in various shapes, showing that they manage other real estate services, such as commercial, investment, and housing. In terms of color psychology, their white and gray color combos give them the sense of stability needed in the real estate industry.
18. NextHome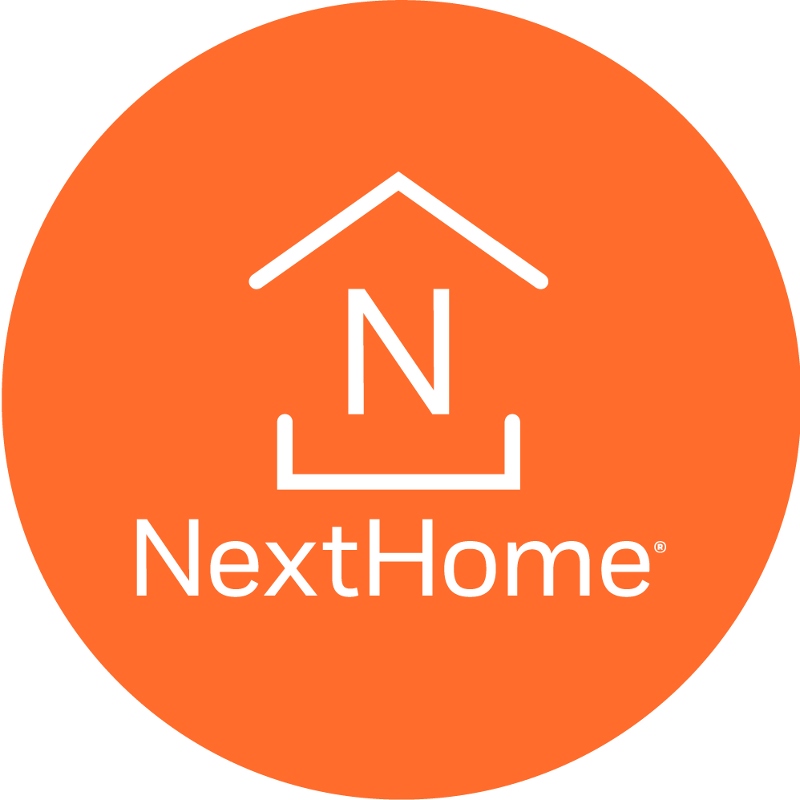 Rarely will you see the color orange for real estate. In color psychology, orange denotes shelter. For NextHome, that is precisely the case. Not only that, orange represents energy too, which shows in their mission. Similar to other logos on this list, they also have the house symbolism in it. The logo in a horizontal position demonstrates that they are a forward-looking company, ready to face the future.
19. Red Oak Realty
To cement your place in the industry, red is the go-to color to use in a logo as we can see the big brands use in this list. While not yet an established brand, Red Oak Realty takes on real estate titans and demonstrates that they're a leader in their city. They aim to get their clients to make a "good move" that will land them in their new homes.
20. Bradley Company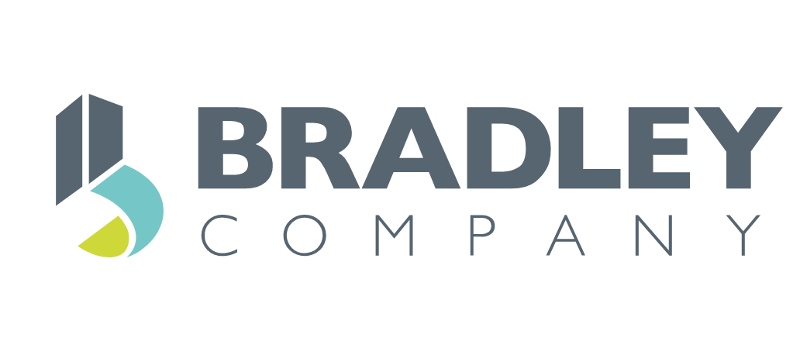 If you're looking to use gray but want to give your logo a splash of color, here's a good example to take inspiration from. The Bradley Company logo, with geometrical shapes, looks like a small letter b, with the stem depicting gray buildings. Meanwhile, the curvature seems like an inverted c as well. The colors are yellow, green, and blue hues, indicating that they have services other than property management relating to taxes and investments.
How Penji Can Create Professional Logos and Designs
Your real estate business can prosper with a professional logo and compelling visuals. If you want people to come to you, establish your online presence, and close some deals, start with a great real estate logo. Once done, you can add that to your flyers, business cards, social media visuals, and your website. And you can get ALL of those and more by subscribing to Penji. Starting at $499/mo, you can get all the visuals you need to get your real estate business started. Subscribe now to get your real estate business moving forward.