Real estate can be a tricky industry to market. Though all people need a place to live or work in, not everyone may be familiar with the terms and principles. And that's where real estate infographics come in.
Here at Penji, many of our clients in the real estate industry ask us to design the best graphic design for them. They know just how crucial graphics are in explaining the concepts needed to market their listings properly. If you're on the lookout for ways to step up your game, read this article for awesome ideas that could help shoot up your sales.
Why Use Real Estate Infographics?
Real estate is a big investment. Unlike other industries like apparel or tech, average people typically won't purchase a home on a whim. Chances are, prospects will sit on the idea for a while before making the final decision.
That said, it's best to use every weapon in your arsenal to help your clients see the value of the listings you're offering them.
According to a study published in the Journal of Visual Literacy, useful infographics encourage cognitive info processing and critical thinking. And because they visually present dense and complex info, the material helps foster learning, understanding, and recollection.
To make sure that your infographic is geared for maximum impact, you need to consider these factors:
The design should deliver content in the least amount of space.
Messages or principles expressed in the graphic should be clear and concise.
Viewers should be able to quickly appreciate the story, relationships, or structure presented.
A professional graphic designer would know how to use elements properly to create a graphic that's easy on the eyes.
Related Post: How Visuals Can Level Up Your Marketing Game
Real Estate Infographics You Can Emulate
Here are a few real estate infographics to spark inspiration as you brainstorm for yours.
1. Selling a House 101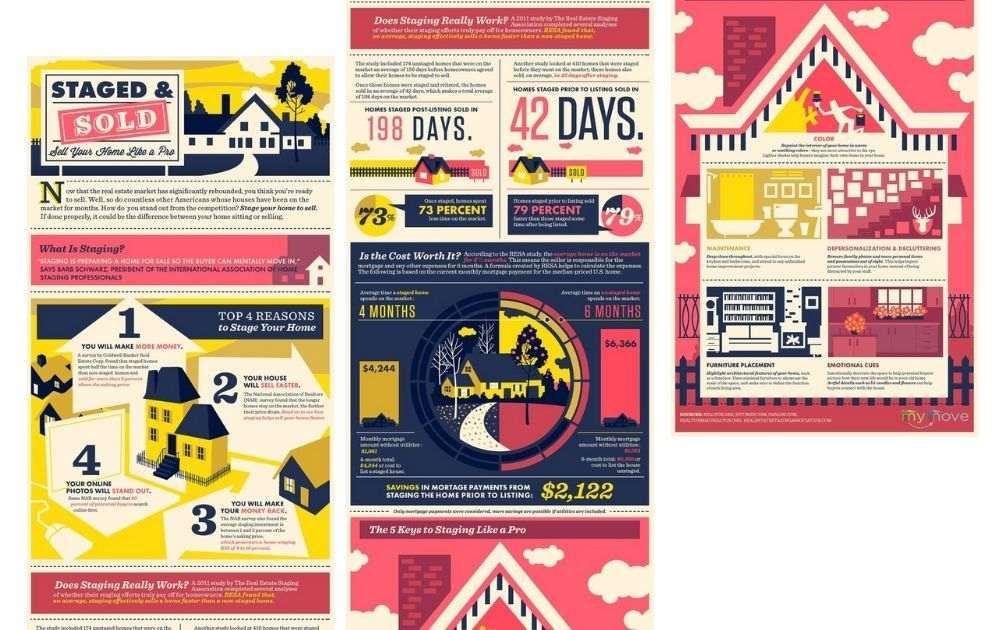 Here's an example of a real estate website content free downloadable material you may want to offer. The infographic guides the viewer on how to sell a house, particularly about the process of staging.
The graphic contains info about the benefits of staging and why it could be worth the seller's time, money, and effort. In addition to that, it also offers info on the basics of staging a home – from colors to emotional cues. And because the graphic uses a cohesive color palette, the image offers a unified look despite its several segments.
2. Feng Shui Visual Guide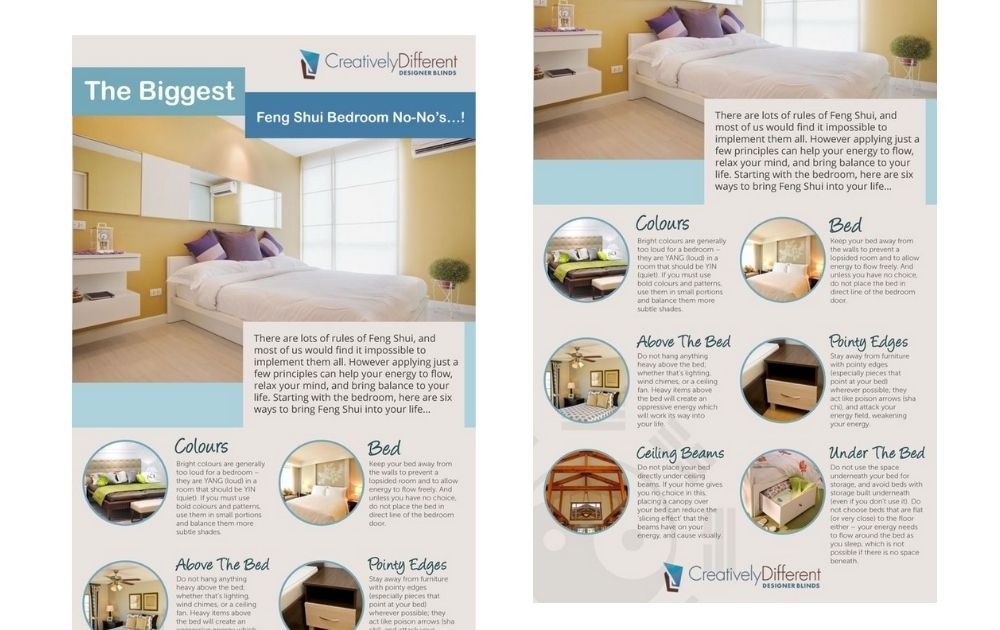 In a nutshell, feng shui is the practice of arranging living spaces in a way that creates balance with nature. To attract clients interested in feng shui, it's never a bad idea to produce real estate investment content that focuses on this philosophy.
Take a look at this material from Creatively Different Designer Blinds, for instance. The image provides info on feng shui concepts to help bring balance and good energy flow to the property. Because the practice itself has a lot to do with natural balance, the image used a calming color palette of shades of blue.
3. Go Beyond Practical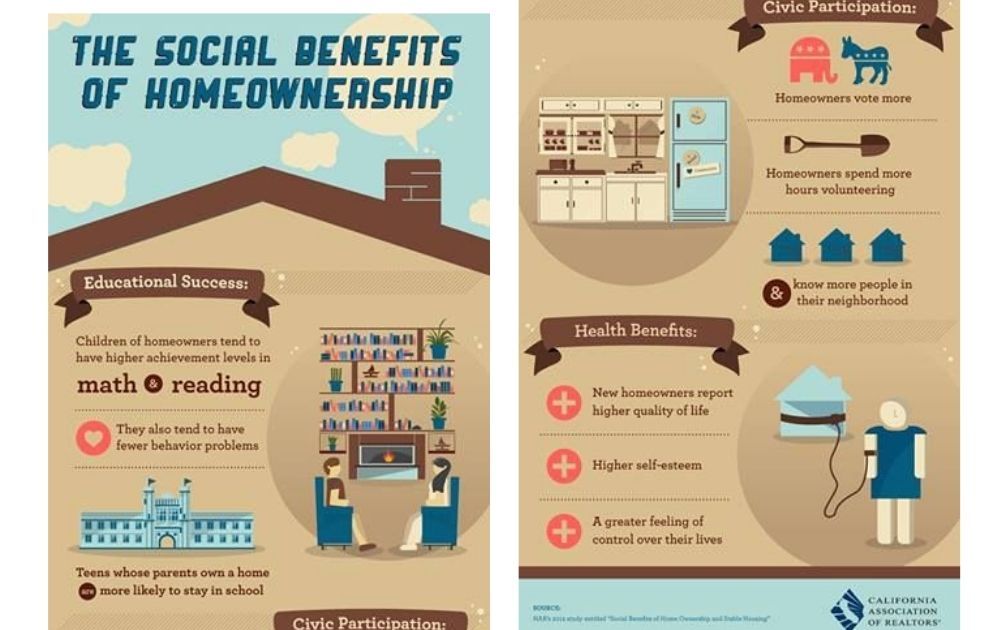 Some agents tend to focus on the practical side of real estate investment. However, many people tour houses wearing an emotional lens. In fact, sellers stage their home in a way that encourages prospects to see themselves living on that property.
This image from the California Association of Realtors tackles the benefits of homeownership. It discusses factors like educational success, civic participation, and health benefits. That said, the image summarizes the arguments with interesting illustrations and a minimal amount of text.
4. Color Matters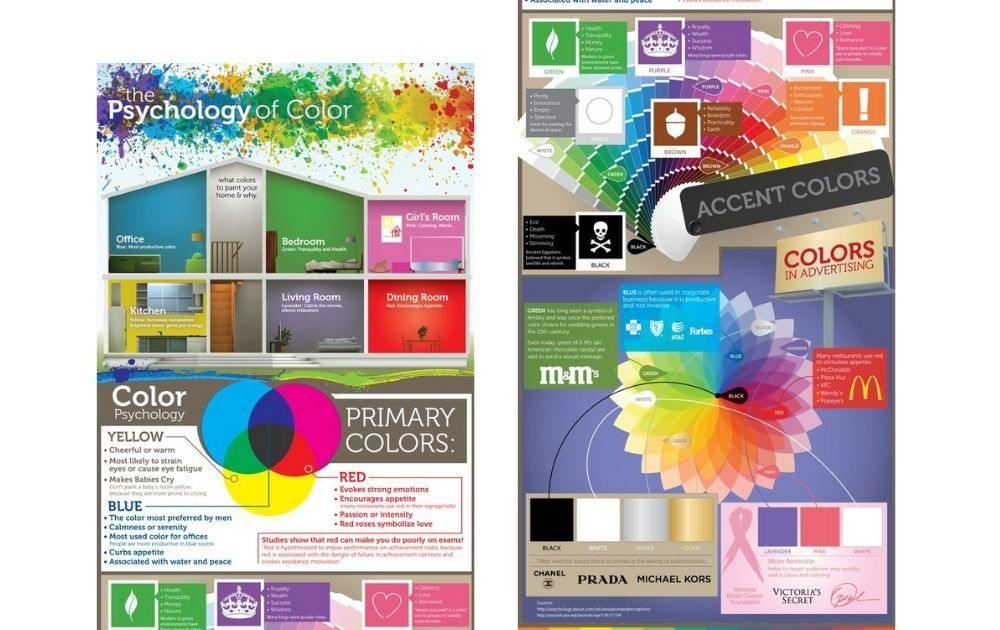 The hues that we see in our living and working spaces can do a lot to affect our mood and perspective. That said, it's crucial to have the right color for every part of the house. And if prospects could find a house that already handles that department, the better for them.
This graphic offers an excellent resource on color psychology, as applied to real estate. The designer did a great job in coming up with an organized graphic that explains the concepts in simple visuals.
5. Yes No Chart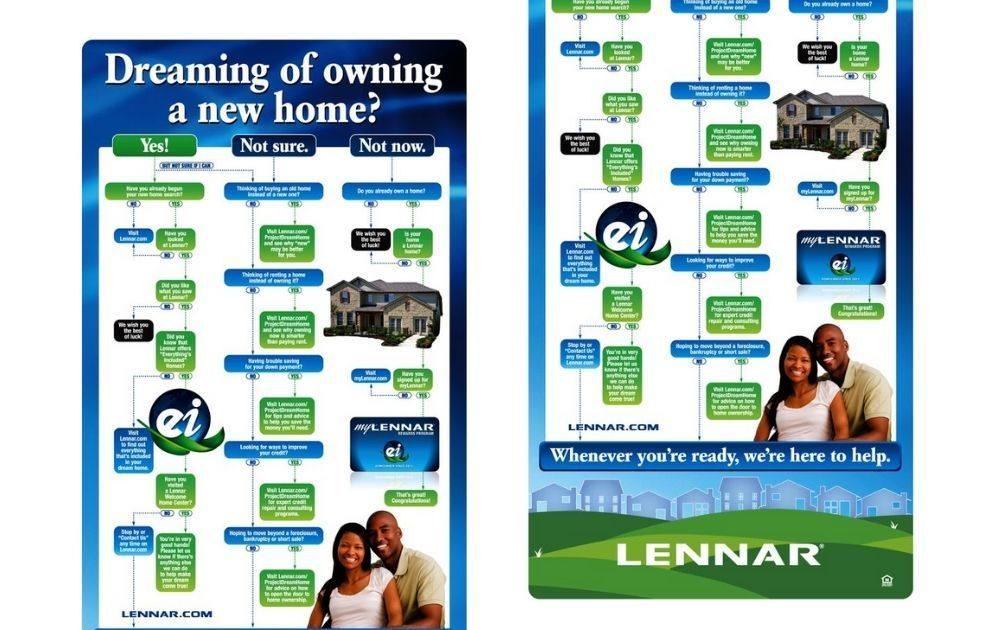 Prospects toying with the idea of buying a home usually need guidance to point them in the right direction. This graphic from Lennar does exactly that. Using a yes-no chart, the image guides the viewer through a series of questions answerable by yes or no.
In a way, this graphic helps prospects and agents alike to save time and effort. For instance, a prospect will not schedule a consultation with an agent if they find out from the chart that they're not yet ready to buy a property.
6. Lifestyle Infographics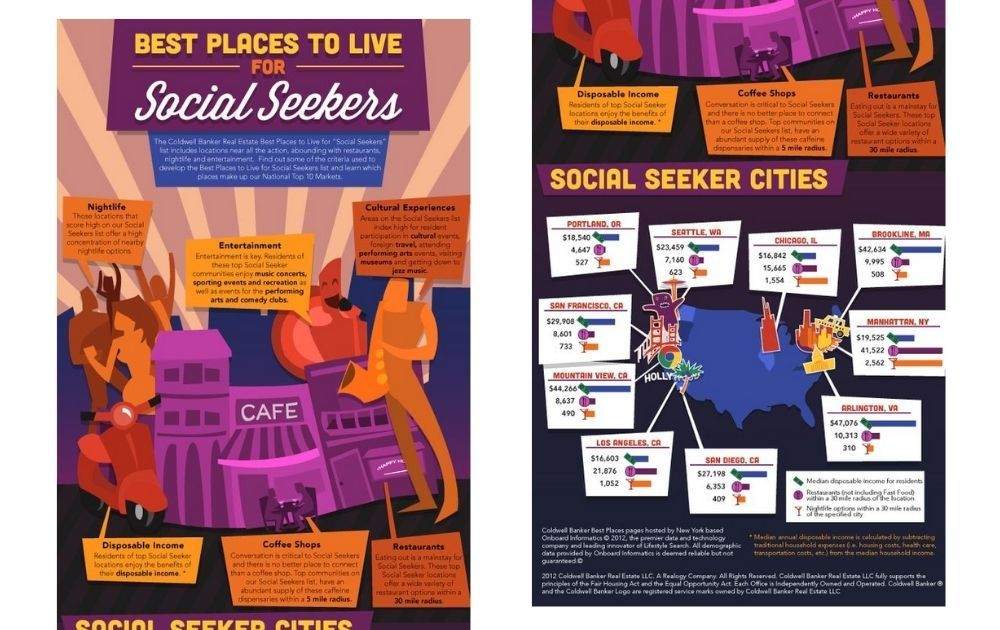 Many realtors aim to cater to various types of prospects. That said, you wouldn't want to focus on things like school zones alone if you want to appeal to a bigger market.
For instance, this graphic is focused on real estate investors who are also social seekers. As seen from the image, it coupled its content with a vibrant but dark color palette. This is an excellent marketing strategy if you're serving an area with an exciting nightlife scene.
7. What Buyers Want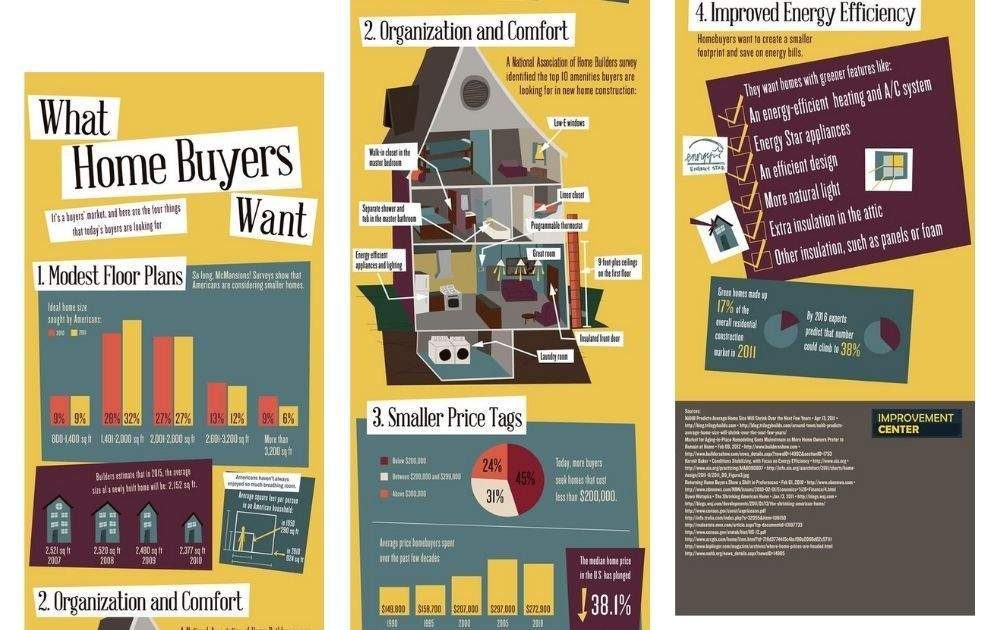 As any real estate agent would know, there are buyers who simply don't know what they want. To guide undecided prospects through the process, you may want to offer a real estate investing infographic like this.
The image titled What Home Buyers Want gives the viewer a macro perspective about what buyers want in general. It's not really about encouraging them to ride the bandwagon. Instead, having them look at what other buyers are looking for may help them pin down the things that they want in a real estate investment.
8. Promote Your Services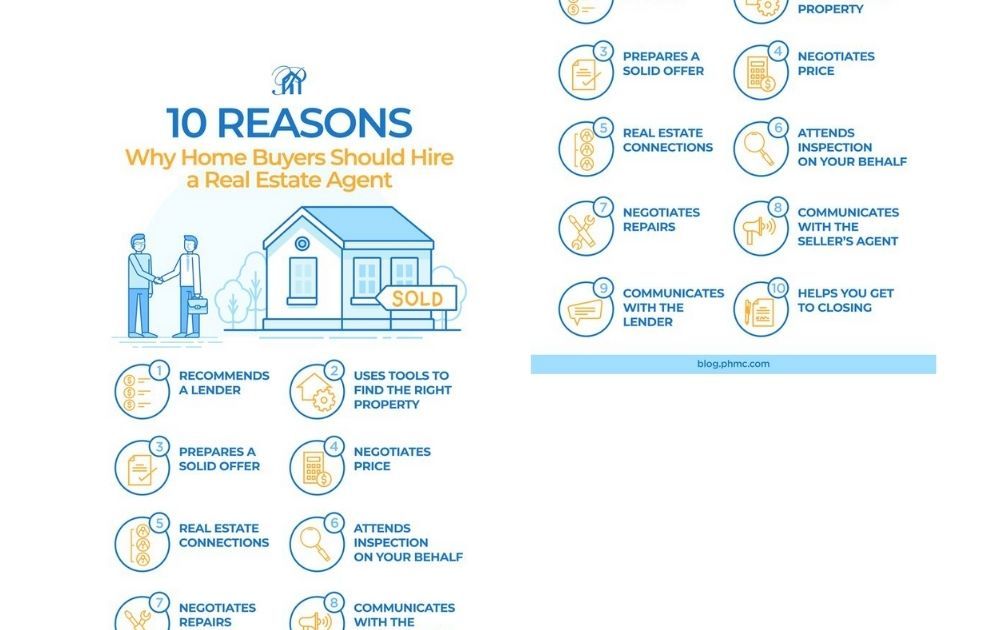 Some people tend to think that they're better off selling their home without having to pay commission to an agent. This graphic summarizes the benefits of hiring a real estate agent for a smooth and hassle-free transaction.
What makes this image excellent is its plain simplicity. The layout, font, and colors look easy to absorb. That said, the graphic doesn't seem like it's trying to hard-sell real estate agency services. Instead, it appears to offer valuable knowledge to anyone who has the time to understand the info provided.
9. Quick Checklist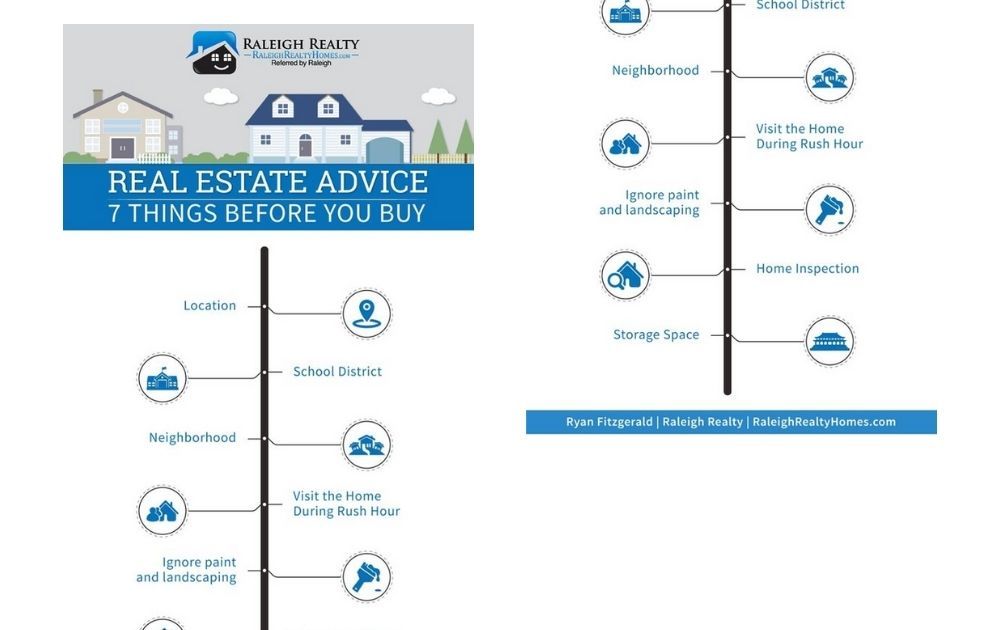 People looking to buy homes typically spend a lot of time researching before making a big investment. That said, many may look for free real estate content materials such as checklists.
This graphic by Raleigh Realty is a great example of a simple checklist you can offer your audience. The image lists seven factors to consider before one decides to buy a property. Because the layout and design are clean and easy to digest, it's the type of image buyers would want to download on their smartphone for easy reference.
10. Types of Real Estate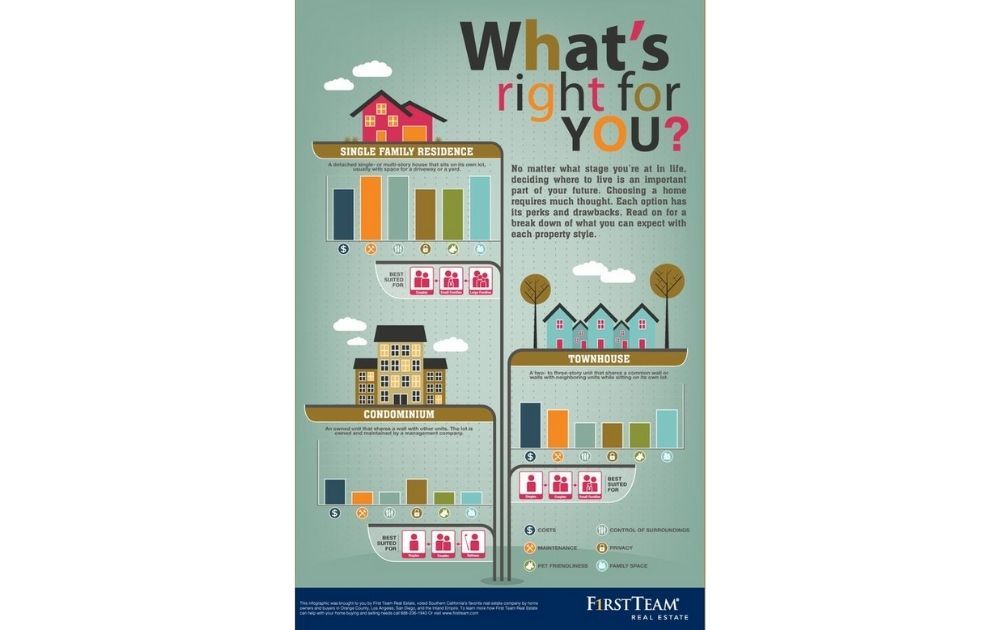 Prospects usually find listings overwhelming, with so many types of options to choose from. Offering an image that clarifies this matter can narrow down their choices and help them find the best place for them sooner rather than later. This image from F1rst Team Real Estate is a superb example of a piece of content that educates prospects at a glance.
11. Neighborhood Issues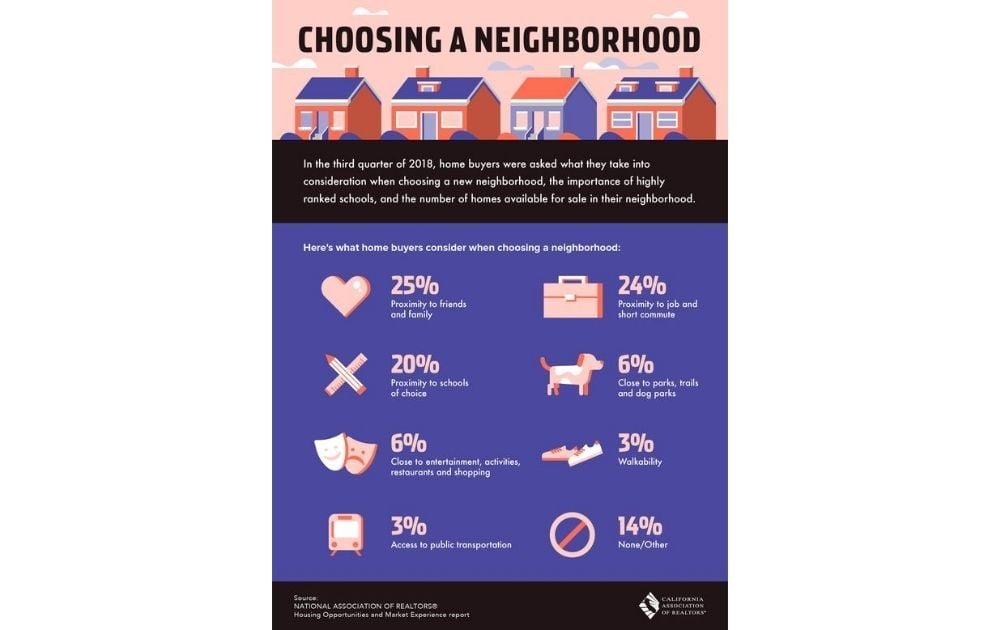 If you want to offer real estate tips pertaining to neighborhoods, take a cue from this graphic by the California Association of Realtors. The layout is clean and straightforward, while the icons and minimal text make the image a delight to read. In addition to that, the color palette also adds interest to its overall appeal.
12. Justify the Purchase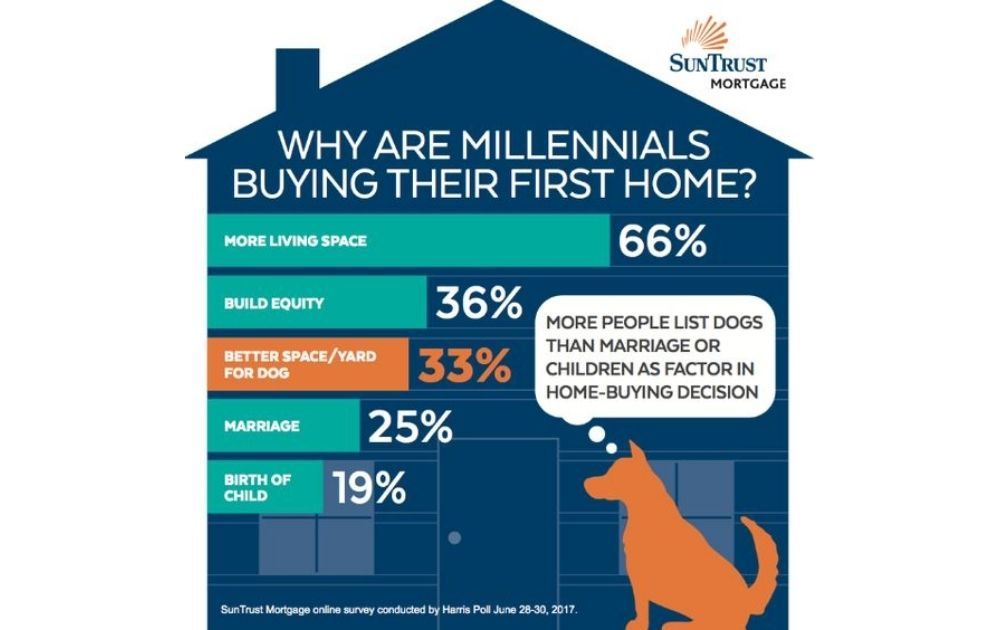 Some prospects might not be 100 percent sold on the idea of purchasing a property. Encourage them to make the decision by presenting data that would justify the purchase. For instance, this graphic from SunTrust Mortgage offers info on why millennials are buying their first home. If your prospect is a millennial, they'll look at the reasons mentioned and probably see themselves under one or more categories.
13. Open House Guide at a Glance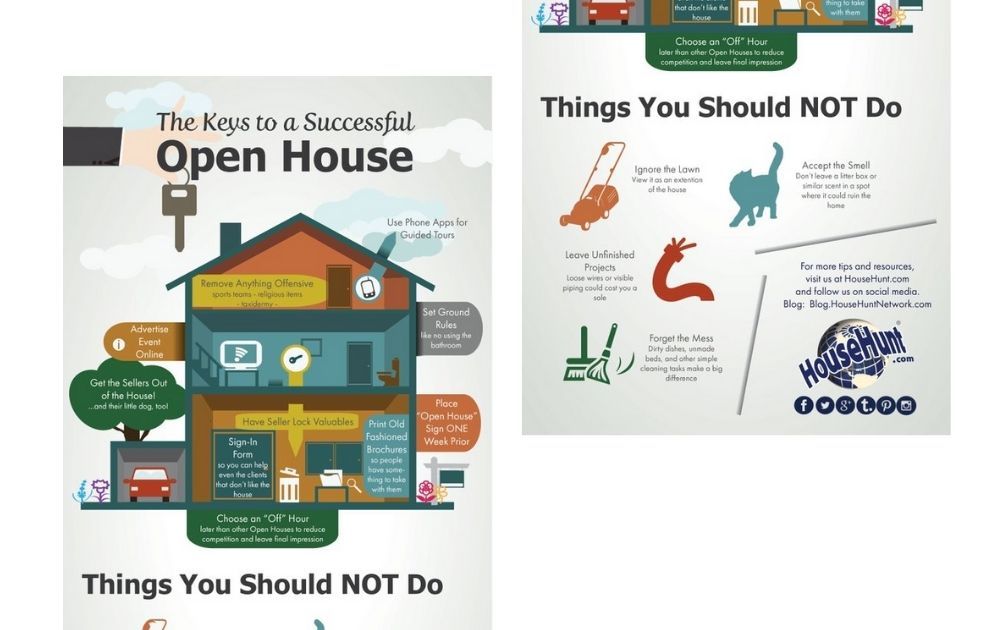 First-time home sellers may find the idea of an open house to be nerve-wracking. Help ease them into learning about the process with a graphic explainer that's easy to understand.
This graphic from HouseHunt.com educates sellers (and possibly, real estate newbies) on what to do for an open house. Because the image uses illustrations of a home and its parts, the visual explainer makes the process easier to take in.
14. Caution on Regret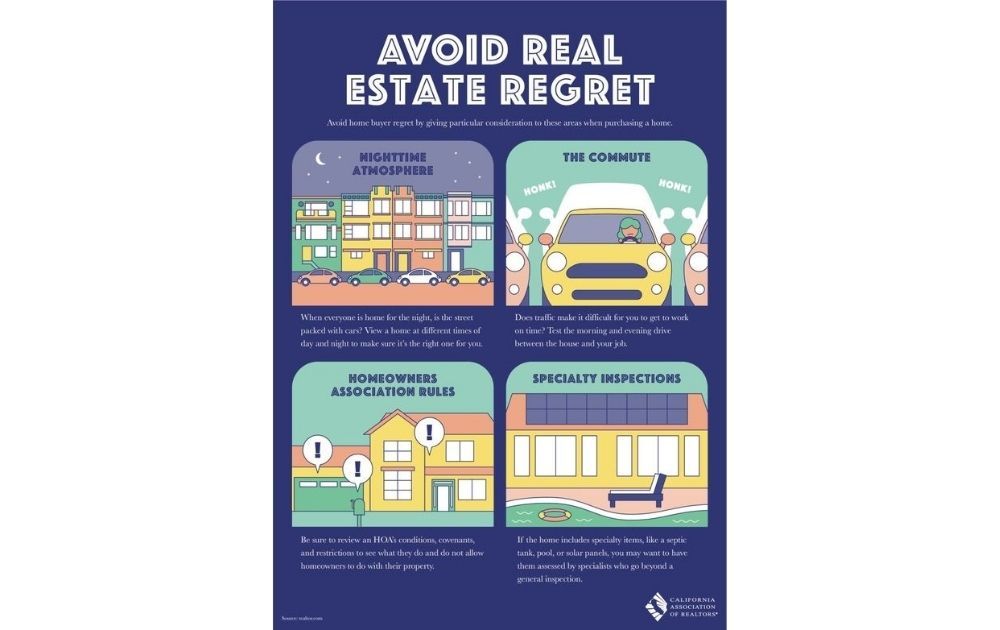 Getting stuck with a real estate investment you're not happy with is one of the worst cases of buyer's remorse. That said, a piece of content that addresses this pain point is surely a great way to engage your audience.
This graphic, for instance, enumerates the factors one must look into before signing on the dotted line. Though the copy talks about the bad situations, the illustration style, and color palette makes it appear friendly and inviting. That said, these are the types of materials that make learning fun despite discussing an unpleasant topic.
15. Home Color Palette Chart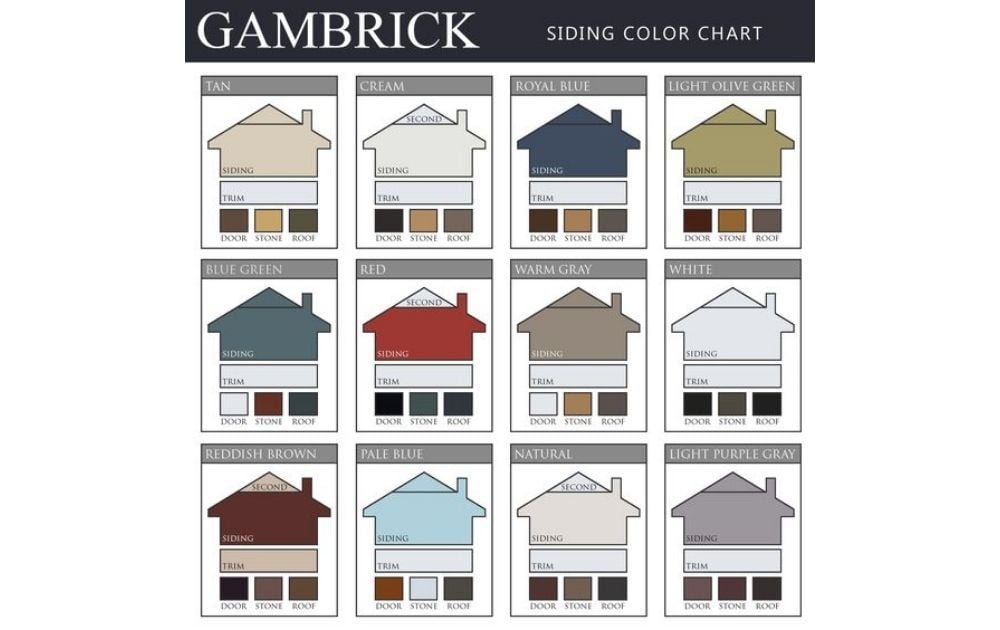 Here's an example of awesome real estate infographics for Instagram. As you can see from the image, the size may be modest, but it's packed with useful info for people interested in building a home.
The image is from Gambrick, a New Jersey-based home builder and general contractor. The chart offers color combinations, with the hue of the home's siding being the basis for the colors of the trim, door, stone, and roof.
Though the content isn't directly about buying or selling a home, it offers valuable info for people looking to renovate their home for selling. In the same vein, it's also a great resource for anyone who wants to confirm if the home they're buying has the right color palette.
Related Post: How To Make A Marketing Plan That Actually WORKS
Tracking Results for Real Estate Infographic
So infographics help you gain traction and grow your real estate business. But how do you know that it's actually working for you? Here are a few ways you can track results for your real estate infographics.
Landing Page Visits
One way to track results is to place the infographic in a blog post or a special landing page on your website. More visits to that page could indicate a big interest in the graphic.
Backlinks
You know you've created a great infographic when other websites refer to it and link back to your website or blog post. That said, this is a great way to gauge the value of your infographic. In addition to the tap on the back, backlinks also offer additional traffic and SEO value to your website.
Social Media Shares
When people find value in your graphic, they may share it on their socials to pass on the info. That said, social media shares could also indicate how much traction the graphic is getting and what types of visuals resonate with your audience.
Related Post: Marketing and Branding: What is the Difference?
Final Thoughts
Without a doubt, a real estate infographic is a great way to add value to the service you provide clients, whether they're selling or buying a home. And while you're at it, you might as well make the most out of the effort by making sure that your graphics are superb and eye-catching.
Need help with your real estate infographics? Focus on your craft and leave the graphic design tasks to us here at Penji. Because we offer unlimited graphic design at a flat monthly rate, you can have all the designs you need without spending a small fortune.
Here are some infographics we've created in the past: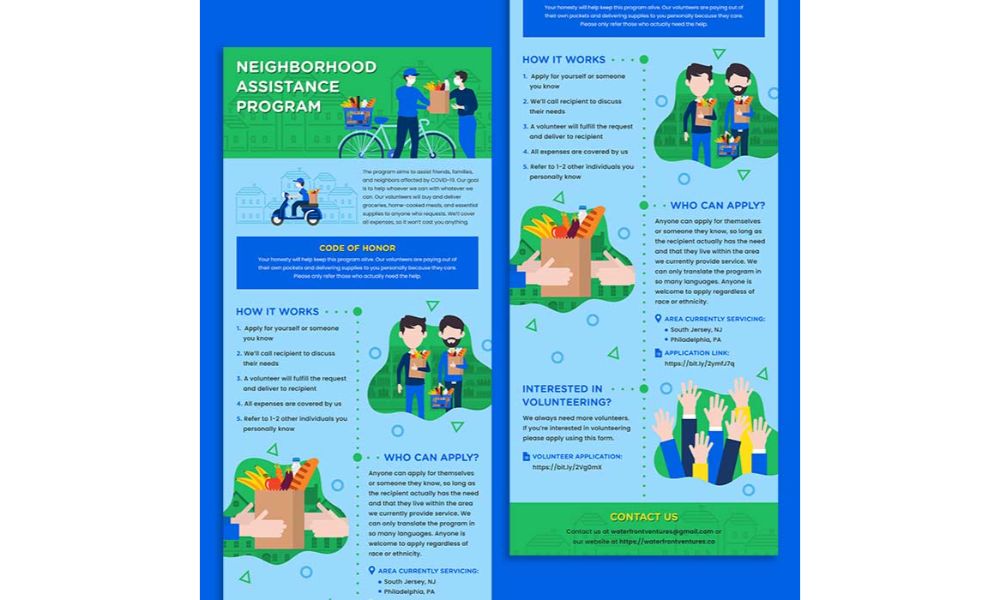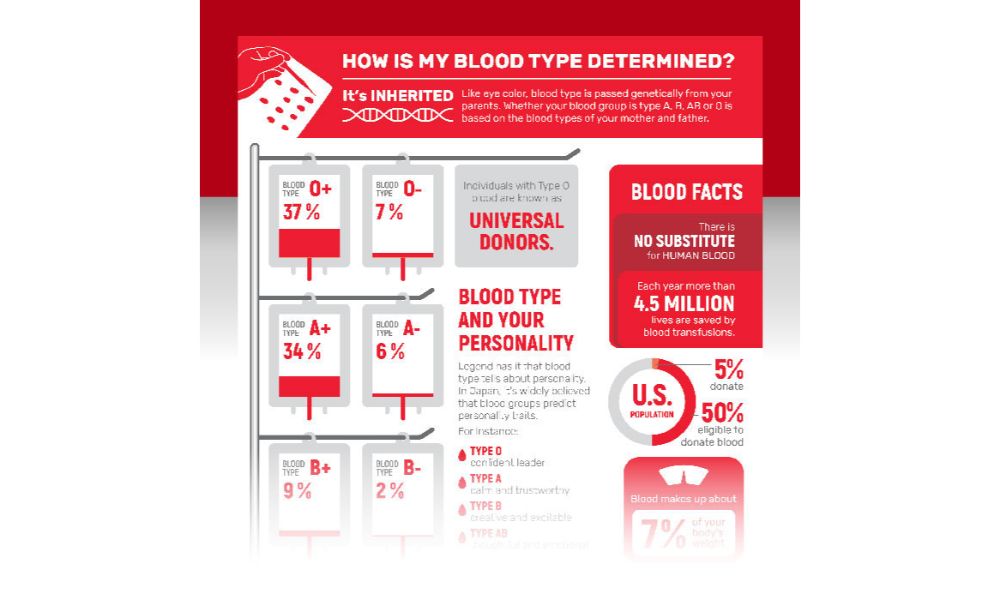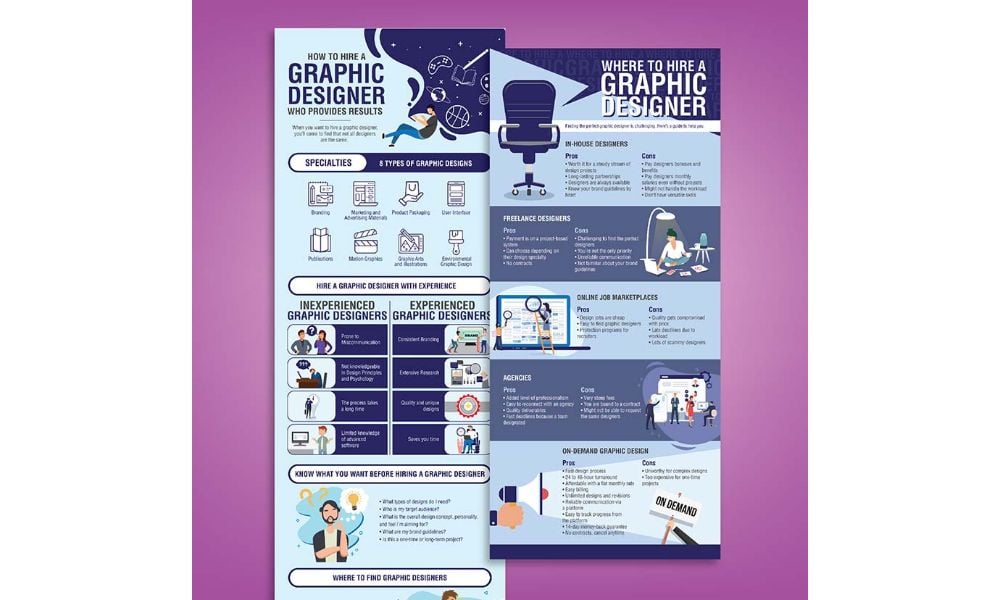 We have the top 2 percent of designers, so you can only expect professional designs that spark interest. Sign up now by clicking this link to enjoy 15% off the first month of any plan. And the best part? You can try any of our packages risk-free for 15 days.