Some advertisers fail at social media marketing due to a lack of understanding of their audience. Netizens engage and act differently on various social media channels, and this should be a top priority on an advertiser's to-do list. Amidst all the social media ad failures, one brand seems to keep it together for social media marketing. Nike's prowess in engaging with netizens while communicating the message is something advertisers should follow. Here's what you can get from the Nike social media marketing strategy. We'll show you the brand's top social media campaigns and why each captures the hearts of its audience.
1. Nike+ (Innovation)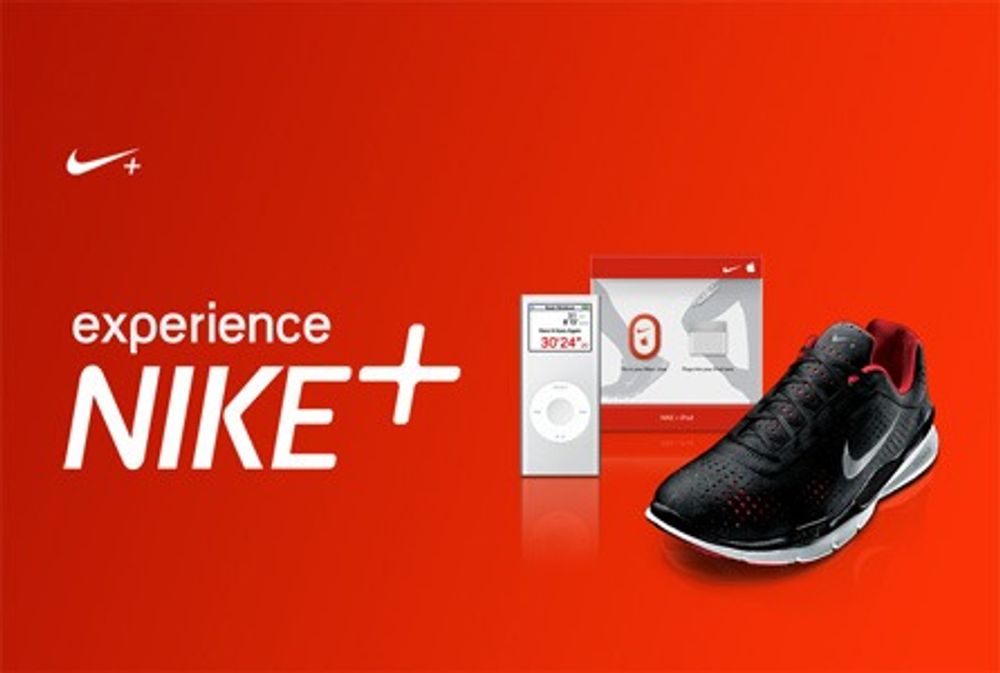 Nike doesn't do anything by halves. That's not how they roll. The brand is always looking for innovative ways to connect with its audience. And they do so with ease and creativity. One good example of Nike's innovation is the Nike+ platform. It's an app that invites all Nike members to engage with one another and share their stories. However, this app goes beyond social conversations. But it strengthens a community that shares one vision—an active lifestyle. The Nike+ platform displays the most current products that are up for grabs. This strategy not only connects like-minded individuals but also bolsters brand awareness.
2. Air Jordan x Facebook Messenger Bot (AI)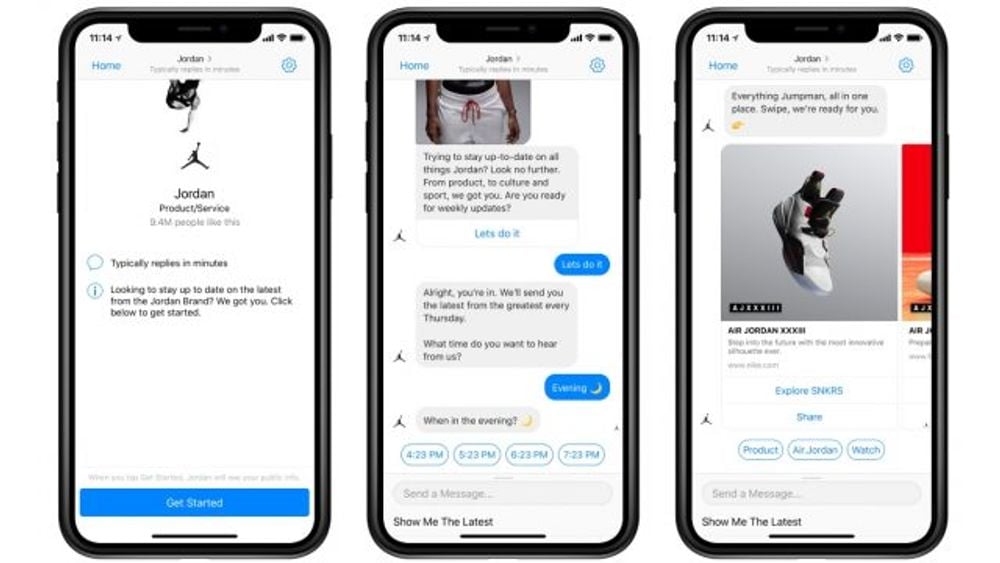 Image: Adweek
Nike leveraged Artificial Intelligence (AI) for this particular campaign. The brand teamed up with AI Platform Snaps and Facebook to create a bot that delivers the Air Jordan blog content. It's a channel where Nike aficionados share conversations and gain access to three categories: shop, watch, and Air Jordan. Although this strategy is targeted at a wider audience, the brand claims it has increased Nike's open rates by up to 87 percent. Nike's advice? Keep up with the trends by using the technology available such as AI.
3. Reactland (Gamification)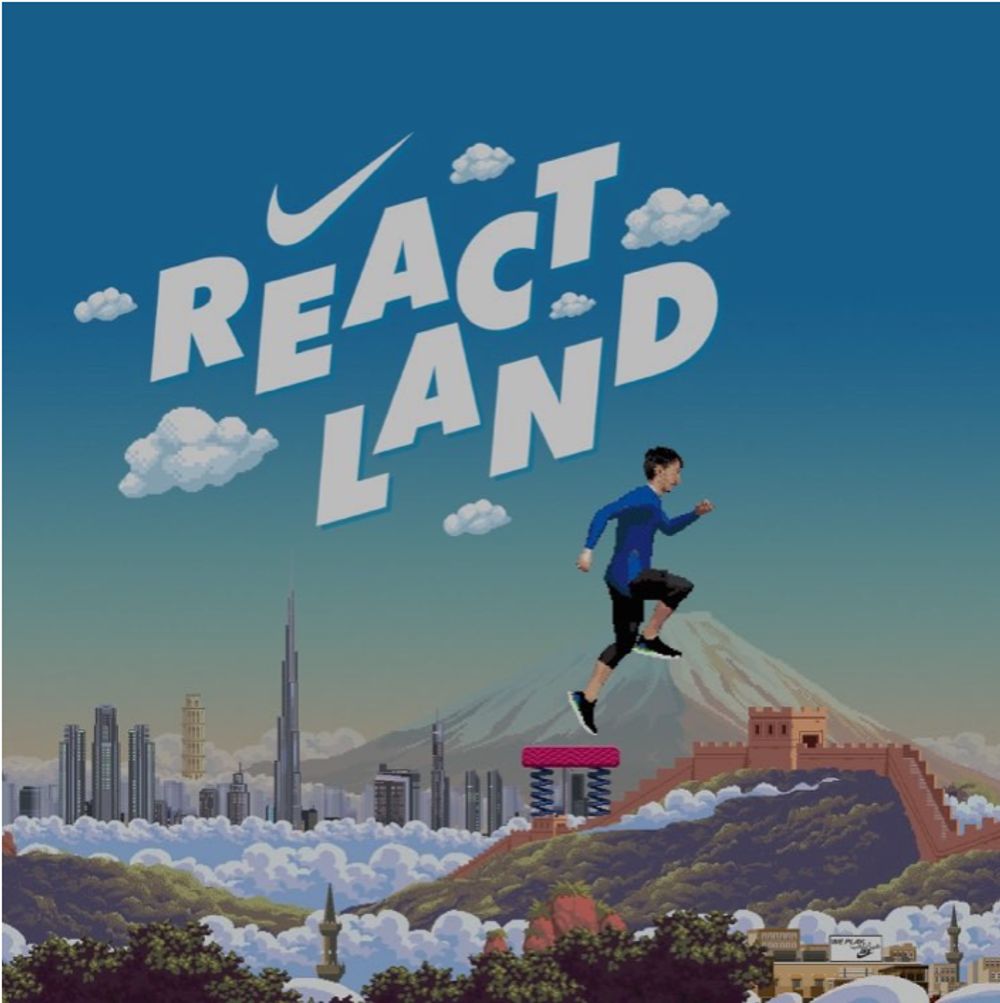 Increasing brand awareness and engagement is one of the goals of social media marketers. This Nike social media marketing campaign should give you an idea of how to lure younger audiences. Nike's Reactland dwells on gamification to provide its users with an immersive experience. They installed this system in stores all over China, wherein players could immerse themselves in a fantastical land featuring Nike shoes. Although this campaign only lasted a month in China, the effect was a 48-percent increase in players who bought the shoes.
4. Margot vs. Lily (Storytelling)
If there's one brand leader who relies heavily on storytelling, it's no other than Nike. As you can see from previous Nike video advertisements, it's always about a struggling athlete looking for a solution and ends with a moral lesson. This is one way to hook its target audience, who are also in the same boat. But Nike does their storytelling differently, and they do it with relevance, emotional appeal, and camaraderie in mind. They released an eight-episode series about two sisters struggling to achieve their goals. Margot vs. Lily revolves around interracial sisters who are quite the opposite. One is a junkie into atheletics, and the other is an outgoing lady who has sports listed at the bottom of the list.
5. Best Day Ever (Event collaboration)
Nike took advantage of the upcoming Olympics and released a video ad called "Best Day Ever." They launched this 60-minute video showing athletes who can achieve their goals anytime, even tomorrow. Tomorrow is another day for triumph, and everyone is encouraged to try and do their best. Nike's message has always been the same over the years, and that's if you have a body, then you're an athlete, and you can do anything. Launching this with the Olympic event only strengthened Nike's reach.
6. Find Your Greatness (Clear messaging)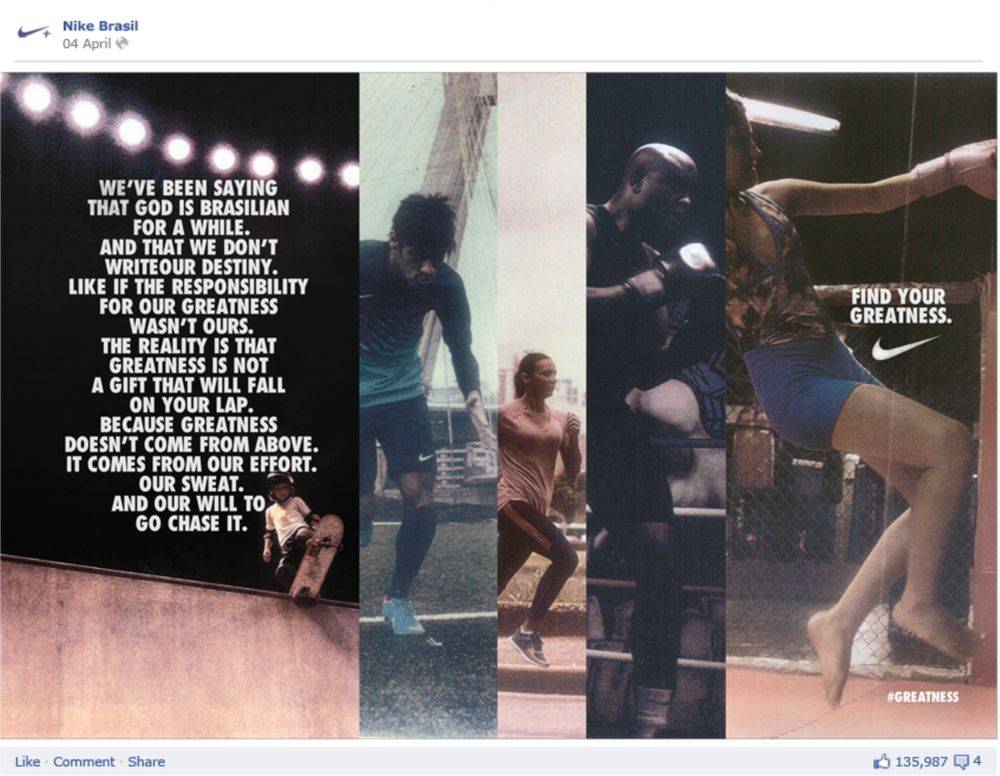 Image: Kako Mendez
Nike's social media marketing strategy is either brief or long-winded. Nike ads rely on diversification in copywriting. This particular Facebook ad campaign, Find Your Greatness, consists of clear messaging from the brand. Greatness isn't given to athletes on a silver platter. Behind the medals, podiums, and triumphs, athletes go through a lot of hard work, training, and sacrifices to be great at what they do. And this is what Nike communicates in this ad design.
7. Just Do It (Simplicity)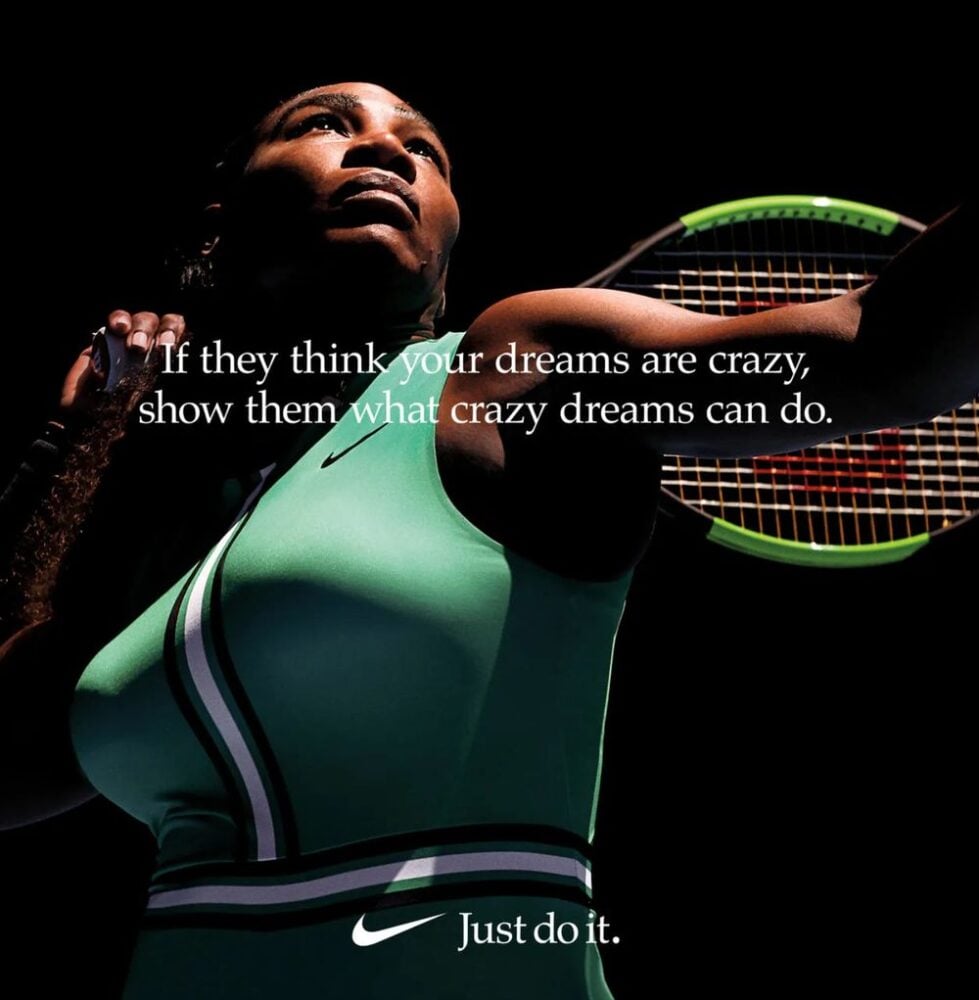 Nike's tagline "Just Do It" is used thousands of times in various ads. It's impressive how Nike can capture the audience attention with just three words. And this is why Nike has been a leader in marketing due to its attention to simplicity. Nike ad designs are never complex and confusing. The graphics are also accompanied by succinct and straightforward messaging like this example.
8. Black Lives Matter (Advocacy)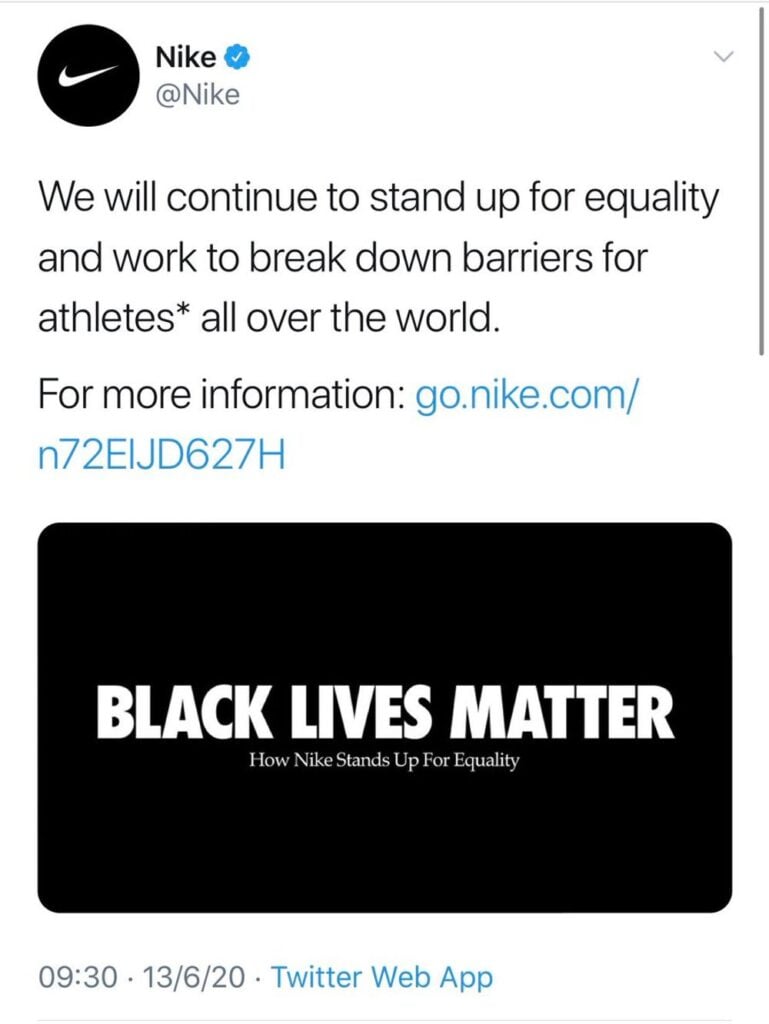 One of the things you can learn from the Nike social media marketing strategy is that it doesn't fail to connect with like-minded audiences. Nike isn't dubbed a rebel; however, the brand never fails to support its advocacies, even if it means losing customers. For instance, Nike is an advocate of Black Lives Matter, and they clearly showed this support on their Twitter channel. Although this might not sit well with some of their audiences, the genuine advocacy remains true, making them an authentic brand.
9. NBA Jerseys (Sponsored posts)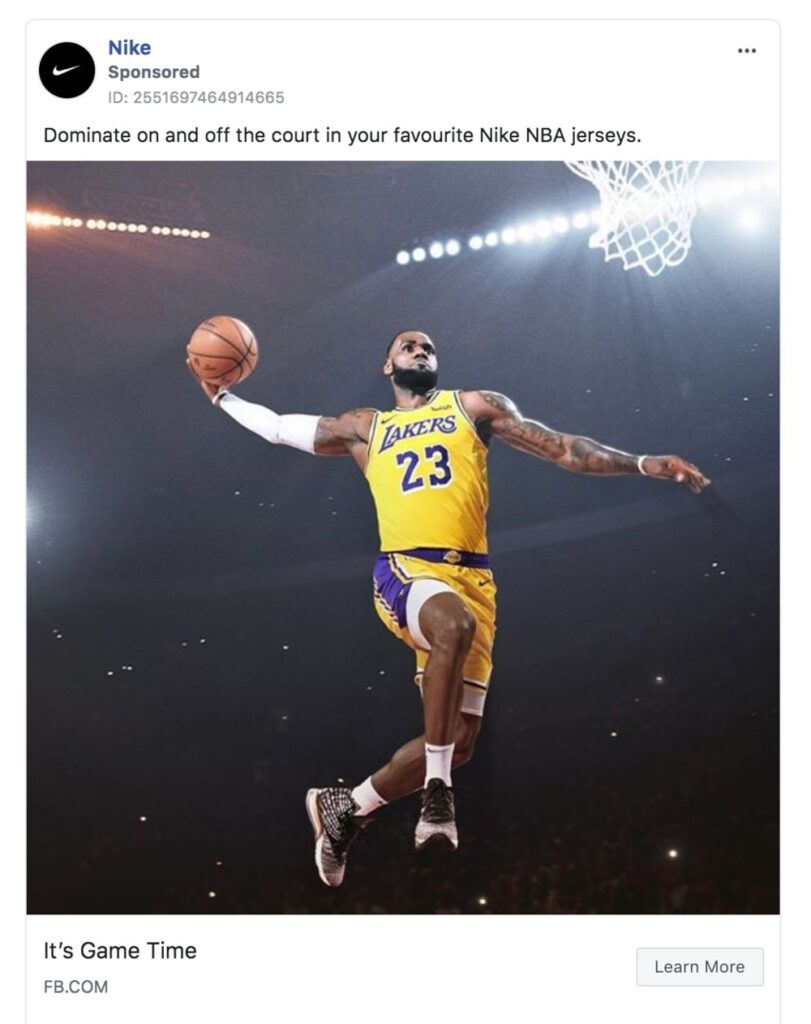 Sponsored posts are one of the quickest ways you can reach your target audience on social media. Although Nike is a famous brand recognized worldwide, it still leverages paid advertising for an extensive and customized reach. Here is a simple Facebook ad that promote NBA jerseys.
10. Better For It (UGC)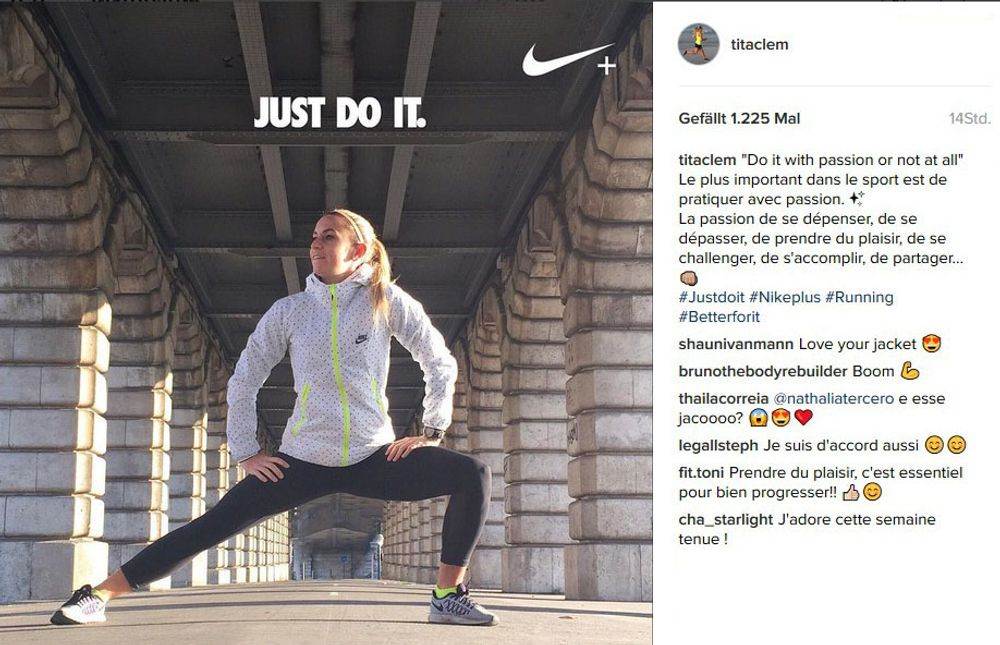 Image: BrandBa.se
To create a brand community, you must first gain affinity from the users. And this is what Nike did with their Better For It campaign. This campaign aims to empower women to be better in their lives. Nike encourages users to share their experiences and use the hashtag #betterforit, making an excellent user-generated marketing effort.
Conclusion
Nike's social media marketing strategy centers on appealing graphics, emotional marketing, and clear messaging. If you want to achieve the same quality and compelling ad designs, turn to Penji for help. Sign up for a special 15-percent off your first month, or try the service for 15 days risk-free!