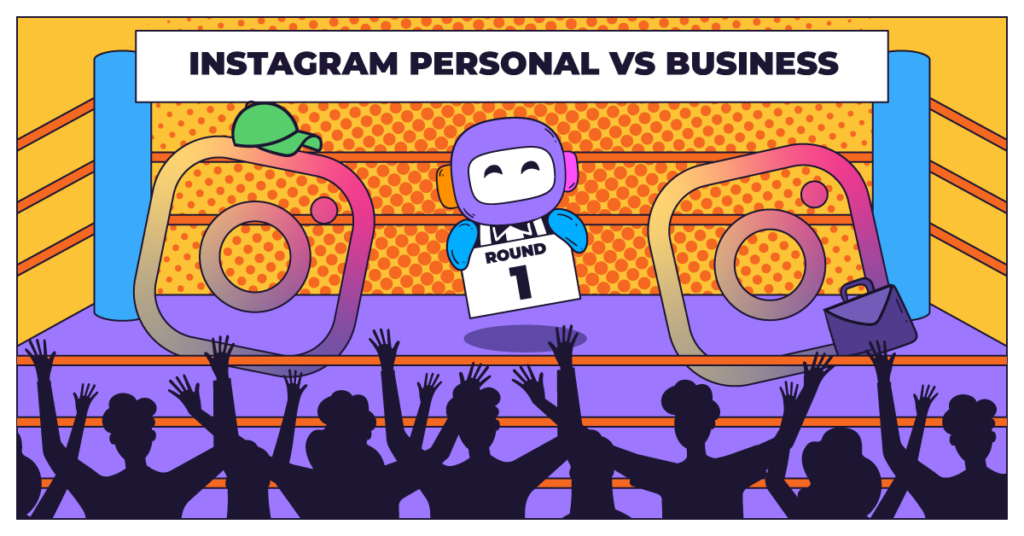 When comparing Instagram Personal vs Business, every business-savvy social media user wants to know which is better. If you're considering upgrading, the real question is whether or not you'd make use of the added perks. The two versions are nearly identical, but some key differences make business accounts better for entrepreneurs.
If you're not sure what type of account you have, scroll to the bottom and follow the instructions for changing your account type. You'll know whether you have Instagram Personal vs Business based on the upgrade options given.
To make matters a little more confusing, there are actually three types of Instagram accounts: personal, creator, and business. Let's go over all three.
Should You Upgrade to Instagram Business?
If you're a business owner, upgrading your account simply gives you more options and features. There's no real downside to making the switch (If you're wondering if an Instagram Business account is free, the answer is yes). One thing to keep in mind is that you can't make a business account private. But that's probably no issue if you're trying to grow a business.
Some argue that the disadvantage of an Instagram business account is that you'll have less visibility. But this has been refuted by some users who claim just the opposite. Your audience reach probably won't plummet. In fact, this is more of an issue for Facebook business pages. Your Instagram reach shouldn't be affected by making the switch in either direction. And if it is stagnant, you can always boost posts or use strategic ads to grow your channel.
Instagram Personal vs Business Differences: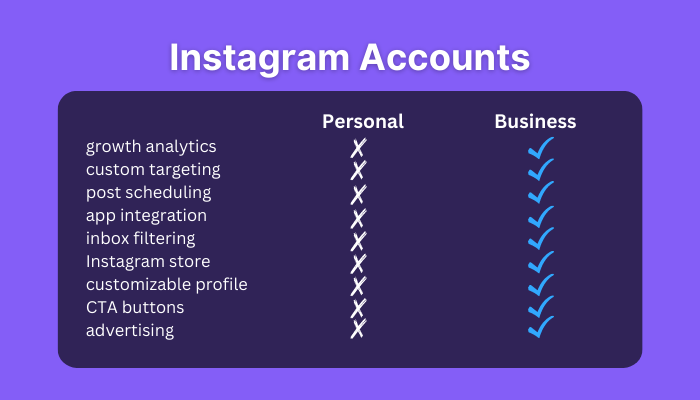 One of the biggest benefits of using Instagram business is the analytics it offers. While Instagram personal offers some basic data, a business account gives you more. Tracking website clicks, hashtag performance, profile visits, and reach will help you find what works. Demographical data will show you who is most engaged with your content. You can also experiment with posting at different times of the day. If you're looking to boost posts and track the results, an Instagram business account is a must.
With an IG business account, you can also set up automated quick replies. So if a customer messages you with a question or concern, you don't have to be there to respond every time. It's especially valuable if your customers tend to be in different time zones. For larger businesses that receive a lot of repeat inquiries, it's a no-brainer. Maintaining quick response times is a key factor in building a positive reputation.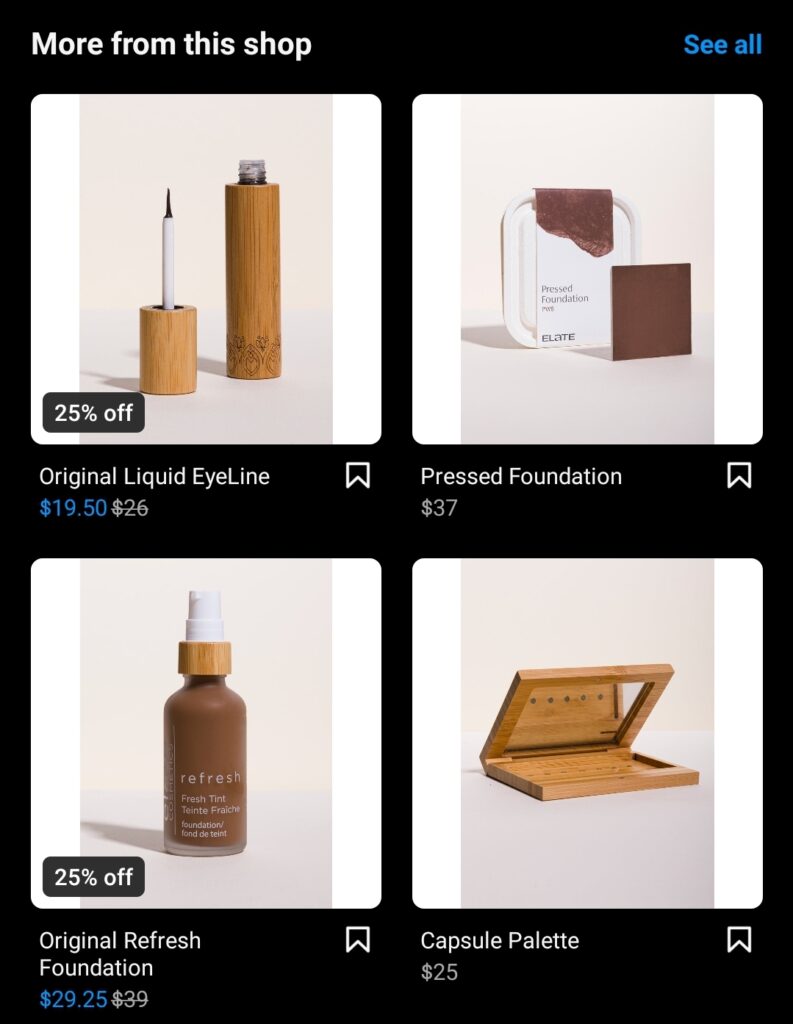 Instagram users who want to set up a shop will definitely need to opt for a business account. Once your shop is approved by Instagram, you'll be able to start selling products right from your profile. Shoppable posts allow customers to click on items in an image and find out their price/how to buy them. Influencers can do this for the brands they work with, but you can also create shoppable posts for your own brand.
To recap, Instagram Business offers the following perks:
More in-depth analytics
The ability to open a shop
Automated replies
A contact (or other CTA) button
Creator Studio access
Swipe-up (for those with 10,000+ followers)
A business account makes advertising with Instagram a breeze. Grab some Instagram ad inspiration if you're new to the game.
Instagram Creator Account vs Business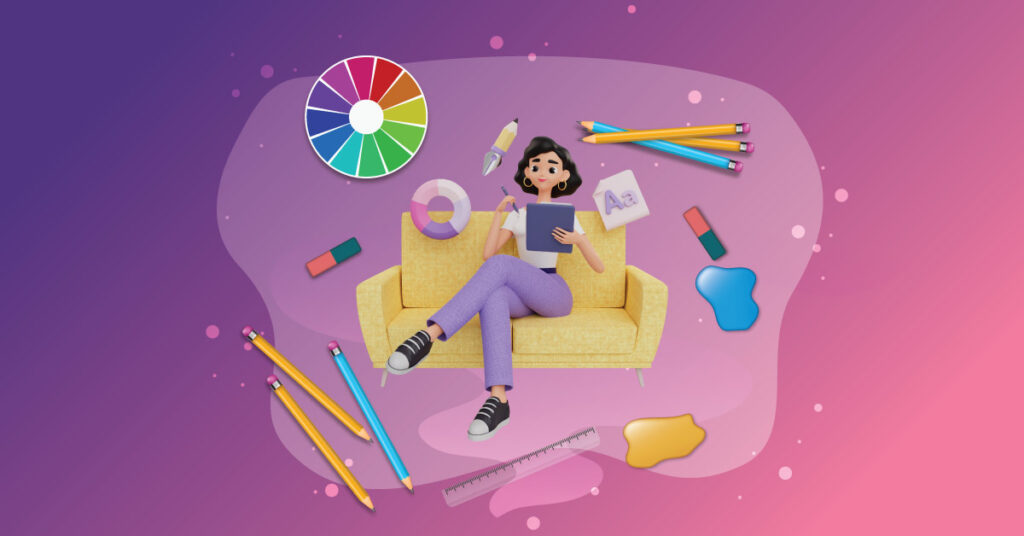 If you can't decide between Instagram personal vs business, there's a halfway point: Instagram creator accounts. Creator accounts offer about half the benefits of a business account: analytics, swipe-up in stories, gift card or delivery options, and a contact button. The difference is that business accounts also enable things like API access and third-party analytics. This grants you even more control over your Instagram strategy. Fortunately, Instagram accounts are free, so there's no financial risk in trying out a different type of account.
An Instagram Creator account gets you:
scheduling options
contact info options
more music options for stories
shoppable posts
Creator Studio access
Creator accounts offer more in-depth analytics compared to personal accounts. Users can access insights into their content's performance, including data on reach, engagement, and follower demographics. This information can help creators refine their content strategy and understand their audience better.
Creator accounts also provide additional contact options, such as email and phone number buttons on the profile, making it easier for followers, brands, or collaborators to get in touch directly with the account owner. You can choose a category that best represents your niche or content focus, helping Instagram recommend their account to users interested in similar content. This can help increase discoverability.
In our humble opinion, Creator accounts are.. just ok. If you run any sort of business or plan to in the future, there's really no reason to settle for a Creator account when you can have a full Business account.
How to Upgrade to an Instagram Business Account
Upgrading a personal account is super simple. Navigate to your profile page in the Instagram app. Click the menu in the top right corner and find Settings. From the Settings menu, click Account. Scroll down to the bottom and you'll see a button that says Switch Account Type. Choose whether you'd like to upgrade to Instagram Creator or Business. You can also switch back to a personal account at any time.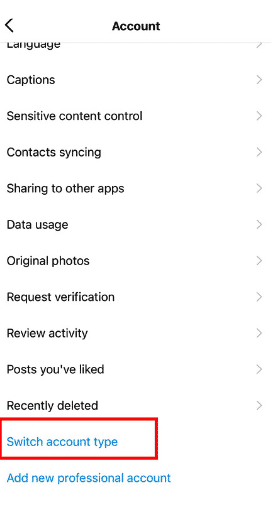 If you're an individual content creator, a creator account may or may not be enough for you. If you're scaling a business, a business account will have more than enough of what you need.
*If you have two and want to separate your personal and business Instagram accounts, the instructions are here.
Instagram Personal vs Business: What's the Verdict?
At the end of the day, there's no reason you shouldn't have an Instagram business account. If you're promoting, selling, or marketing anything, an upgraded account won't hurt. Again, it's free and relatively user-friendly (if you're new, you might need to look up the occasional tutorial). Diving into the metrics and discovering what your audience wants may surprise you. This is why you might as well have the best tools possible to figure it out.
Get unlimited graphic designs for your social channels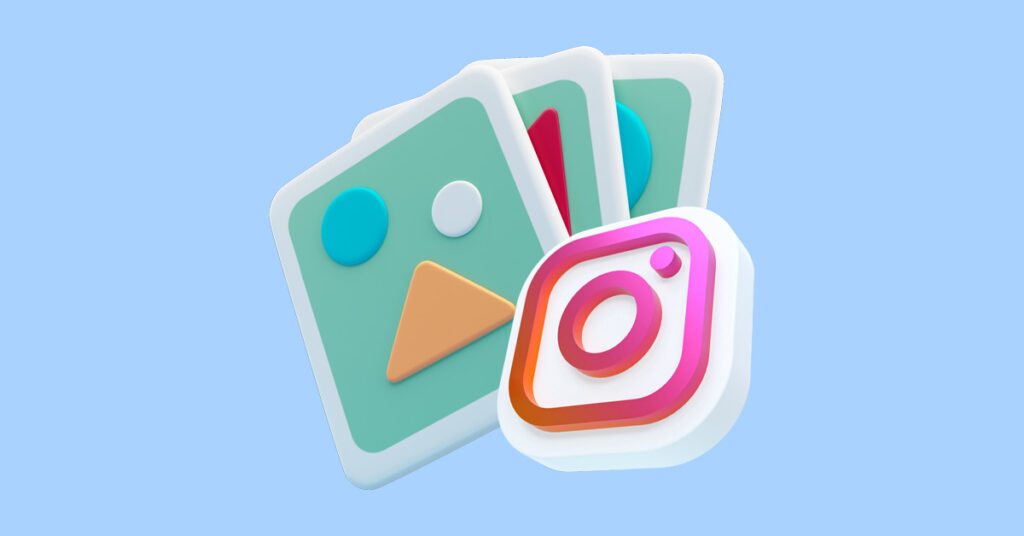 Our unlimited graphic design service is unmatched in terms of the variety of services we offer:
Instagram posts
Facebook ads
Product packaging
Business Cards
Event flyers
App designs
Custom illustrations
You name it, our team of vetted designers can create it for you in as little as 24 hours. Learn more about how it works when you team up with Penji.