Instagram advertising is one of the widely used avenues for social media marketing because it's visually focused. Advertisers can make their marketing visuals compete on this platform, with photos, stories, videos, carousels, and more options. To be highly competitive, don't use free stock photos because visuals matter — A LOT. Take these 25 of the best Instagram ads, for example.
1. Adobe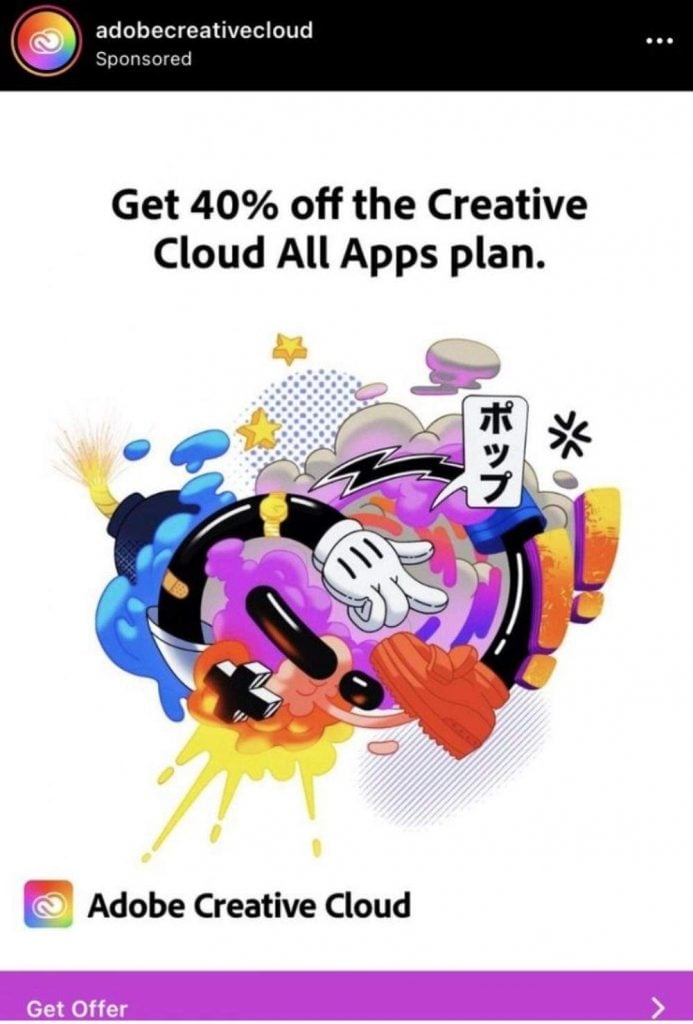 For design software, Adobe hits the nail on the head with this Instagram ad. The overall design is loud and bold, with eye-catching colors. This attracts users and gives them an idea of what they can do with the design platform.
Takeaway:
Customers love discounts, freebies, and savings. The bold heading with the offer to save 40% is enough to entice users.
2. Le Tote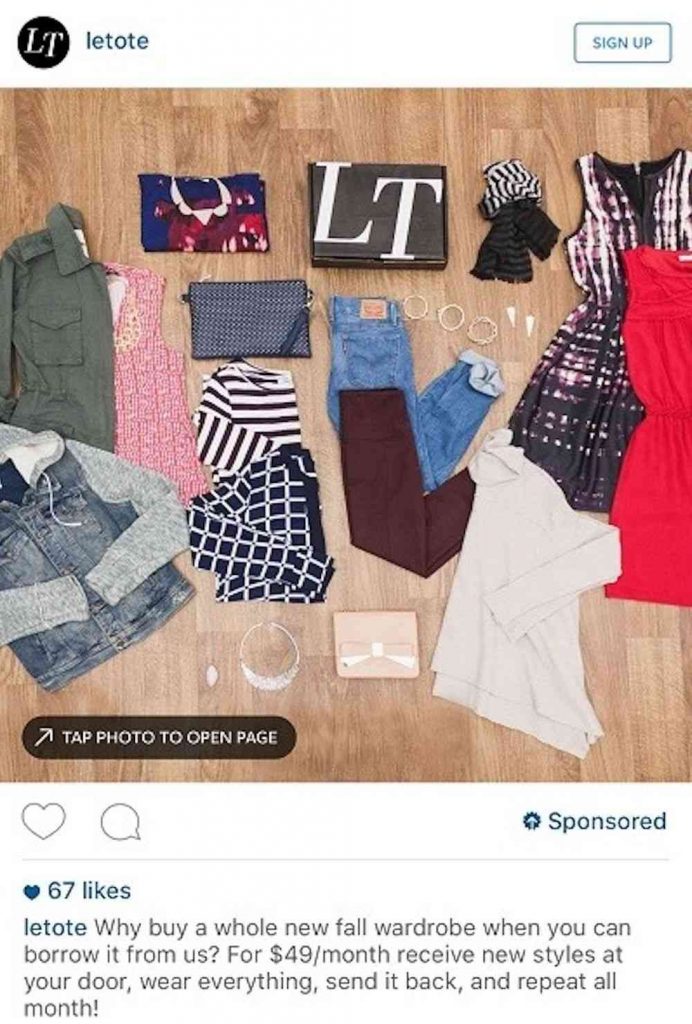 Putting your products front and center is one way customers will find value at first glance. Having the first glimpse of your product is the key to making customers want to learn more, like visiting your website. That's why it's recommended to include your website link or grab the user's email to engage with them more.
Takeaway:
Le Tote displays their products in a neat structure, coupled with straightforward copy indicating the price if customers want these clothes.
3. L'Occitane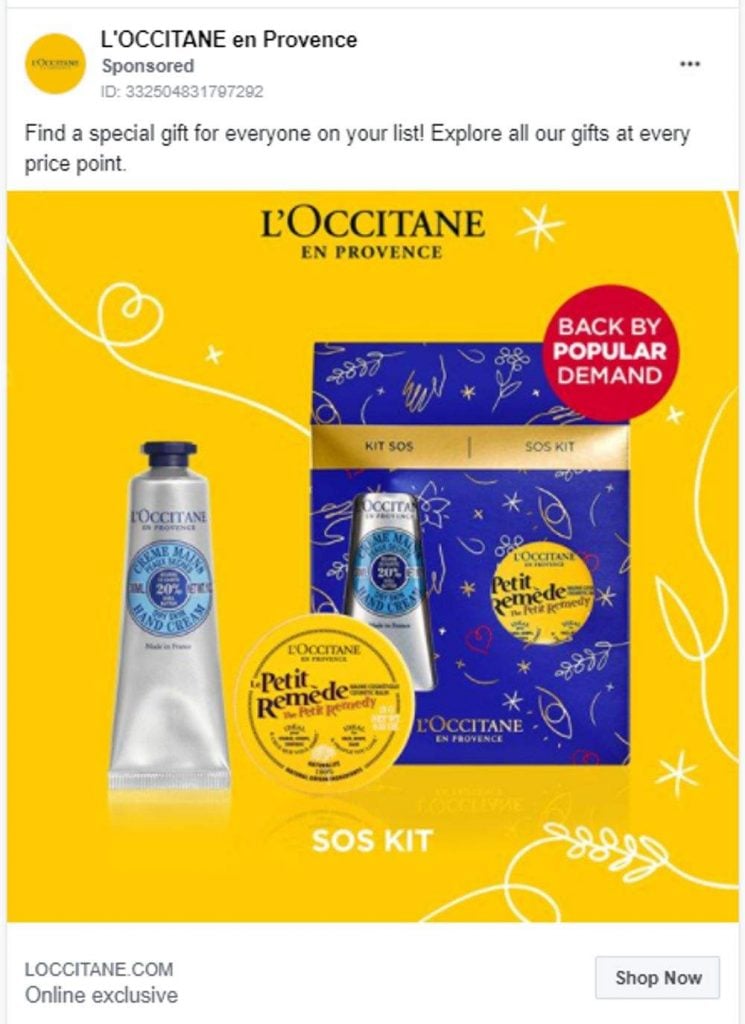 L'Occitane is one of the best Instagram ads that instantly grabs attention. The product pops out of a bright yellow background. Also, the blue complements the background perfectly, while the red circle keeps every design element evident.
Takeaway:
Using contrasting colors will make your visuals cohesive while keeping them attention-grabbing. L'Occitane also does a great job by saying the product is back by popular demand to add to the value factor.
4. HubSpot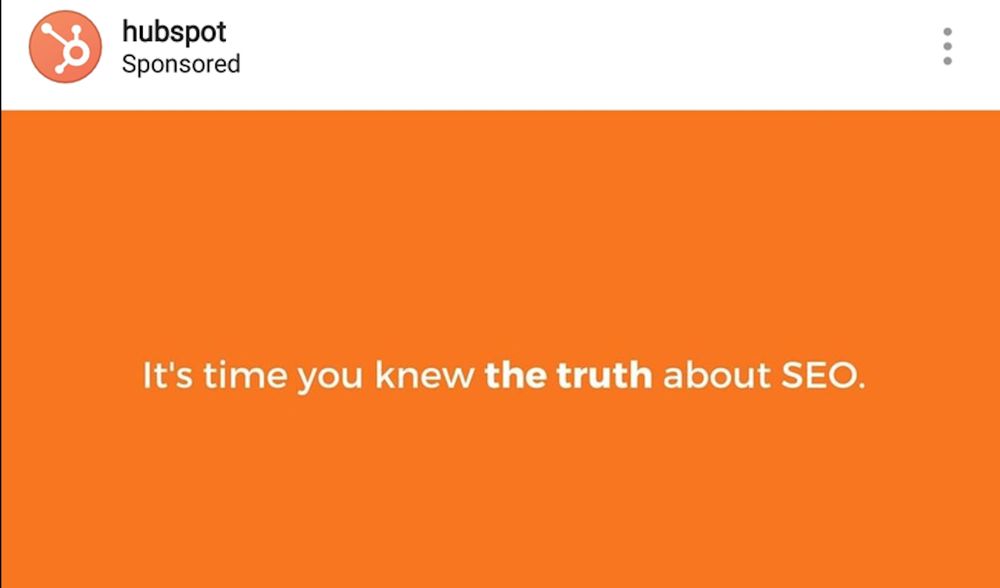 HubSpot goes the minimal route by using only a bright orange background with a brief copy. However, it still works because of its simplicity. Imagine scrolling through your Instagram feed and seeing only an orange background. Anyone would surely stop and click.
Takeaway:
Keeping your visuals simple also lets you get ahead of the others with more complicated imagery. The important thing is to make your copy persuasive.
5. Dispatch Coffee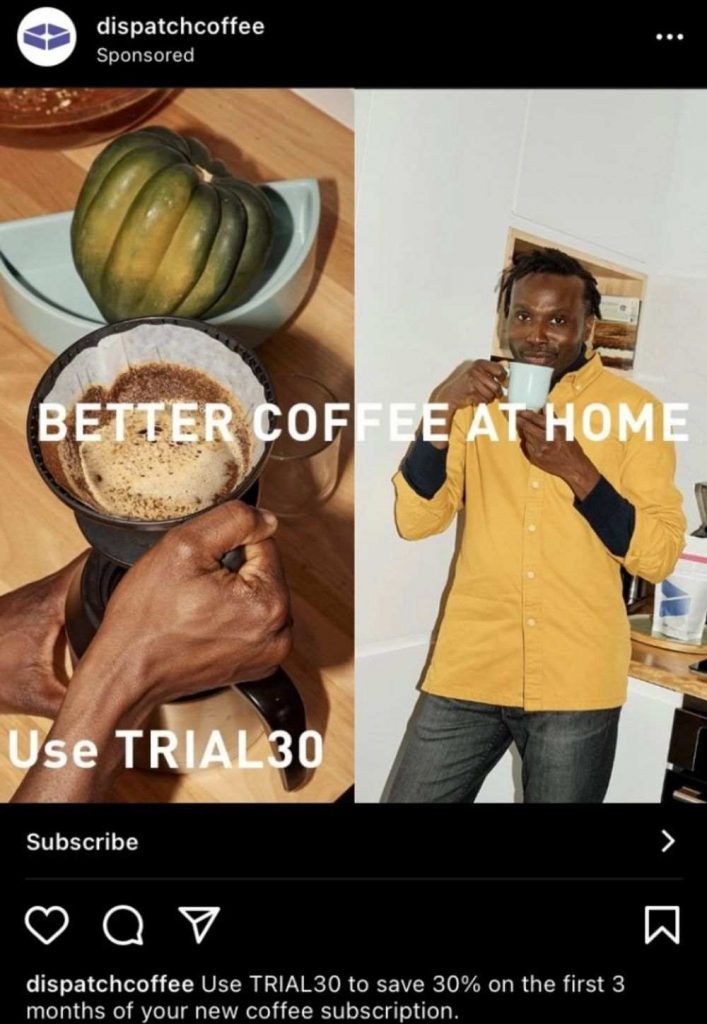 Dispatch Coffee used simple imagery with a human photo on their Instagram ad. Using happy human photos to connect with the viewers is effective because it's in our nature to long for connection.
Takeaway:
High-quality images of photos of people bring your ads to the next level through subconscious connection. Make sure you also show how people use your products, like this Dispatch ad.
6. Entrepreneur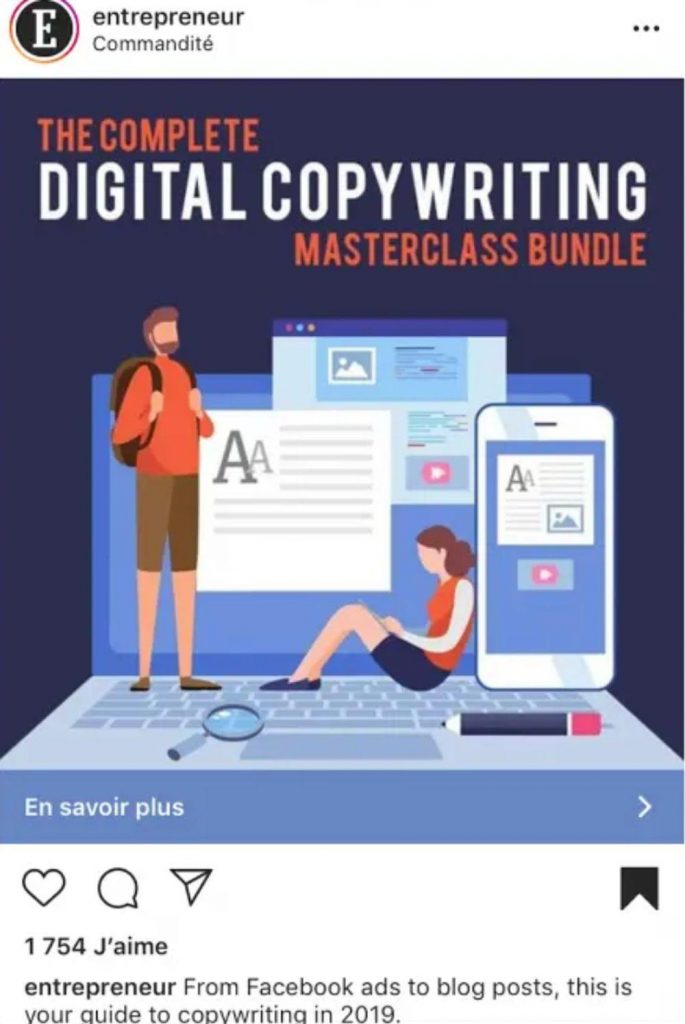 Entrepreneur creates excellent illustrations for one of the best Instagram ads on this list. The visual is also relevant to what Entrepreneur offers, a digital copywriting guide showcasing a laptop and documents.
Takeaway:
Illustrations do a bang-up job of communicating a brand's offer to its target audience. Make sure they're not cliche or common illustrations, even making illustrations bold and minimalist works.
7. Lebert Fitness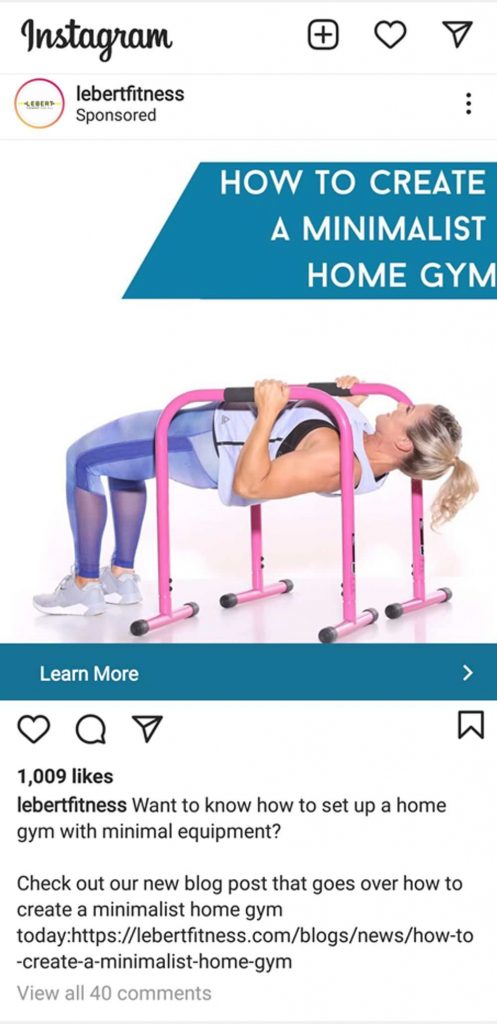 Lebert Fitness does well with consistency in this Instagram ad. Using the same color for the image's heading and call to action establishes familiarity within the viewers. Lebert Fitness also has a good strategy by promoting their how-to blog in this ad.
Takeaway:
Always ensure branding consistency by using your brand assets such as color, icons, logos, and typography. Repurposing your content is also another way to gain more traction and make it more evergreen.
8. Good Food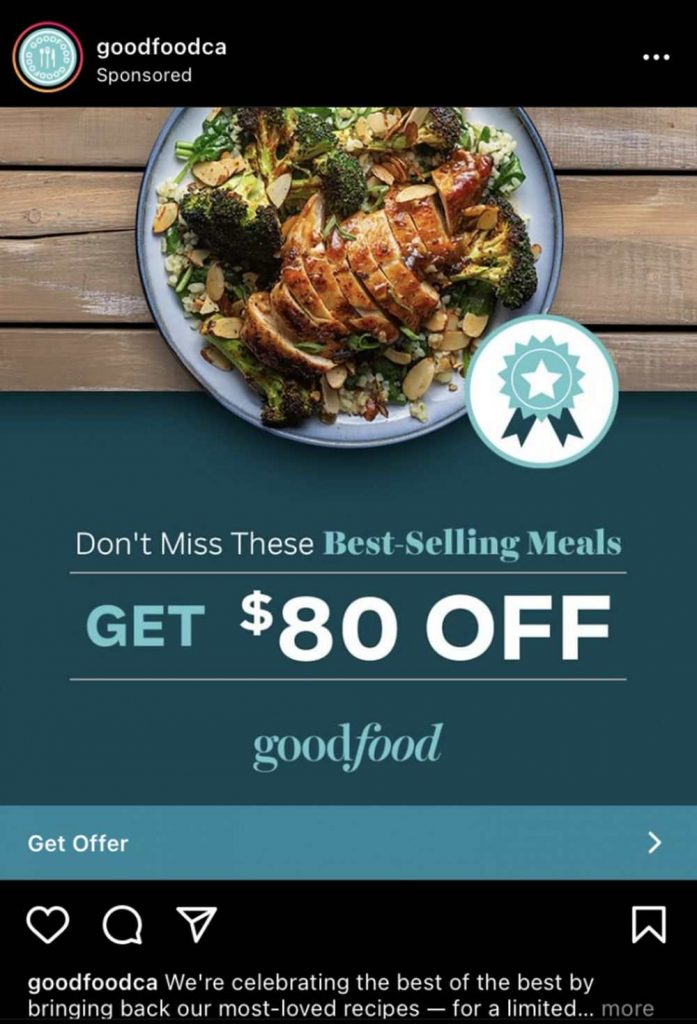 The food undeniably looks delicious in this Good Food Instagram ad. The layout is also well-done, with the food at the top followed by the heading underneath. Then a bigger, bolder text says, "Get $80 off," which helps pull in people.
Takeaway:
This Good Food ad works due to the easy-to-digest layout from the visuals down to the copy. Creating two colors for the text also works because readers will instantly notice the bold text "$80 OFF." Then the call to action underneath is a perfect ending to the entire ad.
9. Tom Chalky's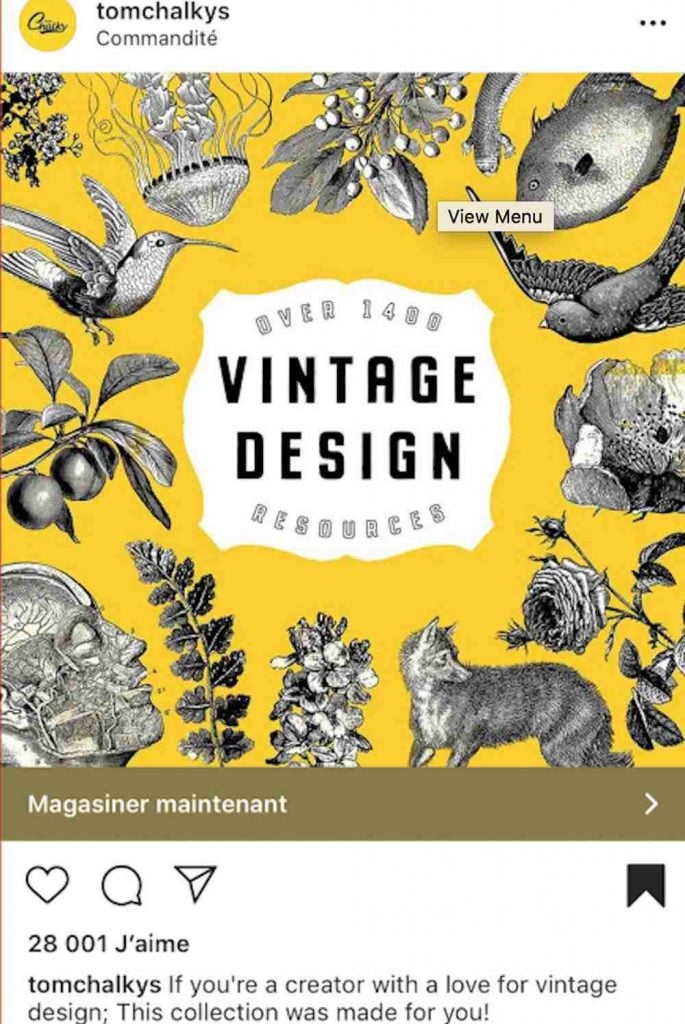 Creating compelling visuals is an excellent way to attract more viewers to scrutinize your Instagram ad. This is why Tom Chalky's imagery is one of the best Instagram ads on this list. The overall ad is tied together using proper placement and one background color. The different design elements surrounding the image's heading emphasize it without making these elements out of place.
Takeaway:
Tom Chalky's vintage design makes this ad appealing. Integrating vintage design elements is seeing its way into graphic design these days.
10. Chambord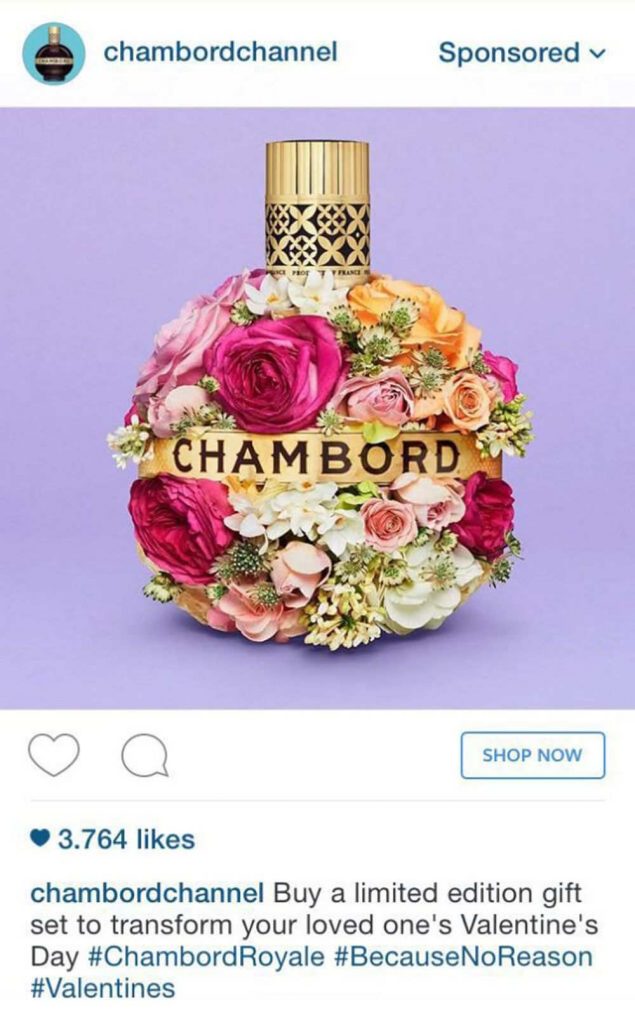 This Chambord image exudes a sense of luxury and beauty in one liquor bottle. It has texture due to the flowers surrounding the bottle packaging. Also, the brand stands out in the middle of it all.
Takeaway:
The best part about this Instagram ad is how Chambord creates a sense of urgency. The copy that says "limited edition" is enough to make viewers think about grabbing the limited offer or not.
11. Farmers Insurance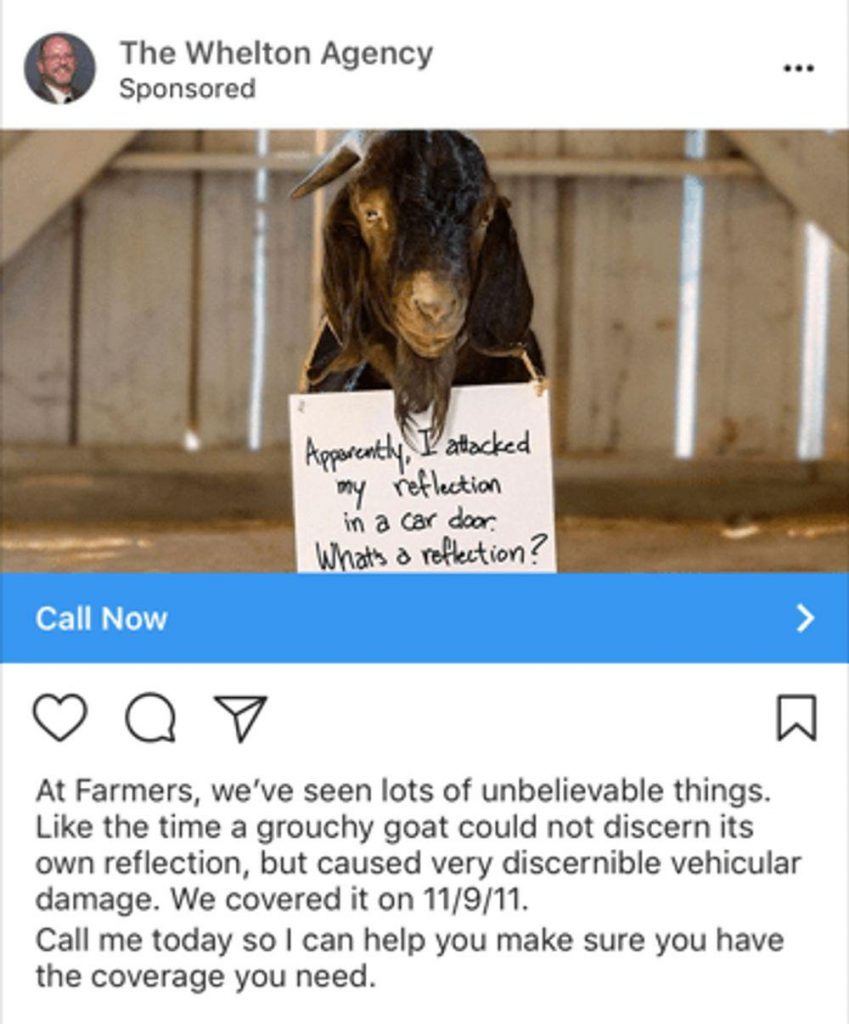 Farmers Insurance based their ad on an incident that happened involving a goat and a vehicular accident. However, the brand turned this around by showing how the goat is innocent and that accidents happen. All these lead to the importance of insurance coverage.
Takeaway:
Angling your advertisement in a way that captures the viewer's attention is a smart idea. Using cute animals also helps in spreading your advocacy as long as the message is relevant.
12. Calm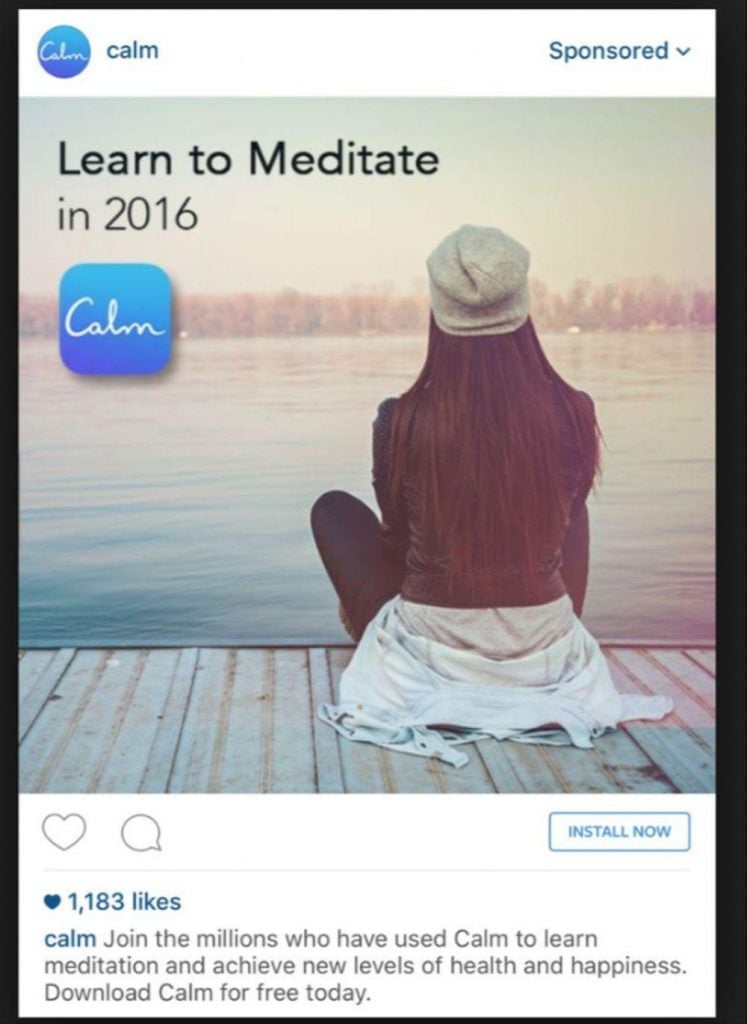 For a meditating app, Calm undoubtedly knows how to entice its target audience. This image speaks nothing but calmness. From the color hues used, the ocean element, to the girl sitting on the porch, everything relaxes your eyes in an instant.
Takeaway:
Make sure your visuals are relevant to your branding or offers. This way, you establish trust from the moment you show your ads to your target audience.
13. Livday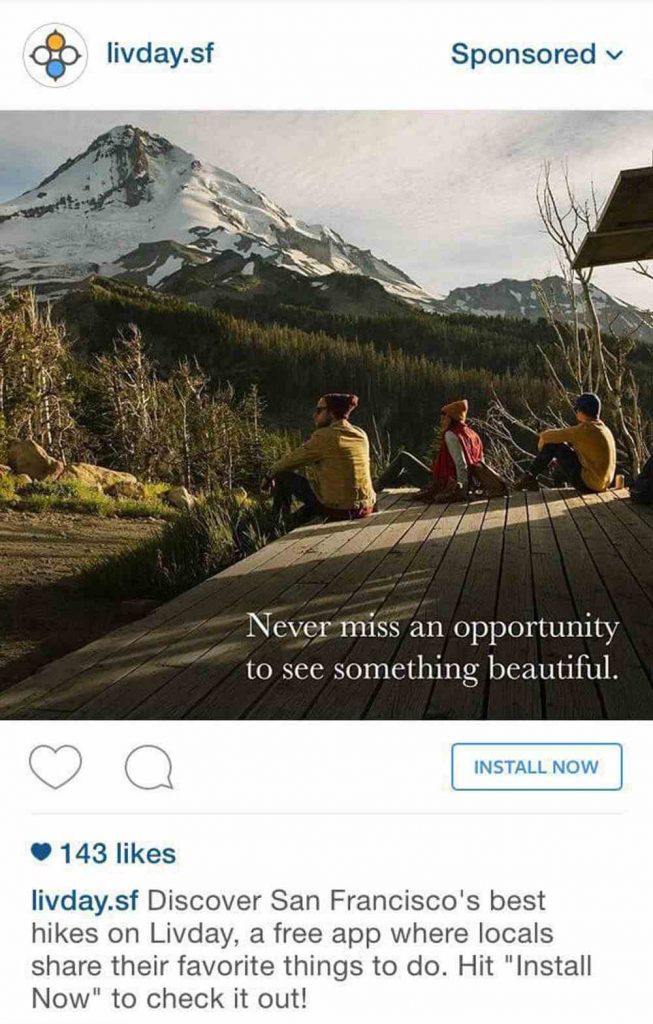 Livday's ad is stunningly well-thought-out. The overall aesthetic with the people enjoyably watching one of San Francisco's landscapes lets people imagine themselves in the same situation. Moreover, the powerful copy complements the imagery pretty well.
Takeaway:
Painting a picture in your audience's minds will make them crave more of your offers. Plus, pairing it with excellent copywriting invokes the right emotions you're aiming for.
14. Macy's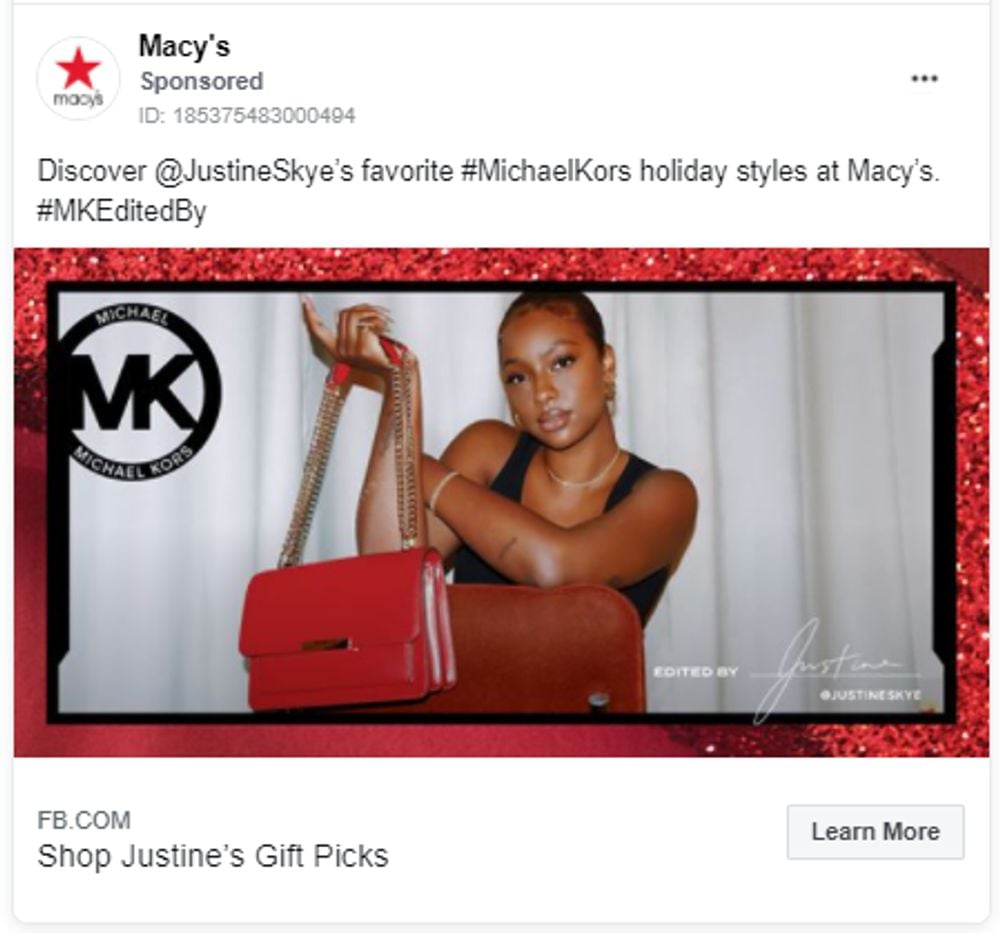 This Macy's advertisement is a perfect example of influencer marketing. Macy's teamed up with American songwriter, rapper, model, singer, and actress Justine Skye to promote the Michael Kors bag.
Takeaway:
Collaborating with social media influencers who likely have similar audiences as your brand works. Or it's also a great way to pull in those who have yet to get familiar with your brand by bringing in a known influencer.
15. Target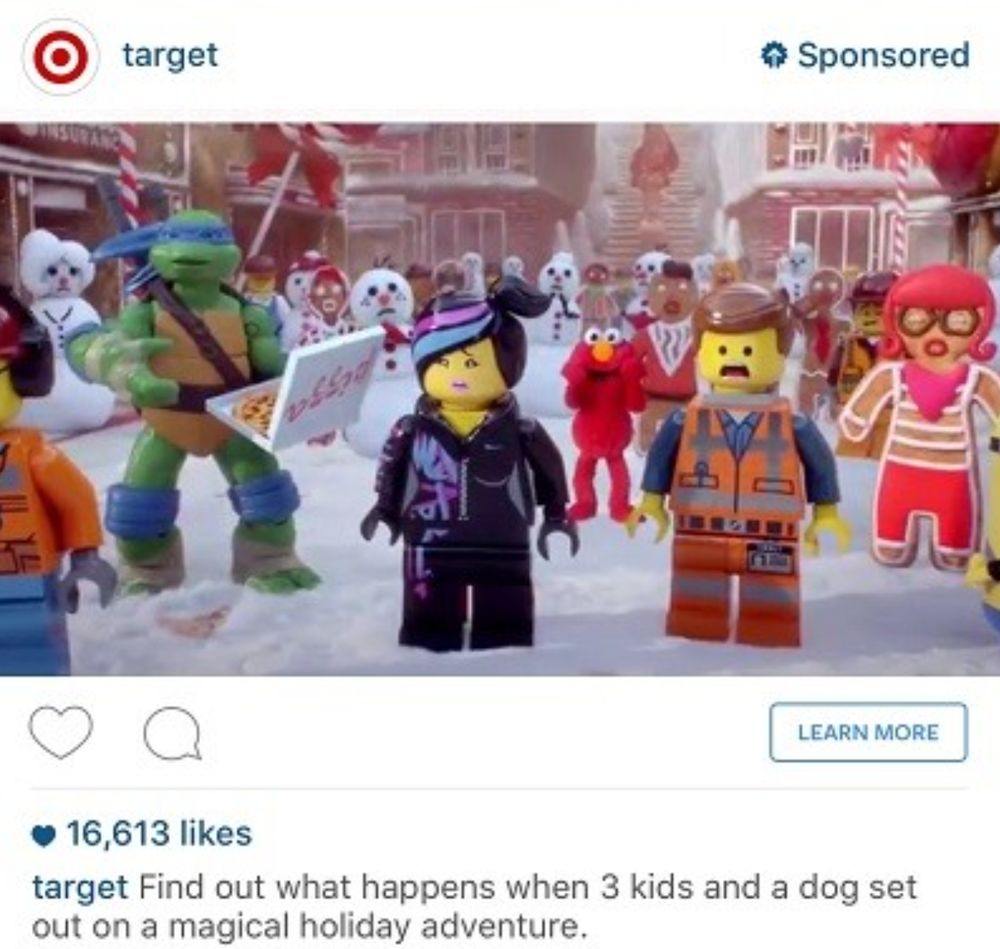 Target does a bang-up job making their holiday ads extra special by working around a Lego-themed holiday story. The story revolves around three kids and one dog out to discover a new adventure.
Takeaway:
If you want to capitalize on holiday ads, then don't hesitate to make them extra special. Marketers double down their efforts during holidays. That said, think of a theme that is not only captivating but also suitable to your branding and product offers.
16. Meet Frank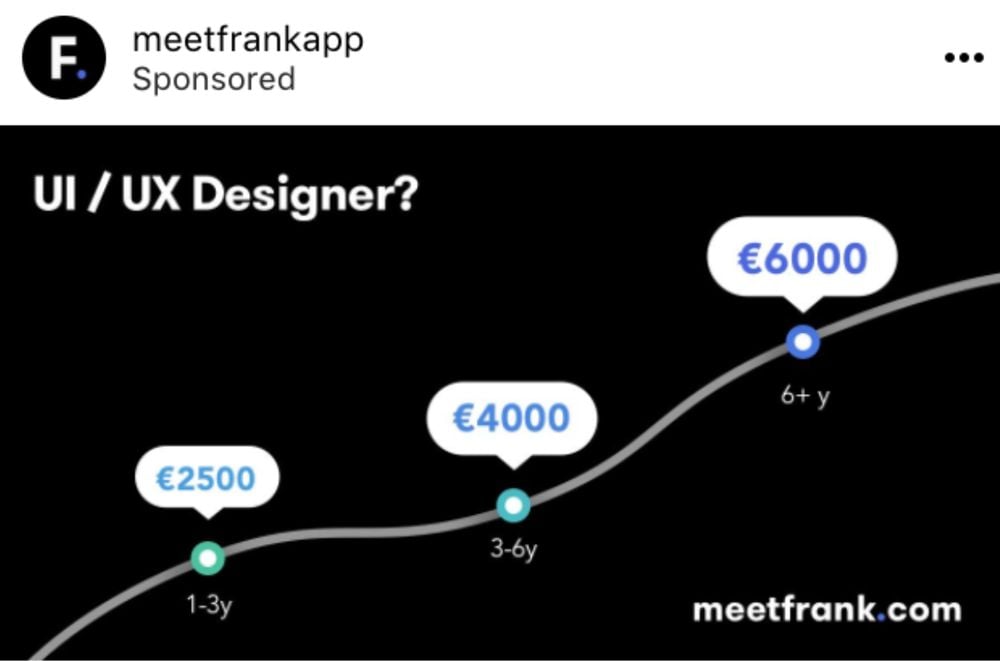 Let your visuals communicate with your target audience. Meet Frank uses a growth diagram or curve that shows how much a UI/UX designer earns, depending on experience. It's a simple design with an impactful message.
Takeaway:
Using intelligent and strategic visuals is enough to appeal to your target audience. As long as the image gives viewers value and information, it will undeniably gain more traction as anticipated. Also, using numbers and figures creates concreteness in ads that people think are overly promotional.
17. The Fab Story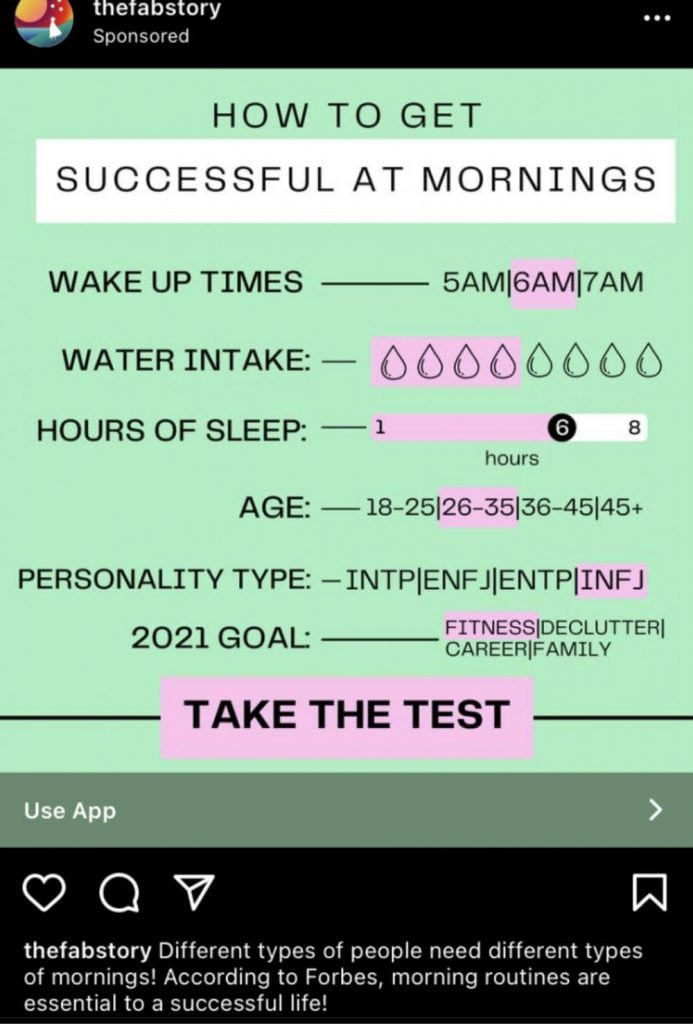 The Fab Story creates a simple, engaging Instagram ad that lets people test what type of morning person they are. On top of the huge pink call to action, the brand integrates compelling copy with numbers and contrasting colors.
Takeaway:
The overall ad campaign is well-designed, making it one of the best Instagram ads on this list. Letting your audience engage with your ad is also one way to make it more effective.
18. Busted Tees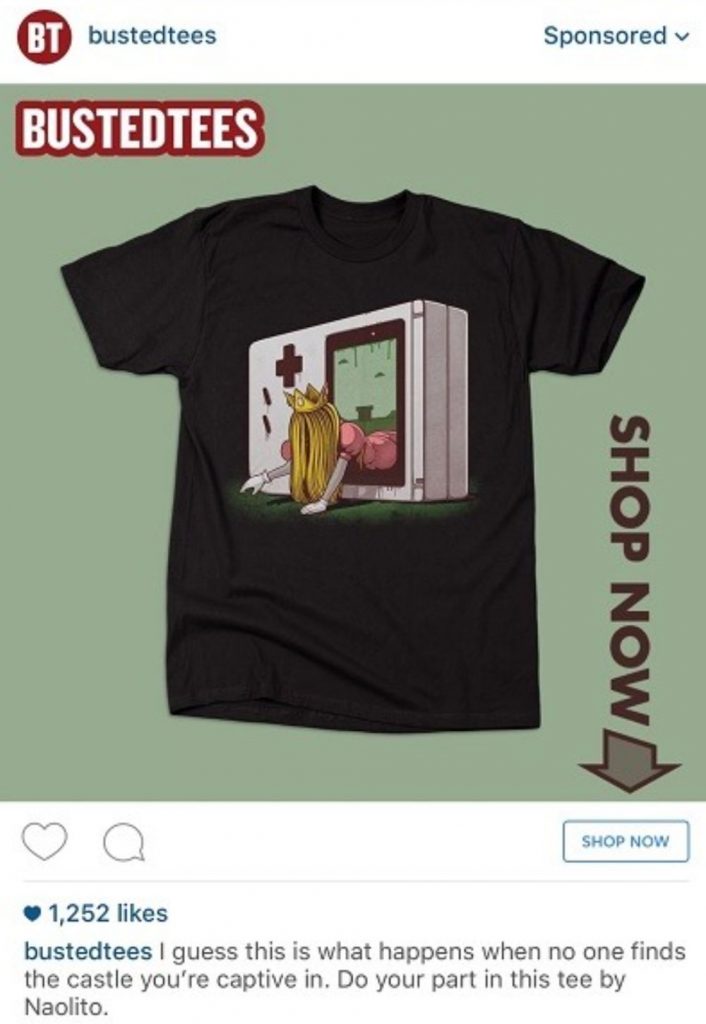 In this best Instagram ads example, Busted Tees created consistency by including their brand name in the upper left corner. The brand is smart enough to angle the entire ad to make viewers purchase a shirt. How? Through the huge "SHOP NOW" call to action pointing to the button.
Takeaway:
Advertisers must be clear on their calls to action when creating the best Instagram ads. Visuals won't matter if there is no clear call to action. Lead users to the next step on the sales funnel by creating unique, evident, and convincing call-to-action strategies.
19. The North Face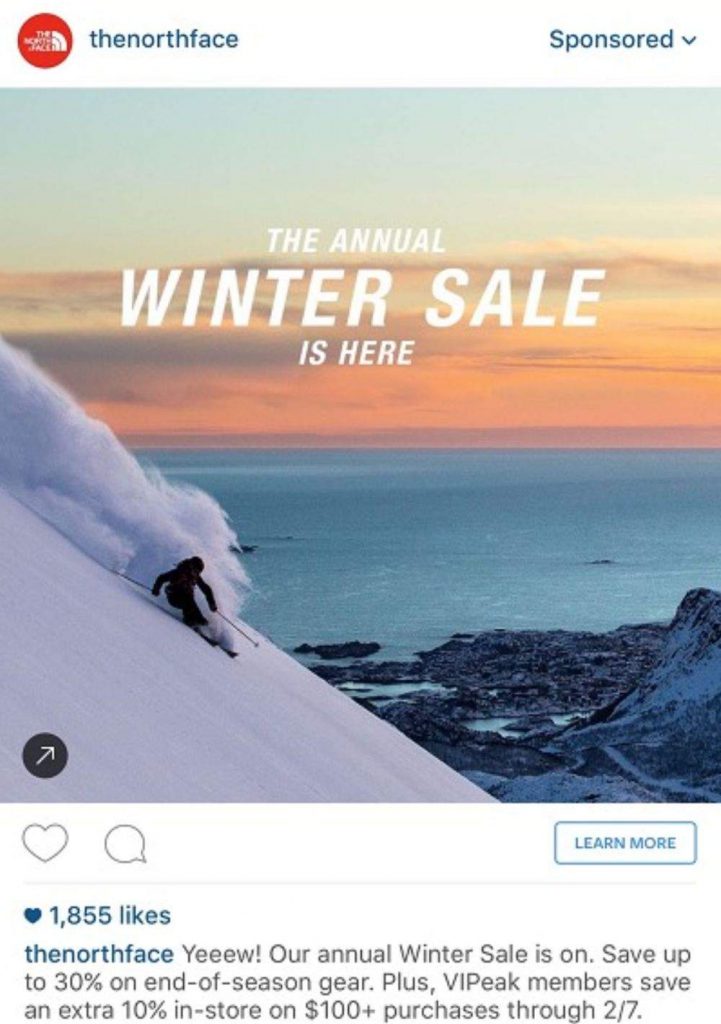 The North Face, a brand that caters to outdoors people, sports fanatics, and athletes, showcases how fun the outdoors is. The brand displays a snowboarder gliding down steep terrain with an enchanting background. The beautiful and natural colors also emphasize the beauty in every element — the rocks, snow, the horizon, and the beach.
Takeaway:
Using natural design components is also an excellent way to entice your target audience. This is beneficial for brands that center on this type of branding and brand identity.
20. PupSocks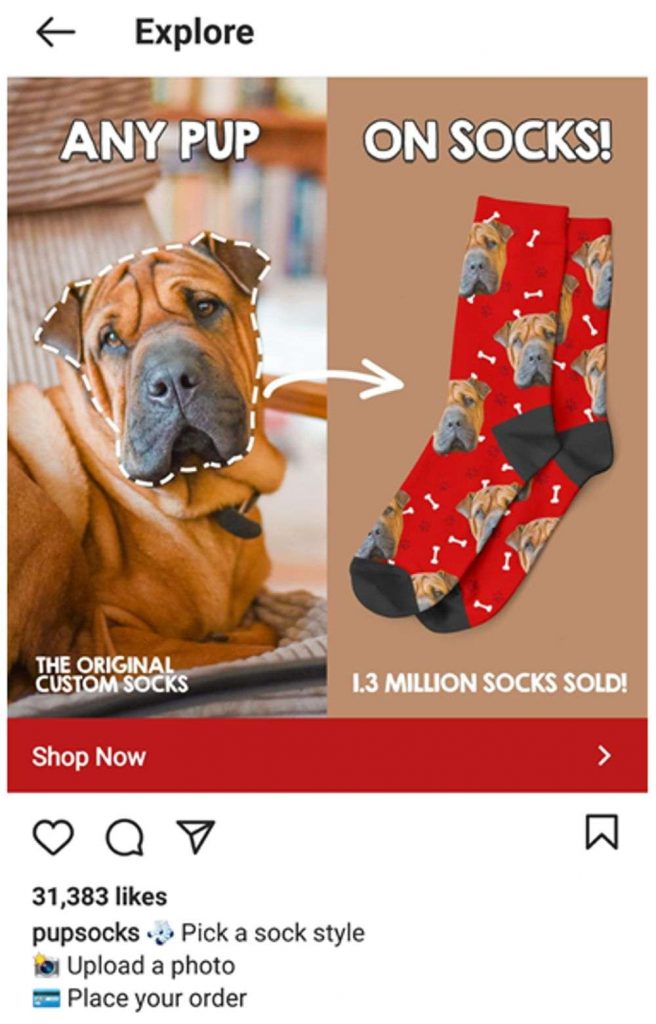 PupSocks makes its advertisements easy to understand. First, they visually communicate what they offer by capturing a dog photo and putting its face on the custom socks. Then the caption reveals the steps on how easy it is to order one.
Takeaway:
People don't like complicated visuals and copywriting as this is a waste of their time. That said, keep your visuals and copy directly to the point. Avoid fluff and keep it straightforward, just like this PupSocks ad.
21. Wix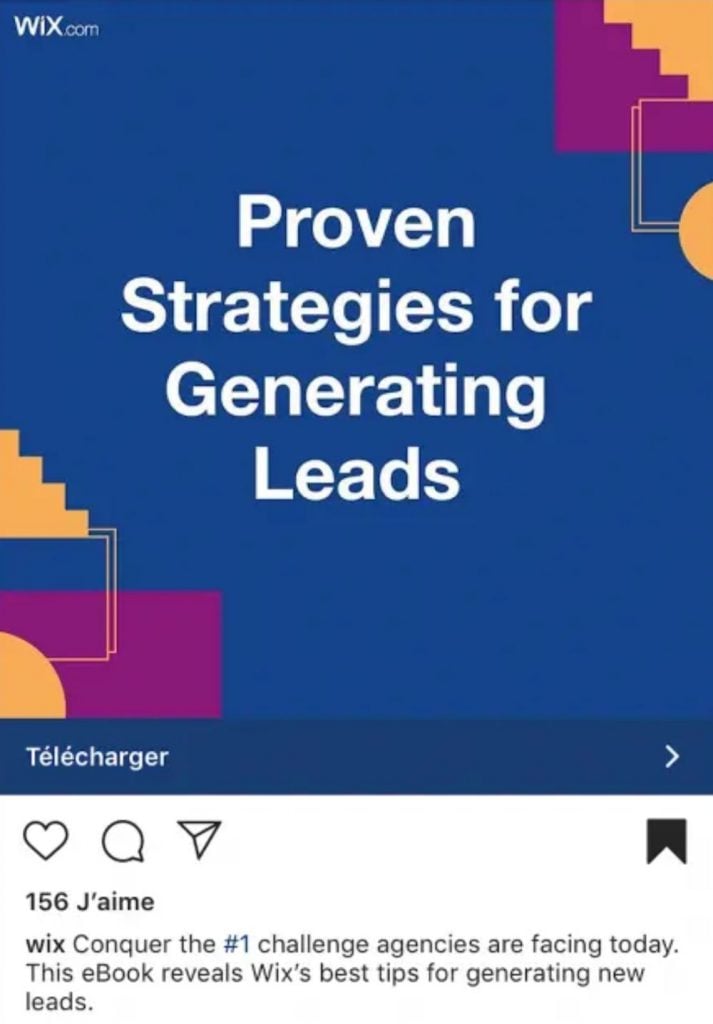 There's nothing visually complex about this Wix Instagram ad design. It's a simple display of boldness with captivating and contrasting colors and shapes. Wix creates a blue background with contrasting geometrical shapes that embrace the bold text. However, the ad goes beyond that. It centers on what agencies' pain points are.
Takeaway:
The best Instagram ads focus on resolving their audience's pain points. It distinguishes that agencies do struggle to get leads. But here's Wix offering proven strategies that improve lead generation for agencies.
22. Zaful
Zaful uses grids on this Instagram ad, which reveals a mosaic-like visual of their shirts. Although it's a couple of images showing different angles of the shirt, it still creates visual interest.
Takeaway:
Use grids if you want to showcase various products. Using grids also gives the proper distinction of every design element or product. Plus, you may even transform this into a carousel ad on Instagram.
23. Balance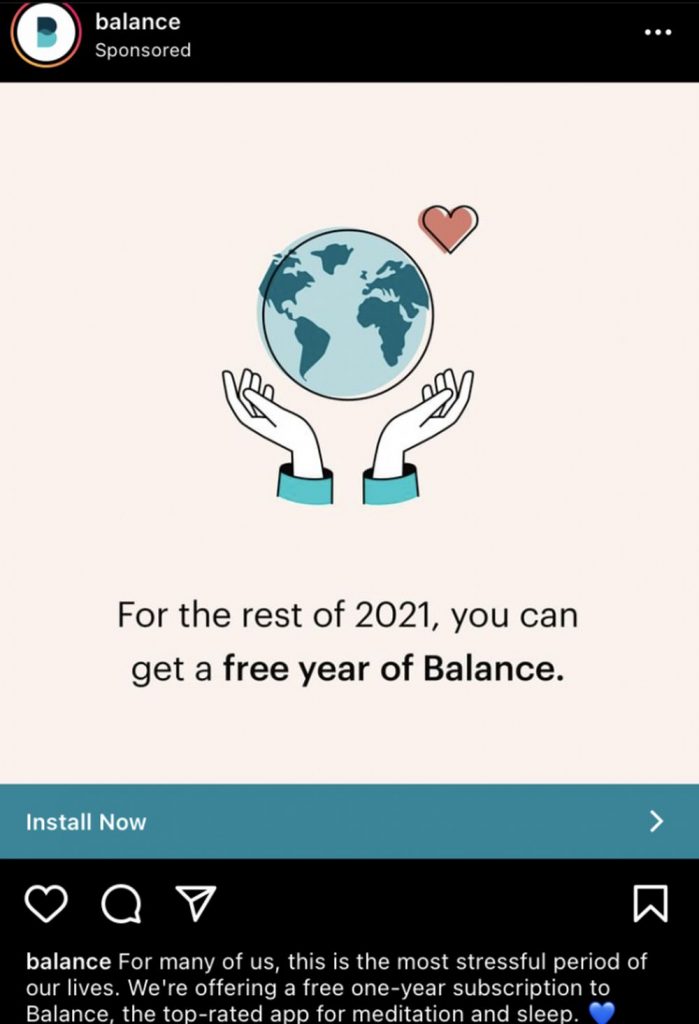 The beautiful and minimalist mix of illustrations and watercolor evokes a sense of calmness in users. The overall imagery of this Balance ad is apt for the brand's offer, which is a meditation app. Then the brand pairs the image with a text that emphasizes "free year of Balance."
Takeaway:
Think about your unique value proposition and how you can provide the best value to your users. This is a perfect example of providing value by offering freebies without being too pushy.
24. Heatherly Design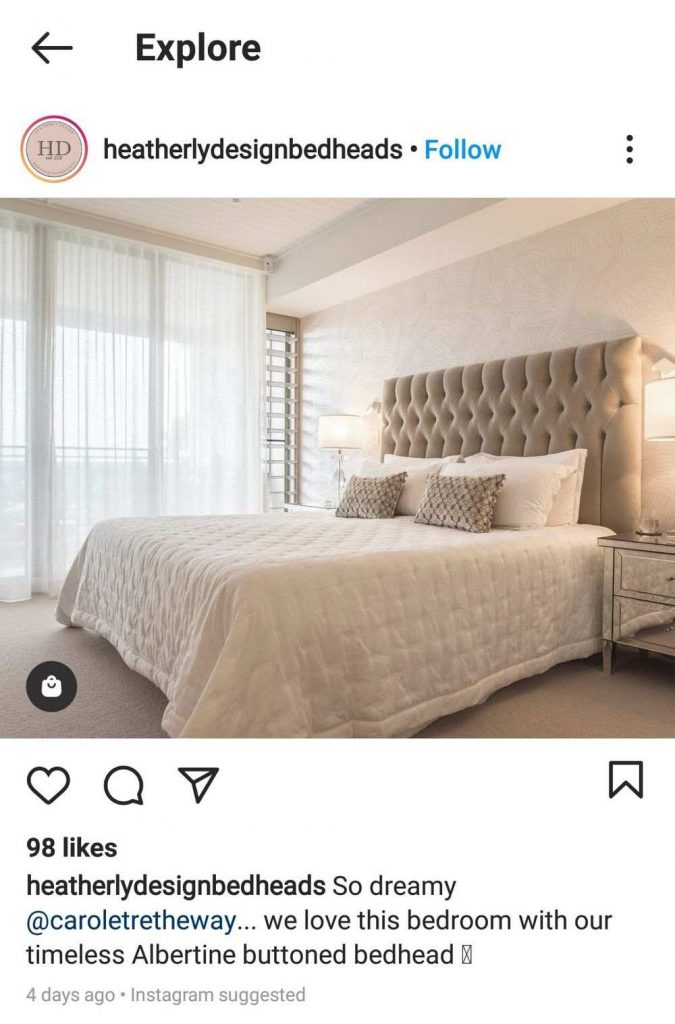 One look at that Heatherly Design bed, and you'll want to lay on it after a hard day's work and sleep like a baby. Once again, high-quality photos are the key to persuade people to check out your products more.
Takeaway:
This ad is a prime example of brands investing in good photography to put their products in the best light. If you want a spot in this best Instagram ads list, then don't skimp on hiring the experts for graphic design and photography.
25. Gregory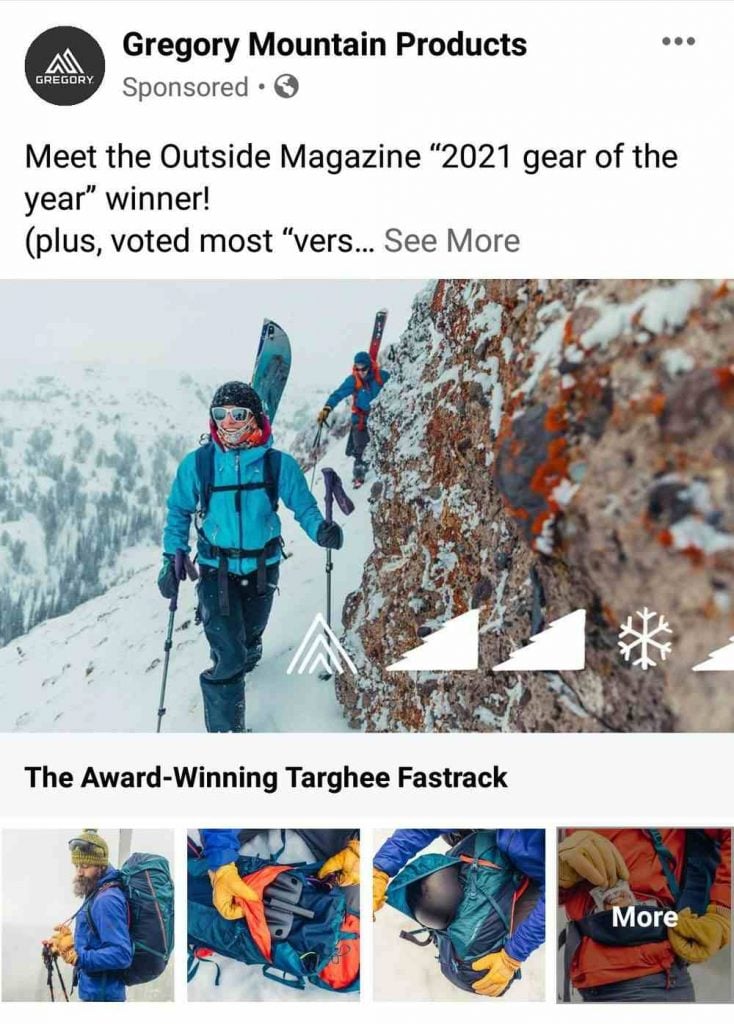 Gregory not only showcases the different uses and features of their products. However, they also integrated social proof right at the top. Viewers who instantly see the "2021 gear of year" will already find the brand credible.
Takeaway:
Gregory didn't shy away from visual communication. They showcased a technical product by including different angles of it in a carousel format. This is an excellent way to communicate your product's features and make users instantly think about the benefits they'll get.
Subscribe to Penji for the Best Instagram Ads
If you don't know where to start with your Instagram ads, hire experts like Penji. We're an on-demand graphic design company that provides unlimited graphic designs, illustrations, online ads, and more. These offers are all for a fixed, monthly rate. Penji also boasts a fast 24 to 48-hour turnaround, which keeps you on track with your marketing campaigns. Subscribe now for 15 percent off your first month.
[convertkit form=3285107]