Well-created video content on social media can instantly grab your target audience's attention. Your video ads can explain a lot about your company, offers, values, and brand identity engagingly. These social media videos educate your viewers, entice them with your products or services, and push them to take action. One well-executed video on social media could lead your brand to fame overnight through social sharing. Of course, it's not that easy. Planning is crucial if you want viral social media videos that increase brand recognition. If you want to know how to create video content for social media, follow these 10 simple steps.
1. Plan your strategy
As with any other marketing campaign, starting with a plan is best. Plan your social media video marketing strategy so you know what type of video content you need to publish. Depending on your marketing goals, your chosen video content must work towards helping you reach those goals.
Identify your goal: Goals could include brand awareness, more sign-ups, increased website visits, or product launching.
Determine the video type: Once you know your marketing goal, decide what kind of video content to publish. Some are BTS, product demos, Q&A, explainers, customer testimonials, and educational videos.
Select appropriate social media channels: Decide which highly potential social media channels you want your video published. Not all your audiences are lurking in some social networks, so ensure you choose platforms with high conversion probability.
Optimize for each channel: The most successful social media videos are optimized for maximum viewing. Once you've selected the social networks, optimize the videos according to the best file size, dimensions, format, etc.
Pro Tip: Choose the best video editor to work on your social media video projects.
2. Make the first 15 seconds count
With people's decreasing attention span, it's vital to hook your viewers during the first 15 seconds of your video. The goal is to make them watch the entire video until your call to action. If you're creating a video for product launching, explain the new product and its benefits. If you want to hook viewers and increase followers, tell them about your exciting brand story. Teasing them with a powerful question you can answer at the end of the video also helps them stay riveted.
Check out how Slack hooks the viewers during the first few seconds by enumerating the issues in working with teams. If you're a business owner, you'd want to listen to what Slack has to offer.
3. Create a simple video structure
Learning how to create video content for social media starts with structure. Group your video clips into three parts so it's easier to edit. Start with an intro, body, and ending. Consider an easy flow of your video so people are hooked from start to finish.
Pro Tip: Keep your video short and sweet. Long videos tend to bore viewers, so compress everything into a 60 or 90-second video if you publish on Instagram, Facebook, TikTok, Twitter, or LinkedIn. YouTube videos could be longer, but ensure the content is engaging from start to finish.
4. Build credibility
You must build trust and credibility when making your videos unless you're already an established brand. If you're promoting a new brand, people will see you as a company with a logo after their money. Put a face and voice behind that company and logo. Include people in your videos if appropriate. If you're sharing your brand story, showcase your team and narrate the story yourself. People will appreciate this kind of connection and will recognize you as a person instead of a money-making company.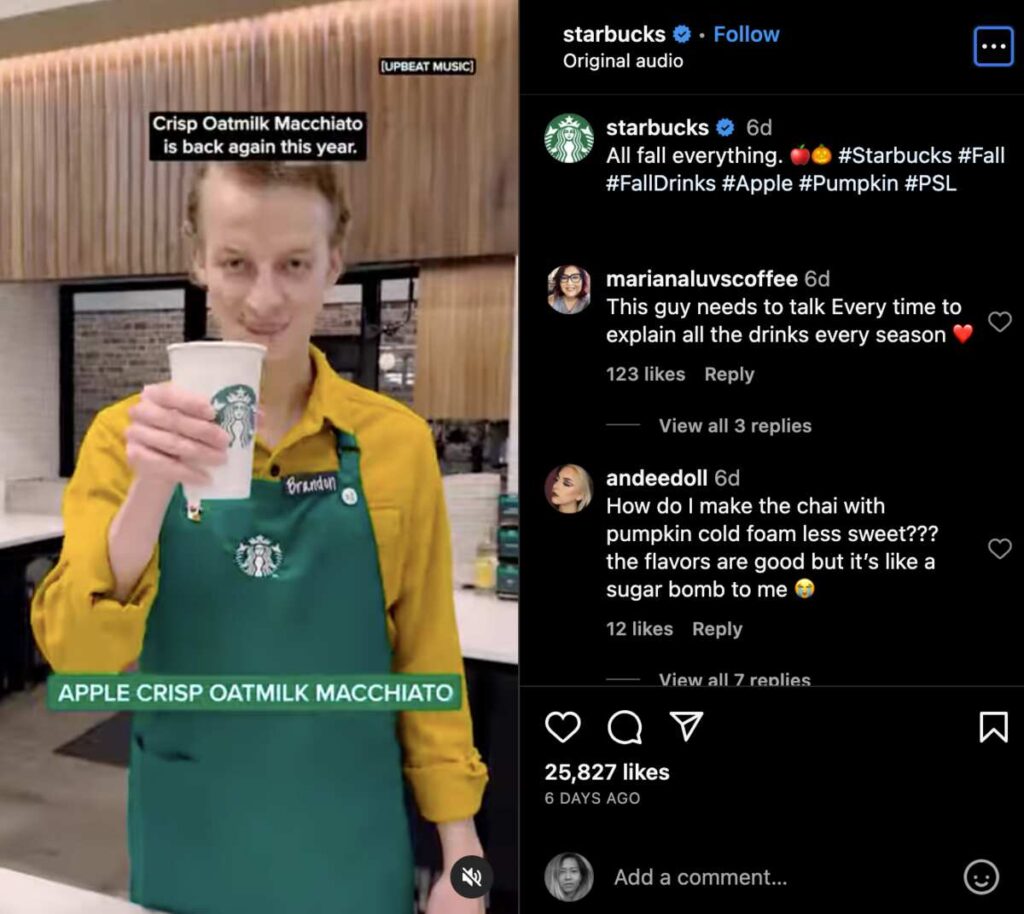 This Starbucks promotional video features a barista explaining their new drinks in the upcoming fall season in just 45 seconds.
5. Add subtitles
Most social media marketers ignore adding subtitles to their videos. However, subtitles are vital in creating video content for social media for these reasons:
When videos are viewed in public and noisy places and viewers don't have headphones or headsets on
Viewers have a hearing impairment and need subtitles to understand your content
To cater to different learners, especially those who don't have excellent listening skills
When your video has background music, subtitles could be good for those easily distracted.
When you cater to audiences worldwide with other native languages, adding English subtitles is valuable.
6. Create a script
Some advertisers neglect to make a script before filming the videos, thinking the outcome will suffice. However, making a script before filming helps you compress your content and choose appropriate clips. Having a script you can follow also lets you stick to a smooth video flow and transition. Moreover, a script will help you prevent rambling nonsense and allow you to get straight to the point.
If you're doing a tutorial, creating a script before filming is essential to ensure you don't miss a step. Here's an example of a YouTube channel that shows how to film and edit reels on your phone.
7. Use a high-quality microphone
Using a high-quality camera is a given when learning how to create social media videos. The next factor to consider is the video's audio. You need a high-quality, reliable microphone for your video, too. Regardless of how clear your video is, it won't make an impact if viewers can't hear the audio.
Pro Tip: Add music to your video if appropriate. Music sets the tone and mood of the video and grabs attention. However, check copyrighted materials to prevent issues down the down.
8. Focus on storytelling
Every video must have a moral story, gist, or simply storytelling. People naturally love listening to or watching beautiful stories of people or their passions. Ensure you're incorporating storytelling in every video to make your video unique and compelling. Identify what you want viewers to learn or dissect from the video.
For instance, if you're promoting a new product, showcase a person's struggles and how your product's benefits resolved her pain points. Always highlight the value of every video because it's what people will remember. Also, inject some humor into the videos if possible.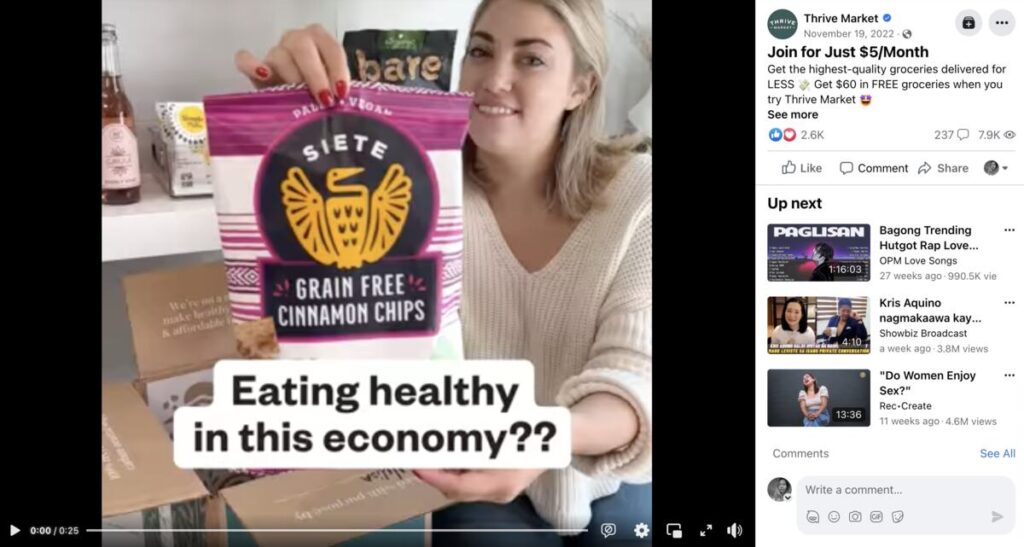 Check out how Thrive Market tells its story quickly while capturing viewers during the first three seconds through its caption.
9. Include a call to action
Learning how to create video content for social media boils down to your marketing goals. To tick those metrics, you need to tell people what to do. And videos do an excellent job of bringing leads further down the marketing sales funnel. That said, include a call to action at the end of the video to tell people where to go or what next step to take. CTAs don't have to be sales-focused all the time.
Here are some possible CTAs for different marketing goals:
Follow social media pages channel to increase followers
Visit the website to increase website traffic
Sign up to the newsletter for lead generation
Read more about the brand for brand awareness and recognition
Start a free trial to increase potential leads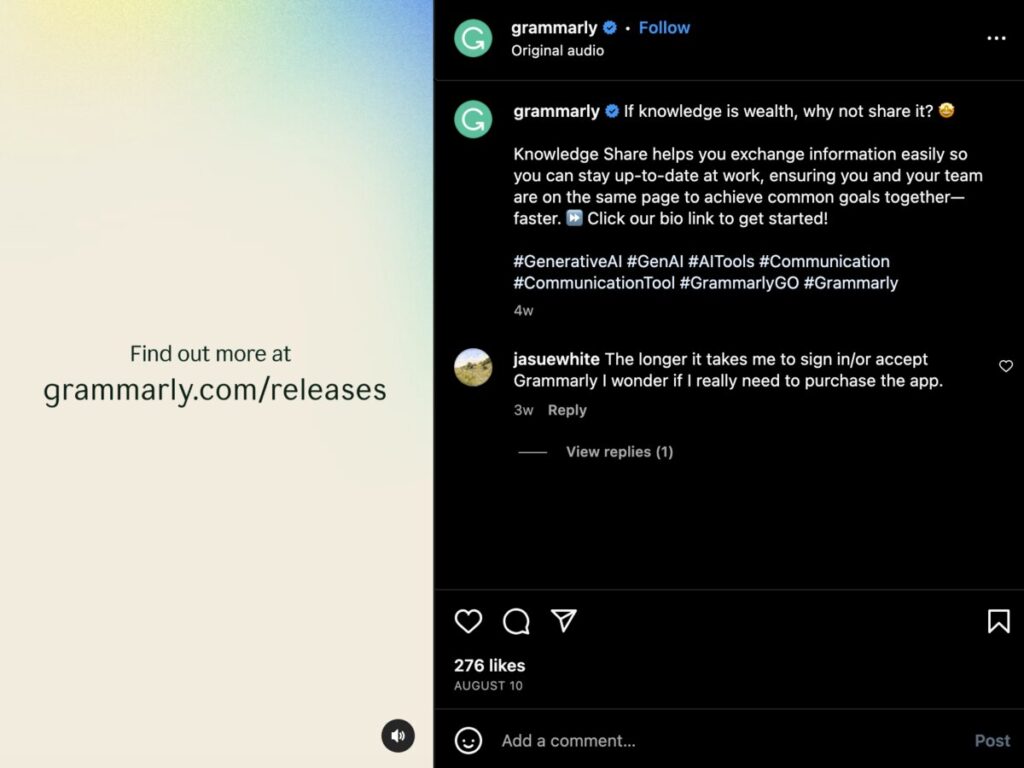 Here's a Grammarly video that promotes its new Knowledge Share feature. The call to action encourages people to find out more information about it and includes the link under the copy.
10. Make your videos mobile-friendly
Most people view social media videos on their mobile, not desktops. So, if you're not optimizing your video content for mobile, you'll lose many of your target audiences. Follow each social platform's video management rules and specifications to ensure seamless viewing and browsing.
Conclusion
Creating video content for social media takes time, effort, ideation, revisions, A/B testing, and creativity. Monitor your social media video performance, such as engagement, views, and shares. This way, you'll know which social media videos resonate with your target audience. By monitoring your video performance, you can craft more impactful videos that convert.