With the rise of illustrations and the need to earn more cash via side businesses, freelance artists have become a hot commodity for many entrepreneurs and businesses. Unique illustrations and compelling designs can help a business or entrepreneur stand out from the crowd. And if you're in the hunt for the best freelance artists, you've come to the right place and read more below where to hire them.
Best 11 Websites to Find Freelance Artists
1. Upwork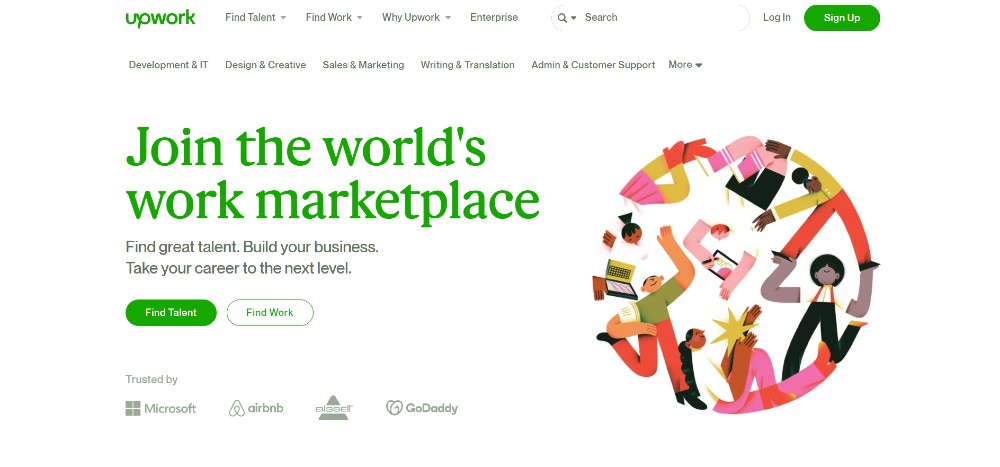 Upwork is one of the premier sites to find and hire freelance artists. This site helps you view artists of different disciplines and experience levels. Plus, you can see job success rates and their portfolio to help you decide when hiring a freelance artist.
Pros:
Varied selection of freelance artists to hire
Freelancer fees are much more affordable
Cons:
Upwork doesn't vet all freelancers
Scams may be present
2. Fiverr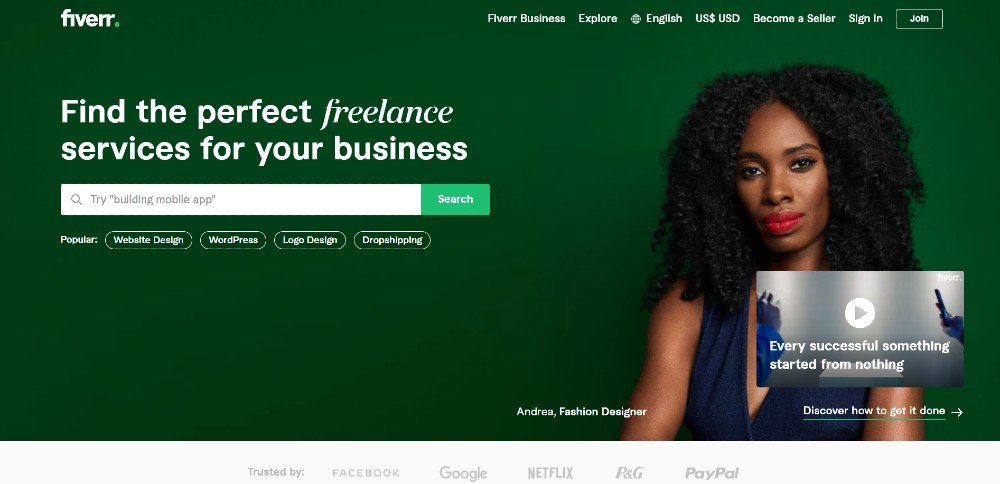 Upwork's main competitor, Fiverr, is one to consider when looking for freelance artists. You can hire artists that do different art styles such as pop art, 3D, line art, and cryptoart. Before you hire a freelancer here, you can choose among different plans that the seller has offered, or you can contact them first to connect with them.
Pros:
You can hire a freelance artist starting at $5/hr
You can find vetted freelance artists thanks to Fiverr Pro
Cons:
Questionable legitimacy of gig listing on the site
Quality of art is not guaranteed when paying a low price
3. Minty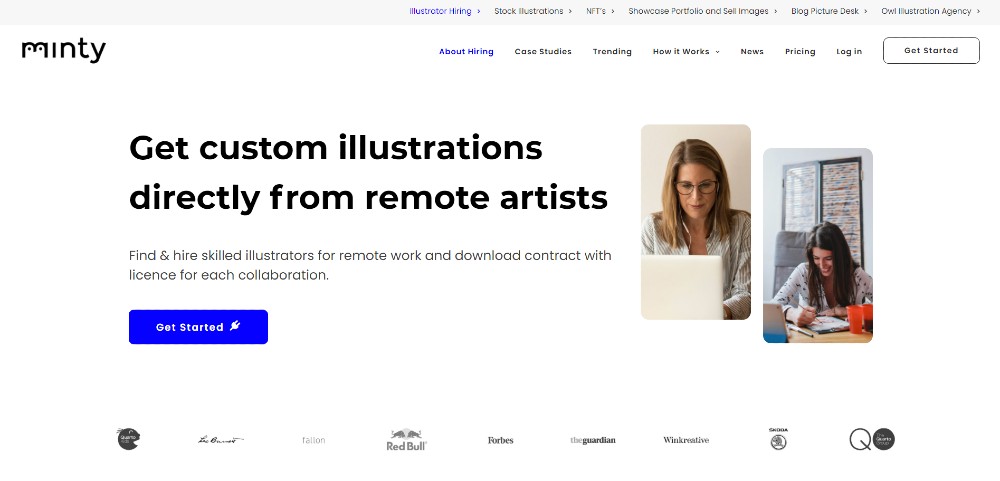 Minty is one of the few freelance sites that focus on listing illustrators. You can submit a "smart brief" to connect you with the best artists for the job on this site. Or you can post a job listing or connect with the freelancer before pushing through the hiring process.
Pros:
You can buy illustrations on the site
When hiring on the site, there's a built-in platform for payment, compliance, and project management
Cons:
Freelancer fees not shown before creating a brief
You need to pay a subscription to send unlimited briefs to different artists
4. Dribbble
Dribbble is a website for artists and designers to show off their portfolios. However, the site has branched out to help designers find work and businesses connect with freelance artists or designers for their projects.
Pros:
Three options to hire freelance artists: find portfolios, post a job listing, or create a project for free
Some profiles on Dribbble will have the contact details, and you don't need to sign up to talk to freelance artists
Cons:
Subscription is needed to use Designer Search Access and post on the job board
May need to pay extra if you're hiring multiple positions
5. Behance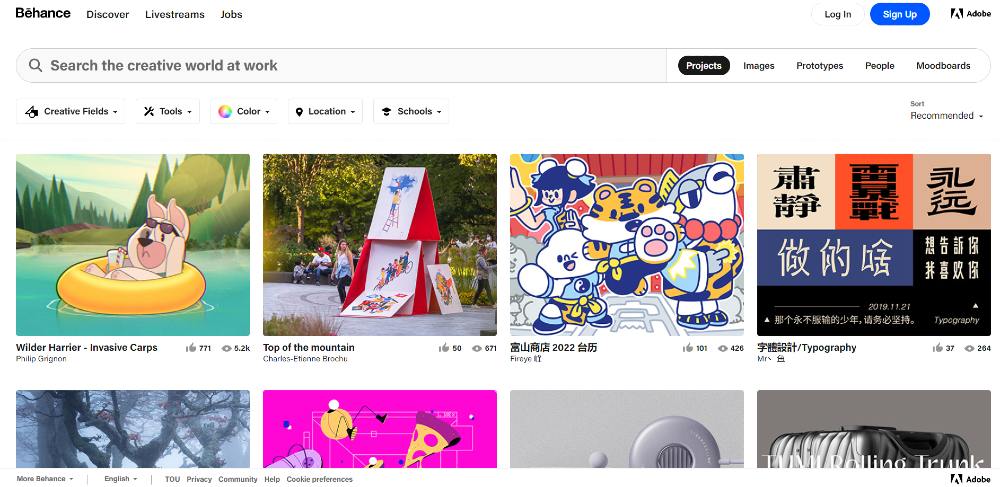 One alternative to using Dribbble is Behance. Here, you could browse freelance artists with the software they use and fields they specialize in. Or you can post a job listing, which will attract more people to apply to your company.
Pros:
Millions of creatives on the site you can hire or can apply to your job listing
The tool helps businesses to create a shortlist of candidates, which can hasten the hiring process
Cons:
Behance portfolio is the sole document/profile that recruiters can only view on the site when hiring designers or artists
Their recruiting tool is free for a limited time, but job postings have a fee
6. Penji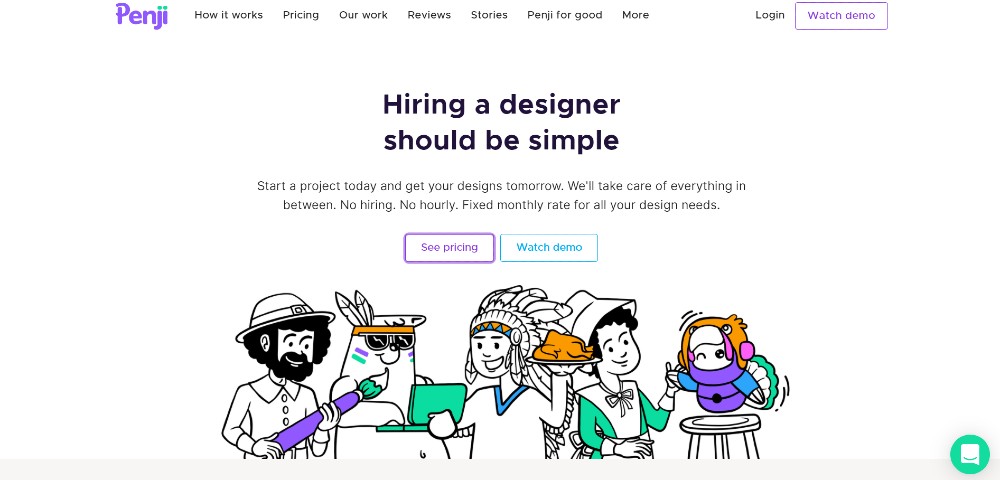 Even if Penji isn't a freelance site, it's an unlimited graphic design service where you can find freelance artists for your business or design projects. You can work with a freelance artist by subscribing to one of Penji's plans and submitting your first request.
Pros:
Ownership of files is 100% yours once the project is complete
Request for a change of artist if you want a different art style
Cons:
Meant for those with a high volume of projects
Communication with the freelance artist is limited to the Penji platform
7. Working Not Working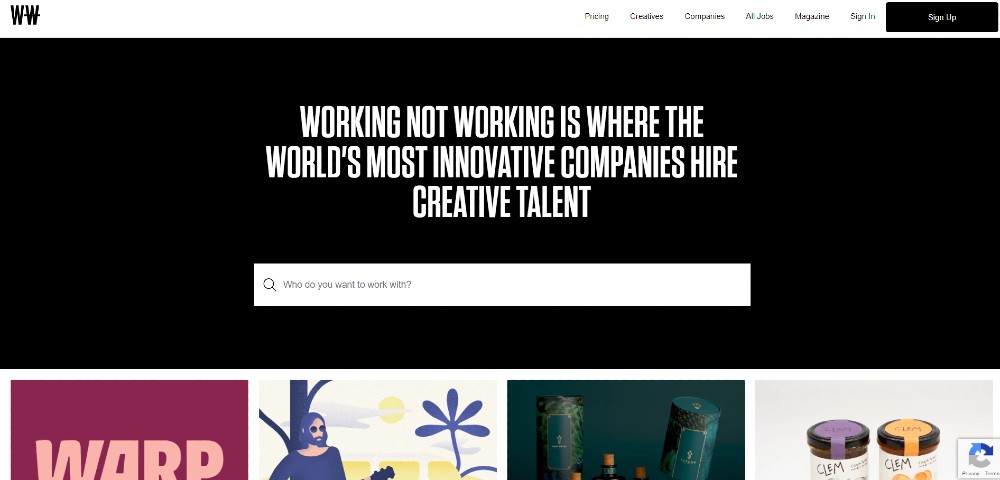 Working Not Working is a community that wants to open opportunities to creatives to connect with innovative companies. Unlike most job boards or freelance sites, Working Not Working works on an invite-only membership community.
Pros:
Some creatives will have a vetted or verified status to ensure you're working with pros and experts
Job listings don't expire, but the site will notify you if the position needs occupancy or post a different job listing
Cons:
You can only hire freelance artists in major US cities and selected European countries, and Canada
There are fees for a job posting and only a 72-hour money-back guarantee on your subscription
8. If You Could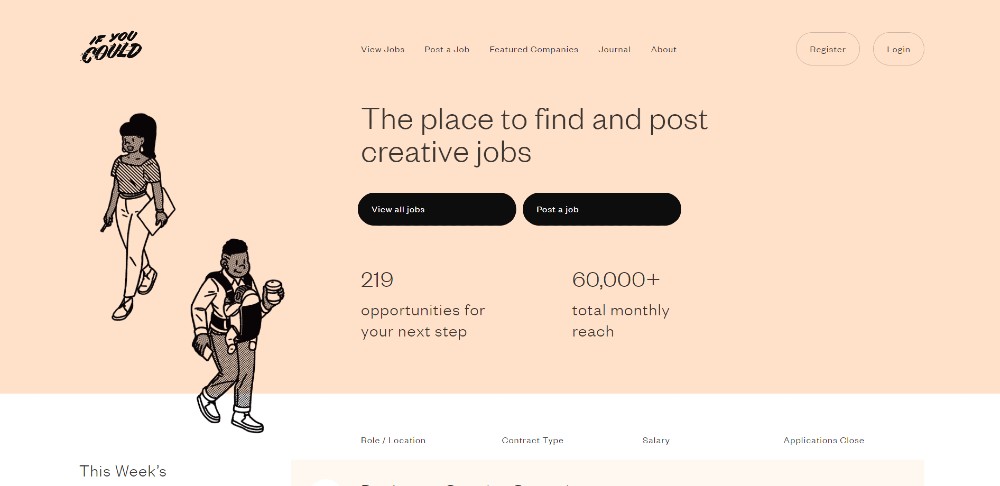 If You Could is a UK-based job board site created by creatives for fellow creatives. They ensure that creatives will get minimum wage. While the jobs are limited in London, other cities in the UK, and several cities in Europe, it's still one to consider if you want to hire qualified artists for your team.
Pros:
Internship job listings are allowed, provided interns will be paid the minimum wage
It's Nice That is If You Could's sister company, and creatives browsing that can find work opportunities on the job board
Cons:
Posting a job listing and becoming a featured company requires payment
No preview of artist work, unlike other freelance sites
9. 99designs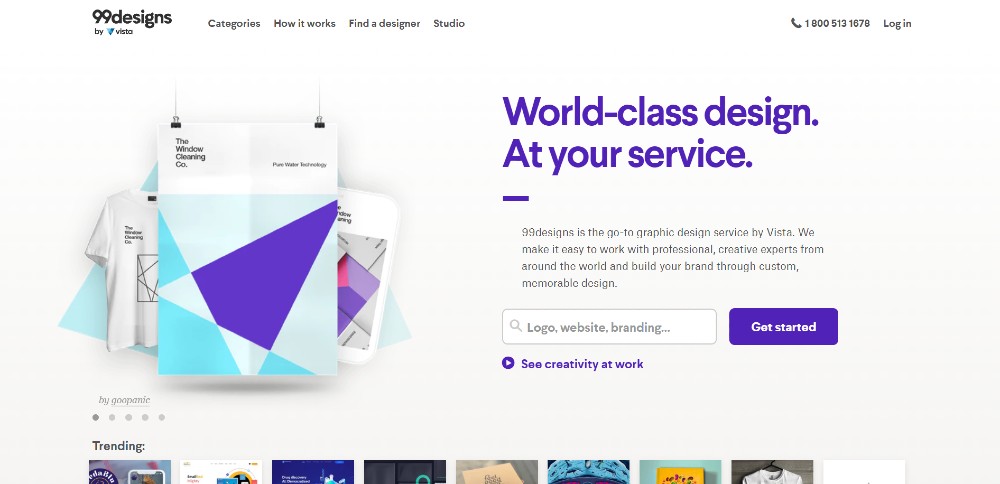 99designs is unlike most freelance sites on this list. For one, you can hold a design contest to get the artwork you need. From $349, you can start a design contest where you can get up to 30 design concepts for your request. The other option to hire a freelance artist is to look through the marketplace and find one that will provide the artwork you envisioned.
Pros:
100% Money-back guarantee if you're not satisfied with submitted designs
You can get a variety of art styles using the design contest option
Cons:
Cannot guarantee high design quality on a low tier
Communication issues encountered by some users
10. Creativepool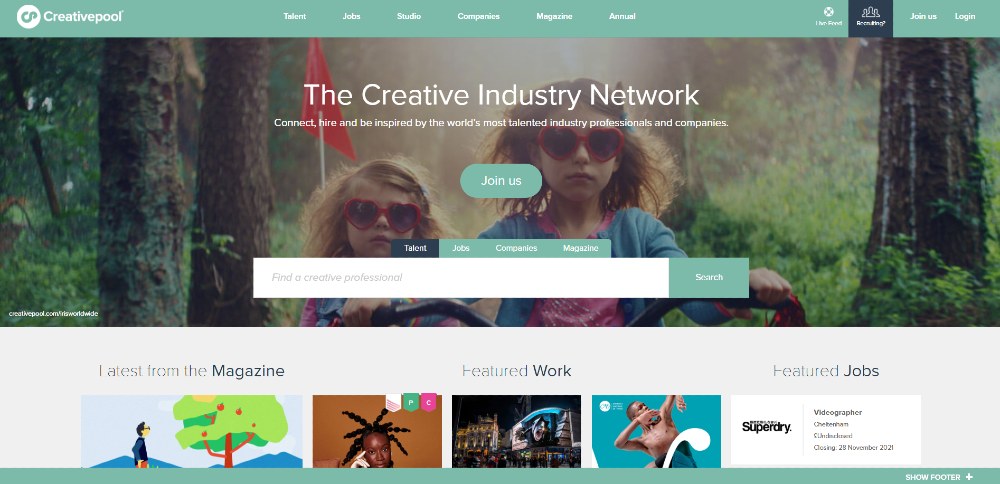 Creativepool is another community for businesses to post their job listings and find freelance artists to collaborate for their custom illustrations or artwork. Over 317,000 freelancers are in this community, looking for jobs or posting their portfolios.
Pros:
Aside from getting their job post advertised, a business could also have social media placements for the job post, and some could be included in the weekly newsletter
Free option available for businesses to get listed on the site and to connect with freelancers
Cons:
If you need to hire more than 3 or 5 freelance artists or designers for your business, you might have to pay a hefty fee to get premium and featured listings
You need to purchase their Talent Pass to view the full portfolio and resume
11. Coroflot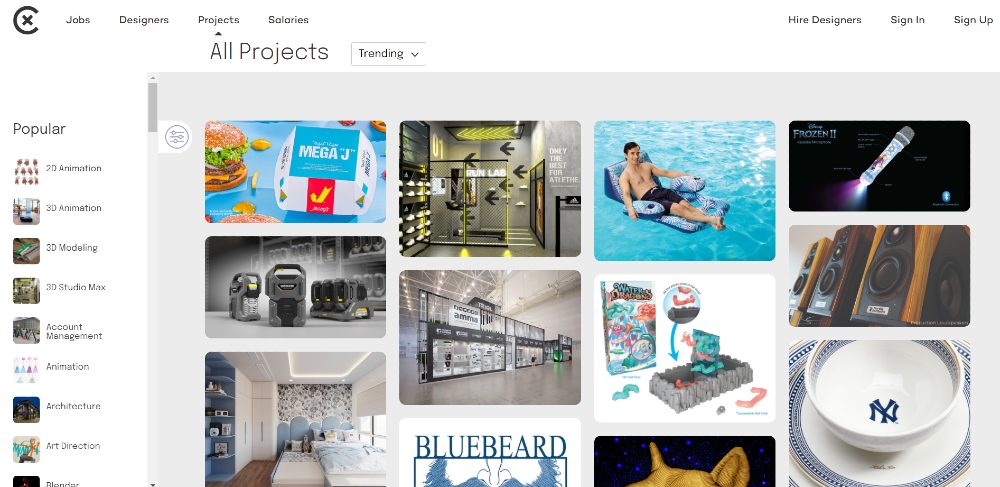 Coroflot is another to consider when hiring freelance artists. Here, you can connect with freelancers by sending them a message directly or posting a job listing. But if you're unsure what type of art you want to have done, you can browse the Projects section for inspiration.
Plus, if you're not sure how much you should pay a freelancer or full-time or part-time worker, the site has a salary guide you can check out.
Pros:
You can contact a freelance artist for free
The site ensures only qualified freelance artists and designers would take up space and get hired
Cons:
Job posting is expensive
Designer search is also paid
Working with Penji Artists
As enticing as it is to find freelance artists on these sites, Penji is the budget-friendly solution to hire freelance artists. The artists can produce illustrations, comic artwork, and characters, and mascots. You can use them on merchandise, posters, and so much more!
With Penji, you don't have to worry about paying high fees to post listings! Your next step now is to subscribe to the Team or Agency plan to request artwork or illustrations. Choose the plan here to get started!