Whether you need logos, websites, or illustrations, vectors can be an awesome useful design asset for almost any kind of project. However, finding the perfect vector design for can take a lot of work – and the choices can be even fewer if you have a limited budget.
But fret not! There are plenty of resources online to get free vector designs to help take your project to the next level. Here are some of the most popular vector resources without the hefty fees.
1. VectorStock
The first on our list of platforms to get free vector designs: VectorStock. This platform offers a superb range of vectors for free. In fact, you'll probably find what you're looking for if you have the patience to browse their more than 900,000 vector files. Aside from free vectors, they also offer premium files. You can get $1 pre-paid credits per image, their most popular package.
Here are samples of vectors you'll find in VectorStock: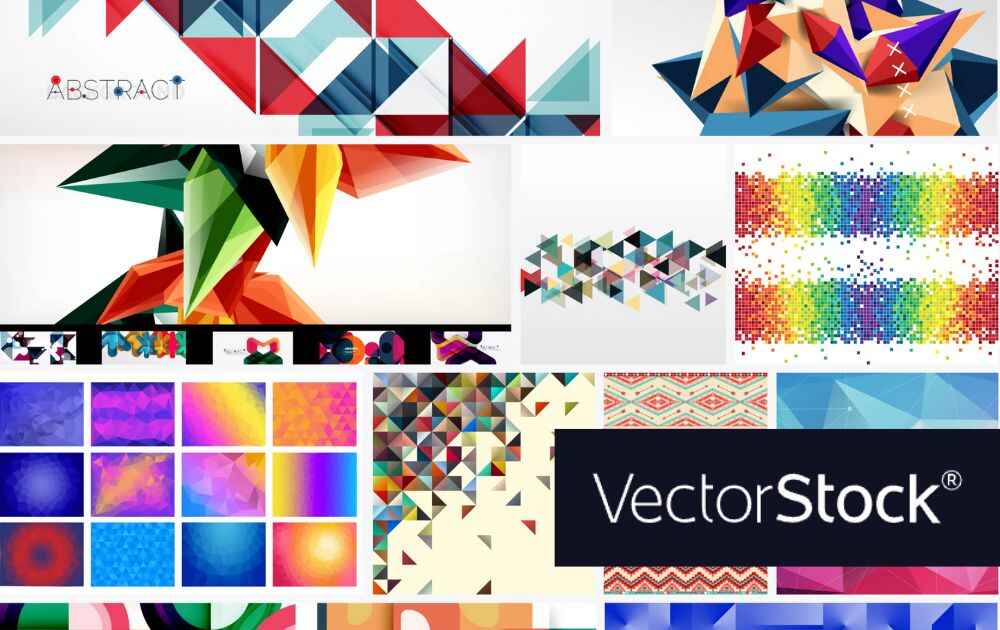 2. All-free-download
All-free-download is another platform that offers a vast range of free vectors. Their graphics include logo designs, digital calligraphy posters, clipart, and more. Aside from vectors, they also offer fonts, photos, and other downloadable assets.
If you're curious about the vectors available in All-free-download, here are a few: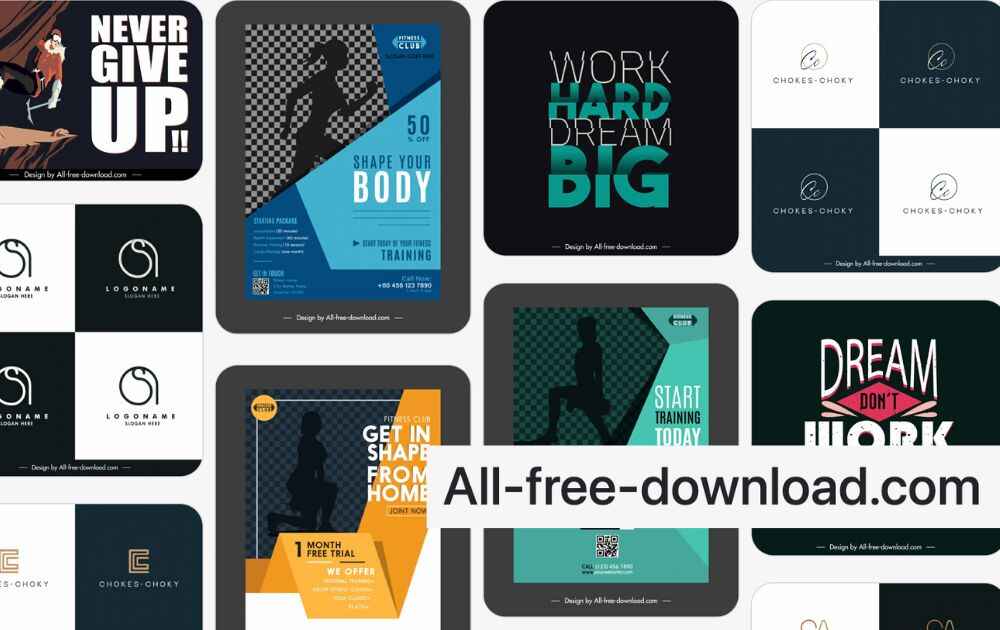 3. Vecteezy
Next on our list of the best free vector graphics software options is Vecteezy. This platform provides excellent visual assets grouped according to category. Alongside vectors, they also offer free videos and photos.
Here are samples of vectors you'll find in Vecteezy: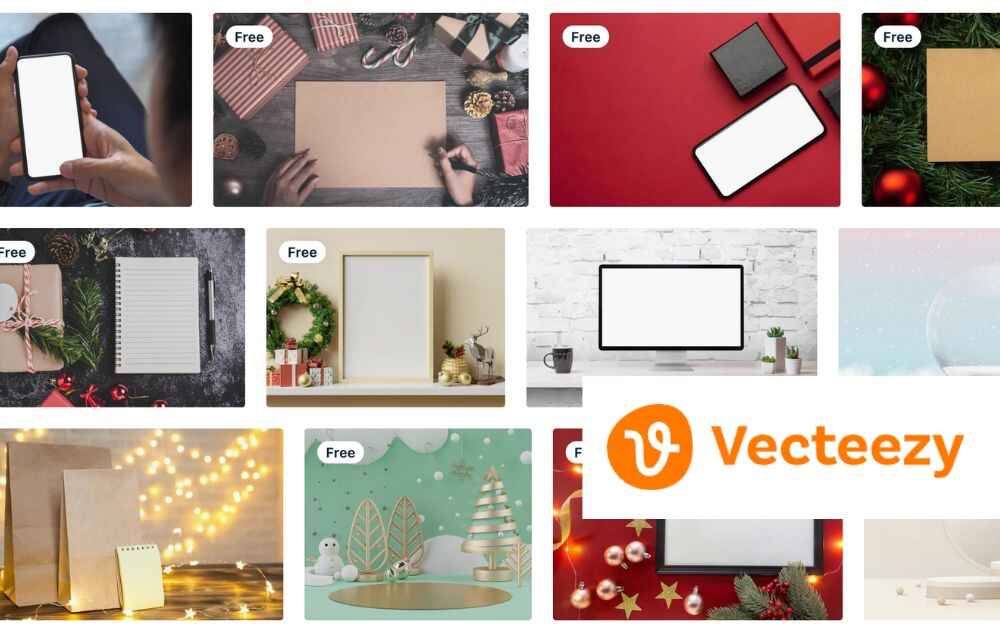 4. Pixabay
Many users know Pixabay as a resource of stock images, but they also offer a good range of free vector designs. If you don't have the time and patience to learn how to use an online vector editor, you can check out the options available on this platform.
Here are a few of the vectors you'll see on Pixabay: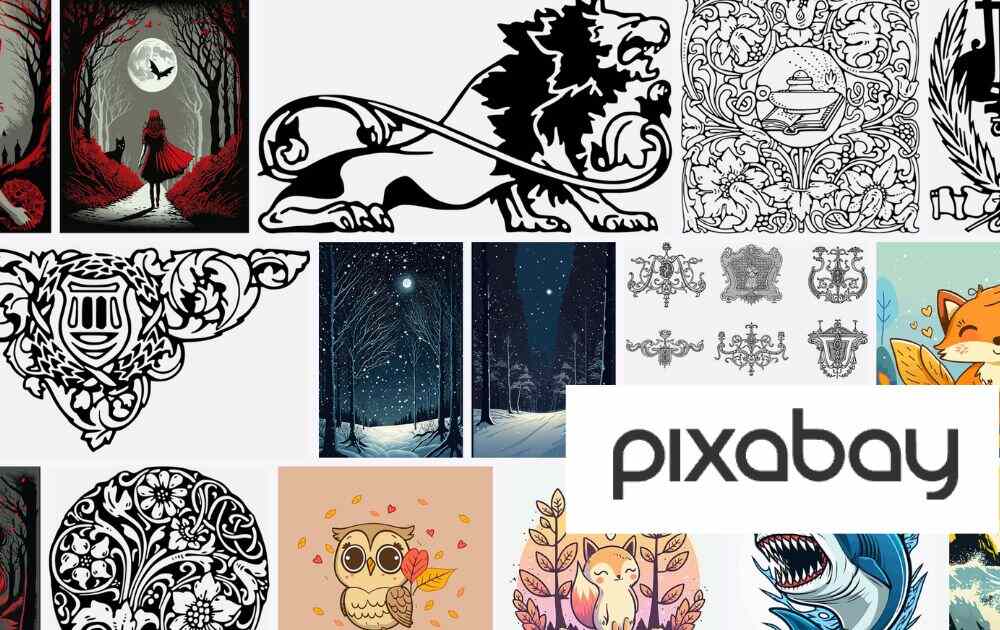 5. Freedesignfile
If you're looking for the best free vector sites with no attribution needed, you may want to check out the vectors at Freedesignfile. They offer massive designs for personal and commercial use, so you can find vectors that you can use without attribution.
Here are samples of vectors you'll find in Freedesignfile:
6. Free Vector
Free Vector is another great option if you're looking for free vector designs. Whether you need simple background designs, digital illustrations, and even business card templates, you can find them here.
Here are a few of the vectors you'll see in Free Vector: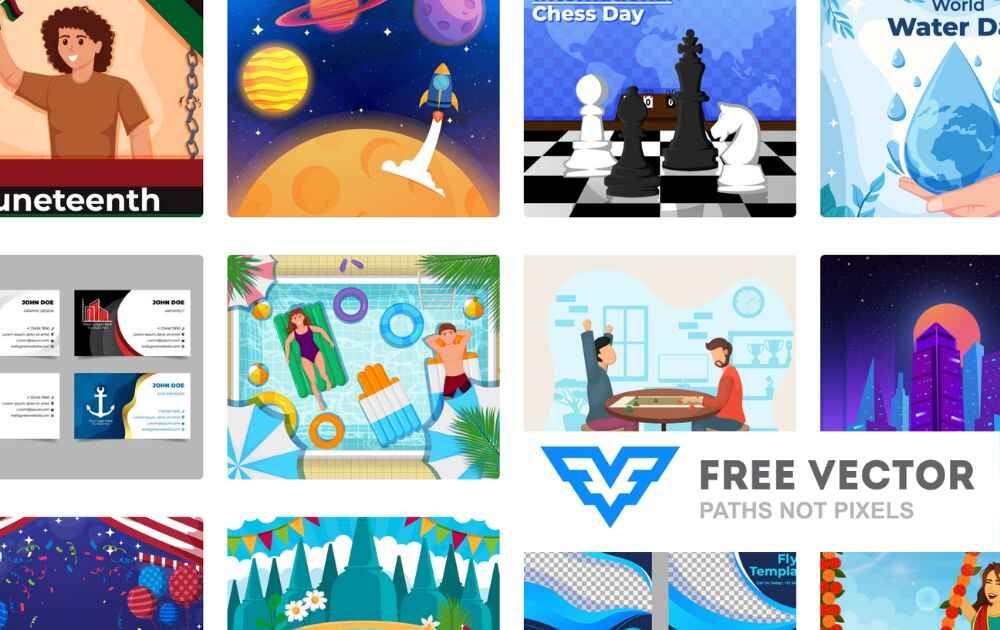 7. Freepik
Another platform where you can get free vectors is Freepik. It offers a wide range of vectors, icons, photos, and even PSD files, making it a helpful resource for amateur and pro designers alike.
Here are samples of vectors you'll find in Freepik: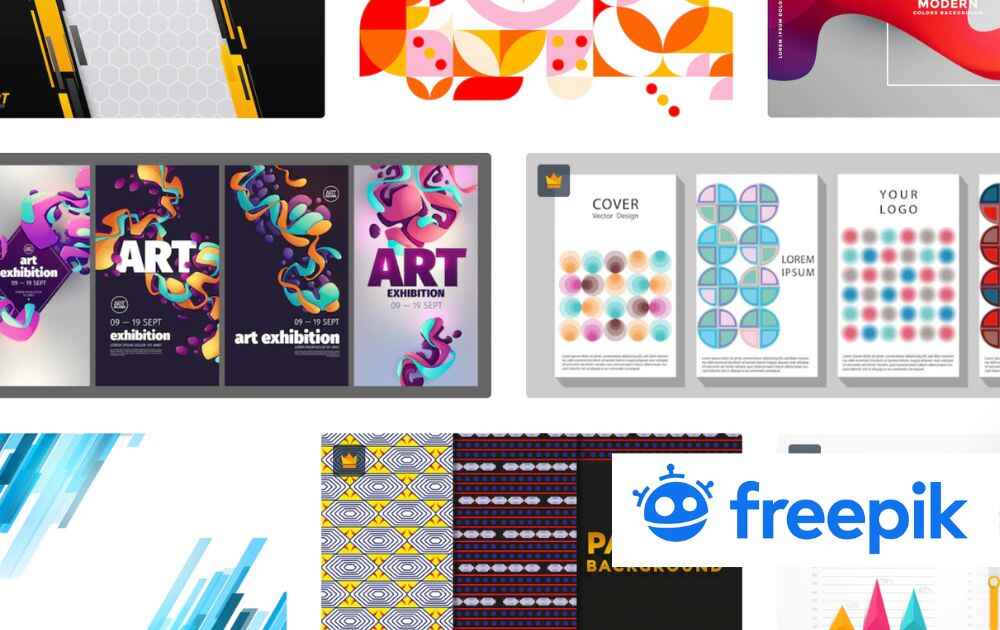 8. Vector4Free
Vector4Free offers a good collection of royalty-free vector graphics and clipart. Whether you're looking for logos, background, abstract graphic design, or any other visual asset in between, there's a big chance that you can find it here.
If you're curious about the vectors available in Vector4Free: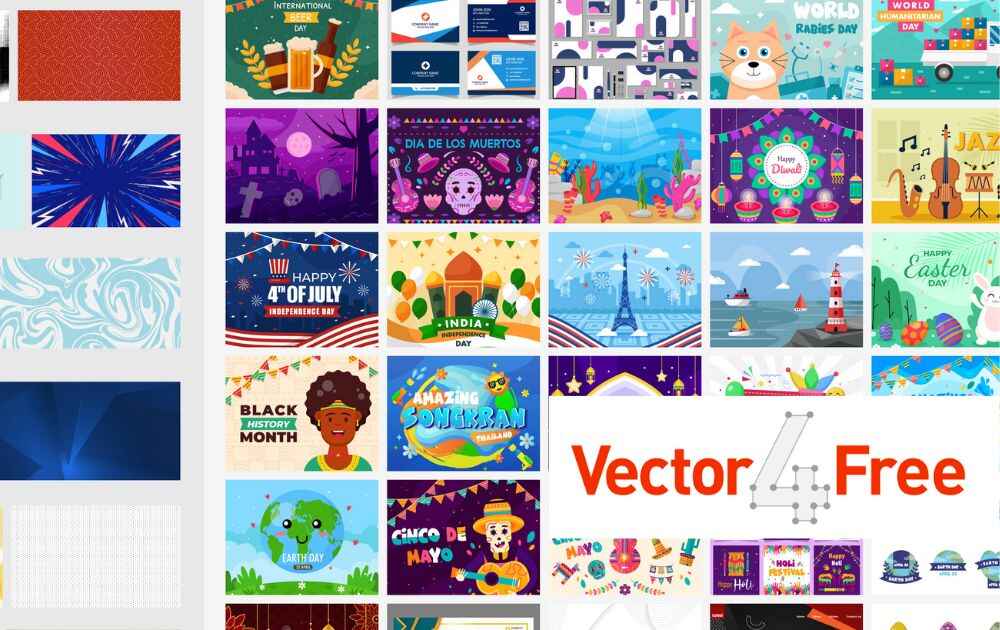 9. 123FreeVectors
Lastly, our featured resource offering free vector designs is 123FreeVectors. They may not claim to be the best vector sites free of charge, but they say they're the largest ones online. Aside from their free images, they also offer premium vector packs, image packs, and more. Their lowest price is $29 for seven days of unlimited download.
Here are samples of free vectors you'll find in 123FreeVectors: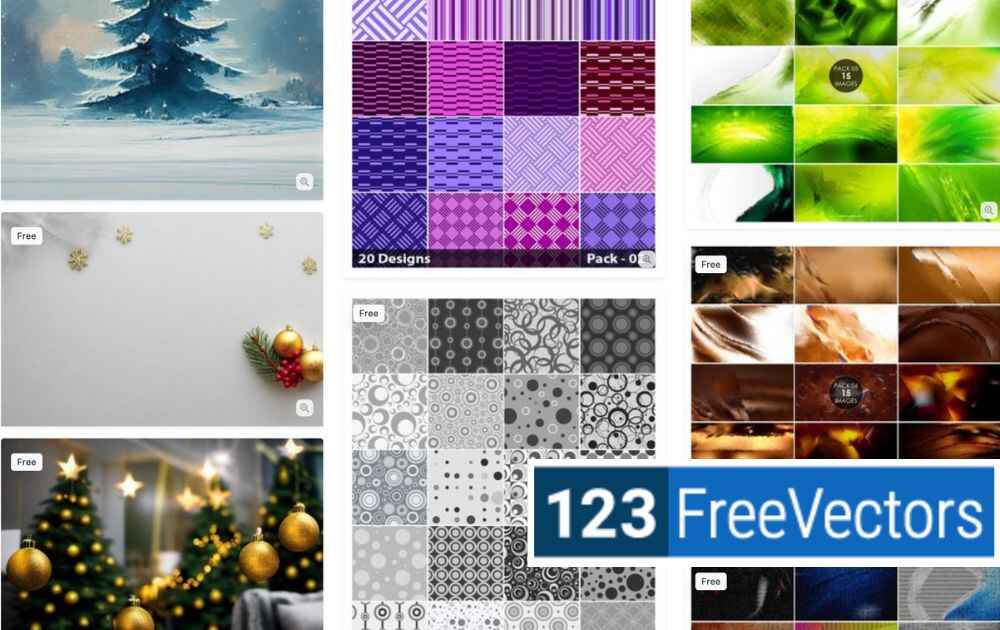 The Pros and Cons of Free Vector Designs
Like any other design element, free vector designs from online resources have pros and cons.
Pros
They're free. If you're looking for free vector designs, then you're probably trying to cut down on your design budget. And that's totally fine! Many businesses are trying to save money wherever they can, especially considering the current economic climate.
Range of available designs. The resources above are just nine of the numerous vector sources available online. These platforms offer various collections to users, thus providing a wide range of vector drawings.
Cons
Low quality. If you use free designs and don't put any thought or consideration into them, they can easily harm the overall design quality of your project.
Potential legal issues. One of the biggest disadvantages of using free vector designs online is that you don't know who made them or where they came from. If they're open-source vector designs, you might be allowed to use them on your own projects. However, there are vectors that can't be legally used for commercial projects.
Generic designs. Because free vector designs cater to a wide range of users, the collections are generic. This can be both good and bad. It's good because it can accommodate a lot of uses – be it a charity run or a garage sale. On the other hand, it can be bad for brand-specific projects as it can water down your visual identity.
The Lowdown
Instead, you can opt for custom vector designs made by professional vector designers just like our excellent artists here at Penji. You'll be able to monitor how the designer works and what goes into their designs, which means that you know that your design is 100% original.
Plus, with custom designs, you can request changes if you aren't happy with the design or would like to make any adjustments. This isn't possible with free designs!
And here's the best part – we offer unlimited designs at a flat monthly rate, so you'll get awesome value for your money. Sign up now and get a 30-day money-back guarantee on your designs.