Most e-commerce solutions or platforms provide users with basic features like analytics, payment and shipment management, and inventory. But if you're an enterprise e-commerce owner and need more features to manage your site or stores, here are our top picks for the best enterprise e-commerce platforms!
1. Adobe Commerce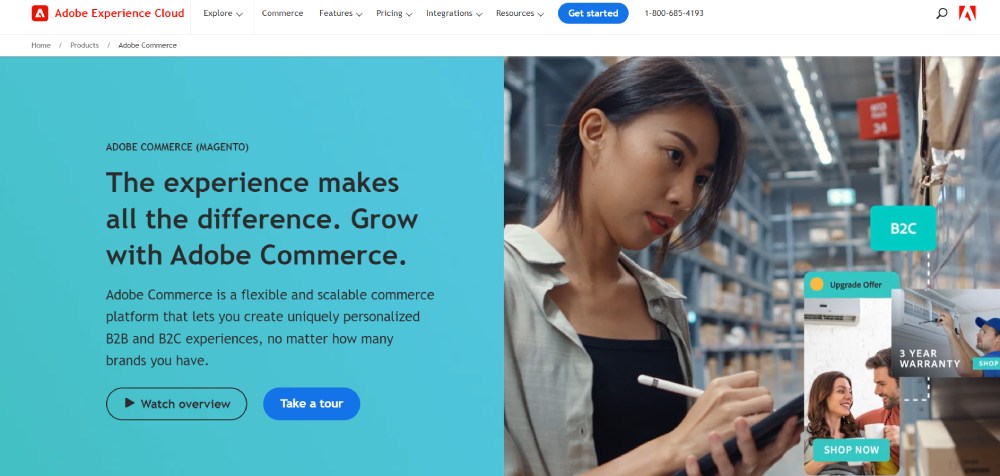 One of the top e-commerce platforms for enterprises is Adobe Commerce. Formerly, Magento, Adobe Commerce helps your enterprise grow more than ever with the following features:
Use their state-of-the-art artificial intelligence (AI)-powered tools to post relevant content and raise your team's productivity levels
Manage one brand or more with the Adobe Commerce Cloud and see how well your brands are performing
Deploy various storefronts, localize, and personalize checkout
Develop apps and integrate APIs or third-party services
Deliver better customer experience
Pricing: Contact Sales
2. Shopify Plus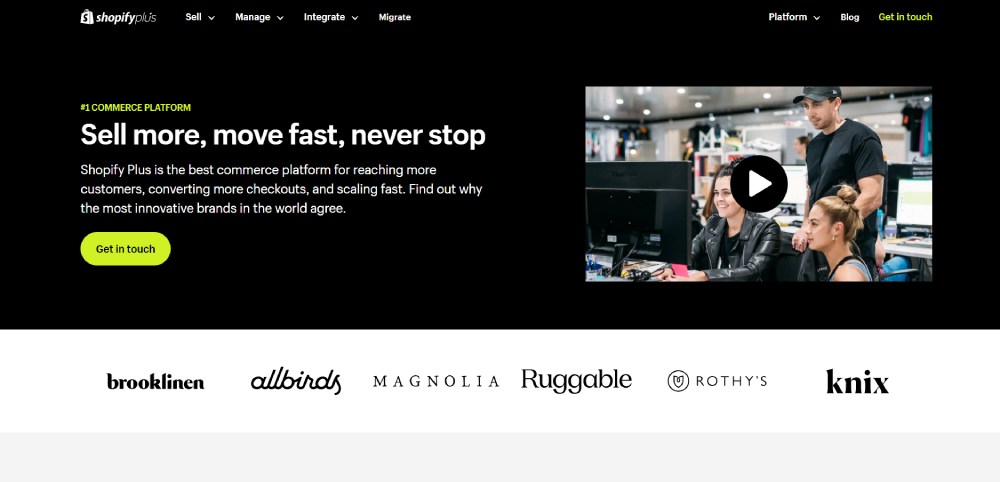 You can't go wrong with Shopify, considering it's a leading e-commerce platform. But for enterprises, Shopify Plus brings more to the table. Here's what you're in for when you subscribe to their enterprise-dedicated solution:
Sell in one centralized platform
Get powerful customer insights to learn how to deliver quality experiences
Use data to get more results
Retain customers using loyalty programs
Launch easily and customize your store in a few clicks
Ship and iterate
Automate workflows
Pricing: Contact Sales
3. BigCommerce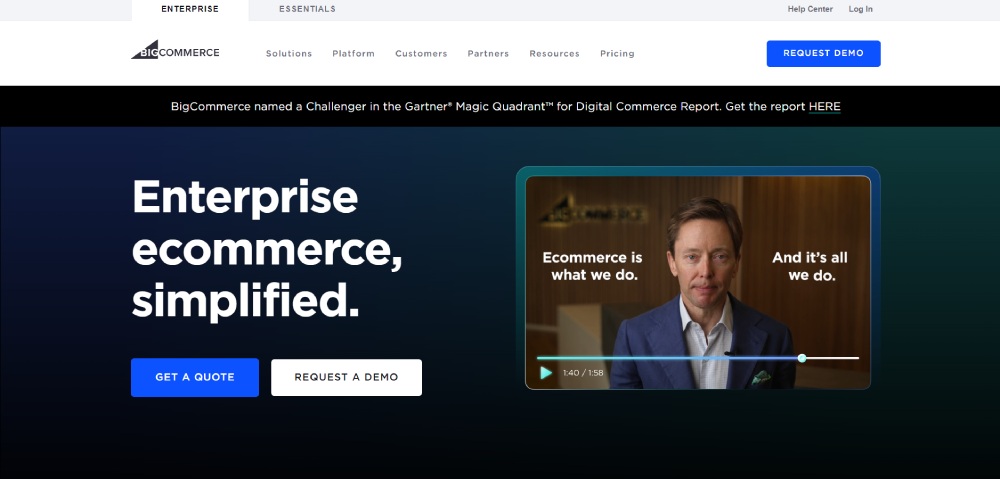 Another e-commerce platform to consider is BigCommerce. It's enterprise-focused, allowing you to increase your sales and deliver quality service. Here's how BigCommerce differs from the competition:
Develop sites faster with no-code, low-code, or headless options
Leverage Feedonomics, helping your brand to get discovered via search, social, ads, affiliates, and marketplaces
Integrate over 130+ payment providers, customize checkouts, and provide multi-currency options
Add multiple brands and integrate various brand types like BOPIS, CAAS, B2B, or B2C
Experience low-cost, high-performance, and secure management
Pricing: Request Pricing
4. WooCommerce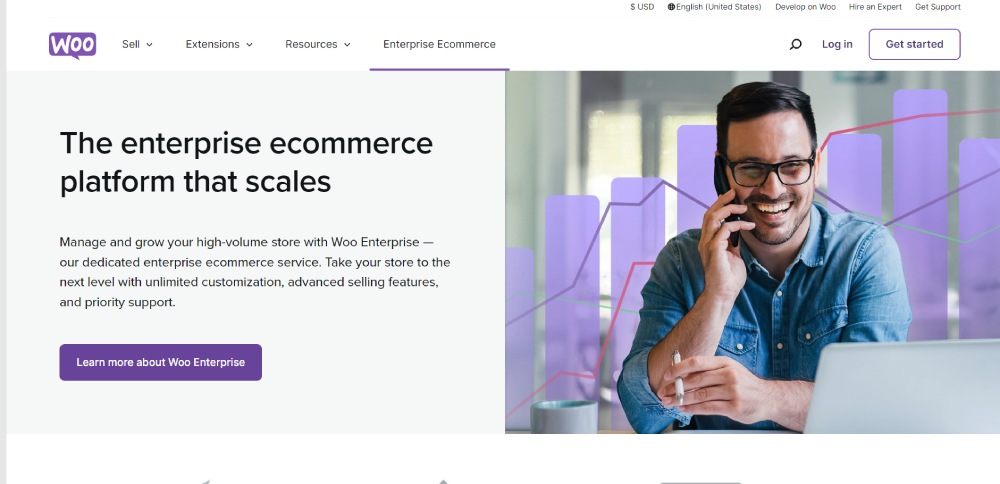 Like Shopify, WooCommerce has its dedicated enterprise e-commerce platform. One advantage of using WooCommerce is its open-source feature. Know what WooCommerce brings to the table and how it would benefit your e-commerce store:
Get full ownership of your e-commerce store and data
Scale your store securely and efficiently
Customize your store without worries
Get discounts and priority support, plus work with your customer success manager
Pricing: Contact Sales
5. Salesforce Commerce Cloud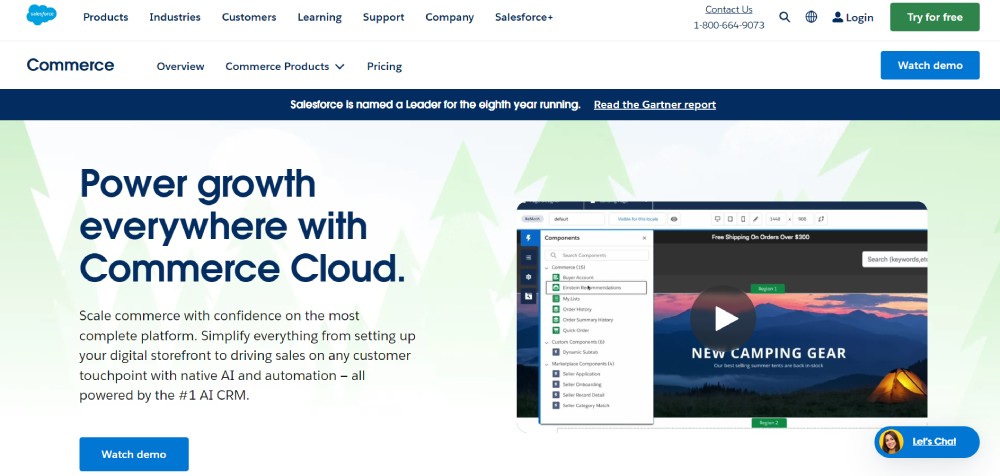 Even the well-known sales platform, Salesforce, has an e-commerce solution. It boasts a 99.99% uptime and helps businesses increase revenue by up to 29%, making it one of the most attractive enterprise e-commerce platforms on this list. But what else can it do?
Leverage their AI-powered tools to select your digital storefront, automate workflows, and acquire data about every aspect of your business
Know how to retain customers and personalize their experience
Integrate various sales and marketing apps
Manage orders without the hassle
Pricing: Request Pricing
6. SAP Ecommerce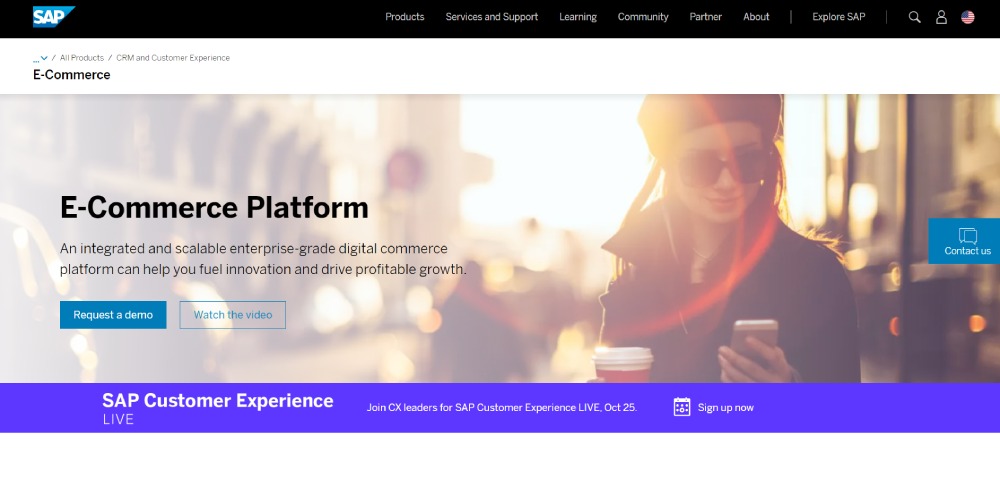 Since SAP is one of the premier enterprise resource platforms, it's no surprise that it can help enterprise e-commerce users with their business needs. Here are the features of using SAP Ecommerce to run your businesses or brands:
Access data to increase sales and profits and retain customers
Use AI-powered tools to personalize the customer journey and provide them with recommendations
Manage content and supply chain processes
Pricing: Request a demo
7. Oracle Commerce Cloud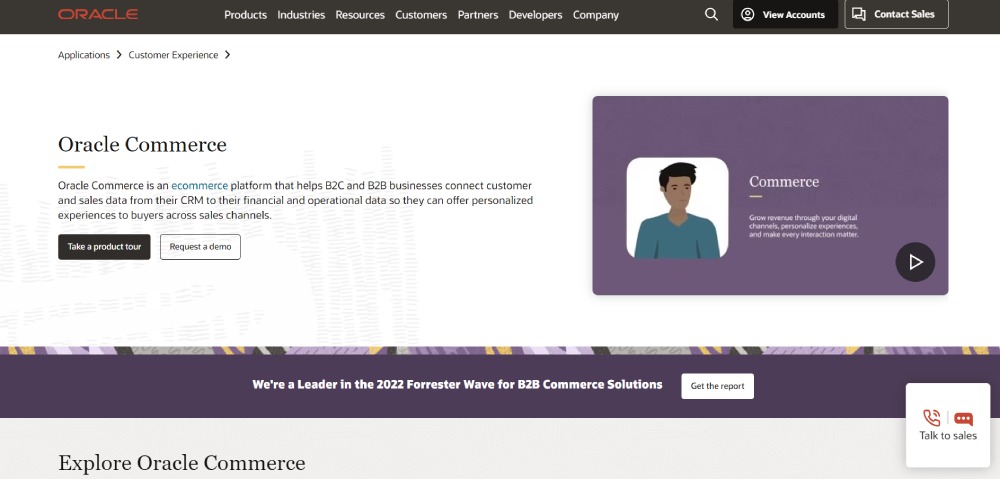 Do you have complex systems that want to simplify it? Oracle Commerce Cloud is one of the best enterprise e-commerce platforms to make things simple for your business. But how can Oracle help?
Get access to enterprise development solutions that let you understand the customer journey, know how to reach them, and convince them to purchase from your store
Customize your storefronts for an optimized experience
Manage content with simplified solutions and subscription options
Use the Oracle Configure, Price, and Quote feature to provide accurate pricing and lower costs
Fulfill shipment and delivery through omnichannel solutions
Pricing: Contact Sales
8. Ultra Commerce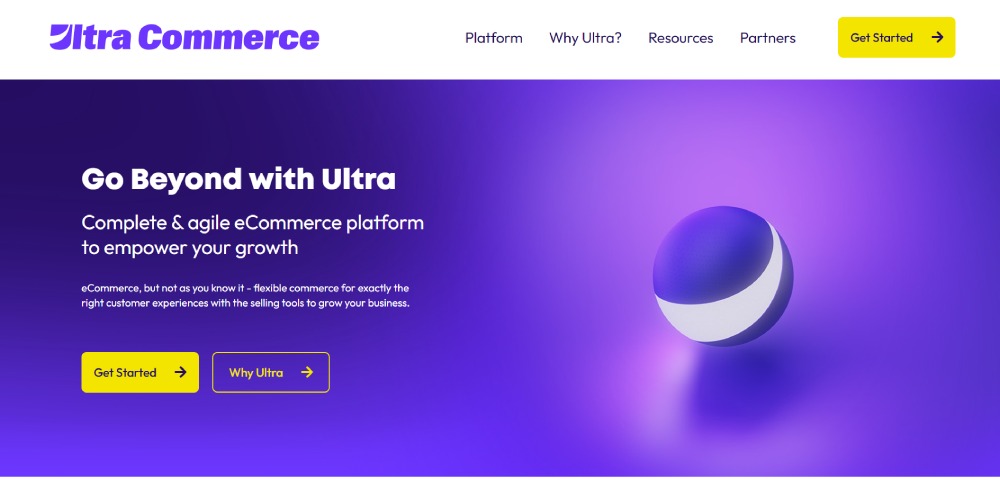 If you want a flexible e-commerce solution, Ultra Commerce should be at the top of your choices. Plus, it's ideal for enterprises looking for headless commerce options. And if you're considering Ultra Commerce, here are its features:
Select subscription or marketplace options
Use their advanced marketing and selling features
Integrate apps into your account for a seamless experience
Get a safer and more stable browsing and management experience
Launch storefronts easily
Pricing: Request a demo
9. IBM WebSphere Commerce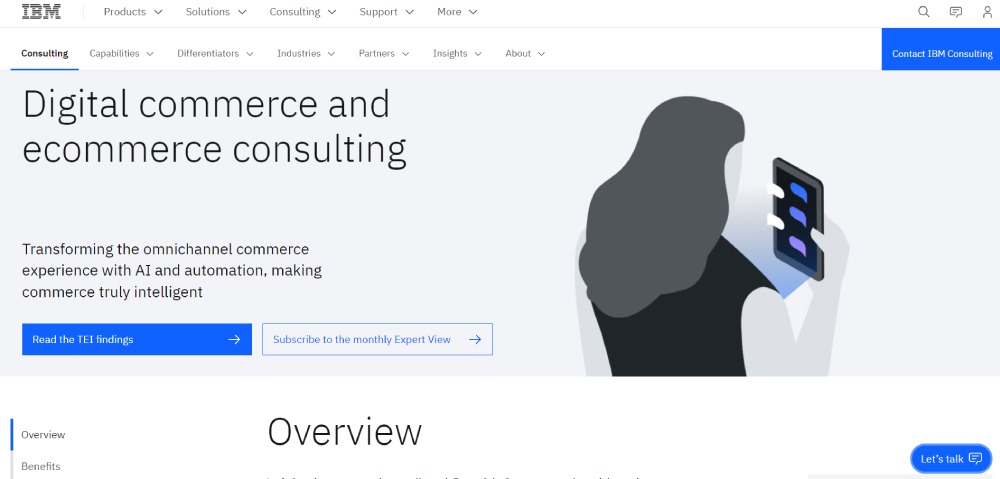 Here's another tech company offering commerce solutions. The IBM WebSphere Commerce has advanced features to ensure you deliver customer experiences efficiently and get real-time data. But what else do they offer?
Customize the way you provide better customer experiences with data
Use state-of-the-art features to manage your site
Manage inventory properly to build trust
Select between various commerce modes (subscriptions, marketplaces, DTC, etc)
Pricing: Contact sales
10. Mirakl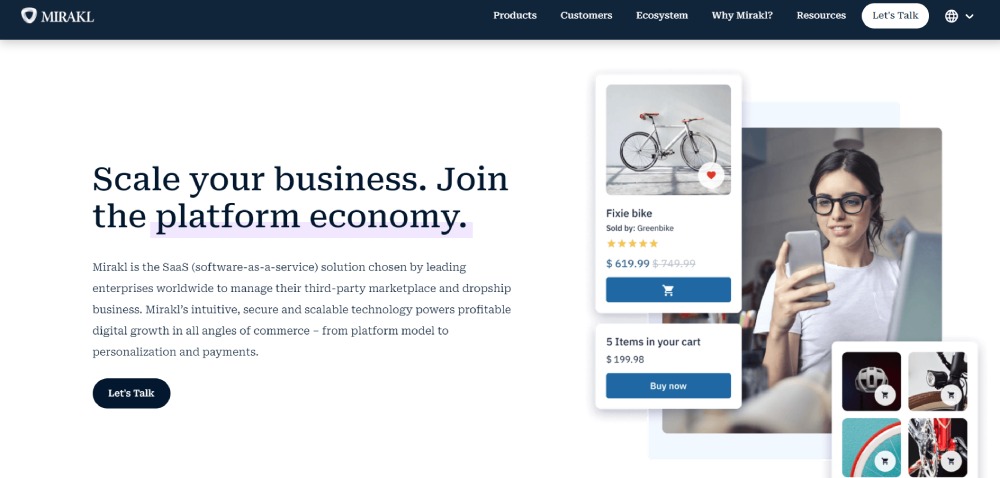 If your enterprise has third-party marketplace and dropship needs, Mirakl offers the best e-commerce solution for your business! How can Mirakl help?
Scale and grow your sales with a centralized platform
Partner with Mirakl Connect experts to help you run your business
Promote your business with Mirakl Ads to widen your reach and increase your sales
Use Mirakl Target2Sell to personalize recommendations
Use Mirakl Payout to pay vendors on time and safely
Manage catalogs with ease and flexibility with Mirakl Catalog Manager
Pricing: Contact Sales
11. Kibo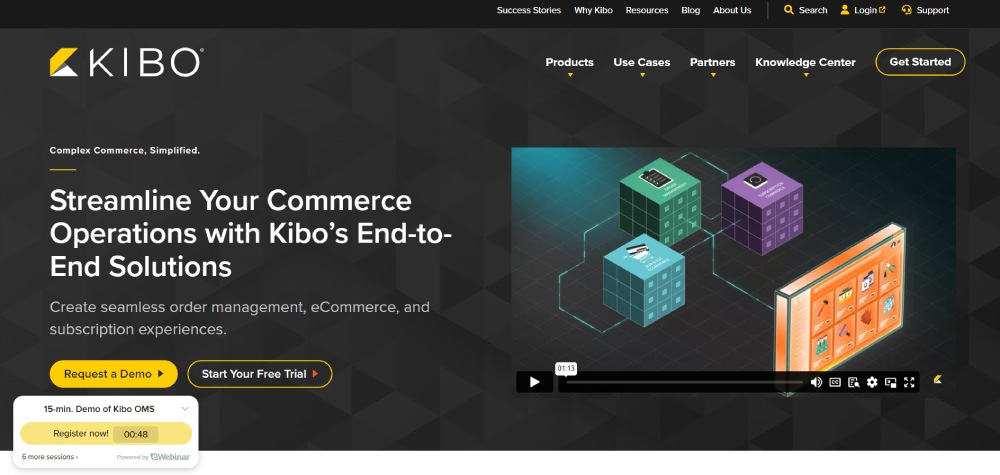 Kibo is one of the underrated enterprise e-commerce platforms. It has a composable commerce solution, helping you customize your online store. This is ideal for order management, subscriptions, and B2B/C e-commerce. Here's why you should consider Kibo:
Use actionable data to manage orders
View detailed inventory and stock information
Know where to source or route orders
Use flexible fulfillment options
Pricing: Request a demo
12. OsCommerce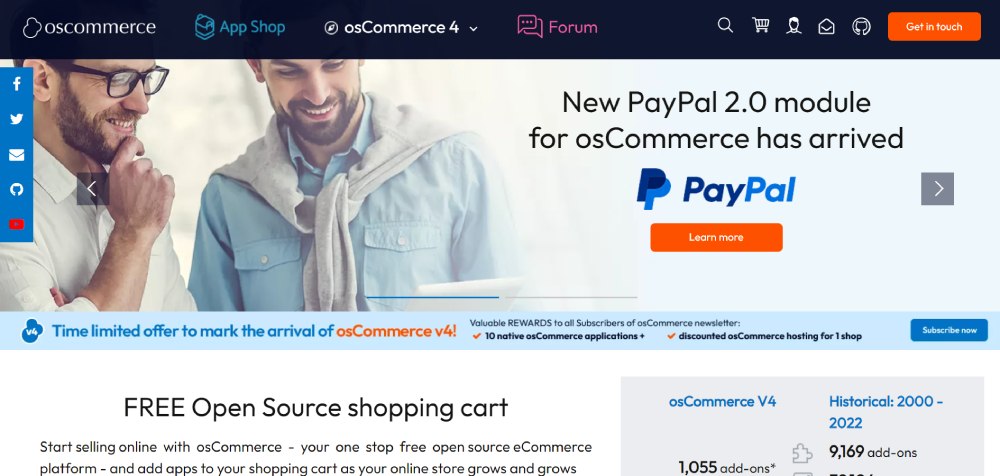 OsCommerce is another open-source enterprise e-commerce platform that helps you simplify complex issues. Samsung and Nicky Clarke are two of its biggest clients. But why do these brands trust OsCommerce?
Get support from the OsCommerce team with setup, configuration, development, training, and more
Use their advanced marketing and sales features
Manage your suppliers, stocks, online warehouse, and inventory
Get API for integrations
Get reports
Experience security
Operate using omnichannel solutions
Pricing: Contact Sales
Key Takeaways
Enterprise e-commerce platforms have advanced features and tools to help any e-commerce owner manage their store. Plus, most platforms ensure that the customers are the priority and provide flexibility in delivering the best service. It's up to you which e-commerce platform is right for you, and hopefully the list above narrows your options.