The way people buy products and services online nowadays gravitates towards convenience, quality, and affordability. Consumers want all these benefits to fit into one package. And that package could well be in the form of a drop servicing business model.
In this article, we'll tell you everything you need to know about what a drop servicing business is, its structure, the differences between drop servicing and drop shipping, and how a graphic design drop servicing business model works.
What is a Drop Servicing Business Model?
Also known as "service arbitrage" or "subcontracting," drop servicing pertains to selling primarily digital products or services online. The drop servicing business model revolves around a simple concept:
The client looks for a service provider online
The drop servicing business accepts the order
Drop servicing business outsources the job to a freelancer
Freelancer does the job
The drop servicing business reviews the job quality and submits it to the client
The client pays the drop servicing business
It sounds pretty simple. But what does the drop servicing business get from all this? By marking up the service!
The drop servicing business jacks up the price to the client, ensuring to have an ample price difference for profit. Then the business looks for a freelancer and pays the freelancer a cheaper rate.
For example: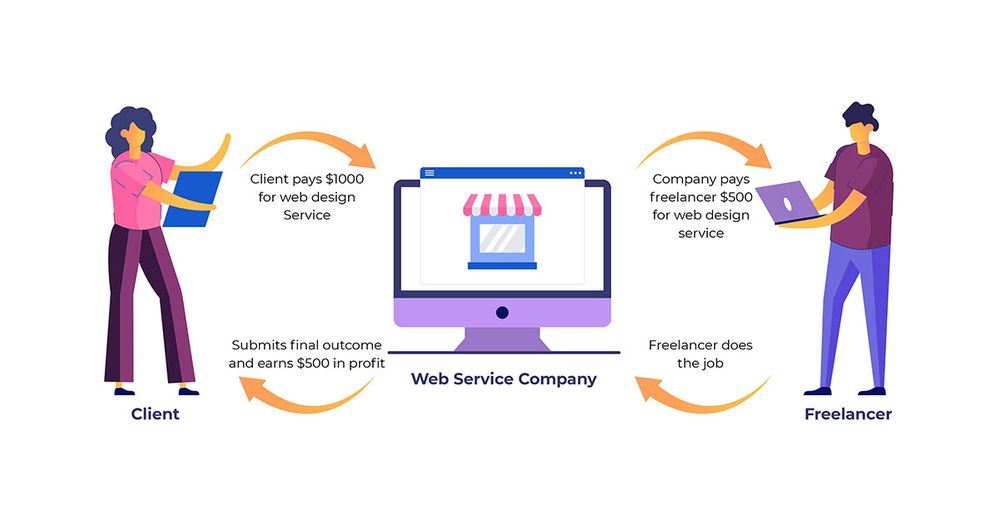 Say, a client is looking for a web designer. The client checks out web design service providers on the internet. They then hire the service provider that fits their price range, quality preference, and turnaround requirements.
Here's a step-by-step explanation and a chart to show how the drop servicing business model works:
The client pays web design service company $100 for a web design project
The web design service company pays the freelancer $50 for a web design project
Hired freelancer does the job
The web design service company checks the web design quality
The web design service company submits the final outcome to the client and profits $50
The client is happy and has no clue that the service provider outsourced the job!
Technically, the drop servicing business acts as the "middleman" between the client and the freelancer.
So the question here is: Why don't clients hire freelancers directly and vice versa? This way, they lessen the costs, and the freelancers can also demand a reasonable rate. Here's why:
Freelancers don't look for clients directly because:
They're usually not very good at marketing their services
They don't have a website that puts their offers in the online business landscape
They're extremely busy with their projects and don't have time to look for new clients
Clients don't work with freelancers directly because:
They don't want to go through the tedious process of searching for the perfect freelancer
Clients are extremely busy managing other business aspects
They don't want to sign up in multiple online freelance marketplaces and pay sign-up costs
Clients are sometimes not too knowledgeable about the service and prefer to entrust this to someone who has more experience, such as a drop service business
Is Drop Servicing Limited to Digital Products?
No. The drop servicing business model is not limited to digital products. It is limited though, to selling only services, hence the term drop "service." You can be a pest control servicing company when you accept pest elimination services then hire experts to come to your client's house and do it themselves.
Otherwise, it would be called "dropshipping" if you're pertaining to selling physical products. We'll discuss the differences between drop servicing and dropshipping in the following sections.
What are the Types of Drop Servicing Business Niches?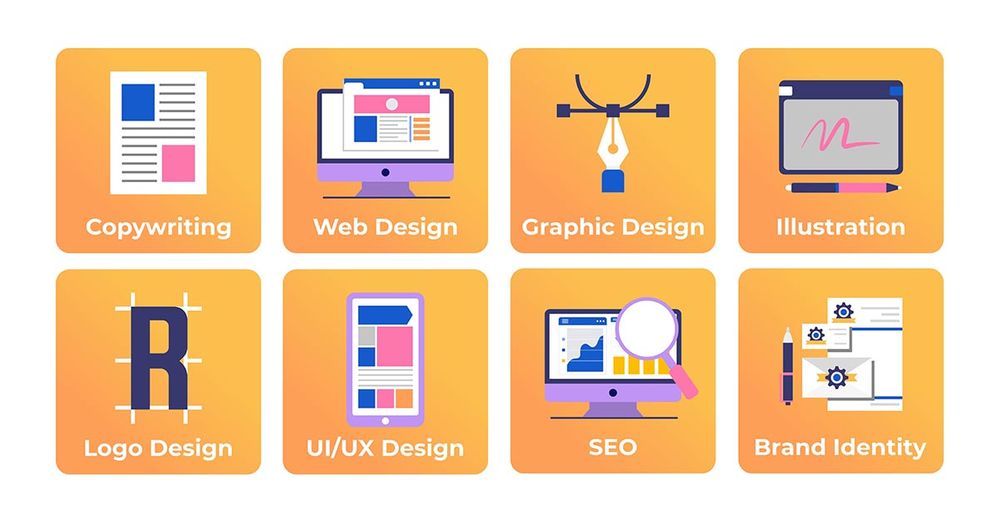 The online world has paved the way for digital service providers that anyone can subscribe to through a few clicks. With more and more online stores sprouting like mushrooms left and right, there is an equal need for marketing services.
And as you know, marketing entails a few business assets such as:
A company logo
Website
Marketing such as SEO, PPC, social media, etc.
Advertising materials
Merch
Technical support
Website maintenance, and more!
That said, any online or offline business owner would need the services of digital service providers. Through a drop servicing business model, business owners can save a lot of time.
Here are some of the most common types of drop servicing business niches to date:
Graphic design
Copywriting
Website design
Website development
Podcast creation
Audio and video production
Search engine optimization
Paid advertising
Lead generation
Technical support
Website speed services
Branding
Social media management
Why the Drop Servicing Business Model is Beneficial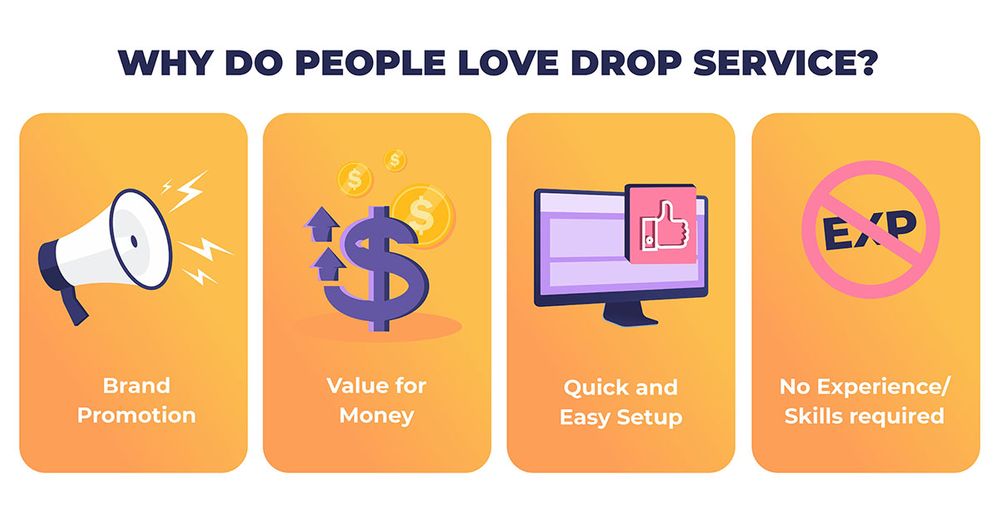 In a drop servicing business model, three parties are involved: Business owner, client, and freelancer.
And these three parties choose this type of business structure because it proves to be more accessible, convenient, and cost-efficient in the long run. So here's why people prefer the drop servicing business model:
Drop Service Business Owners
Business owners prefer the drop servicing business model because it doesn't cost an arm and a leg to set up shop. The initial startup costs are low as you only need to pay for website design services for your business. Plus, you also don't have to have mastery of the services you intend to offer. But you need to learn the ropes of marketing and sales to land clients.
You only need to search for reliable freelancers who can do the job who will offer you that marginal profit. And if you want to get the business up and running ASAP, some freelancer sites offer a matching service. This will help in your search for freelancers and you can start your drop service business soon. Finally, the drop service business is risk-free, especially for new business owners. Since you're selling digital services, there is no risk of product returns and refunds.
However, there is one caveat. With so many new entrepreneurs thinking of this business structure, the business landscape can get too saturated. This is also because there is a low entry requirement, meaning anyone with business and marketing experience can quickly build their drop servicing business.
Freelancers:
From a freelancer's point of view, a drop servicing business model is also beneficial for so many reasons. For one, the freelancing landscape is a dog-eat-dog world. This is an overly saturated market, and it can be hard for new freelancers to land good-paying clients.
Working with a drop service business will instead ensure that they get consistent orders and, therefore, consistent work. Although the drop service business might pay freelancers a relatively lower rate than they would charge a client directly, it still means they'll have a continuous income stream.
Clients:
For clients, working with a drop service business means that they don't have to spend time browsing through thousands of freelancer profiles. We all know how overwhelming it can get to set up a new business. And searching for a freelancer is the last thing on their mind.
That said, they would rather entrust this vetting to drop service business providers who know the tricks of the trade. Plus, they don't have to do the back and forth with freelancers explaining how to achieve a quality outcome. Because of initial market and brand research, service providers will know the steps to achieve great results. This saves them a lot of time and effort.
Also, freelancers sometimes submit final files without much thought about quality, especially if it's a one-time project. However, a drop service business will ensure that every client is satisfied with the work. They do the quality check and communicate with the freelancers for revisions themselves. Clients only need to submit the design brief and wait for the final submission.
6 Advantages of a Drop Servicing Business Model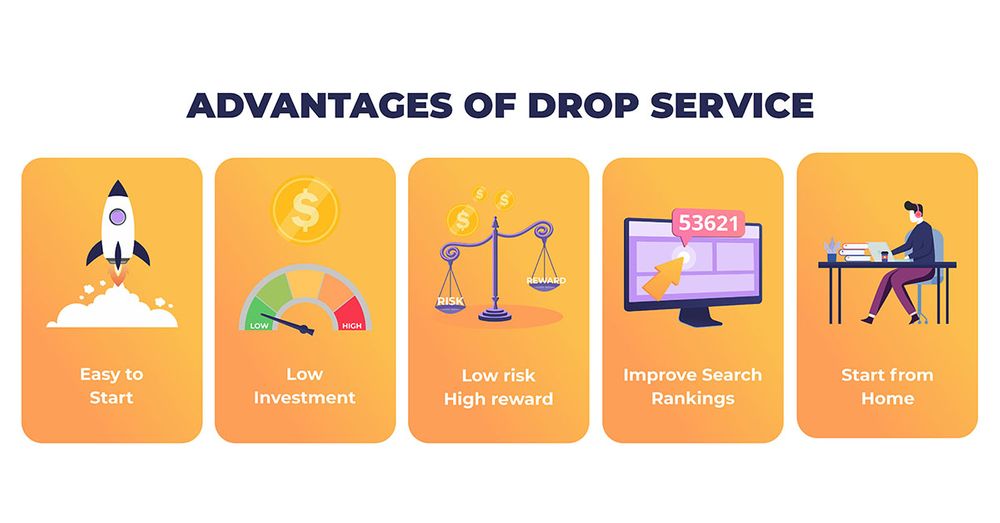 Overall, the drop servicing business model offers everyone advantages. Here are some of them:
1. High-profit margin
Imagine offering a service to a client and marking up the costs by 100%. That's a considerable profit margin if you ask me! Unlike selling physical projects, sellers can only mark up the price according to a regulated amount. And even if the prices are regulated in physical products, high mark-ups mean lower sales. Because why would people choose expensive brands over affordable ones?
2. Low startup costs
If you're looking into dipping your toes into the drop servicing business model, you don't need to break the bank. You don't even have to invest in skills training because freelancers are responsible for that. The only initial startup costs you need would be the costs for developing your business website and online ads.
3. Versatile
Another advantage of running a drop service business is its versatility. This can be the mobile business of your dreams! You can work from anywhere in the world as long as there's an internet connection.
4. No overhead expenses
Unlike brick-and-mortar stores, a drop service business won't require too many overhead expenses. All you need is your website maintenance upkeep and connection costs. Plus, no need to pay for digital services. You're marking up the freelancer's services for your profits.
5. No skills required
There is no learning curve in a drop servicing business model. You don't need to possess the skills for the services you intend to offer. Of course, you can learn the basics but not necessarily in-depth details.
6. Hassle-free
One of the most obvious advantages of running a drop service business is how hassle-free this structure is. There is no need to ship products every time you receive an order because you're offering digital products. The effort you need to put in is to liaise between the client and the freelancer and ensure a quality outcome.
How Penji Helps Your Graphic Design Drop Service Business
One digital service that's in demand these days is graphic design. Graphic design is an essential element in almost anything, whether running an online or brick-and-mortar store. And if you're planning to offer graphic design, you can work with Penji's on-demand business structure. Here's how it works:
Step 1: Choose from one of Penji plans
Choose from one of Penji's three affordable plans. These plans all come with unlimited graphic design, with higher plans offering unlimited illustrations and website and app design.
Step 2: Accept orders from clients
Next is to accept as many design briefs from clients. Since Penji offers unlimited designs, you can receive as many design requests from clients. Put every request in the queue via Penji's bespoke design platform. The turnaround is typically 24 to 48 hours.
Step 3: Download source files
The final step is to download source files and show them to your clients. If in case the clients request revisions, don't fret. Penji includes unlimited revisions in all their plans. Put the project back in the queue for revision and wait another 24 hours until your client is happy and satisfied.
Here's an image to better show you how it works: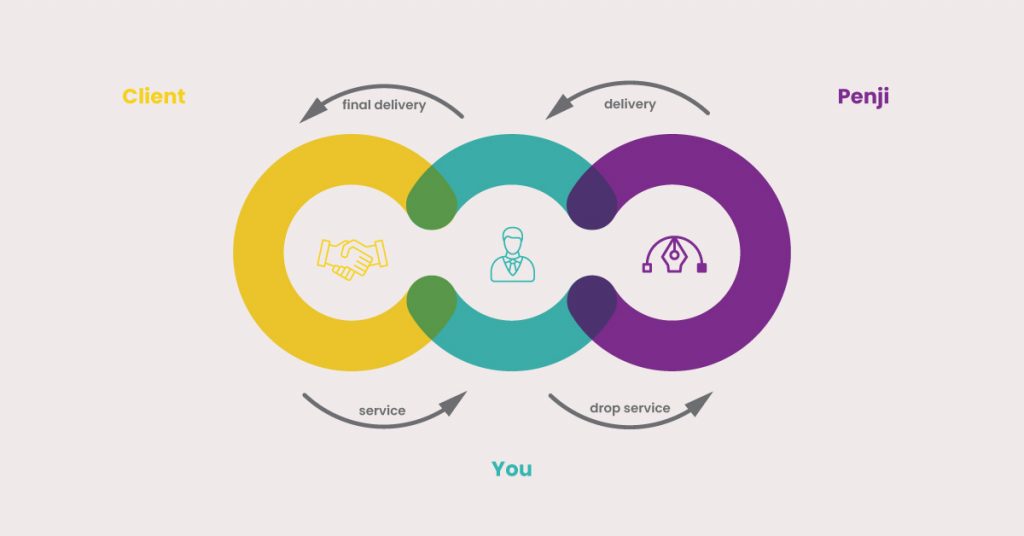 If you're ready to try out Penji's convenient and affordable service, sign up here for a 15-day money-back guarantee.