Looking for inspiration for your next passion project or marketing campaign? I'm sure these 25 digital artists will blow your mind as they showcase their works of art on Instagram.
1. Dan LuVisi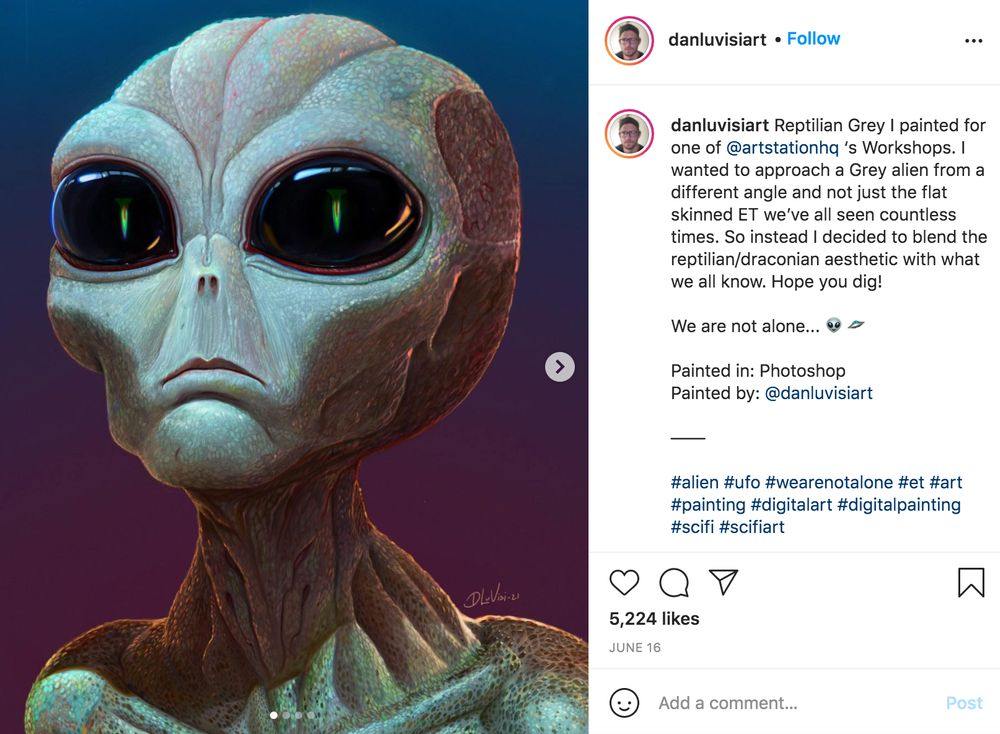 Followers: 168k
Dan LuVisi is not only a digital artist specializing in illustration focused on bizarre pop-culture parodies, but he's also a writer. Based in Southern California, big companies have trusted his creative prowess. He's worked with DC Comics, Lionsgate, Microsoft, Universal, Fox, Activision, and more.
Dan LuVisi is so into pop culture that he published his satirical book on Kickstarter called Popped Culture. It consists of various stunningly twisted art paintings, reimagined characters from video games, movies, and TV shows, and some of his original creations.
2. Steven Harrington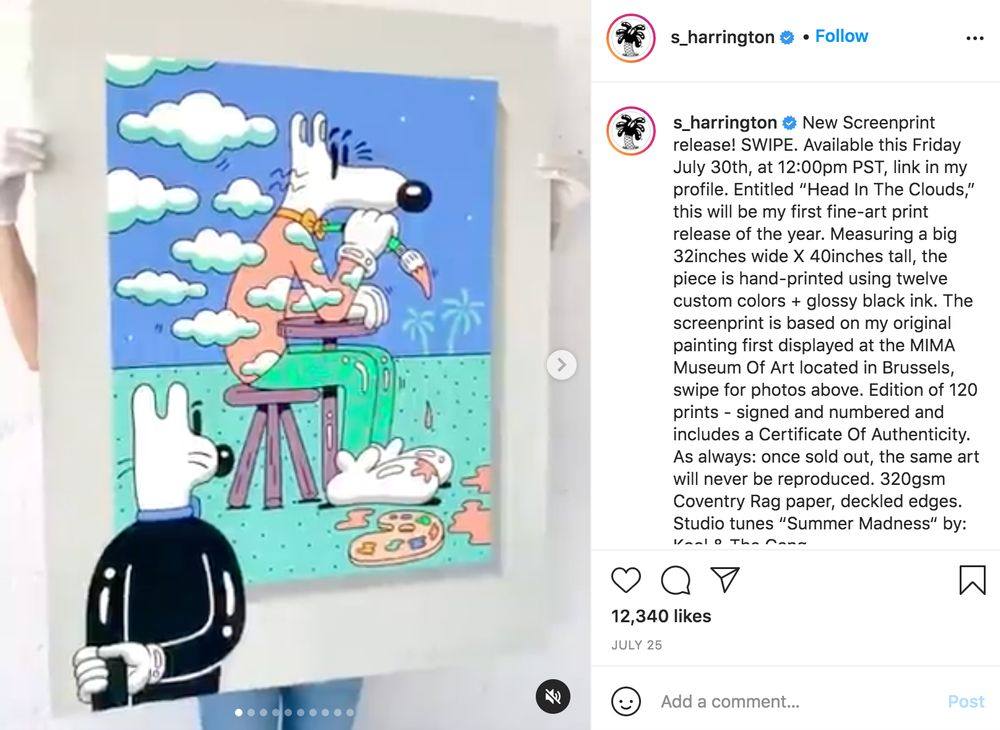 Followers: 276k
Growing up with such supportive parents, Steven Harrington pursued his passion and love for painting and drawing. Although he has been to many places, he still considers his city Los Angeles a significant influence on his art. His portfolio has many psychedelic pop styles, including hand-screened prints, sculptures, and large-scale installations.
His contemporary psychedelic pop style has dubbed him the leader in this art niche. He is also the co-founder of the design firm National Forest. His work has been showcased in Milan, Paris, LA, New York, Barcelona, Tokyo, and more.
3. Christophe Young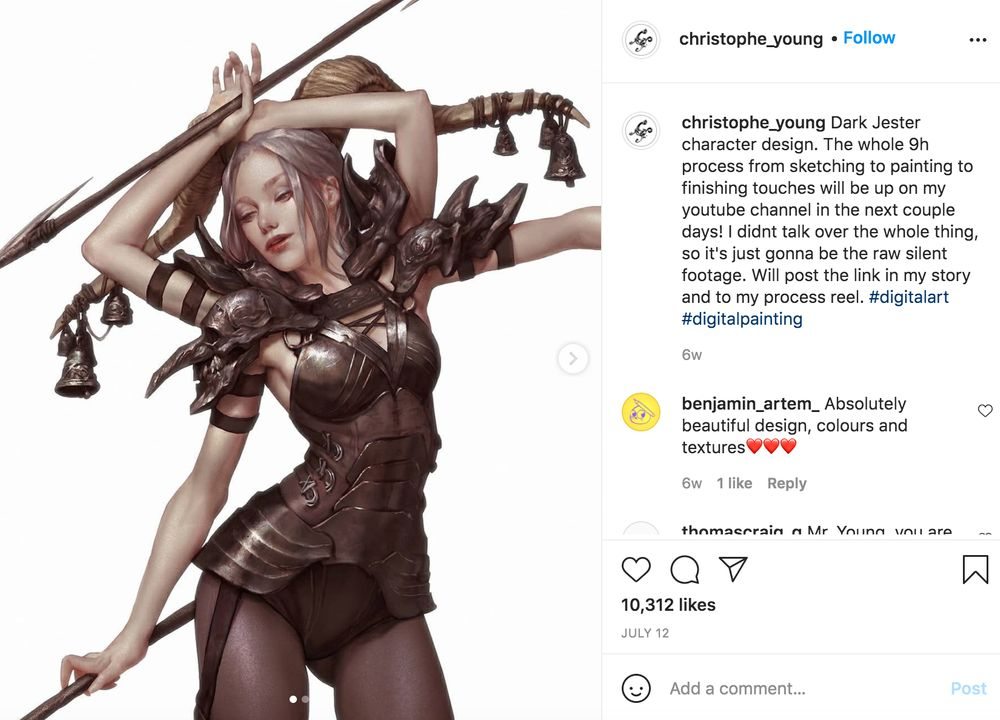 Followers: 106k
Based in Montreal, Christophe Young's work revolves around fantasy-themed characters and science fiction. So if you love anime, you can surely relate to this digital artist and his beautiful artwork. Christophe Young is responsible for some DLC characters, namely The Plague, The Spirit, The Oni, The Legion, Jane, Yui, Jeff, and more.
4. Calob Castellon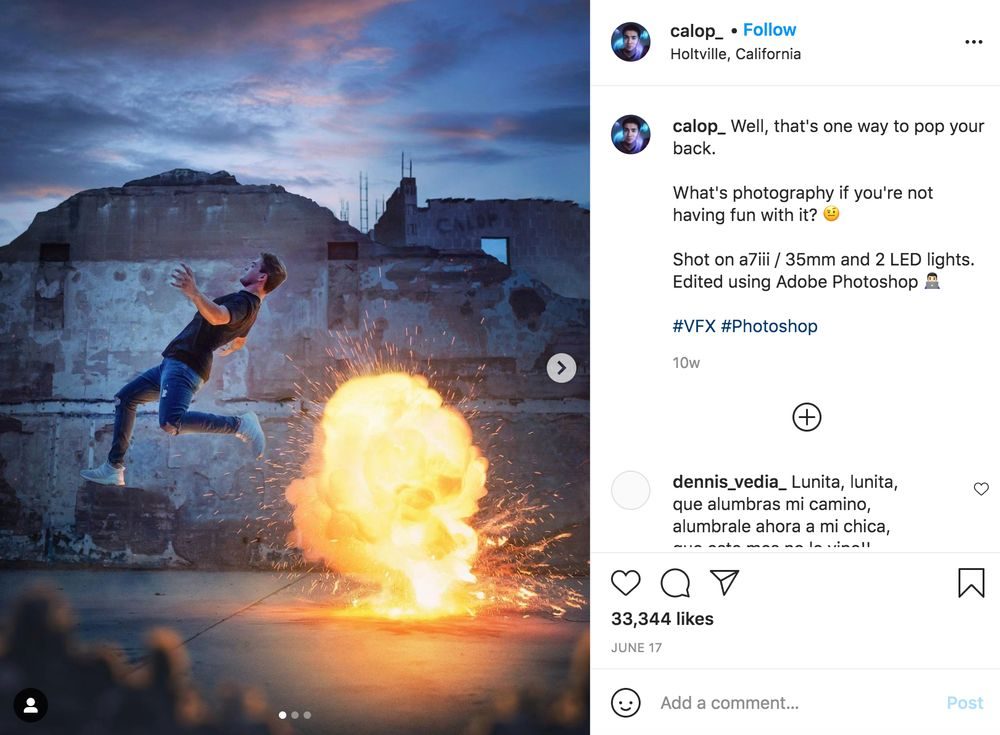 Followers: 929k
Calob Castellon is a digital artist and photographer who transforms ordinary photos into surprisingly astonishing ones. He shows the raw photos and clips on his Instagram account and publishes the final ones with digital effects.
This is to reveal another side of the pictures that don't seem so perfect. He uses mundane objects like store decorations, a television, a skateboard, and more for that magical effect.
5. Joan Cornellà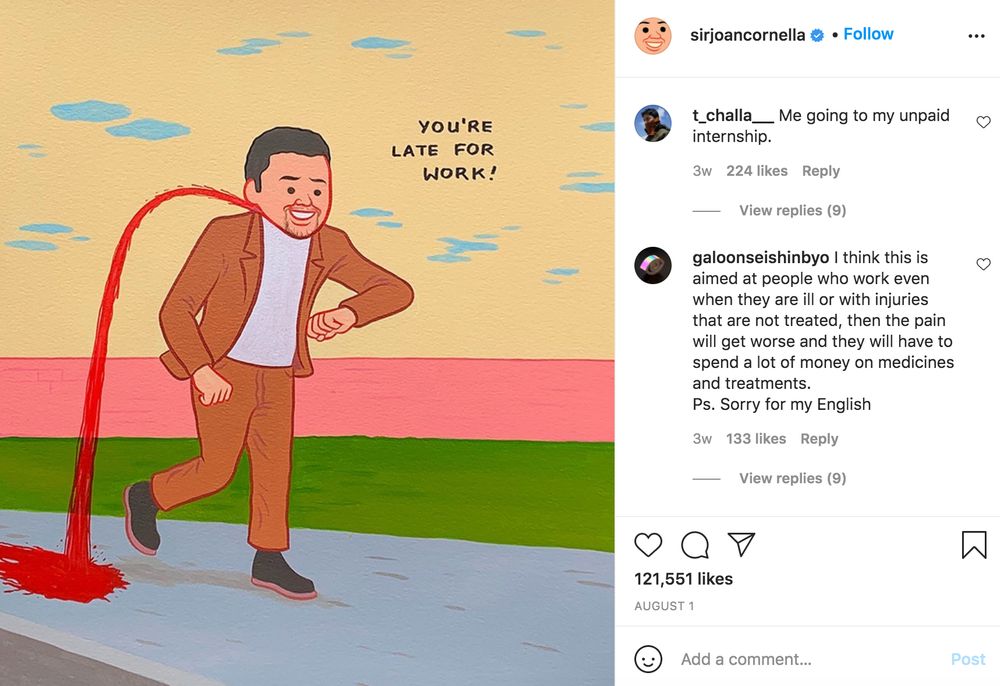 Followers: 3.4m
Joan Cornellà is from Barcelona and is one of the most popular digital artists famous for his startling work of art. Joan Cornellà's work is described as offensive and morbid. At first glance, you'll notice the characters seemingly smiling and naturally cheerful. However, upon further inspection, you'll see a dark and sinister story behind the artwork.
Some scenarios include a bloody arm and neck, a head stuck in someone else's butt, a doctor who hates humans, and all other unsettling scenarios.
6. Flore Maquin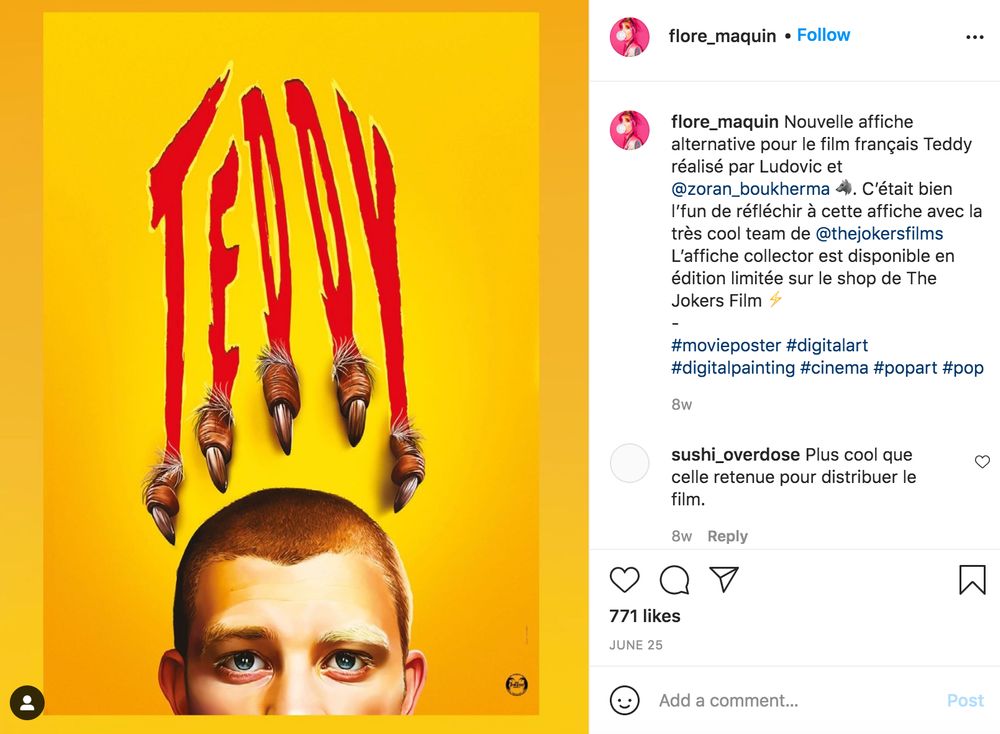 Followers: 28.8k
If you're into movies, then Flore Maquin is the digital artist to follow. The French graphic designer remakes movie posters into more appealing visuals. Some examples are the posters from the movies Austin Powers, Django Unchained, Jaws, and more.
There is no hesitation when it comes to reshaping popular movie posters. She has also worked with big French companies like Fubiz, Arte, Rockyrama, and more. She has also produced posters for the 2018 and 2019 Cannes Film Festival.
7. Eva Balloon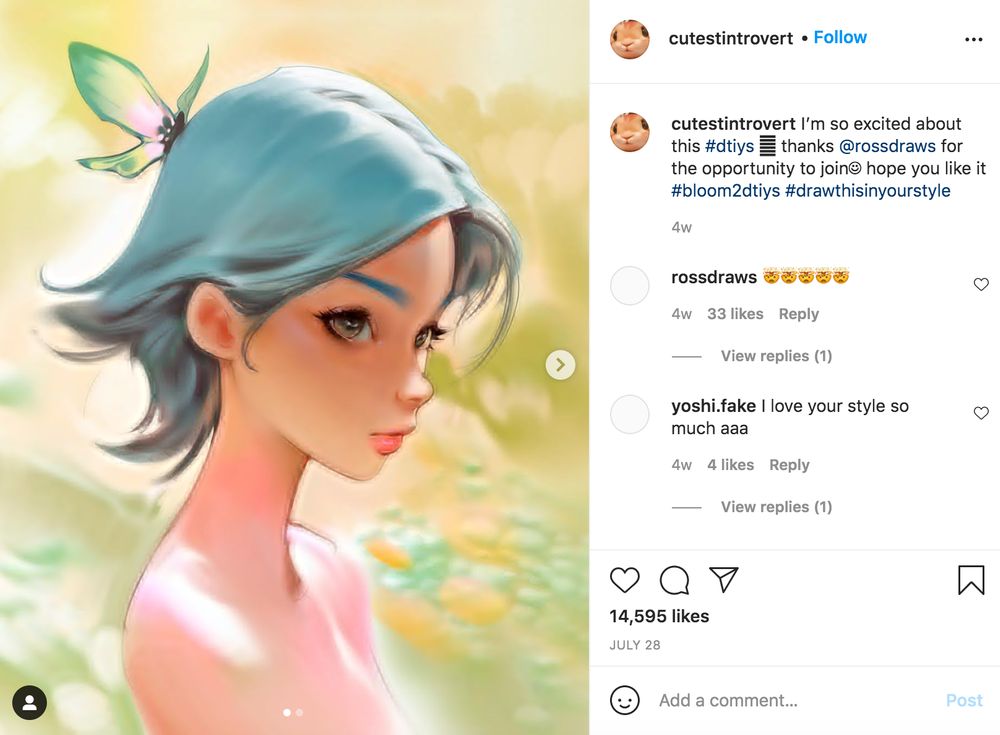 Followers: 118k
Eva Balloon is a digital artist from Almaty, Kazakhstan. A self-taught artist and introvert, Balloon focuses on illustrations and cute characters. Since she's also working as a freelance artist, she claims she doesn't have time to create more works of art.
That's why Balloon launched a program called Patreon to continue her passion for creating more cute characters. Moreover, she also shares art tutorials, sketches, content, and other art-related topics on this program. It costs $5 to join.
8. Mike Meyers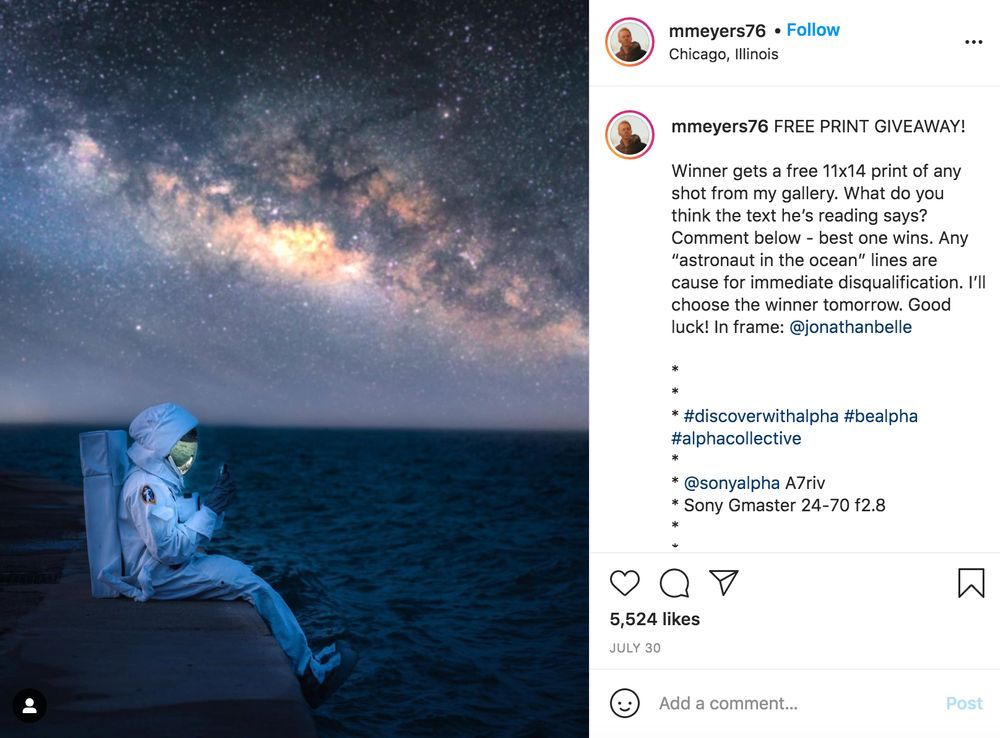 Followers: 177k
If you're into the outdoors, you'll get inspired by Mike Meyers' breathtaking photographs of natural landscapes and urban environments. His art showcases the grandeur of natural scenes or man-made buildings with stunning views.
With over 20 years of experience, Meyers has captivated his audience with high-quality images and photographs in various situations and scenes. Meyers is also a SonyAlpha Ambassador and a big fan of Sony Alpha mirrorless lenses and cameras, which he uses in most of his artwork.
9. Bosslogic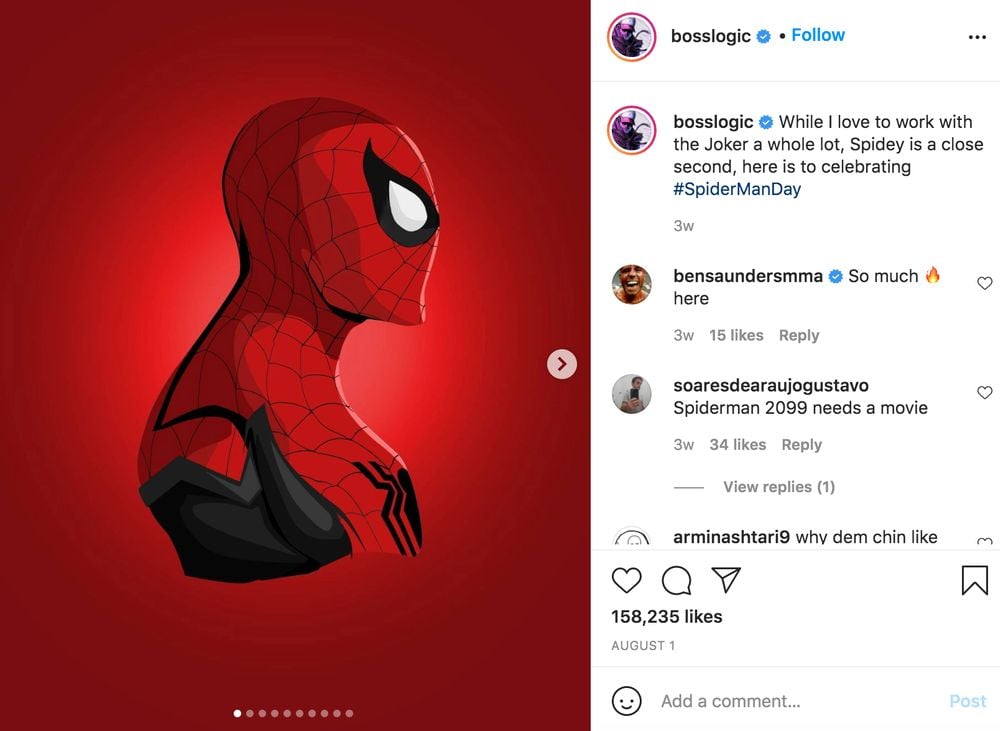 Followers: 2.2m
Kode Abdo, the digital artist behind Bosslogic, has been drawing since he was six. He started tinkering with superhero-themed art using Adobe Photoshop. Most of his artwork on Instagram is posters of the biggest movies in 2019.
Based in Melbourne, Australia, Bosslogic's style relies on comic book characters and photo manipulations. Some examples are Avengers Endgame and Disney's Aladdin, among celebrities and fans. Rumor has it that the celebrity Johnson "The Rock" had requested Bosslogic's graphic design services.
10. Takashi Murakami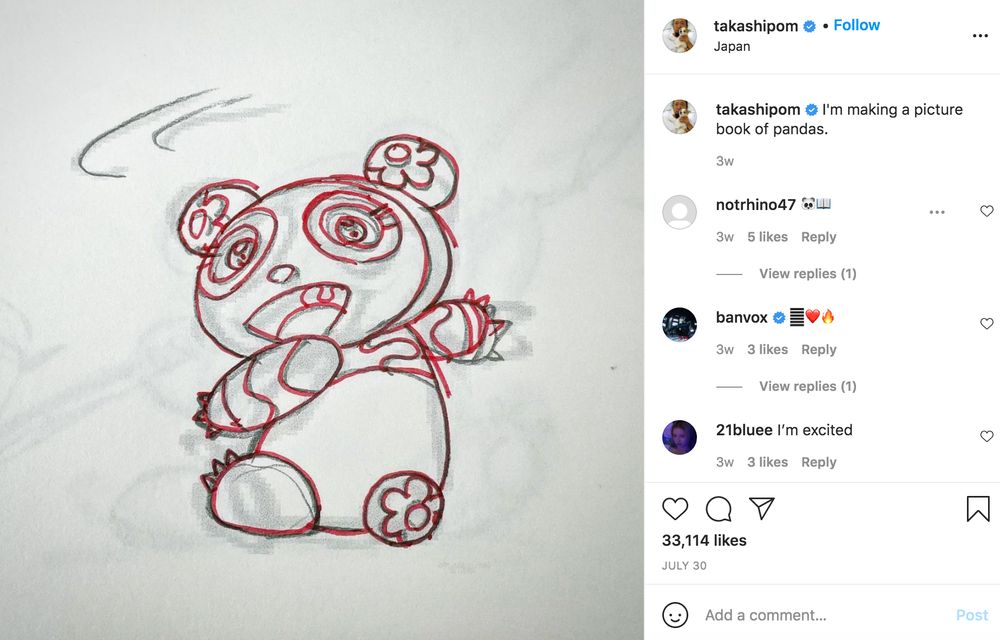 Followers: 2.5m
If you're a fan of Japan and its pop culture scene, then you should definitely check out Takashi Murakami's page. This digital artist blends Japanese traditional art and its pop culture scene. He is trained in Japanese art, and his style banks on bold and striking imagery in 2D forms.
He captures his audience with a unique artistic movement named Superflat. Also, he's the creator behind Kanye West's album cover and Louis Vuitton bag prints.
11. June Y. Cheng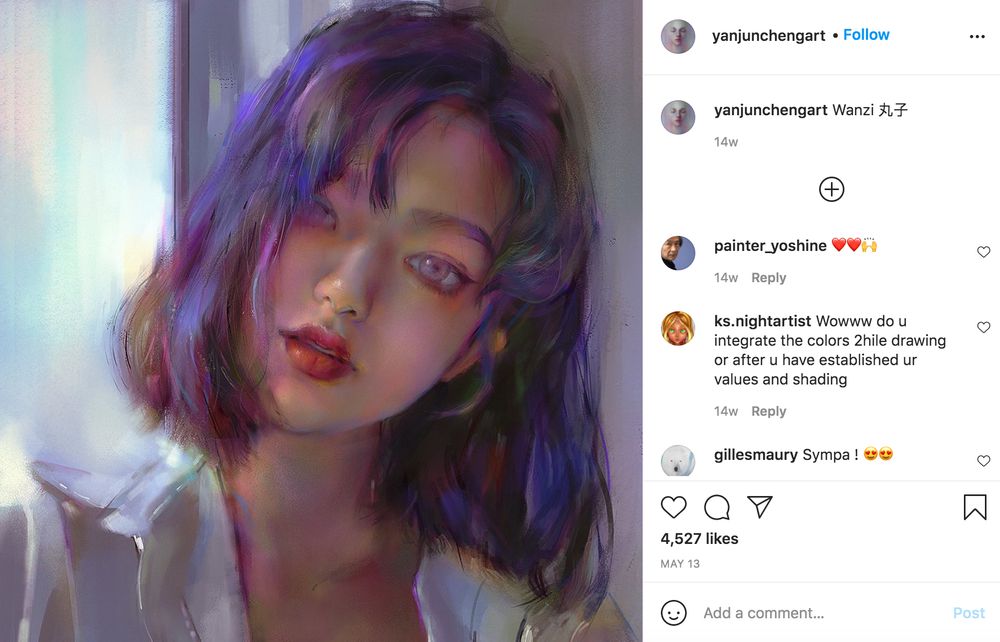 Followers: 105k
June Cheng is the digital artist you must follow if you're into beautiful portraits. She not only creates awe-inspiring female portraits, but her artwork has a soft and ethereal touch. Her paintings have a bright pallet with a sprinkle of magenta and cyan. Overall, the best word to describe her portfolio on Instagram is moving.
12. Gretel Lusky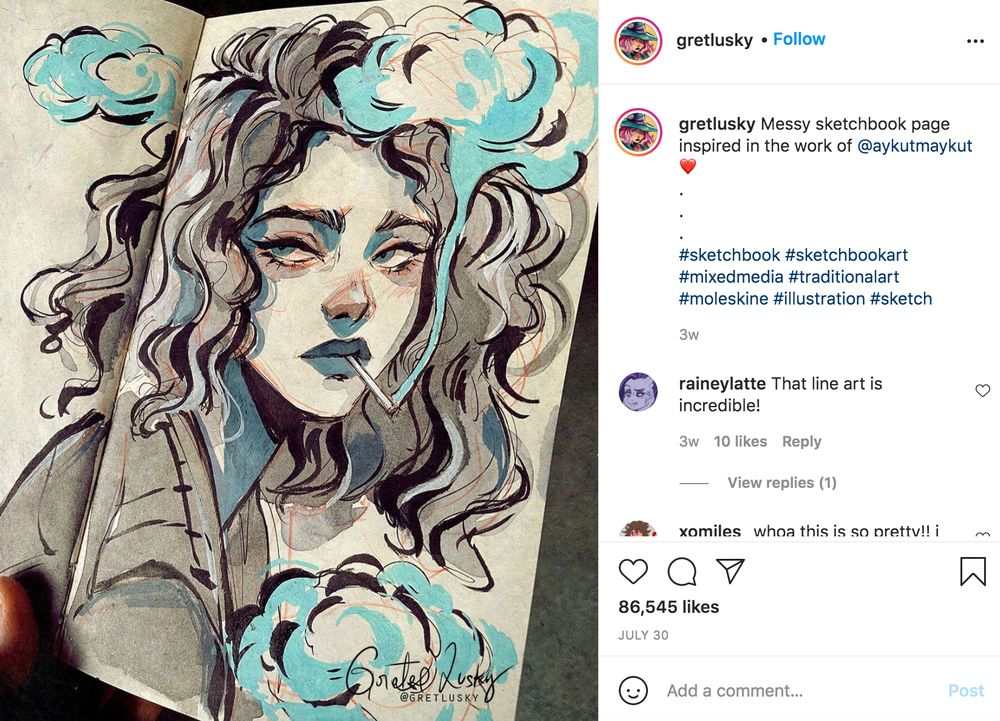 Followers: 739k
Gretel Lusky is one of the top graphic designers inspired by 90s cartoons. Growing up, she developed a love for fun and amusing comical characters and pursued her dream in comic illustrations.
She started as an animator in 2015 and created 2D and 3D animated feature films and tv series. Then she pursued her passion for drawing comics. She displayed her comic illustration skill in the DC Comics novel Primer and DC's Flash Facts Chillers.
13. Madiel Lopez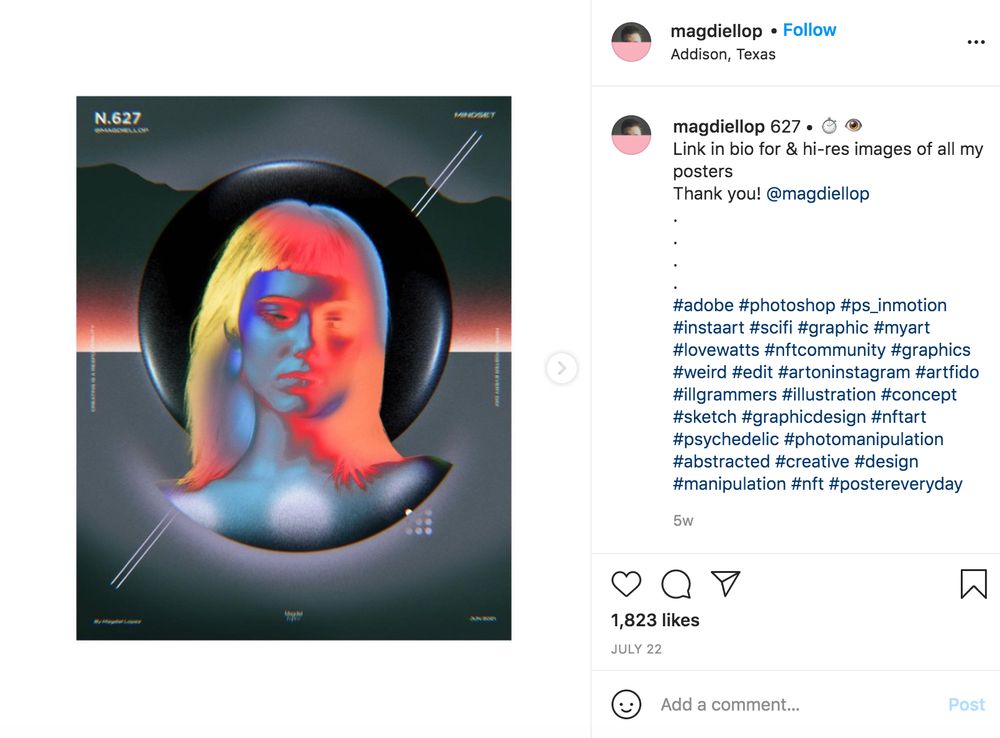 Followers: 135k
As colorful as Cuba's culture, Magdiel Lopez's artwork also dons the same vigor and vivid beauty. His childhood greatly influences his art and style, which you can see on his Instagram account. Looking for greener pastures, Lopez migrated to the United States at fifteen years old while working as a private digital artist for 10 years.
Lopez made the rounds online when he created a poster a day for 365 days and published it on his Instagram account. He called this project "A Poster A Day," and gained public attention from big digital magazines. Some are New York Times, Entrepreneur, Cosmopolitan, and Awwwards. Lopez now owns the creative agency Belmont Creative.
14. John Aslarona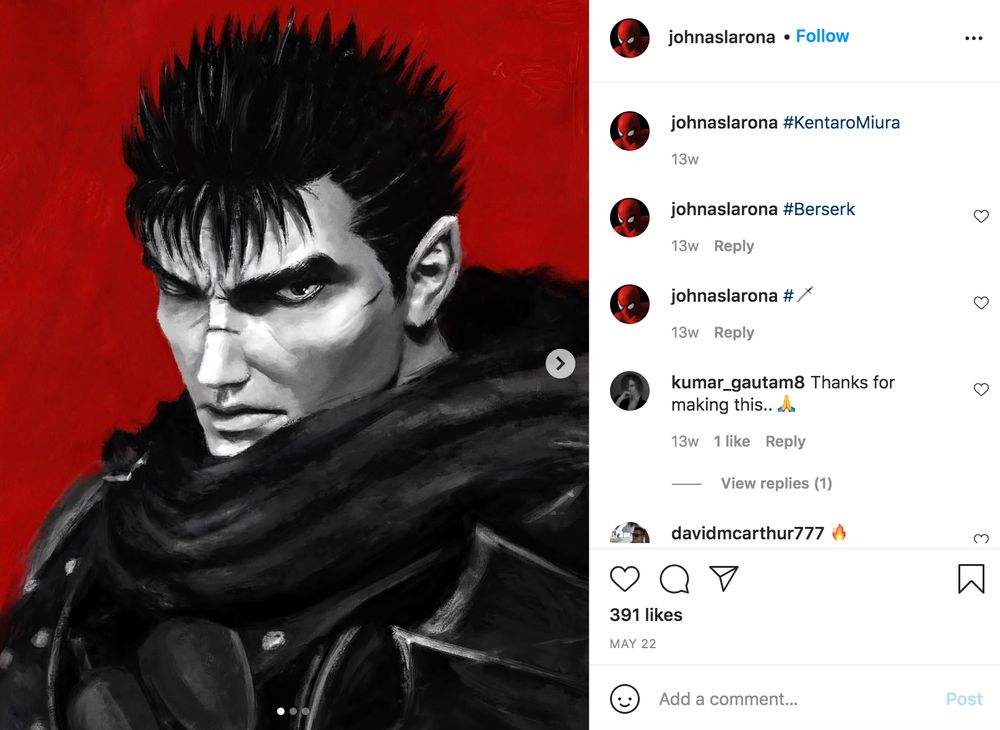 Followers: 37.2k
John Aslarona has always been fond of painting, so he enrolled in painting classes in high school. He then transitioned to digital painting in 2011 and motivated other up-and-coming artists through his beautiful art.
He is heavily influenced by fiction and fantasy. Hence, his portfolio showcases portraits, drawings, and pen inkings of people and movie characters. It includes DC Comics, Marvel, Star Wars, and more.
15. Niko Christian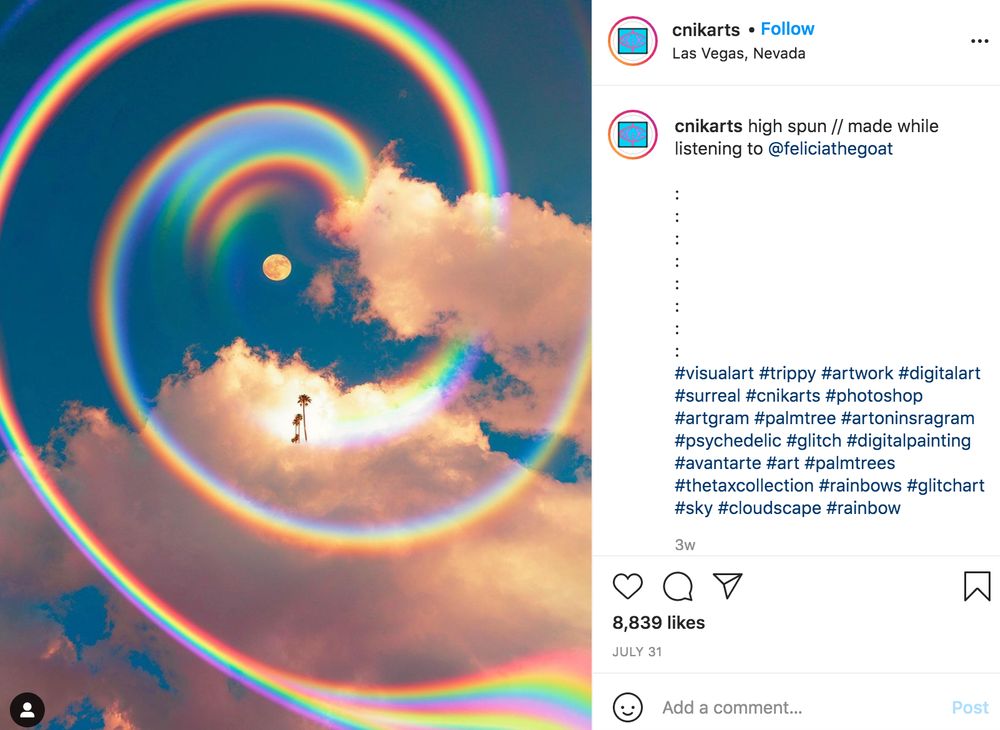 Followers: 115k
Niko Christian is a young artist based in Las Vegas, Nevada. His style is more of imaginative concepts that explore the environment and human nature. He then transforms these works of art into beautiful masterpieces with a somewhat psychedelic touch.
The exquisite and bright colors ripple through the viewer's eyes with a magical effect. His works are bursting with vibrancy and energy from a great blend of realism and fantasy.
16. Shepard Fairey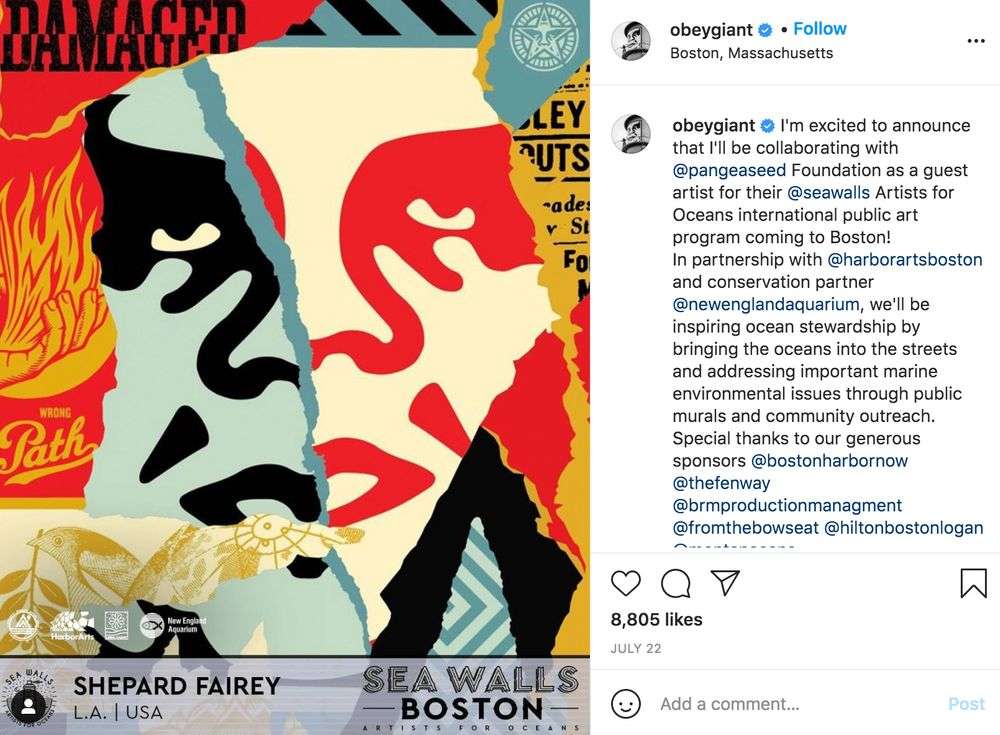 Followers: 1.3m
Since Shepard Fairey was a kid, he was inclined toward the skateboarding culture. He then developed an interest in skateboarding, he started designing skateboards and t-shirts in 1984. He continued pursuing his art and became famous for President Obama's poster in 2008. The iconic "Hope" poster depicted entrepreneurial spirit and activism.
Fairey's style dwells more on street art. He does murals and graphic designs. The first graphic design that made him famous was the André the Giant sticker, and the word Obey was written on it. Fairey is the founder of the clothing brand OBEY.
17. Christoph Niemann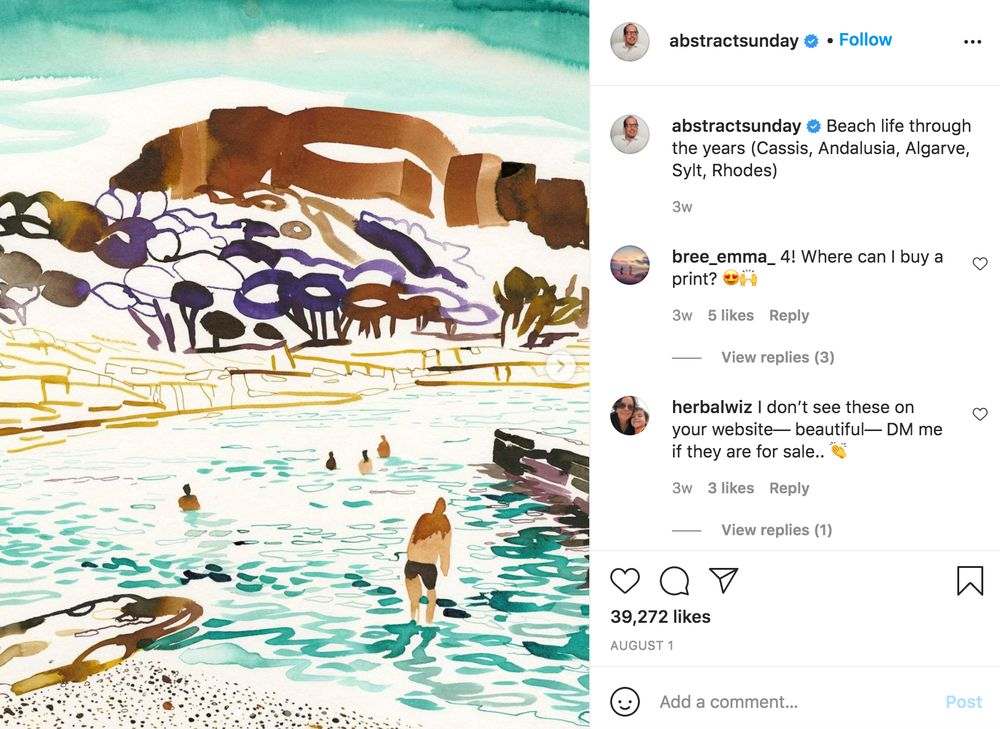 Followers: 1.1m
Christoph Niemann is a visual storyteller, as written on his Instagram account. This digital artist moved to New York in 1997 and started as an editorial illustrator. His style banks on funny and unorthodox illustrations with a touch of hand-drawn paint and watercolor components.
His work has been seen in major magazines such as Wired, Time, Fast Company, Newsweek, The New York Times Magazine, The New Yorker, and Atlantic Monthly. Niemann is obsessed with economics, culture, and politics, claiming these are influential factors in his work.
18. Felipe Pantone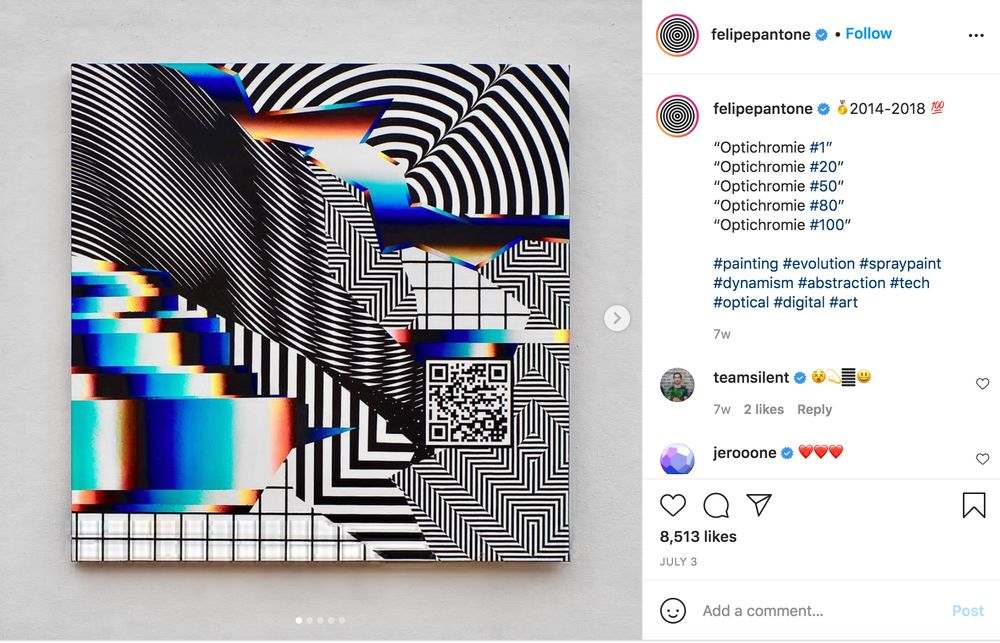 Followers: 556k
Due to a heavy technological influence on his childhood, Felipe Pantone's style considers technology the primary component of his artwork. He aims to let the digital and analog spaces meet in between, creating a psychedelic and somewhat contemporary twist.
Pantone belongs to a group of contemporary artists and started doing graffiti at 12 years old. Although he hasn't shown his face to the public, his artwork can be recognized from a mile away. His art has been exhibited in public spaces and museums worldwide.
19. Julio Cesar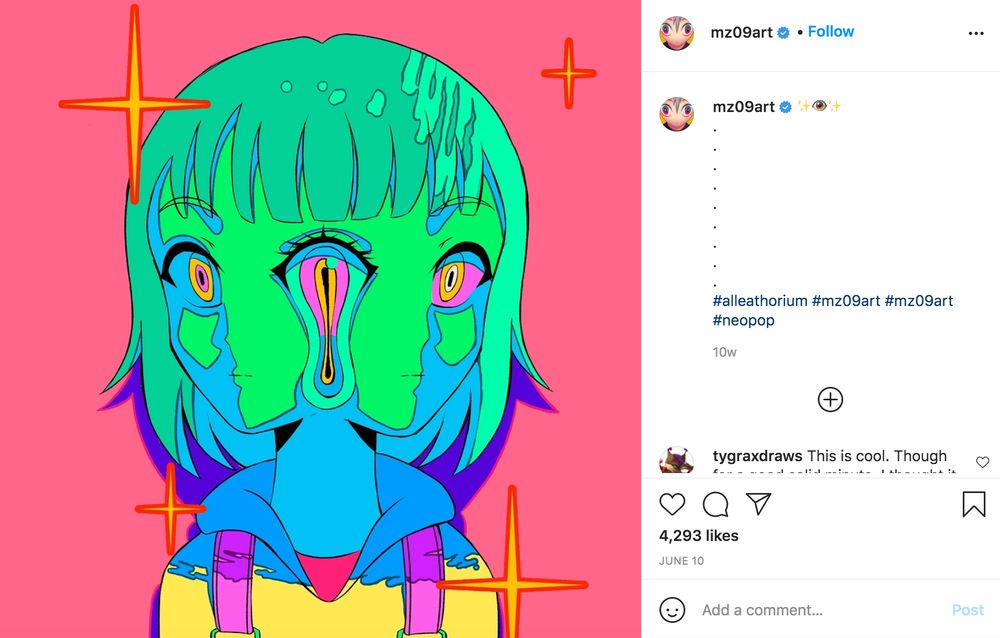 Followers: 241k
If you're into fun characters and anime, this digital artist is worth following on Instagram. Julio Cesar, not the emperor, is a force to be reckoned with when it comes to digital illustrations. His style focuses more on digital painting and traditional illustrations. Also, he regularly posts his photograph series, which he creates into beautiful stylized illustrations.
20. Joshua Esmeralda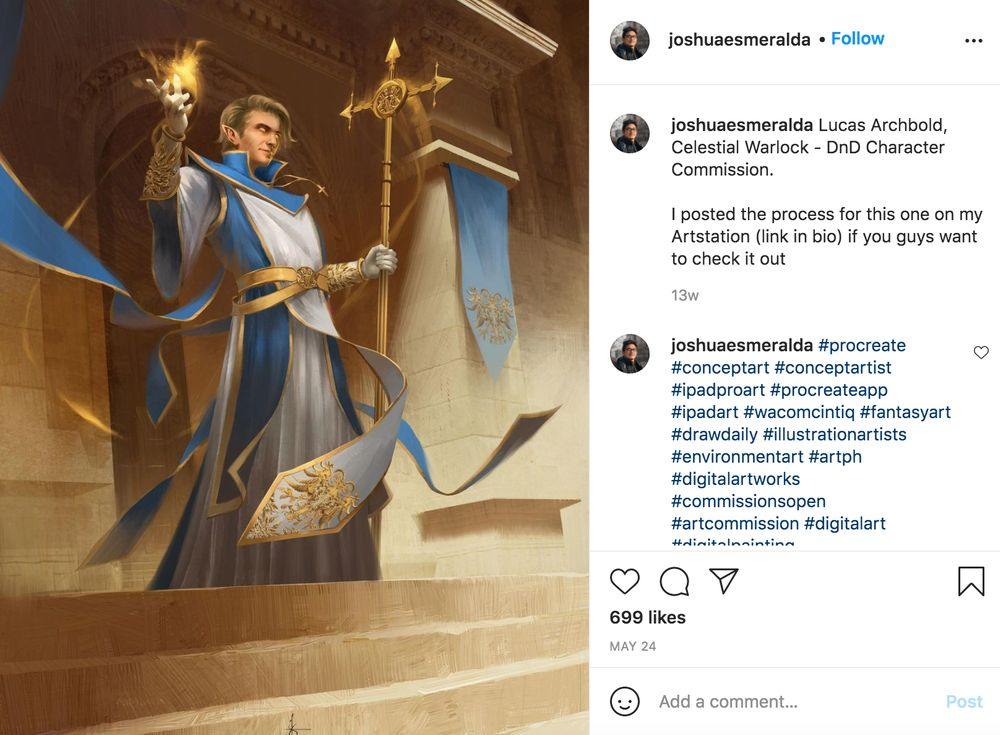 Followers: 35.1k
Joshua Esmeralda's Instagram account is filled with character illustrations. However, the digital artist said it started from his fear of painting teeth. The illustrator said he hated smiles, more so the idea of painting or drawing it. Soon after, he started getting requests from people for portrait commissions.
His mindset was that when he continued to paint portraits, he'll soon learn and love painting teeth and smiles. And that's how it all started.
21. Andreas Wannerstedt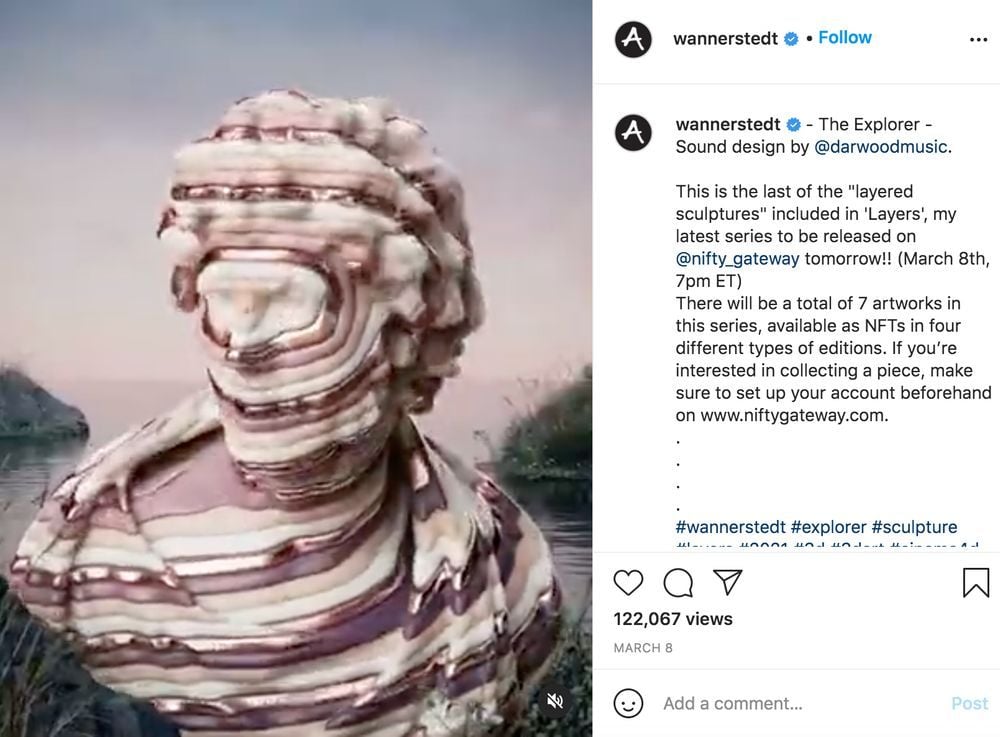 Followers: 795k
"Hypnotic" and "satisfying" are two terms that describe Andreas Wannerstedt's art. This digital artist from Stockholm, Sweden, is popular for his unique 3D digital sculptures and hypnotic animations. When you look at it, you'll feel they're oddly satisfying.
He uses geometric shapes, colors, and natural materials from these ordinary objects and transforms them into something extraordinary. His works were commissioned by notable brands like Ikea, Red Bull, Dropbox, and Spotify.
22. Ivan Wong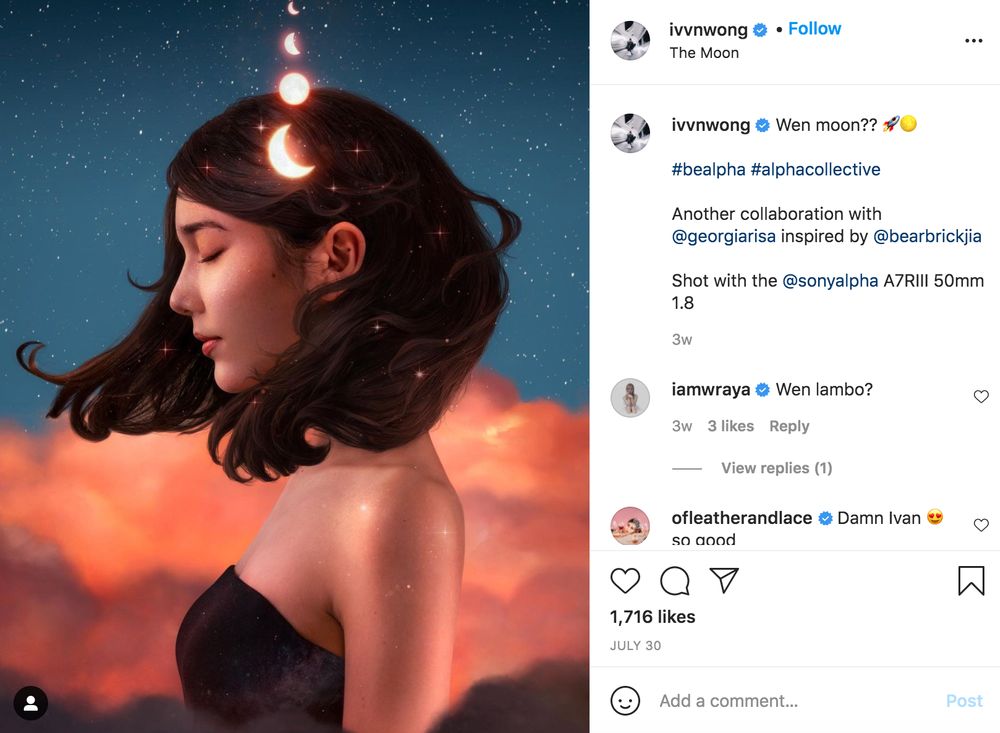 Followers: 109k
Ivan Wong has been a Sony Alpha and Google #teampixel ambassador since 2017. Ivan Wong is into photography and considers this passion the main influence of his style. He uses ordinary objects from his surroundings and integrates futuristic elements. Wong considers it an achievement when his artwork invokes certain emotions in his viewers.
23. Valentina Remenar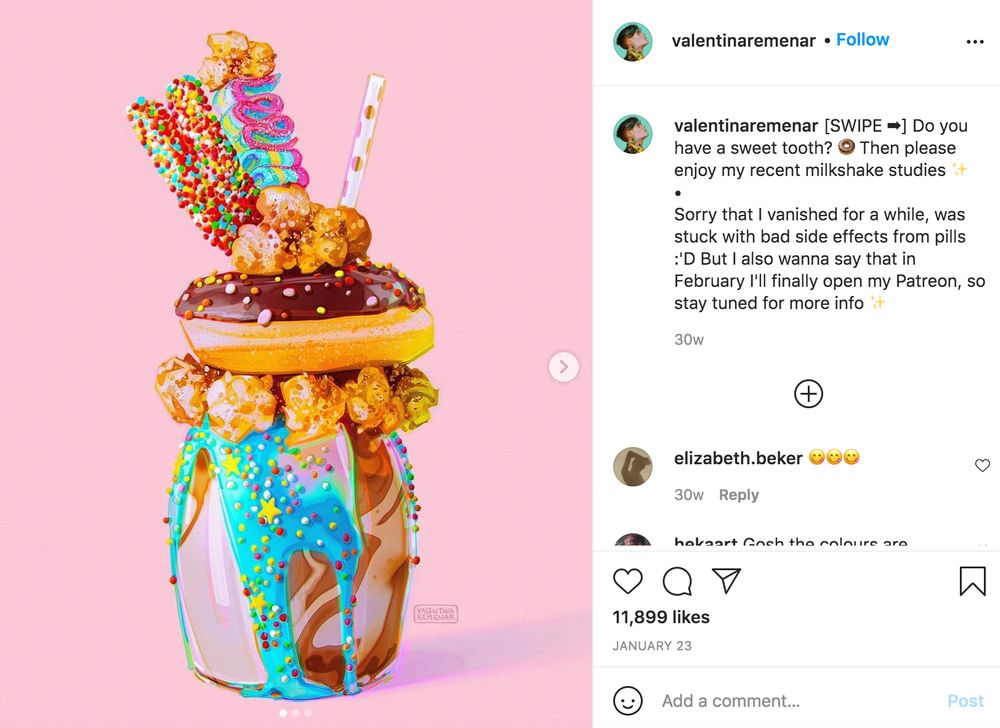 Followers: 161k
Valentina Remenar is a Croatian digital and traditional illustrator and concept artist based in Slovenia. She has worked with West Studio, ImagineFX, Celsys, DeviantArt, 3dtotal, Amnesty International, Riot Games, Marvel, and more. She also has various styles, such as realism, semi-realism, sci-fi, fantasy, anime, and more.
24. Maromi Sagi
Followers: 45k
You'll see dreamy character illustrations on Maromi Sagi's Instagram account. This digital artist is based in Kolkata, India, and isn't available for commissioned work. Interestingly, all of Sagi's characters are females.
25. Dave Rapoza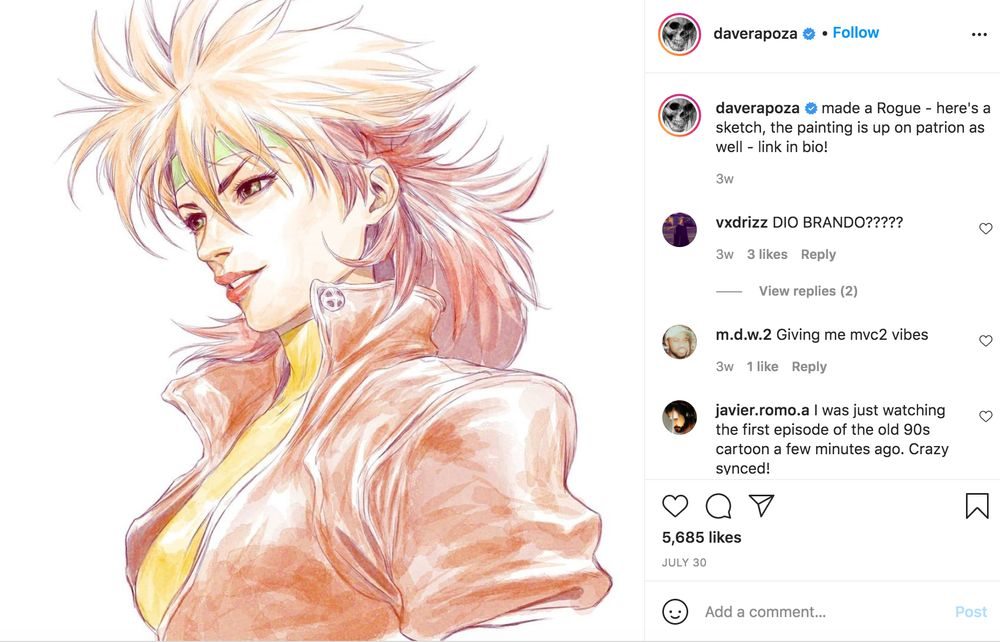 Followers: 339k
Dave Rapoza's career didn't start smoothly. When faced with grand larceny for the sales of stolen goods online, he was relieved after the charge was dropped. This experience inspired him to study and share his art online.
This was when he started to pursue his dream of being a comic artist. His style revolves around comic illustrations and all these skills he gained through self-study. He's the creative behind some illustrations in Spiderman and the Spider-Verse Marvel comic covers.
Conclusion
These digital artists have gained a considerable following on Instagram because of their unique and distinct art styles. If you're still getting started with illustrations or graphic design, follow a couple of these digital artists.
However, if you need help with illustration or graphic design, it's best to entrust it to the experts. Subscribe to Penji for unlimited designs at affordable monthly costs. Our professional illustrators and designers may not be on this list. But the work quality is equally impressive. Sign up now and use the promo code AUGY15 to get 15 percent off!